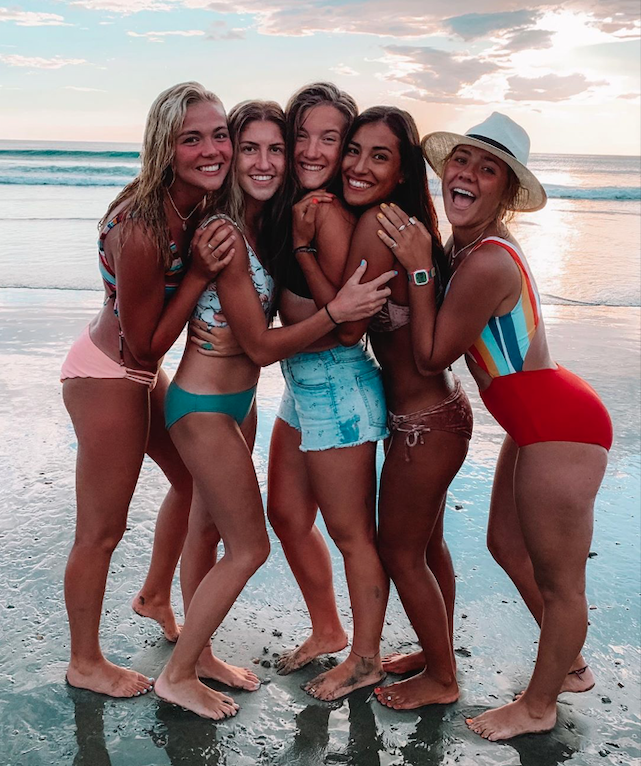 Itching to find a new favorite spot, totally unspoiled by tourists who hit the more popular Nica beaches? Say hi to Jiquilillo.
With miles and miles of beaches on either side of this Central American country, spending time in Nicaragua means lots and lots of beach days. Especially in this part of the coastline! We have more than a few favorite beaches along the Pacific side … but be sure to add Jiquilillo beach to your list if you're into a weekend of relaxation, some baby turtles, and eating coconut bread from the little man who walks down the beach with a painted cart. There's also a nearby volcano for those looking for some adventure.
Basically, Jiquilillo is a paradise tucked away from the crowds and built around hanging out on the sand, and making friends with the turtles and the palm trees. Sounds like my kind of vacation!


---
Calling all adventurers
See what volunteering in Nicaragua is all about.
---
Jiquilillo's one of those untouched places, a "locals only" kind of spot that hasn't really been discovered by the adventurous backpackers that are making their way through Central America. It's a sleepy fishing village, home to dark sand that's a rich toasted caramel color, palm trees that wave in the sea breeze, and sheer relaxation and quiet. One of the biggest perks of spending a whole semester abroad somewhere is to tap into these types of secrets … we have the feeling the ILP volunteers who call Nicaragua their home for a semester will love having Jiquilillo all to themselves!
The Perks of Jiquilillo Beach
The Coolest Place To Stay
Places + Things To Eat
Getting To Jiquilillo Beach
The Perks of Jiquilillo Beach
A Peek At Local Life
While most of your time should be spent unwinding and relaxing, there's plenty to keep you busy. Rancho Esperanza (which we talk about later, it's our favorite place to spend the night) has tons of cultural activities. We're talking tortilla making, learn how to shimmy up a coconut tree to pick your own coconut (and learn how to crack it open to get that sweet coconut water), or learn how to make your own cuajada cheese. Yum! We have info about the Rancho Esperanza hostel below, so ask at the front desk about joining in on one of these tours.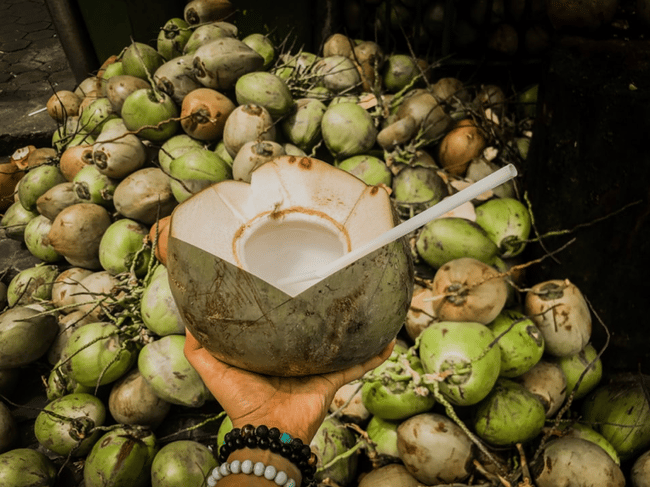 Hot Sand And Chill Surf
Surfing is a big thing to do on Jiquilillo, so it's the perfect time to hit the waves if you're into that. The waves here are smaller, making it good for beginners. You can get surf board rentals for $11 for the day which is a steal. You can also get surfing lessons for $11, given by a local member of the Surf Club. A day of surfing plus lessons for $22 is pretty unbeatable.
Oh and the joke about hot sand isn't a joke. The sand is a rich, caramel color which really does attract some serious heat. You'll want to wear shoes for the long walks on the sand during the hot afternoon, or just plan on getting your feet wet to cool down.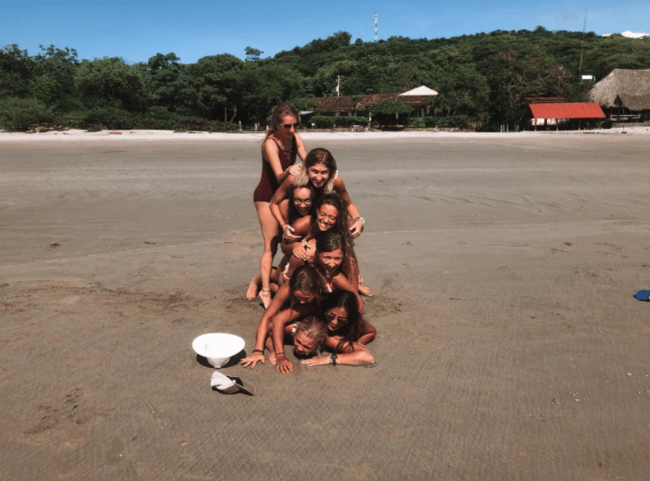 Swaying Hammocks + Massages and Manicures
Remember how we said the major perk of Jiquilillo beach is all the relaxing? The waves here are calm, swelling to surf-able size in a few spots, but you'll want to block out plenty of hammock time here. Our favorite place to stay (more on that later) has a hammock lobby where you can gently sway back and forth, take a bit of a snooze, or dive into a few chapters of your book. Ah…. paradise.
Need a bit more relaxation? You can get a 30 or 60 minute massage (for $6 or $12 dollars? Um, yes please) right on the beach. Rumor has it that you can also get manicures or pedicures for under $5 each.
Total Disconnect
WiFi here is a rare bird, some with things like ATMs and and other perks you'll find in most touristy beaches. It's a chance to really disconnect and relax, as long as you're prepared with cash for all the coconut bread and plenty of books to read on the beach, that is.
Time For Turtles
On the nearby coast of Padre Ramos, there are a handful of turtle hatcheries where you can see a nest of baby turtles emerge from the sand if you're lucky enough. Padre Ramos is a nature reserve, home to a team focused on an inspiring turtle rehabilitation project. The hawksbill sea turtle is endangered, and the volunteer and nonprofit groups here are focused on helping this breed. Researchers track the population, and help with turtle hatching. The ICAPO organization has helped tens of thousands of baby turtles safely make it to the ocean, instead of being sold by poachers.
A few hotels in the area sponsor the activity and you can get more information about possibly helping out or witnessing a hatching by contacting Monty's Beach Lodge. Since the nature reserve is so close to Jiquilillo, it's a popular activity for those staying nearby.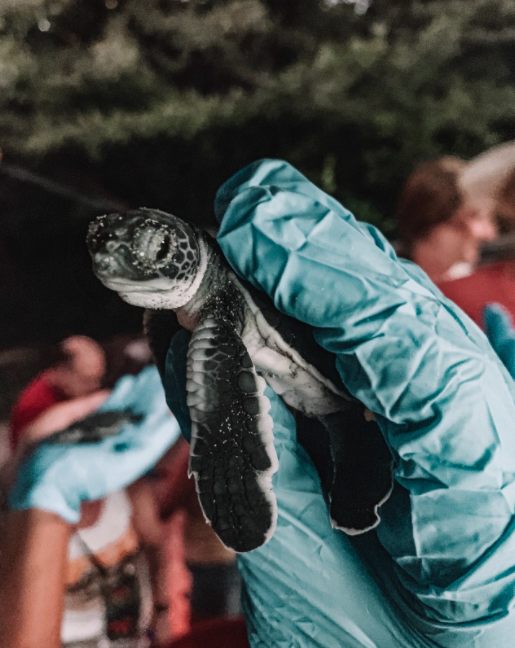 Hiking Volcano Cosigüina
Also nearby is the crumbling crater lake and volcano of Cosigüina, a favorite day trip when you need a break from the beach. The trek up leads you through a sloping, tree-filled trail up to the top, where you can peer over the crater's edge into the gem-colored lake inside. Keep a look out for El Salvador and Honduras too! You'll be able to see these neighboring countries from the top. If you're looking for a little bit of history, here it is: in the 1800's, a massive eruption broke up the rocky edge of the volcano, with massive chunks landing in the crater to form little "islands" in the water. It was the most violent volcano explosion in Nica's history, but one that led to one of the coolest volcano experiences you can have in Central America.
It's an easy, but uphill hike, one that should take you about 3 hours up, and 2 hours down, according to this blogger. One thing to be aware of is the heat and humidity here: bring plenty of water and plan to get very sweaty on this hike!
Getting There: There are guided tours available if you don't want to DIY. Here's a good local recommendation, though there are a few others if you'd like to do your own research. That tour option is $50 USD per person, but does include private transportation … though you'll run into cheaper options if you book a tour in Potosi or Chinandega.

You can also take a chicken bus from Chinandega to Potosi, the ride should take anywhere from 3.5 to 5 hours. It's about 50 cordobas, and buses supposedly leave at 6:00 AM, 9:30 AM, 10:30 AM, 2:20 PM, 3:45 PM, and 5:30 PM.

Once in Potosi, we've heard good things at staying at the Hotel Brisas del Mar. They can arrange a guided tour of the volcano for $25 USD. From that hotel, it's about a mile and a half walk to the Reserva Natural Volcan Cosiguina, where you'll stumble on the dirt trailhead.
The Coolest Place To Stay
Rancho Esperanza
Rancho Esperanza is easily the best pick, just one of the small smatterings of hostels and homestays in the area. The eco-hostel has the things you're looking for during a chill visit, combining a hostel with surf camp, and a focus on preserving the world around them. This hostel is low-pact, with projects that boost the economy of the local village in the area.
The hostel is complete with a hammock-filled lounge, space for communal meals, lots of board games and a shelf of books left behind by other travelers. You have your pick of a few sleeping options, in cabins or dorms that sleep six.
The hostel also cooks all three meals, with prices in the $3-$5 for each meal.
Want to book your stay? Call them at +505 8680 0270 or send them an email at stay@rancho-esperanza.com or check out their website.
Good To Know
Because there are no ATMs in Jiquilillo, you'll want to make sure you have plenty of cash on hand, or are prepared to pay with your card (Visa and Mastercard are accepted at the hostel, with a 7% surcharge).

Places + Things To Eat
Meet The Coconut Bread Man
According to local legend, Wilson's the name of the "coconut bread man" who walks the beach at sunset pulling a colorful cart of delicious coconut bread, freshly baked mind you. He has quite the following and often sells out of the slightly crispy but oh-so-gooey bread … so if you see him, get in line.
Some Fresh Fish
There aren't many established restaurants like you may be used to in this part of Nicaragua, but your local comedores have you covered. These local eateries are serving up the best of the best, freshly caught fish, grilled up and piled high with a cabbage-based salad. Prices for all of this are to die for, about 100 cordobas which is under $4 USD for a plate of seafood. It really can't be beat.
Rancho Migdalia
Probably the most popular restaurant in this quiet town, one where you'll find freshly grilled fish, fresh juices, chicken, steaks, with popular sides like fried plantains and rice.
Hours: 7:00 AM to 9:30 PM

Getting To Jiqilillo Beach
From Leon To Chinadega
There are buses from Leon to Chinandega, which is a 90 minute drive (if you're in the larger bus) or 45 minutes (if you're on the smaller buses). Tickets are about 18 - 30 cordobas, just pay the driver directly. In Leon, head the main bus terminal, and plan on arriving at the Mercado Bisne in Chinandega. We love all the things to do in Chianandega by the way.
This route has buses leaving every 20 minutes from 4:30 AM to around 8:00 PM, and buses leaving every 90 minutes from 4:30 AM to around 6:00 PM … but like most buses in Nicaragua, buses typically leave when full (and schedules are more of a suggestion).
Here's your go to guide to Leon — we love this city and you should definitely plan on spending some time here.
From Managua To Chinandega
You can find a few buses that will take you from the Mercado Isreal Lewites station in Managua to Chinandega (arriving at the Mercado Bisne). It's about a 2 hour to 2.5 hour ride, depending on the type of bus you're riding.
Microbuses (the 2-hour route) leave when full from around 4:30 AM to 5:30 PM, for about 87 Cordobas, or you can hop on a bus which is a big longer, but cheaper at around 77 Cordobas. This route has buses running from 4:30 AM to around 6:00 PM, with frequent departures. You can check schedules here.
Then From Chinandega to Jiqilillo
Once you make it to the city of Chinandega, you'll arrive at the Mercado El Bisne bus station if you're coming from Leon or Managua. You need to head to the El Mercadito station to make it to Jiqilillo, where you'll get on another bus. You can take a taxi to the El Mercadito (which should only be about 15 cordobas per person). Just ask around and make sure you're headed to a bus station that can take you to Jiqilillo.

When you make it to El Mercadito, you can ask the bus to drop you off directly at the Rancho Esperanza (you can also say the "Rancho de Nato"), for 25 cordobas. The ride is about 1.5 hours, or maybe 2 hours depending on the number of stops and the traffic. Buses leave about 5 times a day from Chinandega to Jiqilillo at 7:00 AM, 10:00 AM, 11:30 AM, 3:00 PM, and 4:30 PM — though like any bus route or timetable, please double check when arriving. Prices, times, schedules, routes, etc are all subject to change.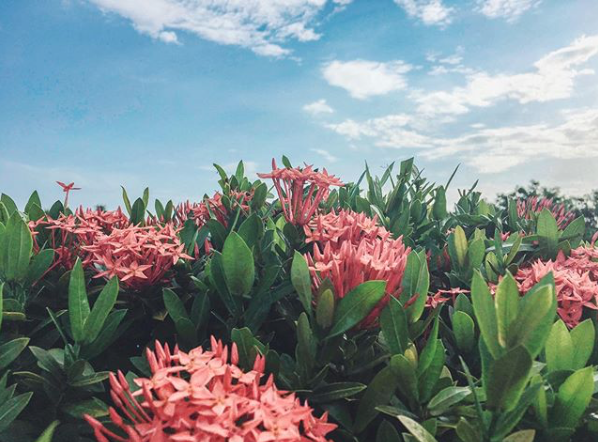 You're ready for an adventure
Not to pick favorites, but Nicaragua is where it's at. Miles of untouched beaches, adventures for half the price than what you're find nearby, thick tropical jungles, and an island getaway that's the envy of everyone on Instagram. See what Nica is all about: