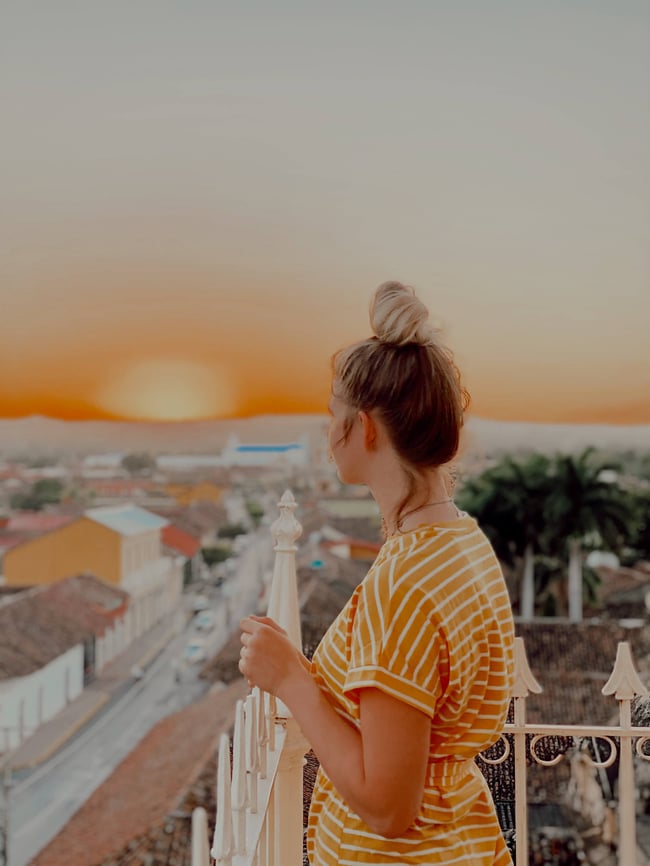 Headed to Nicaragua? If you plan on doing some traveling around, you'll want to get the scoop on how the buses work here.

Our ILP volunteers living in Nicaragua will be able to see a lot on their weekends off and vacation days — places the dreamy island of Ometepe, or heading up for a weekend of colorful cathedrals and volcano boarding in Leon. There are a whole list of weekend adventures we hope you'll be tackling while spending time in this tropical country ... and knowing a bit more about the buses here can help make that happen!


---
Don't just visit, come spend an entire semester in this tropical country
Volunteering in Nicaragua
---

This post is the best starting point — we have all the bus info broken down into categories, listed below. If you already know all the info you need and are just looking for scheduling, click the link and it'll take you straight there. However, we do recommend you read through everything if you're unfamiliar so you have all the background details you need before moving onto the next topic.

Did you get all of that? Let's dive in!
All About Taking Chicken Buses In Nicaragua
What Kind Of Buses Are There?
Chicken Buses (and Microbuses)

Shuttles



Chicken Buses
Chicken buses are actually decommissioned school buses that have been repainted and refurbished to use to get locals all around Nicaragua — they're sometimes painted insanely bright colors with tons of detail added, making them a very fun addition to the streets when you spot them.
You'll notice that most of them have the routes right on the front of the bus, making it easy to see that that bus is going from Managua to Matagalpa, or Granada to Leon.

Here are a couple more things to know —

They're inexpensive.
We're talking $2 or $3 USD to get to some of the best places in the country, or more like $5 or $8 on the higher end of things.
About the stations and schedules
We have more info about this below, but know that Chicken Buses typically don't follow a strict schedule (most leave when full, even if you hear they leave "every 30 minutes"). As far as the bus stations, most cities have a central bus station you can catch departing buses, plus you can ask around and get answers like "on the corner by the Pali grocery store" or "down the street, by the market".
Catching a Chicken Bus
There aren't really official stops, meaning you'll see locals standing on the side of the road to flag down the bus they want to hop onto (remember how most buses have their destination printed at the top windows?). To get off, you'll want to let the driver know where you want to get off, especially if it's not the final destination (example: from Granada to Masaya, you'll take the bus headed to Managua, and just let the driver know you want to get let off in Masaya — it's on the way).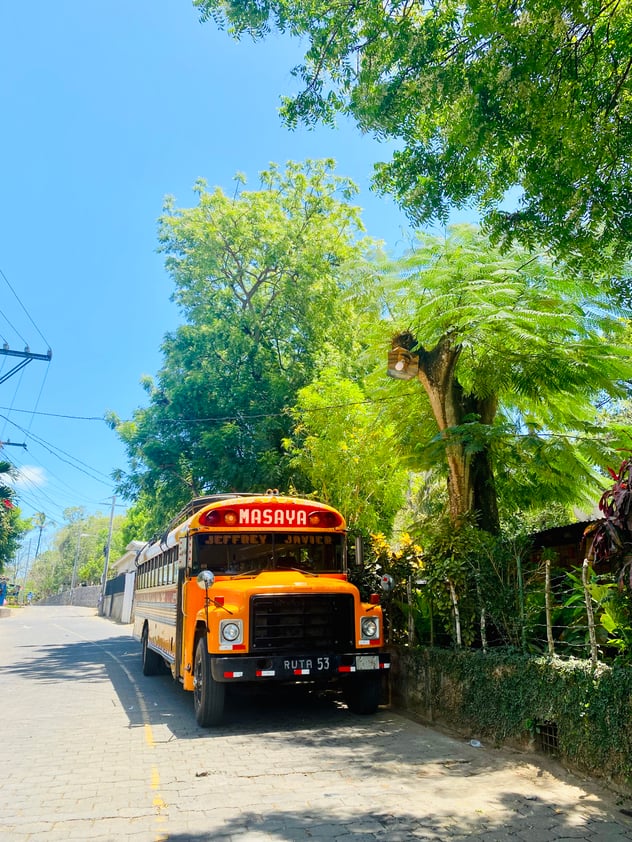 Microbuses
Microbuses are similar to Chicken Buses but don't make as many stops or have a more direct line (no need to change buses on the way). They're a bit more expensive because of the direct route, but are still decommissioned school buses without much of a schedule.
Shuttle Bus
If you don't want to rely on public transportation you can hire a shuttle to take you from city to city, though this will be more expensive (Tierra Tours is a popular tour and transportation service, same with MROW Nicatravel). However, some volunteers mention that it's way more affordable to hire a private shuttle in Nicaragua the neighboring countries like Costa Rica.
You can also get to other countries via bus rather than flying. For that, you'll be better set taking a shuttle to Costa Rica, rather than a bunch of connecting Chicken Buses. Check out Tica Bus, TransNica, Nicabus/Platinum and Central Line for international trips out of and into Nicaragua.
Just to give you an idea on timing and prices, a Tica Bus from Nicaragua to San Jose, Costa Rica costs around $30 - $50 and takes 8-9 hours.
If you take a minibus or shuttle, those are a bit nicer with cushioned seats that may or may not recline and usually have air conditioning. Since you'll be riding these for longer distances, they usually include rest stops to get food or for a restroom.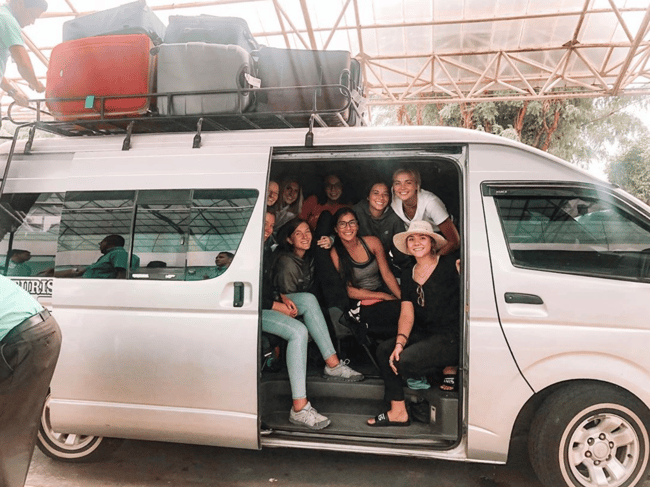 What Are The Chicken Buses Like?
The chicken buses are definitely a local experience, meaning you get a slice of the culture during your ride. These buses are crowded and small (remember, they're built to transport young school children, not adults traveling to and from with their groceries: huge bags of rice, baskets of fruit, and even livestock on occasions).
While you may not think it's the most comfortable ride, it's the most affordable, and something you shouldn't skip out on experiencing when in Nicaragua. Each semester, ILP volunteers are riding back and forth on these Chicken Buses to a whole list of vacation destinations, meaning you can easily have a beachy weekend for $35 or less because you're only paying $2-3 on transportation ... and the rest can go towards a seaside hostel and fresh ceviche. Yum.
We've pulled a few points to understand before embarking on your trip!


+ A Few Things To Keep In Mind
Because you'll be riding on a school bus that there won't be air conditioning and that there isn't a lot of room for storage.

Chicken Buses will usually charge you a price to get on, then another "ticket" for you bag because you can't put them anywhere than on another seat.
They can also get pretty crowded, so getting to the station or chicken bus stop early can help you get a seat near the window instead of standing in the aisle. (When you think it's full, plan on more people you thought could fit, just piling into these buses!). It's not uncommon to see people filling every seat and standing in the aisles.
You may want to swing a window seat for a few reasons. First, you can push in the sides of the window to open it up (remember that from elementary school??) and get a little fresh air. You'll also get a bit more personal space: remember, the aisles of these buses can get crowded. Lastly, you'll be able to pass money out the window when you stop and grab something from vendors selling everything from pineapple tarts (pasteles de piña) to fruit juice.

You'll also sometimes find vendors selling food and random supplies like batteries down the aisles. Yep, no matter how crowded the buses get, you will still see vendors squeezing their way down to do a little selling.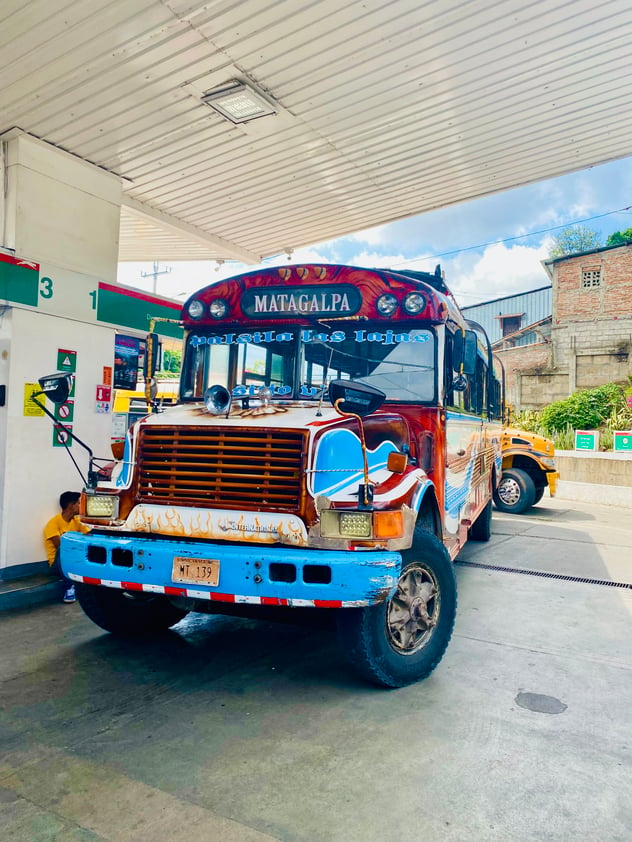 What Are The Bus Schedules?
This is tricky in Nicaragua; there aren't very many online schedules to look at, so it's always best to see what you can find online and then double-check in person. One volunteer said there really isn't a bus schedule and even confused some of the locals most of the time.
As an ILP volunteer, you're set up with a Local Coordinator and put in contact with locals who may be able to point you in the right direction. You can also get to know your neighborhood and figure out the basic pattern of the chicken buses in your area.
Our advice? It's best to ask around and talk to your hostels. Some will have bus routes posted so you can get an idea of where buses go, when, and how much. Here are some examples to help you know what's around: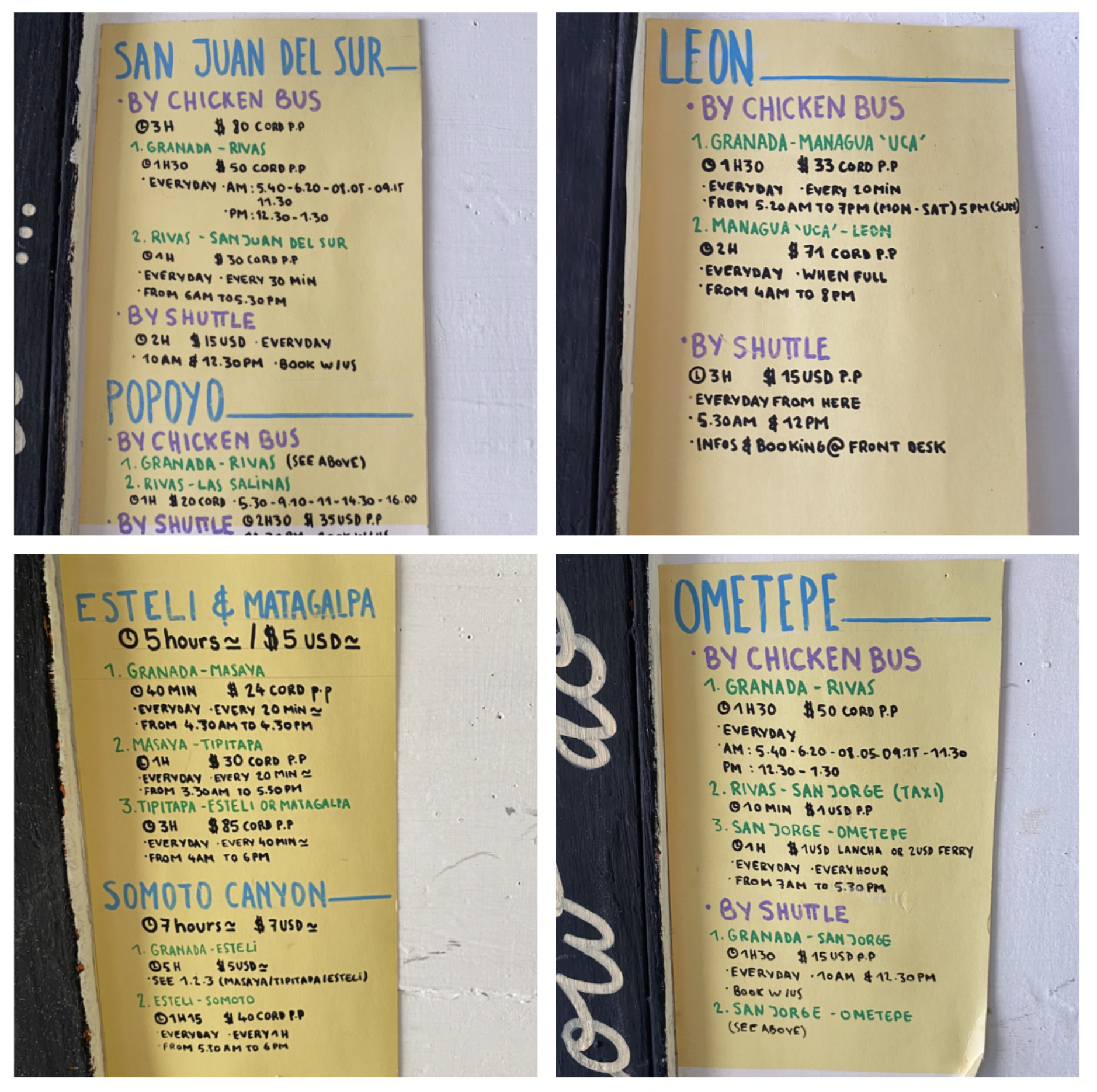 There was another ILP volunteer who jotted down this info if that's helpful:
Granada to Rivas via Chicken Bus
50 cordobas, about 2.5 hours
(Leaves every 30 minutes, beginning at 5:45 or 6:30 AM)

Granada to Managua via Microbus
37 cordobas, about 45 minutes
(Leaves every 20-30 minutes)

Granada to Masaya via Chicken Bus
14 cordobas, about 1 hour

Rivas to San Juan Del Sur via Chicken Bus
30 Cordobas, about 1 hour
(Leaves every 30 - 60 minutes)


Managua to Leon via Microbus
70 cordobas, about 2.5 hours
(Leaves every 30-60 minutes, last bus at 6:00 PM to 7:00 PM).
What About Online Resources?
There is a site that can be helpful, although know that it isn't 100% accurate.

CentroCoasting pulls up a list of the major cities in Nicaragua in a grid; You pick your starting city (like Granada) and click on that tile to pull up what buses go where from Granada. So if you're headed to Granada to Ometepe, you'll click on Granada and scroll down until you see your route. The site lets you know that you'll need to take a bus to Rivas then onto Ometepe, giving instructions on how to do that. That site provides a Google map of where the stations are which is also helpful.
Booking Tickets
These are best done in person, at the specific bus station. Since Chicken Buses and Microbuses tend to leave when they are full, if you get to the station early, you should be able to get a seat. Volunteers in the past advice that you should arrive 30+ minutes early to see if you can get a good enough spot to have a set on these buses.

Oh, and when we say "book tickets", you're not here to purchase an official ticket most of the time. You'll just pay the driver directly, or sometimes by a pass at the ticket counter.
If you'll be taking a shuttle into another country (like Costa Rica or Panama), you can book these online in advance. Volunteers typically go with Tica Bus for their bus rides in and out of Costa Rica.
How Much Do Buses Cost?
Chicken Buses and Microbuses are very inexpensive, we're talking around $1 (slightly more, slightly less) depending on the distance, but usually never more than $5-7.
For example, to get to Granada to Rivas (where you can get to the island of Ometepe), taking a microbus or chicken bus will cost around $2.00 USD for a 2.5 hour drive. But if you took a shuttle or minibus there, you'd pay around $25 to $30 for the same ride.
As a heads up, you may be charged another fee for your luggage. Sometimes luggage is strapped to the roof, stuffed under the seats, or you'll need to carry things on your knees. As a general rule, you aren't charged another fee if your luggage doesn't take the space (a seat or standing room) for another passenger, but you won't be charged if you can hold it.
+Shuttle Info
Inside Nicaragua, expect to pay anywhere from $20-$50 USD or so for a mini bus or shuttle somewhere. For longer trips (to other countries), plan on paying $180-$250 or more. It may be easier to fly, so be sure to check flights if time is a factor; A flight might be the same price, but will get you there 8 hours earlier.
To take a minibus, you can also look online: Tierra Tours is a widely-known tour and transportation service that may be able to help you out.
You can also see the shuttle bus schedules by visiting their respective websites. Tica Bus, TransNica, Nicabus/Platinum and Central Line.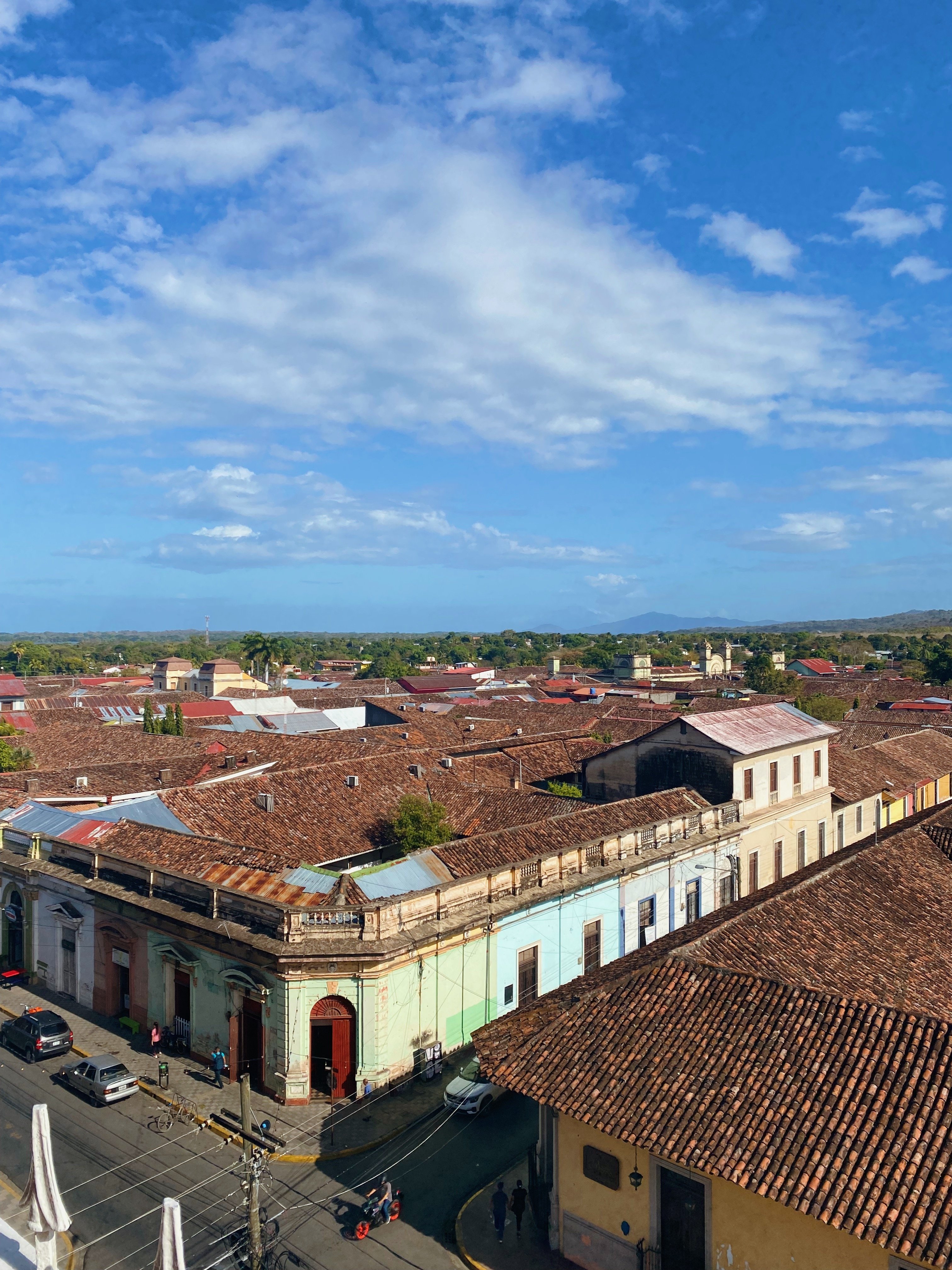 Where Is The Bus Terminal in Granada?
As a general rule, you can find the bus terminals in the city in the market. In Granada, there are different areas of the city where you can catch Chicken Buses to various locations. For example, catch the bus to Managua near the La Union Supermacado (Contiguo a Antigua Bodega de IUCASA, W2PR+GFG, Calle La Inmaculada, Granada, Nicaragua). However, you'll head to the Maxi Pali to catch the bus to get you to Rivas.

If you need a little more direction, on the Granada page, if you click on the red pins on their map, a little pop-up will tell you some info about that station. For example, the"Terminal de Buses Granada - Managua (UCA)" is the bus you'll take to Managua (the first stop on your bus ride to Leon — where you can go volcano boarding!)
Cab drivers are also a good resource to ask.
You Should Also Know About Rivas
There's not really much to see in the southern city of Rivas, but it's such a big transportation hub that you'll need to stop through on almost every bus adventure in Nica. This post about Rivas is a quick overview, giving you a gist about what the bus station is like, popular routes that'll take you here, and a few adventures nearby.
You know when you're planning a trip and you see that you have a bus stations in a new city and you're wondering if there's anything cool to do there or if you should just make your transfer and go on your way? That's what this post does for you.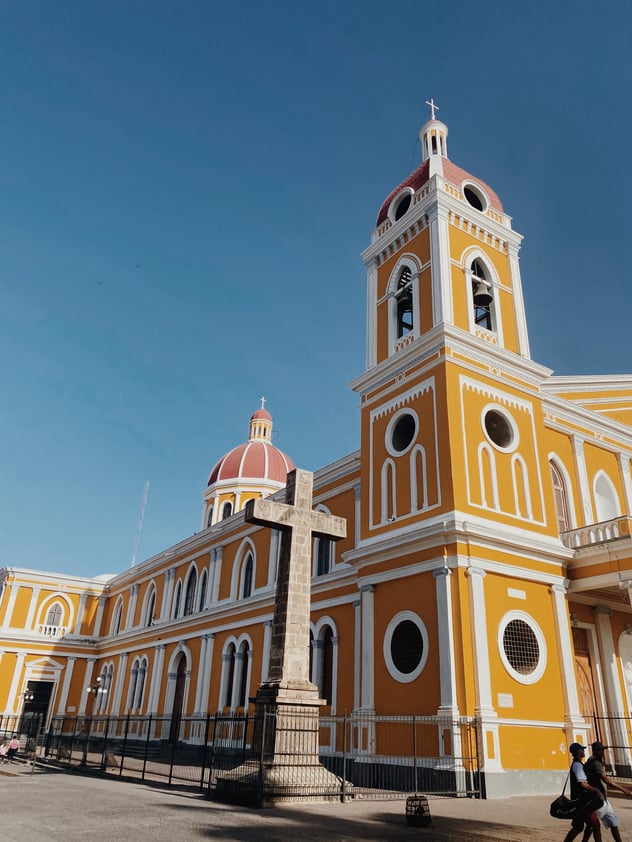 Now you're set to go all over this country via bus — score.
That means you're pretty much ready for all those amazing vacations hiding in this country. Whether you want white-water rafting, hikes through dense jungles or dreamy beaches, Nicaragua has you covered.