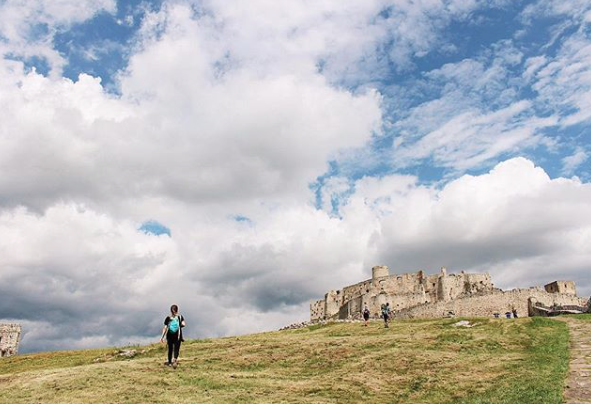 Planning on vacationing in Krakow, Poland and Budapest, Hungary? The charmingly quiet city of Kosice, Slovakia is going to be your favorite stop.
Slovakia may not be on your travel list, but it should. Especially if you are already planning on visiting the very popular cities Krakow and Budapest. Kosice, Slovakia is sandwiched between these two dream locations, and is a cinch to fit in your itinerary if you're traveling by bus or by train.


---
Do not miss out on Europe's best of the best
European Destination Guide
---
Kosice is a quiet, pretty-architecture-filled city with a delightfully picturesque Old Town lined with some of the best restaurants I visited on my latest trip to Europe. Plus, just outside of the city are the towering Tatra mountains, where you can hike up to impressively huge castle ruins. It's unlike any city I have ever visited, and I'm so glad I took the advice to stop over in Kosice.
Fit These Things Into Your Trip
All About Spiš Castle
Absolutely make this happen while in Kosice. Technically found outside the city, the ruins that make up Spiš Castle are incredible and completely blew my mind. Perched high on the foothills outside the Tatras mountains is a massive castle complex, complete with lookout towers, stone hallways filled with windows of the view, and a vast interior courtyard — make sure you walk along the stone rampart walls around the whole courtyard at some point in your visit. The castle is enormous; it's one of the largest castle complexes in all of Europe but since Slovakia isn't really on the radar, it was nearly empty when I visited.

The castle was built in the 12th century and stood for centuries as an imposing fortress that protected the surrounding villages. It was owned by the kings of Hungary, then various Hungarian royal families lived in the space until the 18th century — apparently the castle was too uncomfortable to live in, and was left deserted. A fire broke out (unknown causes) afterwards, further sealing the castle's fate. It fell into disrepair and ruin until reconstruction work started. Visit now, and you'll find some construction, but gorgeous stone rooms that house some interested museum pieces. Don't miss out on peeking into the torture section, where there are replicas of the devices once used in the castle.

Getting Here: You'll need to go by bus. From the Kosice bus station, you'll want to catch the 10:40 bus to Spišske Podhradie. It's about an hour bus ride. From there, just plug Spis Castle into Google Maps and you'll get walking directions — yes, it really does take 1 hour to walk there, though plan on more time because it gets very steep (and hot!) the last bit of the climb. You'll walk through the cute-but-semi-deserted city of Spišske Podhradie for a hot minute before walking along a semi-busy road. Please be very aware of your surroundings while walking on this road before turning right, towards the castle. You'll then see a curvy road leading up to your castle, again on the right. You'll walk up there, passing a parking lot on your left, then a dirt path will lead you to the castle's entrance. It is very easy to get to following Google's directions (plus it's pretty intuitive) it just takes time.

One the way back, you'll go the same way (budget about an hour of time to hike down!) and go to the same station. There is a 2:35 PM or 4:00 PM bus from Spišske Podhradie to Prešov, then another bus to Košice. There is not a direct bus on the way back, so you'll need to get a bus to Košice once you arrive in Prešov. You will pay the driver directly per ticket — no one bus ticket was more than 4€.

At the time this post was written, these bus times were accurate however, like all recommendations, please do your own research to double check nothing has changed. Here's the website I used to check bus times for my trip.

Cost: 8€, or 6€ with your student ID. They do take major credit cards or cash.
Hours:
April (9:00 AM to 5:00 PM, last entrance at 4:00)
May - September (9:00 AM to 7:00 PM, last entrance at 6:00)
October (9:00 AM to 5:00 PM, last entrance at 4:00)
November (9:00 AM to 4:00 PM, last entrance at 3:00)
Closed December to March



Tips For Visiting The Castle
There is a small cafe at the entrance where you can get a few snacks, but prices are a tad higher than what we had paid at the Kosice Billa grocery store. I suggest packing in a lunch and eating out in the outer courtyard, on one of the rampart walls. There is a restroom located up there.

If you're visiting in the summer, bring so much water. The hike is completely exposed, so you'll be hiking in the sunshine and it gets hot. You'll want to stay very hydrated, and have sunscreen and a hat handy.
You will want plenty of time to explore. I had about two hours and felt that was a good amount of time, personally, but the castle is really enormous. There are multiple rooms to walk around in (so many windows give you such a stunning view of the surrounding mountains!) plus there is a small museum that houses a church, some artifacts found in archaeological digs, and a section that has some replicas of torture devices that is really interesting (and creepy).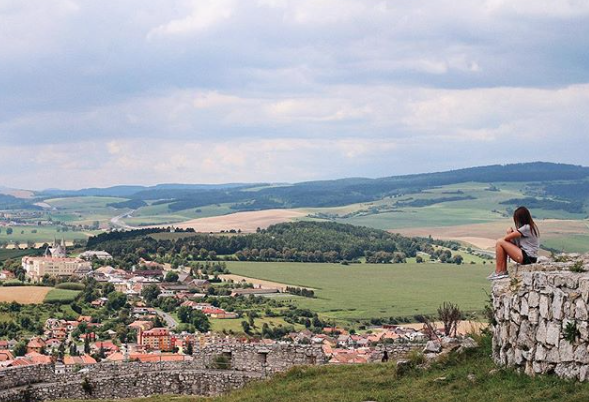 Get The Best View In Old Town
Get a stellar view by climbing up Sigmund's Tower, attached to St. Elizabeth Cathedral. So much of the city's charm is best seen from above. Old Town Kosice is similar to lots of other Old Towns all over Europe — huge pedestrian streets lined with darling cafes and restaurants, and churches + cathedrals dotting the colorful streets.
I loved people watching from the top of Sigmund's Tower. The staircase is full of stone steps that wind tightly up several stories to get you to the top of the bell tower. There are some 156 slippery steps, and it's not the best idea for anyone who is claustrophobic: the staircase is windy and very narrow, but the views are really spectacular.
Address: Hlavná 30/54, 040 01 Košice, Slovakia
Cost: 2€
Hours: Monday 1:00 PM to 5:00 PM
Closed Sundays
Tuesday - Saturday: 9:30 AM to 5:00 PM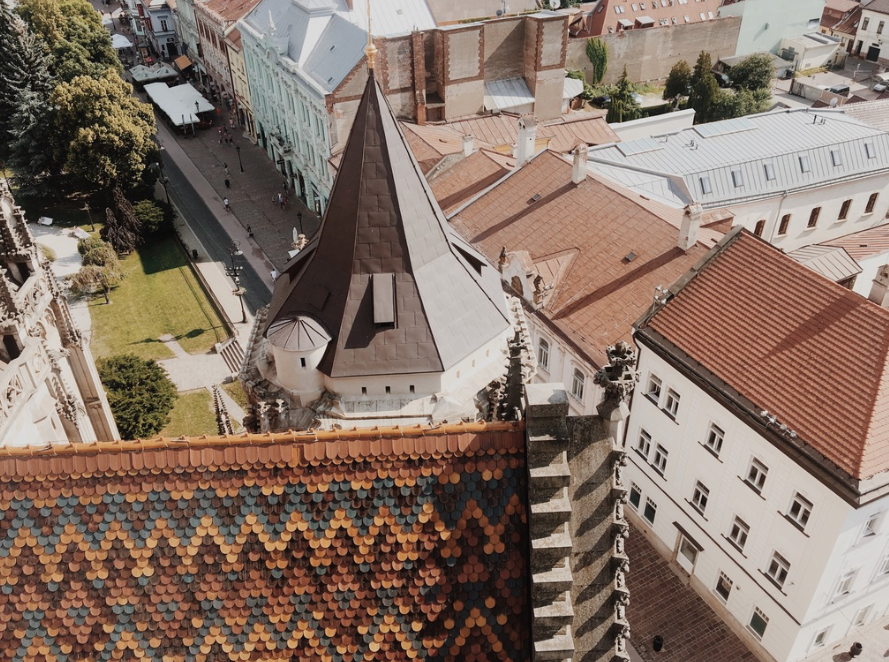 + Other Old Town Sites
St Michael Chapel
Another Gothic church worth seeing, St. Michael's cathedral is one of the oldest in the city and was originally built as a cemetery chapel. My favorite part? The narrow and skinny windows filled with colorful stained glass.
Address: Hlavná 21, 040 01 Staré Mesto, Slovakia
Free to enter
The Singing Fountains
A mini park breaks up the pedestrian street that goes right down Old Town, and in the middle, you'll find a series of fountains that "perform" every hour, on the hour. These singing fountains (Spievajúca fontána) is basically a water show that shoots fountains to the pulse of the bells ringing out from St. Elizabeth's Cathedral — sometimes you'll also see the fountains timed to perform with popular music, like The Beatles. You'll find a few benches to sit and watch. In the evening, there are some light effects to give the show an extra level of glam.

Find them performing between St. Elizabeth's Cathedral and the State Performing Theater every hour, on the hour from about 8:00 AM to 10:00 PM.
St. Elizabeth's Cathedral
Slovakia's biggest church, this massive Gothic church has all the things you're looking for in a huge Gothic church: gorgeously intricate stained glass, an impressive organ, and utterly massive archways supporting narrow windows. Right attached to the church is Sigmund's Tower (which we talked about above) where you can climb up the spiral staircase for a great view of the city.

Address: Hlavná 30/54, 040 01 Košice, Slovakia
Cost: Free to enter, 2€ if you'd like to take pictures


Catch A Hockey Game
Slovakia is a huge country for hockey, and Kosice is a major city in the hockey scene, thanks to the hockey stadium there. When I was visiting, the U.S. team was actually playing Canada which was randomly awesome. You can get a view of the season's schedule and get ticket information here. Ticket prices depend on when you're seeing a match (championship games are more expensive) but tend to hover around 28€.
Address of the stadium: Nerudova 1627/12, 040 01 Košice, Slovakia
My Favorite Places To Eat
Old Town is full of some of the tastiest cafes and restaurants I've found in Europe so far which came as a bit of shock for someone who wasn't anticipating all the great food in Kosice! Here are some spots I absolutely recommend you try, though the Old Town has a few tempting options:
Haluškàren
Serving up homemade Slovak food, this restaurant is my #1 pick … I may or may not have eaten there twice in one day, then went back the day after for more. This restaurant is known for bomb Halušky which are homemade potato dumplings, aka pure deliciousness. They are soft, pasta-like pillows typically served in a creamy cheese sauce. The dish reminds me of mac and cheese but way better: creamier, with way better flavor and texture.
I'd suggest ordering the #1 on the menu : bryndzové so slanninkou. A few minutes after ordering, a warm bowl of creamy goodness topped with the crispiest bacon appears. YUM. If you are feeling brave, test out the dessert Halušky: the one served with poppy is the most traditional. I'd order the small size of that guy, just to get a taste.
Oh and just so you know, you order your Halušky by bowl size: small (3.50€), medium (4.90 €), and big (6 €). The "big" size is definitely large enough to split between two hungry (but not completely ravenous) people. I'd suggest ordering a few "small" or "medium" options and sharing it with a group so you can try all the Halušky.
Address: Hlavná 100/47, 040 01 Košice, Slovakia
Hours: 11:00 AM to 10:00 PM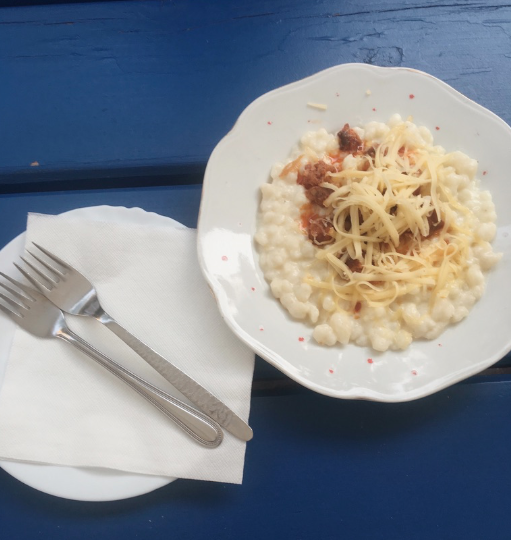 Republika Východu
More of an upscale option, Republika Východu has an absolutely mouth-watering menu. My friends and I decided to eat here after a long day of hiking and were happy with the splurge because our dinner was amazingly delicious — a walnut, fig, and goat cheese spinach salad, then an entree of roasted batch, mushrooms and veggies, served on a pile of mashed potatoes. So delicious.
I'd recommend sitting outside so you can enjoy the sites: the restaurant is right outside of St. Elizabeth's tower and you can catch the music playing at the restaurant a few doors down if they are playing outside. Prices are more similar to American places, with salads and entrees in the 10€ - 20€ option.
Address: Hlavná 108/31, 040 01 Košice, Slovakia
Hours: Weekdays, 8:00 AM to 11:00 PM (Open until 12:00 AM on weekends)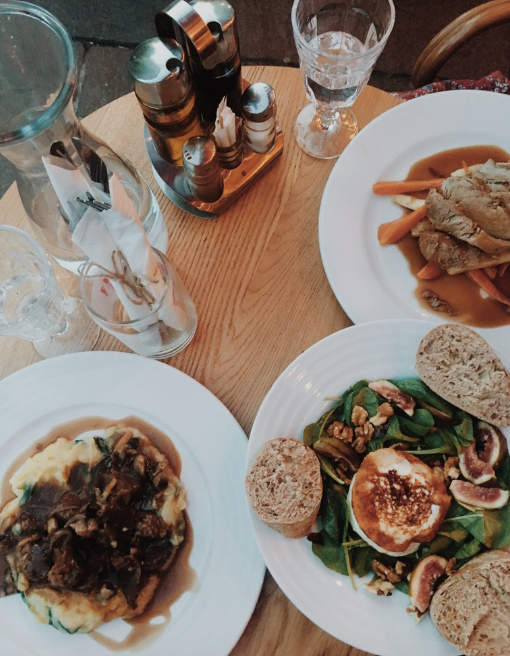 A Few Tips
Kosice Is Under The Radar
This place is quiet — you won't find huge crowds, tour buses, or high prices in Kosice. It's on the euro, but even then, things were affordable. Fancy dinners (like the Republika Východu) didn't cost more than what I'd pay at home for a not-as-nice restaurant. You won't have to wait in huge lines which is a huge plus.
However with all those perks comes a few things to know: tourism isn't a huge industry here, so there aren't as many people who speak English. At most of the popular restaurants you were fine, but we ran into several locals who owned small shops that didn't speak English. It's also somewhere that you have to do a lot of your own research (unless you're going off of what's on this blog!) because there aren't hundreds of bloggers who have done the research for you. Staying at an Airbnb who has a helpful host is a huge asset if you have questions about the local bus schedule or other questions. I also recommend taking screenshots of your bus schedule so you can point to the name of your stop and double check you're getting off at the right location. Just little things like that can help you get around with hopefully fewer mistakes!
Stay In An AirBnb
Usually hostels are my recommendation, but not for Kosice. There is only one hostel in the area (Happy Bull) so if you're looking for something different, you have to book on AirBnb. I booked at Patricia's cute place, which slept three and had a killer location. Her place is comfortable (no A/C though!) and had a little kitchen which was handy. She was also a great host who was extremely helpful when we had questions, but there are tons of options if you do a little research.
Get Around By Walking
Kosice is small, at least the parts tourists are interested in. The train/bus station is a 5 minute to the main walking street (Hlavná) that cuts right down Old Town, where you'll find most of the sites you're interested in seeing. I'd highly recommend booking a place as close to Old Town as you can because you'll be within walking distance to the restaurant and sites, plus the train/bus station.

Stay For Two Days
I stayed for two days and left feeling like that was the perfect amount of time. We spent one day exploring the Old Town, taking a slow day to walk around the parks and peek into the churches and the little stores, plus have time to have a leisurely lunch and dinner before checking in for the night. The city is really quiet and has a relaxed pace. Our second day, we hiked to Spiš Castle which took up the majority of the day, and left a few hours to have a leisurely dinner and walk around Old Town in the evening.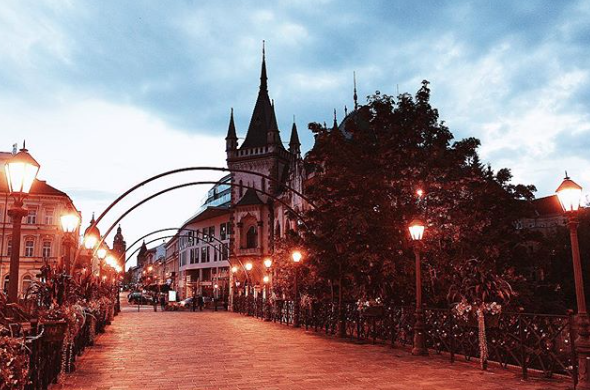 Nearby Adventures
Zakopane, Poland (3-hour shuttle ride, via leoexpress)
Hike to emerald lakes behind snow-capped mountains in the summer, or head to Zakopane in the wintertime for some stellar skiing. Be sure to plan enough time to get to the supposedly haunted Niedzica castle! This Polish city is found nestled in the huge Tatra mountains and is a getaway year round. See what's waiting for you in Zakopane here.
Krakow, Poland (5-hour bus ride)
We love Krakow, and know you'll fall in love with this city too. Home of some of the best ice cream around (I'm low-key obsessed with all the flavors you can try at Good Lood), an amazingly pretty Old Town, tours of the sprawling Wawel Castle, and pockets of history found around every corner is what's waiting for you in Krakow. This city has been a popular volunteer vacation spot for years, and sometimes makes the list of "my favorite place I saw in Europe" if you talk to our ILP Europe alumni! Get our Krakow guide here to know what to see, where to eat, places to stay, and more.
Budapest, Hungary (4-hour bus ride)
I want to draw all the buildings in Budapest; it's an incredibly pretty and artsy city full of towering cathedrals, niche apartments hiding antique shops, and Middle Eastern cafes. Fill your time walking through underground tunnels in the extensive cave network on the "Pest" side of the city, or hanging out in the most picturesque thermal baths on the "Buda" side of the city. A total favorite for more than a few reasons, and easily reached from Kosice. We've planned your trip to Budapest, Hungary to make sure you hit the highlights.
Bratislava, Slovakia (8-hour bus ride)
Come see another totally underrated city in Slovakia. The country's castle boasts a stunning castle, perfectly maintained medieval streets to stroll down, and a quirky collection of bronze statues hiding in the colorful streets. Located on the Danube River, the architecture and churches in Bratislava make for a fun city to spend a day or two before hopping on a bus to nearby Vienna, Austria — this popular city is less than an hour away.
We've got a guide to Bratislava right here.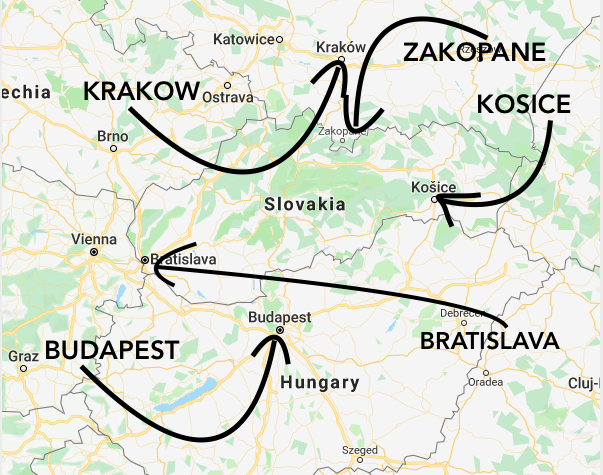 If you're already living in Europe ...
Slovakia's easy to get to! ILP is a non-profit travel and volunteer organization who sends college-aged volunteers abroad to help in an orphanage or teach English for a semester in schools all over Europe. Come make a difference and travel to your favorite cities abroad with ILP.