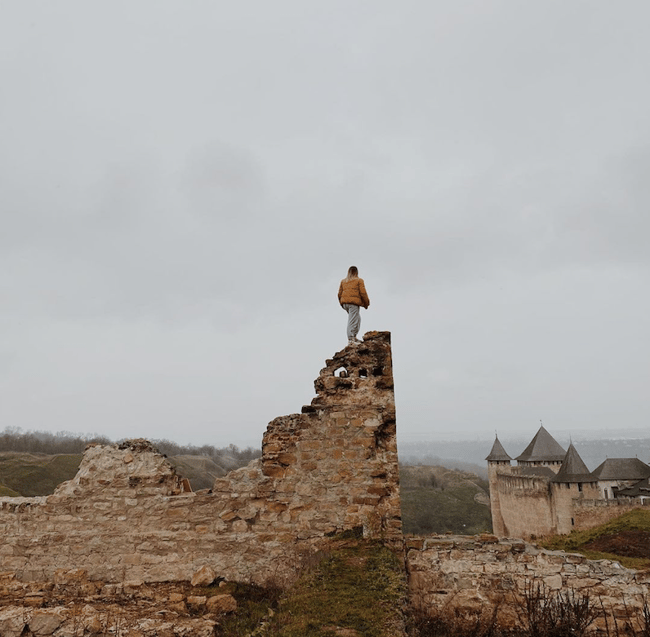 This is just one of many castles and fortresses in Ukraine, so what makes Khotyn worth seeing? Keep reading to find out why and plan your trip to this unique landmark.
If you're fascinated by European history, including all of its wars, architecture, people, and rich traditions, then you'll love Ukraine. Her stories are woven with a lot of pain and loss, but are also bursting with pride and beauty. These deep emotions still saturate the stunning churches and castles spread all across Ukraine, many of which you'll get to visit as a volunteer with International Language Programs living in Ukraine for a semester!


---
Quick ILP Update — This post was written prior to the war and information is likely out of date. We're keeping this post live in hopes to update it once travel and peace returns to Ukraine.
---

With places like the stunning Tunnel of Love, the lively city of Lviv, the eerie Chernobyl, and the lovely Lavra, you literally have enough to keep you busy for months of exploring! And you will love all of it. We definitely do. Khotyn Fortress is one of the many ideal weekend trips from Kiev, so here's all the info you need to make that happen!
A Bit Of History
This impressive fortress stands in one of Ukraine's oldest towns that's been around for over 1000 years. While Khotyn is now a very peaceful area (about 9,000 residents), it has been conquered and owned by several different countries. First Moldovia, then Poland, then the Turks slid in for a bit (with a harem of 30 women), followed by the Russian Empire (who built the beautiful church up the road), until the beginning of WW II when it was owned by Romania. Quite a history!
The fortress itself (initially a wooden fort) was strategically built at the intersection of trade routes, attracting merchants from all across Europe. It was reconstructed and renovated multiple times, but the castle you see today was completed in the 1400s and restored in the 1960s. In 2007, this magnificent structure was included as one of Ukraine's Seven Wonders.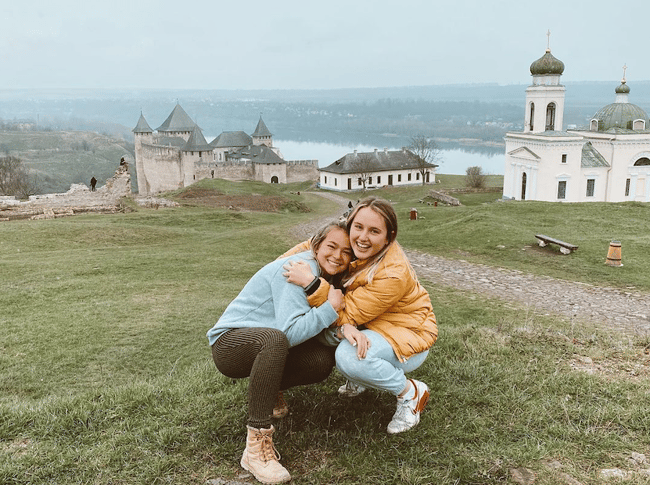 The Legend
One thing you'll definitely notice during a visit to Khotyn Fortress is a big, dark stain on the exterior wall. There are many stories and legends that have evolved to explain it, but my personal favorite is about a young girl who lived during the time of a Turkish invasion. The battle wasn't going well for the Turks, so they decide to put the castle under siege and wait for the defenders to run out of bread and water. The people inside the fortress grew weaker, but still refused to surrender.
After many days with no water, they were about to give up hope when this girl decided to slide down the wall with a rope at night and fetch water from the nearby Dnister River. The Turkish soldiers did not see her until she was being pulled back up the wall with her full pitcher of water. The Turkish archers shot their arrows, and the wounded girl spilled much of the water onto the fortress wall. The soldiers inside the fortress pulled her injured body up the wall and drank the remaining water. This gave them enough strength and courage to run out of the fortress and overpower their Turkish enemies.
After the battle was won, they came back to find the girl, but her body had disappeared. On the wall where she spilled the water there still remains a large spot to remind everyone of her courageous sacrifice.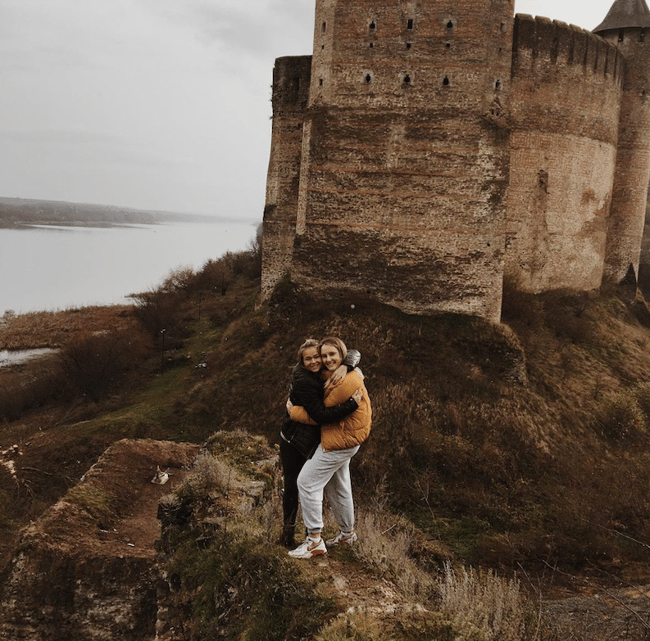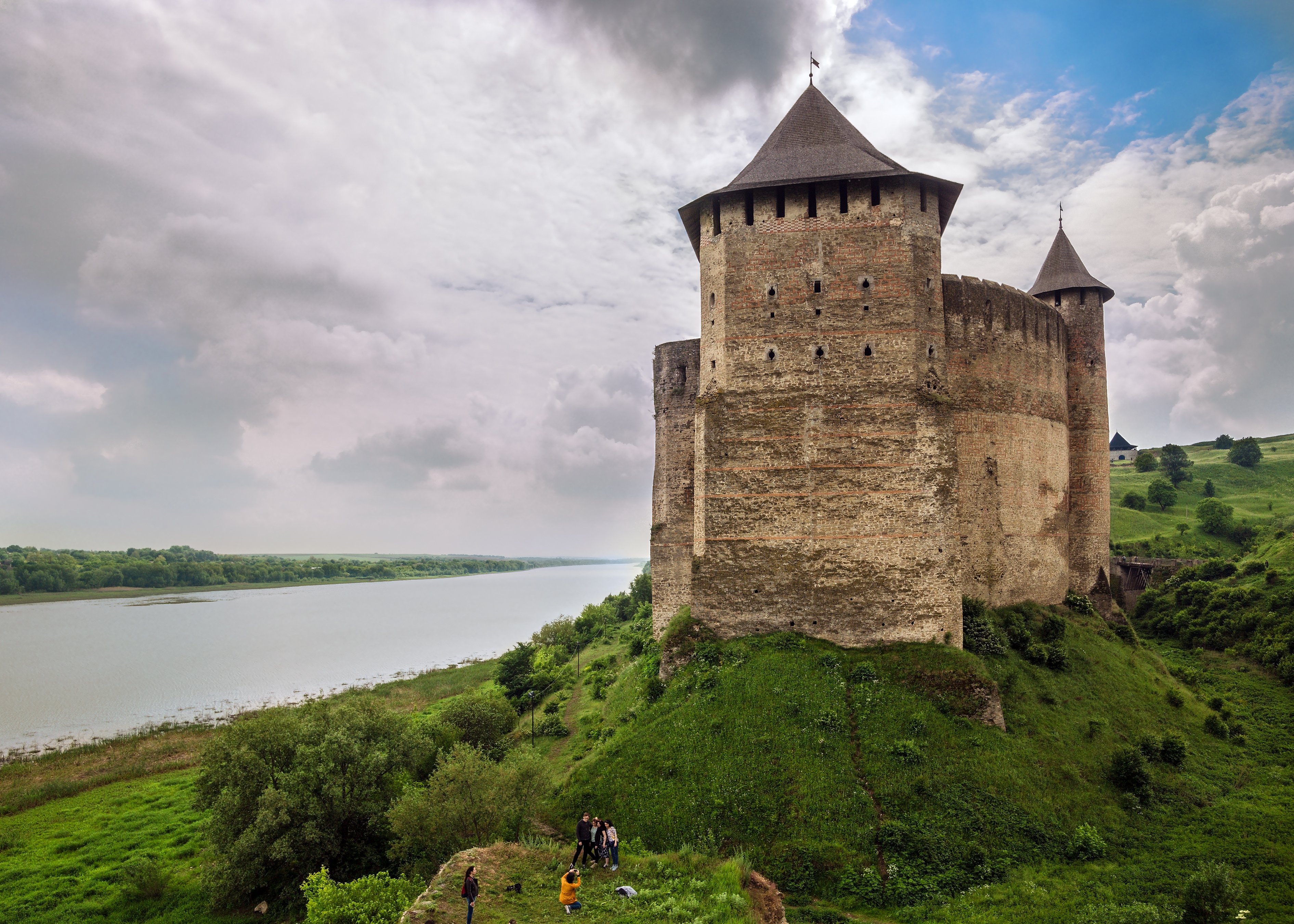 All Visitors' Info
What You'll Find
There are many exhibits for you to explore, and all are linked with the fortress' history. Some rooms are full of medieval torture and execution instruments, paintings, military attire, and traditional costumes. In others you'll see artifacts discovered during the excavations of this area, like military equipment used during attacks of the fortress, coins, and even pottery. You can also walk through the catacombs and ancient dungeons.
Make sure you also catch the views of this fortress from every angle, including from the banks of the Dnister River, which will leave you overwhelmed by how gigantic these stone walls are! We're talking 131 feet high and 20 feet wide.
Tickets And Hours
The entrance fee to visit the fortress and all of its exhibits is 70 UAH (just over 2 euros) for adults, but only 35 UAH for students (although this may only be for Ukrainian students).
The entire fortress is open every day from 9 am to 6 pm, except for on holidays when it closes as 5 pm.
To get more specific information, see some incredible photos, and even get a viritual 3D experience, visit the official website!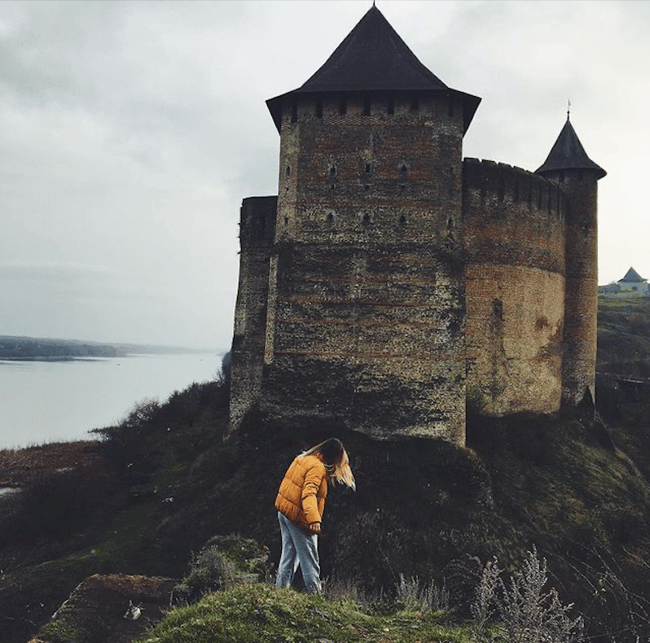 How To Get Here From Kiev
Full disclosure, you might have to take multiple routes to get here, but it's totally possible without a car and worth it to see this destination.
From Kiev To Kamianets-Podilski
By Train —
There are regular routes from Kiev to Kamianets-Podilskyi so that's the most popular way to do it. Search to see current routes here and here. The journey is about 7 hours, but there are night routes and that can be a great option so that you're just sleeping through it and not wasting precious days exploring.
By Bus —
If you'd rather do a bus or if train routes aren't available on the day you're traveling, consider the bus option. If you're coming from Kiev, you need to get to Chernivisti first. This journey takes about 10.5 hours, which is definitely long. But, if you take a night bus then you can catch some sleep on the way. A ticket is only 15 euros, and there are regular buses that leave Kiev at 8 pm, putting your arrival in Chernivisti right at 6.30 am. Book this ticket here!
From there, you can actually go straight to Khotyn if you want (usually 1 hr 20 min trip for about 10 euros which can be purchased here)! Or ... if you have extra time I highly recommend swinging through Kamianents-Podilski first. It is home to the dreamiest castle (usually 1 hr 40 min trip for about 4 euros which can be purchased here).
From Kamianets-Podilski To Khotyn
Once in this beautiful destination city, you'll need to make your way to Khotyn (usually a 30 min trip for about 10 euros which can be purchased here).
Once you arrive in the town center of Khotyn, go along Svyato-Pokrovska street to Fortechna street. The fortress is about 1 mile from the town center.
By Tour
This is another great option since it clears out some of the hassle for you. The best tour we've found leaves from Kamianets-Podilskyi, so you'll still have to get there from Chernivisti. It is a three-hour tour that includes round-trip transportation, the entrance fees, and a local guide, who will show you some of the highlights and tell you a lot of facts that only a local knows. The fee changes depending on how many people are in your group (4 people = 50 euros per person, 6 people = 35 euros per person, etc). Check out the tour here!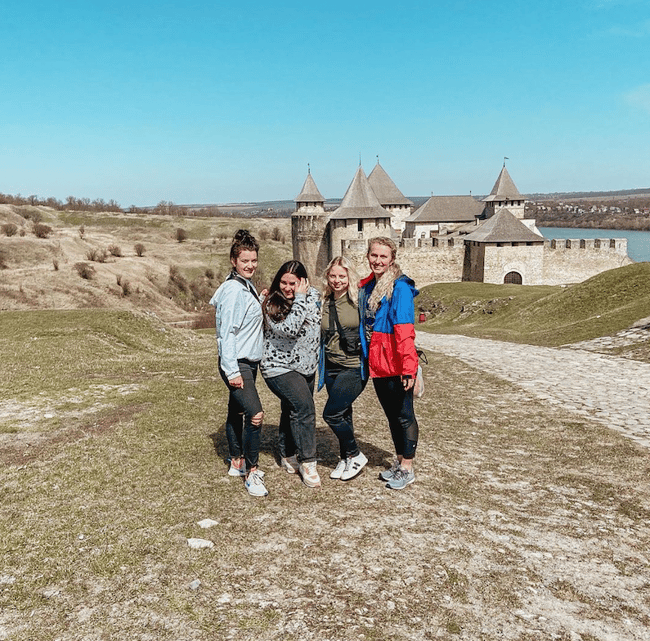 +Nearby Adventure
Another one of Ukraine's Seven Wonders is Kamianets-Podilskyi with its fortress, Stara Fortetsya. We've already mentioned it as a place you'll likely travel through on your way to Khotyn, so why not take the time to explore the area and see another one of Ukraine's most famous landmarks? Its history mirrors Khotyn's, so you'll see a lot of similarities. It is possible to visit both in one day, especially if you're taking a tour out to Khotyn. Check out the info about this extraordinary fortress!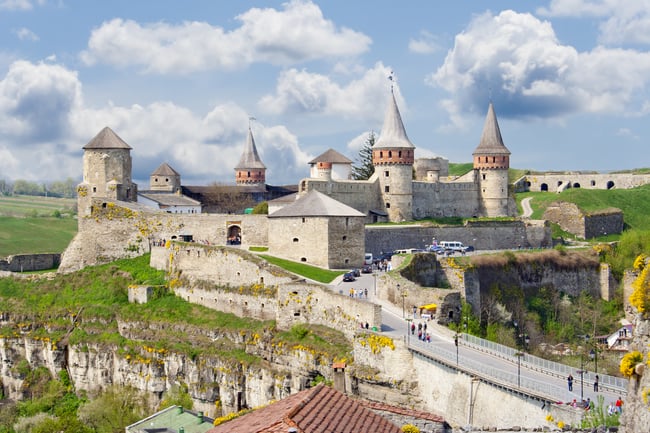 Want to learn more about how you can live in Ukraine as a volunteer?
ILP offers a unique opportunity that will allow you to immerse yourself in Ukrainian culture. Since you'll only be teaching for 20 hours a week, that leaves weekends (plus a handful of other vacation days) to explore many significant landmarks, cities, and even other countries. It really is such an incredible, unforgettable way to spend a semester. Click the button to learn more.