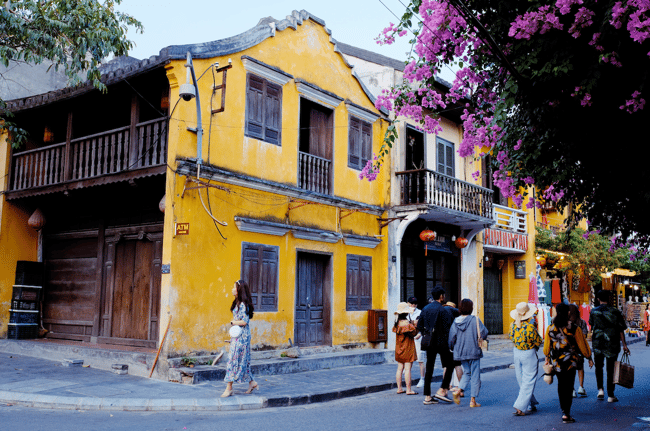 I absolutely loved this cutie little beach town, the custom clothes I got here, and the lantern-lit main market. Here are all of my tips for your own trip to Hoi An.
In the middle of my trip to Vietnam, we spent a few days relaxing in the darling little coastal city of Hoi An (and am so glad we made room for this in our itinerary). I had a friend spend quite a bit of time in Vietnam and recommend this spot when I asked where I could get custom clothes made, but that's not the only highlight of this place. If you'll be spending any time up in the northern part of Vietnam and want a bit of sunshine and surf while you relax in a cutie town, you've got to add this onto your itinerary.


---
I loved my semester volunteering and traveling around Asia
See what volunteering with ILP is all about!
---

If you're the kind of traveler who likes to see how someone else spent their time, where they stayed, and some advice to help you plan your own trip here, you're in luck — that's exactly what this blog post is.
My Hoi An Highlights
An Bang Beach
Situated just outside of the very charming little city of Hoi An, An Bang is one of the most popular beaches to visit in Central Vietnam. It has calm waves and a huge stretch of golden soft sand where you can rent out lounge chairs while you sunbathe and grab a coconut or bag of fresh mangos sold by walking vendors. We spent the day on the lounge chairs doing just that, then took a walk down the coastline to see another side of the beach, before getting a little manicure at one of the vendors on the side of the street before going home for the day.
An Bang wasn't busy when we were there (end of March) but it does get crowded in the summer months. You can escape some tourists by visiting nearby beaches like Secret Beach or Cua Dai Beach (where you can find options for diving, kayaking, banana boating). Both are just a few minutes north of An Bang.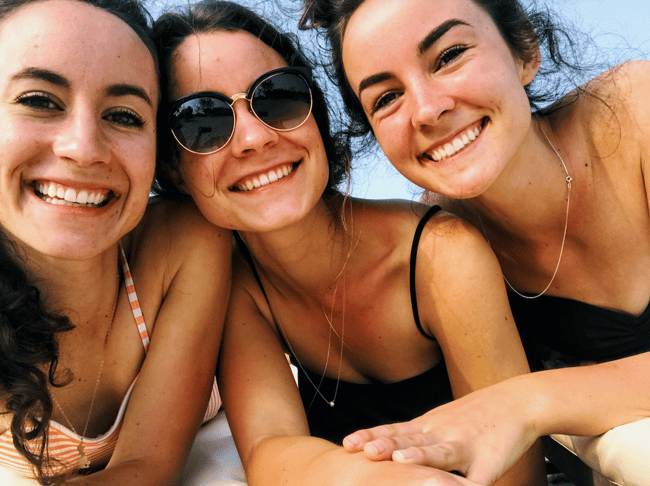 Get Some Clothes Made
One of the reasons I visited Vietnam was the chance to get some clothes made (something I missed out on while I was in China!). And the tailor shops in Hoi An did not disappoint. There are dozens and dozens of them, with internet forums arguing which were the best. I'd recommend my experience at Bao Diep Tailor Hoi An. Nga Phan is the owner and she's just lovely to work with (she's direct and to the point, which moved the appointment along). My sisters and I each got an item custom-made in less than 24 hours!
Nga and her team spoke wonderful English and helped us each decide on the fabric for our clothes, get our measurements, and guide us in and out for a couple of quick fittings before we got to take our things home. One of my sisters got a dress modeled after one Kate Middleton wore, my other sister got a wrap-around dress, and I came home with a custom-fitted, wool camel coat. We also got measurements from my dad and brought home a suit and a couple of shirts. And if you're wondering on price, I thought things were reasonable (my coat was about $130 for a custom wool coat, the dresses were around $50, and the suit was just a bit more than what I paid for the coat).
My advice? If you want clothes made, show up knowing what you want ahead of time. Things go much smoother when you have picture references and just need to decide on a couple of things like how many buttons you want, the hemline, or where you want pockets.
As mentioned, there are tons and tons of tailor shops, but here's the info for the one I visited:
Bao Diep Tailor Hoi An

Address: 28 Tran Hung Dao, Phuong, Phường Minh An, Hội An

Hours: 9:00 AM to 9:00 PM
Take A Boat Tour
Take a peek at a map of this place and you'll see that the southern peninsula of the area is interrupted by a network of rivers that ribbon in and out, creating little islands (and the perfect place to take a boat tour). You'll run into a handful of different boat tours and cruises you can book on colorfully painted longboats or in more traditional coconut basket boats. This site has all the info about taking a coconut basket boat tour if that's something you're interested in, or for a river tour, you can walk around the river around Old Town and talk prices with the colorful longboats that dock there.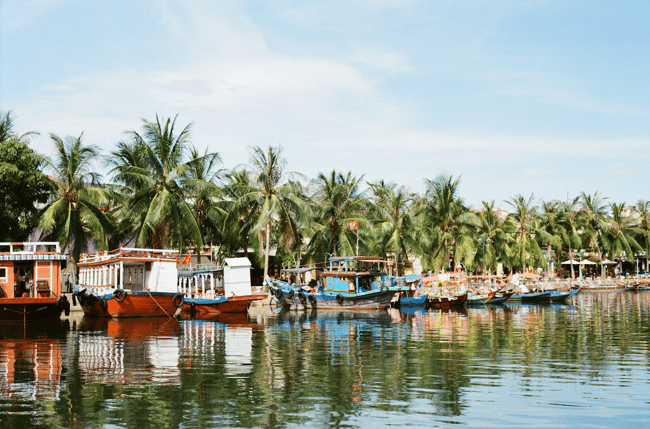 See The City From Above
Want to grab a treat and see the city from above? Faifo Coffee is right in the middle of Old Town and has become quite the Instagram-hangout spot for doing both of those things. Grab fresh juices, smoothies, iced chocolate blends, and coffees if you're feeling thirsty, or pizza if you need a little something to eat. They have a rooftop terrace where you can spot those classic canary-yellow buildings all sun-washed in the tropical heat of Hoi An — it's a must-visit.
Address: 130 Trần Phú, Phường Minh An, Hội An, Quảng Nam, Vietnam

Hours: 8:00 AM to 9:30 PM
Explore Lanterned-Adorned Streets
When we arrived in Hoi An, our first stop (after flying in, grabbing dinner, and getting a good night sleep) was an ATM but we were much too distracted to get that crossed off because we were all dying at how cute Hoi An's Old Town is — think yellow and white houses and lanterns everywhere. We spent a couple of afternoons walking around the main street around the river (visit at night to see it all lit up!) and I'd recommend riding bikes around that tailor district just peeking into little shops and taking pictures of the mini-fruit markets and little souvenir stalls. It's a very picturesque part of the city.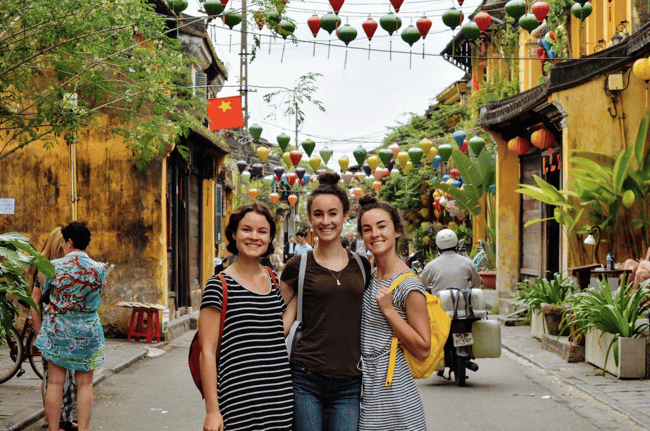 Where To Stay
Of course, you'll find tons and tons of places to stay in this cute coastline city but if you'd like to follow in my footsteps, I'd recommend the Terra Cotta Homestay and Hostel.
The host, Lee, is just darling — we got in a bit later than planned and when we did arrive, she was a bit worried because we weren't there when we told her we'd arrive. She got us all set up in our rooms, called us a taxi to take us to a dinner spot she recommended, and in the morning, set us up with bikes and directions on how to ride to the beach and go exploring. Rooms were nice and tidy, beyond affordable, and the hostel itself is just a 10-minute bike ride to the center of Hoi An.
A Bit Of Advice
Don't Forget Your Visa
Americans must have a visa to visit Vietnam. As of now, Vietnam has a Visa-On-Arrival for tourists visiting just a short amount of time, but you have to apply before you leave. Once you apply and are accepted, there are certain documents you have to bring with you to the airport — you won't be allowed on the plane to get to Vietnam without the right paperwork. We have info on getting your Vietnam visa here.
How Long Should I Stay?
We were in Hoi An for two days which was quick but felt like the minimum amount of time you'd want to be here. It's a pretty quiet city with long afternoons at the beach and some shopping to do, so plan on a relaxing trip here.
Getting Around Hoi An
The touristy part of the city (Old Town) is highly walkable, but I was glad we stayed at a hostel that had bikes (and would recommend you do the same). It was nice to bike around to a lunch spot, get to the beach, and ride around the quaint streets. There are a few things that you'll want to visit that are spread out (to help orient yourself, Old Town is an hour walk to An Bang beach, but turns into a 10-minute ride in a taxi or a 20ish minute bike ride).
I'd recommend you find somewhere to stay that has bike rentals, or plan on renting a bicycle at one of the bicycle tour rental agencies in town.
Things are fairly easy to navigate, especially if you download Google Maps beforehand and pin the locations you want to visit — it's how I do all my trips.
About Vietnam's Beaches
One thing I will be doing on my next trip to Vietnam is visiting the southern beaches. I loved the ones in Central Vietnam, but the ones down south look just stunning. If you have the time to do both, I'd highly recommend that.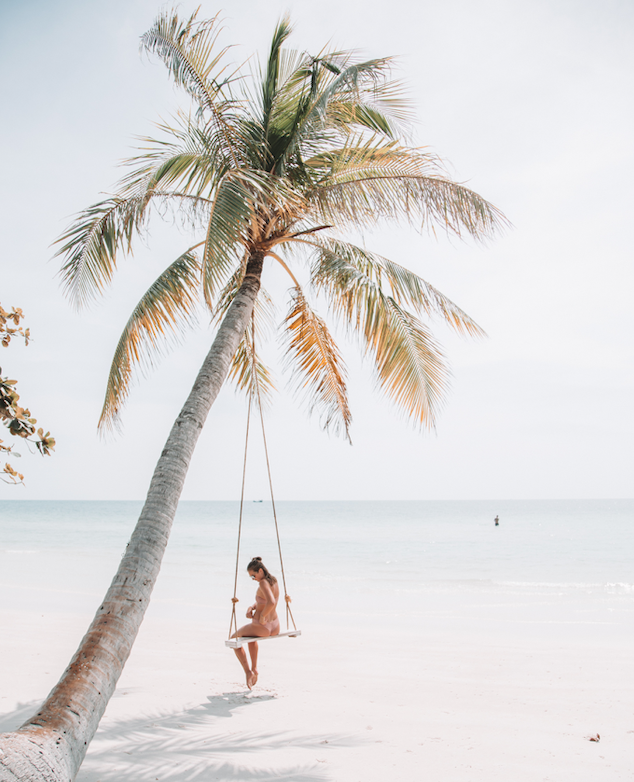 Nearby Spots To Tack Onto Your Visit
Hue
Hue is one of the best places in Vietnam to visit and explore the long history of this area of the world. On your visit, you'll certainly get the royal treatment, touring pagodas, royal tombs, and palaces that spread across the centuries. Make sure to spend time exploring the sprawling Imperial City, seeing the Thien Mu Pagoda, and touring the Royal Tomb of Khai Dinh King. Ready for one more? Don't forget to pop by and see Thái Hòa Palace. It's gorgeous.
For a change of pace, boat tours down the beautifully named Perfume River come recommended, as does a mini food tour — many eateries serve up dishes that once appeared in royal courts. The Alba Thanh Tan Hot Springs are also a nice place to relax, found just 30 minute outside of the city.
From Hoi An, Hue is around a 3ish hour drive, so you'll want to spend a couple of days in each location to break up the drive.
Da Nang
If you're flying to get to Hoi An, you'll most likely fly to Da Nang and taxi over. Before you do just that, you should check out what there is to do in here. Towering pagodas, a strong French Influence, and easily accessed beaches are the main allure of this coastal city, through there are a few other adventures visitors flock to. Hiking in the Marble mountains, taking a beach day at My Khe, spotting monkeys at Son Tra Mountain, or visiting the museums mean there's more than enough to keep you busy here for a day or two.

From Hoi An, it's around a 30-45 minute drive to get to Da Nang
My Son Sanctuary
A set of Hindu ruins, My Son Sanctuary is a stunning collection of stupas, temples, and towers built from iconic red bricks. The complex was built by the Champa Kingdom beginning in the 3rd century all the way up to the 1800's, only to be abandoned and rediscovered in the 1900's. The space was also heavily bombarded during the Vietnam War, when American attacked the Viet Cong who had made their base here.

The temples here are incredible, full of complex carvings and depictions of jungle animals. It's a fascinating chapter of Vietnamese history that makes for an easy day trip from Hoi An.
On your visit, make sure you enter the museum after you get your ticket. You'll find some info and posters about the ruins that provide a helpful background (the signs around the ruins are in English). Outside of the museum, there is a free electric shuttle that drives you to the ruins (it leaves every 15-25 minutes, and can save you lots of time and energy rather than walking). Make sure to only walk on the marked paths, and not through the jungle — there are still de-mining operations here from the Vietnam War.
Tickets: 150,000 VDN
Guides: Find them by the ruins for around 100,000
Hours: 6:00 AM to 5:00 PM
Getting Here: It's just over an hour drive from Hoi An. You may find tour operators in the city advertising trips here, or you can talk to your hostel about booking a taxi/car that can take you there and back so you have as much time as you want to explore.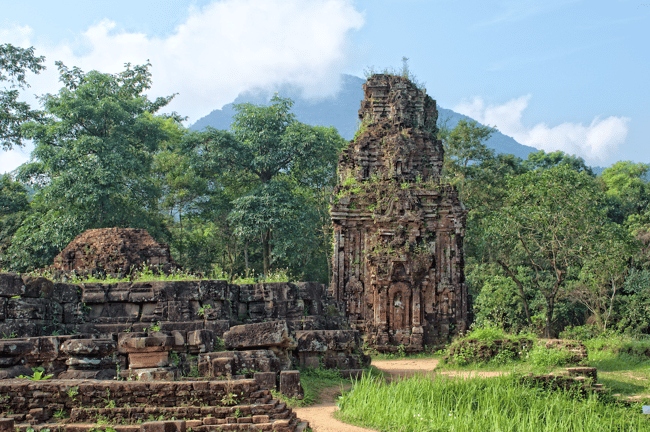 Getting To Hoi An
Get To Da Nang
We flew from Hanoi to Dan Nang to get to Hoi An (it's a short, 1-hour flight), but you can also find flights to Da Nang from a handful of other locations. The airport is rather small and easy to navigate and catch a taxi from. A pick-up from the airport to take us to our hostel was around $11 USD.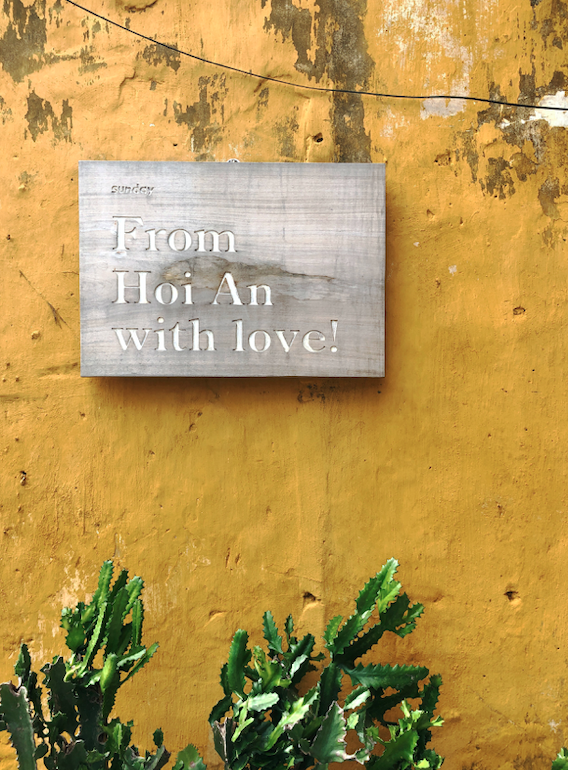 Come volunteer in Asia!
International Language Programs sets up volunteers who are around 18-25 years old to live abroad for about four months. You'll get to travel around with your new travel buddies in your ILP group, teach English to young kids, and experience all the things on your bucketlist. Come see if this program is right for you: