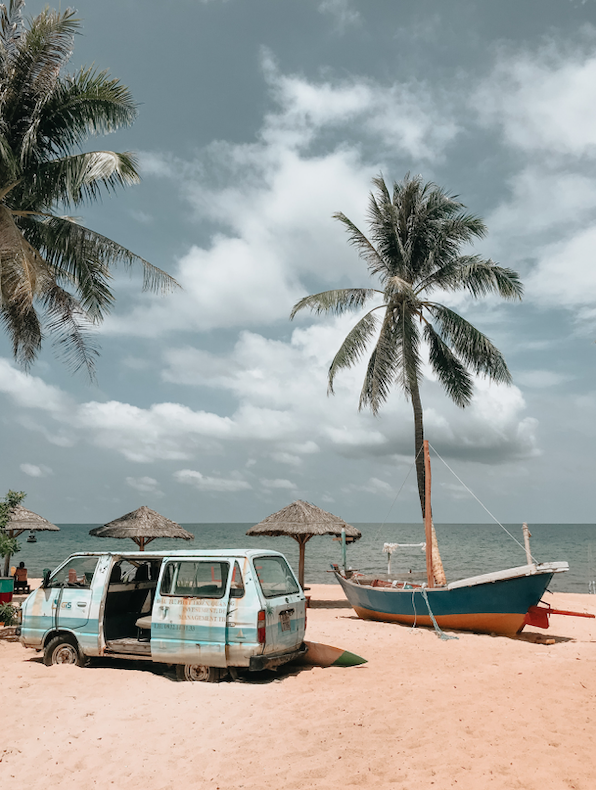 While the rest of the world has been swooning over tourist-crowded beaches in Thailand, you can get the same soft white sand and turquoise water without the crowds when you visit Vietnam.
There is just something about Southeast Asia that keeps pulling me back — I just can't seem to get enough of the people, jungles, ruins, street markets, history, and the beaches there. And while I loved my time in Singapore and Thailand, I adored the trip I took to Vietnam.
It's hard to pick just one reason why, but one of the main reasons had to be this: I had no idea Vietnam had so many stunningly pretty beaches. Until I did a little research, I knew I had to spend some time on those golden sands and ended up extending my trip by a couple of days to do just that, and was so glad I did. Thailand seems to get all of the attention as a beachy-getaway, but Vietnam is boasting miles of powdery white, fringed with towering palm trees, complete with that aqua water we all love.


---
Get info about favorite vacation spots, expert travel advice, and more.
Don't miss a thing with Adventure Updates
---

Because I wouldn't want anyone to visit this country without taking a beach day, this post is organized out by region (from south to north), so you can easily see which beaches would be best if you're vacationing in the north, or spending time in the south, etc.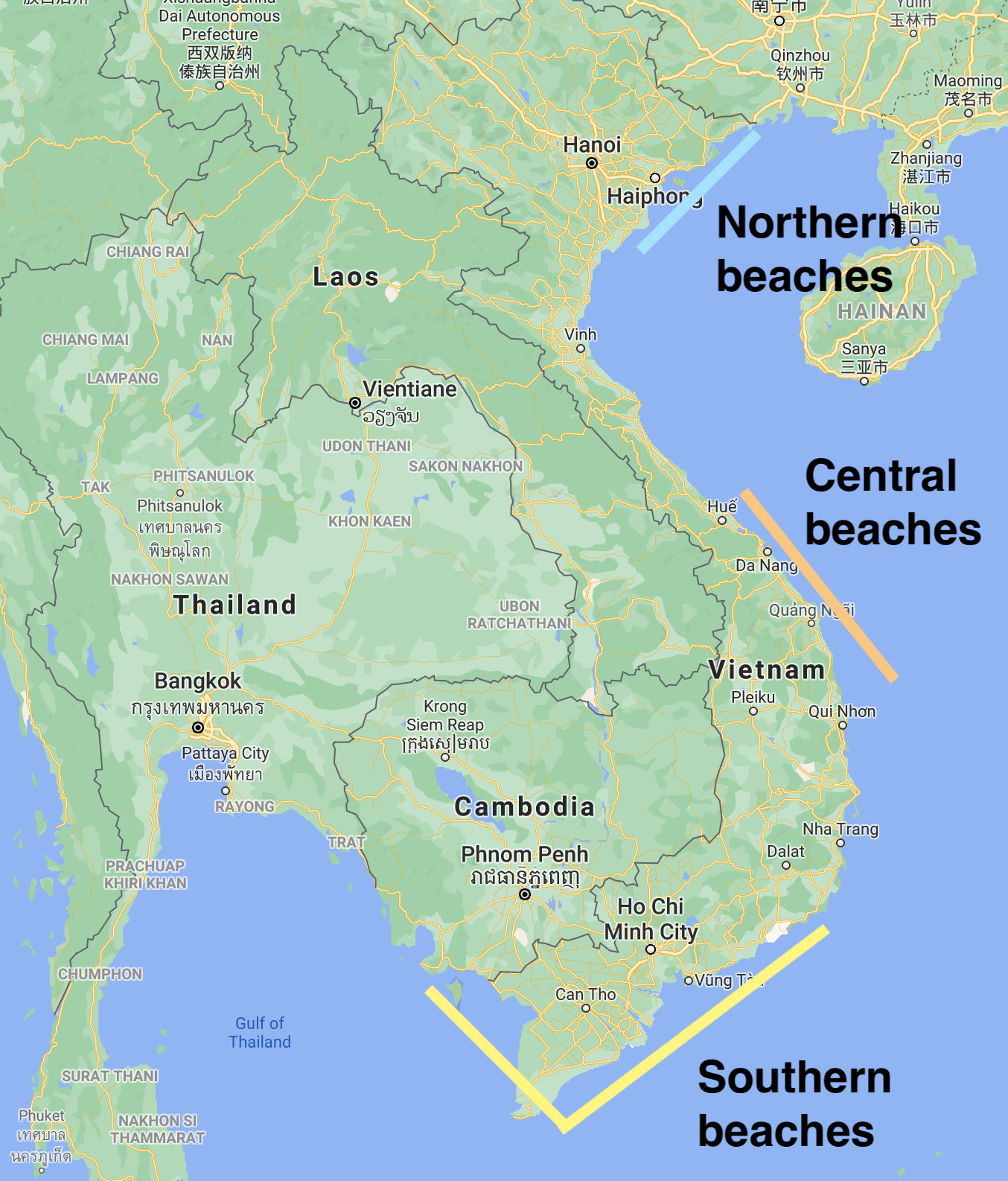 Best Beaches In Southern Vietnam
Vietnam's most pristine beaches are all centered in the southern region of the country, lining that half-moon shape that hugs Cambodia. The best beaches are found both on the mainland and on some surrounding islands, so if you'd like to get a taste of what both have to offer, plan on spending around a week in this part of Vietnam (just for the beaches).
Good to know? The most popular beach in the area is Nha Trang which is extremely popular. It's a pretty beach but tends to be very crowded thanks to its accessibility. Nha Trang is a good option if you're wanting a taste of what beaches are like here and don't mind the crowds, but if you want something worth the extra effort, check out the list below:
Sao Beach, Phu Quoc Island
This is the crowning jewel of beautiful Vietnamese beaches — it's everything you're looking for in a tropical, beachy getaway. Phu Quoc Island has clear turquoise bays rimmed with white-sand beaches that are powdery soft. It's pure relaxation especially if you rent a beach chair for around $2.
Sao Beach is the beach to see (with the whitest sand you'll probably find in Vietnam) but you can visit Cua Can beach Dai Beach Phu Quoc or Vung Bau Beach for a more secluded swimming session. Sao Beach is quite popular but you still won't find the same crowds that flock to Nha Trang. Starfish Beach Phu Quoc (named for the bright red starfish you can admire below the waves) and Long Beach are other popular beaches to check out on the island.
Besides the pristine beaches, the island is home to rolling countrysides (full of peppercorn farming), hikes to Suoi Tranh Waterfall, taking the cable car over the bay, and snorkeling to nearby Gam Ghi Island and May Rut Island. You can see why people spend a whole vacation just on this one island.
Getting to Phu Quoc: It's easiest to fly to the Phu Quoc International Airport.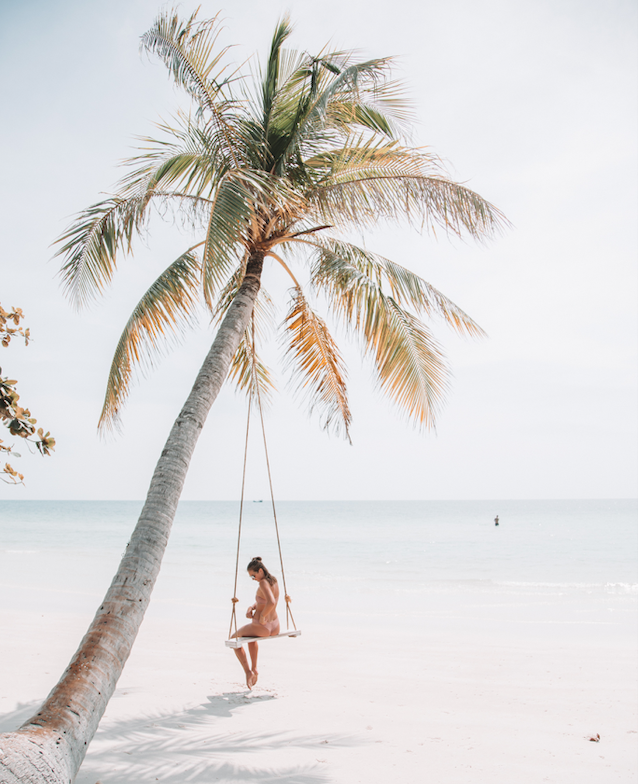 Bãi Cây Mến, Nam Du Island – Nam Du Archipelago
Nam Du Island is a stunner, boasting a gorgeous "C" shaped bay that has the most captivating ombre of turquoise to aqua green water. Some think this beach is the best in all of Vietnam if that helps you paint a picture of what to expect. đảo Nam Du is a part of an archipelago found off the coast of Vietnam's western coastline to the south. Bãi Cây Mến is the place to swim on this island, as it's the most beautiful and the area's only sandy beach. The whole bay is fringed with coconut trees that give you a little shade — a welcome break because the water here is warm, calm, and perfect for a swim.
This island was once only for locals, so it's still a bit of a mystery for the bulk of foreign travelers. Tourism isn't as developed here as other locations, but you can still find things like a small fishing village, snorkeling tours to nearby islands like Hon Hai Bo Dap, Bai Da Soi, and Hon Dau, and a few restaurants, resorts, and homestays on Nam Du. This beachy spot feels remote, secluded, and almost untouched if that's your kind of island adventure.
Getting To Nam Du Island: First, you'll need to reach the pier in the city of Rach Gia City (you can either take a bus or a plane to Rach Gia). Then, a 2-hour boat ride takes you to Hon Cu Tron (Lon Island), Nam Du. Superdong is one express boat that has two daily morning departures that take you from Rach Gia Pier to the island.
Dam Trau Beach, Côn Đảo Island
Côn Đảo is the largest island in a scattered archipelago found near the very tip of the country. It's relatively quiet and doesn't draw the attention of the more popular islands like Phu Quoc. The island is scattered with fascinating remnants of Vietnam's past, along with a handful of pretty beaches. Dam Trau Beach is located near a local airport, so while you sunbathe, you can watch the propeller planes zoom overhead. Ong Dung Beach is another one to visit, with particularly good snorkeling. It's found in the island's national park. Nhat Beach and An Hai Beach are also nice — just make sure any beach you visit is one with sand. The island of Côn Đảo is home to shingle beaches where you'll find a stretch of rocks and pebbles instead of sand.
If you want to see a few more beaches in the area, take a snorkeling trip out for the day. Most take you to a private island or two, plus you'll be able to admire the colorful reef and clear waters. Just head to the ferry terminal Cầu tàu du lịch to book a tour.
Getting To Côn Đảo: You can take a one-hour (and kinda pricey) flight here from Ho Chi Minh. Prices are typically $150-200+. You can also take a speedboat from Vung Tau (which you can reach via shuttle bus from Ho Chi Minh). The Phu Quoc Express has daily runs to Côn Đảo, with 4-hour rides that cost around $28 - $37 depending on if you're booking for a weekday or a weekend. Book here (best done in advance, as they do sell out).
Đá Ông Địa, Mui Ne
Mui Ne is a sleepy beach town found as a part of the calmer Phan Thiet city. The real pull of this place may be found in the creamy white sand dunes and the brightly colored orange dunes that are found just behind the beach here. Imagine spending a day on the soft sand at the Mr. Dia Rock (Đá Ông Địa) Beach then walking over to either the white or the red dunes to catch the sunset.
Fancy a little trip to some ancient ruins? You can do that by visiting Phan Thiet which is nearby ... Can this place get any better? Hon Rom is a more secluded and remote section of the beach that's also worth a visit while you're in Mui Ne.
It's a popular place for local tourists (and Russians as well — go figure!) but you won't run into the same kind of crowds that you'll find in Nha Trang.
Getting To Mui Ne: Best to reach Phan Thiet first (an easy, $6ish dollar train ride from Ho Chi Minh). Then you can take a 30-minute taxi ride (around $17ish dollars) to Mui Ne.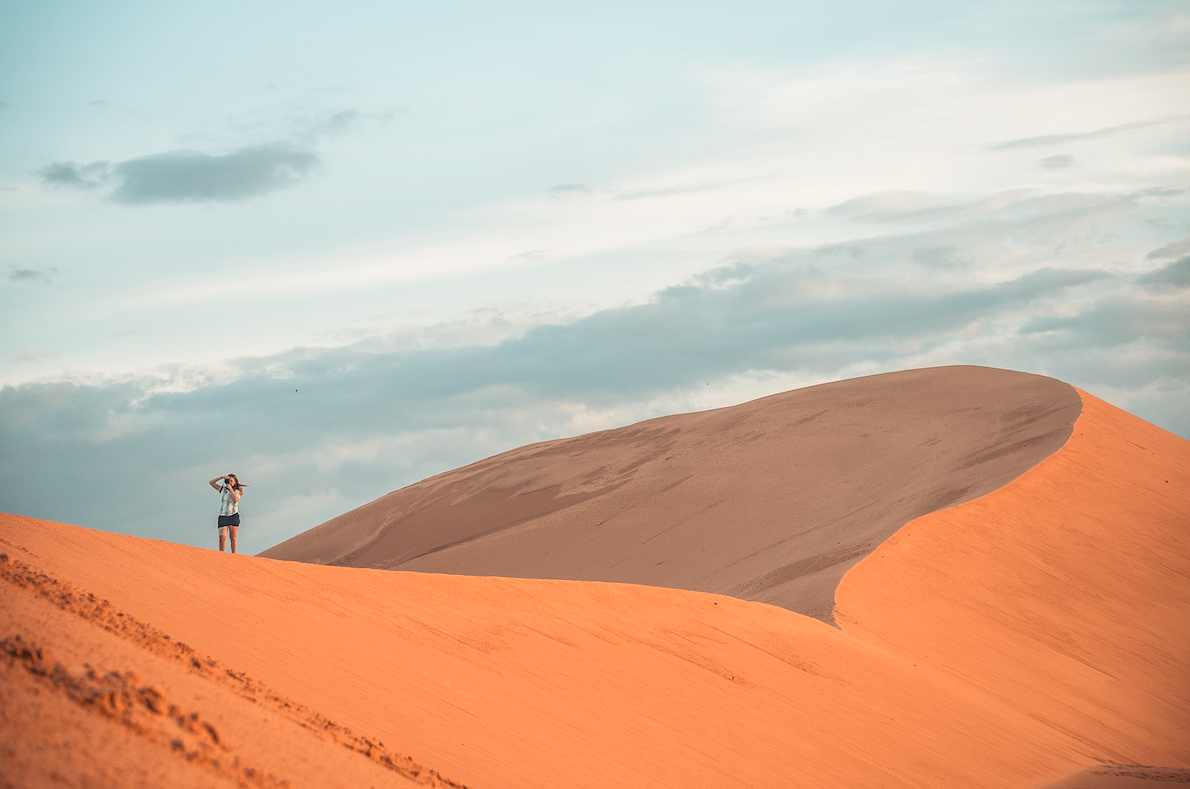 Best Beaches In Central Vietnam
My Khe Beach, In Da Nang
Could this be Vietnam's most picturesque beach? With miles and miles of sugary sand and waves, all framed by a photogenic spread of mountains on the opposite side, you can see why it's earned that title. It's commonly on lists of the prettiest beaches in Asia, the most attractive beaches in the world, etc. You'll find relatively calm waves that are great for swimming, resorts dotting the seaside, and visitors from nearby cities like Hoi An and Da Nang city center, all along the smooth, wide, and flat beach.
Getting Here: A taxi ride from Da Nang (about 15 minutes) or Hoi An (35 minutes or so).
An Bang Beach, Hoi An
Situated just outside of the very charming little city of Hoi An, An Bang is one of the most popular beaches to visit in Central Vietnam. It has calm waves and a huge stretch of golden soft sand. You can rent out lounge chairs while you sunbathe and grab a coconut or bag of fresh mangos sold by walking vendors.
An Bang does get crowded, but you can escape some tourists by visiting nearby beaches like Secret Beach or Cua Dai Beach (where you can find options for diving, kayaking, banana boating). Both are just a few minutes north of An Bang.
Nearby Hoi An is also worth your time, boasting a delightful night market strung up with lanterns, rows and rows of shops with custom tailoring, and boat cruises on brightly painted longboats. This post all about Hoi An outlines all the things you should do while visiting (including An Bang Beach).
Getting To An Bang Beach: It's an easy taxi or bike ride if you're in Hoi An (which has regular flights to nearby Da Nang or bus routes).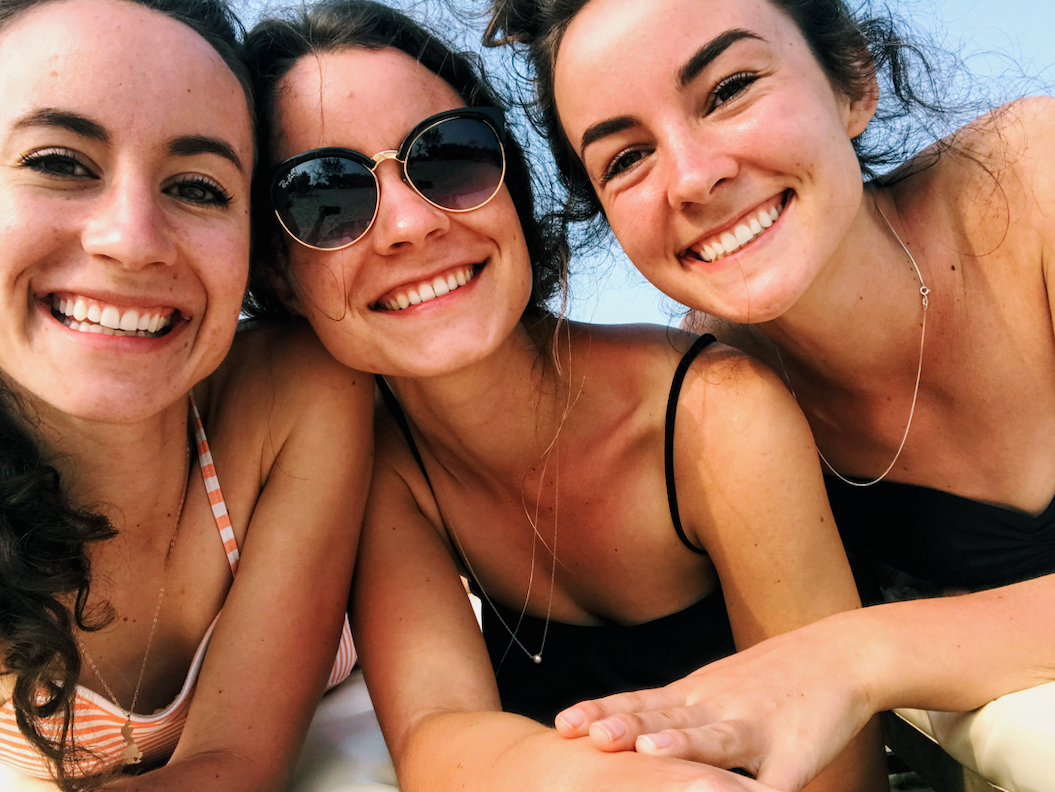 Ky Co Beach, Near Nhon Ly
This turquoise bay is a bit tricky to reach (only via boat) but worth the extra time. Plan on lounging on the pristine sand, taking pictures on the huge beach swings, or taking a dip in the clear aquamarine water.
This whole peninsula is rimmed with pretty beaches, so if you'd like to check out others by heading south. Bãi biển Tràm is a notable beach found further south (and off the peninsula, on the mainland), same with the lookout at Queen's Beach (a very beautiful rocky beach in the area). Quy Hoa and Bai Xep beach are both a taxi ride away from Quy Nhon.
Getting To Ky Co Beach: Make your way first to Xương Lý. or Nhơn Lý. You'll then want to get to the Ky Co Beach Parking Area (either by shuttle bus or by taxi). From there, there are little colorfully painted mini-buses to take tourists to and from the beach below for 40,000 VND. From the parking area, there's a gorgeous view, so don't miss out before making the drive down to the beach itself. The bus will drop you off where you can board a boat to take you across the bay to the beach.
Or you can take a speedboat there from Nhon Ly village, which takes about 5-10 minutes. Quite a few vendors will group transportation with other tour options for a day of snorkeling and lunch (as well as the boat transfer to Ky Co beach for between 350.000 VND and 450.000 VND).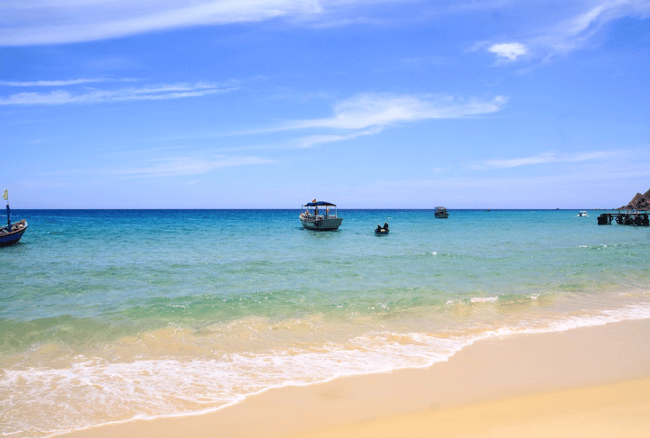 Best Beaches In The North
Northern Vietnam is known for the bustling city of Hanoi, plus beautifully remote villages tucked away in sprawling rice fields and towering jungle-filled mountains if you continue north to Ninh Binh. If you're only spending time around Hanoi, there are a couple of ways to get a nice day in the sand, sun, and water. The beaches in the north have golden, dark sand and calm warm waters, but not the stunning turquoise or white sand beaches you'll find elsewhere in the country — you'll want to fly to Central Vietnam or Southern Vietnam to really get a taste of the prettiest beaches in Vietnam.
Cat Ba Beach, Cat Ba Island
Found in Ha Long Bay, Cat Ba Island is the largest of the scattered archipelago found in the bay of the South China Sea. This bay is full of more than a thousand tiny little islands, all scattered along the coastline. It's a very popular thing to take a mini-cruise along the bay (which I highly recommend). Typically, longer cruises (2-3 days) will stop and let you spent some time on Cat Ba, where you can soak up time on the beach.
The main attraction of this beach is the unparalleled views of those jagged karst mountains that seem to float on the calm bay.
Getting Here: It's a popular stop with a Ha Long Bay Cruise, so check your company's itinerary for a stop on Cat Ba. Or, you can ferry over from Tuan Chau Harbor for about $2. Ferries run around 5 to 7 times a day and take about 45 minutes. There are places to stay on the island if you want an overnight trip or make a day trip out of Cat Ba (there are great hiking and cycling trails on the island, so lots to keep you busy).
Quan Lan Beach, Quan Lan Island
Quan Lan is a long skinny island found on the eastern coast of Vietnam, just north of Ha Long Bay. It's a part of a collection of islands considered on the outskirts of the bay and is home to a few quiet beaches with long stretches of sand, and dense forest in the interior. Quan Lan is a sleepy island with a few markets and old temples to visit if you want a break from the beach.
As far as beaches go on Quan Lan, it's a toss-up as to which one is the best. Some really like Quan Lan which is a huge stretch of soft white sand for miles and blue water, with the forest behind you. Others think Minh Chau takes the cake, with a huge curving bay of soft sand and calm waves. It's a popular honeymoon spot.
Getting Here: You can bus to the My Dinh bus station from Hanoi. If your bus doesn't take you to the Cai Rong (Van Don) port, you can taxi there from the bus station. Or ask your driver to stop at the Van Don post office which is just a mile away from the port. From Hanoi to Cai Rong Port, plan on about 4 hours and $7. Then, you can boat to the island (around an hour ride, for roughly $3). Boats leave daily at 7:00 AM and 11:00 AM.
Bãi tắm Hồng Vàn, Co To Island
Co To Island is just east of Quan Lan and is a top beach getaway thanks to the pretty beach of Hong Van. Vàn Chải also comes recommended, but both promise sugary sand and calm more waters for swimming. The island is small and relaxed, with a few noteworthy things to do like hiking to the lighthouse, which was built 200+ years ago. The trek takes you through the dense forest and rewards you with some rather lovely views of the island.
Getting to Co To Island: From Hanoi, bus to Van Don or Cai Rong port before hopping on a boat to the island. The bus to the port will be around 4-5 hours, with tickets in the $7 range. If your bus doesn't take you to the Cai Rong (Van Don) port, you can taxi there from the bus station. Or ask your driver to stop at the Van Don post office which is just a mile away from the port. You can either take a speed boat (1.5 hours for around $9 — look for the Manh Quang high speed boat, departing between 1:00 and 1:30 PM, daily) or a public boat (around 4 hours for $4, with routes at 7:00 AM) to Co To island.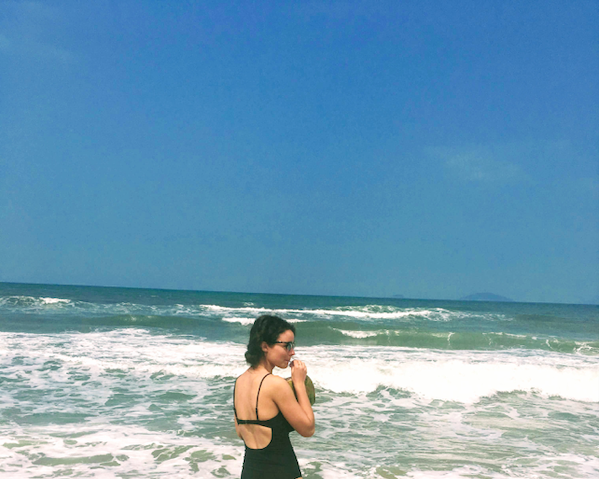 Love getting travel tips and tricks for destinations all over the globe?
Seeing as we've been sending volunteers to other countries for just about 30 years now, we've learned a thing or two about traveling. And we loving sharing all of these tips so that you can have the best experiences and vacations as possible! Come see how you can be a part of this travel community as an ILP volunteer: