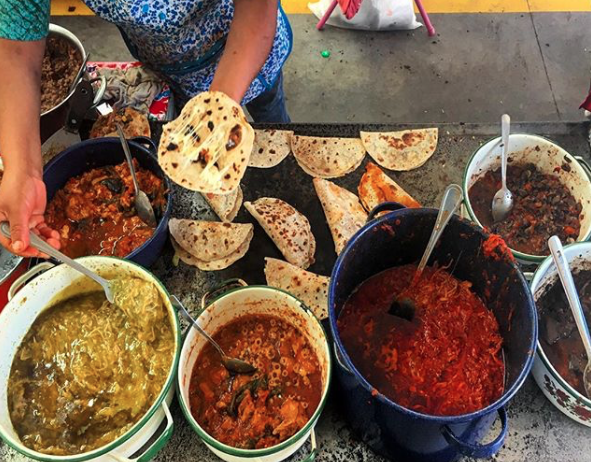 It's no secret we love all the food there is to eat in Mexico, so we want to make sure all volunteers know the right lingo and get to taste our favs.
Honestly, when you're living abroad for a semester one of the hardest things to get used to is usually the food. You're having meals that you're not really used to and it's easy to start missing those comfort foods from home ... but in Mexico that's usually not the case! Actually, it's usually the opposite.
When was in Mexico, I was all about the food. You won't judge me if I say the food was one of my favorite parts of the trip right?
---
What's it like to volunteer in Mexico with ILP?
Get all your questions answered right here
---
If you're not familiar with traditional Mexican foods (we're not talking Taco Bell here guys), then you might not know what to try when you sit down to a menu. Here's a list of our favorites — give em a try. You'll never know what your personal favorites are until you try it!
Our Favorite Must Try Mexican Dishes
Tlayudas
Elote
Sopes
Empanadas
Tacos al Pastor, Barbacoa, and Tacos Arabes
Ceviche
Mole
Tortas
Tamales
Juice
Churros
Tlayudas
Picture a pizza, but swap out the crust for a large crunchy tortilla, and replace all of your typical toppings with creamy black beans, avocado, grilled meats, and a smattering of other toppings like chopping tomato and avocado. Some ILP volunteers said this was their favorite food in all of Mexico, so don't miss this one!
If you find yourself in Oaxaca, Mercado 20 de Noviembre or Tlayudas Dona Flavia are a couple of recommended spots to try tlayudas, but they are popular all over the city.

Elote
This is corn on the cob, but way more delicious. Corn is roasted with butter and some mayo, and topped with cojita cheese and a sprinkle of cayenne pepper. Sometimes, you'll see this in a cup, where they just put all the ingredients together, but sometimes you'll see it pictured below, right on the cob.

You'll often see this offered from street vendors, so go ahead and give it a try. In some cities, you'll get to know the elote man who walks around with a little cart and screams "eloooooooooooooooooooote" in the evenings. If you're anything like me, you'll be best friends with the elote man before leaving for your semester.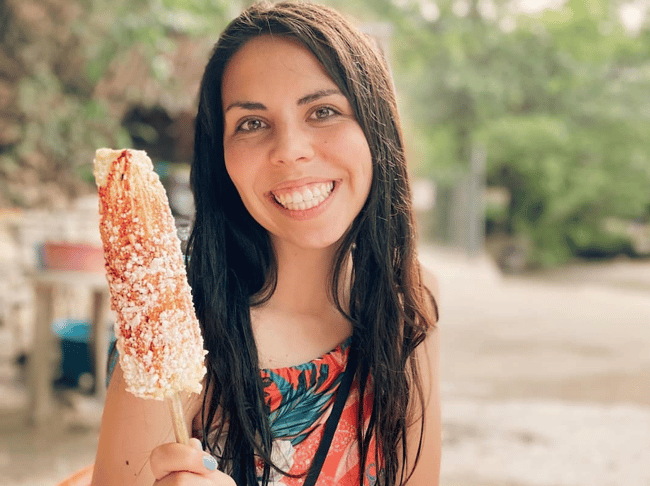 Sopes
Sorta of like thick tortilla or corn cake, Sopes are open faced, topped with meat, cheese, and veggies. YUM. It's really popular in central and southern Mexico, with quite a few variations. It's pretty fascinating to watch the process of soles — fried masa with pinched sides makes for the perfect little cradle to hold refried beans, crumbled cheese, tomatoes, onions (and other toppings) along with a spicy green or red sauce, and maybe some sour cream. Delicious.
This is not to be confused with sopas ... which means "soup" in Spanish (and also delicious and worth a try).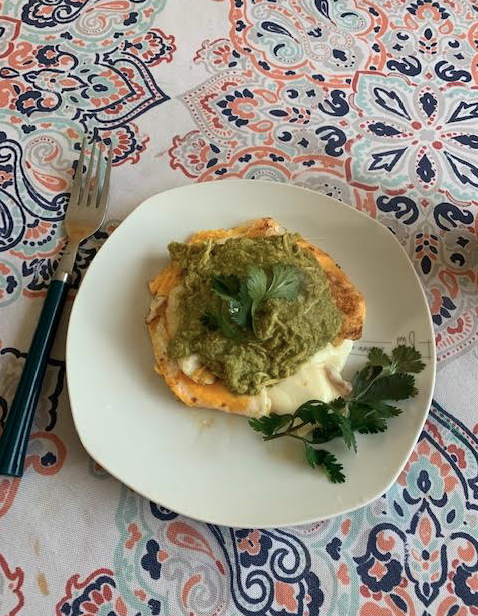 Empandas
You've probably heard of this famous one. Deep fried little pastry pockets stuffed with a bunch of different fillings — you can get 'em stuffed with cheese, meat, veggies or even potatoes. You'll find lots of varieties of this favorite dish (even sweet ones) but if you'll be traveling in or near Pachuca, you'll have to try Pasties. It's kind of like an empanada, but more of a flaky pastry brought over by the Cornish miners who came to Mexico in the 1800's.
Tacos al Pastor, Barbacoa, and Tacos Arabes
Get ready to eat a lot of tacos during your semester. There are multiple kinds of tacos to get familiar with, but pork is popular protein with tons of flavor. You'll find these pork filled tacos at taco stands, so make sure to get out and explore your city early on so that you can find your favorite stand. Many times you'll see the meat hanging from up high and being sliced off the "spit" by the chefs and that's your sign you're in the right place.
All three are essentially just marinated or cooked in different ways, but all delicious. Give all three a try to find your favorite.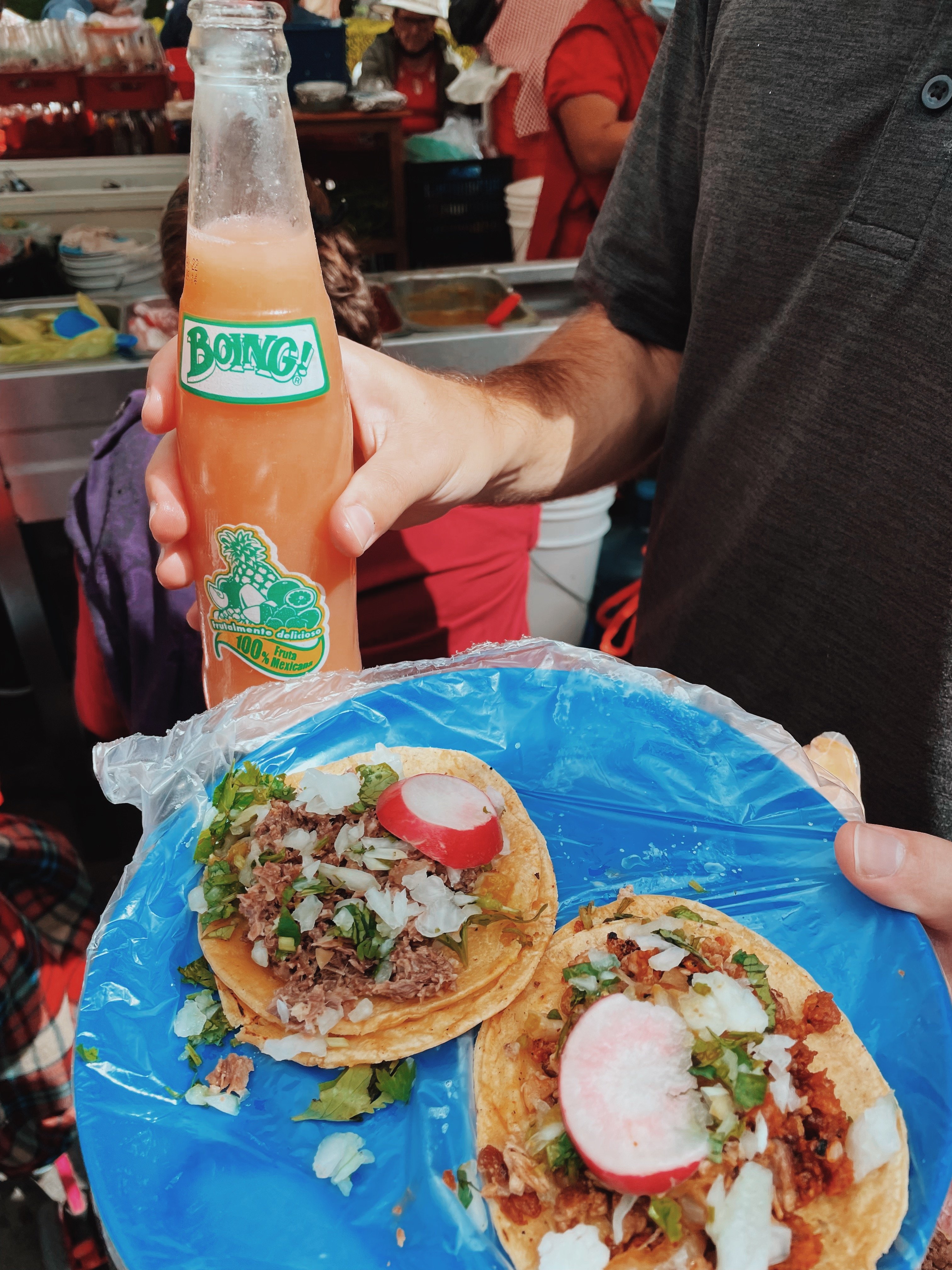 Ceviche
Marinated seafood that actually is technically raw, but is slightly cooked by bright citrus juice, like lime. Usually served up with cilantro and avocado and found around your favorite beaches. Head's up, you'll want to get this at a reputable restaurant since you are dealing with fish. Eating this at a nice restaurant is going to help ensure you have fresh seafood. Try it when you're on vacation at our favorite spot, Puerto Escondido.
Mole
You'll find this thick earthy sauce topping as a side on a few dishes; some moles are made with chocolate and are dark and slightly sweet, while others are lighter in color and are more spicy. Mole originated in Oaxaca which is a major city in southern Mexico, but you'll also see it throughout the country.
I'll be honest, mole isn't everyone's cup of tea but if you're ever going to try it you should do it in Mexico where it's going to be the most authentic. Order one dish and have all your friends at the table give it a try and see who loves it and who doesn't.
Tortas
Say "hi" to the Mexican sandwich. It really can be anything on a bun, but usually you'll find it spread thick with beans, some sort of protein like chicken, chorizo (a spicy sausage), pork and a couple of other toppings like salsa, avocado, cheese, and veggies. Oh so yummy. You'll often find this at little shops, so keep an eye out.
Tamales
Tamales are steamed, made up of a paste made from corn and a filling, usually meat or cheese. They are wrapped up in corn husks which you don't eat (don't make that mistake). Inside the husks are all those really yummy fillings. Tamales are super traditional and famous so you basically can't come to Mexico and not have one. Order up a bunch of kinds and taste-test your favorites with your ILP group.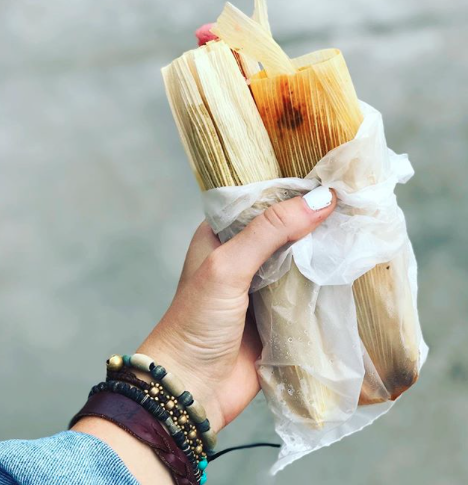 Juice
You might be thinking juice isn't a food so why is it on this list? Because you HAVE to try it and try it as often as you can. If you order fresh squeezed juice from carts on the street, you'll often be handed a plastic bag, filled with your juice of choice, and a straw poking out of it. All part of the experience. Try orange, pina, carrot, grapefruit, and of course horchata.
If you're lucky you might even hear the horchata man who sells his horchata from his cart on the go as he walks around town. He's basically the ice cream man of Mexico, but carrying delicious horchata. You might hear a loud yell, "hoooooooooooorrrchataaaaaaaaaaaa!" Come running because it's the horchata man making his rounds.
Churros
I have a feeling you're already well aware of the deliciousness that is a stick of fried, sugary dough, better known as a churro. The best part about churros is that they're SO cheap in Mexico. If you find a churro vendor on the street it's definitely worth digging in your pocket for spare change for a little treat.
PSA: You can find churros and ice cream. I repeat ... churros + ice cream!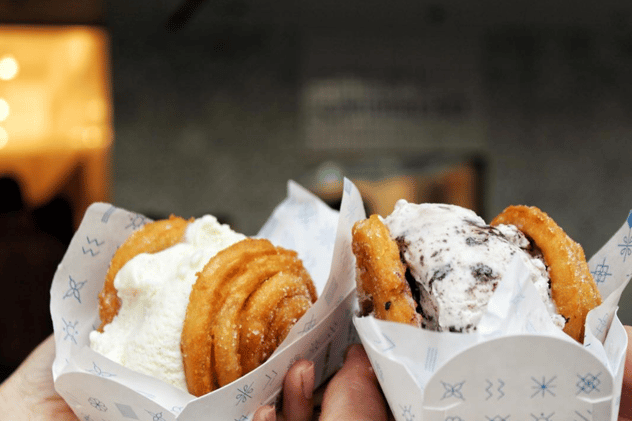 Food Words To Know In Mexico
Just so you know, you don't have to know a word of Spanish to be an ILP volunteer, but if you want to learn basic Spanish, we think knowing these foodie terms will help you out, especially when you're staring at a menu that's in Spanish. Who knows? After a couple of weeks, you might be a regular at your favorite taco stand and be able to order up a couple of tacos and a tall glass of aqua fresca in Spanish.
Chicken - Pollo
Pork - Puerco
Al Pastor - Marinated Pork
Jamon - Ham
Beef - Carne de Vaca
Ground meat - Molida
Crema - Sort of like sour cream, but not as tangy
Soup - Sopa
Huevos - Eggs
Pan - Bread
Queso - Cheese

You'll often also be asked, "Para llevar o aqui?". That just means is it to go (para llevar) or are you eating here (aqui).
Also, a mini lesson on Mexican cuisine. When you're eating, you might hear your waiter or anyone leaving the restaurant say "provecho" to you. This essentially means "enjoy your meal" and is commonly used — oh, so polite. So to you we say, provecho.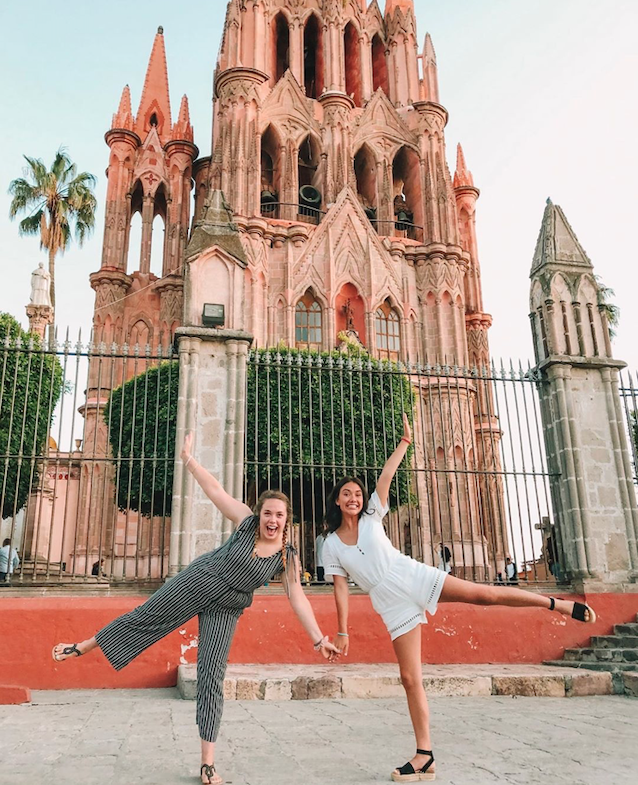 Ready to come spend a few months soaking up the true Mexican experience?
If that sounds like a dream come true, let's make it happen! Come teach English part-time in Mexico with International Language Programs — you'll have lots of free time, weekends off and vacation days during your semester abroad; plus a few months living in Mexico gives you tons of time to try all of these dishes.