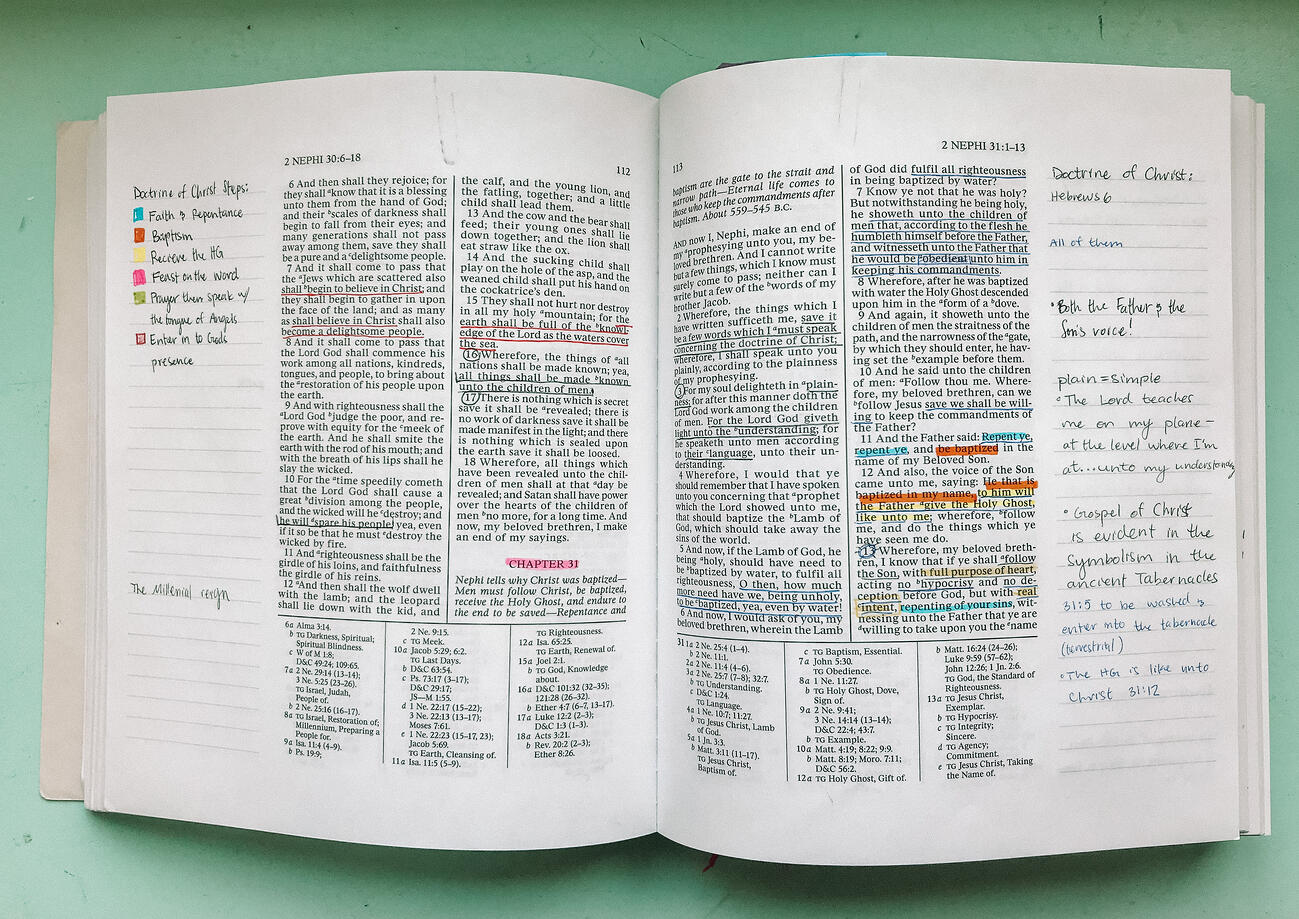 Of course you can just grab a highlighter to pull out messages you love, and colored pencils to underline and write in the margins, but there's also lots of tools for purchase that can help you take things to the next level.

Let's be honest, sometimes it's hard to get to reading your scriptures without it feeling like just a check mark off of your long to-do list, especially if you're planning a few busy months of exploring, adventuring and eating your way through a foreign country.


---
Looking for a way to travel with volunteers who share your standards?
ILP might be the right fit for you! Here's how it works
---


If you don't have your own set of scriptures yet that you use and love, set yourself up with some. Or if you already have some but they're not really working for you, change it up! There's so many options out there. You just need to find the ones that work best for you and your lifestyle.
A really cool way to make the scriptures your own and keep a memory of what you've learned along the way is to mark them up. You can get really creative and essentially turn your scriptures into a compilation of messages that have really stood out for you. We've found lots of tools and cool resources that can really help make your scripture study more personal to your aesthetic. Hopefully that helps inspire and deepen your studies.
Oh and just so you know, we're an Amazon Affiliate so we do receive a small commission if you shop Amazon products from our page. We only share items that we think you'll really love, thanks for the support!
Find A Set Of Scriptures That Fit Your Style
Journals
There is room to write in the margins on traditional scriptures, but there are lots of options out there now that have widened those margins, giving you extra room to write your thoughts. It's such a great way to keep notes of things you learn that expand on sections and inspiration you receive.
I'm loving these ones from Line Upon Line, with large margins on both sides leaving lots of room to write. They're also beautiful. I'm a major fan of a minimalistic style and they're spot on with that — oh and the cover colors are to die for, my personal favs are honey and blush!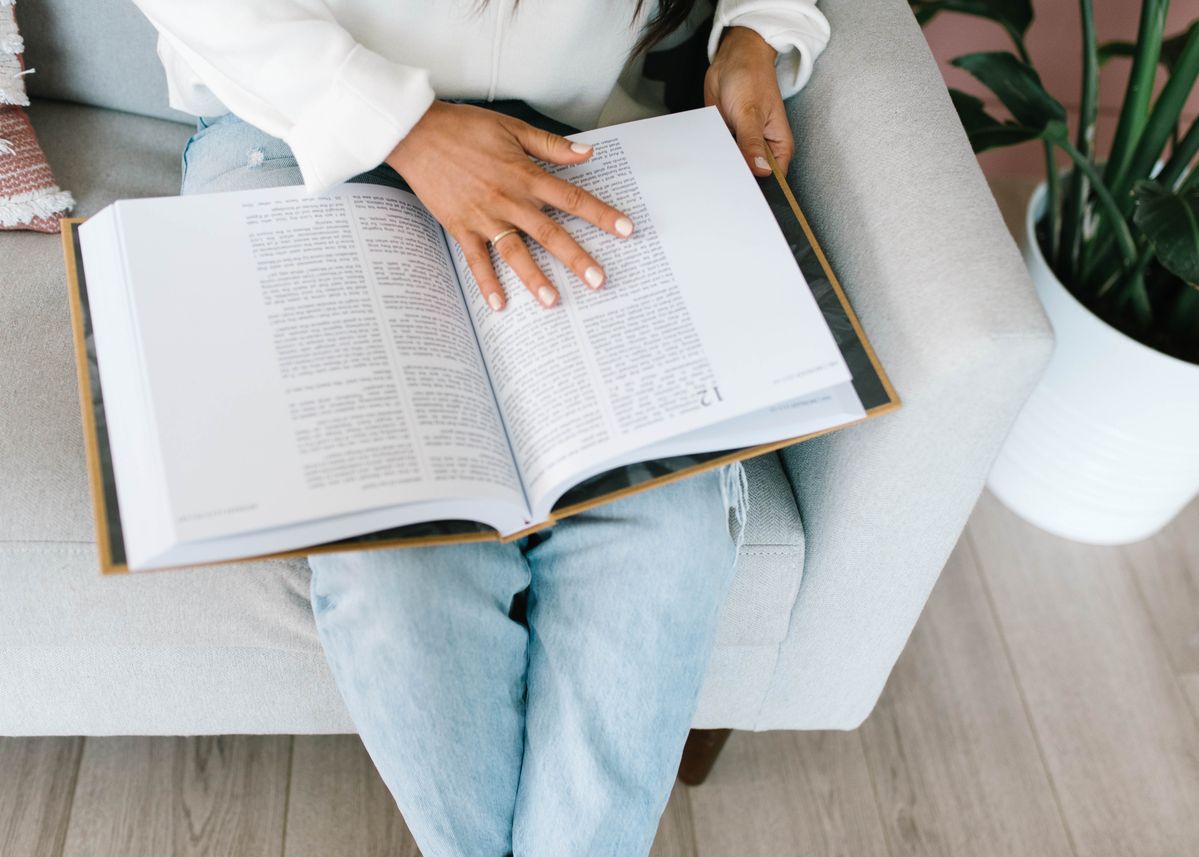 Image via Line Upon Line
These ones from Seagull Books are also a cool option. If you love floral designs you're going to love their cover options. They've got those lined margins you're looking for, and they're at a really affordable price point too.
Deseret Book also has some really beautiful faux leather options. I like this black one and this soft cover yellow one.
Amazon even has some great finds! Desert Book has an account there too where you can grab some of their products like this floral covered one that is oh so pretty (and affordable).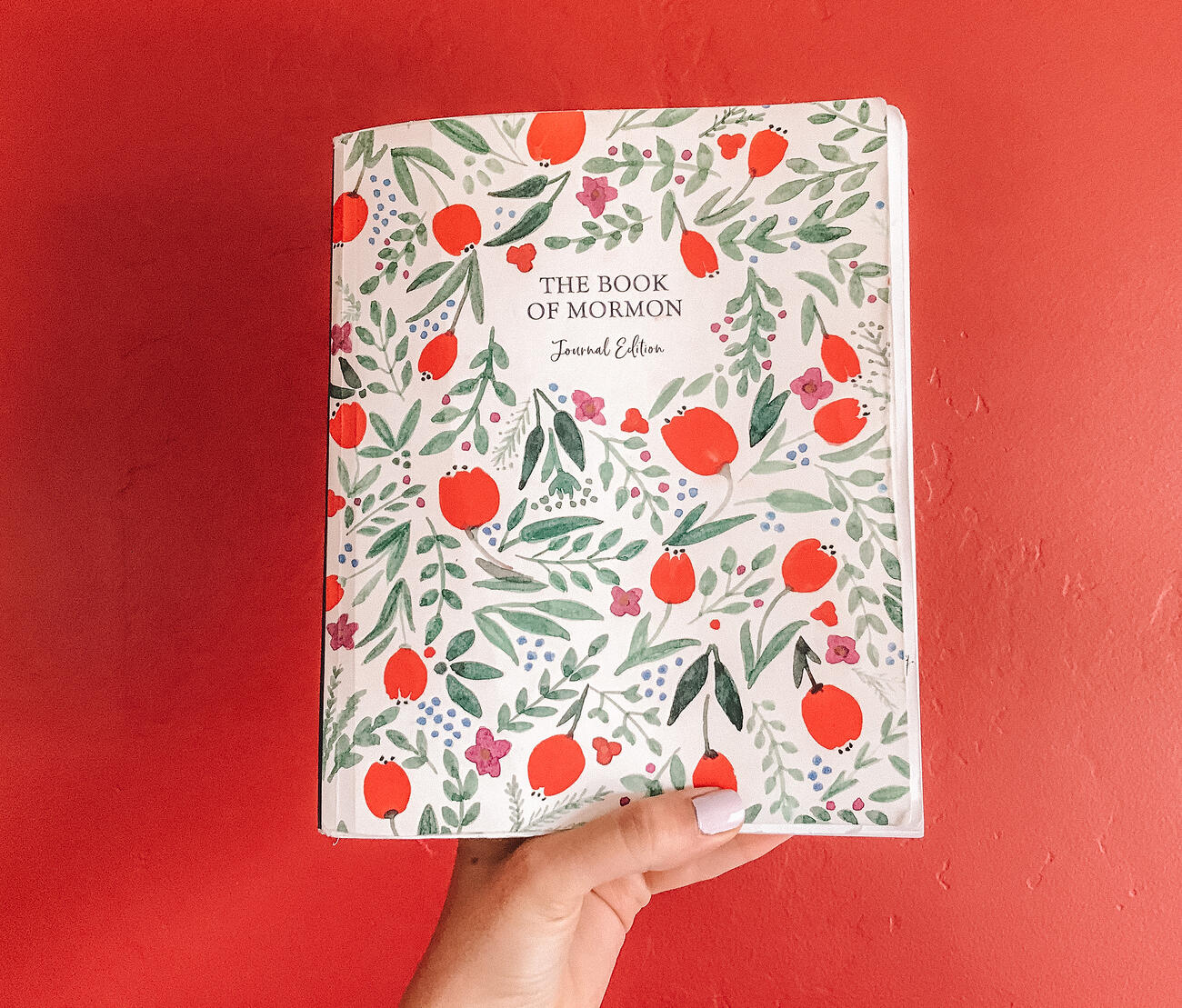 Budget Versions
I really like these because ... honestly? I'm more likely to just go for it in a set that didn't cost me much. If I have a gorgeous set of scriptures I get a little more anxious about wanting my handwriting to be perfect and not wanting to make any mistakes. Maybe it's just me, but I tend to be a little more creative and free in those basic copies of the scriptures.
Find some affordable, classic Book of Mormons in either paperback or hardback here.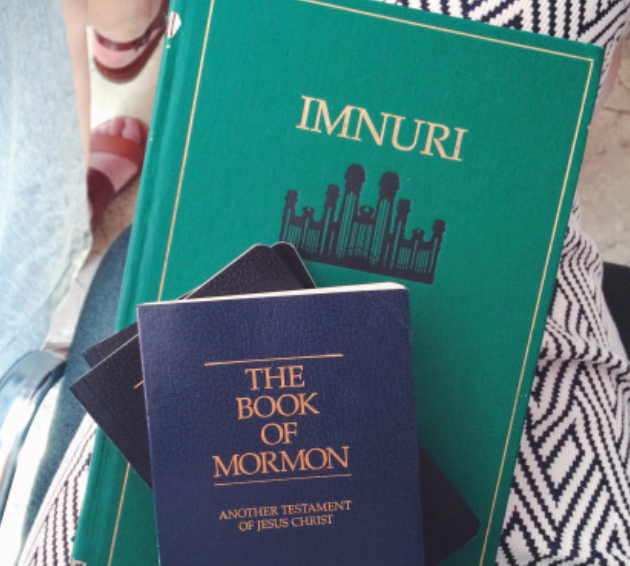 Grab Add Ins + Tools To Mark Them Up
Pastel Highlighters
I'm slightly obsessed with pastel highlighters right now ... anyone else? The biggest obstacle with marking in scriptures is that you want to find something that won't bleed through those thin, delicate pages though.
I found these ones on Amazon that check my box for having perfect color shades, but the reviews also say that the bleed through is really minimal. One reviewer said she specifically uses this brand for marking up her Bible and is loving it.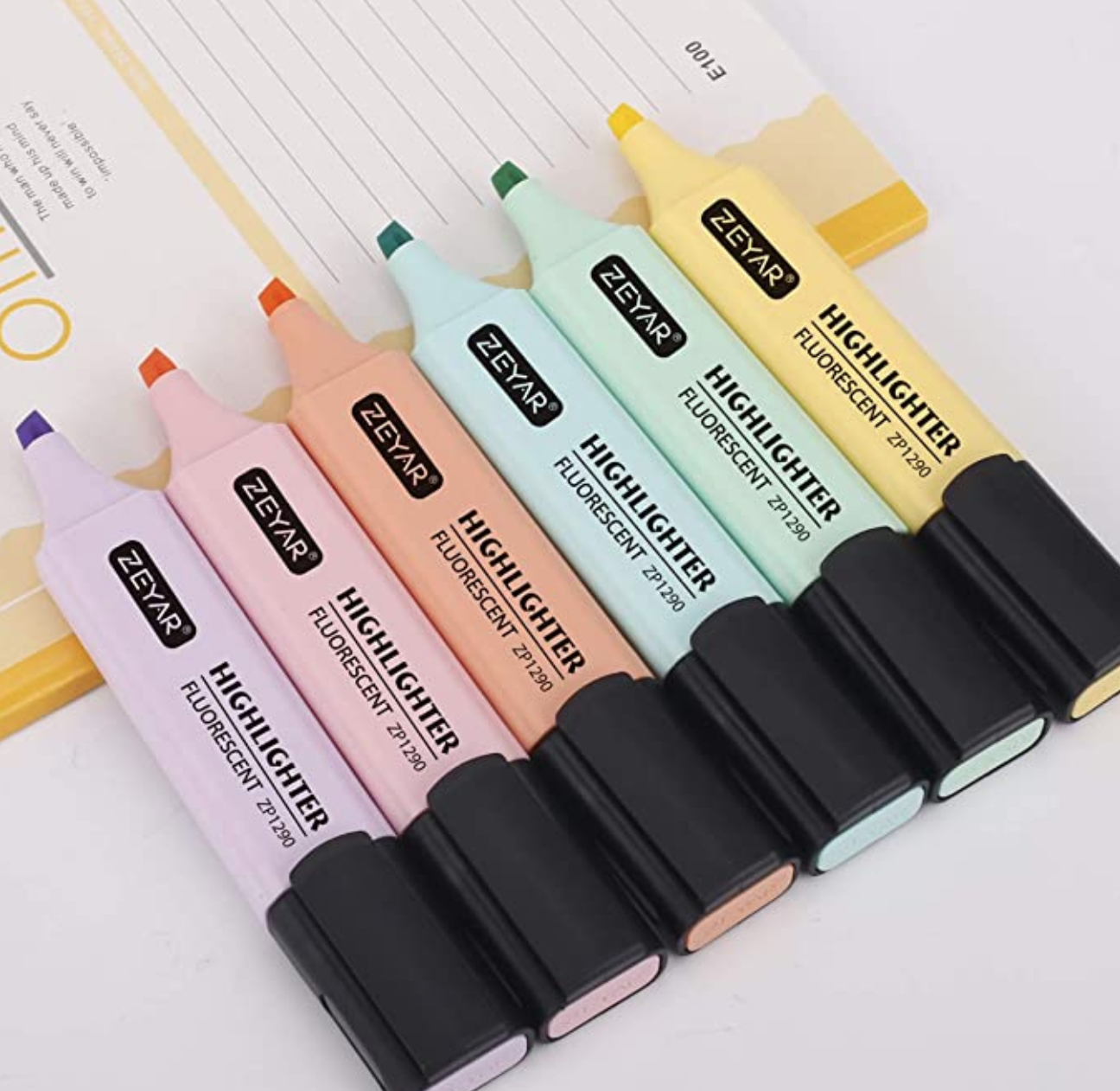 Colored Tabs
Sticker tabs are the most classic, aren't they? These simple florescent ones on Amazon work great! There's over 500 so you can really add lots of bookmarks to easily flip back through spots you love.
You can also find tabs that are specifically made for your scripture study. These ones on Etsy look pretty cool too — they're topic based, so you could mark pages that what you want to refer back to "When you need revelation" or "When you need mercy".
Printable Inserts
This shop on Etsy creates printable designs around the current month's lessons in Come Follow Me! If you're using that as your study guide, something like this would be a cool option for you — you download their kit, print the pages at home, and glue or tape them into your scriptures. It's just another visual aid to help you dive deeper.
Stickers
Are you as visual as I am? Then you probably love taping things into your scriptures like quotes from church leaders and stickers to help visualize the messages in your scriptures.
These stickers by Line Upon Line are so beautiful! They're designed by artists, and there's several packs for different themes — I especially love the "Eternal Truths" pack to add some calligraphy to your scriptures, but also love the artistry of the designs in the "The Creator" pack. They're also transparent enough that you can place them right over the text.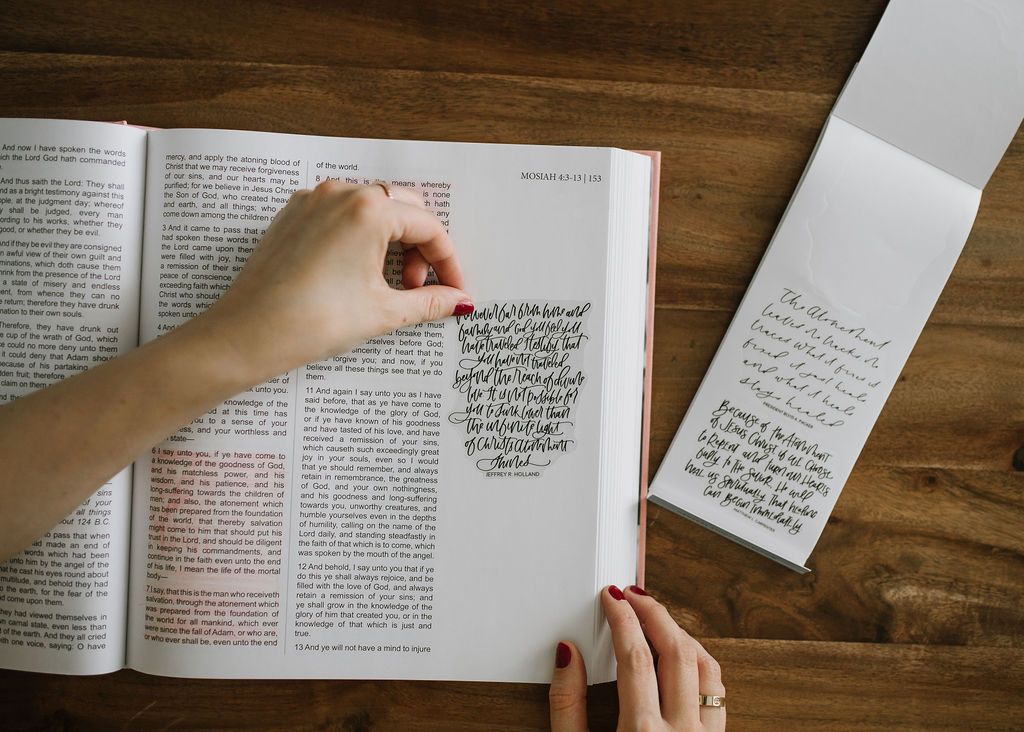 Image via Line Upon Line
+ More Ideas To Personalize It
Reading Charts
Making a goal to read it cover to cover? Find a chart to help you keep track of your progress! This one for the Book of Mormon is so cute, plus it's sized to fit right in your scriptures. It's a digital download which means it's really affordable — just print right at home.
We've also got this post with a free printable reading schedule — it'll help keep you on track to reading the Book of Mormon in 100 days. If you're heading out for a semester abroad with us (International Language Programs) and want to set a goal while you're traveling, that's the perfect amount of time to mark that one off your list!
Designate A Set To Document A Significant Time In Your Life
Have a set of scriptures that you use while you're in college, with notes and inspiration you get for that specific time of your life. Or maybe your scriptures span a decade, so you can look back and see everything you learned throughout your twenties.
We love that some of our volunteers have a set to document their semester traveling abroad with ILP. Maybe you grab a pocket-sized Book of Mormon that is easier to carry around while you're living in the Dominican Republic for a few months. Maybe you decide to read it cover to cover while you're volunteering in Europe, writing in the margin where you were while you read it! Page 33 says "on a train to Barcelona", page 102 says "in my European apartment", and page 65 says "sitting in a cafe in Paris". Such a cool way to look back on your adventure — we've got more ideas of how to turn your scriptures into a keepsake for your semester abroad on this post.
Focus On Women In The Scriptures
There are so many women throughout the scriptures with incredible stories. And they even sometimes get overlooked. I love the idea of focusing in on this topic and learning more about their stories.
This site is so cool — they've put together a list of women in the Bible: the Old Testament, the New Testament, and there's also links for women in the Book of Mormon, the Doctrine & Covenants, and the Pearl of Great Price.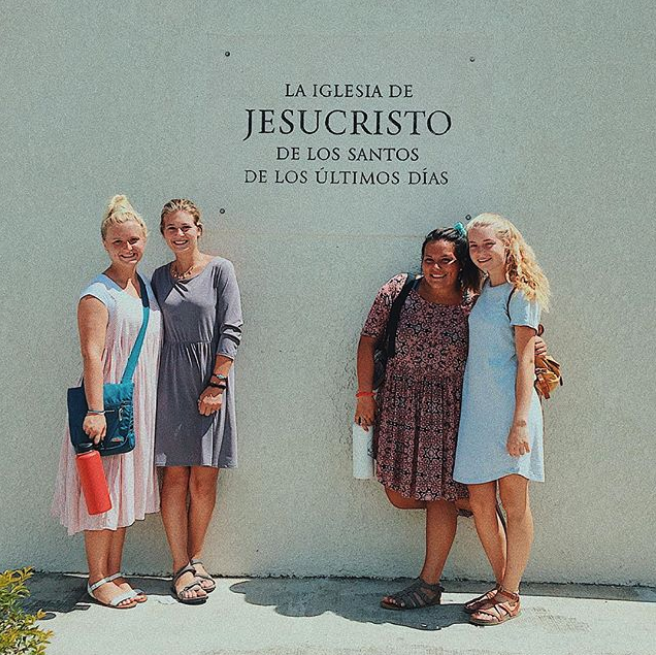 Join a group of American volunteers
who share your values for a semester abroad
We have a guide about finding LDS volunteer opportunities here but just wanted to put in a quick word about ILP!

International Language Programs is a non-profit organization based in Orem, Utah. Many of our volunteers are members of the Church of Jesus Christ and everyone who volunteers in our many, many countries agree to sign a code of conduct. If you're looking for that type of experience while you travel abroad with new friends, ILP might be the right fit for you.

Plus, in every country location, you can attend a nearby branch or ward, or even Skype in. Have a few questions? We don't blame you ... let's get in touch!