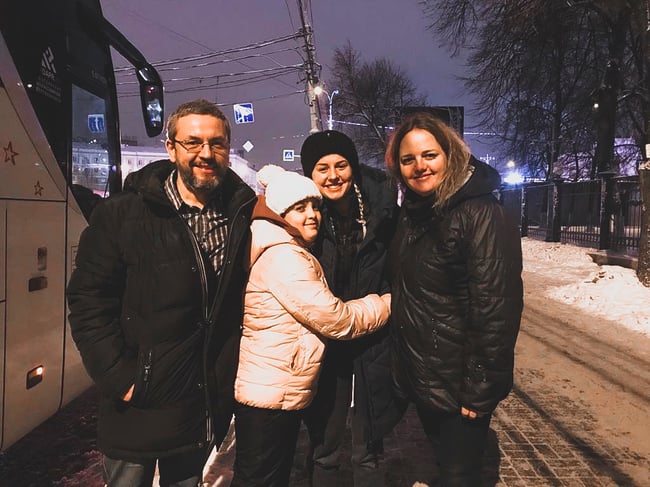 Depending on where you volunteer you may live with a host family during your semester abroad with International Language Programs — and it was hands down, the best part of my semester.
There are so many things that go into deciding which ILP country would be the best fit for you — whether you are wanting lots of time with the kids outside of class, have certain vacation spots already in mind, or are looking for a location which a huge group of other volunteers, there is a lot to consider!
One of the things that's a big decision point for many is host families : Some ILP locations are set up where you're living in an apartment, dorm, or house with your fellow group members, while others are living with host families. It's something we get questions about all of the time, but I'm here to let you in a little secret. Living with my host family was absolutely the best part of my semester (and I'm not the only one who thinks this!)
---
---
If you're a little bit curious about what living with a host family is like, we have a whole bunch of information to help you out:
What Is It Like Living With A Host Family?
Who I Lived With
I was lucky enough to live with the sweetest lady Jenya, and her 8-year old son, who was taking ILP classes at the time. Who you are living with depends — girls in my group had all sorts of different families. One girl was living with a whole family and had her own grandma, auntie, uncle, mom, dad, siblings, and even a little nephew who was born during her semester. Another girl in my group had a cute family of three (mom, dad, and host sister), while another was living with just a grandma — her very own babushka!
What It Was Really Like
Plan on it being awkward at first. ILP arranges everything, so when we landed, we met with our Local Coordinator who got us all where we needed to be. Some host families met their volunteer right at the airport, but I went with a few girls to be driven to our families first. My new host mom and host brother were waiting for me at home, helped me get my suitcase up the 4 flights of stairs, and showed me my room.
After hours of being on a plane, suddenly I was in a little tiny apartment living with people I didn't know — which took a minute to get used to. But honestly? The minute I got there, I felt like family. Jenya had dinner for me when I landed (it was late at night) and had a cute breakfast waiting for me when I woke up. Over the following weeks, I showed her pictures of my trips around my city and pictures from home, we used Google Translate to talk about her family, I played puppets and the piano with my host sibling, and more.

Just a few weeks in, it switched from coming home and just eating dinner with my family (then going into my room to FaceTime home, or work on lesson planning) to wanting to sit and talk about where Jenya grew up, stories from when she was little, sharing plans about vacations to Europe, memories surrounding the pictures and items in my bedroom, and more.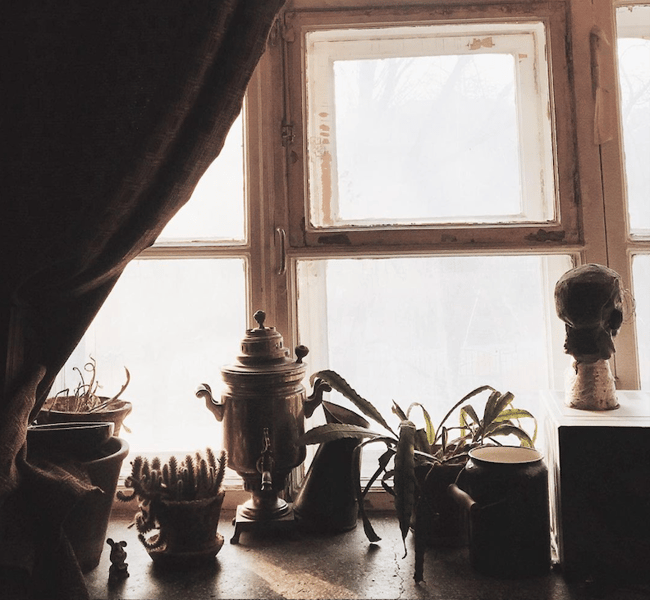 A Few Things People Worry About
What Should I Expect?
I had the same kind of thoughts as so many volunteers before I met my host family — who am I going to be living with? Do they speak English? What if I don't like the food?
If that's you, you're not alone! Here's what Rylie B (another ILP volunteer) had to say: "All I could imagine was a big family who didn't speak any English. I was scared that the food would be gross, but I loved (almost haha) all the meals they served me! They exceeded all my expectations! They made sure to treat me like one of their own daughters and I love them for that."
There are some adjustments to plan on, like sharing space. My apartment just had one bathroom we all shared, so we had to take turns brushing teeth and getting ready in the morning. Another girl in my group had a host sister who always wanted to play (but she needed some time alone), so they came up with a solution: if my bedroom door is open, we can play together, if it's closed, we need some time just by myself.
How Does ILP Choose Host Families?
Many families have students in the ILP Program (or are familiar with what we are doing). Your Local Coordinator contacts families who would be a good fit for hosting and asks if they'd like to host a volunteer for a semester.
Quite a few families have been hosting volunteers for years, or at least a few semesters, but everyone hosting has been chosen by your Local Coordinator and deemed to be a good fit for our ILP volunteers to live in. Living conditions may vary depending on where you stay (some families live in houses, others in apartments), but every single one lends a unique cultural experience by living with a host family.
It's rare, but there have been times when a volunteer changes host families during the semester. It could be for a variety of reasons (maybe the family's situation changes and they can no longer host), but the thing to know is that it's very important to us that you're comfortable with your living situation — and that includes the family that you're living with. If you have any concerns after meeting your family, please talk to us (your Head Teacher, your Local Coordinator, or your Program Manager at the ILP office) so that we can discuss possible solutions.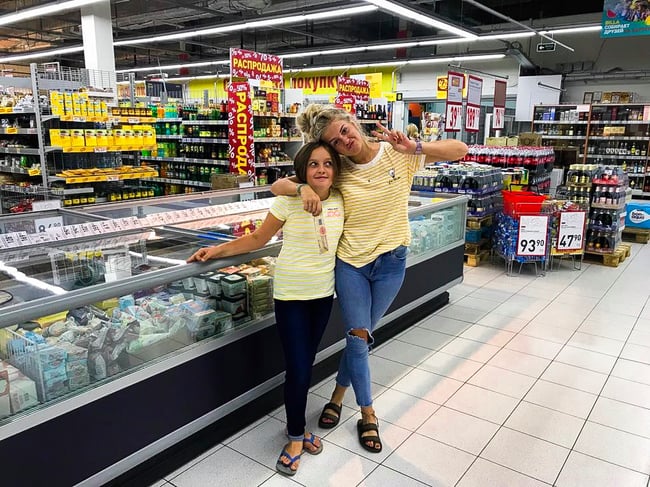 What If They Don't Speak English?
This is one of the main concerns we hear, but for many volunteers, it ends up not being a big deal.
My host mom only spoke Russian and did not speak English ... which was something I was worried about, but something I ended up loving. I used Google Translate a lot, but ended up learning way more Russian than people in my group who were living with families who did speak English. Jenya and I just really grew to understand each other, even though she was speaking Russian and I was speaking mostly English.
At the end of the semester, my mom and dad came to visit me, and we all had dinner at my host mom's house. After the dinner, my mom was so surprised at how much Russian I learned on my semester — but I really felt like I could understand what Jenya was saying even though I didn't feel like I learned enough to understand if someone else was saying the same thing in Russian. I love that connection.

Here's what Rylie B had to say about her host family.
"My host family had one daughter and she attended the school I taught at. My host mom spoke almost perfect English and my host sister spoke very well for her age! I loved being able to talk with them. Every night we would talk at dinner for so long! My host dad knew only a little English but my host sister or host mom would usually translate for him. Being able to communicate with them made my experience so much richer! But I was still able to establish a relationship with my host dad even though he didn't speak much English!"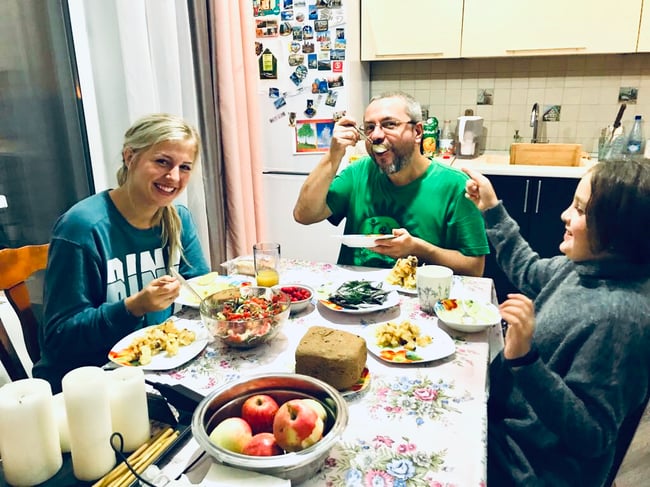 Some Favorite Memories
Here are a few highlights from Rylie: "Some of my favorite memories with my host family were spent at the dinner table talking with each other. They taught me how to play traditional games which was really fun! My host family also took me shopping, to visit a natural wildlife park with my host mom's foreign exchange students, and out traveling the city. I loved to spend time talking with them and making new memories."
I loved cooking with my host mom, especially when I showed her a few tricks like smashing the garlic clove with the side of your knife to get the paper skin off (she was so surprised!). I miss our long talks over tea (she steeped ginger in with chamomile) or when we would eat a whole jar of jam with breakfast some mornings because we kept eating pancakes while talking.
We follow each other on Instagram and it just makes my day when I see a message from Jenya pop up, and have to copy the message over to Google Translate to see what it says. I love and miss my host family so so so much.
If You're Trying To Decide
There were a lot of reasons why I personally decided a host family would be the best fit for me.
First, I knew I wanted to really get to experience the culture. I did another ILP semester where we all lived in dorms together which was so fun, but I didn't get to know the people or the culture that much — I loved feeling so close to my ILP country by eating the local food, speaking the language, and living with a family. It felt so authentic and was way more impactful for me personally than my other ILP experience.

Another thing was how I would spend time. I am someone who loves their time alone, which can be hard with a house full of other ILP volunteers. When living at a host family, I could choose when I wanted to go out with my group, have a movie night or sleepover together, and which nights I just wanted to stay in a read books with my host brother. For me, I loved spending time with my group and more quiet time with host family.
Rylie also has a few things to say — "When I first signed up for the program, I initially wanted to live in an apartment with the other teachers, but my favorite part ended up being living with a host family! The bonds I made with them I will cherish forever — They will always be a part of my heart and my family ... my host family made my experience one that I will never forget! I never had a sister growing up and my host sister filled that role! I loved spending time with them. They truly became my family away from home! "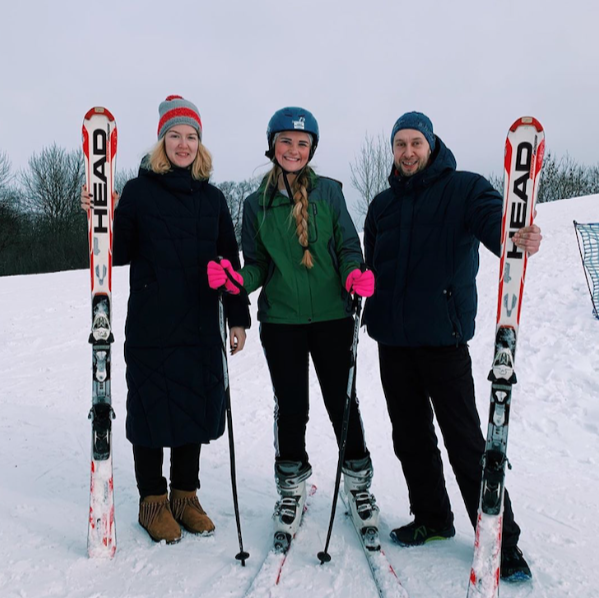 Have more questions about what a semester abroad will be like?
We know you probably have a few! Click the button below to speak to a representative in the ILP office and learn all about the program — My rep was a huge help when it came to deciding which program would be right for me!