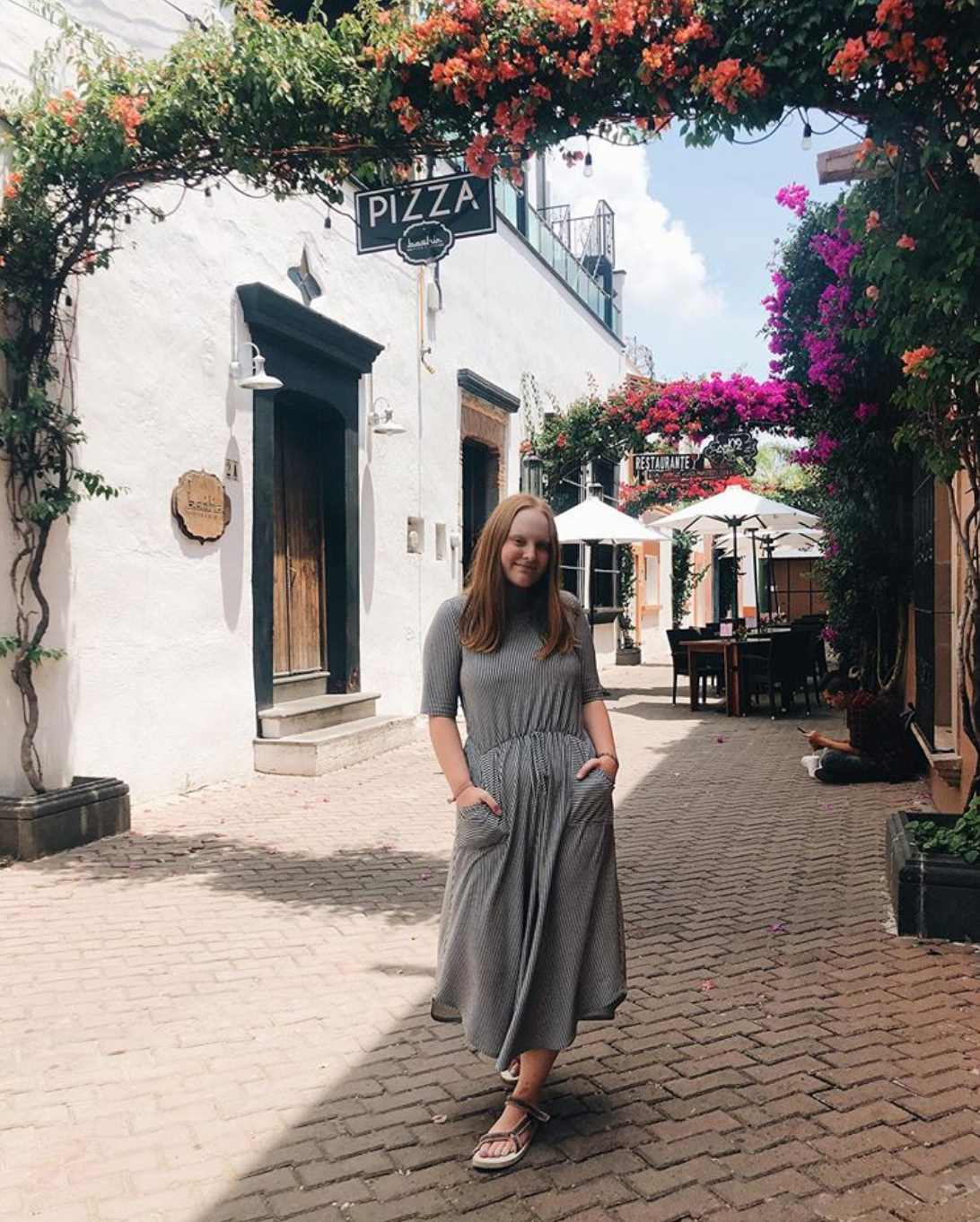 Colorful and quaint, Tequisquiapan is also home to "the best churros we had ever had".
Cute, with an almost Italian feel in some areas, there's this magical little city called Tequisquiapan just hiding a couple of hours away from where you'll be living as an ILP volunteer in Mexico. One of the major perks of spending time in this country means all the little weekend trips you can take, especially since ILP volunteers get free time during the week and every weekend off to do some serious exploring.


---
See what else is waiting for you
Mexico Destination Guide
---
Nicknamed Tequis for short, Tequisquiapan is somewhere you stop for a few hours and wish you had more time to step into towering cathedrals, shop for handwoven baskets, explore the deep opal mines, and snack on churros. See why this is one of our favorite Magic Cities?
Instagram The City Square
Feel like you're strolling around in Europe when you visit Tequisquiapan's main square, Plaza Miguel Hidalgo. Like most cities in Mexico, Tequis is home to a huge open square where you can find a cathedral, a nearby park, and a place for people to hang out, play music, do some shopping, and snack on some street food. In Tequis, the city square is where you'll see the Neoclassical church, Temple of Santa Maria de la Asuncion.

With a pastel pink look in certain lighting (and framed by detailed domes) this is still an active church where you can attend services. At 6:00 PM, you can hear the bells chime out "Ava Maria".

You'll also find benches to sit on (surrounded by pigeons you can feed if you have some bread), two stone-quarry arches that frame the area, plus there are typically some street musicians and street vendors that just adds to the whole atmosphere here.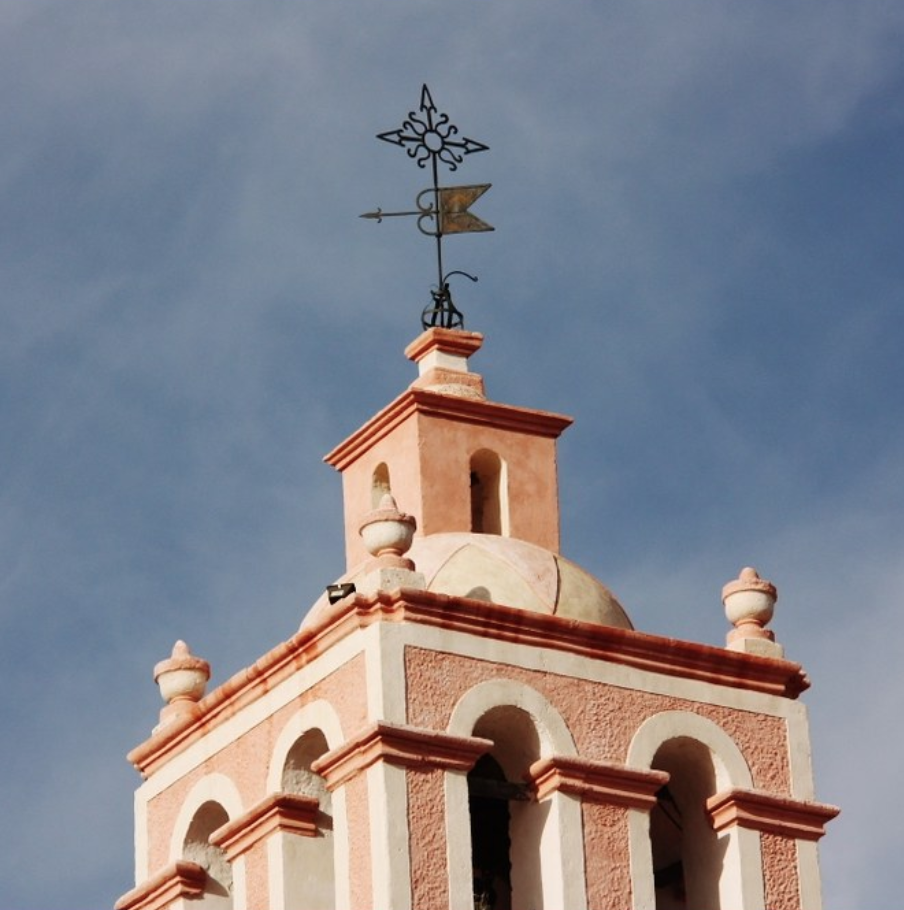 Tour Glittering Opal Mines
One thing Tequisquiapan is famous for is opal, a semi-precious stone that has glittering veins of pink, blue, and orange throughout the creamy white background. Several tour companies will take you deep into the red-rock mine, Mina Redentor, to see how to find these pretties, walk you through the shaping process, then let you shop from some family-owned shops. Some companies also let you hunt for your own opals during the tour. It may not sound like much, but it's been a #1 highlight for visitors who have taken the chance to tour the mines.
The tours cost 350-450 Pesos (around 15-20 USD), and you'll need at least 4 people to make it happen. The mines are just 10-15 minutes away from the city, and takes about 2-3 hours.

Find a tour to book through at any storefront selling opals in the city of Tequisquiapan.
Try These Local Dishes
Gorditas
These are Tequisquiapan's speciality, though you'll find them all over Mexico. Gorditas are a stuffed pastry that are delicious, in a word. But the pastry is made of maza and filled with meat, cheese, spices and other yummy things if you want more info. Like I said, delicious. Find these at a handful of food vendors that set up in Plaza Miguel Hidalgo.
Churros
One of our ILP volunteers Aubrey B., is a bit of a churro connoisseur and she said that you have to try the churros here. They're made a bit differently here than other spots in Mexico and some think they are the best … but that's up to you.
We suggest the Chu Churro cafe (address and info below) or heading to the main square to find some churro vendors.
Address: Centro, 76750 Tequisquiapan, Qro., Mexico
Hours: Monday, 4:00 PM to 9:30 PM
Tuesday - Thursday, 1:00 PM to 10:00 PM
Weekends: 10:15 AM - 10:00 PM
Picture from their Facebook page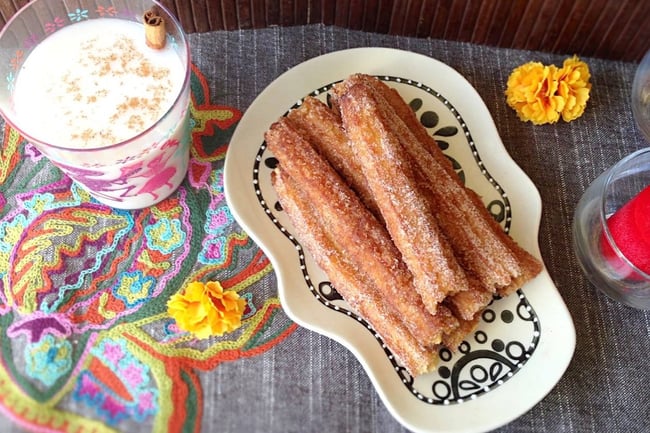 A Few Tips
Souvenirs
This charming city is also known for basic weaving, a tradition that's still going strong in Tequisquiapan. You can find them all over the city, but especially in the minimal market and handicraft markets. Find them on Ezequiel Montes Street, but there are also walking vendors who will set up camp in the main square. You'll find locally made baskets and other souvenirs you want from Mexico like woven pull overs, jewelry, embroidered shirts, pottery, etc.
Walk The Neighborhoods
With warm and sunny weather, you should schedule in some time to just wander the neighborhoods. You will stumble on streets painted a rainbow of colors, with homes complete with balconies and flowerpots.
How Long Should I Stay?
Hm, that depends. Here's what Aubrey said: "We stopped here on our way back from Mexico City and were ready to find a way to stay here longer. You only need a day here, but could easily spend two. It is cute, and quaint, and has an almost Italian feel in some areas. We absolutely loved it here!".
It's an easy day trip from Queretaro, but if you have the time, you may want to have a low-key weekend in this cute city.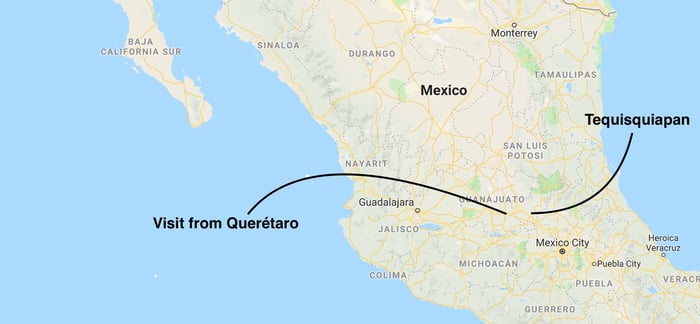 Getting Here
Easily done thanks to the buses in Mexico. Tequisquiapan is just a short bus ride away nearby Queretaro, a city our ILP volunteers are fond of visiting on the weekend. Our advice? Spend a weekend exploring Querétaro, then visit again to spend a day in Tequisquiapan (and hit your favorite parts of Querétaro again).

Here's a little more information about that.
From Querétaro
Figure out how to get to Querétaro here but once you arrive, you'll just need to hop on another bus to ride to Tequisquiapan. Double check once you arrive (or get some help from your ILP Local Coordinator — they may be able to call ahead and make sure) but the bus company Flecha Azul runs half-hourly to and from Querétaro between 6:30 AM and 8:00 AM. The bus ride is about an hour and costs about 50 pesos for a one-way ticket.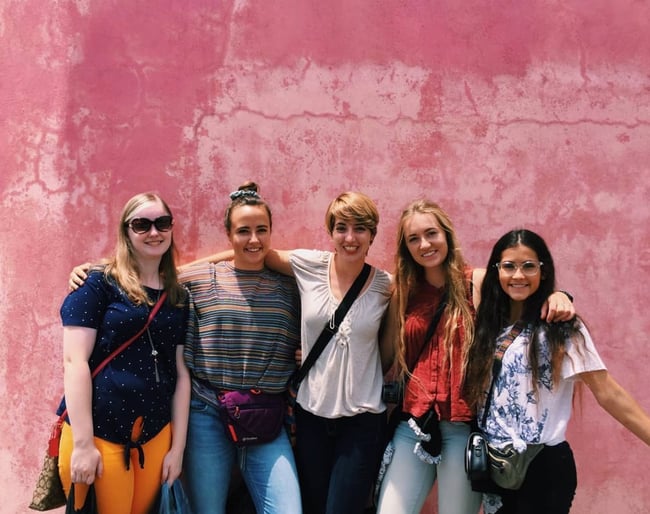 We think Mexico's waiting for you
This country will surprise you — our number one pick for weekend adventures, some of the best food around, and vacations filled with beaches and ancient ruins is just a taste of what you'll experience here.