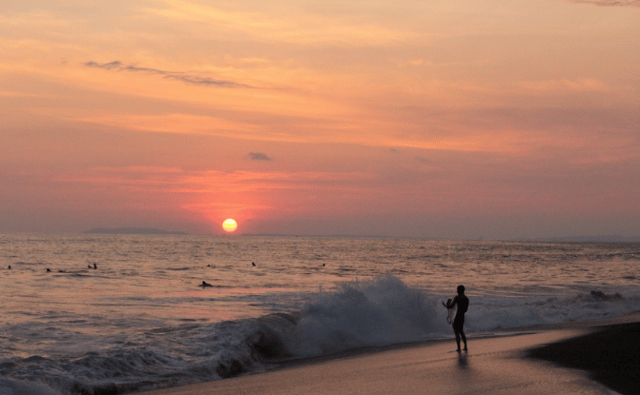 ILP volunteers get weekends off and vacation days to really explore their countries, which is why we put together this all-you-need-to-know-guide for your trip to Jaco which is one of the prettiest beach towns around.
---
Need more than enough time to experience Costa Rica?
See what you're missing with this Central America Destination Guide. It outlines our favorite spots in Costa Rica + some nearby countries for the ultimate vacation.
---

Here's what you need to know to get to Jaco and how to spend your time — feel free to add on more activities for a 4-day weekend, or just pick a few of things if you're just there for 3 days.
Where Is Jaco?
This popular resort city lines the Pacific side of Costa Rica, rimmed with gorgeous coastlines, backed by green, lush jungles, and colorful city streets. If you take the public bus, it's just over a 2 hour ride from San Jose. We have more info on buses to Jaco below.
Things You Should Do (+ Tour Info)
Just as a head's up, you'll find tons of tours and pamphlets in pretty much every hotel lobby and even some road-side stands, advertising different things to do.
In this post, we've provided a couple of links to tours just to give you an idea of what's available and what the prices might be like. These are not recommendations, they are just there to help you figure out what you'd like to do and how much you could be spending. Feel free do look online or do your own research once you arrive in Jaco!
Rent a bike and explore the city square
Jaco is peppered with cute shopping streets, vendors and traditional Costa Rican Sodas, where you can get a local meal for $5-7. You'll find beach cruiser rentals along the streets, so think about renting one for the day ($10) and seeing Jaco that way, rather than on foot.
Spend the day surfing
Jaco is known for its waves, so feel free to admire them up close during a surfing lesson. City streets lined with surfing schools and surfboard rentals if you already know how to surf ($10 a day) but you can book a few online, too — Vista Guapa has gotten rad reviews for its beginning surfing lessons ($75 for a 2 hour lesson and board rental).
The Playa Jaco beach has calmer waves for beginners, but if you want to see the professionals surf, head to powerful riptides of Playa Hermosa.
Zipline the jungle
You've got to see the jungle while you're in Jaco, and via zipline is the ideal way to see as much as possible. This tour company includes a bilingual guide, water and tropical fruit at the end of your canopy tour, $59 for a 2 hour tour, but you can find ones to book in person once you get to Jaco.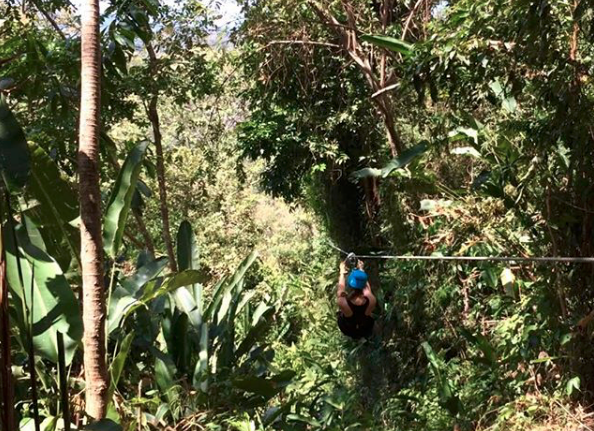 Do some hiking
This coastal city is encircled by green rolling mountains, just waiting to be explored. If you'd rather not take a tour, you can take a bus to Carara National Park and walk the trails (keep an eye out for scarlet Macaws; a huge number of these rainbow colored parrots call Carara "home" … the river is also full of crocodiles if you'd rather take a crocodile tour, you can totally do that). The Crocodile tour is about 1.5 hours, and is $55, which includes pick up in Jaco.
To get to Carara National Park yourself, catch any bus headed to San Jose, Orotina or Puntarenas and tell the driver you want to get off at Carara. The ride will be about $1.
The park is open from 8 AM until 4 PM; with a $10 entry fee.
Have a full beach day
Playa Jaco is pretty, but the chocolatey gray sands aren't the prettiest beach you can see when you're here. If you want a day of soaking up the sand and the sun, head to Playa Blaca.
To get there, snag a taxi to the Punta Leona Hotel (then turn left right before the hotel, passing the Soda Nimar restaurant). A 10 minutes drive down leads you to Playa Mantas.
Once you're on the beach, head across to the south and cross over at low tide (this blog post walks you through it all) to get to a secret cove called Playa Blanca.
Head's up on taxis; there are taxis aplenty in Jaco, but be sure to use the official taxis (the red ones) and make sure the meter is on. There's a taxi stand right outside the Mas Por Menos grocery store if you have trouble hailing one on the street.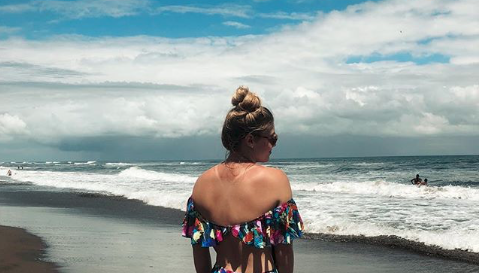 Take a day trip
There are tons of sites just a couple of hours away from Jaco, which could be an option if you'd like to see more of this part of Costa Rica. Like we've mentioned before, you'll be able to book a lot of activities and tours once you get there, but here are a few to check out:

Day trip the jungle
This tour picks you up in Jaco and takes you to the famous Manuel Antiono National Park for a 9-hour day of hiking through the thick jungle (spot some monkeys!), taking a swim or a snorkel in the ocean and enjoying the views — $100, with transportation and lunch included.
Pst: Get more info about Manuel Antonio here.
Day trip to an island
Just across the bay is Isla Tortuga, only accessible by boat. You'll find several tour companies where you can arrange a trip out to a beautiful sandy cove in this island. Snorkel, hike, have lunch, and relax before heading back to Jaco. You'll often find tour prices hanging out at around $130 USD for a full day excursion.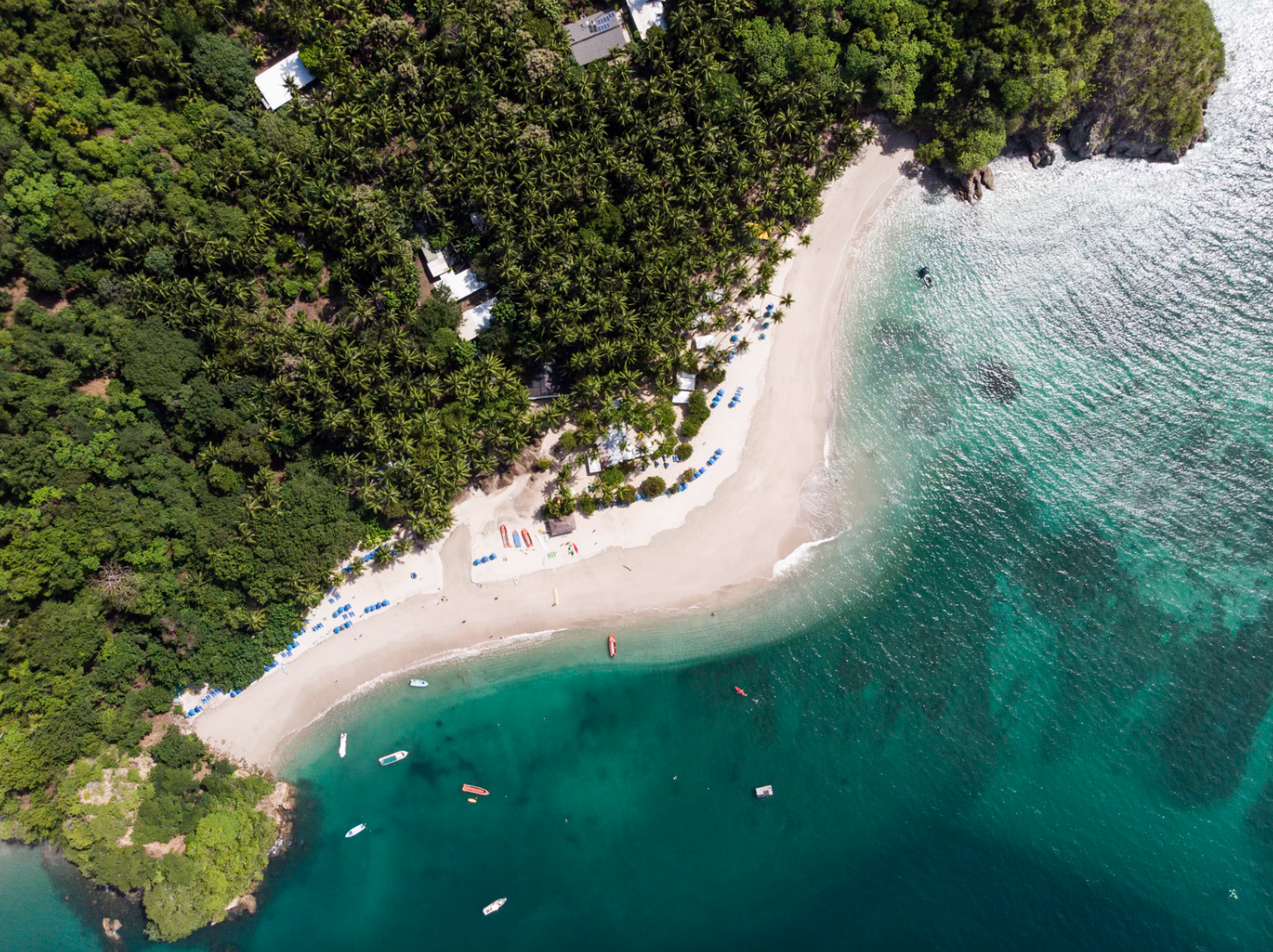 Day trip to the waterfalls
Take a half-day tour and explore all the surrounding waterfalls; this tour will pick you up in jungle safari vehicles (after a Costa Rican lunch) and guide you through hiking trails, waterfalls, swimming holes and other adventures — $84 for a guided, 4-hour tour.
How Do I Get There?
From San Jose
From the San Jose Terminal 7-10 (Av. 7, C.8), there are daily buses to Jaco, leaving every two hours from 7:00 AM (so one at 7:00, 9:00, 11:00, 1:00, 3:00 and 5:00 and 7:00). It takes just over 2 hours, and costs about $5. If you'll be headed to this side of Costa Rica, we recommend checking out the Ballena Coast, too.
From Uvita
Our volunteers living in Uvita have it easy: Jaco is very close to the spot they call home. It's best to get a bus to Quepos, then get a bus to Jaco. You can find a covered bus station directly across the Tracopa Station in Uvita (we talk about the Tracopa bus later on) heading north, as well as another bus stop (next to the Hertz rental office) for buses headed south. Get on a bus headed north to Quepos. It's about a two hour ride.
Once you arrive in Quepos, several buses head north to Jaco from 6 AM to 7 PM. with tickets at about 1265₡ for a two hour ride. Get more info on that route here.
Head's up! There is a Tracapo bus that can pick you up in Uvita and sorta drops you off in Jaco (en route to San Jose). The bus charges you a full San Jose fare and drops you off on the outskirts of town, meaning you have to walk or take a taxi (a 25 minute ride), but you will get there faster. If you're not short on time, we recommend going to Quepos first because it will save you money and a cab ride into town.
Like we've explained in our post about buses in Costa Rica, it's best to double check times and prices before planning or booking your trip.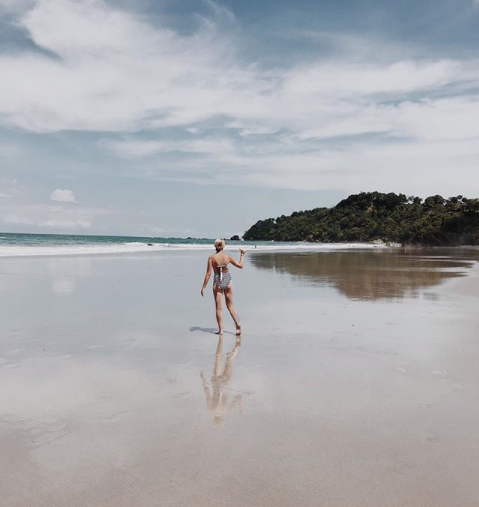 We know you're ready for more Costa Rica

Jaco's just one city you can explore when you're volunteering in Costa Rica — we also love the dense jungles, colorful cities, and other getaways like Tamarindo, Costa Rica. Get more info, right here: