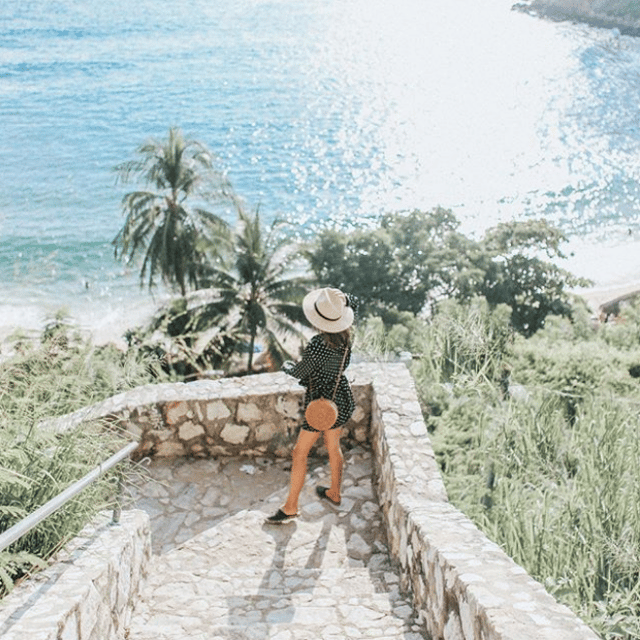 We all know that one of the best things about vacation is getting to eat at all the yummy, local restaurants, am I right? If you're like me and find yourself in Puerto Escondido, Mexico ... I got a restaurant recommendation that you're gonna love!
Let's be real here, eating is not JUST about the food. It's about the whole experience! Who's with me? The setting, the atmosphere and the company are just as important as the food. When it comes to company, it doesn't get much better than your ILP group. Tell me what's better than traveling (and eating) with a group of your best friends?
Not part of an ILP group yet and want to know how you can get in on the action? Go ahead and text an ILP representative! They can get you started.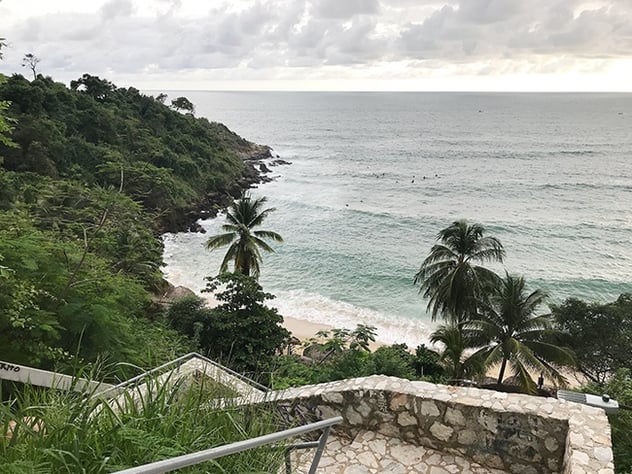 If you don't know much about Puerto Escondido, you're in for a real treat! Between the beaches and restaurants (with killer views), you'll never want to leave this favorite Mexican beach town. However, there is one restaurant in particular that you absolutely can not miss.
The best place to eat in Puerto Escondido
The best place to eat in Puerto Escondido is Espadin Restaurante! You'll be seated outside which provides the best views and sunsets you could ask for, overlooking the cove you swam at all day. With the atmosphere being that good, you know the food will be even better. They offer Mexican gourmet cuisines that are super fresh and will leave your mouth watering for days!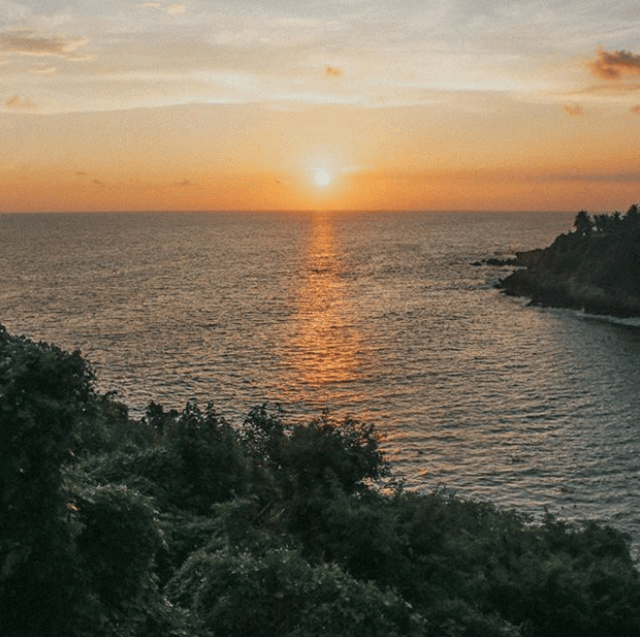 Where is it located?
Espadin Restaurante is located in the Villas Carrizalillo Resort (if you're looking for a place to stay, this place is worth a look). The resort is right by Carrizalillo Beach -- the one with all the steps.
Puerto Escondido is a strip of beaches, so make sure you're heading to the correct beach. This is at one of the northern ones. You can just take a super quick taxi ride if you're not quite sure where this beach is (but it's probably our most favorite for swimming so plan on spending a whole day here!). Here's a great reference for where all the beaches are located.
If any ILP Mexico volunteers took advantage of the international phone plan ILP offers through T-Mobile, you can use your unlimited data to get you there.
Here's the address:
Avenida Carrizalillo No 125, Puerto Escondido, OAX, 71980, Mexico
When are they open?
The restaurant is open for breakfast, lunch and dinner. They usually start serving breakfast at 8:00 am and close down dinner at 10:00 pm.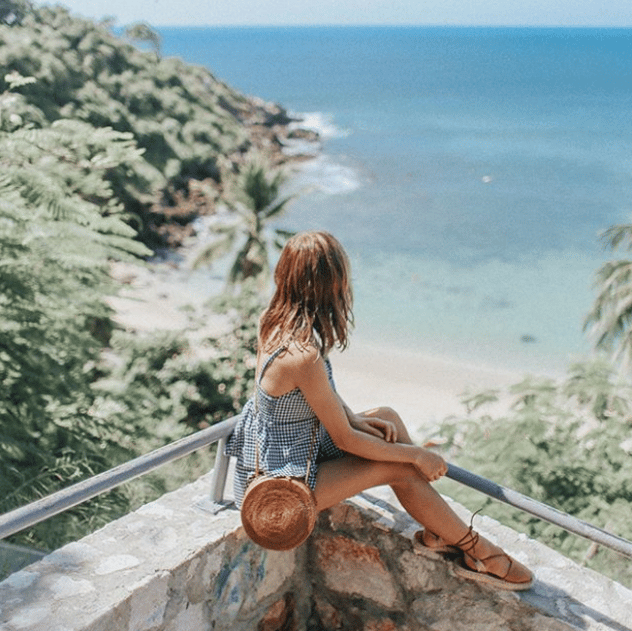 What's on the menu?
A word of caution: Reading this menu will make you hungry and your mouth water.
Here's their lunch/dinner menu. Check out their breakfast menu here.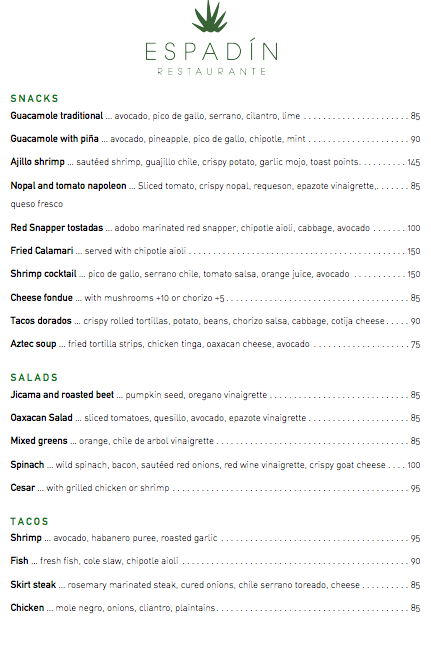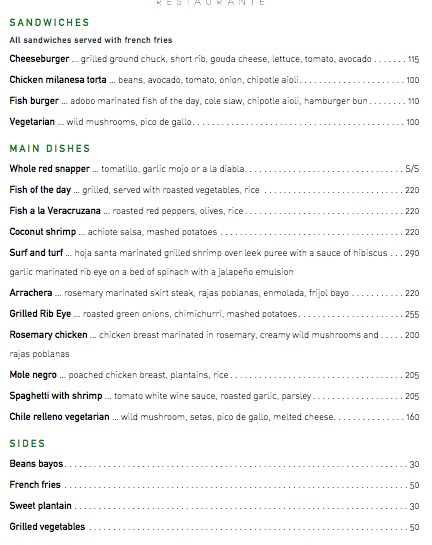 Looks great, yeah? Don't worry, those prices are not USD! The most expensive thing on the menu is only $15. This won't be as cheap as those yummy street truck vendors, but for a nicer, sit down restaurant with a view -- it's still a crazy great deal. I mean, this dinner could be a splurge for typical Mexican restaurant standards but you can get some fresh tacos for about $5, so sign me up.
If that menu doesn't do it for you, check out the pictures of their food and location and then tell me you're not interested!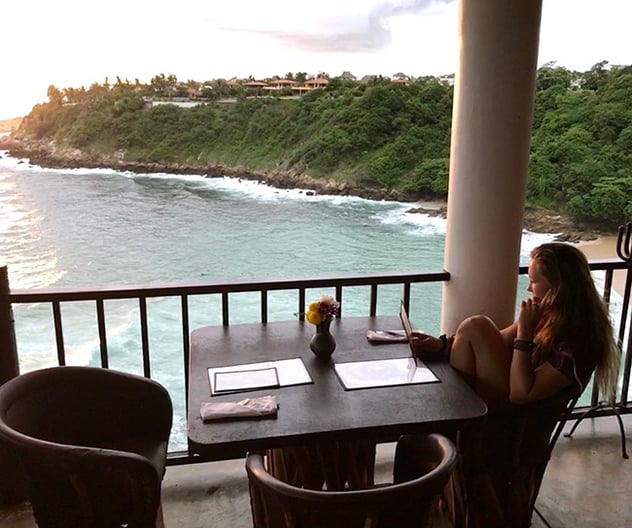 Plan out the rest of your vacation in Puerto Escondido with this guide of insider tips; we have more restaurant recommendations, places to stay, and a layout of the best beaches. It's pretty routinely rated our favorite vacation spot, if you ask the volunteers living in Mexico.
Interested in volunteering abroad in Mexico with the International Language Programs? Get more information below!