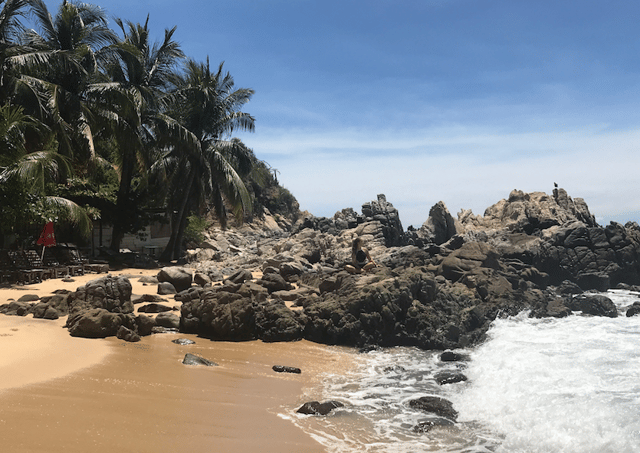 There's a lot more than 10 reasons to just fall in love with Puerto Escondido … but we think 10 is more than enough to convince you to make sure it makes your list of vacations in Mexico.
If you didn't know, we're pretty smitten with all of Mexico. I mean, this is one country where the food is amazing, the kiddos are darling, you can either spend vacations lounging on unreal beaches, zip lining over hot springs or exploring dense jungles peppered with ancient ruins … and don't get us started on the Mexican culture (and the shopping). Yep, we're big fans, that's for sure.

Ready to see this country — I mean, really see it? Come spend a semester abroad in Mexico! All you have to do is apply.
If you talk to some past ILP volunteers, you'll probably hear about their favorite vacations, the best food and the prettiest beaches. And, according to some recent head teachers, Puerto Escondido is the place where you can find all of these things (and more).

Pst: You might want to go through this guide to Puerto Escondido for way more info about all of these items (like where the best beaches are,
The Beaches
Baby Sea Turtles (!!!)
The Food
It's A Perfect 4-Day Vacation

Glowing Plankton

Unreal Views

This Hostel

This Restaurant

Deep Sea Fishing

Surfing and Stuff

Free Movies On The Beach
The Beach
First things first. You've got to schedule in some serious beach time while in Mexico and Puerto Escondido has a few worth checking out. One volunteer even said that this sleepy city had her favorite beaches in all of Mexico. You'll find a couple that are only a taxi ride away from the city center but might we recommend Playa Carizalillo and Playa Bacocho? They are our favorites, but that Puerto Escondido guide have a few more recommendations.
Baby Sea Turtles (!!!)
We love the idea of holding and releasing baby sea turtles so much we have a whole blog post about it, but it's worth talking about even more. You can actually hold and release these tiny, cutie turtles right here on Puerto Escondido for $2-3 dollars. And, according to one volunteer "that was the highlight of our whole trip".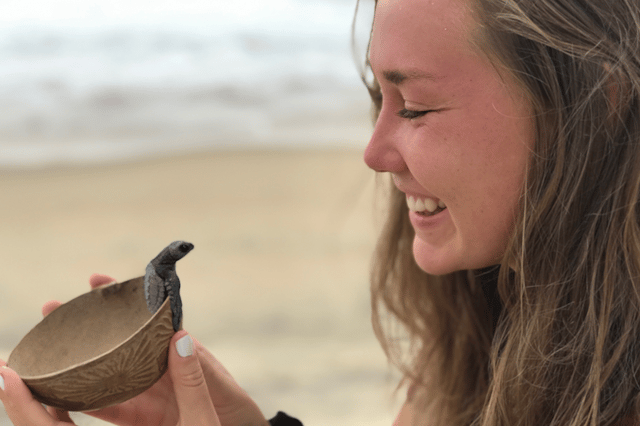 The Food
To be honest, all of Mexico has some pretty awesome food (like these five street foods you have to try) so Puerto Escondido isn't that special because there is also really delicious food here … but I don't really see that as being a problem. Think about ordering watermelon guacamole, steak and shrimp tacos, and other seafood on this pretty pretty restaurant at the Villas Carisalito hotel one night — you won't regret it.
It's A Perfect 4-Day Vacation
You'll get a few ILP vacations during your semester, and a trip to Puerto Escondido makes for the ideal 4-day trip. It's small and friendly, so 4 days gives you enough time to see it all.

We're also big fans of how many weekend trips you can take volunteering abroad in Mexico. If you're looking for a country where you can hop over to explore a new city every weekend and vacation, this is the country for you.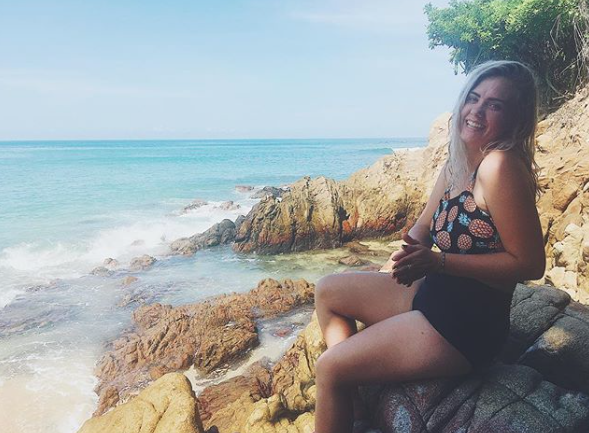 Glowing Plankton
One thing you cannot miss is the glowing plankton tours here. Basically you'll go out into this lagoon of mangrove trees at night and you'll be able to see this really cool, glowing, bioluminescent plankton lighting up the pools. Here's what one volunteer said: "it was the most amazing experience we ever had. The water actually glows!".

Past ILP Volunteers have gone with Lalo Ecotours — for $25 USD, you'll get picked up, taken out to the lagoon, then returned to your hostel. If you don't book with them, just go to Playa Zicatela. It's the main strip and you'll find tons of tour companies that you can book on the spot here. We just recommend going the first day of your trip because you often need to book a tour the day before, so you don't want to go looking on the last day before you head home.
Unreal Views
We might just let the pictures speak for themselves — Puerto Escondido is so. so. so. pretty.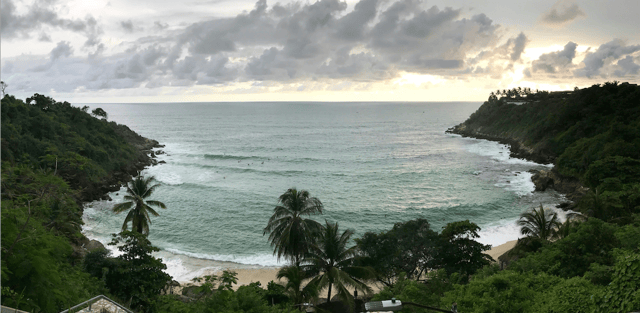 This Hostel
There are a few pretty cutie hostels to stay at (check out this guide to picking out a good hostel) but Vivo Escondido Hostel has a pool and a great breakfast, which makes it a great option.
This Restaurant
We found this open-air restaurant with the most incredible view of the coast right from your table. If you head over for dinner, make sure to time it just right so that you can watch the sunset. The food is delicious and it's a bit pricier than if you went to a local dive, but we're talking about $10 US dollars so...we say go ahead and splurge.
Get more info about this restaurant here.
It overlooks one of our favorite beaches in Puerto Escondido, Carrizalillo so after you play in the sun for the day head up here for dinner.The restaurant is called Villas Carrizalillo (it's also a beautiful hotel but anyone can go to eat).
Villas Carrizalillo

Avenida Carrizalillo No 125,

Puerto Escondido,

OAX,

71980,

Mexico
Deep Sea Fishing
You'll notice lots of cool tours and things you can take along the beaches. One adventure your ILP group can take is to go out deep sea fishing. You'll head out on a boat with a fisherman and see if you can snag something huge to cook up for dinner tonight!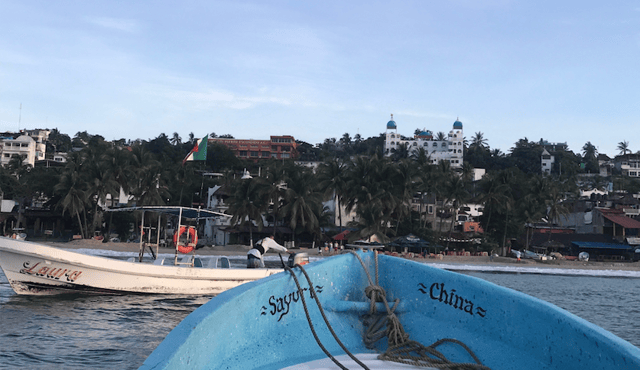 Surfing and Stuff
Puerto Escondido is one of the best surfing spots in all of Mexico, so if you're looking to hit the waves, you can get surfing lessons for around $15 USD. If you'd rather go boogie boarding, that's not a problem — you can do that too.
You can also go paddle boarding for around $10 for the day, or just plan on hanging out on the beach and watch the surfers. During the spring there's usually even a world famous surfing competition that happens here - so if you're around for that, consider yourself lucky!
Free Movies On The Beach
This only happens from about November to May, but you can watch free movies on the beach, put on by the Hostel Suites Villasol. Check out their Facebook page for more info.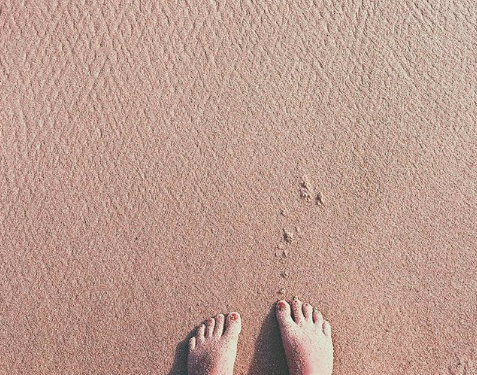 If you're looking for an adventure, this could be perfect for you! ILP is also a good option for anyone looking for opportunities for LDS volunteers — we have a Code of Conduct that's similar to that of the LDS church, but you don't have to religious to volunteer with us!
International Language Programs is looking for volunteers from the US or Canada who speak English fluently, are ready for a big adventure, and want to make a difference. That's it. No experience needed. Come check out volunteer options in Mexico!