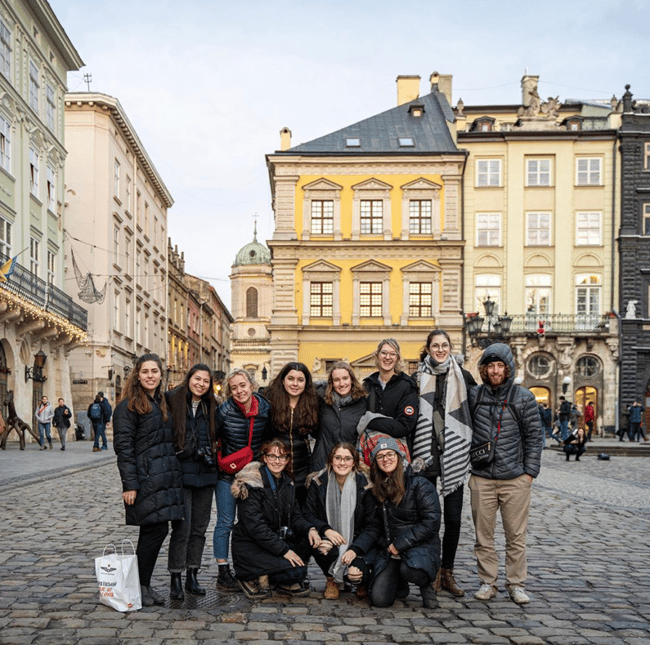 So many hidden gems are hiding just a bus or train ride away from Lviv (which is already a favorite vacation spot you should add to your Ukraine itinerary). One of the hardest parts about planning a trip to Europe is deciding what to see. Because once you decide on a city, you quickly realize that about a dozen other really cool places, cities, towns, castles, national parks or even other countries are just a short bus ride away. If that's the kind of problem you'd love to be dealing with, I'm only too happy to introduce you to the city of Lviv. It's a tip-top favorite weekend getaway for our volunteers already living in Ukraine, but we especially love that Lviv is the gateway to so many of the country's best kept secrets.


---
We're looking for volunteers who want to spend time in Europe!
Learn more about volunteering with ILP here.
---
Some of these gems are only 1-2 hours away, while others are more of a 5-7 hour commitment. We have explanations on how to get to every one of these cities from Lviv below, and also have a map to help you know where everything is. I'd highly recommend planning to spend two days minimum in Lviv, then adding on another day or more to explore the nearby cities that catch your eye. Another tip? If you're heading to Lviv from Kiev, think about hitting a few of these spots on your way back as you travel east — some will be right on the way.
Nearby Getaways From Lviv, Ukraine
Lutsk
If you pick just a couple of these cities to visit, make sure Lutsk makes the list. Lutsk is home to thousands of years of history, brilliantly showcased in the towering Lubart castle — you'll recognize this structure if you take a peek at your 200-hryvnia note. It's not only one of the oldest castles in Ukraine but all of Europe. You can also spend time strolling around the Market Square (which has been around since the 14th century), and visiting more than a few unique cathedrals, which really are the highlight of Lutsk.
Take the St. Peter and Paul Cathedral, to start. It's an impressively pretty cathedral which sits atop a meandering network of catacombs (they once served as a secret way in and out of the city). If you can, visit in the summer months, where Lutsk earns its title as one of the country's cultural capitals. In the summer, the city boasts impressive jazz, art, and folklore festivals.
Getting Here: By bus, it's a 3.5 hour drive you can snag for around $7 USD. Get bus info via Busbud. Train is also an option, with a 3-4 hour itinerary. Tickets are typically $9-20 USD. You can check routes and times here.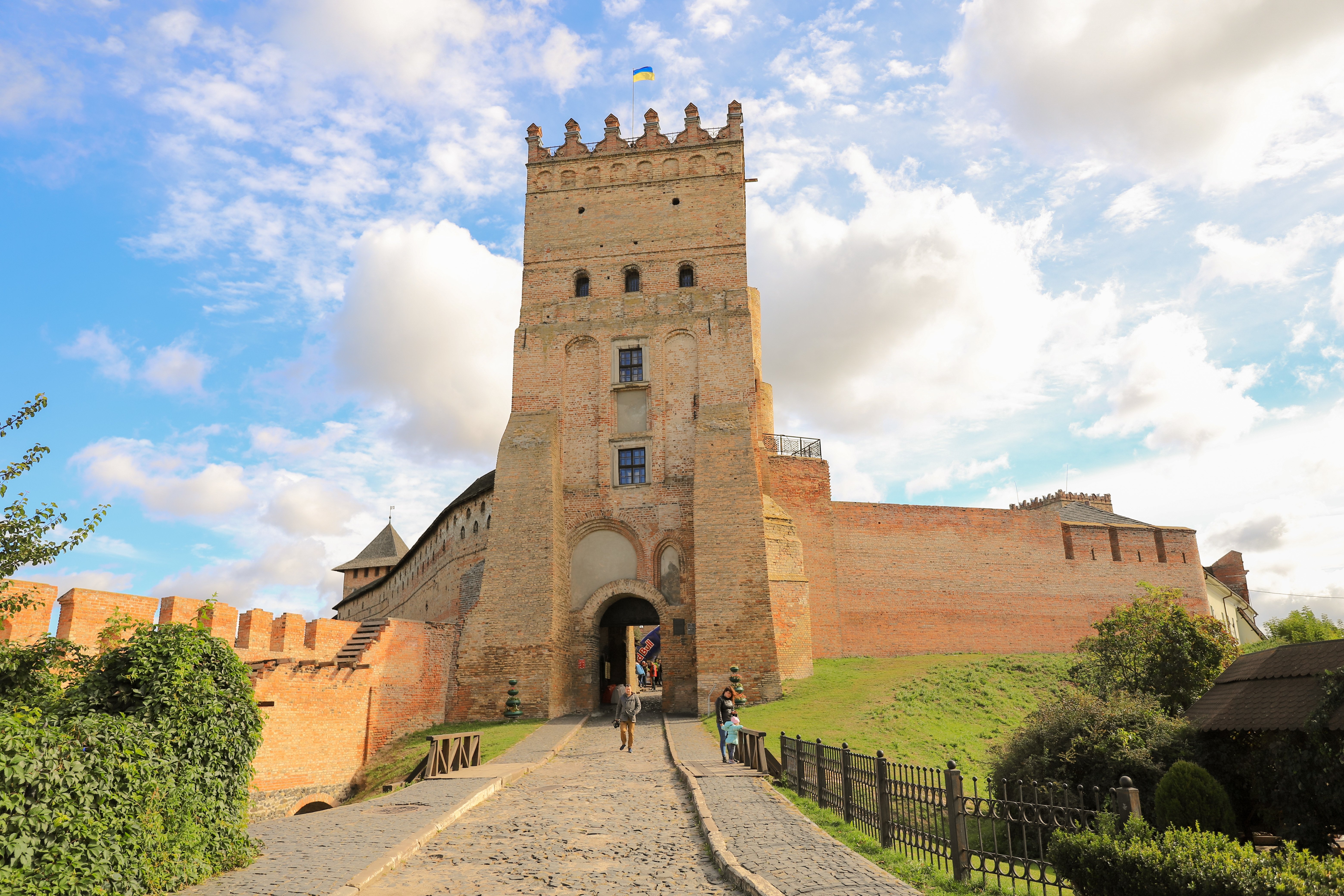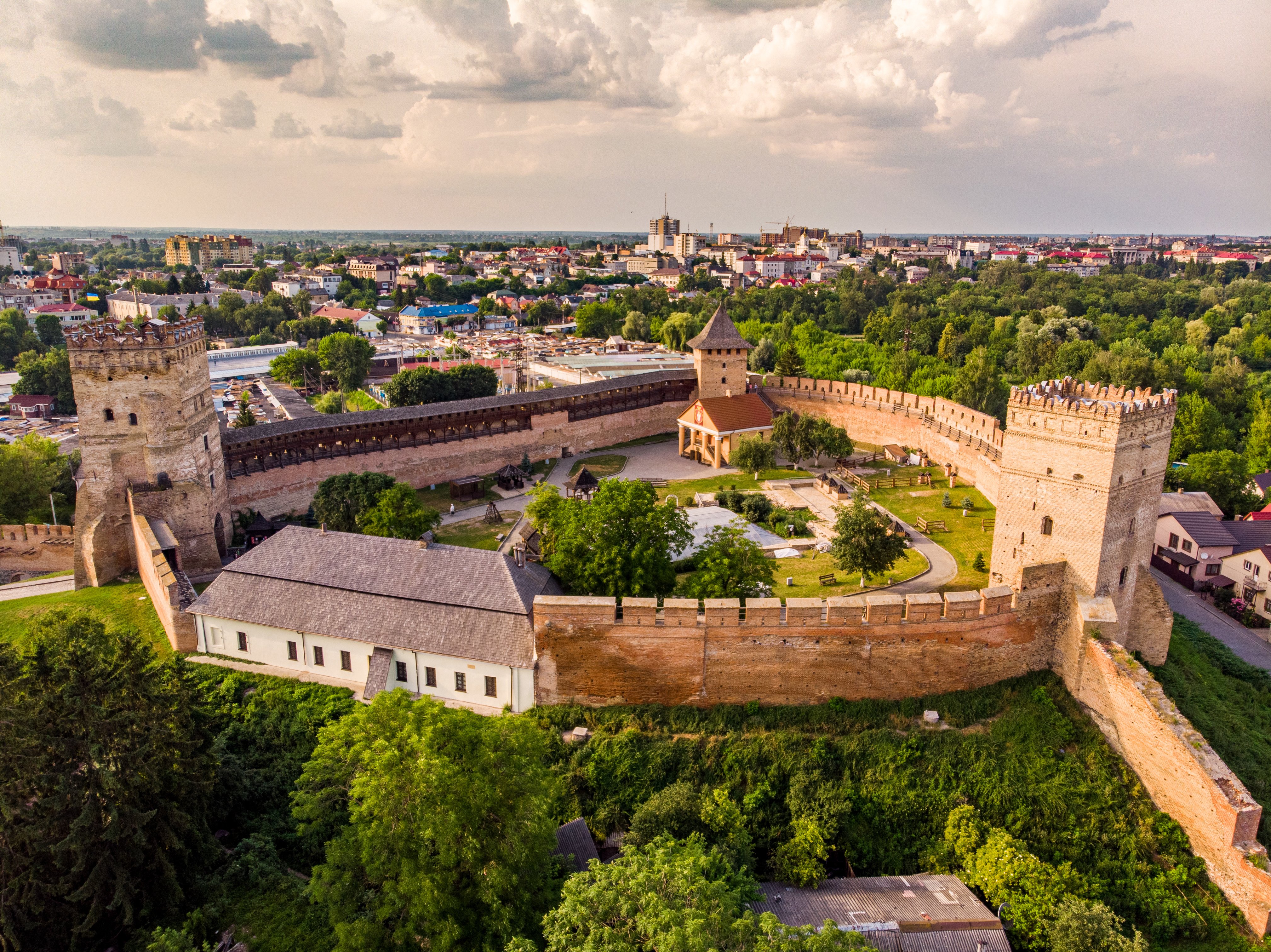 The Pochayiv Monastery
If you love the Lavra you can find in Kiev, you'll appreciate a visit to the quaint city of Pochaev. It's home to the 2nd largest Lavra in Ukraine, a collection of glittering golden domes and cathedrals crammed with chapters of Ukraine's history. It was supposedly founded way back in the 13th century and visited by Peter the Great in 1712. Plus, between the walls of the Pochayiv Monastery, you'll find a couple of the most revered icons in the entire country which just adds to your visit. Visit the official website for more information if you'd like.
Getting Here: From Lviv, plan on around 2 hours before arriving in Pochaev. You can take a train from Lviv to Radyvyliv (about a 75 minute ride for $8-13 USD, get tickets here) then can take a taxi the rest of the way. The taxi should be around 25 minutes, and cost around $10 USD for each way.
The Pochayiv Monastery is also close to nearby Kremenets (keep reading for more on that city) so maybe think about combining your visit.
Just A Few Castles
Olesko + Pidhirsti + Zolochiv
Still need a few more castles in your life? Known as the Golden Horseshoe of castles, this trio of castles creates a really popular day trip option from Lviv. The Olesko castle is one of the oldest in the country, an impressive stronghold that has been passed down for generations as an opulent fortification. Now, it stands in ruins atop the rolling hills of the Ukrainian countryside (but is still one of the most popular places to visit).
Pidhirsti Castle is newer and more heavily influenced by Italian and French design but also carries scars of the country's past. The Pidhirsti served a hospital in WWII and still suffers from the damage it underwent in the 20th century. Get more information about both of these castles here.
Zolochiv Castle is another popular pick, with expansive gardens and a smattering of architectural influences that reach everywhere from China to France. It's also in better restorative shape than Olesko, giving you the chance to stroll the hallways to see chandeliers made of dinosaur bones, royal crowns, and other treasures. Get more information about Zolochiv Castle here.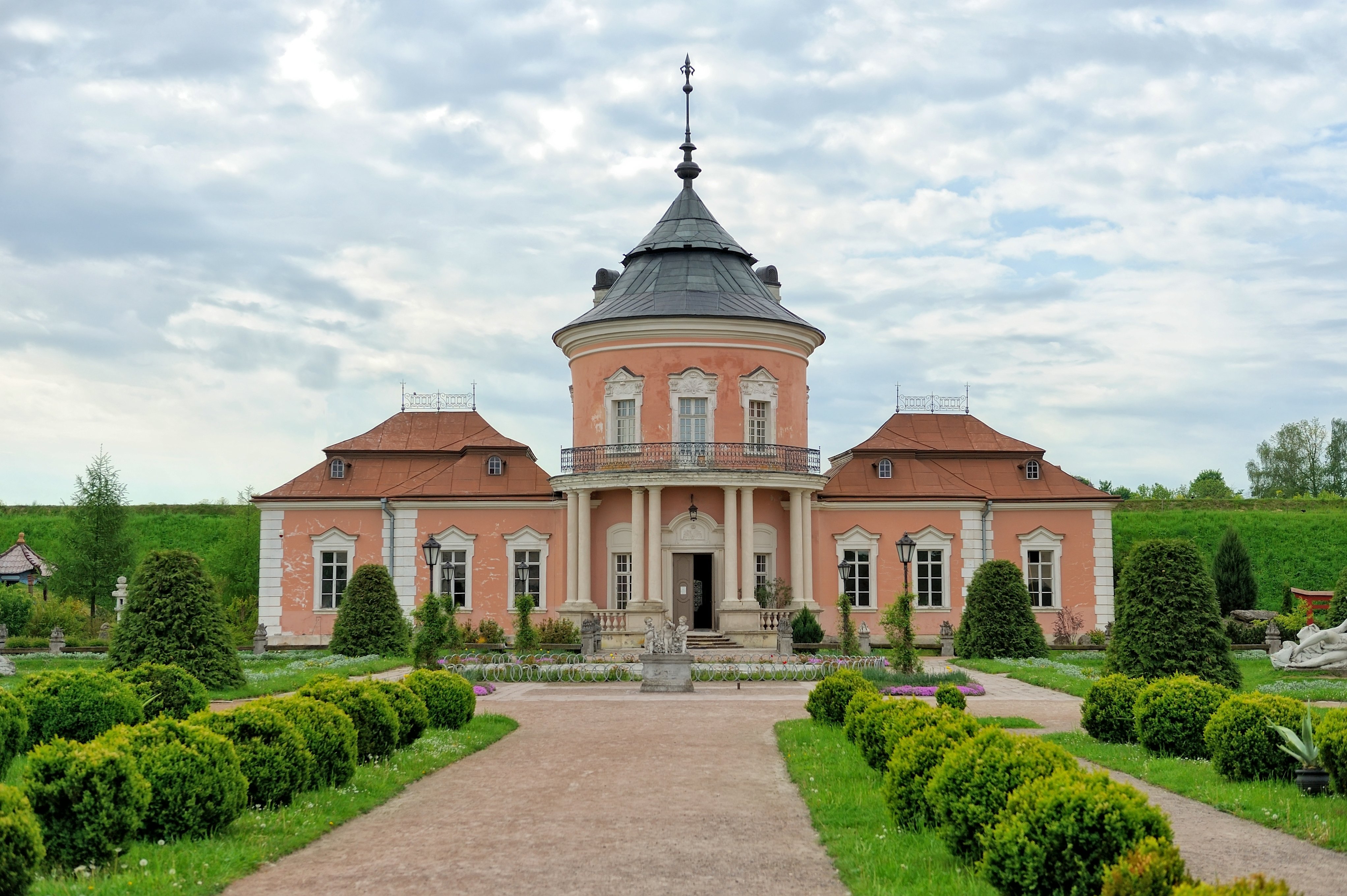 Getting Here: Seeing two of these castles or even all three is a popular guided tour option, with several vendors who will pick you up in Lviv and take you out to these castles for the day before bringing you back. This option has a tour that's 400 UAH per person (plus a 200 UAH charge which covers the entrance tickets to the castles), but you'll likely find others if you ask around while in Lviv. That's the lowest ballpark for price, with other tours in the $200 USD range.
If you just want to see one castle, you can easily reach Zolochiv by train from Lviv. Just head to the Central train station and get on a train headed towards Zolochiv (routes are about 1 hour, departing every 4 hours or so).
Kamianets-Podilskyi
Ukraine is home to a handful of castles, but Kamianets-Podilskyi is a favorite. For about a thousand years, the Stara Fortetsya was at the center of a huge trade route, meaning it was a pretty hot commodity — everyone wanted in. It passed from Ukrainians to the Polish then onto the Turkish, then onto the Russian Empire, with each conquering culture adding on more and more towers, bridges and fortifications (oh, and dungeons) to this castle. At one point, it was even turned into a mosque. If you look closely, you can spot a minaret peeking up between the turrets and towers.
If you want to feel like you've stepped right back into medieval history, Kamianets-Podilskyi is where you should head.
Get more info about your visit here, including how to get here (but plan on a long, 6+ hour journey with a stopover in Chernivisti).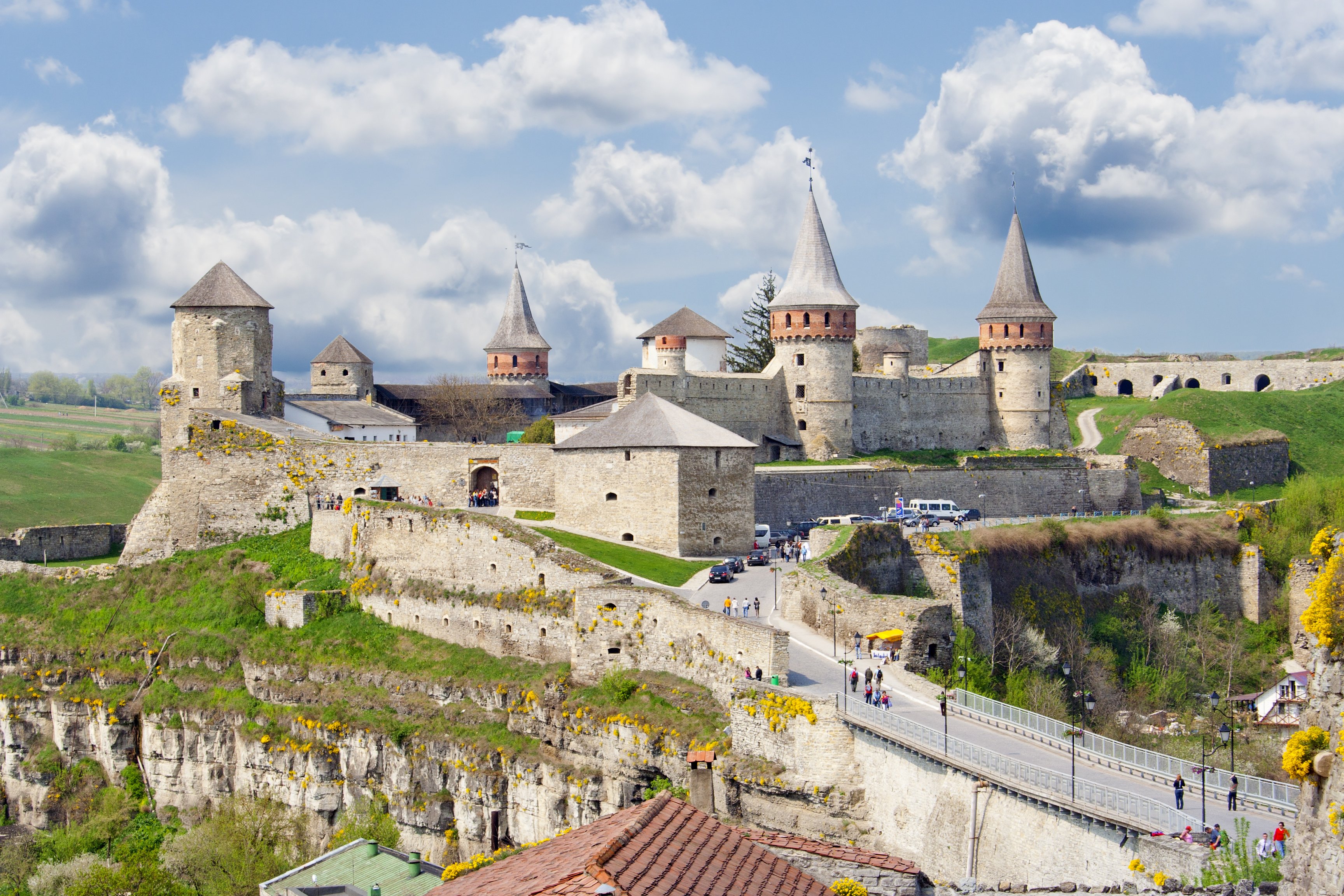 Kremenets
While you're already east of Lviv, you might as well stop at the little city of Kremenets — it's just a bit further from Lutsk or the Golden Horseshoe of castles. It's a hidden-gem of a stop tucked away in the western part of Ukraine, home to one of the oldest Botanical gardens plus a few noteworthy buildings. One blogger said that when it comes to little cities with the most to see, Kremenets is a winner.
Though bright and colorful, much of the architecture of Kremenets represent some dark scars on the city's past. The burgeoning Jewish population was repeatedly persecuted and heavily victimized both before and during the Holocaust. Now, sections of the city stand as reverent reminders of their perseverance, pulling in visitors who are interested in the city's past and pilgrims from all over the country who come to worship in the cathedrals here.

Getting Here: From Lviv, it's not a direct shot unless you're traveling by car. You can take a train to a nearby city (like Rudia Pochaivs'ka or even Lutsk), then just hire a taxi to take you the rest of the way to Kremenets. You can get an idea of what routes are like on Rome to Rio, just know that they don't always reflect the most accurate prices or itineraries.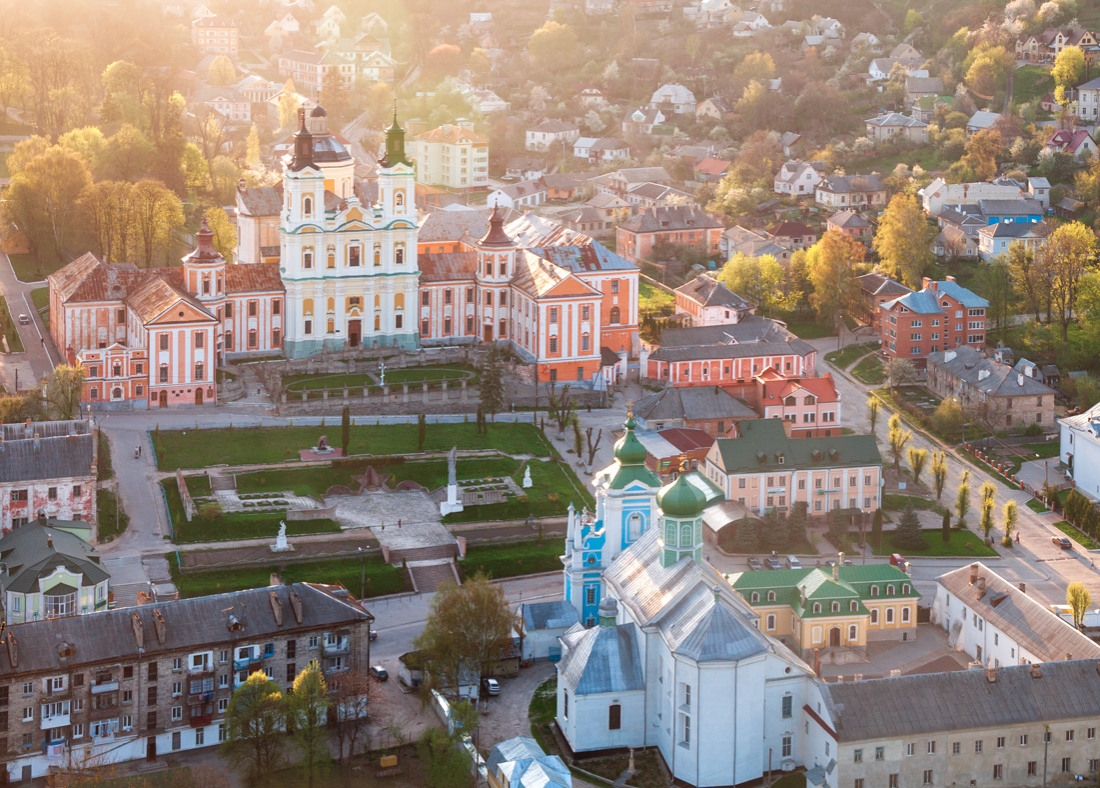 Photo from Rbrechko via WikiCommons©
Tarakaniv Fort
Hiding just a couple hours east of Lviv is a place that feels like a totally different country (or even a totally different world). The Tarakaniv Fort is now abandoned, leading to an eerie piece of architecture which is slowly being overtaken by nature, but it used to be a protected stronghold which guarded the western borders of the country. Now, a network of arches and tunnels are abandoned, made even more ominous when you learn the fort was used as a stronghold for Nazis during WWII. It's now a unique section of Ukraine you can visit from Lviv.
Getting Here: Best done with a tour, though most will take you a few other places nearby to make it an all-day adventure. Just This Viator option and this tour takes you to the fort and the Tunnel of Love, while this option hits the fort and the Pochaiv Lavra, just to give you an idea of what's out there.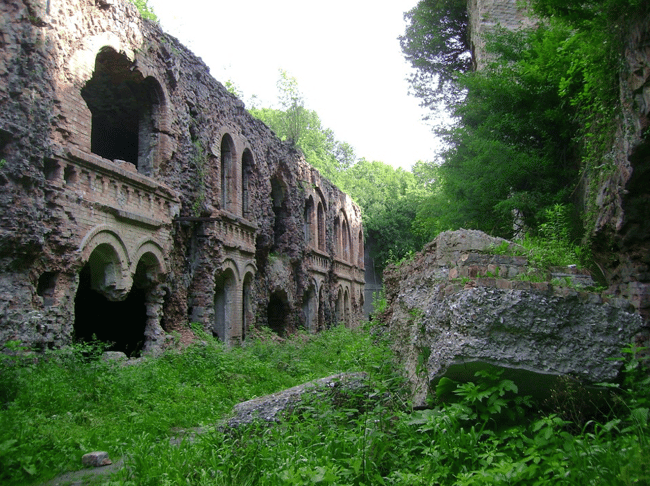 Ivano-Frankivsk
Haven't heard of this Baroque gem? You're not alone. A city nestled close to the borders of Poland, Slovakia, Romania and Hungary, Ivano-Frankivsk is one of the most dynamically picturesque cities in Ukraine (and quite a hub of culture and architecture). It's also home to so. many. darling little cafes that are beyond affordable.
Sometimes called a "little Lviv", Ivano-Frankivsk is home to a dozen or so museums and picture-perfect architecture with a Gothic influence that's still reminiscent of the Soviet-era. Ivano-Frankivsk is also the gateway city for a trek into the Carpathian Mountains, which pulls in hikers from all over the world.
Getting Here: Trains are a good option from Lviv. It's about a 2-hour ride, for about $9-15 USD. Book tickets here.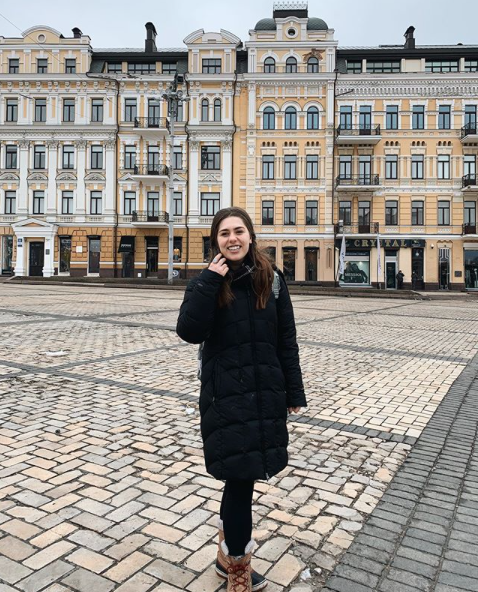 Uzhgorod
We love this city! There's an extensive citadel to explore which has been protecting Uzhgorod for years. There are tiny bronze statues hiding all over Uzhgorod as a way to preserve local folktales and culture (see if you can find them all). Oh and this city is also home to the longest tree tunnel in Europe. Thinking you want to visit? I don't blame you — get info about your visit to Uzhgorod here.
Getting Here: You can get here by bus. It's a 4-7 hour drive from Lviv. Check routes and prices here.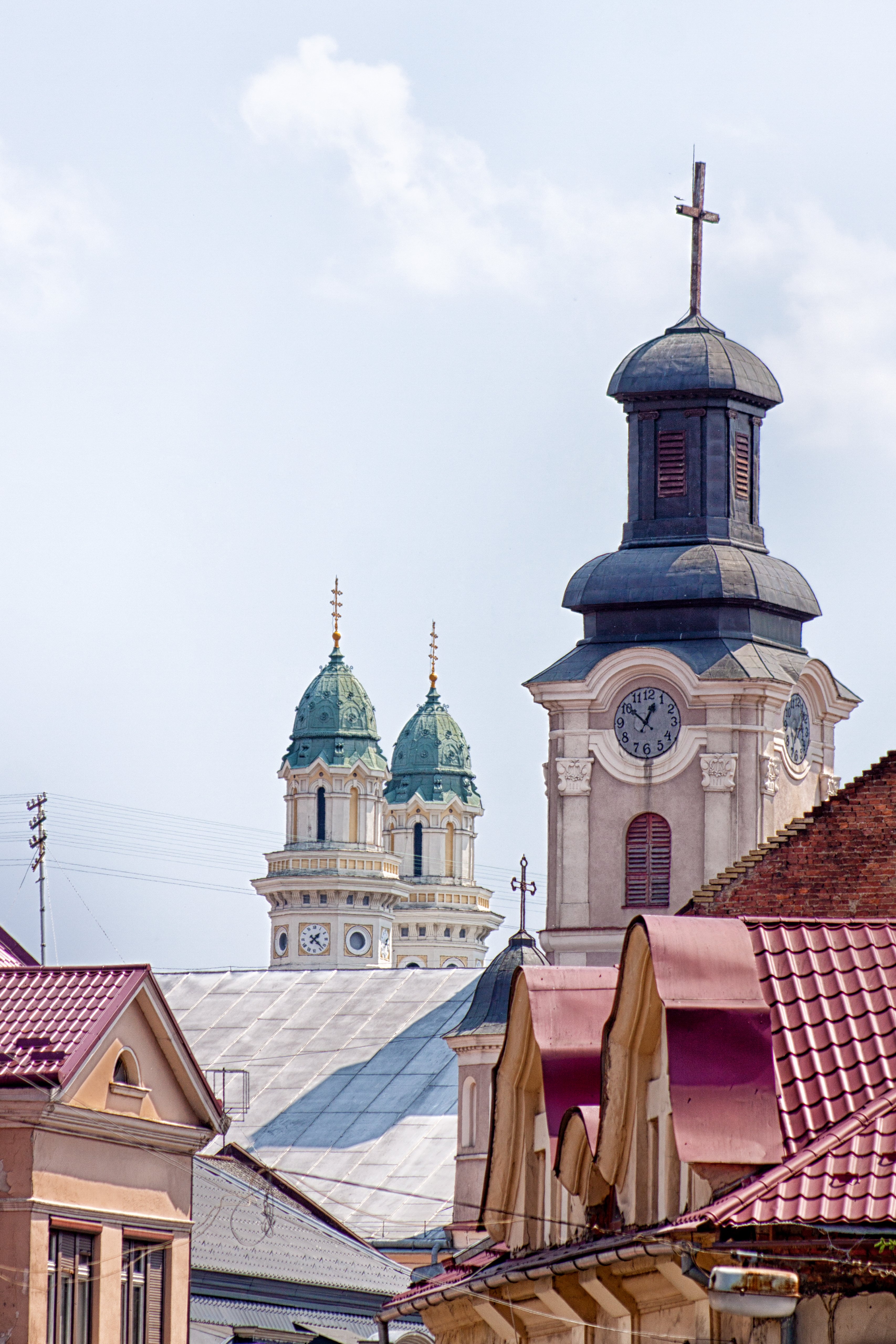 Mukachevo
Welcome to Mukachevo, another fan favorite Ukrainian city. It's a quiet slice of local life sporting an imposing castle with an impressive history, a smattering of delectable cafes, and a brightly colored city center. The castle is really what this city is all about, home to medieval hallways, relics and furniture from the past, a mini torture chamber and stony courtyards, plus you'll find a museum, an art gallery and a coffee house inside. We're also huge fans of the panoramic view you can get from above. Get more about Mukachevo here.
Getting Here: Take an overnight, 8 hour train from Lviv to get to Mukachevo. Book tickets and check routes here.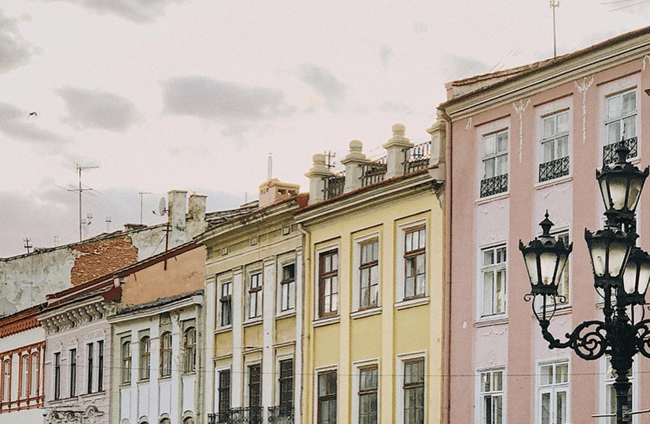 Zhovkva
While most people are pulled to Zhovkva to see the Holy Trinity Church, there is way more to learn about this city. You can get a deep-dive into everything this city on this blog post but you really should spend a quick minute on this wooden church because it's more than impressive. Built in 1720 and boasting an array of 50+ icons painted by the greats, this church looms over the quiet countryside. While you can find a collection of wooden structures and churches in the outdoor museums around Ukraine, this church is one of the most imposing (get tons of pictures of the church here).
Getting Here: A short (and inexpensive) bus can get you here. Bus 151 departs for Zhovkva at St. Theodore Square in Lviv every 15 minutes or so. The bus ride should take about an hour, or you can just taxi there (plan on a 30 minute drive, for about $10-$15 USD).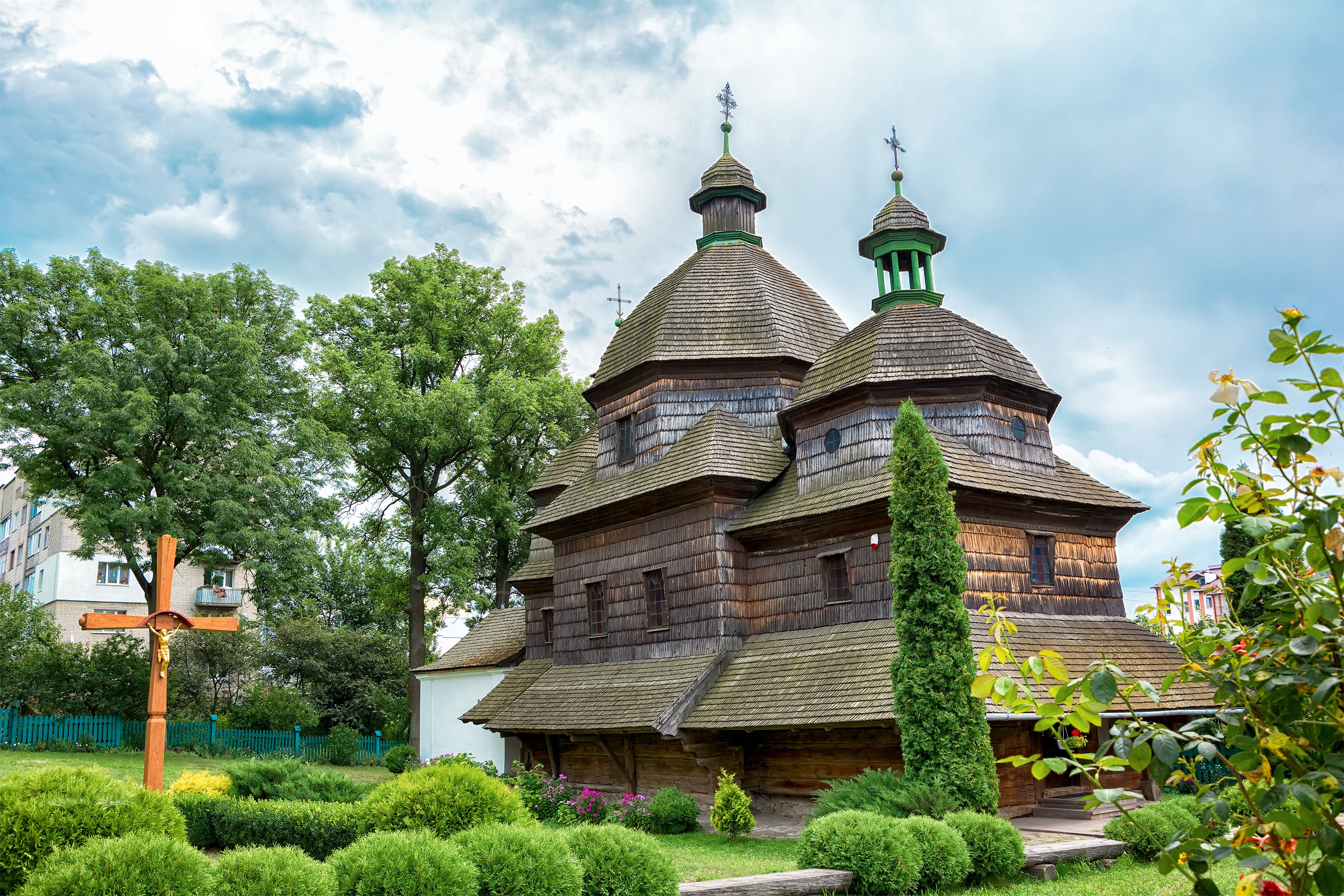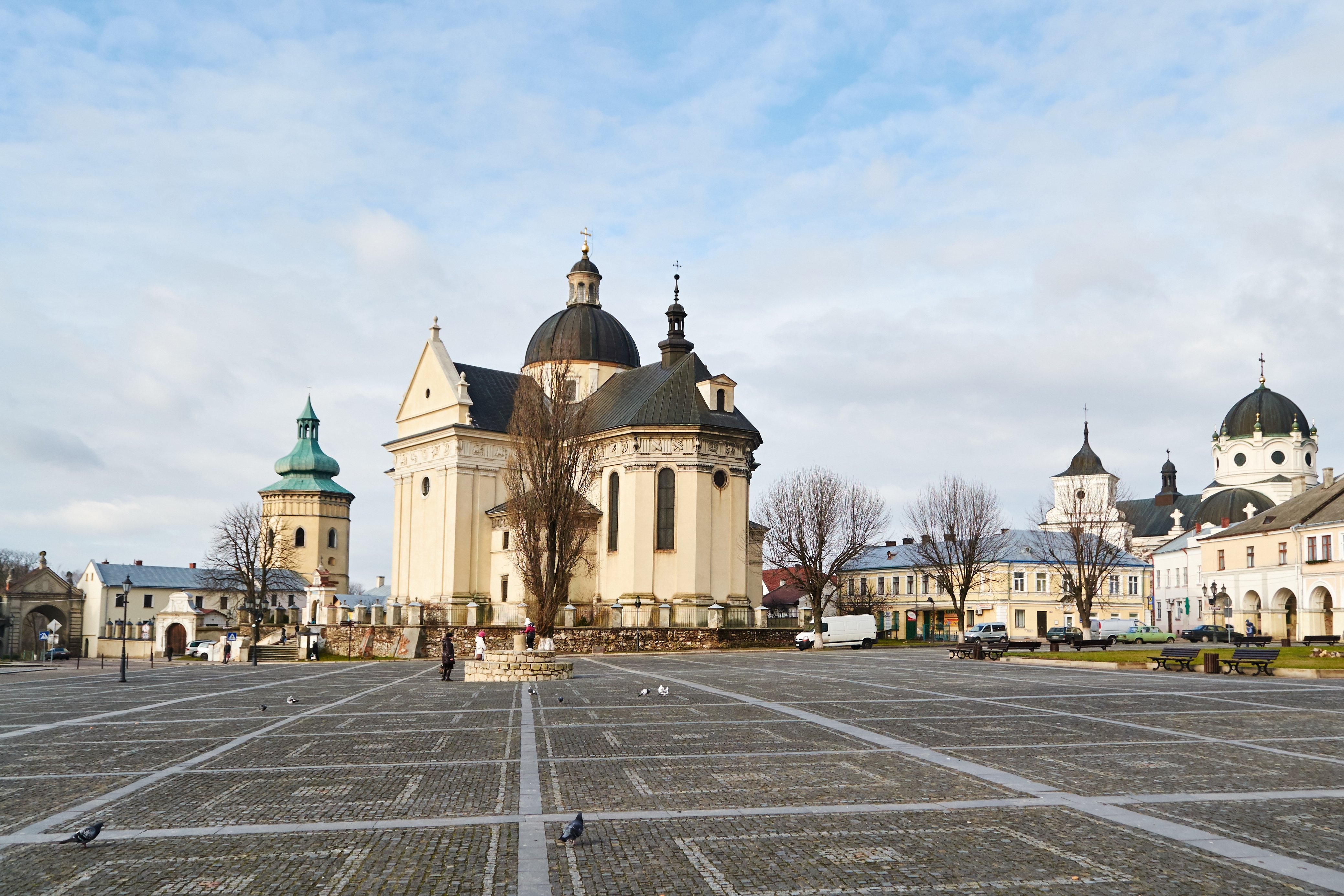 Truskavets
In the mood to really relax? Truskavets is a spa-town, complete with wooden villas and resorts built right by the natural mineral springs which brings visitors from all over. This place was a favorite to visit for Polish royalty for hundreds of years (the city is right on the border of Poland). Now, it's one of the most popular resort-getaways for Ukrainians (and tourists who know the secret).
You'll find spas, saunas, salt caves, and of course the supposed healing properties of the water. Visitors in the past used to drink the slightly sulfuric liquid to aid healing, but now people seem to think soaking in the pools will do the trick. Prices for resorts range from 400 UAH a night to 1,400+ UAH a night.
Getting Here: It's easy and quick from Lviv. The bus is one option, but it'll take you around 2.5-3 hours to arrive. Tickets are anywhere from $1-$5 USD, roughly. Taxi is going to be the quickest (around 1.5 hours) but more expensive, about $25-$35 USD potentially.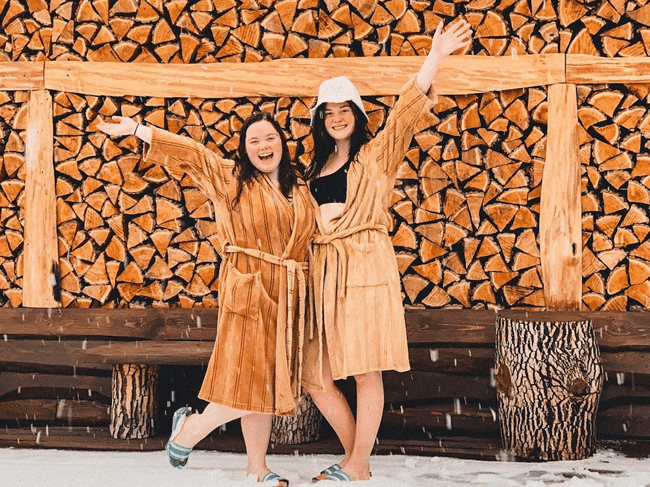 Klevan's Tunnel Of Love
Located in northwestern Ukraine is a tiny, historic town called Klevan. There you'll find monuments, cathedrals, and even a castle! Plus it's home to the Tunnel of Love, a gorgeous leafy tunnel about 5 km (3 miles) long and looks like it leads straight to Narnia. The arches of the tunnel are beautiful all year long, since the leaves change with the seasons, basically creating the Pinterest-perfect photo spot of your dreams. Get more information about visiting the Tunnel of Love here.
Getting Here: You'll probably want to take a bus from Lviv to Rivne first (check bus prices and routes here), then hire a car to take you from Rivne to Klevan (it's about a 30 minute drive). Plus, the local driver will be able to help you find the Tunnel of Love, especially if you just show them this: Тунель кохання.
Or you can head to the train station in Rivne and take a marshurtka, one that's headed to Klevan. It's about a 45 minute drive. Just keep an eye out for the Тунель кохання sign because the bus stops right outside of the sign, and you'll just need to walk up to Slovyanska Street and follow the road for around 20 minutes until you reach the tunnel.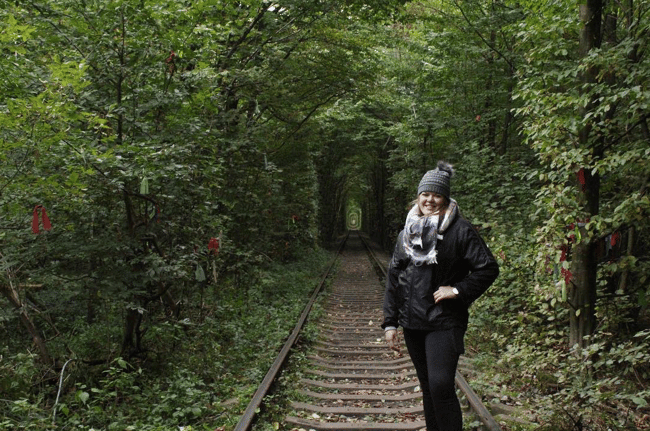 Drohobych
Venture outside of Lviv and stumble upon yet another hidden gem, the city of Drohobych. It's been an old foundation to the region for a long time, boosting the economy with an expansive salt trade and really prosperous salt mining, but now it's one of the prettiest cities in the country.
It's really charming, with UNESCO wooden churches, towering synagogues, and of course, the salt mine. And if you don't think you'd love visiting a place so centered around salt, think again. This resource has seeped into the culture of the city, leading to salted coffees, and salted caramel cakes found in the cafes which line the main streets.
Getting Here: Start your journey to Drohobych at the Central Railway Station, where you can get on a bus, marshrutka or train to Drohobych. Buses leave about every half hour and will get you to Drohobych in under 2 hours (plan on paying 70 UAH for a ticket). Trains will get you there in just over 2 hours, and tickets are around 20 UAH.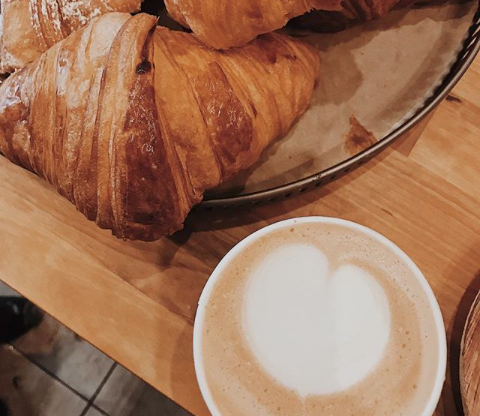 Chernivtsi
This place has been called a gem by one too many bloggers, but that's the best word for this spot. Chernivtsi is like the best of the best of Ukraine, all wrapped into a city that doesn't have the hype or crowds of similar cities. Oh, and this place is also called a sister city to Vienna, Austria. Read up on the history and find all about the influence of the Austrian royalty and government here which produced museums and churches galore in this Ukranian city.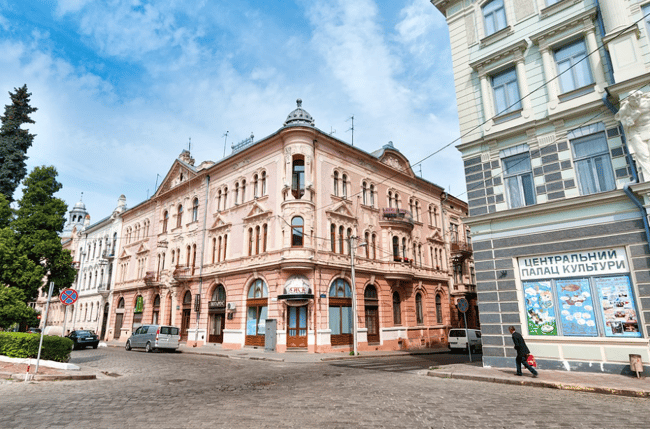 + A Map To Help You Out
A handful of these destinations are closer together than they are to Lviv, making it easy to combine them in a single day trip. This map gives you a pretty clear idea where all these spots are: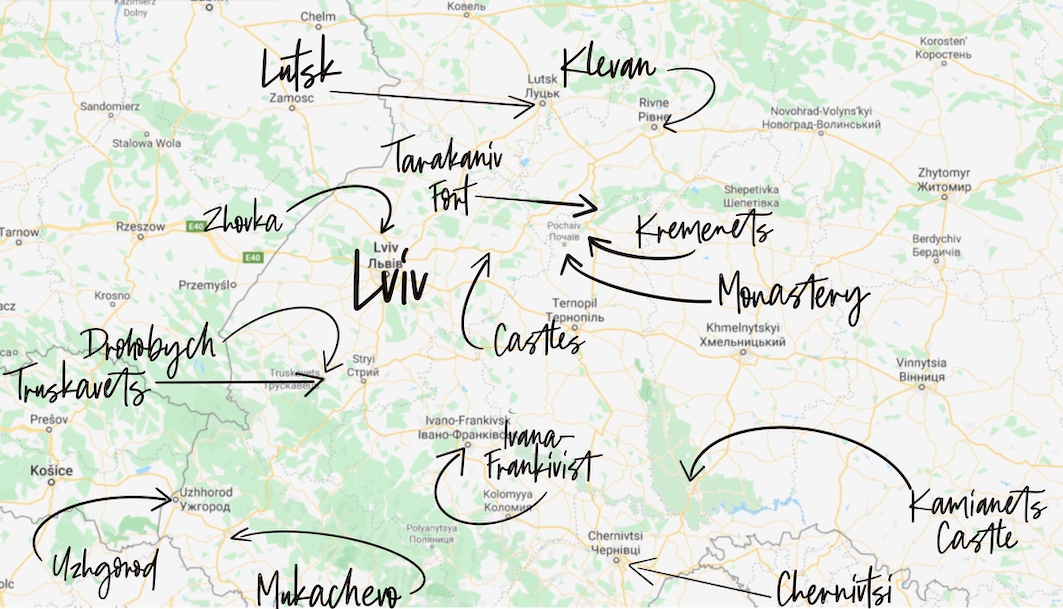 Wondering what it's really like to spend a semester living abroad?
ILP's an non-profit organization based in the US who sends college-aged volunteers to teach English and help in an orphanage for a semester in countries all over the world. See what our volunteers are up to (and get your questions answered) by following us on Instagram.