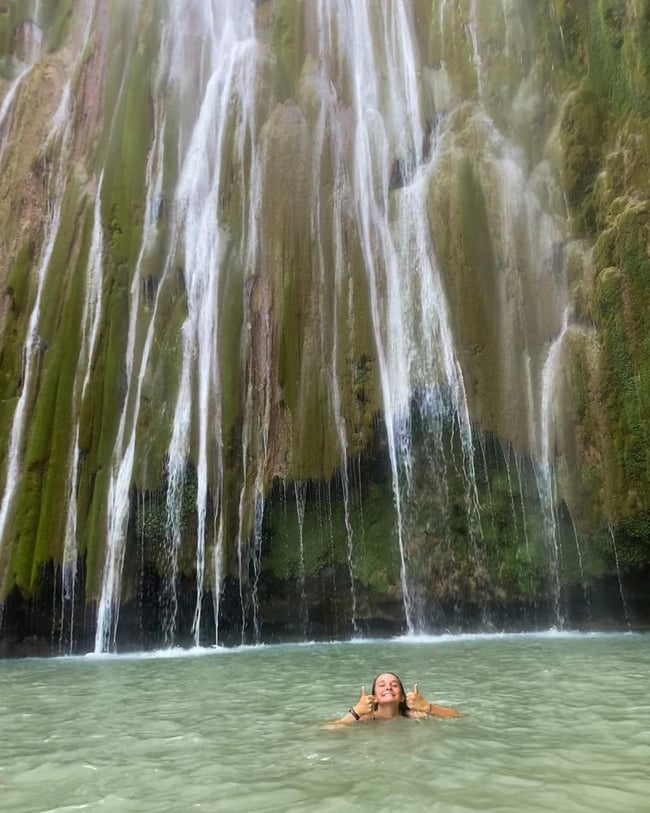 The Dominican Republic is full of many beautiful adventures! And this waterfall is consistently up there as one of our favorites.
If you're one of the lucky travelers who gets to spend a semester in the Dominican Republic as a volunteer through International Language Programs, then you're in for a real treat! You won't believe how many beaches, islands, and jungles there are to explore. And since our volunteers get plenty of vacation days (plus every weekend), you'll have plenty of time to experience all of our favorite spots!


---
Ever thought about living in the Caribbean for a few months as a volunteer?
Learn More About International Language Programs
---
While there are so many places to spend your weekends, we highly recommend Samana. It is one of the dreamiest getaways around, and not just because of the Treehouse Village you can stay in! You can experience whale watching, zip lining, snorkeling, horseback riding, and so much more! One of our favorite things to make sure you include on your itinerary is to hike to this stunning waterfall. You can plan on it taking about half of your day!
Why You Need To Experience This Hike
It's beautiful! The journey to the waterfall is a great time to marvel at the lush flora and fauna. And the tumbling cascade itself is quite incredible, as it falls 130 feet from the top of Sierra de Samaná down a towering stone wall. But our favorite thing about this spot is that you can cool off from the trek to the waterfall in the freshwater pool beneath the falls. The water is so blue, making it the ideal place to take some great pictures of your adventure!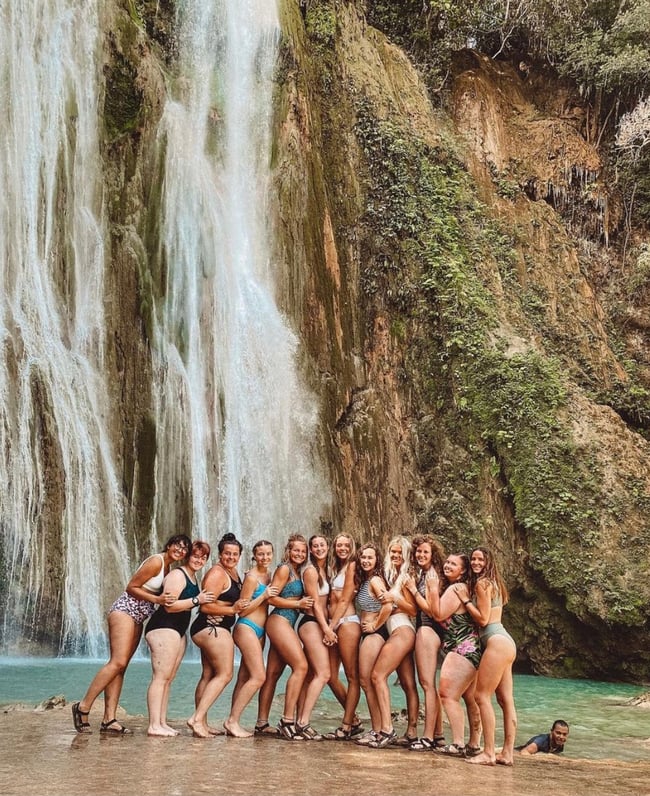 How To Get To This Waterfall
The starting point is in the tiny town of El Limon, just 30 minutes away from Las Terrenas. You can easily catch a gua-gau ($1 USD but takes longer) or taxi ($40 USD but faster) for the trip! Here are some great tips for all of your best (and cheap) transportation options around the Dominican Republic. You'll want to end up at one of the "tour by horse" buildings in El Limon. From there, you have a couple of different options.
You can also book a tour that will take you to/from Cascada El Limon. These usually cost from $30-$55 but are so nice because then you don't have to worry about transportation!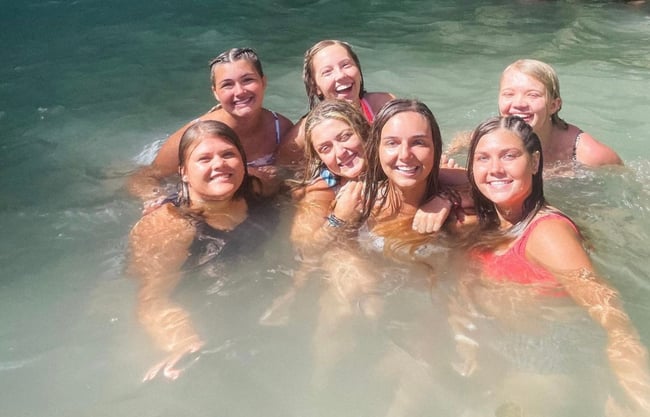 By Horseback
There are a handful of different trailheads that lead to Cascada El Limon. If you decide you want to get there by horse (which is the most popular), you'll see so many options available near the trailheads. We recommend that you book with an actual company instead of just someone on the street because they usually cost about the same and you'll get better service by going with a company.
Every tour company offers pretty much the same thing: a 45ish-minute ride up the hill to the waterfall, 45ish minutes to swim and enjoy the scenery, and another 45ish-minute ride back down. But major bonus: lunch is served at the end! This usually consists of rice and beans, a green salad, and pork or chicken. Just remember to tip your guide (who will walk beside your horse the entire way) at the end of your excursion!
Something else you should know about are the 250 steps that lead along a steep and muddy path to the base of the waterfall. Whether you are on a horse or have made the journey on foot, you will have to walk down these steps and then back up when you're done at the waterfall.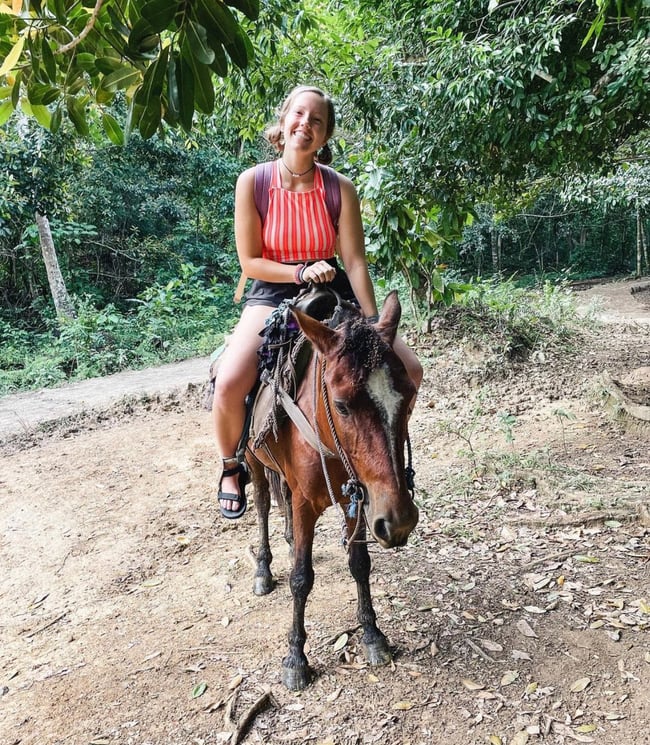 By Hiking
If you want to skip out on the horses, you can walk the trail instead! It will take just under an hour since it's about a 2 1/2 km hike (1.5 miles). It isn't hard to find and follow the path, especially if there are groups hiking or riding to the waterfall. The trail does have some very steep parts over rough terrain (although it's mostly shaded) and you'll have a stream or two to cross. And you will still have to climb down and then back up all of those steps we already mentioned.
While this is a great option for visitors who really don't want to pay for a tour, you will still need to pay the entrance fee at the waterfall ($1 USD). Definitely the more budget-friendly option!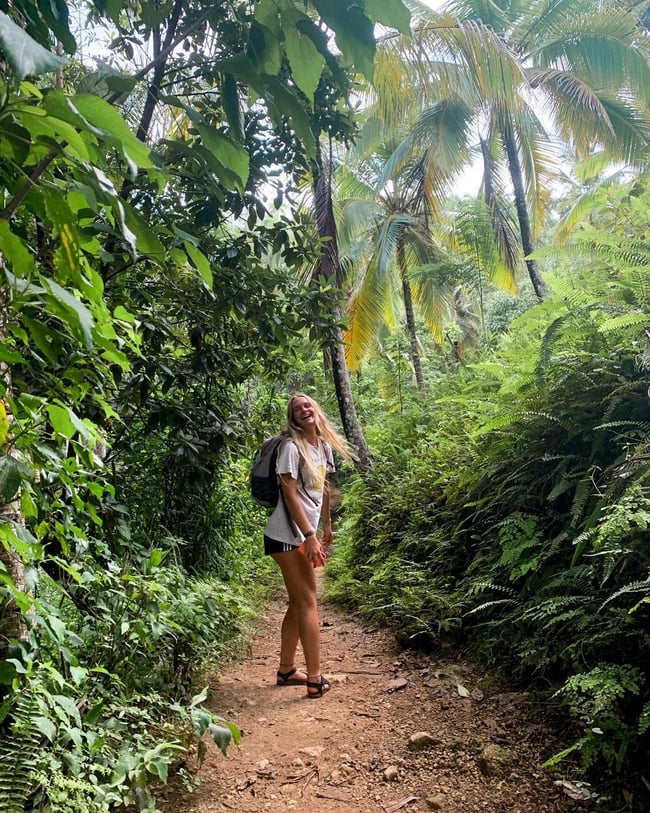 What You Should Bring With You
Since the entire excursion will take about 2-3 hours, you'll definitely want to take some things with you.
Swimsuit
Sunscreen
Lightweight shorts
Lightweight t-shirt
Hiking shoes (bonus points if they double as water shoes)
Camera
Water bottle
Wallet
Small backpack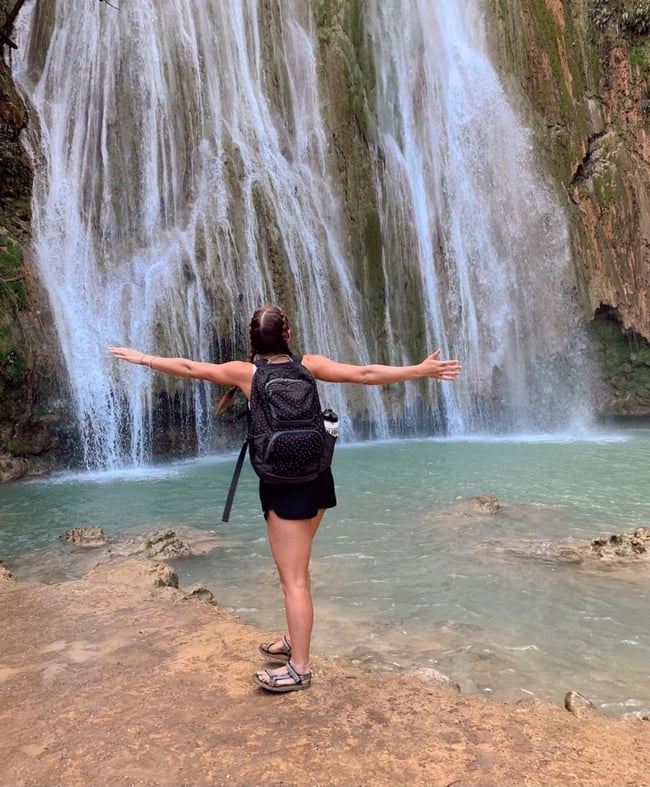 Doesn't spending a semester abroad teaching English to little kids and exploring places like this sound like quite the adventure?
It definitely is! But if you're not quite ready to commit yet, we totally get it. We also had a ton of questions before we were ready for our own semesters abroad with ILP. Click the button below to get answers to some of the most common ones we get asked.