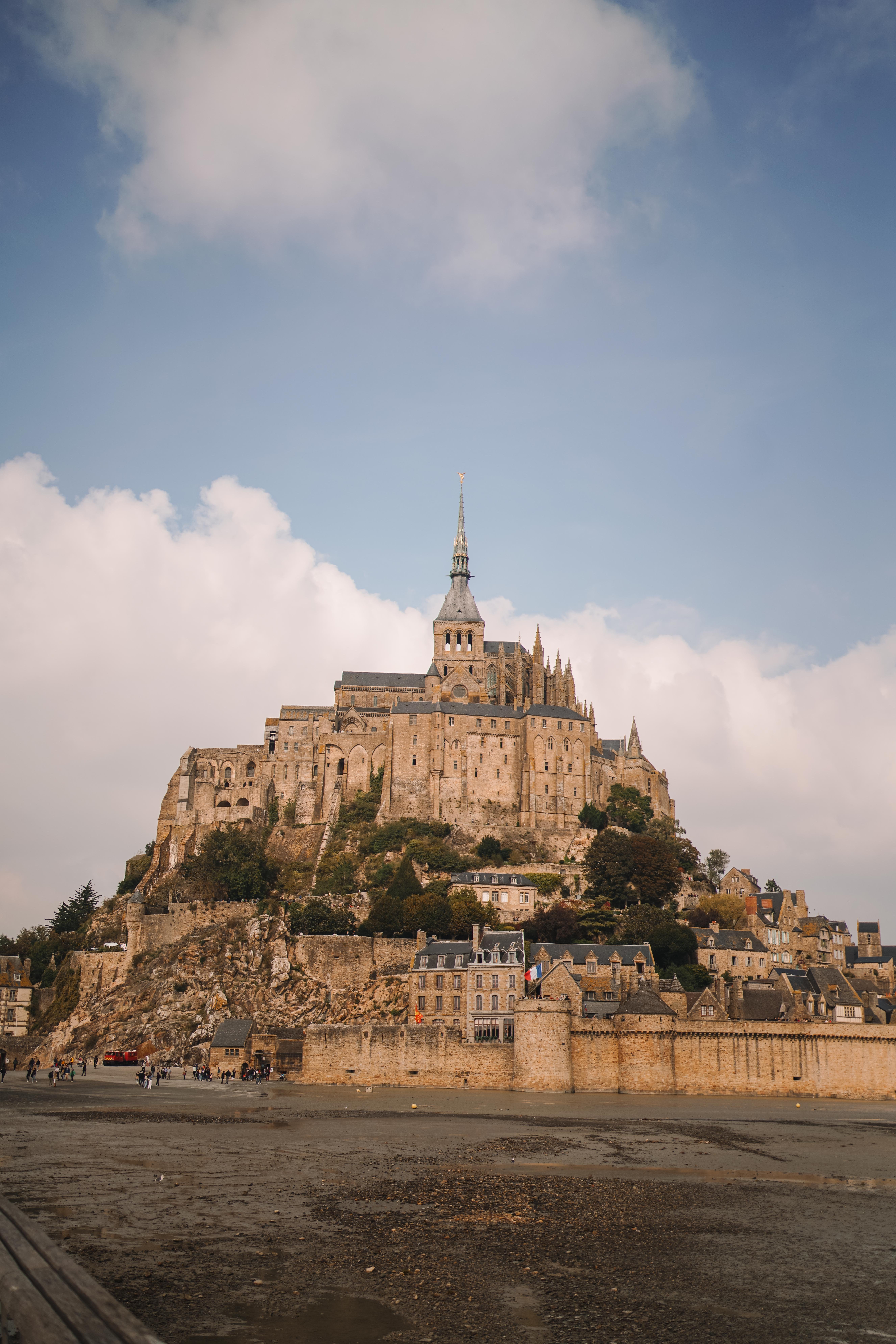 Be ready to be transported back in time when you explore the magical fairytale city of Mont Saint Michel.
France is pretty much the mecca for dreamy tourist attractions, and having to choose between visiting classic destinations like the sparkling Eiffel Tower or the dreamy pebbled beaches of Nice can be tough! Luckily our ILP volunteers get to spend an entire semester traveling throughout Europe so they'll have time to see it all!


---
Dreaming of Traveling Through Europe?
See Where You Can Volunteer!
---

Mont Saint Michel is one of the most beautiful and magical places in all of France. It is a gorgeous 10th Century abbey and village standing on a teeny tiny little island in Normandy. Basically, it's like visiting a fairytale city in real life. It's actually said to be the inspiration for the castle home of Rapunzel's parents in Tangled!
This breathtaking UNESCO World Heritage site is one of the most visited destinations in all of France. Be ready to be transported back in time and we'll give you all the inside tips on exploring this picture-perfect national treasure.
A Bit of History
Saint Aubert founded Mont Saint Michel after having seen the Archangel Saint-Michel appear in his dreams three times. Later it became a popular place of knowledge and pilgrimage. Artists and scholars from all over Europe flocked to Mont Saint Michel to work and be inspired. And then during the late 18th century French Revolution, it was used as a jail (France's version of Alcatraz) because there was no way to escape this rocky tidal island at the time! The worship grounds were eventually restored in 1922 and on the abbey's 1,000 year anniversary (1966) tourists began visiting the island again in full force!
Things To Do
The main focus of this trip is exploring on foot, so don't rush it. Have your camera in hand and just enjoy wandering! Oh and a little tip: you're going to be climbing up and down stairs and steep cobblestoned paths pretty much all the time so make sure you are wearing good, comfortable walking shoes!
A few important things to note: At the time this blog post was written there were several Covid 19 requirements in place, for example, proof of full vaccination is required to access the monument for anyone over the age of 16. You should also plan on wearing your mask while visiting, check here for updates!
Another good thing to know is there is no place to store your luggage, so anything you bring with you will have to be carried around all day!
The Abbey
The main feature of the entire island is the abbey! It's a stunning monument with enchanting corridors, views for days, and charming Gothic architecture that will have you wandering around and exploring for hours! Keep in mind that it is a religious site which means you will need to be respectful. Entry into the abbey requires a strict dress code covering the knees and shoulders.
For purchasing tickets you have two main options:
Option #1 You can purchase your tickets to get inside online here, which will save you from having to stand in line! It's super important to note that you have to purchase your tickets in advance because you cannot buy e-tickets online for the same day. When buying your online ticket you will have to book a specific time slot to enter. So remember you'll need to keep an eye on the time while you wander so you can go inside during your allotted time. You can print your ticket or show them the e-ticket on your phone to enter. They will have a guidebook available to you that has info on it or you can rent an audio guide if you want! You can select the option for the audioguide when purchasing your online ticket. Tickets cost about 11 euros, and the audioguide is an additional 3 euros.
Option #2 You can purchase your tickets on the spot in person. We do not recommend this though because there are very limited tickets available for each day and they sell out quickly, so you run the risk of not being able to go inside.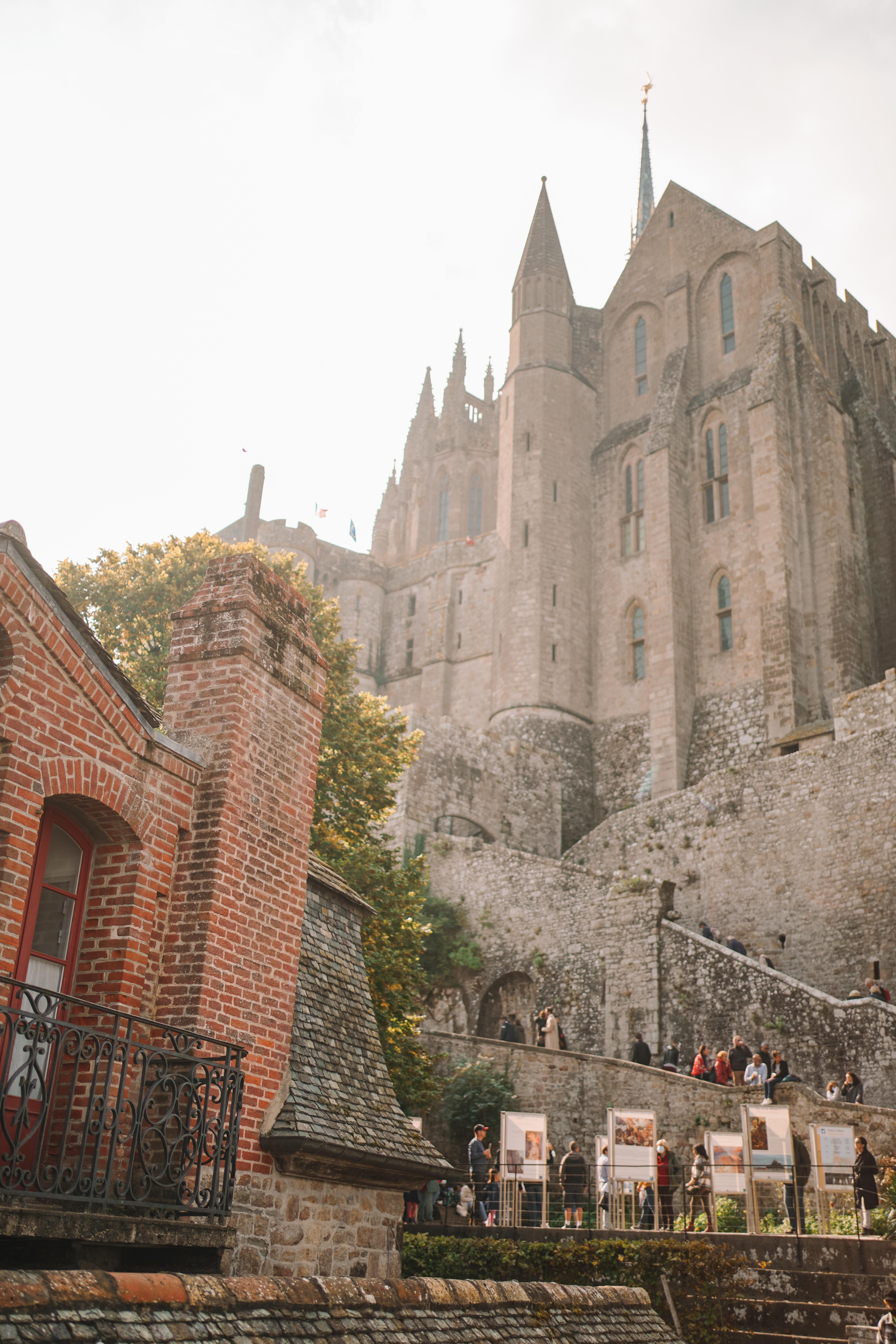 Saint Pierra Parish Church
You'll find the church of Saint-Pierre on the Grande Rue, which is halfway up to the Abbey and surrounded by a cemetery. This quaint little church is filled with incredible details and you definitely won't want to miss the statue of Saint-Michel!
Le Grande Rue
Walking through Grande Rue (the main street of Mont Saint Michel) is enchanting and will feel as though you've strolled straight into your favorite fairytale! Full of darling little shops and cute cafes it is the perfect place to take photos, grab a snack, and find little souvenirs. Quick tip, eating on the island is pretty pricy (think like $30 euro+) because it's such a tourist hotspot, so if you are on a tight budget we recommend packing a lunch and bringing some snacks in your bag!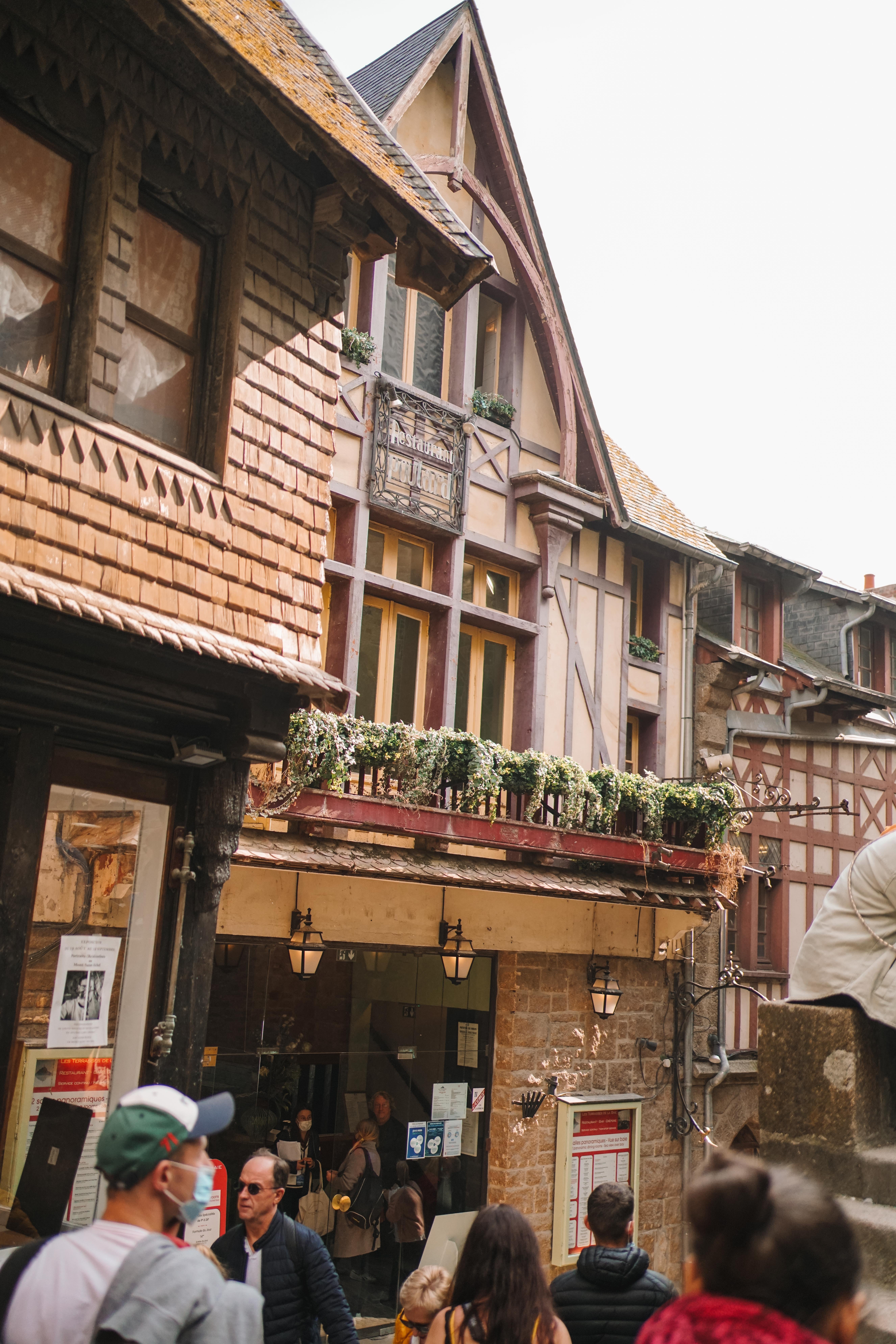 Walk Along the Ramparts
One of the best ways to enjoy the breathtaking views of Mont Saint Michel from above is to walk along the winding ramparts of the abbey, don't forget to take lots of pictures!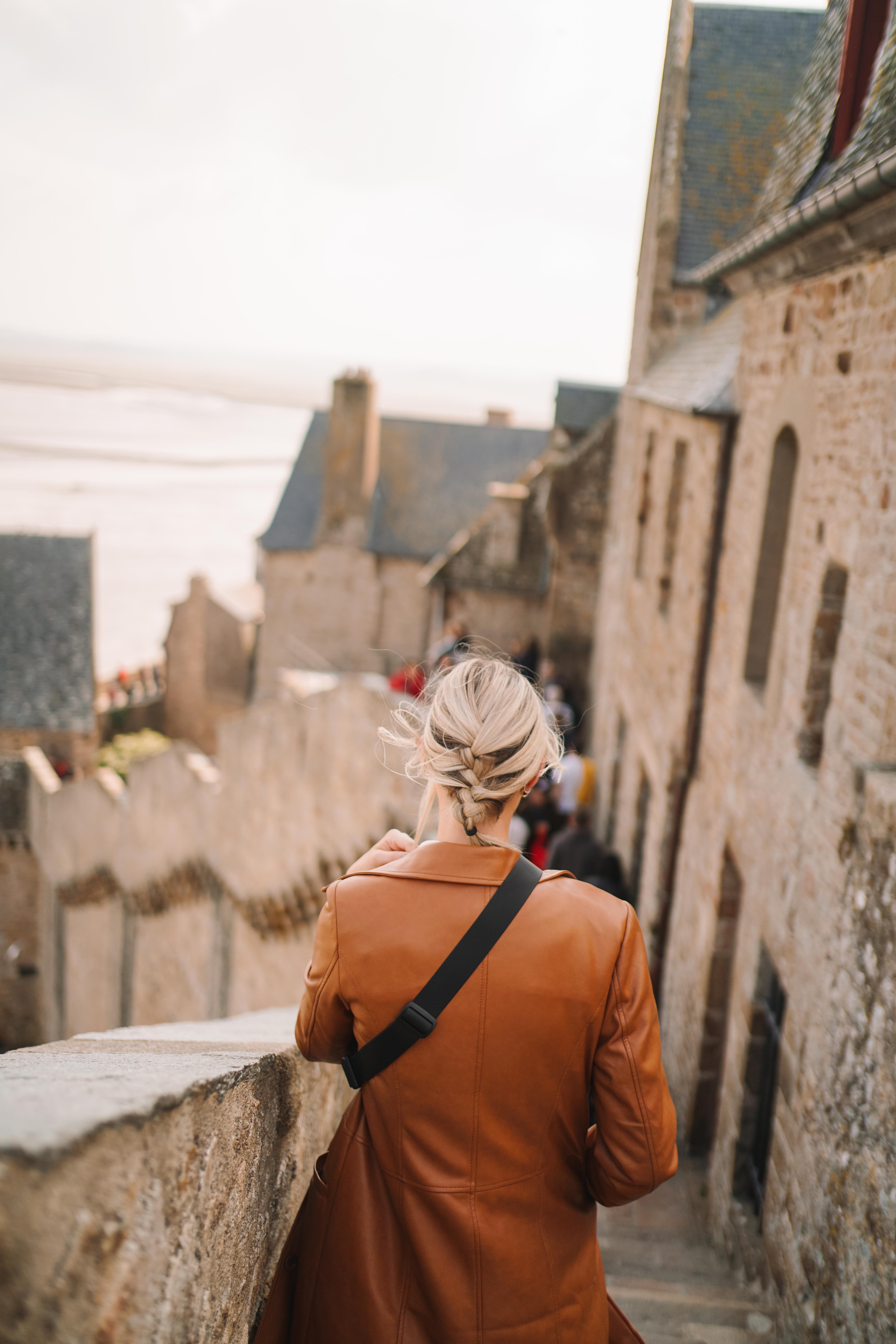 How To Get Here
Mont Saint Michel is such a unique and magical place, and because it is so small you only need about 3-5 hours to walk around and see just about everything! So we would recommend making your venture a day trip from Paris. Check out our perfect 4-day Paris itinerary here!
There are several ways to get to Mont Saint Michel from Paris depending on how you want to do it.
Book a Tour
There are tons of tours that you can book online, but we've found this one and this one that have everything organized for your visit, including the entrance ticket to the abbey, a guide for the tour, and roundtrip transportation from Paris to Mont Saint Michel. Tours are typically about 14 hours long and cost between $150-200 USD. If you're a budget traveler like me, you might find that fee a bit pricey, but just consider that it might be worth it if you are short on time and looking for a stress-free way to make this experience fit into a one-day trip from Paris.
Take the Train + Bus
For those who want more of a DIY option that would likely save a bit of money you can take a TGV (fast train) from Paris to Rennes which takes around 2 hours, then hop on one of the buses from the Rennes train station to Mont Saint Michel, which takes an hour and a half. There is also an option to get tickets from Paris to Mont Saint Michel with a short changeover. You can get more updated info about tickets and times here. These options take about four hours for travel each way, which means you will have about 3-5 hours to see the sights (which is plenty of time to leisurely stroll the island!) so it's definitely possible to do this as a day trip but it's going to be a really tight travel day!
Take the Bus
There are several companies that provide public transportation by bus to Mont Saint Michel, and sometimes this can be the most affordable way to go, however it may take longer than other options. The FlixBus and BlaBlahCar company offers a direct bus service from Paris to Mont Saint Michel. You can look up tickets and more information here. Tickets typically cost around $27 and the trip takes between five and six hours, then drops you off in La Caserne near the pedestrian paths and bridge to Mont Saint Michel, where you can either walk or take the Passeur shuttle bus from there. Taking a bus the whole way is our least favorite option because of how long it takes compared to other transportation methods. The biggest con of this option is because transportation takes longer you may have to make this into a two-day trip, and stay somewhere overnight in an area nearby. So since ILP volunteers are typically trying to cram in as much as they can during their vacation time it may be worth it to pay for the tour so you can fit in more, but it totally depends on if your group is looking to save time or money.
Where To Stay
If you decide to take the bus option to save money and end up having to stay the night make sure you find an affordable place to stay, otherwise it may end up being more expensive than booking a day tour in the long run!
We recommend checking out some of these hotels that are close by, with free shuttle bus rides to Saint Mont Michel that only take about 2-3 minutes!
Hotel Mercure
Hotel Gabriel
Le Relais du Roy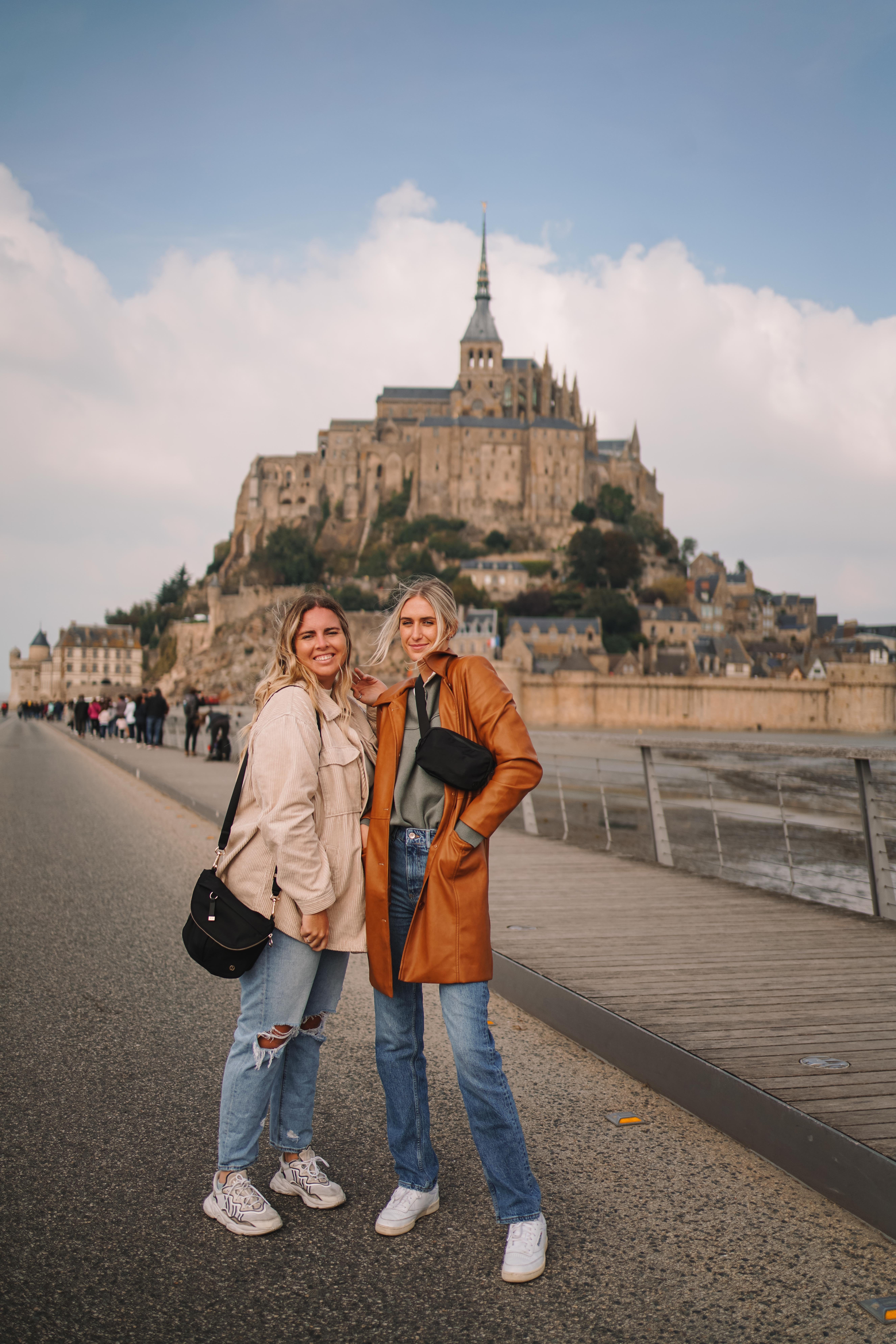 Ready to see this place for yourself?
Come spend a semester living in Europe as an ILP volunteer! You'll be teaching English (no experience necessary) or volunteering in an orphanage part time — that means you get free time every day to explore your city, and always have weekends off to see even more. You'll also get vacation time to see places like Mont Saint Michel (plus the other cities on your bucket list). If you're wanting the chance to make a difference, do a lot of traveling, all with a group of college-aged volunteers, this might be the program for you.