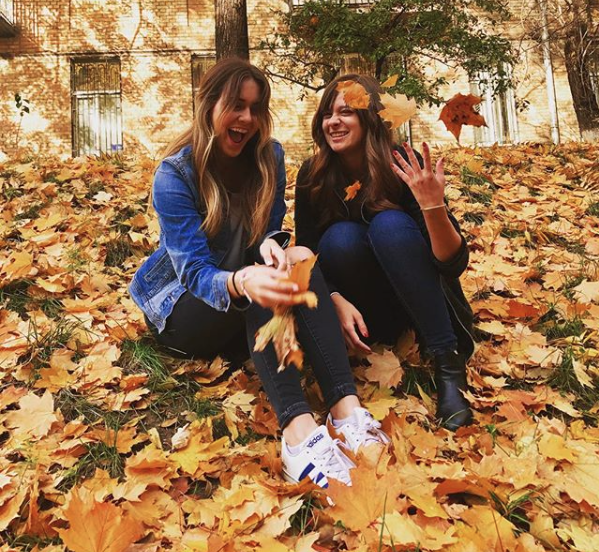 Jump off from Ukraine's capital city and discover a few of the smaller, lesser known cities that not many tourists get to explore.
One of the perks of volunteering and living in a country for a whole semester is the chance to dive deep into the country's culture, taking weekend trips to places like Uzhgorod. Nestled right on the border of Ukraine and Slovakia sits a charming city that makes for an ideal weekend trip from Kiev, Ukraine. You'll find wide pastoral fields, a European-esque city, imposing castles, and onion-domes dotting the skyline, plus a few other adventures you weren't expecting.
---
Come live in Europe for a semester
See what volunteering in Ukraine is all about.
---
While ILP volunteers have every weekend off plus vacation time to explore their favorite cities sprinkled all across Europe, we love love love the gems you can find hiding in Ukraine. To make sure you don't miss the highlights in Uzhgorod, we've pulled together tips from ILP visitors who spent a weekend there:
Things To See

Where To Stay

Nearby Adventures

Getting To Uzhgorod + Some Tips
Things To See
The Imposing Uzhgorod Castle
Easily the most popular reason to visit this part of Ukraine, this extensive citadel sprawls atop one of the hills above the city, and has been protecting Uzhgorod for years. Some stones in the castle were set in the 13th century to give you a glimpse of how old this building is. Inside, you can view paintings, furniture, artifacts, and other ancient weapons that span the citadel's history. There's also a restaurant inside serving local dishes: eating here just adds to the whole experience.
Surrounding the space, is a little outdoor village complete with a church, a hut, and some gardens to provide a reconstruction of what this part of Ukraine looked centuries ago. Plan on spending 2-4 hours here to roam around the grounds and see the reconstructed parts of the castle. As a heads up, there isn't much English on any of the signs explaining what you're seeing, so read up on the history before you, or just come to visit and enjoy the view of the city below you.
Hours: 10:00 AM to 6:00 PM, closed on Mondays
Cost: 45 UAH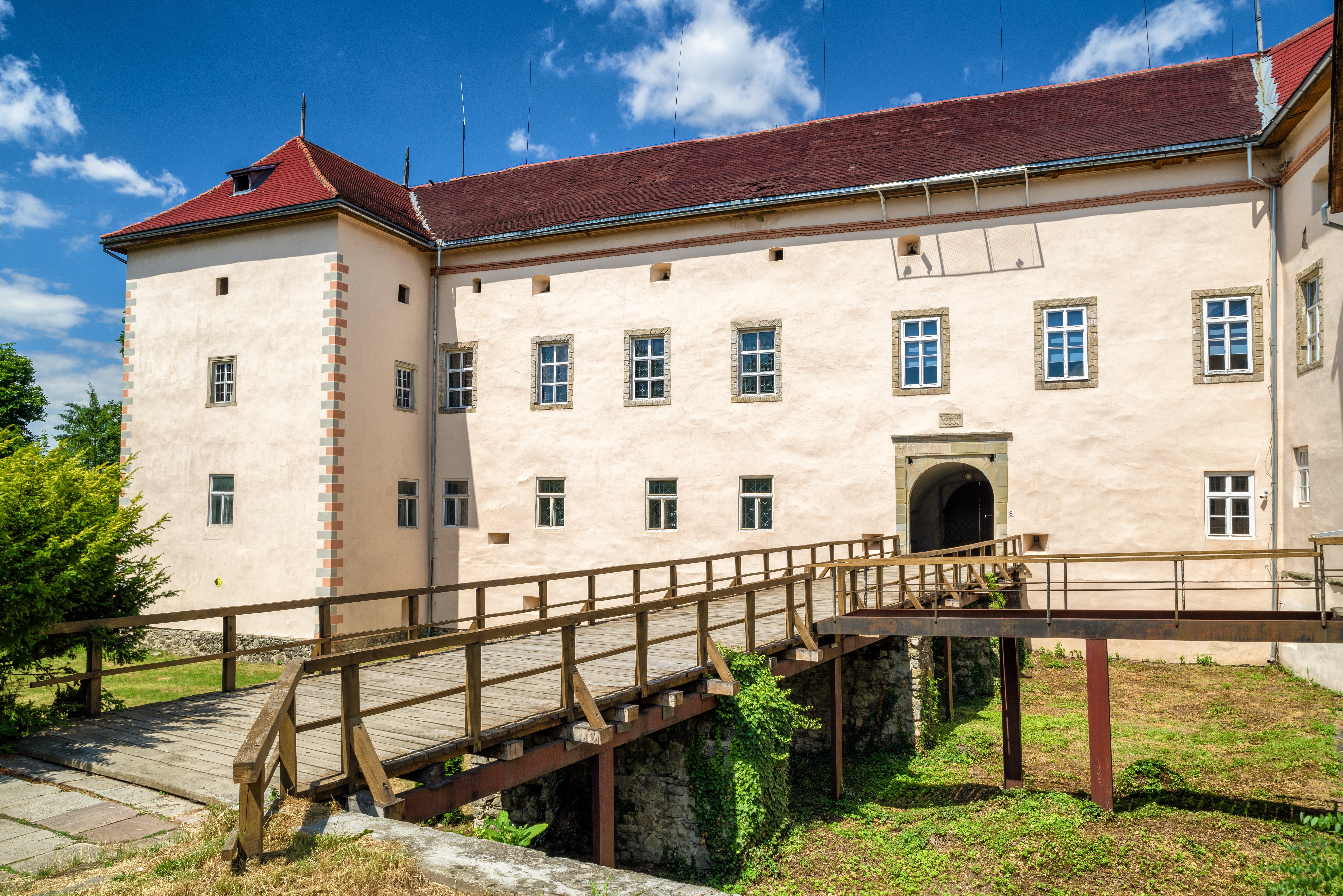 Spot The City's Tiny Statues
Found all over the city are tiny bronze statues connected to Uzhgorod's history, traditions, and folklore … with a few other tales thrown into the mix. They're whimsical little things, hiding on railways, against buildings, and perched on pedestals in the park. You'll find famous figures like Harry Houdini and the Statue of Liberty, along with things like a bunch of grapes, and a tiny fish named "Oh". The man who started the tiny statue movement (Mykhailo Kolodko) is said that these miniature bronze monuments act as a mini-portrait of the fascinating historical figures, characters, and mythical heroes that have somehow impact the region's culture and history.
The best place to start your tour to find all 24 is in Teatralna Square or S. Petefi Square. You can find a complete list (and pictures) of the statues here if you want to give away some of the surprise.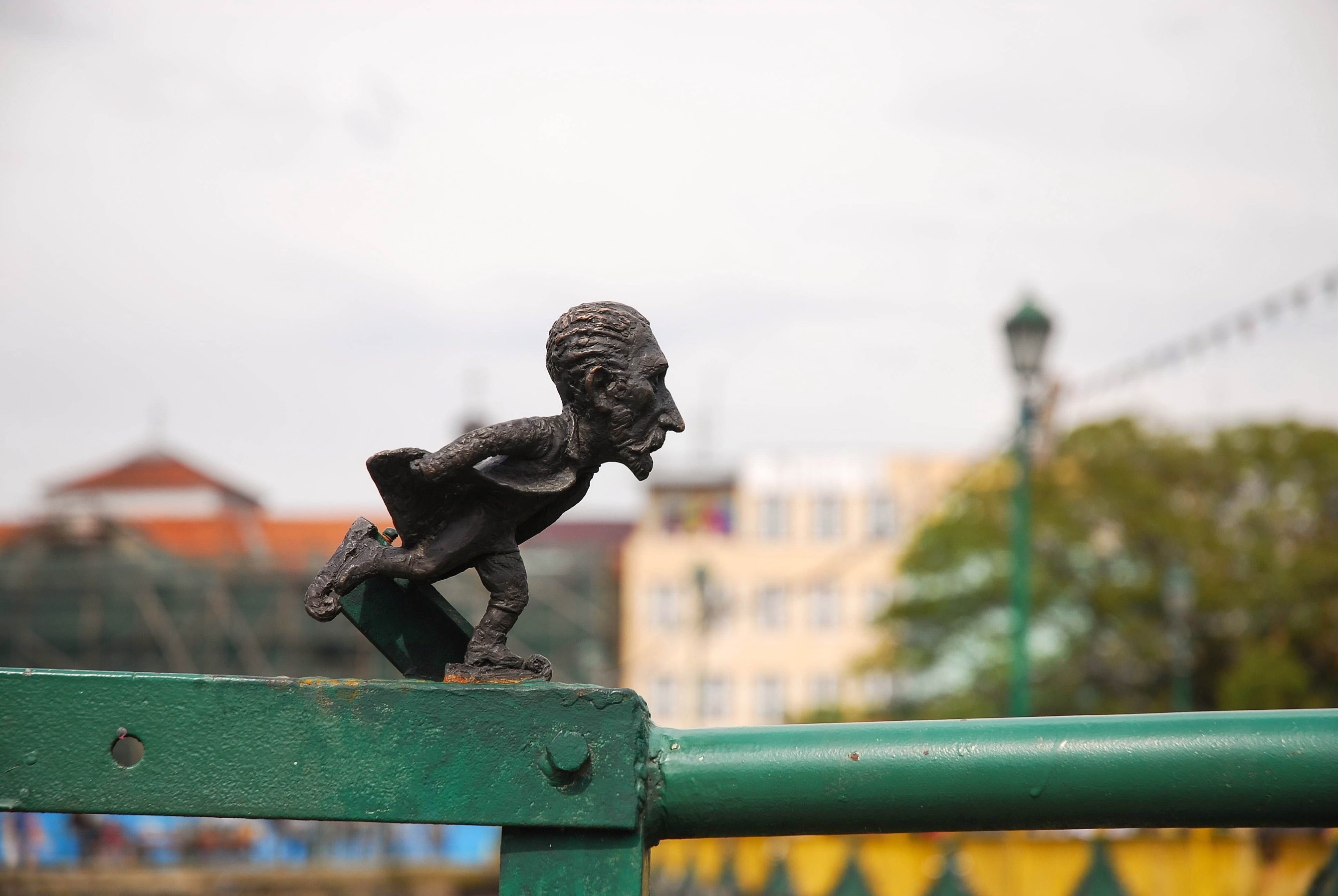 The Open-Air Folk Museum
Visit this museum and step through time. It's an open-air collection of Hutsuls cottages, lodges, a church, a bell-tower, a blacksmith shop, and more creating a lifelike village plucked from the pages of 18th century history. The church is one of the main pulls of the folk museum, built in the 18th-century, the all-timber Mykhaylivska Church still holds worship services at 10:00 AM on Sundays. It's quite the building, standing tall, and topped with a pitched-and-onion-domed roof covered with wooden shingles. Inside some of these buildings, you can walk in and see traditional clothing hung up on the walls, wooden furniture topped with painted pottery, and other touches to remind visitors what life was like back then.
Hours: 9:00 AM to 5:00 PM, Closed on Tuesdays
Cost: 35 UAH (20 for students)
Address: 33A Kapitulna Street
A Few Picturesque Churches
Cathedral of Christ the Savior
While there are many stunning, stunning churches in this city, you could argue this as one of the most photographed as of late. It's no surprise as its bright blues and towering peaks are hard to miss. And just its size is jaw-dropping — it can host 5,000 worshippers at a time without batting an eye. This Orthodox church was built in the 1990's and is sometimes also referred to as Cyril and Methodius Cathedral (as that's the name of the square here).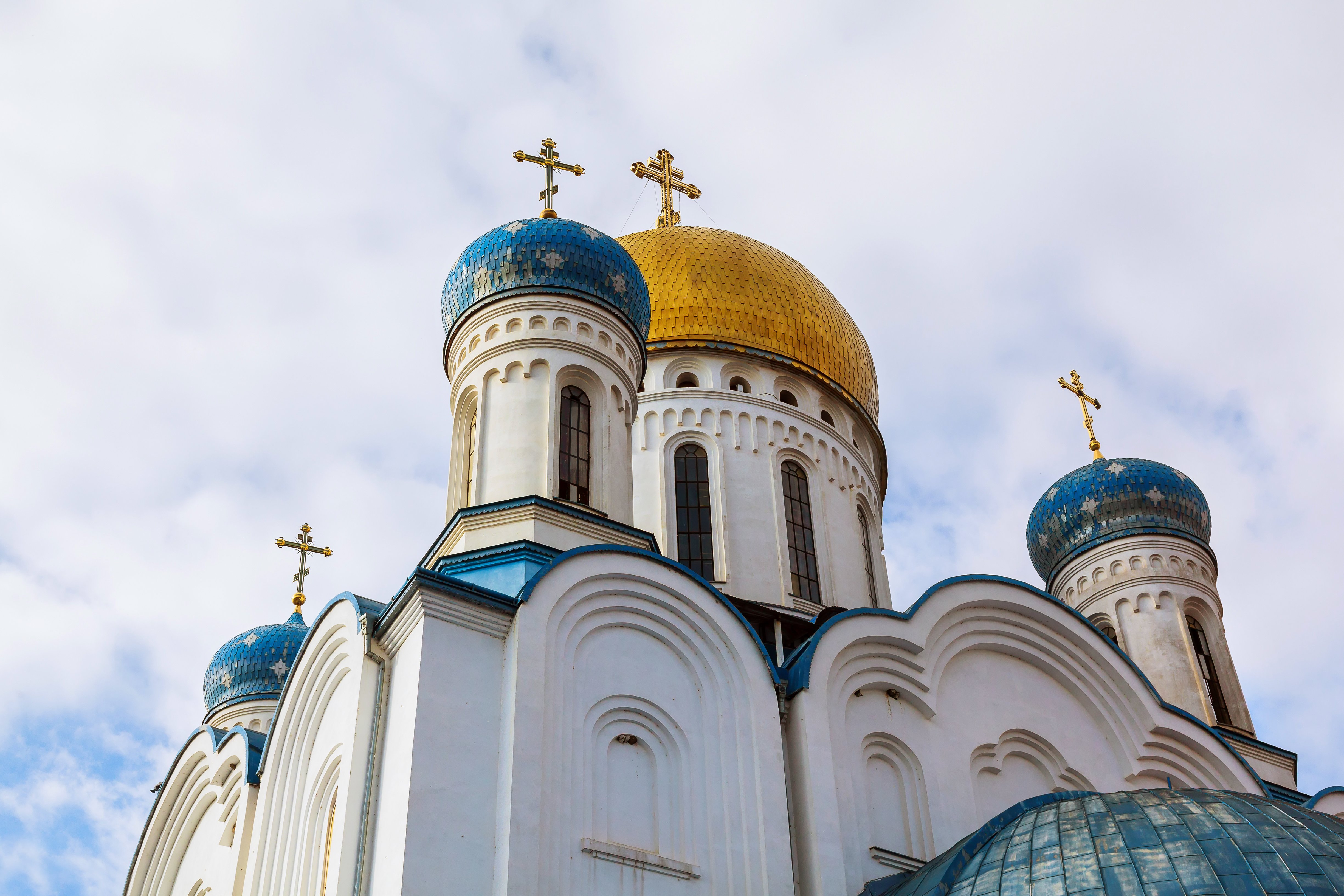 Holy Cross Cathedral
The Holy Cross Church is one of the most photogenic in the city, towering above the city with two towering belfries, adorned with clocks made in Vienna. What used to be a Greek Orthodox church was later turned into a Russian Orthodox church, then was again returned to be a Greek Orthodox Church if you're interested in just a little history. Inside, you'll find a sweeping red marble staircase and detailed gold icons. Find it on Kapitulnaya St. 9.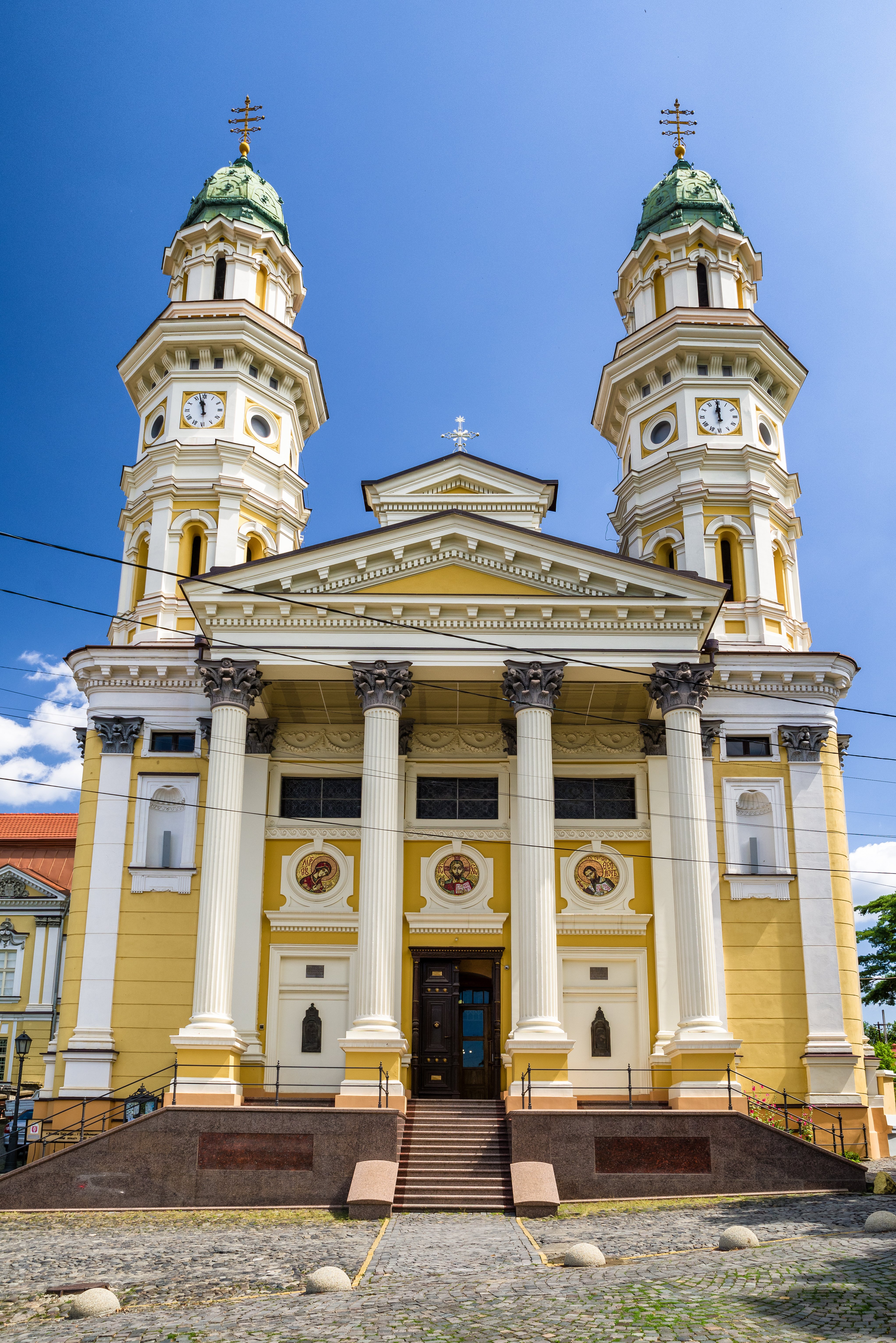 Uzhgorod Synagogue
This Jewish Synagogue is built in the Romantic and Byzantine style, a stark architectural shift from what you'll find elsewhere in the city. It's no longer used as an active synagogue (all Jewish symbols from the building were removed), however there is a plaque commemorating the Jews from the Zakarpattia Oblast who lost their life in the Holocaust. Find it on Rus'ka St, 36.
St. George Church
With pale rose walls on the outside and stunning stained glass on the inside, the Roman Catholic St. George Church is found in the middle of town, but provides a cozy, quiet escape from the city streets once you step inside. Construction started way back in the 1600's (over a demolished Lutheran Church) but was still undergoing changes and adaptations all the way until 1895. The clock you see topping the church was installed three times — the one you see now is the 3rd, set in 1904 and is still running over a 100 years later. If you're able to time your visit during the spring, the blooms against the church are incredible! Find it on Voloshyna vul. 9.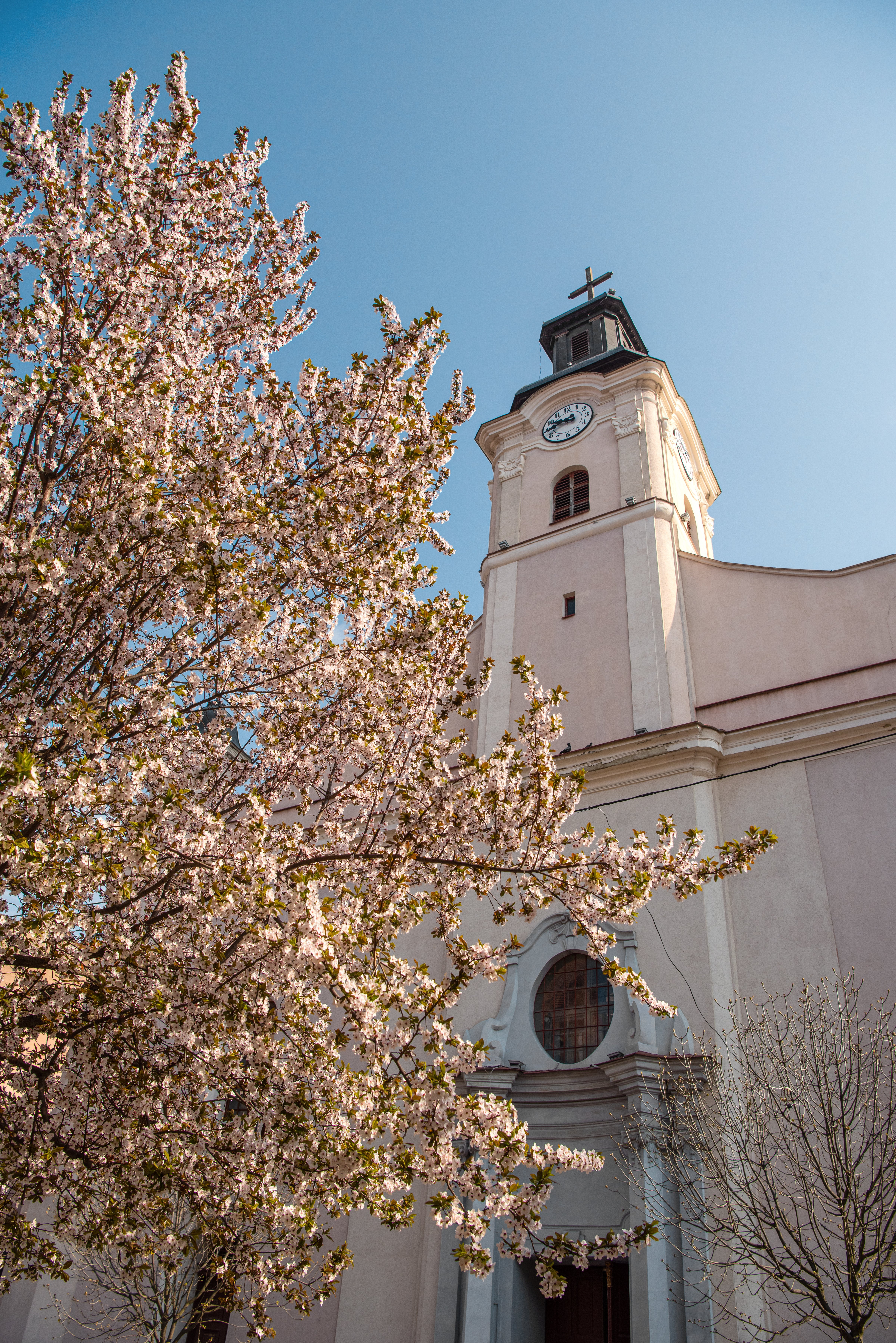 The Longest Tree Tunnel In Europe
Big fan of romantic, tree-lined streets? Uzhgorod has you covered, boasting the longest Linden Tree Street in all of Europe. It stretches for over a mile, fringing the embankment of the river that cuts through the city itself, making it the best place in the city for a stroll. There are a few different kinds of trees planted here, so you'll encounter blooms all spring and summer long. Visit in the autumn, and you'll be surrounded with a canopy of golden yellow and orange leaves. You'll see people walking, biking, turning off to sit in the parks and cafes that are found between the trees.
If you're into cherry blossoms, no need to head all the way to Japan. In the month of May there are hundreds of Sakura Cherry Trees that are right across from Pushkin Square (and along Dovzhenko and Rakoci streets) turning the city in a cloud of pink and white blossoms.
Find Linden Alley on the Nezavisimosti Embankment. It's free to visit, and open 24/7.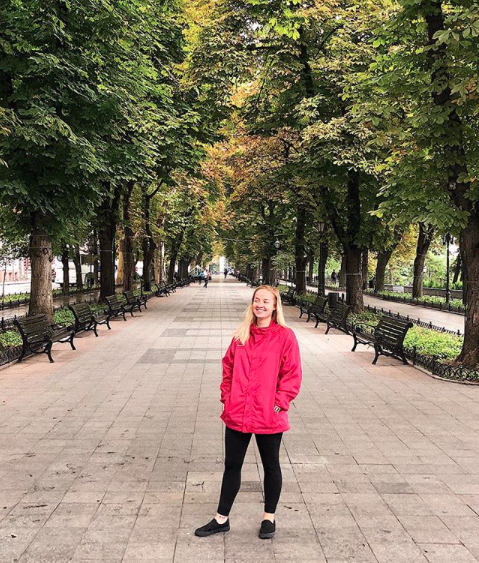 Where To Stay
City Hostel Panorama
More like a hotel than a hostel, the City Hostel Panorama is close to the city center and has a helpful staff that doesn't speak much English but help where they can. As a heads up, the hostel is found underneath a nightclub so you'll want to pack up ear plugs to help combat that noise that seeps through the walls at the early mornings. Dorm rooms are $5-7 a night, book on Hostelworld.
Art House - AirBnB
A modern house that sleeps 6, this AirBnb is tucked away just a few minute's walk from all the tourist highlights you'll want to visit, with a very helpful host. It's just $41 per night, making it a steal when you split it with your ILP group. Book on AirBnB.
Places To Eat
Pid Zamkom
More of an antique-shop crossed with a restaurant, you'll find lots to keep yourself busy with when ordering lunch or dinner at Pid Zamkom. Order up classics dishes like pelmini and varenyky, potato and dill soups, and Kofola soda. Stacked through the restaurant you'll find rusted license plates, thick glass bottles, ancient typewriters, swinging kerosene lanterns, and more — lots and lots to look at during your visit!
Address: Olbrakhta vul. 3.
Hours: 8:00 AM to 11:00 PM, daily
Antresol by Mrs. Greenwich
One of the most popular places to eat in Uzhgorod for a few reasons. On the menu, you'll find Italian favorites like pizza and pasta, and other dishes like soup and sandwiches (their pizza is fantastic, by the way). The place is also open for breakfast if you're visiting in the morning. See more on their website.
Address: Koryatovycha vul. 1A
Hours: 8:30 AM to 11:00 PM, daily
Detsa u Notarya
A quirky place to grab lunch or dinner, this restaurant serves up local dishes like thick stews and potato soups, homemade sausages, grilled fish with veggies, and a few others. You'll also run into decorations that only add to the fun atmosphere (plus a crowd of people that tend to be loud while they lunch). You'll spot a zebra printed piano, wooden signs that poke fun at the country's history (and celebrate the local culture), and a few other knick knacks.
Address: Gagarina St., 98
Hours: 10:00 AM to 2:00 AM, daily
L'Croissants
Come for croissants and coffee, they're the best in the city (according to some locals). You'll find stuffed croissants crammed with cream and chocolate, or savory ones made into a sandwich full of cheese, meat, and veggies, and of course, original: light and flakey and topped with sprinkle of powdered sugar. The cafe also has fantastic drinks — coffees, smoothies, shakes, juices, lemonades, and tea. It's our go-to breakfast place in this city.
Address: Vulytsya Korzo, 21
Hours: 7:30 AM to 9:00 PM, daily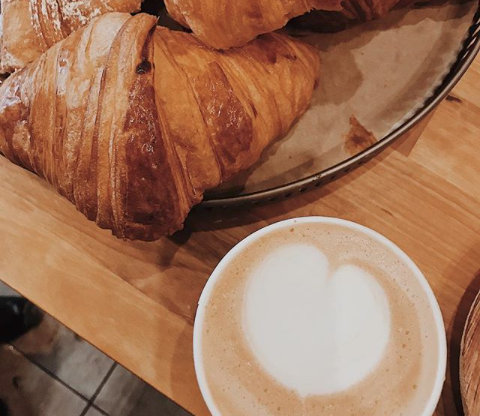 Nearby Adventures
Kosice's Crumbling Castles
Another city off the beaten path (but definitely worth exploring) is Kosice, Slovakia. It's just a 4-hour bus ride from the city of Uzhgorod, so easily reached if you want to extend your trip by a day or two … and see another country while you're at it. The city is a jumping off point to the towering Tatra mountains, with a Mongol castle stretching across the hilltops just a couple hours outside of town. See what adventures are waiting for you in Kosice here. Book your Uzhgorod bus to Kosice here.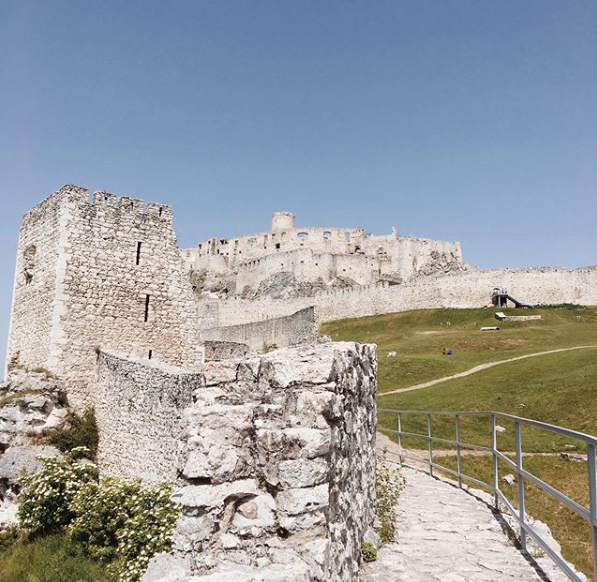 Lviv, Ukraine
Lviv is an absolute can't miss. It's all too often the favorite vacation spot our ILP Ukraine volunteers take, and we can see why. The pastel buildings give a charming European feel, one that's dotted with favorite cafes, and some stunning churches. Get your Lviv guide here. Lviv is just a 4-6 hour ride away from Uzhgorod.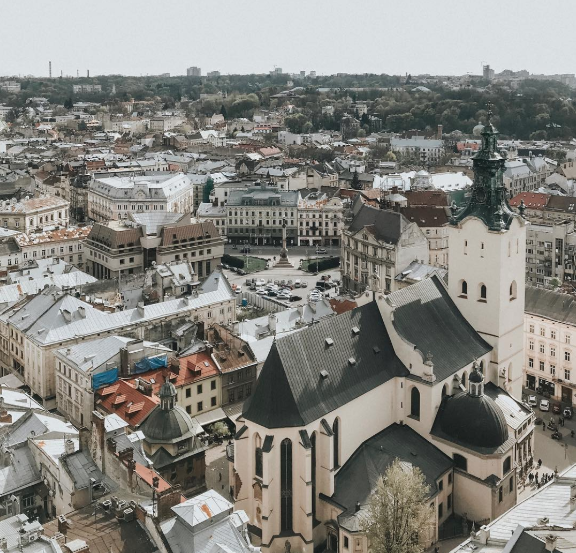 The Painted City Of Mukachevo
Welcome to Mukachevo, our newest little favorite city in Ukraine. It's a quiet slice of local life sporting an imposing castle with an impressive history, a smattering of delectable cafes, and a brightly colored city center. Explore the mint-green Town Hall before having lunch near the honey museum — Mukachevo is just a short 1.5 ride away from Uzhgorod, making it an ideal day trip. Get your Mukachevo guide here.

Getting To Uzhgorod + Some Tips
From Kiev
Your best bet are sleeping trains. It's about a 12 hour ride, meaning you'll get all ready for bed, hang out on your train leaving Kiev, then wake up in Uzhgorod. You can book train tickets online here.
Getting Around The City
The city itself is rather walkable, though Google Maps does a pretty good job mapping out the local bus (marshrutkas) routes. You can also hail a taxi if it's too far to walk: just make sure you're agreeing on a price before you get inside.
How Long Should I Stay?
The city itself is quiet, structured more as a relaxed weekend visit where you want to visit a few cafes, tour the walking streets, peek into a few churches and visit the castle and the folk village of course. ILP volunteers in Ukraine suggest this as a relaxed weekend trip, then add on a day or two if you're visiting a nearby city like Lviv, Ukraine on your way back, or trekking out to Slovakia for a day or two.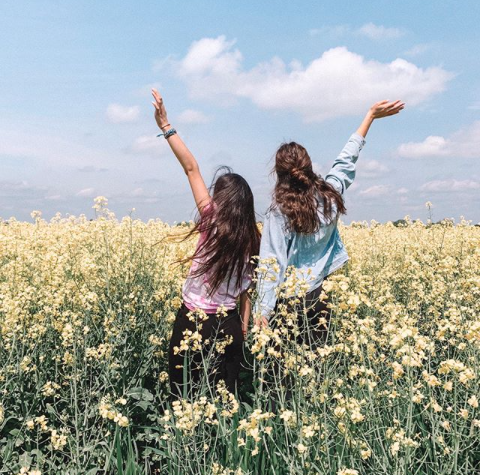 Come to Europe with us!
We're now accepting applications for college-aged volunteers who want to come live like a local for a semester! ILP volunteers will be in Ukraine, teaching English part time (no experience necessary) then will have every weekend off plus vacation days to explore all over Europe.