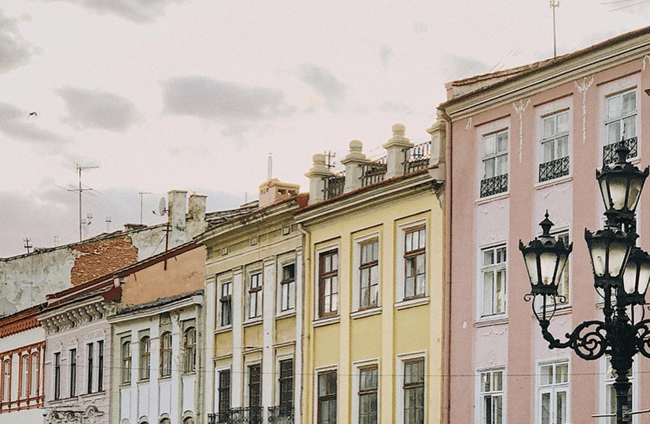 Raise your hand if you knew Ukraine was hiding such a colorful little city.

Do a tiny bit of research and find out that Ukraine is home to beach-side resorts (complete with palm trees, mind you), and a handful of castle-filled cities dotted with cafes, or in this case, cafes painted a rainbow of colors. Welcome to Mukachevo, our newest little favorite city in Ukraine. It's a quiet slice of local life sporting an imposing castle with an impressive history, a smattering of delectable cafes, and a brightly colored city center. Who knew you could get all of that in Ukraine?


---
Are you ready for Ukraine?
Come volunteer in Ukraine for a semester!
---

Our ILP volunteers living in Europe for a semester have plenty of time to explore places most tourists don't get to see. Think about taking a quick weekend trip to places like Mukachevo to spend a couple of days exploring a castle and the bright streets before crossing the border over to Slovakia or visiting a few other totally underrated Ukrainian cities. Here's your go to for a few days in and around Mukachevo:
Things To Do In Mukachevo

Foods To Try
Nearby Adventures

Getting Here
Things To Do In Mukachevo
The Views Up At Palanok Castle
Easily the most popular attraction in the city, this historical castle has been luring tourists to Mukachevo for years. Perched atop a hill overlooking the city, Palanok castle had its first mention in the 11th century, but in the 14th century, this castle was an important strategic fortress for the Kingdom of Hungary. It's also been used as a political prison during the French Family, a place to hide a crown from Napoleon's troops and a few other noteworthy events. Along with all the castle things you've come to expect to see in a castle (like medieval hallways, relics and furniture from the past, a mini torture chamber and stony courtyards) you'll find a museum, an art gallery and a coffee house inside, but we're huge fans of the panoramic view you can get from above.
From various viewpoints around the three levels of the castle you'll see the red roofs of the city below you, poking out from the rolling green hills. See if you can spot the towering spires found in the city's center. The view and the castle itself are fantastically popular things to do in Mukachevo, and the reason most people visit so don't miss out while you're visiting.
Hours: 9:00 AM to 6:00 AM (closing at 11:00 AM on Sundays)
Cost: 40 UAH
Getting Here: It's a short walk from the main city, or you can hop on the number 3 buses to the zamok (замок), which means castle in Ukrainian.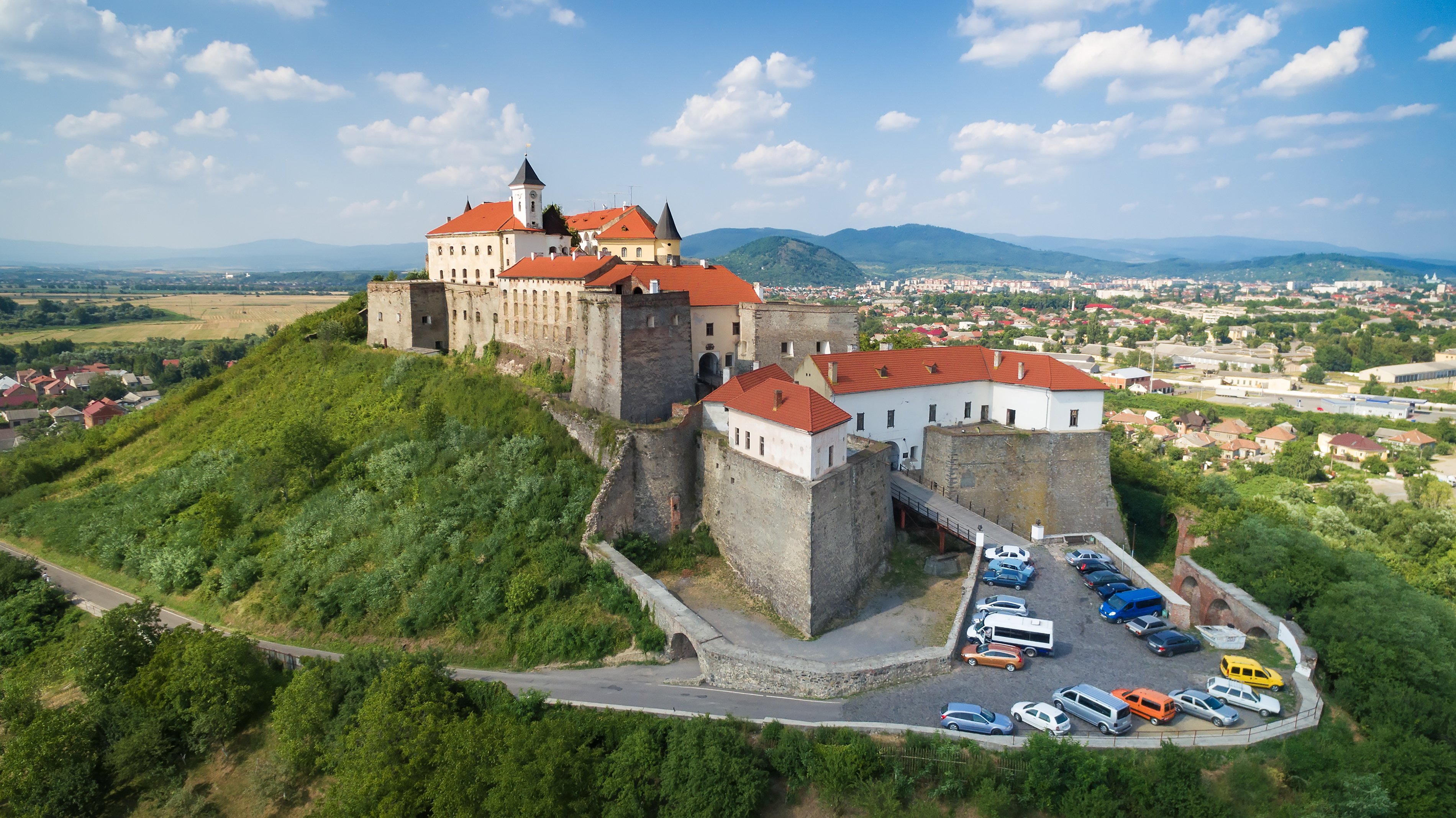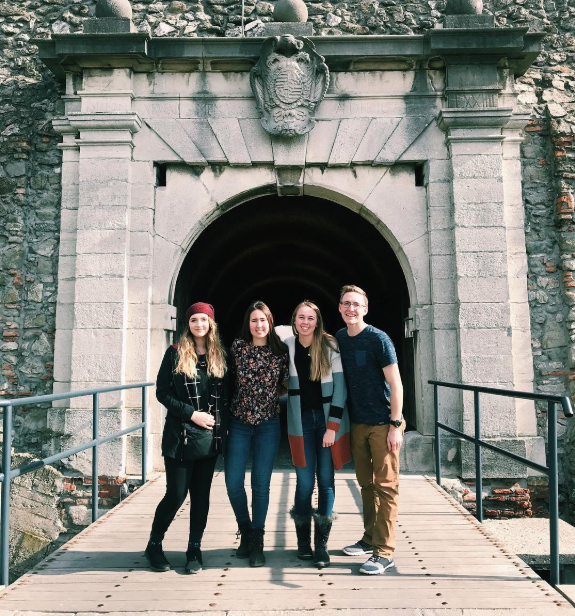 All The Sites In The Center Square
The Mint-Green Gothic Town Hall is one of the most iconic in this main space. It was built when Hungary owned the area, and supports a huge clock tower which used to be one of the best in Europe (perks of being one of the best and earliest clock towers in Europe!). The Town Hall is in the middle of a pedestrian-only space, nestled between some of the city's other colorful buildings. This Center Square is lined with buildings painted pastel pinks and bright yellows, crammed full of cafes and restaurants, so it's a big hangout spot for locals and tourists visiting Mukachevo. Find it at 2 Pushkina Street.
St. Martin of Tours Cathedral is another noteworthy building to take a peek at. The Gothic church is 100+ years old and named after the patron saint of the city. The tall spire of the church supports a working clock and inside, you'll find an intricate Hungarian organ (that still works). Find it on Myru St, 2. (It's a 5 minute walk way from the Town Hall)
Finding the Chimney Sweep monument is a thing to do here. It's a fairly recent addition to the city square, right next to the Star Hotel. Unveiled in 2010 and created by the People's Artist of Ukraine Ivan Brovdiy, the statue was modeled after Vertalon Tovt who lived in Mukachevo as a chimney sweep, but the statue stands as something a little bit more. Supposedly, rubbing the chimney sweep's button or the cat's head at his feet means a wish of yours will come true.
Picnicking by the Latorirnic River is also a good idea if you're visiting on a sunny afternoon. The river winds its way through the middle of the city, with quite a few parks found on the southern banks. Grab some snacks and hang out at the Park Im. Andriya Kuzʹmenka or the Peremohy Park for some people watching. Sometimes you'll find little pop-up carnivals at these parks complete with a mini ferris wheel and food vendors.
Foods + Restaurants To Try
Bograch
Bograch is the number one pick for local Ukrainian food and dishes from the nearby Carpathian region. Think loads of hearty soups, savory crepes filled with cheese and chicken, crunchy cabbage salads, crispy potato pancakes, piles of steaming dumplings topped with sour cream, grilled meats, fish and veggies and a few other options. It's a go-to spot for lunch and dinner with locals and tourists visiting Mukachevo.
Address: Mukachevo, Zakarpattia Oblast, Ukraine, 89611
Hours: 10:00 AM to 12:00 AM
Time Cafe
Europe is all about cafe culture and you'll find your fair share of quaint little pastry and coffee shops in Mukachevo, but Time Cafe is favorite around the city. It's cozy inside, with a full menu of layered cakes, creamed-filled pastries, towering tiramisu, thick wedges of pies, and more. If you're looking for something to drink, settle in for foamy coffees, fruit smoothies, fresh juices, and tons of tea.
Address: пл. Кирилла и Мефодия, 27, Mukachevo
Hours: 8:00 AM to 10:00 PM on weekdays, open from 10:00 AM to 10:00 PM on weekends.
The Honey Museum
Officially known as the The Museum of Honey and Beekeeping Products, you'll find honey from the local Transcarpathia region but from all over the world: we're talking honey from other countries in Europe as well as other parts of the world like Israel. There's honey from over 27 countries! The building itself is all about bees and honey — you'll find a giant honey bee on top of the museum, and honeycomb shelves inside full of books and honey pots. There's also a glass beehive so you can see the bees at work. If you visit, you can try a few different kinds of local honey and other goodies like a honey drink and a honey balm.
Address: 50 Stara Street, Mukacheve, Ukraine
Hours: 10:00 AM to 6:00 PM
Khinkal'nya
If you talk to someone who's spent some time in Ukraine or Russia, they'll tell you all about the Georgian food. It's a fan favorite for our volunteers, that's for sure. Khinkal'nya is a good spot to delve into some of our favorite dishes while in Mukachevo: I suggest ordering at least one khachapuri (a "boat" of warm bread filled with melty cheese, topped with a pat of butter and an egg), a set or two of Khinkali (dumplings filled with mashed potatoes, lamb, chicken, etc), and a salad to round out the whole meal (order one with tomato, basil, and the creamiest wedges of cheese). Yum!
Address: Uzhhorods'ka St, 1-а, Mukacheve, Zakarpats'ka oblast, Ukraine, 89600 Hours: 12:00 PM to 10:00 PM on Monday, 10:00 AM to 10:00 PM Tuesday - Sunday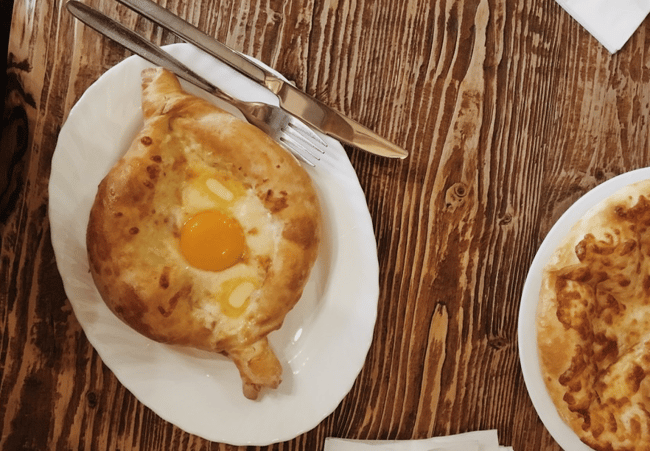 Nearby Adventures
Uzhgorod, Ukraine
Another castle-filled city for you to explore. This quiet Ukrainian city provides a few surprising adventures, like little quirky statues detailing the city's culture and history hiding around Uzhgorod, an imposing fortress to explore, and an explosion of cherry blossoms if you visit in the spring. Uzhgorod is also home to the longest tree tunnel in Europe, a curving river ideal for riverside picnics, and collection of a few cafes. Here's your guide to Uzhgorod, crammed full of all the things you need.
From Mukachevo, it's a quick 1-1.5 bus or train ride to get to Uzhgorod, so it makes it a fun little day trip. You can also get to quite a few other places from Uzhgorod, like Budapest and better routes to places like Lviv (which we talk about in just a minute). Do a little research about bus routes here and train schedules here.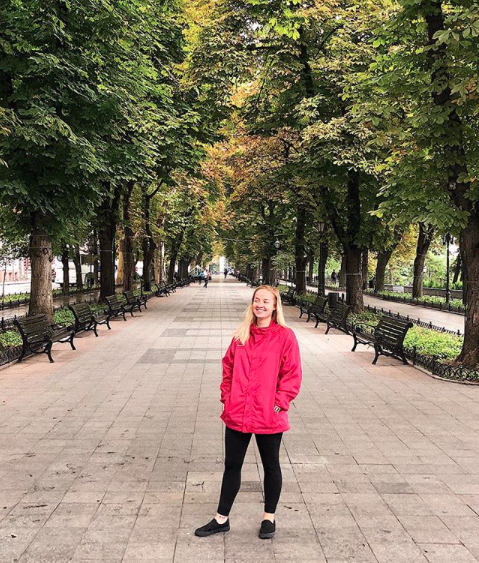 Lviv, Ukraine
An absolute favorite getaway for quite a few reasons. The city of Lviv is one of the jewels of Ukraine, home to a huge market square adorned with regal estates and pop up markets selling snacks and souvenirs. You'll also find an impressive opera house, a smattering of churches and cathedrals (of course) and so many of our favorite restaurants. The city is home to the first Lviv Chocolate Factory, a cafe serving up fabulous chocolate confections. It's a must-visit spot if you're visiting Ukraine, so don't miss all the things to do in Lviv.

From Mukachevo, it's about 4 hours by bus or by train. Look up potential bus routes and prices here, and potential train schedules and prices here.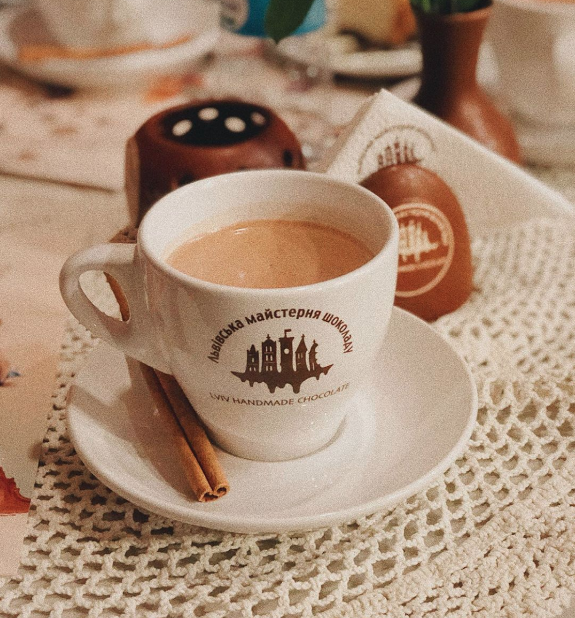 Kosice, Slovakia
Hop on a bus and arrive in a city (and country) that's full of charming little adventures and totally off-the-beaten-path. The city of Kosice isn't one visited by hoards of tourists, and frankly, I'm not mad that I had the whole city to myself. The main street is bookended by towering churches and towers giving you a bird's eye panoramic view of the city once you climb up the narrow stairs. Down below, a string of restaurants make choosing what you want for breakfast, lunch, and dinner a really tough decision … I ended up eating at the same Halušky restaurant a couple of times a day and would absolutely recommend you do the same. Oh, and just outside of the city are the crumbling ruins of a sprawling Spiš Castle, a total highlight of my time in Slovakia. Get your Kosice guide here.
From Mukachevo, you can take a 4-5 hour bus to Kosice for around $10. Check potential routes, bus companies, and prices on busbud.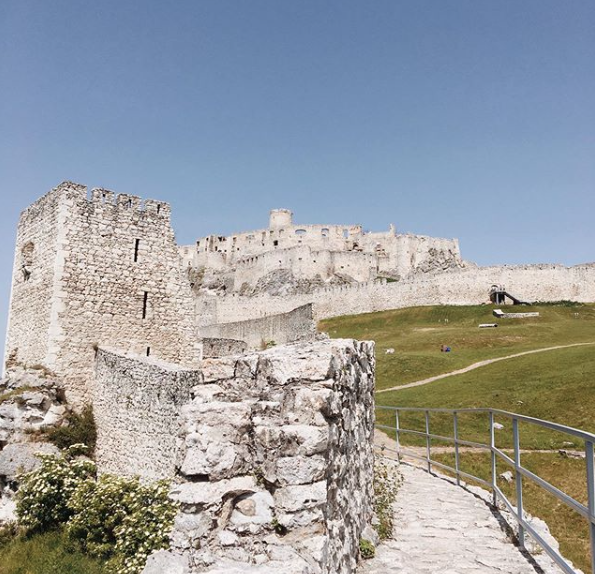 Getting Here
From Kiev, overnight train is going to be your best bet. Kiev is Ukraine's biggest transportation hub, with a couple of trains leaving the capital for Mukachevo. It's a 9-14 hour route depending on the train you're booking with prices that also vary quite a bit. Shoot for the 2nd class carriages with prices in the 600 UAH range. We love booking train tickets on this site.
You'll also find routes to Mukachevo from Uzhgorod, Lviv, Odessa and other popular cities in Ukraine. Peek that link above for booking train tickets from other cities as well.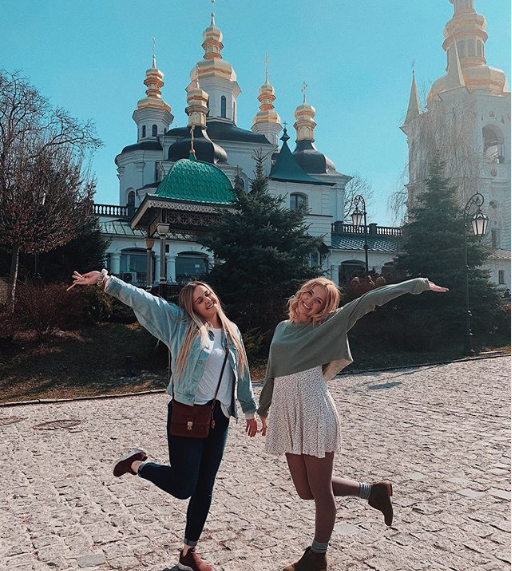 Spend a semester living in Europe (Yes please!)
Come see what a semester of Europe is like with ILP — call somewhere like Ukraine home, spend your days teaching English and exploring your city, then take weekend trips all over (plus have vacation days to see even more). Yep, we think you'll love it!