If you'll be in Vilnius or Kaunas, you need to block out some time to test out this adventure course.
Lithuania is a country that keeps on surprising us. We knew there would be castles, pretty pastel streets, and a few breathtaking churches (plus more than a couple of the coolest cafes around) but an adventure park? I would have never guessed you could get such an adrenaline check on the weekends, but that's exactly what you'll find at the UNO Adventure Park. but what about a cool ropes course hiding in a couple of the cities we just can't get enough of?


---
Interested in volunteering in Lithuania?
Learn more about volunteering here for a semester with ILP
---

Visiting the UNO Park makes for a pretty fun weekend adventure, especially since ILP volunteers are only teaching English part time (you always have Saturday and Sunday off). Here are the details to make sure you can fit this in before leaving:

What Is The Uno Park?
Here's what one ILP volunteer said "It's a rope course and is crazy fun. Also don't forget to do the Elephant swing. It is life changing." Do not miss this adventure!
The UNO Park is an adventure park, complete with zip lines and climbing platforms in the forest, a rock climbing wall, balancing bridges strung between trees, and more. It's pretty awesome; when you first arrive, you'll get set up with a certified employee who gets you hooked up with all the gear you need (like a harness) and will walk you through some safety instructions and will help guide you through the course.
They have stuff for all ages, so you might see families with little kiddos, or pretty adventurous adults who are strong enough and brave enough to take on the more challenging routes. Check it out.
Where Is It?
There is one in Kaunas, but the one in Vilnius is bigger. Since the two cities are close to each other (just a short bus or train ride away), volunteers tend to just go to the one in Vilnius.
Address: Vilnius 10102, Lithuania
Getting there: Catch bus #2 and get off at the Antakalnis stop. After you get off, you'll need to walk for about 6 minutes heading northwest on Lizdeikos g road. You'll see a gas station on your left (A red LUK station), then the road sort of splits. Stay on LIzdeikos (so stay to the left ) then after a few minutes the park will also be on your left; there will be a little pathway on the lefthand side, where you can spot the course through the trees. It's pretty easy to find.
How Much Does It Cost?
Depends on what adventures you want to test out, but you do get a student discount with your student ID. A regular 14 euro ticket is 13 euros with your ID card and that includes a regular package (which includes the blue, green, red and black course + a zip line), but the 20 euro "extreme" ticket is 19 euros with your ID card (which includes the regular package, plus a flight over the river Neris and the Giant Swing).
You can also pay 9 Euro for the Elephant swing which is an absolute must-do. Here's a description of the Elephant Swing (and the other colored courses).
Get more info on their website. It's best to set up a reservation for your group, and you can easily do that by visiting their site. the UNO park has excellent staff that speak English.
Plan on spending about 2-3 hours here, so it's a good Saturday or Sunday afternoon adventure.
Hours:
Open daily from 10:00 AM to 10:30 PM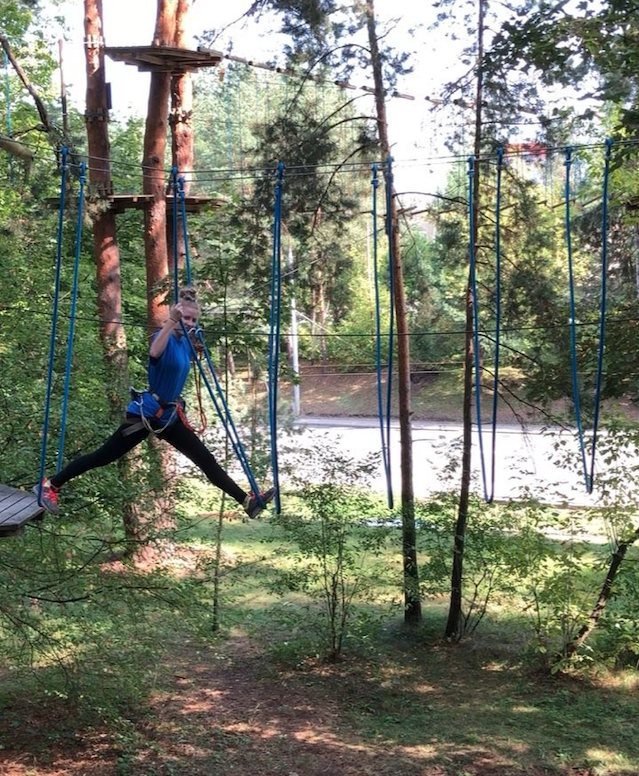 Anything Else I Should Know?
The park is not closed during the winter or during bad weather, and you can even set up a reservation at night (though they do require you to wear a headlamp). While you may still be able to climb in the colder months, we peg this as a warmer month activity instead one to do in the frosty fall or cold winter.
Also good to know: Wear the right gear for your climb. Solid shoes are a must, and they also recommend bringing your own gloves, though UNO will let you use disposable one if you don't have your own (which is super common).
There is a little cafe around where you can snag a snack and a drink but there are also open areas where you can set up a bit of picnic.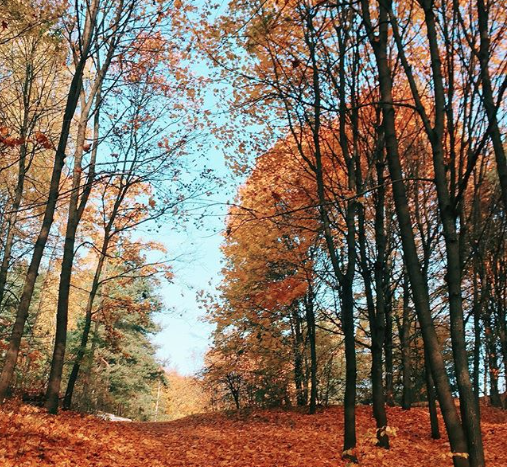 Ready to dive into a semester living in Europe?
With weekend plans like the UNO park, we're not quite sure who wouldn't love spending a semester in Lithuania. Get more info by reading about volunteering in Lithuania then getting your questions answered: