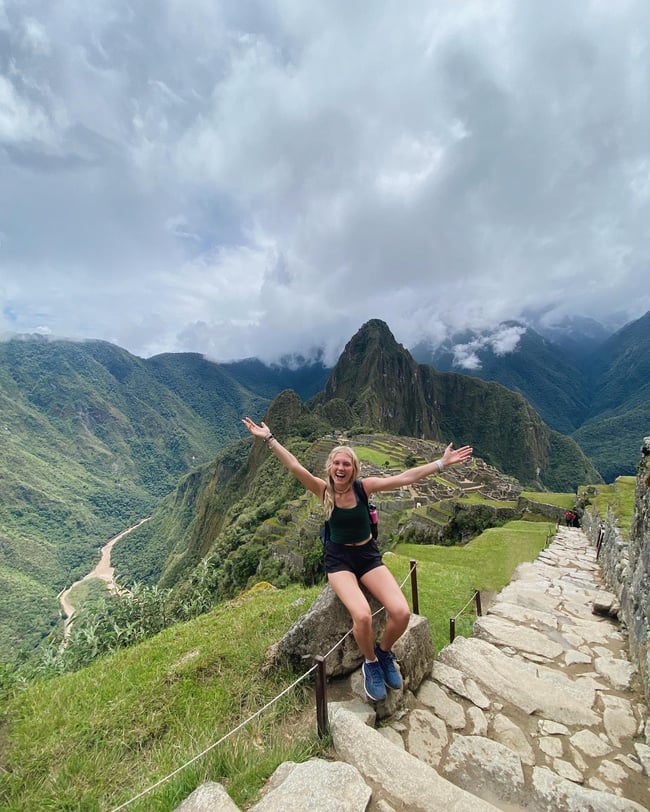 Want to hike Machu Picchu during your ILP semester? There are some things you need to know before you even start planning. Are you planning to volunteer in Central America with International Language Programs?? (That's us btw!) Get ready for all sorts of waterfall/jungle/beach adventures, plus some of our favorite vacation spots ... like Peru! Peru is a top-notch destination, full of dreamy bucket list adventures like exploring the rainbow hills, admiring the view from the top of Macchu Picchu, and zip-lining through the Amazon jungle. You can easily see why it makes the idea list of so many volunteers.


---
Come spend a whole semester volunteering abroad (for less than you think)
All About Volunteering With ILP
---

If you are interested in how you can visit Peru on your ILP semester, you've come to the right place. There are some critical things volunteers need to know before flights are booked, which is what this post is all about — plus, we're sharing some advice, price breakdowns, and share some past itineraries to help you make it all happen if you decide to visit Peru on your ILP semester:
First Things To Know
We've talked to past groups who have made a trip to Peru happen and shared their advice (plus some travel requirements) below. Hopefully, it can help you decide early on if Peru is a vacation you want to consider during your semester:
It's Expensive
Not impossible, just expensive! Plan on paying double (or more) what you would for another out-of-country vacation in Costa Rica, Nicaragua, or Panama.
We have prices outlined in more detail below but you'll be paying anywhere from $400-$800+ on flights alone. Train tickets, tours, and other expenses are around $300-$400+ for a single city/adventure in Peru, plus more for additional cities or experiences. We give a bit of a background on how much spending money to bring on an ILP semester here, but on the whole, past groups say you'll need more than that suggested range to visit Peru.
One Costa Rica group spent around $1,300+ for their Peru trip, then, of course, needed money for weekend trips, other vacations, and other costs during their semester in Costa Rica. It's typically less than visiting from the United States, so if you are ever going to do it this might be a good time, just know it isn't a trip for someone on a tight budget.
We are sharing some prices below to help make sure you have the appropriate budget for a trip like this.
Do You Have Your Yellow Fever Vaccine?
If you visit Peru, you need to prove you have the Yellow Fever Vaccine before getting back into Costa Rica or Nicaragua (if you'll be returning to Mexico, it's not required).
Just like certain countries have visa restrictions, some countries have vaccination restrictions. According to the Costa Rican Embassy and the embassy of Nicaragua, any travelers who have visited certain countries (Peru included) will need to have an "International Certificate of Vaccination Against Yellow Fever", which is valid from 10 days after vaccination.
This is INCREDIBLY important to know beforehand. If you would like to visit Peru during your ILP semester in Costa Rica or Nicaragua, you will not be allowed back into your ILP country without proof of this vaccination.
If you are even thinking of going to Peru during your semester, we recommend you get that while you're still in the US or Canada, before departing on your ILP semester. It will be much easier to do this at home before you travel abroad. Past alumni have talked with their ILP group before departure to see who is seriously planning on a Peru trip, so they could all get their Yellow Fever vaccination. It's another cost to budget for, so you'll want to help make sure you have enough group members to go with you to help make sure you're getting the vaccine for this trip, and it's just not an extra, unnecessary step/expense. (This particular vaccine does provide lifetime protection, so you'll have it for future trips if Peru and additional countries if this time around doesn't work out for some reason).
Plan Time For The Altitude
You'll want to plan plenty of time to fit in all the things you want to do in Peru, but also to help your body adjust to the altitude. Cusco and the surrounding attractions (like the Rainbow Mountains and Machu Picchu) are found at stunningly high elevations, which can result in altitude sickness if you're not properly adjusted.
Altitude sickness isn't felt until you pass the 2,500 meter mark (or 8,202 feet), and is a way for your body to tell you you're not getting enough oxygen — think severe headaches, dizziness, nausea, loss of appetite, etc. At these altitudes, the air is thinner, and altitude sickness can hit you even when you're not hiking: just arriving in the high-altitude city of Cusco can be an adjustment.
It's recommended you spend around 48 hours acclimatizing before undertaking any serious activity, like high-altitude hikes (visiting the Rainbow Mountains and Machu Picchu included) ... Don't land in Cusco and immediately start a trek uphill! Along with time to acclimate, drinking plenty of water will help your body adjust.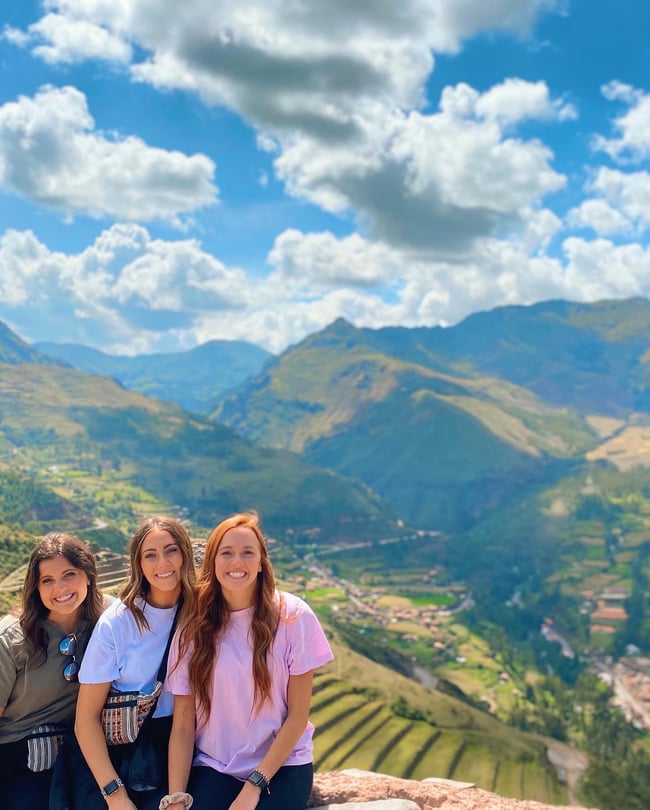 Some Highlights Of The Country
Peru's bursting with tons to do, but instead of a country overview, we're highlighting the cities and activities that our volunteer groups typically have time for. That way, you're familiar with what past groups fit into their itinerary (and can figure out how long a trip you need to budget for when it comes to time and finances). Oh, and you'll notice that all things Machu Picchu is in its own section — there's a lot to that adventure!
Time In Lima
Lima is one of the more popular entry cities for our ILP volunteers, thanks to more affordable flights. We've had groups land in Lima, only to jet off to Cusco immediately, while others spent a bit of time here before seeing the rest of Peru, or planned time in Lima before needing to catch their flight back to their ILP county.
In any case, if you're spending time in Lima, you're in for some beach time, bike rides along the Malecon, cooking class (and some of the best Peruvian food around, exploring the colorful Historic Centre, and stunning buildings at the Plaza Mayor. Plus, there's more to do if you go underground: past groups have visited the catacombs under The Basílica y Convento de San Francisco de Lima as well.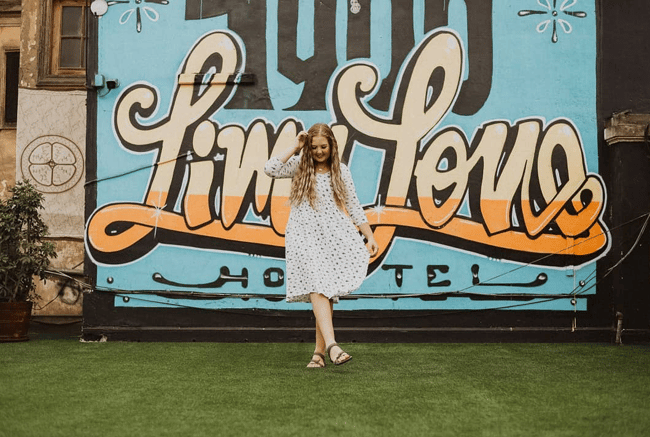 Time In Cusco
You're likely traveling to Cusco during your time in Peru. It's a pretty popular gateway to many of the other locations on this list. But don't skip out on all the things to do in the city of Cusco before jetting off to those other adventures! Cusco's home to towering cathedrals, flower-filled markets, colorful neighborhoods, and plenty to keep you busy while you adjust to the altitude. Shop for colorful textiles, take a cooking class, learn more at the Museo Inka, and more.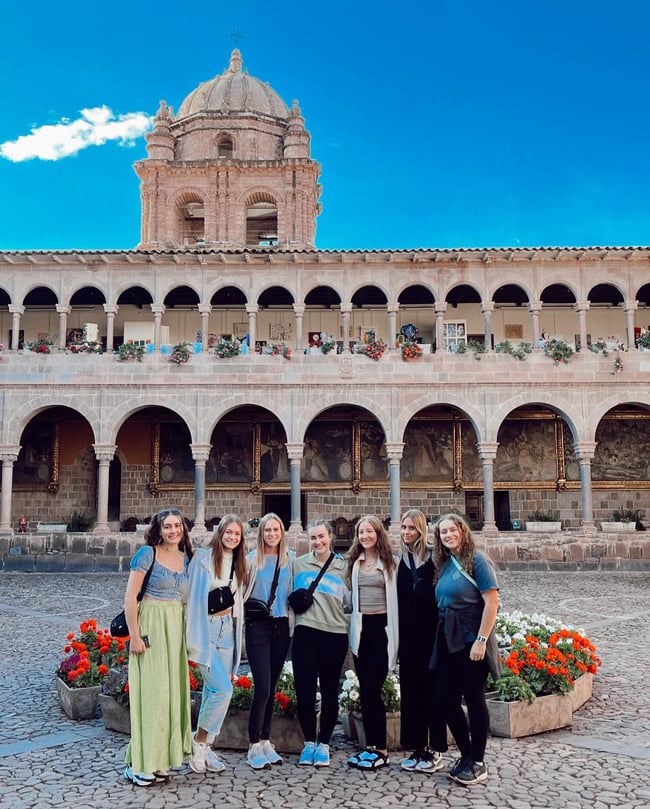 Ziplining Through The Amazon — Puerto Maldonado
Known as the gateway to the Amazon Rainforest, Puerto Maldonado is a city tucked in the southwest corner of the country (near the border of Bolivia). The Amazon is a huge pull for anyone looking for the ultimate rainforest experience: we've had groups take a trek through the jungle, do a river cruise, and zip line through the lush treetops. Talk about an adventure!
The city of Puerto Maldonado is easily reached via Cusco (it's a short flight or a 10-hour bus ride). You'll find day trips, 2-night options, or longer excursions that take you deeper into the jungle, staying at ecolodges that are only accessible by boat. There are many tours out there, but one past ILP group went with this company and loved their time with them.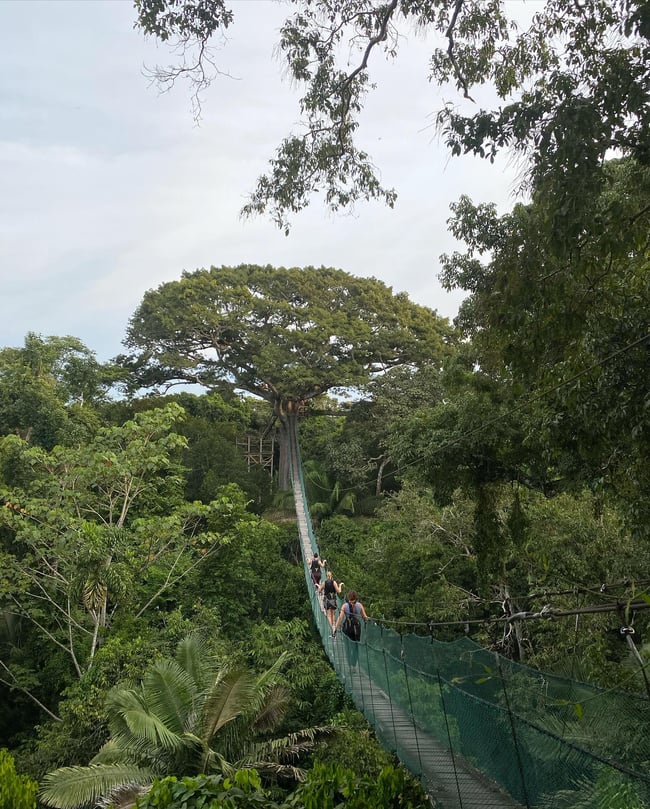 The Rainbow Mountains — Tour From Cusco
Get the prettiest pictures of these stunning hills, which really are banded with yellow, red, orange, and pink. It's a wildly popular tourist attraction, drawing in a rival number of visitors to Machu Picchu. These hills were hidden under a layer of ice and snow until things melted sometime in 2015 and became the tourist attraction they are today. Day trips from Cusco are common, with an early start (around 4:00 or 5:00 AM, or earlier), to make the 3-4 hour drive to the Rainbow Mountains. You can book tours once you arrive in town, or online. Learn more on the official website.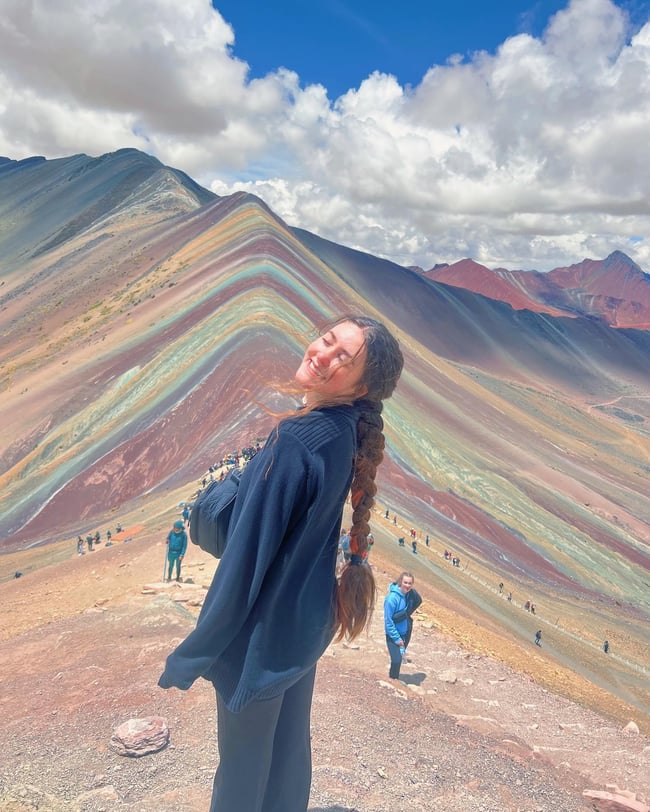 The Sacred Valley — Between Cusco & Machu Picchu
If you're spending time in Peru, chances are you'll be traveling between Cusco and Machu Picchu, which lends well to taking a break at the halfway point: the Sacred Valley. It's an easy halfway point to your travels, where you can learn more about the Inca people, go river rafting, admire massive archeological sites, check out the terraced hills by horseback, or spot llamas. If you're here for longer, come join on an Andean ceremony to Mother Earth (a Pachamama Ceremony), or visit one of the settlements, like Ollantaytambo. You'll want to spend at least a day or two here, maybe longer.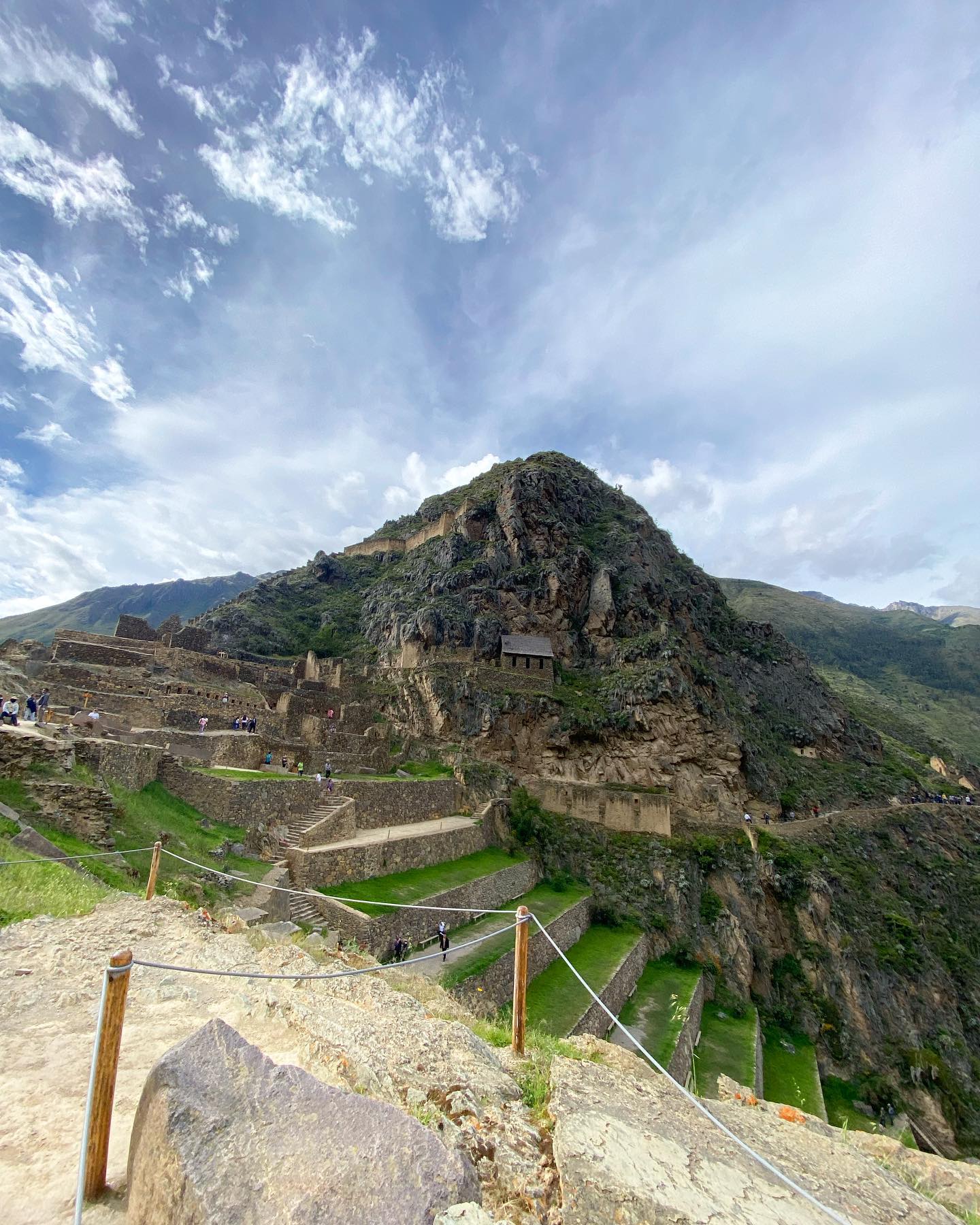 + Machu Picchu + Huayana Picchu
Catch all the details about his highlight, below:
All About Machu Picchu
Machu Picchu is most likely top of your Peru to-do list, and we didn't want to skimp on the details. You'll find all the details to planning a trip to Machu Picchu here (though we will tell you that most get there via Cusco if that's helpful to know now when taking a peek at past itineraries).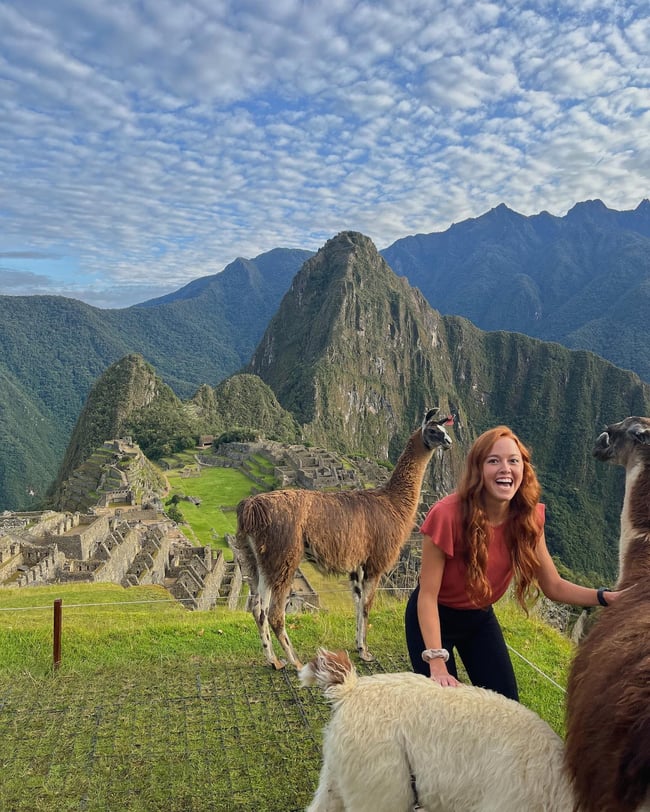 Sharing Some Past Itineraries
This is just an idea of how past groups have spent their time, but honestly, the options are pretty endless, especially depending on what you want to prioritize: jungles, ruins, cities, and mountains, or just hit 1-2 highlights!
These itineraries are also here to give you an idea about the travel required. Most groups started their Peru itinerary in San Jose, Costa Rica. You'll also want to keep track of how many travel days are included — several of these itineraries have at least two days where they're flying, and 1-2 other days where you're spending most of the day on a bus or a train to another city. Something to consider when it comes to how you want to fit your Peru trip into your vacation time.
9 Day Itinerary
One group flew out of San Jose Costa Rica, then hit all the main highlights of Peru:
Day 1: San Jose to Lima (airport layover), then a flight to Cusco

Day 2: Explore Cusco

Day 3: Explore Cusco

Day 4: Train from Cusco to Aguas Calientes

Day 5: Machu Picchu / Huayana Picchu

Day 6: Train to Ollantaytambo, return to Cusco

Day 7: Explore Cusco

Day 8: Rainbow Moutain tour (departs from Cusco)

Day 9: Travel to Lima, then catch a flight to San Jose, Costa Rica
8 Day Itinerary
This ILP group started in Granada and then headed to San Jose, Costa Rica before starting their trip to Peru. We are picking up on their second travel day, after arriving in San Jose.
Day 1: Traveling to San Jose, flight to Lima

Day 2: Arrive in Lima, flight to Puerto Maldonado

Day 3: Puerto Maldonado + Amazon Jungle

Day 4: Flight to Cusco

Day 5: Cusco / travel to Aguas Calientes

Day 6: Machu Picchu

Day 7: Travel to Lima

Day 8: Flight to San Jose, bus to Granada
7 Day Itinerary
Day 1: Flight from San Jose to Lima, Peru

Day 2: Explore Lima

Day 3: Explore Lima then take a flight to Cuzco

Day 4: Travel to Machu Picchu (Start overnight tour option)

Day 5: Macchu Picchu

Day 6: Return to Cusco

Day 7: Time in Cusco, then fly to San Jose, Costa Rica
5 Day Itinerary
Looking to fit Peru into a tighter timetable? We dad one group squeeze things into 5 days.
Day 1: Flight into Lima, then into Cusco

Day 2: Time in Cusco, travel to Aguas Calientes

Day 3: Machu Picchu, travel to Cusco

Day 4: Flight to Lima, explore the city

Day 5: Lima, return to San Jose, Costa Rica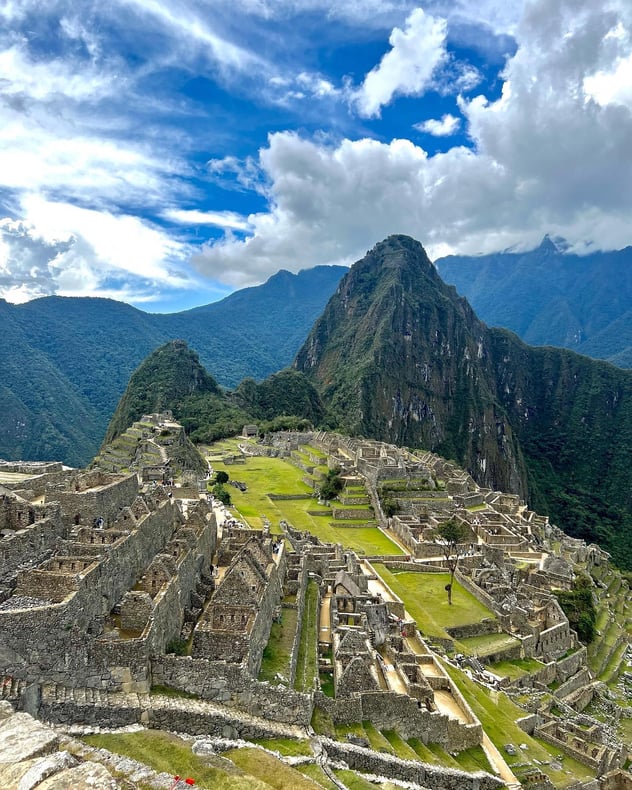 Getting To Peru (+ Some Costs)
Cusco, Peru (airport code CUZ) is the best airport to fly into if you'll be visiting Machu Picchu. We've done a bit of research to figure out what prices might look like depending on where you are on your ILP semester.
Also good to know: You might find better fares from your country to Lima, but then will want to book a separate fare to Cusco (if you want to see Machu Picchu). The flight is just over an hour, but bus routes take around 10+ hours.
As a heads up, prices can drastically fluctuate depending on the day of the week and the month you're traveling. You can get a pretty good idea when it comes to looking at specific dates and months on Skyscanner and Google Flights.
From Costa Rica
To Cusco: Out of San Jose, the best price you'll find is around $400 - $480 roundtrip, but prices can be as expensive as double or even triple that.
We found fares in the $400s pretty consistently for multiple months when using Google Flights, but did find quite a bit of variability in price using Skyscanner (up to the $800s) just so you know. One ILP group paid $560 for their flights and ended up having an airport layover in Columbia on the way there, and another airport layover in Lima on the way back.
To Lima: Prices out of San Jose were less to Lima, around the $300 mark, give or take $50 or so. However, some months had a peak of $500 or $600 (or more).
From Mexico
Flights were out of Mexico City, to help you get the best prices. Just know you'll need to factor in time and transportation to the capital city if you're not living nearby, or will need to price check flights out of the nearest international airport.
To Cusco: Flights from Mexico City have fares to Cusco with fares as low as $440 or so, however, there was an average price more in the 600s and 700s for other times in the year. Sometimes, prices spiked to be over $1,000.
One thing to keep in mind when flying to Cusco: you'll have a longer flight itinerary for a cheaper flight (most routes have a couple of layovers on both the way there are and the way back — with 17-hour flight times that typically route through Lima) if that isn't a deal-breaker. If you pay more, you can get a more direct flight if the timing is more of an issue than the price is.
To Lima: Prices to this Peruvian city were more predictable, in the $450s pretty steadily. Sometimes, prices were even below $400.
*Other groups have spent some time in Cancun, then headed to Peru to finish out their long vacation (traveling from Cancun to Lima). Prices were pretty similar to that in Mexico City, but worth checking into if you'd like to duplicate that kind of itinerary.
From Nicaragua
To Cusco Or Lima: It would be an expensive trip for our volunteers in Nicaragua. Fares we looked at were rarely in the high $700s, but were more consistent in the $900s, or even double that.
Not impossible, but if you are on a budget, we suggest heading to the dreamy Corn Islands as a more affordable splurge or heading to Costa Rica first and flying from there. We've had Granada groups take a more affordable bus ride or flight to Costa Rica for a few days, then finish their vacation in Peru. Remember, you can typically snag the best roundtrip ticket out of San Jose, Costa Rica.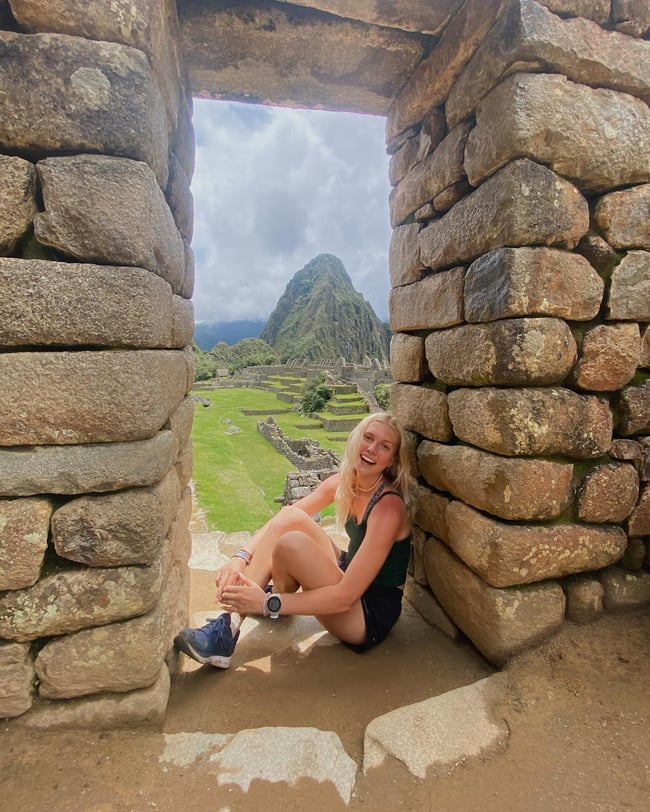 Phew, did you get all of that?
Hopefully this outline helps you decide if a trip to Peru is worth it and if so, how to make it happen! See what other adventures you can have in a few of our ILP countries: