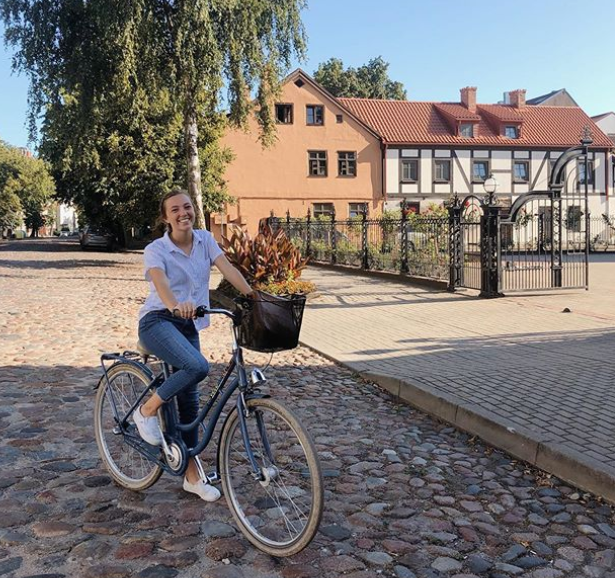 Looking for a new way to explore Vilnius, Lithuania? It's definitely one of our favorite European cities, and you can see all of the charm from the seat of a bicycle. Here's what you need to know!
There is so much to do and see in Vilnius, Lithuania! Honestly, you'll never be bored. There are
30+ museums
, churches, parks,
cafes
, and so much more. From the moment you start exploring this city, you'll see why we love it so much! While you can see a lot here in just one weekend, why not spend months living in this one-of-a-kind, charming city? As a volunteer through International Language Programs, you can do just that and see everything on our
complete guide to Vilnius, Lithuania
.

No matter how much time you have in Vilnius, you need to explore as much of the city as possible! The city is completely walkable, but if you're in Vilnius on a sunny day, traveling via bicycle will give you the chance to see more in a shorter amount of time. May and June are definitely the best months to enjoy some cycling, so here's what you need to know to make that happen.
How To Get A Bike
Public Bike Service
Cyclocity is the cheapest and most convenient way to rent a bike in Vilnius. There are 37 different stations around the city, making it easy to pick up and return these bright orange bicycles. And since our volunteers are in Vilnius for a semester at a time, a great deal for them is to register for a seasonal subscription for just over 13 euros (if you're under 26 year old). With this subscription, every 30-minute ride is free and for additional time, the fee goes up each 30 minutes but it is still so so cheap. Here's all of the info.
Local Rentals
This bike rental store is another great option! There are many different bikes and styles to choose from, so you can pick out exactly what fits best for you. You will need to show them ID document (passport), sign a contract, and leave a refundable deposit (cash or card). The amount of that deposit just depends on the bike you're renting: 50 euros for a city bike, 100 euros for a premium-hybrid bike, and 200 euros for an e-bike. Don't worry, you will get that back as long as you return the bike! The actual rental fees are totally reasonable: city bike for 10 euros per day, premium-hybrid bike for 15 euros a day, and an e-bike for 30 euros per day. Check out their website to book your rental and get all other details!

Routes To Check Out
Vilnius is flat and easy to ride around with limited traffic, marked biker lanes, and tons of parks. You can explore almost anywhere in the city or take a brisk, 15-minute ride to the countryside if you'd like to see that as well. Which, we HIGHLY recommend.
There are some excellent maps featuring bike routes available, like all of these ones. If any of those routes are too long, don't feel like you need to do the entire thing! Just check out the details and focus on the sections of the city you want to see.
You can also just download a map of the city and start exploring. Vilnius is well known for its beautiful Old Town, which includes the main shopping street, Pilies Street. On this cobblestone-filled street you will find cafes and shopping on the way to the heart of Old Town. Riding a bike on cobblestones is a bit more difficult than riding on pavement, but it can be done. You can also enjoy the paved bike routes throughout the city. Our personal favorites are along both sides of the Neris River and at Vingis Park.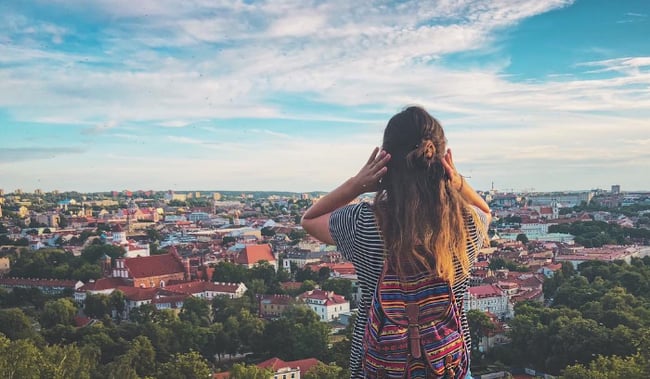 Book A Tour
If you want to learn more about Vilnius or are only in the city for a short time, consider paying for a bike tour. The prices are very reasonable and it's a great way to see a lot of the city in a few hours and learn many interesting facts from an English-speaking tour guide! It's especially great to do at the beginning of your stay in the city so you can really familiarize yourself with the layout and get basic info about Vilnius' history.
This bike tour is $25 for 3 hours. It includes the bike and helmet rental, a free bottle of water, plus a tour of Uzupis (a tiny, independent district in Vilnius).
This highly-interactive tour is 2-3 hours for 20 euros per person. It includes the bike and helmet rental, water, and is the perfect way to see Old Town, the cities squares and churches, and Uzupis!
This bike tour is also only 20 euros for 2-3 hours and will show you all the highlights and must-see spots in Vilnius. It's offered daily (except for Sundays), so would work well for any schedule.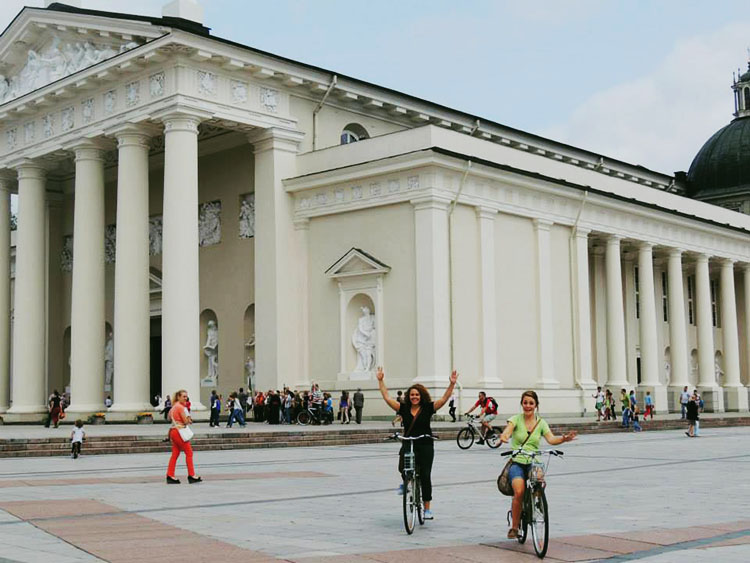 Want to see what our volunteers are up to every semester?
We get to send college-aged volunteers to different countries all over the world every semester! We love sharing many of their highlights, honest reviews, and adventures on our Instagram! Click the button below to follow along and see what volunteering is really like.