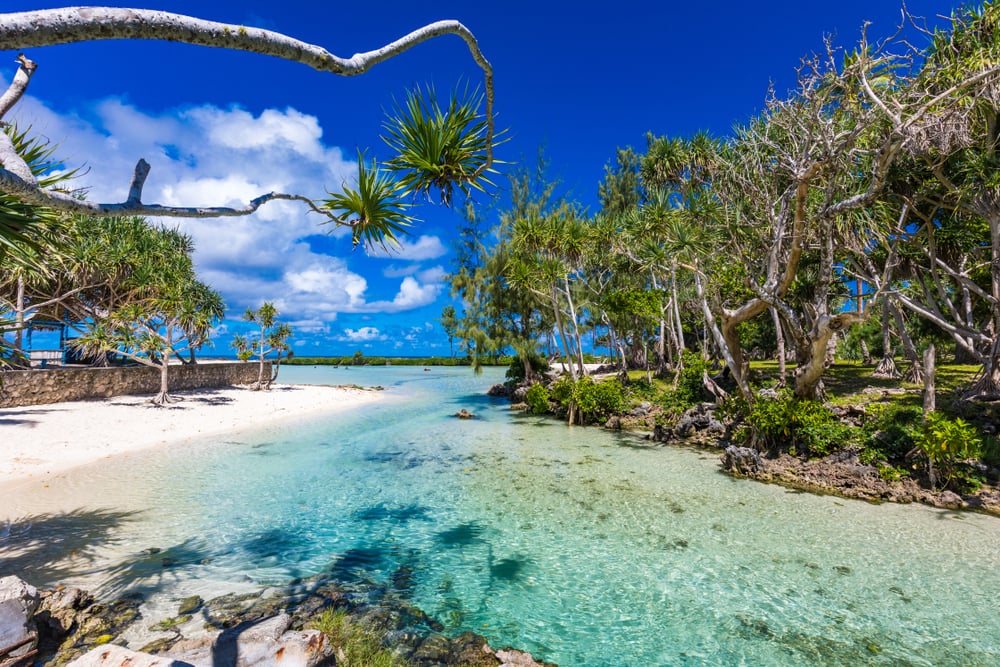 If you're headed to Vanuatu, you're likely to find yourself on the main island of Efate at some point in your trip ... and lucky for you this island is packed full of the dreamiest beaches and swimming spots.
You don't need to travel far in Efate before finding a sandy beach worth dipping your toes in all afternoon. This little island has some of the most stunning coastlines on all corners. There are many popular ones that bloggers rave about, and others that really only the locals know about.
If you're taking a cruise to Vanuatu, you'll likely only have time to visit one beach or so. That's just one of the reasons we love the experience of living here for a few months like our ILP Volunteers do for their semester abroad. You'll have time to really get to know every corner of this island and you have the option to avoid the days that cruises come in, filling the beaches with crowds. You can wait and pick a day when the beach is empty and have it all to just yourself, your friends, and a few Vanuatu locals.
If you are dreaming of the chance to live somewhere totally unique, then this is the program for you! Volunteering here means you will get to live in paradise, exploring blue lagoons hidden in the jungle, snorkeling in crystal clear water, and sunbathing on pristine beaches, plus you'll get to know the "friendliest people on earth" by being part of the tight-knit community on the island!


---
Sound like a dream come true?
Learn more about our program in Vanuatu!
---

One of the most well-known islands in Vanuatu is Efate Island, which is where our volunteers get the opportunity to live and teach English to the cutest, happiest, and most energetic kids you'll ever meet. ILP volunteers spend about 20 hours per week teaching, which means they have plenty of time outside of the classroom to go out and explore their island home, so we've given you this go-to-guide to help you experience some of the best beaches and swimming spots on Efate island.
Quick Tips
Port Vila (in the southern side) is the capital city of Vanuatu and can be a great "home base" for international travelers who are flying in. Even though it's technically the "southern side", you can get to any of these dream beaches mentioned in this post very easily from Port Vila. Efate is actually relatively quite small and if you're just driving the highway that loops around the island parallel to the coastline, it would only take 3-4 hours to do that. Everything on Efate is within reach on a day trip!
Most places you look up online will boast that they are close to Port Vila because they know many tourists will be in that area, but just know that's a pretty wide section of the island. In this blog post, we've divided up the island into the western, eastern, and southern sides.
Also, most swimming holes and beaches are maintained by locals and have a small charge per person which goes towards supporting their village, so remember to take cash with you! In fact, a lot of people say that the entrance fees usually depend on the mood of the locals. So keep that in mind and always bring extra because the prices you see online are likely to be slightly different once you arrive in person.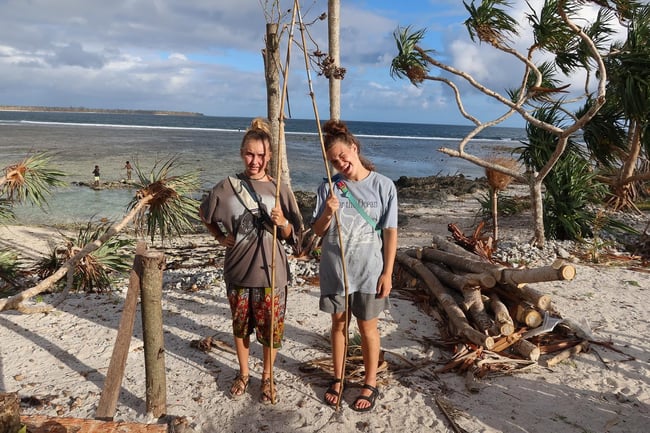 Western Side of the Island
Hideaway Island
Port Vila is the perfect jumping-off point to get to Hideaway Island, which is a beautiful little island right off the coast of Efate. The island itself is a dream — picture palm trees dotting the beaches that provide a great source of shade, as well as volleyball nets and kayaks for rent. This tropical paradise is surrounded by crystal-blue water filled with tropical fish which makes it an incredible spot for snorkeling. Oh, and did we mention that this island is home to the world's only Underwater Post Office? We're not kidding! You can actually send yourself (or your family) a postcard from under the sea.
It's so close to shore that you can easily get to the island by walking along the sand bank during low tide, otherwise you can catch a ride to the island on a small boat.
Island Entrance Fee: 1250 Vt
Address: 8737+39C, Efate Port Vila, Mele Maat, Vanuatu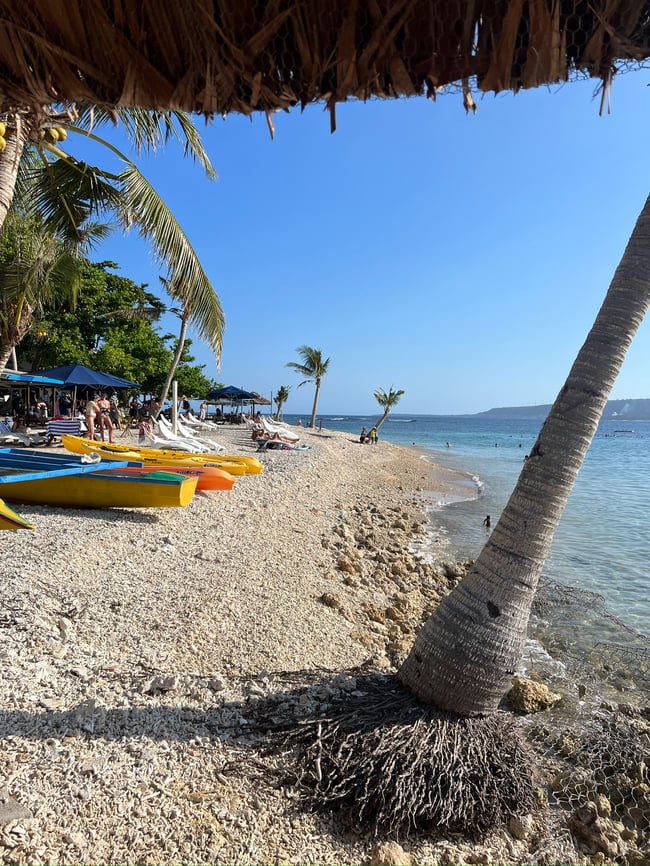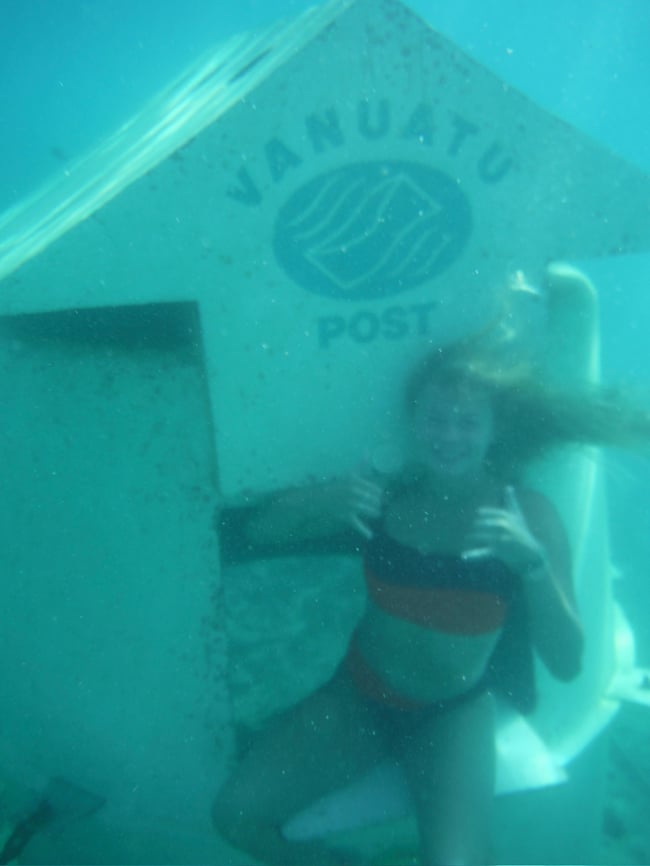 Mele Cascade Waterfalls
If you are visiting Hideaway Island, we recommend you take a quick stop at the Mele Cascade Waterfalls because they are only about a ten-minute drive away. This dreamy hike is about a twenty-minute stroll through the jungle and up some stairs to the Mele Cascade Waterfalls.
You may have to do a few river crossings depending on the time of year, so bring waterproof shoes. This place is a perfect little tropical oasis with a series of waterfalls that drop down into sparkling pools. And yes, you can jump in and swim in the pools (that's the best part).
Entrance Fee: 2000 Vt
Address: 87F5+MVW, Ring Road, Mele Maat, Vanuatu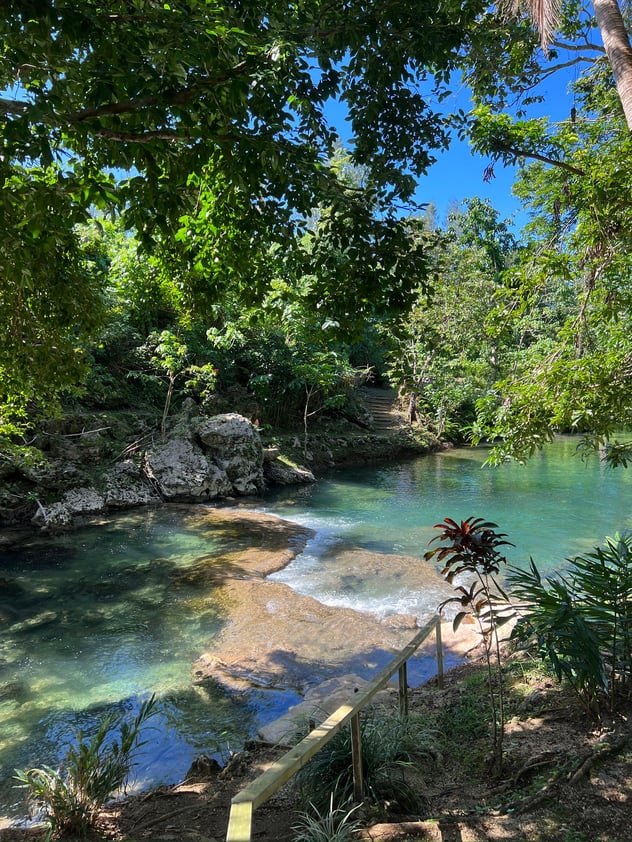 Mele Beach
Mele Beach is one of the many volcanic sand beaches around Vanuatu, which is what makes the sand a darker color. There are ancient trees growing on the beach with their unusually entwined roots above the sand. This beach is about a ten-minute drive from Port Vila.
Blacksands Beach
Situated in Mele Bay, Blacksands is a popular hang-out for locals, as well as an awesome surf spot. It is typically packed on the weekends as people bring their whole families to BBQ on the black sandy shore. If you don't want to pack your own snacks then no worries. There is a Beach Bar that serves some yummy food and nice cold drinks. They also rent out some fun beach toys, so you can grab a floaty and take a refreshing swim.
Irikki Island Resort and Spa
Irikki Island is a lush, green, picturesque tropical resort just off the coast. The island is about a five-minute ferry ride from Port Vila, located on the southwestern side of Efate. There aren't many good beaches here as the island is mostly rocky, but our ILP volunteers love coming to hang out in the infinity pool that gives gorgeous views.
You can stay at the resort for a little over $200 a night, but for budget travelers (like our ILP volunteers!) you can still come and enjoy the amenities for the day. In the past, our volunteers have said that all they needed to do was purchase something like a drink or a snack and that granted them all-day access to the infinity pool. This is definitely a great Saturday-type-activity during your semester to relax and we have a feeling you'll be back more than once. Click here to see their website.
Address: 7845+5V8, Kumul Hwy, Port Vila, Vanuatu
Havannah Beach Resort
The resort here is incredibly luxurious and you can find the softest sandiest part of the beach near the cape at The Havannah luxury resort. The shore here is protected from the ocean by Moso island, which blocks any heavy winds and breaks up powerful waves, meaning the water is calmer and more clear here, making it a nice and relaxing place to swim around! We're not sure whether or not there is a fee for visiting the beach if you aren't staying at the resort, so be sure to bring cash with you!
Address: C6GX+WC Port Havannah, Vanuatu
Eastern Side of the Island
Blue Lagoon
Now, this next recommendation actually isn't a beach, but in my opinion, it's even more magical. On the Eastern side of the island is the Blue Lagoon, where you can swing into a beautiful Gatorade-blue swimming hole surrounded by the lush green jungle from a rope swing! If that wasn't amazing enough, you also have the option to rent kayaks here. Be sure to pack a lunch or some snacks because you can sit down and eat at some of the picnic tables.
Hours: 8AM-5PM
Entrance Fee: 500 Vt
Address: 6HQ4+7CH, Unnamed Road,, Eton, Vanuatu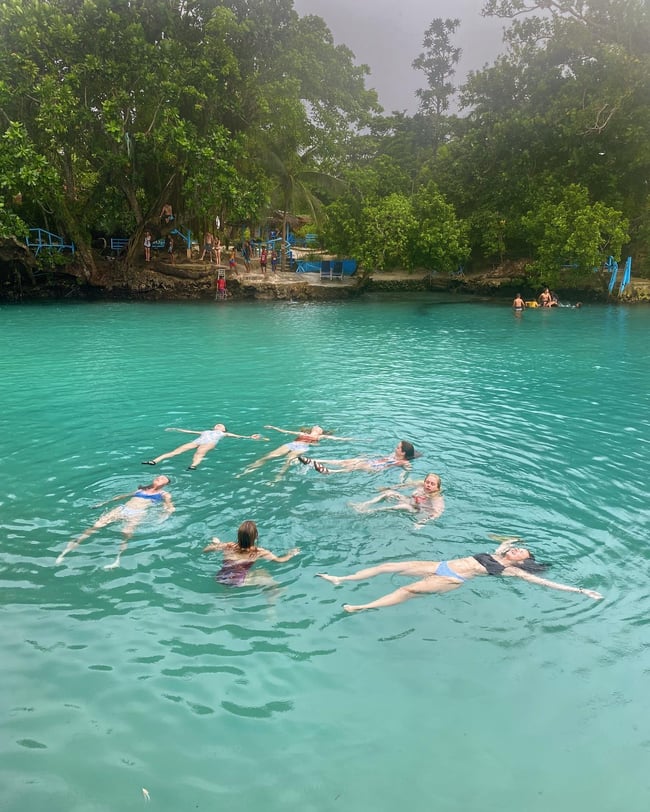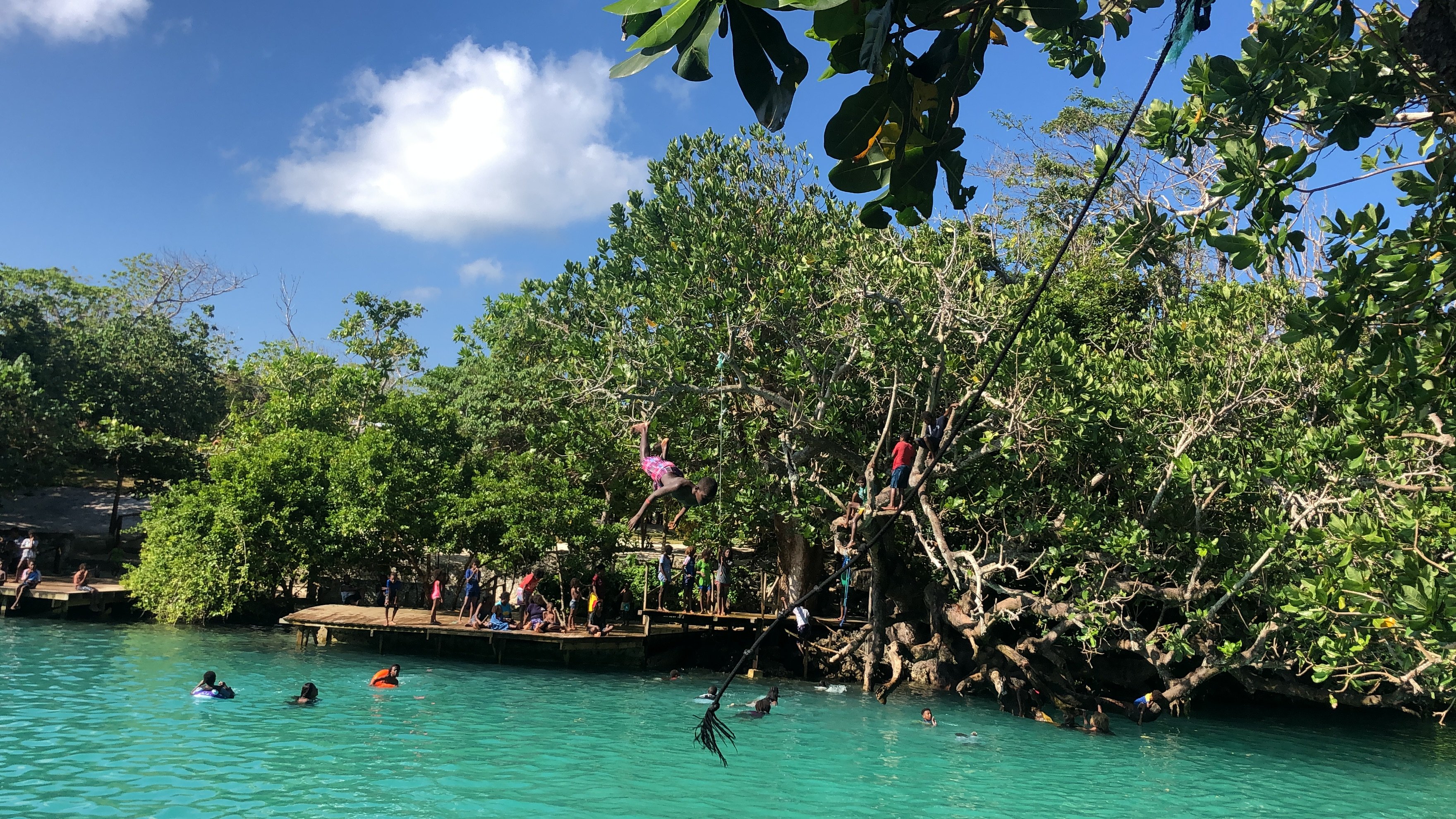 Eton Beach
Eton Beach is probably one of the most iconic beaches in Efate. it's sugary white sand and volcanic rocks rimming the shoreline creates a perfectly tranquil beach. The rocks block the stronger currents, so you can wade into the calm clear waters of the lagoon for a relaxing swim. There are cross huts dotting the beach where you can enjoy the shade and have a picnic!
Entrance Fee: 1500 Vt
Address: Kumul Hwy, Port Vila, Vanuatu
Southern Side of the Island
Breakas Beach Resort
The popular Breakas beach sits on a private cove in the Pango Penninsula and the white sandy beach is what dreams are made of. If you prefer swimming in a pool to the ocean then this intimate tropical retreat resort might be the place for you because it features a 22 meter infinity pool. Book your stay here.
Address: Pango Road Efate, Port Vila, Vanuatu
Honeymoon Beach
Honeymoon Beach is a favorite for our volunteers because it is pretty close to where they live and teach for the semester. It is located about 5 minutes past Breakas Resort in Pango, down a dirt road. Honeymoon Beach is a long sandy beach, that sits beside a grassy park, complete with makeshift volleyball nets. Plus it's also close to a 'secret' surfing spot.
Entrance Fee: 200Vt
Address: 67GC+W6C, Unnamed Road, Erakor, Vanuatu
Paradise Cove
The beach itself is pretty rocky here, so it won't be ideal for sunbathing. The water is FILLED with vibrant coral reefs and colorful fishes which makes it a beautiful place to snorkel since there is so much to see!
Address: 67PH+8C Port Vila, Vanuatu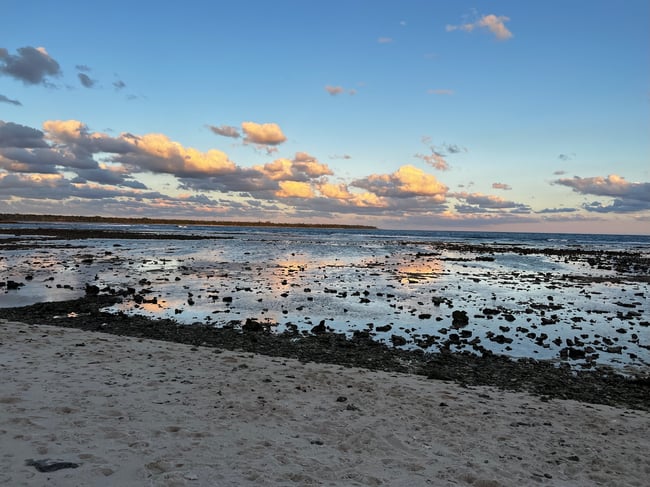 Eratap Beach
Enjoy this long, palm tree-fringed white sand beach, here you can swim, snorkel and even surf. As always, be sure to bring cash with you in case there is an entrance fee. Check out the resort here.
Address: 682X+HR5, Eratap Beach,, Port Vila, Efate Island, Vanuatu
Tamanu On The Beach
Located on its own pristine white sand beach that crescents into a picture-perfect blue lagoon. This boutique resort features a swimming pool that overlooks the ocean. Click here to book your stay at one of their villas!
Address: White Sands Efate, Port Vila, Vanuatu
Northern Side of the Island
Moso Island
Sail around the island of Efate for a day! Book this incredible boat tour here for a full 8 hours of swimming and snorkeling in the sapphire blue waters of Moso Island. You might even spot some sea turtles and dolphins! Relax on the white sandy beaches of this secluded island and enjoy a delicious barbecue lunch. If you want to spend the night on this dreamy island check out The Tranquility Island Resort.
Pele Island
Pele is a small island just to the north of Efate in Vanuatu. This is rumored to be a great place to experience the "real" Vanuatu. The Northwest beach on this island is one of the best in the whole country, picture white sand, palm trees blowing in the breeze, and crystal clear blue waters. To get here, take a taxi or bus to Pagonangisu village, then take a boat!
You can also take a full day tour, where your guide will take you to experience a rural village, and then you will head out on kayaks to prime snorkeling spots filled with vibrant, untouched coral reef while your guide educates you about the beautiful marine life. This tour here includes transportation, a BBQ lunch, afternoon tea, and all the snorkle gear + kayaks.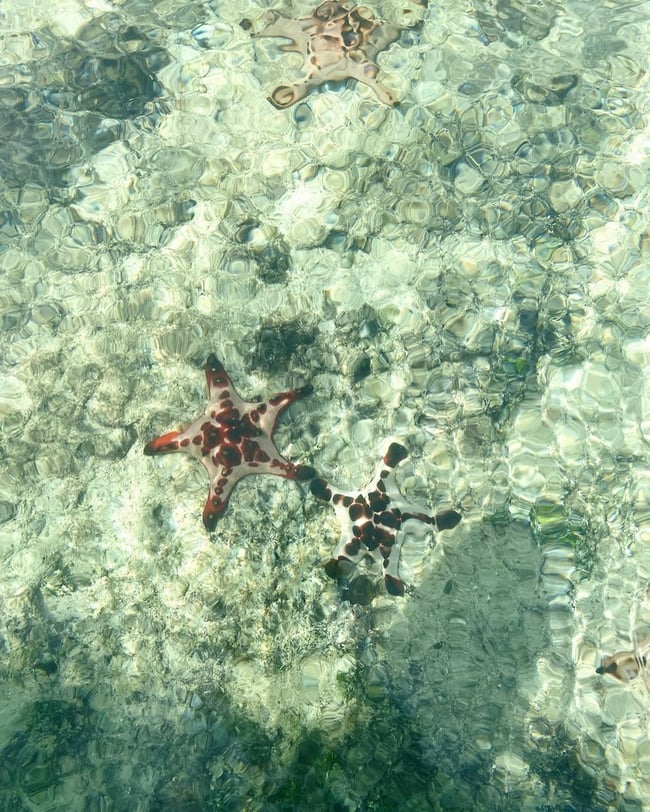 Kakula Island
Escape to this dreamy private island for the day. Kakula Island is nicknamed "The Jewel of the South Pacific" for good reason. This incredibly lush little tropical paradise includes perfectly white sandy beaches where you can find beautiful shells, colorful coral reefs, and calm waters that are perfect for swimming, fishing, and even kite surfing. To get here take a taxi or bus to Pagonangisu village, then take a boat.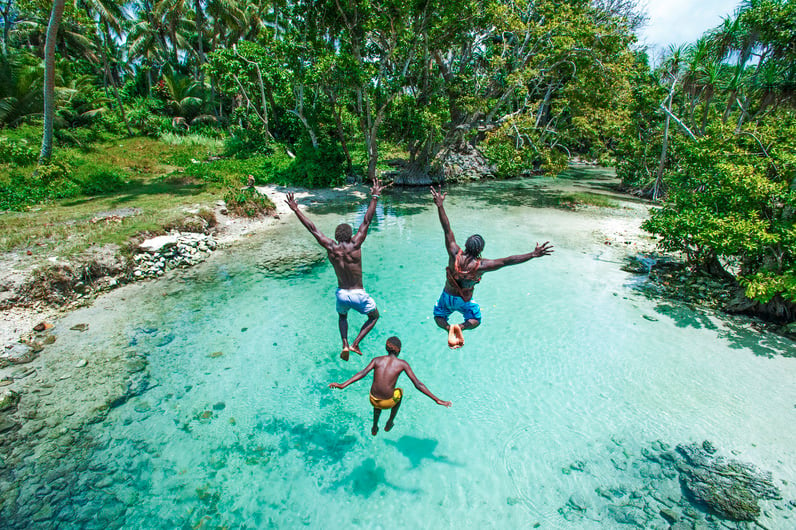 Ready to Live the Island Life?
Come volunteer with our Humanitarian Program for a semester in Vanuatu with ILP! You'll have to chance to really make difference, and be able to travel to some incredible one-in-a-lifetime places while you're at it!