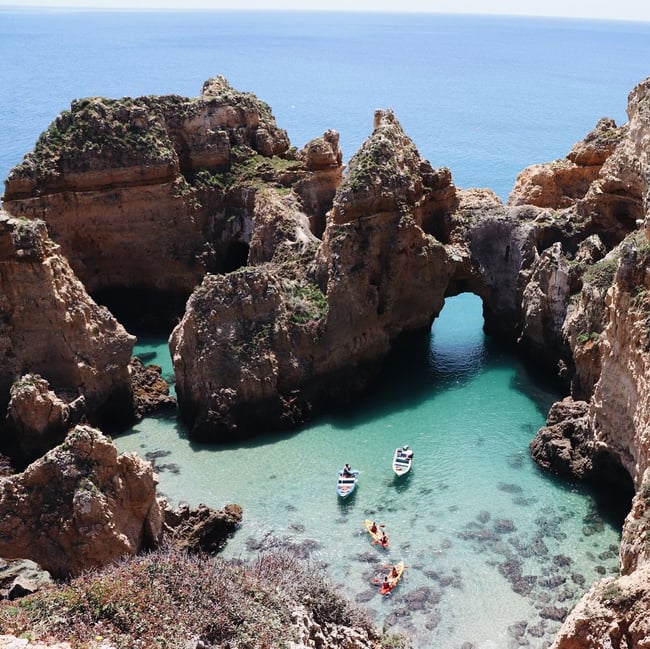 From postcard-worthy beaches, whimsically colorful castles, and cities that are full of red tile rooftops and gelato, there's a city in Portugal that's perfect for you.
When it comes to vacations in Europe, you have more than a few options. Do you hit the big spots on your list, like France and Italy and Germany and Greece? Or, are you hunting castles in England or Ireland or Ukraine? Maybe you're aiming for charming villages in Romania or Germany?
In any case, you probably have dozens of cities in mind with a whole list of experiences — but what if I told you that there's a country hiding everything you're looking for?
We've been sending volunteers to live in Europe for decades, and seem to see the same groups going on vacation to the same countries. We're all for these popular spots, but think you should be spending your time in a little place called Portugal.


---
Don't want to miss out on anything travel-related?
Our adventure updates have you covered.

---

Not quite sure why you should add Portugal to your list? I was the same way until I heard about a place called Porto. Then Lagos. Then half a dozen other cities have pretty much convinced me that I need months exploring this country (but would happily settle for just a few days if that's what I could get). To give you that same pull to Portugal, here is just a tiny snippet of what's waiting for your perfect vacation in this country:
Head Here For Colorful Castles And Palaces
A Red And Yellow Palace In Sintra
Have you ever seen such a colorful and whimsical castle? A hodgepodge of yellow and red colors, plus Moorish and Gothic architectural styles, Pena Palace is one of the country's most iconic UNESCO sites. It's been destroyed and remodeled over a few hundred years and produced a striking summer home to the royal family, and a historic tourist favorite if you visit today. Some say it inspired the classic German Neuschwanstein Castle (which inspired Walt Disney's castle in Disneyland).
In any case, it's one of the most stunning places to wander around and take a picture, especially since Sintra is easily reached from Lisbon, Porto, Lagos, and other cities on your Portugal bucket list. Plus, Sintra's hiding a few more things to keep you captivated, like medieval palaces (with secret passages), a picturesque hilltop Morrish castle, an intricately decorated Arabian villa, and more.
Get all the best things to do in Sintra, here.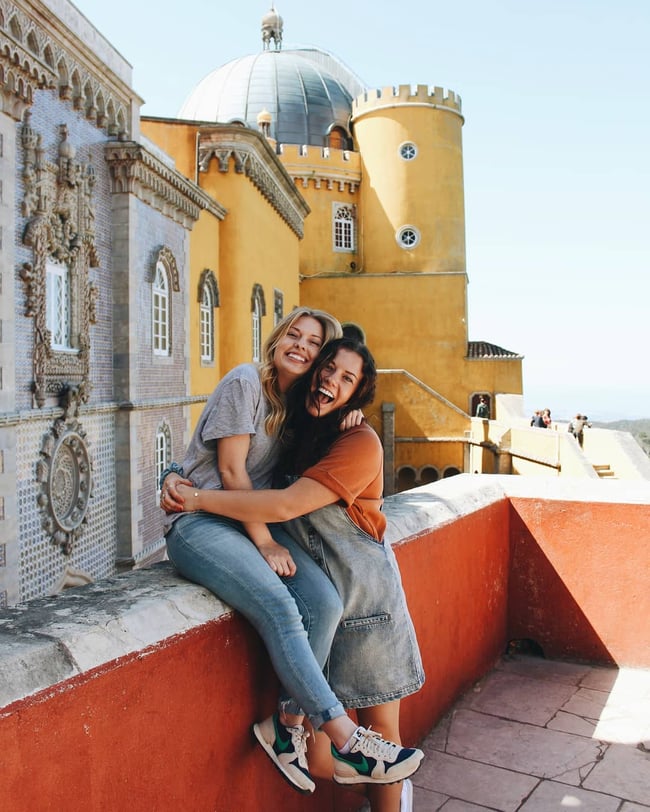 The Charm Of Obidos
Found just an hour outside of Lisbon, there are a few reasons why Obidos makes our list of highlights in Portugal. First, the Pousada castle — it's an imposing, late Gothic structure that's since been turned into a boutique hotel (but has roots from the 700s). The ramparts curve around the city, encircling a network of cobblestone streets, white-washed buildings with red-tile roofs. The effect is incredibly picturesque and imposing, especially since this town, by comparison, is so small and charming.
Apart from the castle, highlights include wandering around the streets, appreciating the many libraries (there are about 3,000 inhabitants in Obidos, but the city is home to over half a million books!), admiring St. Mary's church, and shopping at the various galleries and little stores.
Obidos also has an endearing history (it was a wedding gift from King Denis of Portugal to his wife in 1282) which really rounds out the charm of this place.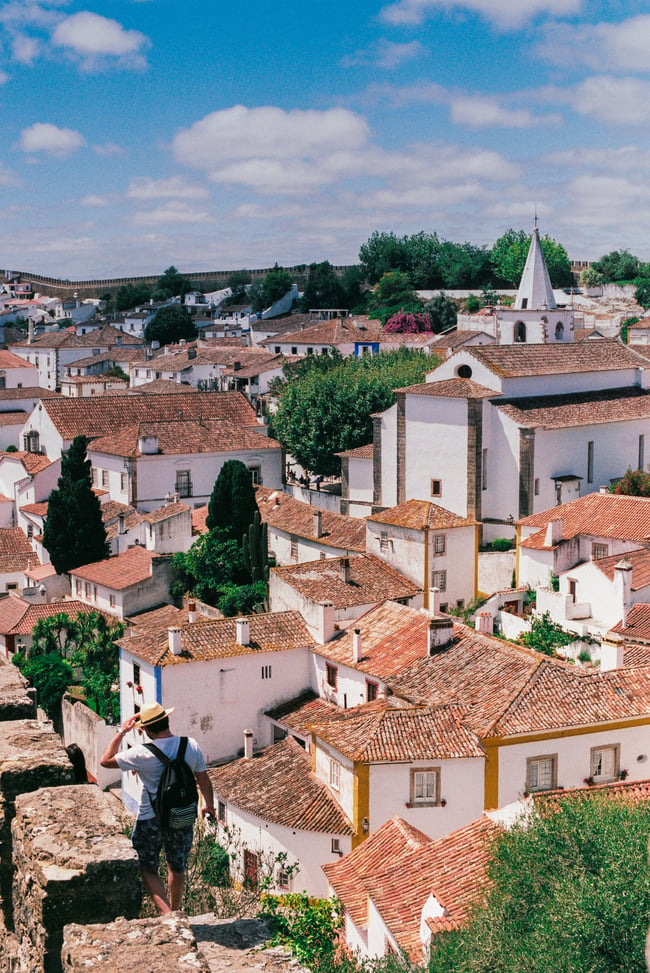 Castles (and Beaches) In Cascais
Can't decide between whimsically beautiful architecture and the beach? Cascais is another one of those cities which luckily has both. For the castle side of things, head to the Museu Condes de Castro Guimarães — a collection that includes an expansive library, a Gothic Tower, quite the museum on the inside, complete with sections painted a canary-yellow color. It's just one of the buildings to admire in Cascais, along with the imposing orange towers of Casa das Historias Paula Rego ... and the blue and white-striped lighthouse, next to the Santa Maria Fort. Can you see why this is on the list of colorful castles, palaces, museums, and lighthouses?
But the beaches in Cascais are also a hot spot for visitors. There are a few around, but Praia da Rainha stands out as a "picture-perfect" beach with soft sand and calm turquoise waters. It can be a bit windy, but the miles-long beach of Praia do Guincho is another favorite to check out. Boca do Inferno is a pick for beautiful views, particularly at sunset — it's not a swimming beach, but a collection of limestone cliffs and archways that frame the blue water.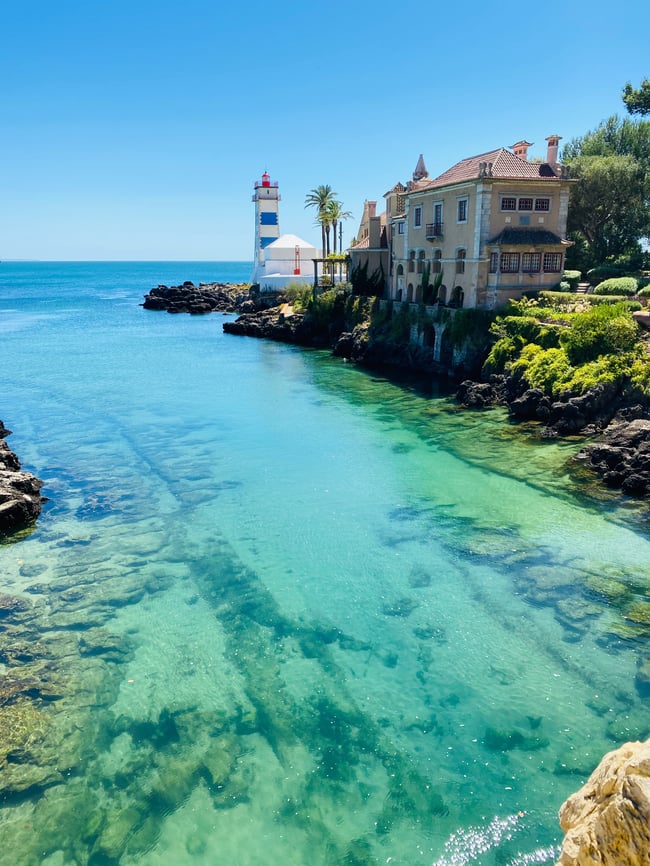 Go Here For Beyond Beautiful Beaches
Portugal boasts over 1,000 miles of coastline, but the best beaches (by the dozens) are found in the south, in the Algarve region.
There are a smattering of beaches claiming to be "the best" but we're highlighting some cities that have a cluster of beaches worth visiting or are particularly pretty or unique (and have a list of a few other stand-alone beaches below):

Picture-Perfect Beach Days In Lagos
With Lagos situated right on the water, you'll want to plan days full of lounging at the beaches ... and finding a view where you can stare at foamy turquoise waves crash into the jagged cliffs. This place is beyond pretty, with more than a few beaches to visit, like Praia da Marinha where cliff views, rock caves, and crystal clear water is waiting for you. Or, maybe relax on the chill shores of Praia Dona Ana or Praia do Camilo after seeing the most famous viewpoint in the city: Ponta da Piedade.
Time in Lagos means hopping around to a dozen different beaches, soaking up the sun, renting kayaks, long dinners at seaside cafes, and wishing you lived here instead of just visiting on vacation. Get more details about your trip to Lagos, here.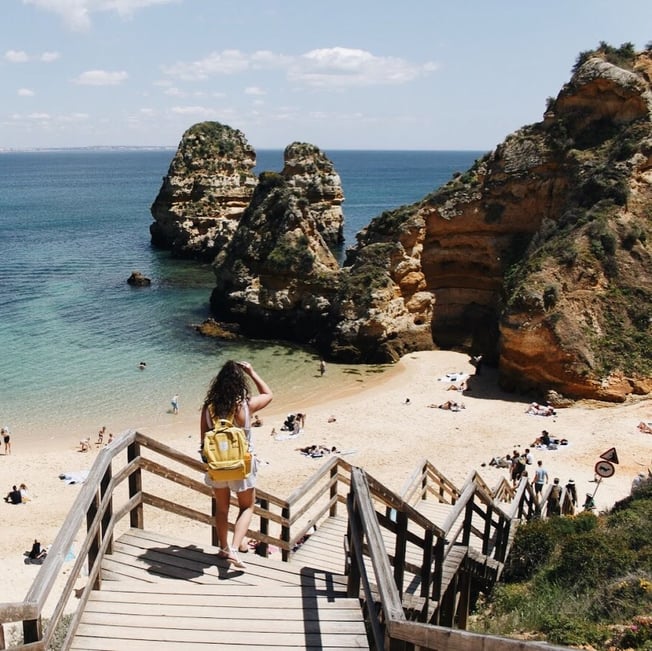 Beaches Galore In

Portimão
Similar to Lagos, you'll find a stunning selection of beaches to keep you busy when you visit this part of Portugal. Portimão is known for miles of coastline boasting some of the best beaches in the country. A few standouts include Praia de Alvor, Praia dos Três Castelos, Praia da Rocha, Praia dos Caneiros, and a handful of viewpoints that have gained thousands of reviews on Google.

As one of the largest towns in the Algarve, you'll still see remnants of Greek and Moorish influences if you make it into town. The waterfront and the Igreja Matriz de Portimão church are the highlights of the city, but most tourists plan on beach hopping all along the coastline while in Portimão.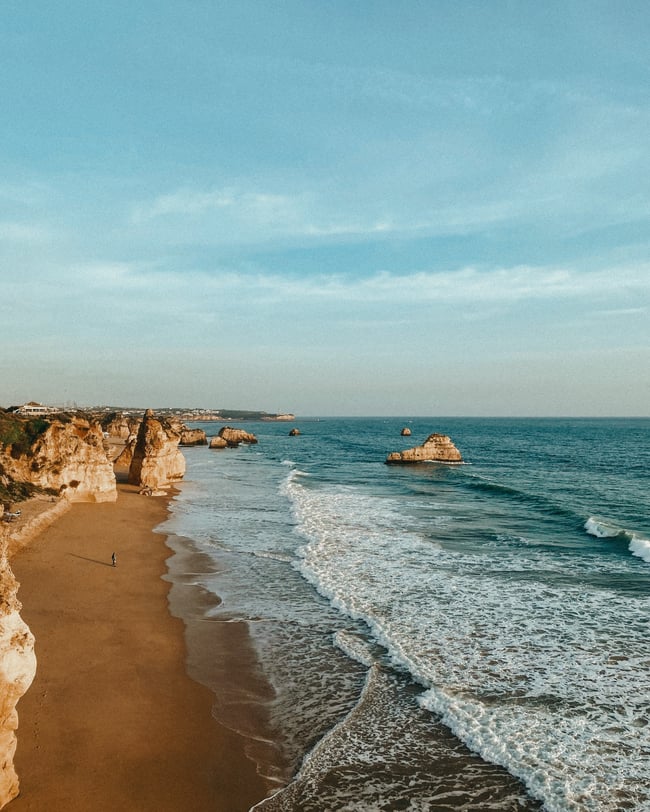 The Sea Caves Of Benagil
Add a unique twist to your beach day in Portugal by visiting Benagil — you'll see a string of seaside grottoes along the southern coastline, but with a twist. One of the main caves has archways carved out by the waves, and erosion has illuminated a skylight in the ceiling, meaning golden light pours into this cave, filled with golden sand and lapping turquoise waves.
It's popular to visit in the summer months, where boats will take tourists out to admire the caves from the ocean, but some kayakers and paddleboarders can reach the archways and paddle into the cave's interior (which makes for a stunning picture). You can book a tour that'll take you through for around 35 euros for the kayaks, and 50 euros for a paddleboard rental.
Apart from this main attraction, there are a couple of very notable beaches you can enjoy just by making your way down to the coastline, and down some steep stairs to reach Benagil beach. Nearby Praia da Corredoura is also stunning.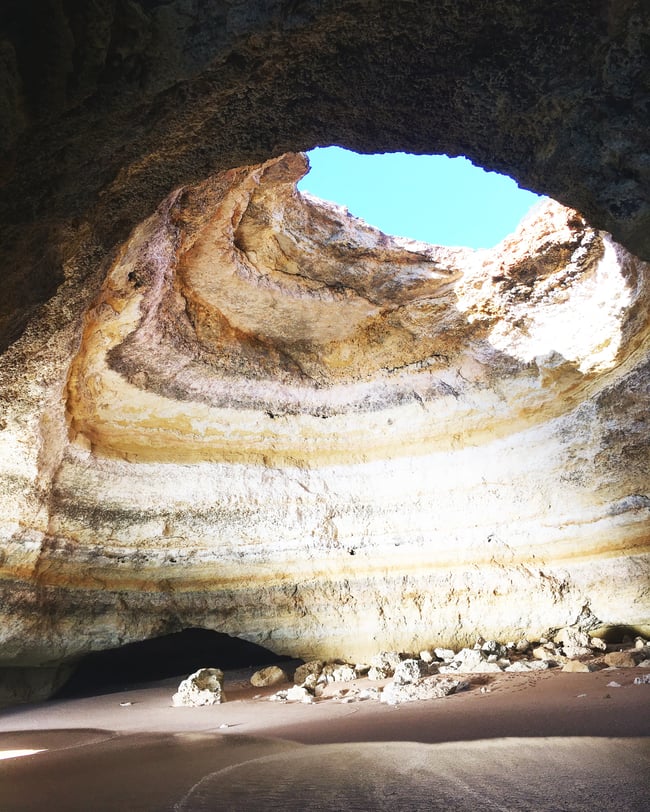 + A Few Others
Like we mentioned, Portugal is home to oh-so-many beaches, with quite a list that are absolutely stunning. We're big fans of spending time in Faro for beaches (and a couple of other cities we mentioned), but if you're wanting even more beach time, here are some of Portugal's prettiest:
Praia da Falésia (East of Albufeira)

Sao Rafael Beach, Albufeira, Algarve
Praia da Ribeira do Cavalo (Near Sentrão)
Praia de Odeceixe (In Odeceixe)
Praia do Baleal (Near Lisbon)
Praia da Santa (West of

Salema)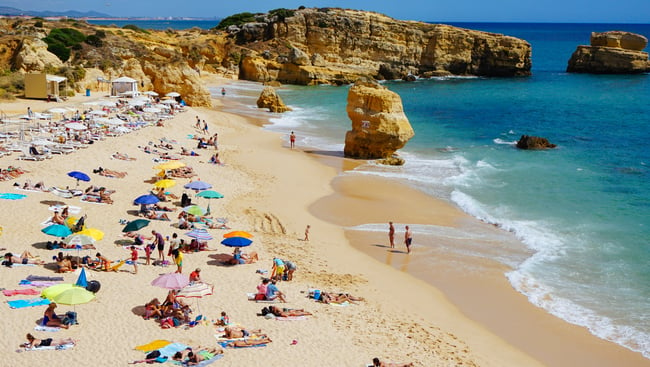 Visit These Spots For Pretty (Pretty) Cities
Red Roofs In Porto
How about a coastal town that's made for strolls at sunset along the river or taking hundreds of pictures of the stacked hillside houses (all with a jumble of red terracotta rooftops?) While this city is found right on the coast, the city really steals the show (though it's easy to take a day trip to a very nice beach if you need some time in the sun).
But if you're needing a beyond charming city, Porto is what you're looking for, the Portuguese city that has charming gelato shops to taste, pastry shops galore, and some of the prettiest buildings I've ever seen pictures of. Take a boat ride up and down the curving river, photograph churches and train stations adorned with blue painted tiles, peek into the Harry Potter library, and more before you leave this gem.
We think you'll really love your visit to Porto.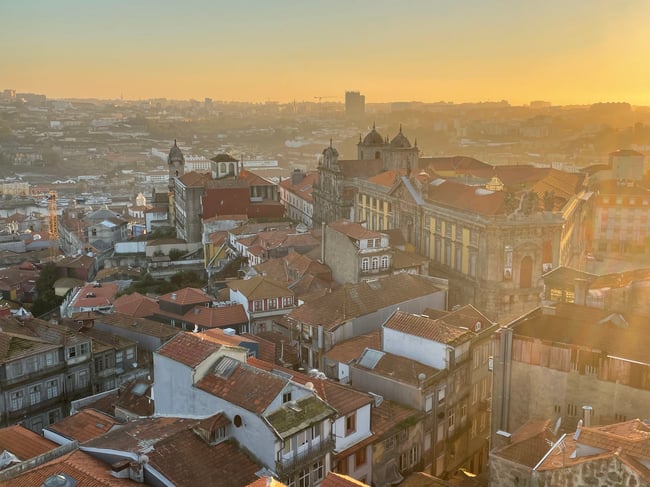 All The Things In Lisbon
Situated on the coast, the rolling hills of this capital city are lined with some of the country's most stunning architecture, captivating history, and charming cafes. Some notable highlights for your time in Lisbon include the fairytale-esque Torre de Belem, the views from the intricately designed Santa Justa Elevator, and some absolutely charming neighborhoods. Make sure to ride the historic tram 28 in and out of the neighborhoods, wander around the colorful and photogenic Alfama district, and eat more than your fair share of food.
Lisbon is also home to stunning viewpoints, intricate palaces and plazas, as well as day trips to a whole list of cities. Oh, and the nearby beach (Praia de Carcavelos) is also worth a visit if you need some beach time. See why Lisbon is definitely a spot to add to your Portugal list?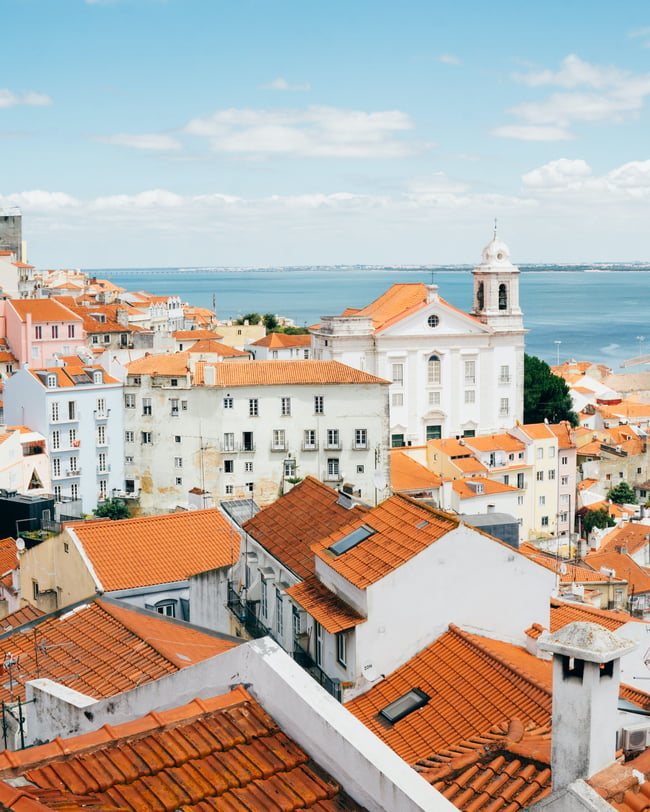 A Few Surprises In Coimbra
Found between Porto and Lisbon, there are more than a few things to pull you to Coimbra. First, the university is nothing short of spectacular. It's the oldest in the entire country and doesn't even begin to resemble where I went to school — you'll probably feel the same unless you went to school that's hundreds of years old and has a stunning courtyard, a Baroque-style library, and other details that make this a UNESCO site.
The Old Cathedral is another way to step back in time, with a green grass courtyard, and a decorated cloister (complete with vaulted barrel ceilings and ornate archways). After visiting the Old Cathedral, have lunch in the Old Town, before visiting the New Town. Have more time in Coimbra? Of course you do! You wouldn't think of skipping out on the New Cathedral, the botanical gardens, or the monasteries in this city, now would you?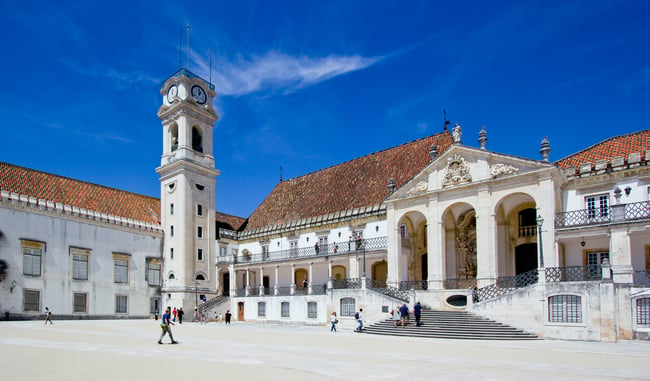 Top Sites To See In Braga
Just one more of Portugal's many, many cities to add to your list: Braga. It's one of the country's oldest cities — actually, the oldest city — with so many photogenic spots. Are you going to spend time near the exquisite Santa Barbara gardens next to the medieval fortress? Or match the blue tiles of the Raio Palace? Be sure to admire the Benedictine monastery of Sao Martinho de Tibaes? Fans of architecture will gush over the Baroque, Romanesque, and Gothic towers, churches, monasteries, and more. The effect of these buildings means an incredibly "European" experience full of older-than-old structures lining cobblestone streets, narrow alleys, and opulent gardens.
In any case, there are too many beautifully unique buildings in Braga to see in a short trip — meaning you should probably plan a couple of days here, especially if you want to take a day trip to another favorite city: Guimarães.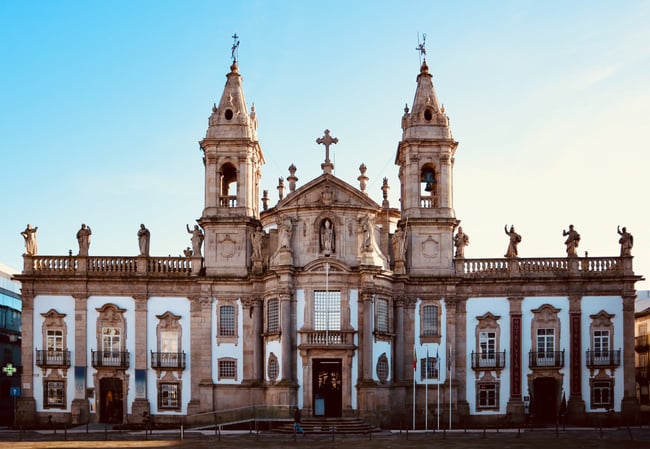 + A Couple Of Wildcards
There's even more to brag about when it comes to Portugal. Yes, you have the top picks for beaches, castles, and cities above (with their fair share of history, foodie options, and other highlights) .... but there is still so much more for this country. Even with these added wildcard options, know there are so many other Portuguese cities you're bound to fall in love with.
The Huge Waves In Nazaré
This Portuguese city used to be a sleepy fishing village, it's now one of the most famous, due to the beaches here. Nazaré is world-famous for the absolutely massive waves that hit the coastline in the winter months — it's a pull for daredevil surfers who want to ride waves that are 70, 80, 90, or even 100+ feet tall. If you want to come to watch, head here from October to March (and track the swells to make sure you don't miss the big ones). Watch from the Farol da Nazare lighthouse, which overlooks the Praia do Norte beach (home of the big breaks).
However, even if you're not here to surf, it's still a popular place to visit in the summer. The waves are much smaller, mild, and swimmable — it's a popular, resort-filled getaway, thanks to the golden sands and beautiful water. Popular beaches include Praia do Sol, Praia da Nazere, and Praia do Norte (though they're supposedly not the very very nicest in Portugal, hence its standing in the "wildcard" section, but they are nice). But if you visit, plan on lounging on the warm sand, renting kayaks or paddleboards for the day, and eating your fill of Bola da Berlim: custard-filled donuts.
Find What You're Looking For In Funchal
Found on the island of Madeira, Funchal is a city full of towering cathedrals and monasteries, a delightful Old Town, views from a cablecar, and a tropical garden that looks like it's out of some sort of storybook. It's lush and tropical, complete with waterfalls along with a mansion-like palace. The waterfront is also a spot to spy dolphins splashing in the waves for a bit more to add to your Funchal list.
Funchal also boasts a charming Old Town, a historic smattering of cathedrals, a farmer's market full of tropical fruits, and the chance to zoom down the streets in a wicker sled (no joke).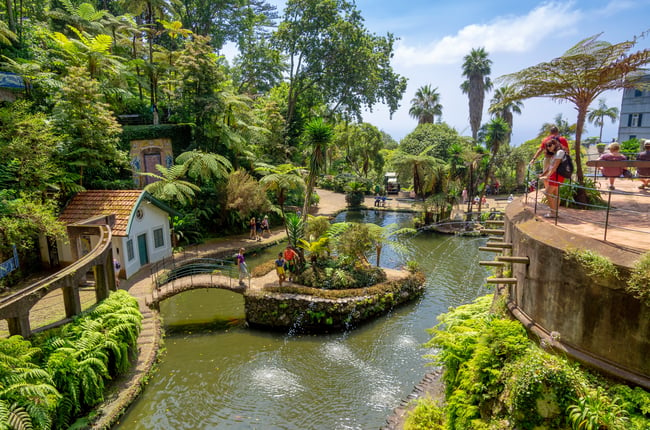 Can't wait to get to Europe?
Come volunteer with ILP! We've been sending groups of college-aged volunteers to countries all over the world for a semester of teaching English or helping in an orphanage. Volunteers go in a group, with weekends off, vacation days, and time during the week to do a whole lot of traveling.
Get a peek at what our program is all about, on Instagram.