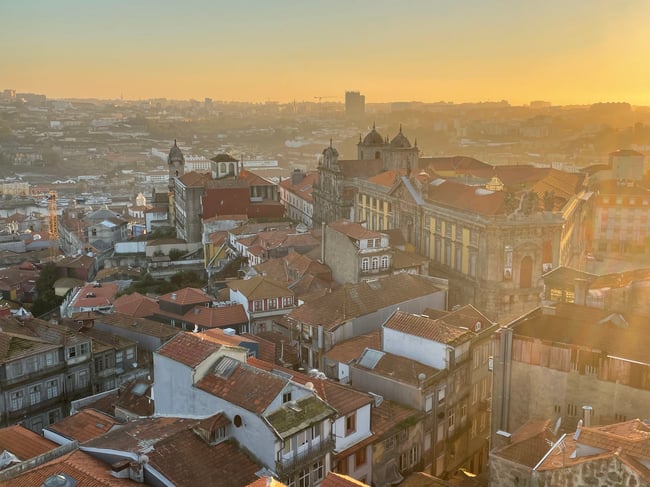 We're not quite sure why Portugal isn't on every single person's travel list, but we think you'll be adding it to your itinerary once you catch a glimpse of Porto.
Are you looking for your newest European obsession? How about a coastal town that's made for strolls at sunset along the river or taking hundreds of pictures of the stacked hillside houses (all with a jumble of red terracotta rooftops?)
Porto is what you're looking for, the Portuguese city that has beaches nearby, charming gelato shops to taste, pastry shops galore, and some of the prettiest buildings I've ever seen pictures of. I have a sinking suspicion ILP volunteers are going to want to spend all their time in this country once they read about the city of Porto.


---
I spent a whole semester living and traveling around Europe
All about being a volunteer with ILP
---

Come see why Porto is the city of your dreams (it's all you'd think about a picture-perfect coastal European city) ... plus, it's just a short train ride to some of our other favorite places in Portugal. Below, you'll find all the details you need so your trip to Porto is perfectly planned:
Must-See Spots In Porto
Cruising The River
The Douro river is just as big of a part of Porto as the land side of the city, and taking a river cruise is easily one of the most popular things to do here. You'll find vendors selling tickets right on the waterfront so finding a tour to take shouldn't be an issue — you just need to decide between the two kinds of tours available.
Some tours are full-day adventures, with boats taking you to the Duoro Valley, famous for rolling vineyards that produce Port wine. Others are a 1-hour commitment where you'll pass all six of the city's bridges and head up to the mouth of the Duoro River. Some of these shorter tours are conducted on traditional-style boats that used to transport wine barrels.
Like we mentioned, finding a tour shouldn't be an issue: there are vendors with signs advertising their prices right on the boardwalk. Some have a combined ticket (18 euros) that includes a 1-hour cruise and a ticket to a nearby interactive museum (just the cruise was priced at 14 euros) to give you an idea of what's available.
Oh, and there is a bit of shopping around the river if you find you need to kill some time before your cruise leaves. Find little 1 euro souvenirs like magnets or pins, as well as other items like paintings of the colorful buildings behind you, balloons, beautiful "Porto" printed tablecloths or kitchen towels, woven baskets, scarves, clothes, jewelry, etc.
See The Conjoined Church
Igreja do Carmo and Igreja dos Carmelitas aren't just one of the most impressive structures in Porto but may have one of the most fascinating side stories. If you look closely, you'll notice that this building is actually two conjoined churches, barely separated by what is actually a tiny little house, just 1 meter wide. The house was constructed to separate the monks and the nuns (and yes, someone actually lived inside until the 1980s — it has a front door, a little kitchen, a tiny bedroom, etc). It's an interesting story to accompany two amazingly beautiful churches.
When visiting Igreja do Carmo (the church on the right, if you're staring head-on), don't forget to walk to the side to see the white and blue tiles it's famous for. The whole wall is completely covered in beautiful azulejo tiles that depict the story of the church, adding a level of detail and ornamentation to this Rococo church. Inside, admire an interior filled with gold ornamentation and oil paintings. Now, onto its very near neighbor, Igreja dos Carmelitas, the church found on the left. It has a bit of an earlier history (and was the place of worship for the nuns of this religious order) and is home to a beautifully restored organ and a granite facade topped with statues.
Both churches are free to visit, with tickets to visit the catacombs and museum (to the hidden house, the Casa Escondida) available through the Igreja do Carmo.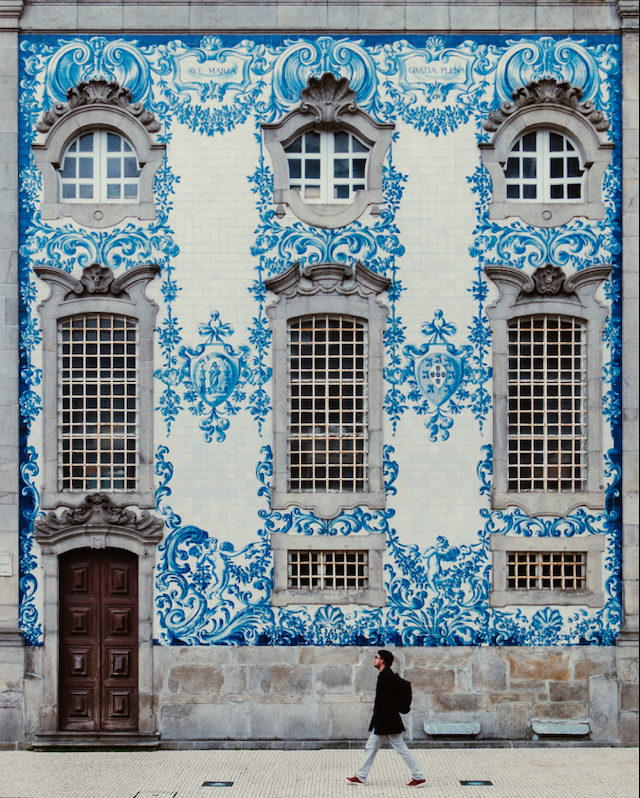 Plus A Few Others
Like any European city, there are tons of churches to explore, but we've narrowed things down in case you don't have the time to peek into every single one you pass. (The titles of the churches are hyperlinked to their address and location to help you find them easily).
São Francisco Church — we love the architectural style of this church (Baroque and Gothic) but inside is really the show stopper. Peek in to see an interior dripping with gold.
Iglesia de San Ildefonso (Church of Saint Ildefonso) — this church is another spot to admire the painted azulejo tiles, which are such a crucial part of Portugal's history and culture (and architectural style). The Chapel of Souls is another church that integrates azulejo tiles.
The Clérigos Church — climb up the church's bell tower for an amazing view of the city. If you're up for a 200+ step climb, of course. It's a total highlight of the city if you want a good vantage point.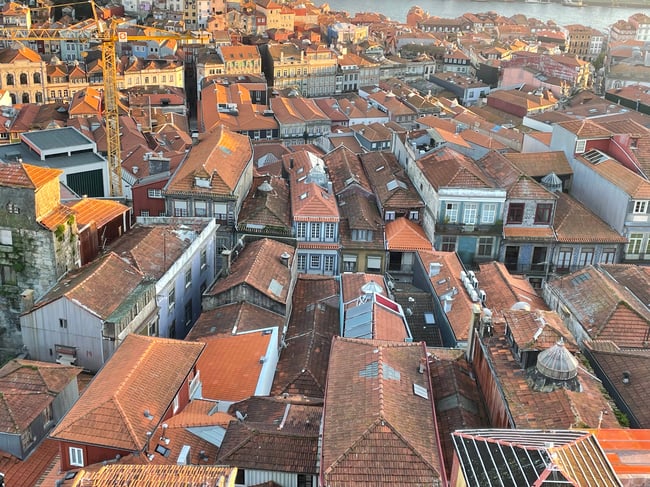 Gawk At The Palacio da Bolsa
This may be the prettiest building in all of Porto, which is rather impressive if you see the other locations on this blog post. Built like a lavishly impressive and beautiful palace, this 19th-century building was initially constructed to be a financial hub ... something you would never guess when looking at the pictures of this place!
Highlights include a glass-domed ceiling, the amazing detail found in the Arab Room (a must-see), and intricately designed wooden floors. Tours are available for 10 euros and can be booked here.
Address: R. de Ferreira Borges, 4050-253 Porto, Portugal

Hours: 9:00 AM to 6:30 PM
Time At The "Harry Potter" Library
Officially known as the Livraria Lello, it's one of the oldest bookstores in Portugal ... but that's only part of why tourists come to visit. Supposedly, JK Rowling spent quite a bit of time here when she was living in Porto as a teacher and may have used some of the fantastical architecture to inspire elements of Hogwarts and maybe even some stores in Diagon Alley. The place is magnificent, with a stained glass ceiling, a spiraling staircase that splits off in multiple directions, and towering rows of books on either side of you.
This place gets extremely busy and it's recommended you come first thing in the morning if you want to see this place without swarms of people.
Cost: 5 euros (book a ticket in a time slot,

here

)

Hours: 9:30 AM to 7:00 PM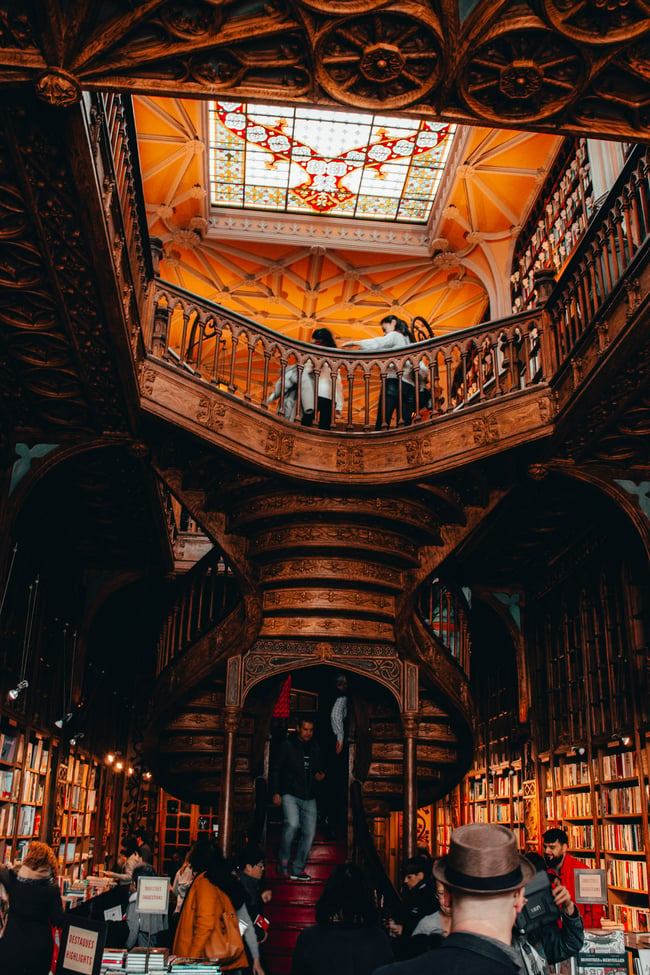 Wandering The Riberia
A huge part of the Porto experience is the architecture and history, which both can be appreciated when you take some time to walk around Riberia, one of the oldest neighborhoods in the city. The streets are exactly what you're looking for in Europe: narrow, cobbled, and framed by towering buildings painted in a smattering of different colors and styles. While it's best to wander without much of an itinerary, do keep an eye out for the Cais da Ribeira, a street along the waterfront which was the spot for Porto's trade back in the day. Now those old warehouses are now trendy cafes, eateries, and shops. Miradouro da Vitória is another spot to make time for — from the top, you can get a perfect view of the red tile rooftops and river at sunset.
You'll need to do a bit of walking to cross this element off of your Porto list, but you can save your feet from the uphill climb back by taking the Funicular dos Guindais. Find it under the Dom Luis I Bridge (tickets are about 2.5 euros).
That bridge is also something to point out. If you've been to Paris, you might recognize the iron framework of the Eiffel tower as something similar to the bridge, which was designed by one of Gustav Eiffel's students. The walk across the top deck has some spectacular views that aren't to be missed.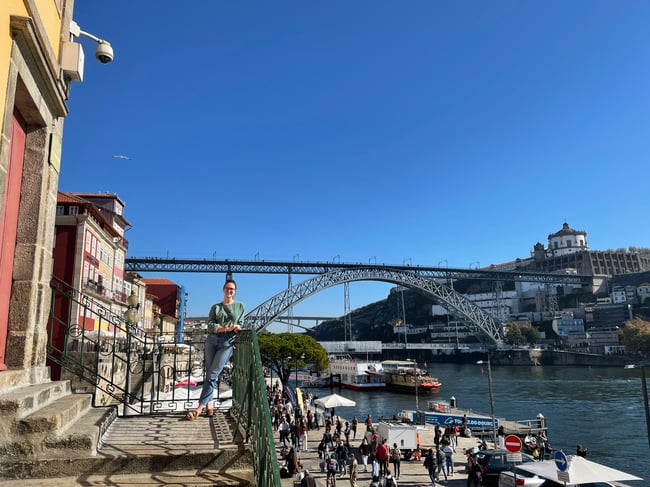 Monastery of Serra do Pilar
If you're across the river, make time to visit this sunset spot — it's quite the landmark, with an interesting bit of history. The 16th-century church and cloister was designed as a replica of the Church of Santa Maria Redonda (found in Rome, Italy) and took decades to build, thanks to funding issues while Portugal's Kingdom was flip-flopping between Portugal and Spain.
It's been an important building since its completion, serving as an improvised fort in 1832 during a siege and later as army barracks during the 20th century. Now, it's a UNESCO site and "the spot" to take in the sunset. It's also a place to soak up some stunning architecture. Tour the cloister and exhibitions for one euro and pay three euros to climb the bell tower if you're looking for a 360° view.
Find it: As mentioned, it's across the river, so best to walk up after you cross the Dom Luis I Bridge. It's about a 5-minute walk.

Hours (to visit the interior): 10:30 AM to 6:30 PM. Closed Mondays.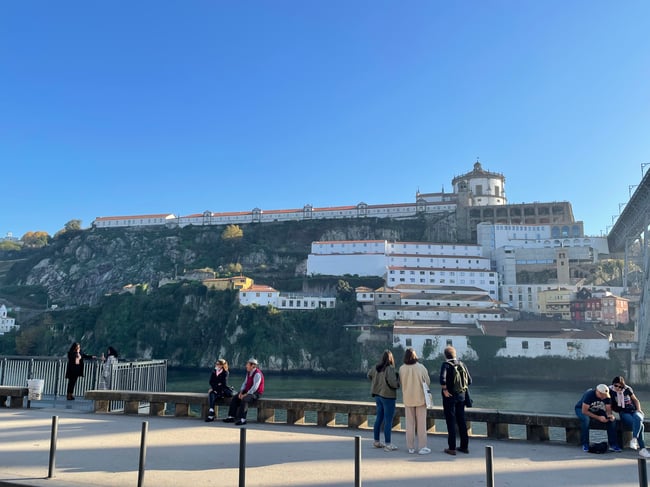 Things + Places To Eat
Food is a major highlight of Porto ... enough to have it be a "thing" on your itinerary. If you'd like to settle in the local life, plan on visiting several cafes and sitting outside for a leisurely breakfast of pastries and a drink, long lunches in the sunshine, and dinners that last long past the sunset. There are also a few dishes that are local specialties, like the Francesinha (an absolutely massive sandwich filled with steak, ham, and sausage, all covered with cheese and a soft egg), bacalhau (codfish), grilled octopus, and other seafood options, as well as a pastry you can read all about in a second. Yum.
We have a few highlights to make sure you get to taste some of the local flavors this city is known for:
Eat Tons Of This Particular Pastry
Pastel de Nata is a delicious pastry — a thick and sweet custard with a touch of cinnamon is poured into a flaky crust, and cooked until you have these characteristic dark brown spots splattered across the top. They're addictive, and a must-eat when in Portugal. This country is famous for them! You will find bakeries all over Porto serving these yummy things, but there are a few to know (we've hyperlinked the addresses via Google to make getting here a cinch):
All The Ice Cream Places
We love ice cream, and so does Porto. You'll find gelaterias sprinkled all over the city, which means there's little excuse to not having a couple of scoops while you site see. Though there are many all around but Santini, Amorino, Gelataria La Copa, and Cremosi - Mouzinho are just a few with some rave reviews.
Where To Snag Lunch Or Dinner
There are a string of restaurants on the boardwalk right by the river, with tons of menu options that would make for a picturesque lunch or dinner. They can be a bit touristy, but it's all part of the experience, right?
If you're looking for a more authentic experience, there are a few places tucked away in the alleyways that come recommended. One is Adega São Nicolau, a place that kinda feels more like a cozy home with traditionally made Portuguese food, rather than a stuffy restaurant.
To try Francesinha (that ultra indulgent sandwich), a few more restaurants pop up, like Cafe Santiago, or Cervejaria Brasão. Other options for great food not found on the more touristy boardwalk include tascö, Lareira - Baixa, and Abadia do Porto ... just to name a few! Are you getting the vibe that there are a whole smattering of yummy restaurants in Porto? It's just another reason why we love this place.
Get A Snack At Bolhão Market
You'll find street vendors selling all sorts of goodies outside of the market, but inside is where you'll find fresh fruits and veggies, local cheese, and bread, along with other local favorites. It's been a crucial part of Porto since the 1850s and underwent restoration starting in 2018. At the time this post was written, it's still under restoration but temporarily located at Rua Fernandes Tomás.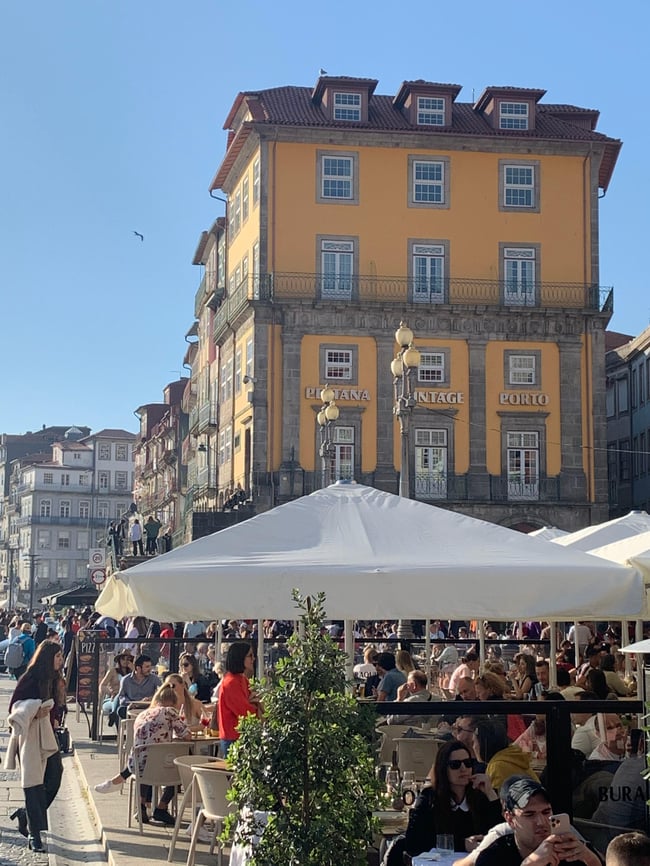 Nearby Trips To Take
The Beaches
If you're visiting for more than a weekend, you have time to see the highlights of Porto and have a beach day. The entire city of Porto is found along a gorgeous coastline, with more well-known beach getaways on either end, but you can still reach some sand rather close to the city's limits. One thing to know? The water here is a bit cold, unless you're here in the peak of summer which does bring larger crowds. However, even in the shoulder seasons, the beaches are a lovely way to soak up some sun and spend time on the sand (or take a dip if you don't mind the semi-chily water).
Here are a few to check out, though there are dozens dotting the area.
Praia de Leça da Palmeira is one of the most popular, with a pretty beach and a nearby swimming pool you can visit if you'd rather not take a swim in the ocean. Like the others on this list, it's a short ride away from Porto via public transport (just hop on a bus and you can make it here in about an hour).
Matosinhos: This neighboring beachside city is quite an escape, boasting sandy beaches, surf lessons, and amazing seafood. The town itself is also worth a visit, especially if you take in the sites via rented bicycle. It's a 40ish minute bus ride from Porto.
Praia do Senhor da Pedrha is known for a scenic church found right on the sandy shores, as well as the nearby beaches of Sãozinha, and Miramar ... it's the same stretch of shores, just named a bit differently for each beach. Go figure. All of this is found to the south of Porto and is just a short bus ride away.
Praia de Canide Sul is another favorite, known for kitesurfing, surfing, and a boardwalk perfect for a seaside walk or bike ride. Find it just an hour or so away by bus from Porto.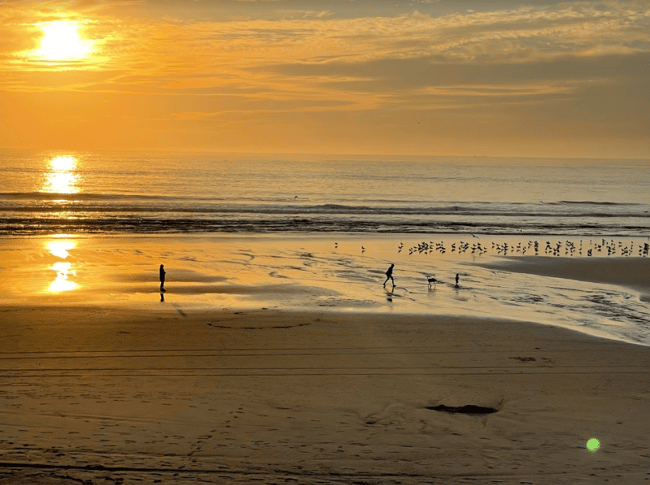 Aveiro
Didn't quite make it over to Venice but still want the beautiful canal experience? Take a day trip to nearby Aveiro, a colorful city with a network of canals and boat tours. Aveiro is easily reached from Porto via train and makes for a great way to break up the trip between Porto and Lisbon if that's your itinerary.
Guimaraes
Another city we're pretty smitten with, especially for those who love history — it's sometimes called the birthplace of Portugal. Guimaraes is sprinkled with a towering castle, stone churches, a colorful city center, picturesque streets, charming cafes, and more. It all contributes to a city that's incredibly picturesque, with classic European touches like cobblestone streets, little family-run stores, and buildings that are hundreds of years old. Make sure to make time to see the castle, the historic buildings along the Rua de Santa Maria, and the courtyard of Museu Arqueológico Martins Sarmento. The Igreja de São Francisco is also worth seeing, same with the sites if you take the cablecar up to Monte da Penha.
Luckily, you can reach Guimaraes easily via train from Porto, making it a pretty unmissable day trip (or longer — there is so much to see here). Trains leave from São Bento or Campanhã and the ride takes about an hour.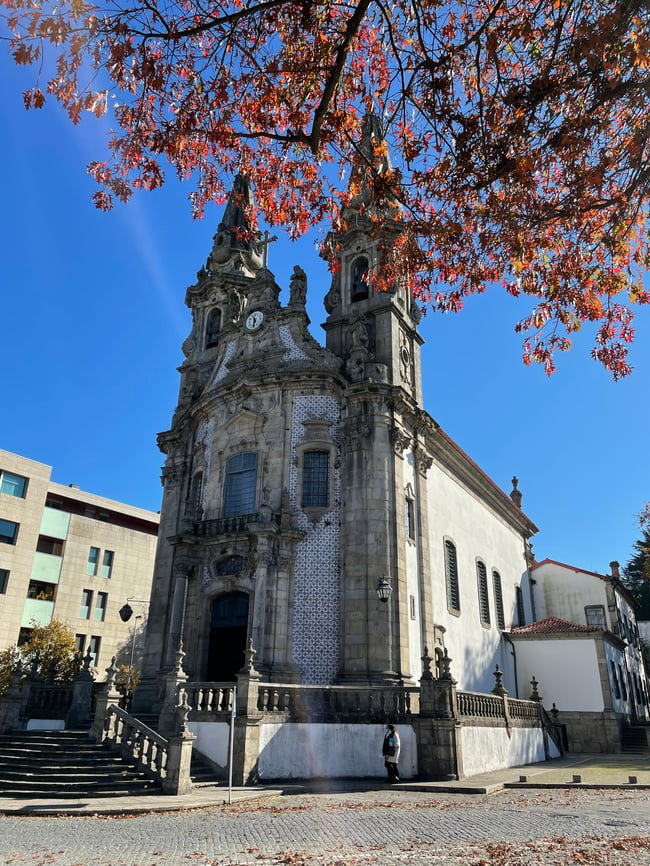 Getting To Porto + Getting Around The City
Snagging A Cheap Flight
If you time your trip right, you can sometimes get killer flights to Porto from various cities in Europe. It is a hub city for Portugal, with flights from budget airlines like Easy Jet, Ryanair, TAP, Transavia, and others. Just a quick search pulled up flights from Spain, Germany, Austria, Italy, Romania, Ukraine, Poland, and tons others for less than or around $50 USD. Score.
A taxi or the Porto metro can take you to the city center. A taxi ride will cost about 20 euros, while a metro ticket will be about two. The airport is about 10 miles outside of the city center.
Travel Here By Train Or Bus
Easily done if you're already in Portugal. If you're in Lisbon, Faro, Coimbra, Braga, etc., you can visit Porto via the Alfa Pendular. It's a high-speed train with daily routes and free WiFi. We also like booking on Omio for other train and bus routes from these cities and others in Portugal, as well as routes from nearby locations, like Spain.
Even if you're not traveling by train, popping into the Sao Bento railway station is like visiting a museum. Part of the station is covered with thousands (around 20,000!) of handpainted tiles that display scenes of Portugal's history. You'll find more of these tiles at the Porto Cathedral and the churches we mentioned above.
Getting Around Porto
Porto is easily navigatable by foot, especially if you're into just wandering around for an afternoon, stopping wherever catches your attention (quite a bit of the experience here is enjoying the vibe and sites of the city, after all).
Porto does have taxis, buses, and a metro to help you see the entire city if you'd rather not walk (we love mapping our routes out via Google Maps). If you do want to see the city's sites that are a bit spread about, you may want to consider getting the Porto Card. The card will give you access to public transport, lots of discounts and even some free passes to places around the city. They have one to four day options depending on how long you're visiting.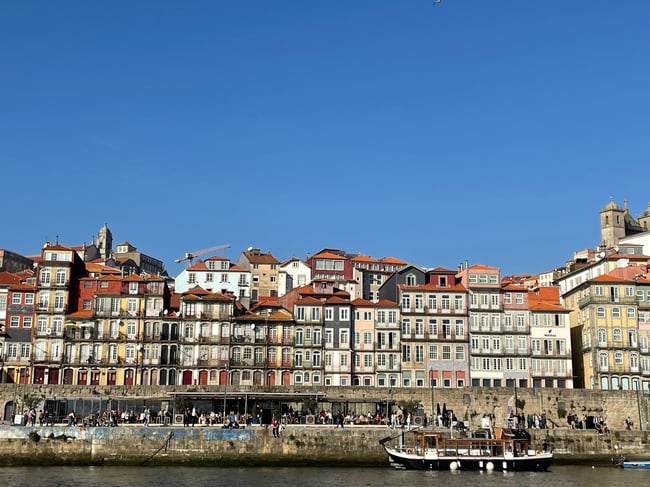 Looking to spend time in Europe?
Instead of just traveling and visiting Europe, how about something better? Come make a difference and serve while living there for a semester abroad with International Language Programs (ILP).
We're sending groups of college-aged volunteers for a semester of teaching English (on a part-time schedule), with vacation days and weekends off. You're set up with a group of friends from the US and Canada to travel, teach, and adventure with. Come learn more!