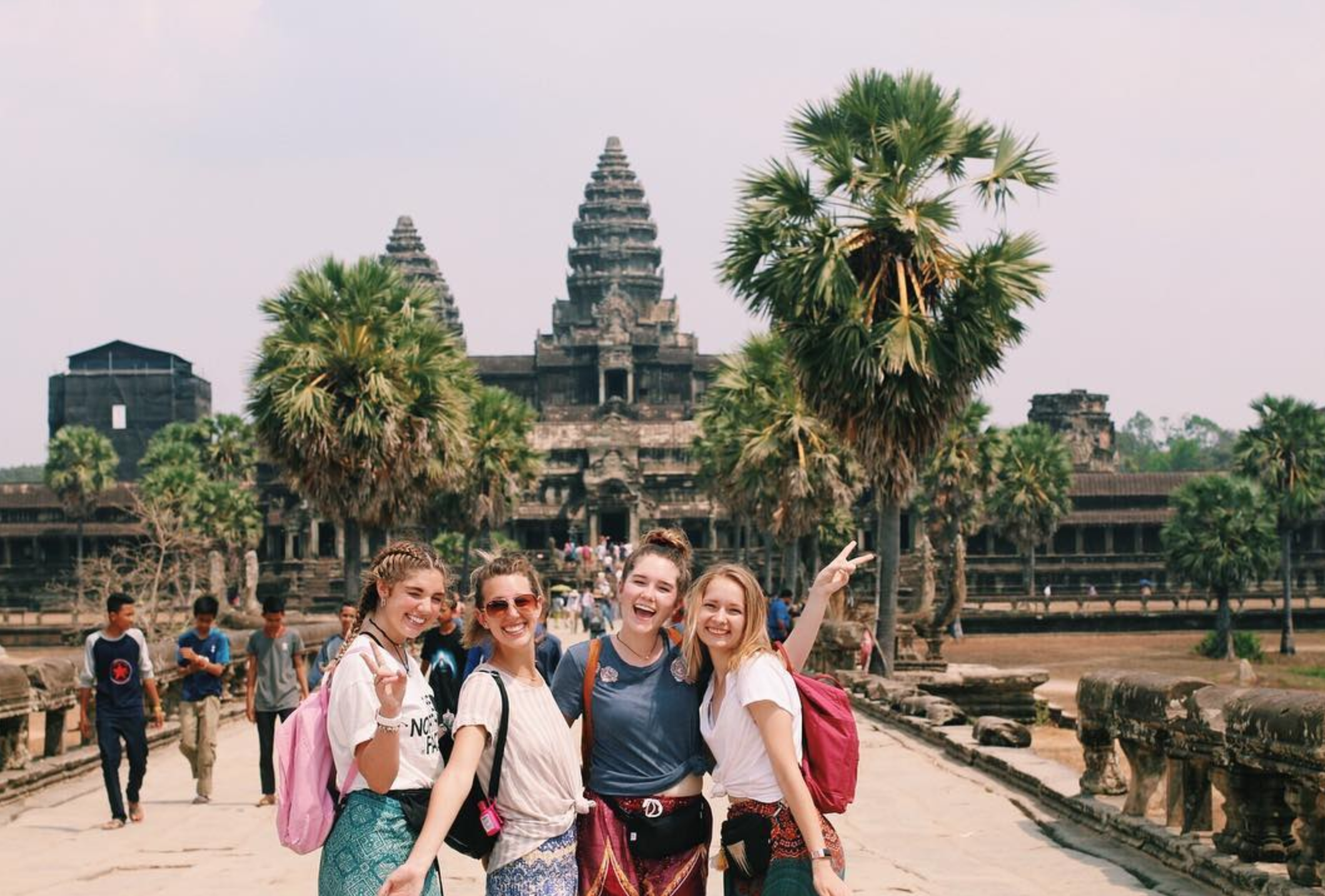 Come to Siem Reap to see Angkor Wat, trek to a waterfall-and-temple-filled jungle, and more — find all you need for a visit to this part of Cambodia in this post.
If you want to see the impressive temple ruins of Angkor Wat, you'll probably want to base your trip in Siem Reap ... which is good news for you. This Cambodian city is a jumping-off point to a few adventures in and outside of the city. See why it's such a popular vacation spot for our ILP volunteers?


---
Spend a semester exploring Asia as an ILP volunteer
All about teaching English in Thailand
---

Siem Reap is a dazzling collection of the nation's history, home to an array of impressive Buddhist temples, winding waterways, museums detailing the city's past, plus a few adventures like exploring ruins, hidden waterfalls, and floating villages. You'll want to spend around 3-4 days here (following all the tips below).
Top Attractions
Angkor Wat
Cambodia is a top-vacation spot, mostly to visit Angkor Wat — a huge complex that's visited by millions every year. The temple complex was initially built as a Hindu temple but later became a Buddhist temple at the end of that century. The area covers 400 square kilometers and is crammed full of over 45 temples. Plan on spending a very full day seeing all of the highlights!
Get the details on visiting Angkor Wat here. The post has ticket info, advice on seeing the top sites, and a few other helpful things to know.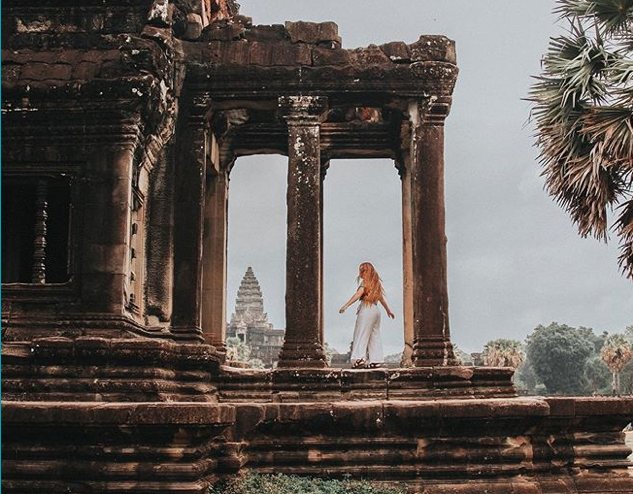 Siem Reap Art Center Night Market
I love the night markets in Asia, and you'll find the best of the best at the one in Siem Reap. It's a maze of 250 shops and stalls where you can grab something to eat (smoothies, fruits, desserts, skewers, etc) or something to take home if you're shopping for souvenirs. Find Khmer art and jewelry, artwork, silk scarves, t-shirts, purses, wooden carvings, those printed elephant pants, bracelets, lacquerware, and more.
Hours: Nightly, 5:00 PM - 12:00 AM

Address: 17000 Hospital St, Krong Siem Reap, Cambodia
Time For A Cooking Class
Get a taste of the local food here with a cooking class. I love trying out favorites at local restaurants (more on recommendations below) but coming home knowing how to make these dishes are kinda the best souvenir if you ask me.
There are a few cooking classes to choose from around town. It's a popular half-day thing to do. Plan on around 3ish hours to visit a market to shop for groceries, then cooking up favorites like traditional dishes full of curried chicken steamed in banana leaf. Come hungry because you get to eat everything you cook! Here are a few recommendations to check out, but just know there are others if you'd like to do your own research.
Le Tigre de Papier Restaurant (they have a cooking workshop)

Lily's Secret Garden Cooking Class (on Tolaka Street)

Siem Reap Countryside Cooking Class (found outside of the city)
Khmer Ceramics and Fine Art Center
Want to take a pottery class with local Cambodians? Visit this studio for a two-hour class during where you'll learn how to make five pieces on a pottery wheel. Included in the $25 ticket is free pick-up and drop-off from where you're staying. One fired piece of pottery that you made will also be ready for pickup the next day at 4:00 PM (what an awesome way to make your own Cambodian souvenir). Book the class here.
Address: 130 Vithey Charles de Gaulle, Krong Siem Reap, Cambodia

Hours: 8:00 AM to 6:00 PM
The Cambodian Circus
The performers use art, theater, music, acrobatics, and more to tell the stories of Cambodia. They have nightly performances at 8:00 PM, with additional ones at 5:00 PM during high-tourist season. Standard tickets start at $18, but you can also purchase $30 tickets for dinner and a show! Go to their website to book your ticket.
Address: Phare Circus Ring Road, south of the Intersection, Sok San Rd, Krong Siem Reap, Cambodia
Lake Time At Tonle Sap
This UNESCO spot is a haven for several species of birds and is a popular addition to travel itineraries for those who want to see the floating villages while rimming the shores of the lake. It's an incredible look into local life that is entirely supported on tall stilts, just above the water ... everything from homes, schools, restaurants, and hospitals hover on the waterline.
If you visit, remember it's easy to just watch the whole thing through your camera lens because you're not going to want to put it down. But, try to remember that these are real people, living their real lives, and you just became a paparazzi. Try to be respectful while you take a boat ride through their lives and their backyard. Smile and wave, ask permission to take photos of people before sneaking a portrait, and support the community financially by eating locally, tipping, and not bargaining down the price.
There are a couple to visit: Chong Kneas is popular (and heavily frequented by tourists, found 9 miles from Pub Street), Kompong Phluk is around 20 miles away.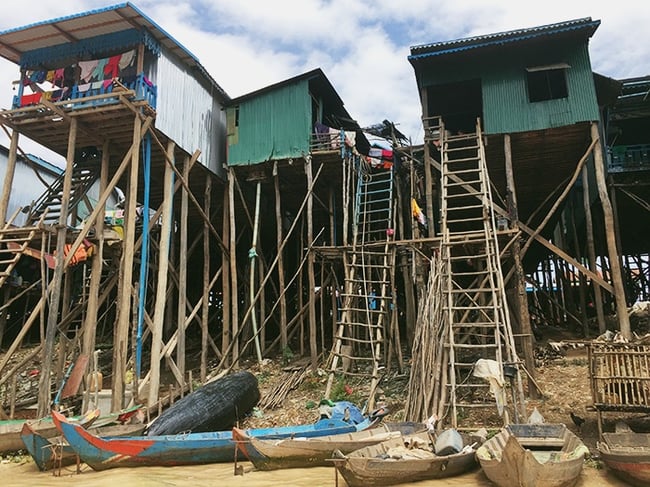 If You Have More Time
The Hidden Waterfall Of Phnom Kulen
Just around 2-hours from Siem Reap is Phnom Kulen National Park. It's supposedly the birthplace of the ancient Khmer empire, who declared Cambodia's independence from Java, along with a handful of natural wonders and religious sites. Along with a waterfall and a few places to go swimming, you'll find a massive reclining stone Buddha, along with a handful of pagodas. It's a place of worship as well as a place of history — I love that combination.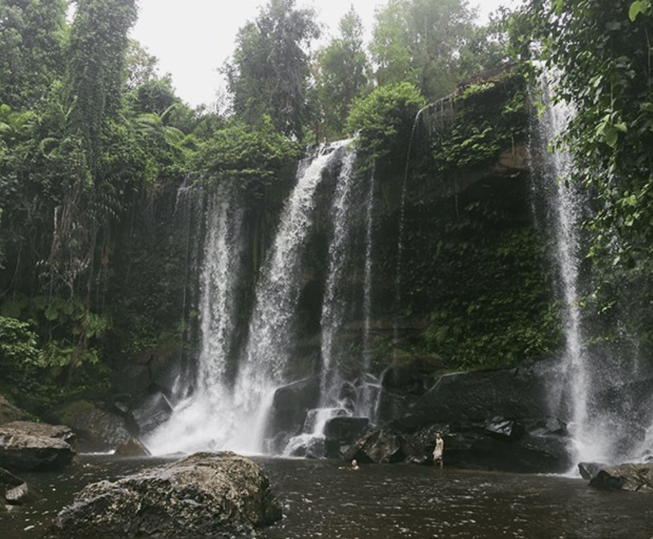 Visit Banteay Srei
If you need some other ruins to explore, go see Banteay Srei. It's sometimes called the "pink temple" or the "tiny temple" — along with those captivating nicknames, this set of ruins aren't just visually impressive, they're historically so. The structure dates back to the 10th century and is full of details of guardian monkeys among other imaginative creatures. It's thought that the temple dates back to around 967 A.D.
The sandstone is particularly lovely at sunrise, or just after (the stone is prettiest when the light is changing). Grab breakfast or lunch at one of the restaurants nearby. (The temple is around an hour from Siem Reap).
Cost: The entrance fee for Banteay Srei is included in the temple pass for the main Angkor complex. You cannot buy a separate ticket to visit just this temple – you will be charged another $37.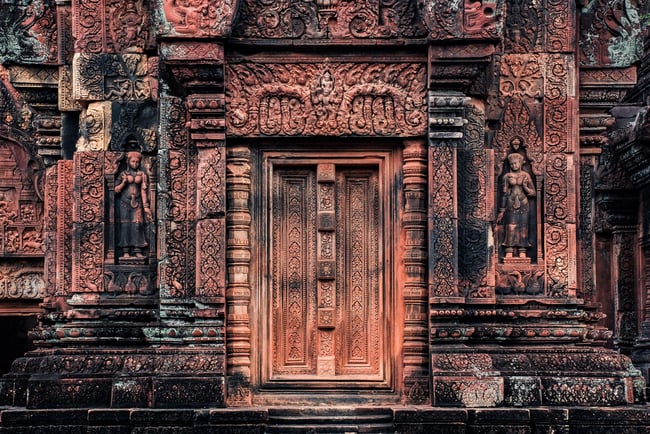 The Landmine Museum
A 15-minute ride from the temple ruins is the Cambodian Landmine Museum, a sober look into the history of this country and how it is still impacted by the Vietnam war. Over six million landmines still remain in the fields of Cambodia as deadly reminders of the country's dark history. Though they were implemented in wars that are over now, they still harm dozens of civilians each year in rice fields where people work and on walks to schools. The museum is sobering but an important element of understanding Cambodia. Learn more here.
Address: 67, Phumi Khna, Cambodia

Hours: 7:30 AM to 5:30 PM

Cost: $5 (tours are available in English).
Cafes To Visit
Malis Restaurant Siem Reap
Find dishes full of fried rice, spicy curries, stir-fried veggies, soups, and other favorites. It's a little on the higher end of things (but we're still talking affordable prices for this kind of food). Yum!
Address: Pokambor Avenue Siem Reap, 12131, Cambodia

Hours: 6:30 AM to 11:00 PM
New Leaf Eatery
Combine a coffee shop, cafe, gift shop, and bookstore in one, and you have New Leaf Eatery. Find books, jewelry, and other ways to support local businesses. On the menu, sit down for salads, noodle dishes, coffees, cakes, fresh juices, curries, and more (served with cloth napkins and metal straws to cut down on the environmental impact).
Address: Kratie Monk, សៀមរាប 17252, Cambodia

Hours: 7:00 AM to 10:00 PM
Khmer BBQ Restaurant
These BBQ places are so fun. Each table has a little grill (and a hot pot of spicy broth) where you can pick out meats, noodles, and veggies to cook yourself, right at your table. These kinds of restaurants are some of my favorite to eat at in Asia because you get to try so many different foods while you sit and chat with your group.
Address: Find this gem in Old Market (it's right off of Pub Street).

Hours: 5:00 PM to 11:00 PM
Getting To Siem Reap
Siem Reap is one of the most popular cities to fly into, so you're bound to find rather frequent flights from around South East Asia. If you're flying from Bangkok, a roundtrip ticket to the airport in Siem Reap (REP) will probably be about $150 - $300ish. The flight will only be about one hour. Another tip? AirAsia usually has the best deals.
You will need a visa to visit Cambodia, so check here for those details and other info about traveling around Cambodia.
Planning Your Trip
Remember, You Need A Visa!
To enter Cambodia, everyone needs a 30-day tourist visa. Here are a couple of ways to make that happen:
First option — You can apply online ahead of time on the government's official site — there's usually a processing fee of $6 USD, but it may help you avoid lines at the airport. Good to know: there are plenty of visa scam sites out there, so avoid those by sticking with the official visa site and don't use 3rd party sites.
Our pick — Apply when you arrive at the Siem Reap international airports. You can actually just fill out the application on the plane or when you arrive and do all the processing at the airport before you proceed to customs.
The visa itself will cost $30, and must be paid in cash and in US dollars. But heads up, you need to have crisp bills that are not torn or well-worn. There is an ATM at the airport if you don't have any with you. You also need a passport-sized ID photo. If you have one, bring it with you. If you don't, just make sure you have a few extra dollars on hand because for a small fee of about $1-5 dollars to scan your passport and use that ID photo.
About The Cash
The US dollar is the dominant currency in Cambodia (though officially, the country uses the Cambodian Riel). Prices are typically in US dollars and that's what people prefer you pay in. It's best to pack newer, crisper bills (and any $2 bills you may have - they're considered particularly lucky).
When To Visit
It's hot all year round but you can do a little to prevent some rainy days on your trip. The most popular months to visit this part of Cambodia are between November and February — they're cooler and dryer so you can see the appeal. Plus, there are a few festivals that happen during this time of the year. However, visiting in the rainy season is incredibly beautiful. The jungles are green and lush, the waterfalls are more clear, and it's easier to get better pictures (the rain clears out some of the haze). May to August is hot and humid with some rain, but it's not monsoon season until around September and October.
You can get more info about spending time in Cambodia here — that post is full of details about the culture, getting around, and a bit of info about another city or two in this country.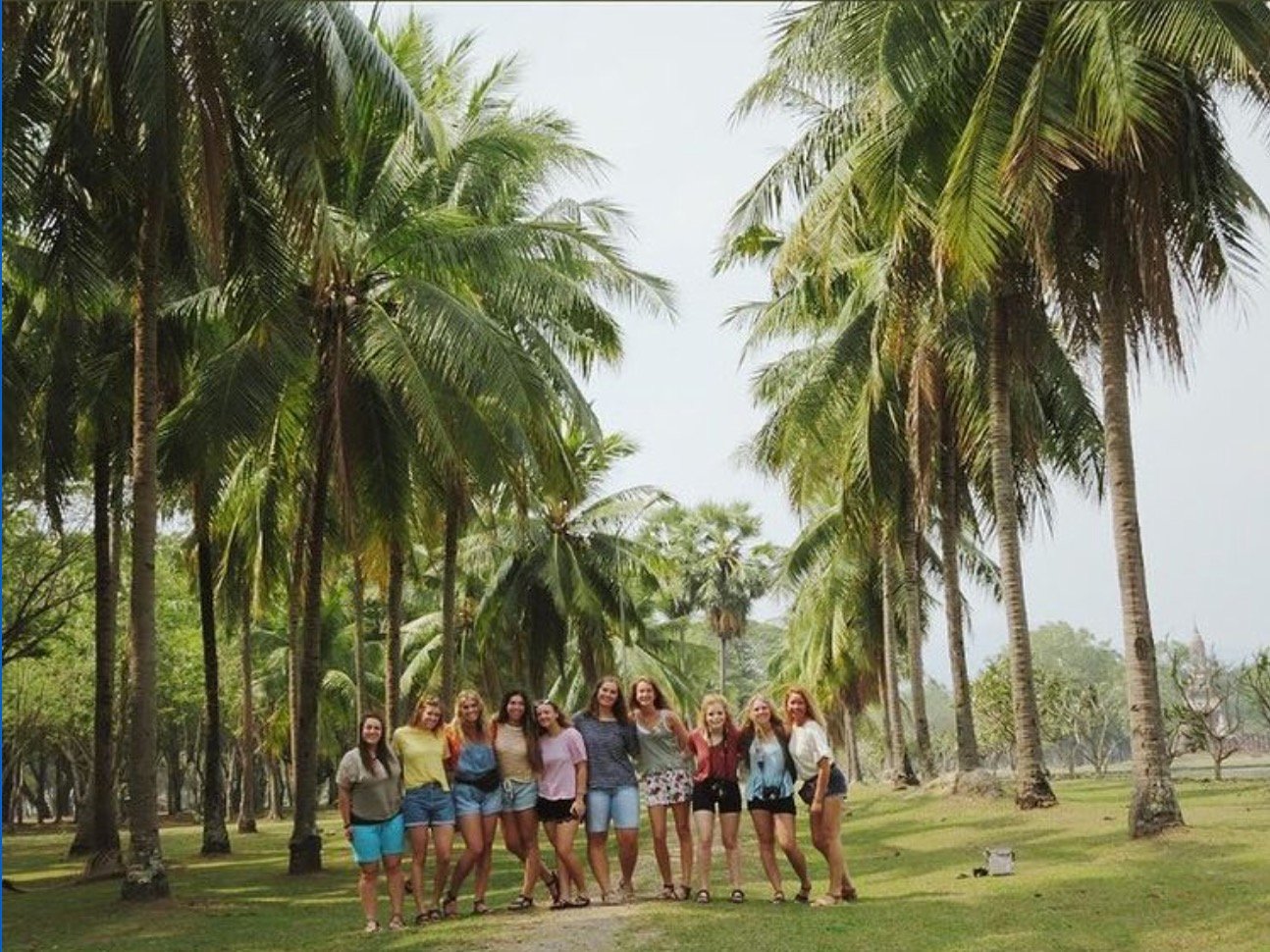 Want the experience of volunteering in Asia for an entire semester?
Come spend a semester (or up to 18 months) with ILP! We've been sending volunteers abroad for decades, with training on how to teach English with us as a volunteer, weekends off for exploring, and vacation days for seeing even more of this part of the world.