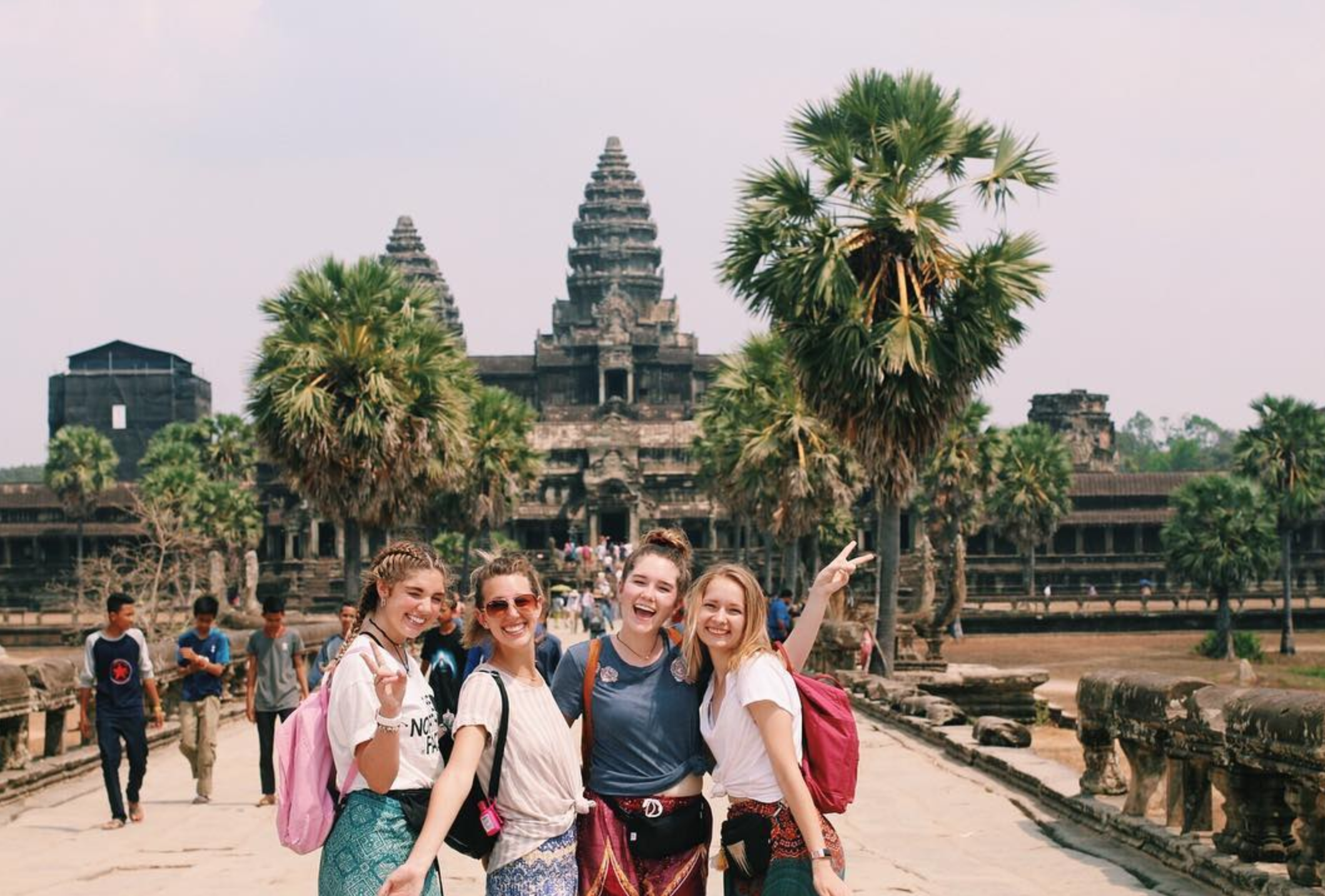 Get a glimpse of the ruins found in this park and see why everyone loves flocking to Cambodia. It's the world wonder you don't want to skip out on.
Southeast Asia has to be one of my favorite places on this whole planet. I've been lucky enough to travel to Asia and Europe with ILP ... but there is just something about Southeast Asia that pulls me back. I'm not sure if it's the friendly people, the most intricately gorgeous temples, passing by orange-robed monks walking along lush jungle roads, those tropical smoothies, or the amazing ruins you can see but it's probably a pretty big combo of all of those things and more.


---
See why you'd want to spend a semester living in Thailand?
---
For our ILP volunteers who are spending a semester living and teaching English in Thailand, Cambodia is a top-vacation spot, mostly to visit Angkor Wat (though we have other favorite places in Cambodia!). Since this place is so huge and a total must-see, you'll want to get all the insider info to make sure you're seeing the right sides of the park, know when to visit, and a few tricks to make sure you are seeing as much as possible even if you're there just for the day.
Know Your History
You may be more excited to actually see this place than learn about the history of Angkor Wat, but trust me, it'll be that much more impressive if you know a bit of background. Before we dive in, it's important to realize this complex is officially known as the Angkor Archaeological Park — Angkor Wat is just one of the temples inside (but is used interchangeably as the name of the park as a whole. Just know that people call this whole place Angkor Wat, but it's also its own temple within the park. See how that works?)
This complex was initially built as a Hindu temple but later became a Buddhist temple at the end of that century. In a nutshell, it's the remains of different Khmer Empire capitals spanning from the 9th to 15th centuries. Some historians state that Angkor Wat is the largest religious monument is the entire world, making the name of this place rather fitting. Angkor Wat translates to "Temple City" in the Khmer language and covers a massive 400 square kilometers and is crammed full of over 45 temples.
The complex was pillaged, hit by earthquakes, endured war, ransacking, and generally fell into disrepair, but was "rediscovered" in the 1800s by French explorers. Though the temple hadn't been used in decades, the temple complex was — and still is — stunning. The area consists of a city, a massive temple, and a royal palace, among other structures built mostly of sandstone. A huge, thriving population called this city and complex home. Some researchers estimate that maybe up to a million people lived here until their mysterious disappearance. But their success can still be admired today: The main shrine towers over 70 feet and is covered with intricate carvings. It's impressive, to say the least, and this just gives a mini overview. You can read more history here if you're interested.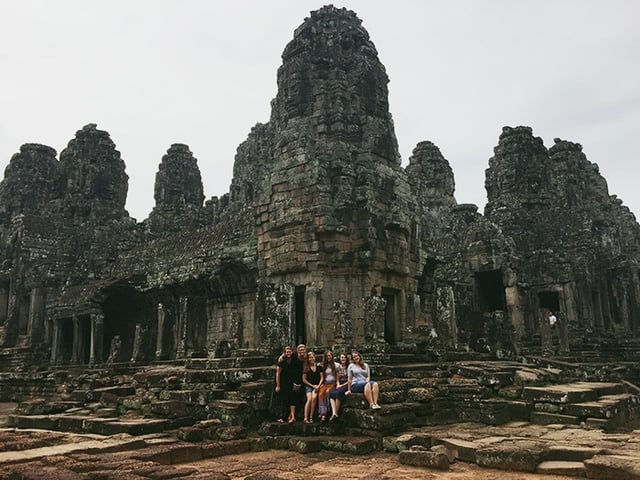 Seeing The Highlights
Okay, if you didn't realize, this place is h-u-g-e. I mean, it's utterly massive and somewhere you could spend days wandering around without seeing it all. We have more info about tickets and such below but know that most people can see so much in a day. It's a very busy and tiring day, but that is what tends to be the most popular option. Since most of our ILP volunteers are just here for a day, you'll want to make sure you're hitting the highlights. Here are the top spots most tourists visit (but that doesn't mean they will be your favorite!)
Angkor Wat
This is the most famous temple, with iconic five towers that create the most picturesque view for sunset and sunrise. Most people tend to see the temple from a distance (West Gate) at sunrise then spend the rest of their morning exploring the temple itself. You can avoid some crowds by exploring East Gate first.
The temple is amazing, a huge structure blanketed in intricate carvings and terraces, with a shrine to Buddha at the very center. It's intertwined with the jungle, so you'll see massive tree roots spilling out from the base of the stone foundation.
Angkor Thom (and Banyon Temple)
Angkor Thom was once the capital of a bustling Khmer empire, now home to a collection of temples, a moat, and impressive ruins. Visitors must cross a bridge built on the stone faces of gods and demons before arriving at the main attraction: Banyon Temple. A towering pyramid blanketed in stone-carved faces is the most recognizable feature of Banyon Temple, but there are even more treasures to see.
The Terrace of the Elephants has one of the coolest names in the complex, home to a wide terraced platform with ornately carved elephants on each corner. This space was used for parades and ceremonies.
You'll find other spots like Baphuon and the Terrace of the Lepers within Angkor Thom ... there is a lot to see, so plan on a bulk of your time spent in just this one section of the park.
Ta Prohm Temple
Seemingly reclaimed by the jungle, you can easily see why this is a favorite movie set — Ta Prohm is made famous by its feature in the popular Tomb Raider movie. Visiting here means meandering through a maze of moss-covered stone, peeking between ornately carved archways and pillars. It's a very popular spot, though it's a little off from the main drag.
If you're interested in a similar temple without the crowds, nearby Banteay Kdei is an impressive, unrestored section. Ta Keo is also nearby and isn't on most people's itineraries. Preah Khan is another one to visit that feels more like a jungle secret than part of the other tourist-filled sections.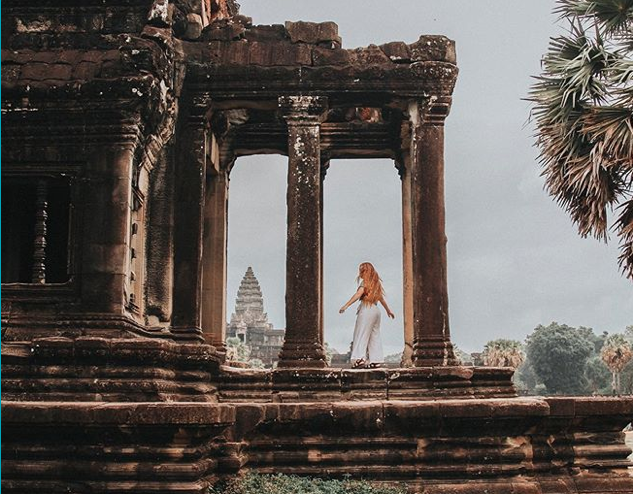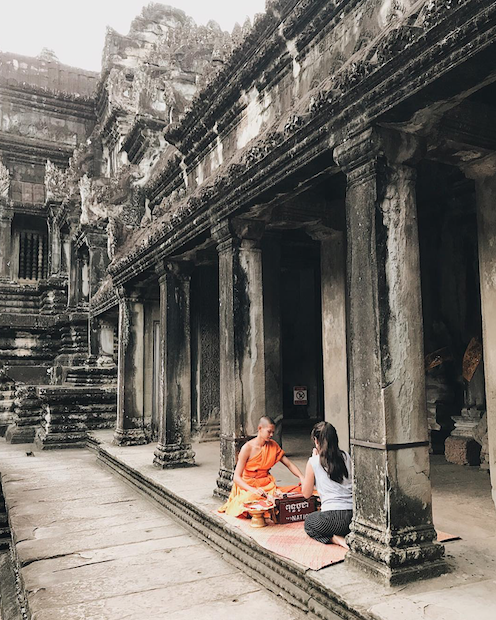 A Map To Help You Out + Getting Around
The ticket info is a bit outdated, but this double-sided map lets you see everything spread out, with numbers that you can look up on the back to get a longer description.
Get the front side of the map here, and the descriptions here.
Getting Around
You can get around on foot, via tuk-tuk, and by bicycle. You can easily rent a bike for the day from one of the 60+ bike rental shops in Siem Reap. Plan on paying as low as $2 a day or around $5-$12 for higher quality bikes.
We've had groups in the past go with a guide and highly recommend seeing the park via tuk-tuk. Remember how this place is massive? Prices for a tuk-tuk driver are around $18 or $20 for the day, with a $5 tip. You'll want to make sure you get his name, remember what he looks like, and a picture of his license plate ... your driver typically drops you off on one side of the temple and will pick you up on the other side.
It's recommended you talk to your hotel or hostel about a driver for the day, at least a day before you plan to go. While you can find plenty of tuk-tuk drivers around the park, there's a common scam where drivers rack up the price of your tour once you get in the park. The drivers typically know a little bit about the temples, but don't count on an extensive history recap. Also, it's nice to get there bright and early so that you can see the sunrise — arranging a driver the day before means he can tell you exactly what time he'll be picking you up to make sure that happens. It's an early morning, but worth it.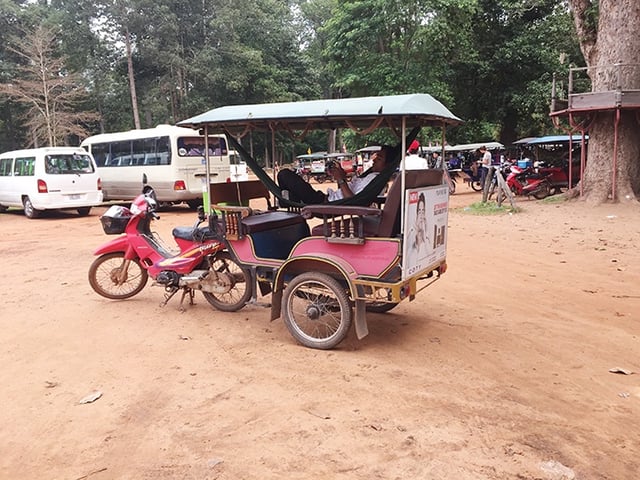 Hours + Costs
Park Hours: 5:00 AM to 6:00 PM, daily (most temples open at 7:30 AM)
There are three ticket options
1-day tickets: $37

3-day tickets: $62 (valid within a week)

7-day tickets: $72 (valid within a month)
Visit the official website here. You can only purchase the Angkor pass at Angkor Enterprise ticket office, located next to Angkor Panorama Museum, on Samdech Vibol Panha Sok An road.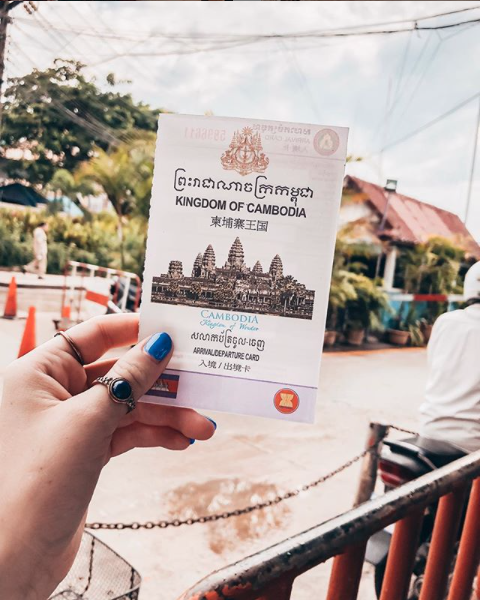 Some Insider Tips And Tricks
The Dress Code
Like most religious sites in South East Asia, you'll need to abide by a dress code when visiting: clothing must cover your shoulders and your knees. We tell our ILP volunteers to pack a long, flowy skirt for visiting temple sites like these on their semester volunteering in Thailand.
Catching Sunrise Or Sunset
It's kinda a must-have adventure, seeing the orange sun rising or setting over the jungle ruins. Most see the sunrise and sunset at Angkor Wat (the main temple): there is a huge reflecting pool that makes for the prettiest pictures, but you're welcome to see the sunset or sunrise anywhere else in the park. If you want the best view, try to get a spot on the northwestern edge of the reflecting pool.
It's also very popular, so be prepared for crowds. You'll want to be inside the park as close to 5:00 AM as you can if you want to get a good spot and not miss the sunrise. Sunset happens just before the part closes, so keep that in mind. Some say the best place to see sunset is Phnom Bakheng.
Some visitors suggest visiting the park in two days if you want to catch the sunrise. See your favorite temples on the first day, then wake up early the second day for the sunrise, and hit some of the less popular routes ... but plenty of visitors start at sunrise and have a long day exploring ruins on just the 1-day ticket.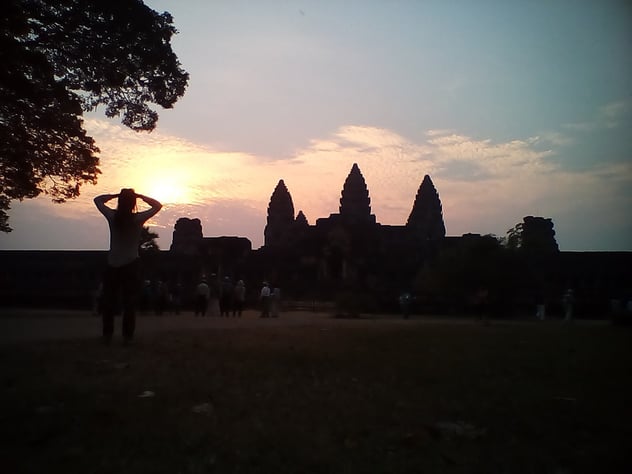 Prep For The Weather
The entire complex is outside so you'll be spending a long, hot day in the humid weather of Cambodia. Bring plenty of water, a hat, sunscreen, and plan on wearing lightweight clothing to help keep you cool. Make sure you're wearing very comfortable shoes that can handle all of the walking.
The best time to visit is when the weather is slightly cooler and dry, between November and March. You'll run into the most crowds during high season. You're welcome to visit other months, just be prepared for warmer weather and some rain. And plan on it being crowded all year long — Angkor Wat is the most visited site in Cambodia, by far.
Don't Feed The Monkeys
There are groups of monkeys running around the ruins who love to steal snacks from unsuspecting tourists. Keep a close eye on your snacks and don't feed the monkeys.
You will also run into kids who try to sell little trinkets to tourists, telling you they need the money for school. There are signs all over warning tourists not to give money to beggars and ask that you comply with that park rule. Just something to be aware of (they can be pretty persistent). Even though they're kids, you'll just want to give a confident no and walk away. If you hesitate at all or are friendly, they'll think you're considering it and continue asking you.
Grabbing Lunch
You'll hear vendors around the outside of the park letting you know it's the last chance to buy drinks and snacks (because there aren't any lunch spots inside the park). That isn't true, you can find places to eat in front of Angkor Wat, the Leper King Terrace, Sras Srang, Ta Prohm, and Banteay Srei, among others. Just be respectful: it is completely forbidden to eat in the temples and to eat outside of designated areas.
Avoiding Scams
Like any tourist attraction, there are a few scams to be aware of before visiting. If you're looking to hire a guide, just make sure they are an official guide (agree firmly on a price and ask to see credentials — official guides all wear light yellow shirts and lanyards).
Once you buy your official ticket into the park, you won't need to pay extra to see a temple within the complex. You may be asked to show your ticket (so keep it handy) but you shouldn't be asked to pay additional fees.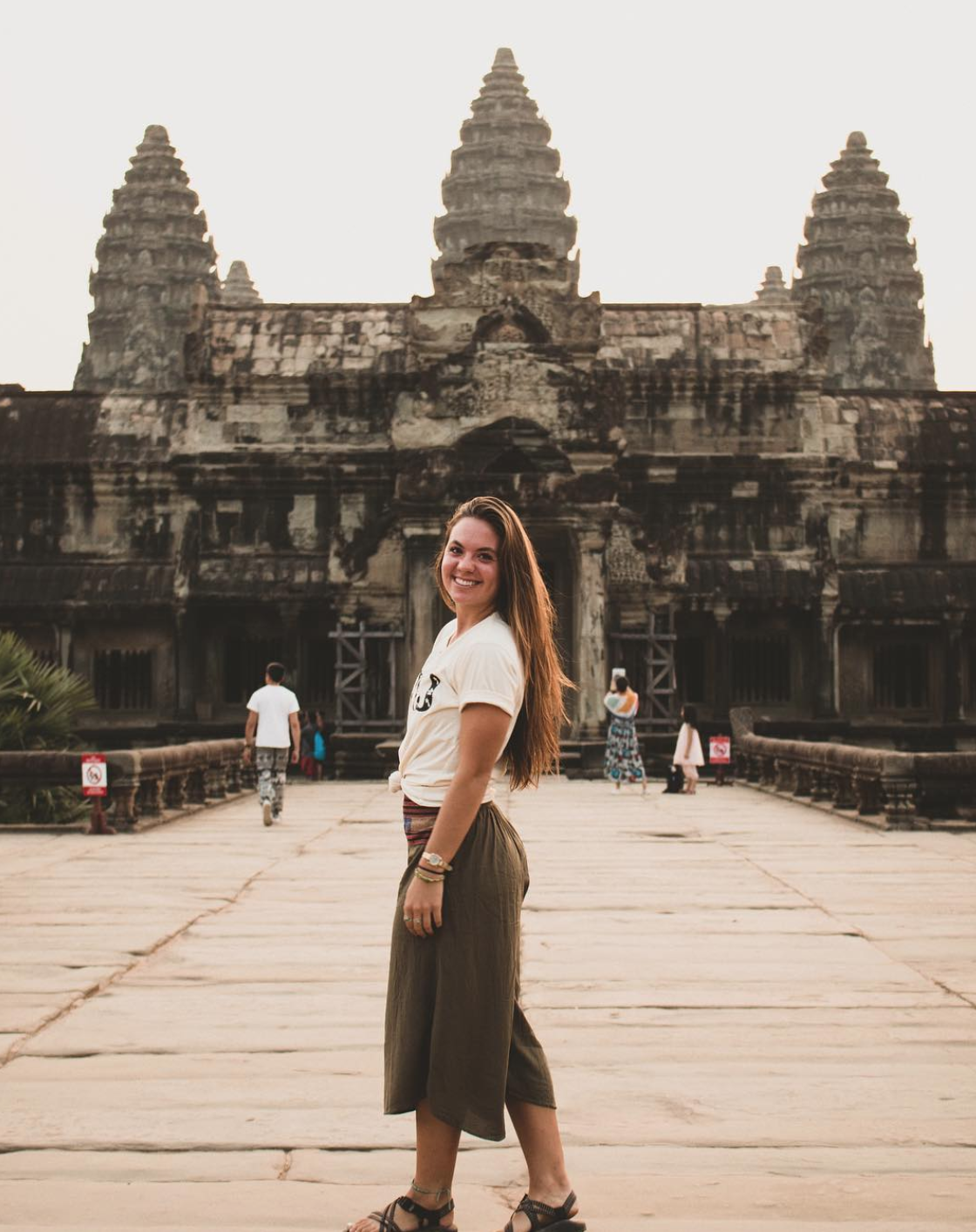 Getting To Angkor Wat
Get To Siem Reap + Remember Your Visa!
The two most popular cities to visit in Cambodia are Phnom Penh and Siem Reap. Lucky for you, there are international airports located in both. If you're flying from Bangkok, a roundtrip ticket to the airport in Siem Reap (REP) will probably be about $120 - $220+ than anything you can find to Phnom Penh. Either way, the flight will only be about one hour. AirAsia usually has the best deals!
If all you want to see are Angkor Wat and the floating villages, then Siem Reap is your place. But if you're interested in the S-21 Prison, Khmer Rouge Killing Fields, and everything involving the Cambodian genocide, then make sure you spend some time in Phnom Penh as well.
You will need a visa to visit Cambodia, so check here for those details and other info about traveling around Cambodia.
Getting To Angkor Wat
You'll want to stay in Siem Reap, which is pretty close to the park entrance. Downtown is about a 15-minute drive, so if you're staying in the center, you're not too far away. We have a couple of recommendations here:
This well-located apartment has a kitchen, balcony, swimming pool, great wifi, and can comfortably fit 6 guests. All for $40 per night!
This stunning apartment has a rooftop pool, a gym, two bedrooms, wifi, and a kitchen. So basically everything you could want for a group of 4. Plus it's only a ten-minute drive from Angkor Wat. And all for $40 per night!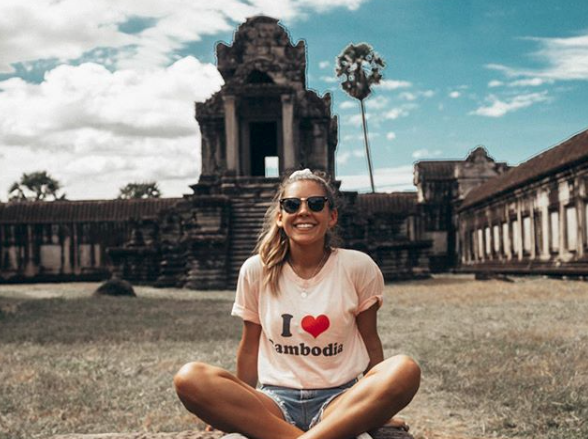 Come volunteer in Asia with ILP!
If you love the idea of taking a vacation to Cambodia, we think you'll love the idea of spending a semester in Thailand. ILP's been sending volunteers abroad to teach English and do some traveling since the 1990's. Your visa, flight, housing, and meals are all covered, along with a few other perks. Come see what it's all about.