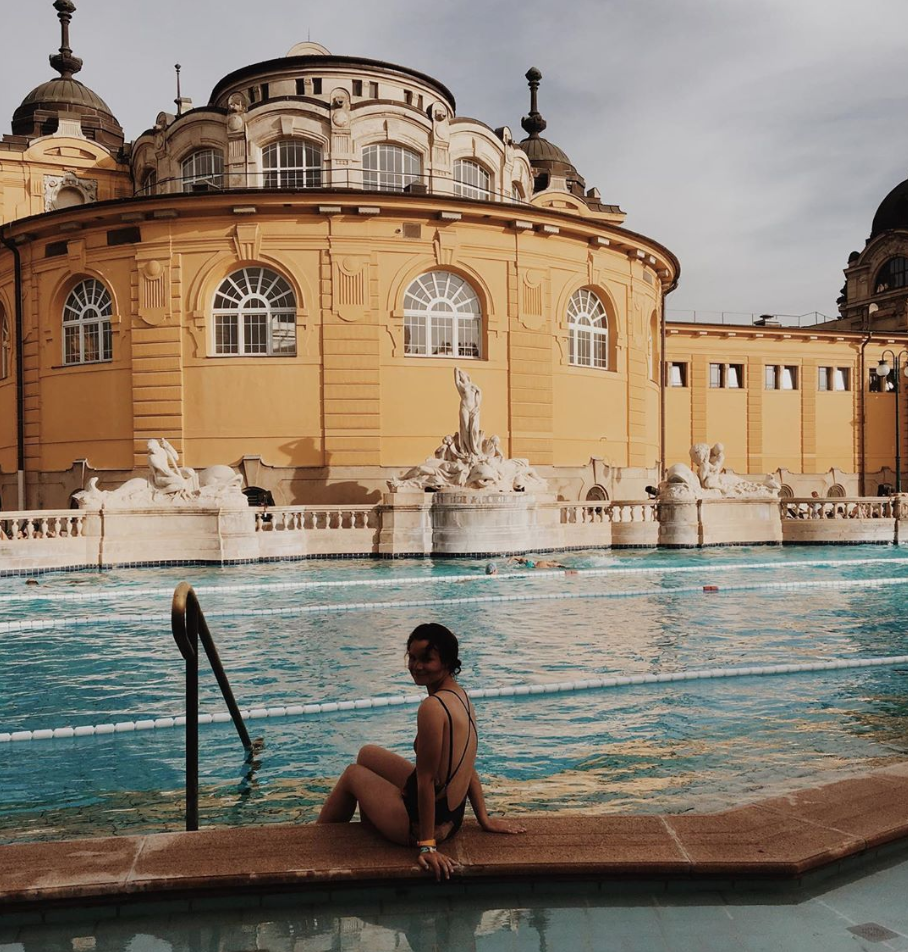 Hang out in 15+ different thermal pools behind this canary-yellow backdrop and feel like you're in a movie ... could this place be any prettier?

Not sure why other countries in Europe get all the screen time because I am all about the spots to travel to in Eastern Europe. When I was living in Eastern Europe for a semester with ILP, I got every single weekend off and vacation days to explore oh-so-many-countries ... and one of my favorites had to be Hungary.
Take it from us, don't miss out on this country and it's pretty, pretty, pretty capital city.


---
Yep, I spent a semester living in Europe (and it was a dream)
Get a peek about what that's like on our Instagram
---

I visited Budapest after a whole semester of traveling around Europe and spending part of my time during the week teaching English to a classroom of cutie kiddos. Needless to say, it was more than fun but so exhausting, trying out dozens of pastry shops and getting a few stamps in my passport. So the idea of lounging around a thermal spa in Budapest was exactly what I needed.
Since there are a few different thermal pools to visit around the city, I've pulled out info on some of the most popular options so you can decide which would be the best fit for you ... just make sure you go! Hungary is one of the only places in world where you can experience true, traditional Turkish baths that date back to the 16th and 17th centuries. They take their baths seriously, believing in health and healing properties depending on your soak. It's oh-so-relaxing and definite highlight while I was visiting.

Szechenyi (The Most Popular)
Okay, pretty much all of our ILP volunteers visit these specific baths, mostly because they are so photogenic. There are 18 indoor and outdoor pools to venture through for an afternoon of relaxation. There are a couple of outdoor pools and lounge chairs outside, but the majority of the pools are inside that big, yellow, Neo-Baroque building you can see in the pictures. Ah, the atmosphere is just gorgeous.
There are several different temperatures in each pool, ranging from freeeeeezing to hot hot hot. You're meant to go through the baths from hot to cold, soaking in the different elements like magnesium, calcium, and sulfate which are part of the healing properties of the spa experience. You can also find a dry sauna here.
Address: These baths are located on the Pest side of Budapest (the city is split by a river). You can take the metro straight there which runs through about every 5 -10 minutes. Take the Millennium Underground (M1) to Széchenyi fürdő station.

Hours: Front desks are open from 9:00 AM to 10:00 PM, with some exceptions for the indoor/outdoor pools. Learn more here.
Cost + Tickets: Plan on paying around $19, though prices fluctuate if you're visiting on a weekday or a weekend. You can find pricing on their website as well as options to purchase tickets head of time. You can purchase tickets at the door, but will need to wait in line, so sometimes booking in advance is a good option. There are different spa packages available, but you just need a day pass with a locker to keep your personal items in.
Get more info on the official website: Szechenyi Thermal Bath
A Few More Details
You must wear shoes when you're not in one of the pools, so bring a pair of sandals that are easy to take on and off and aren't a big deal if you get them a bit wet.

There are lockers you can rent to keep a change of clothes. You can also rent swimwear, swimming caps, towels, etc. if necessary. The lockers are separated by gender, complete with showers, and hairdryers, and bathrooms. Just a heads up? This is Europe and not everyone changes privately in a bathroom stall (but they're totally there for you to use).
When you hand over your tickets or go to the counter to pay, you'll be set up with a wristband — don't lose this! There's a hefty fine attached to missing wristbands.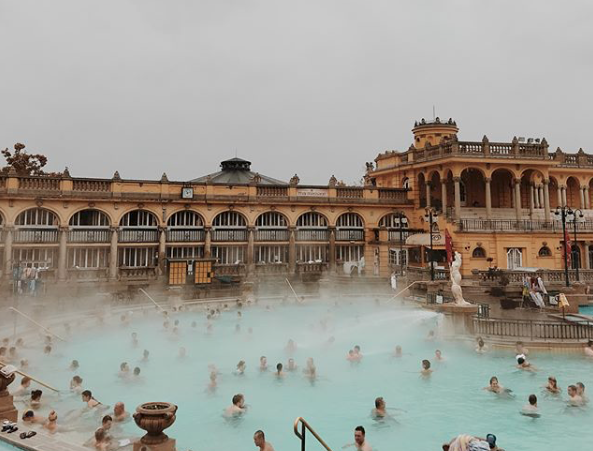 A Couple Other Baths
The Szechenyi Thermal Baths are the most popular (and tend to be the most crowded) but there are few others peppered around the city. Depending on what you are looking for, maybe a couple of others will be a better fit.
Radas Spa
This is more of a local spot, visited by less people than the others on this list (though going to the spa is still a really popular activity, so even the less famous locations get their fair share of visitors). We love that this spa has a panoramic rooftop pool (along with a swimming pool) and a handful of thermal pools ranging from 60° Fahrenheit to 107.6° Fahrenheit in temperature.

Radas Spa has been around for around 450 year so it's a good pick if you're going for history (though I vote visiting Szechenyi or even Gellert for a prettier atmosphere). Like the others, there are locker, towel, and swimming suit rentals available. You can get more info about Rudas Spa on their official website.
Address: H-1013 Budapest, Döbrentei tér 9. Buses 7, 8E, 110, 112 can get you there, same with tramways 19, 41, 56 and 56A.
Hours: Most of the features are open from 8:00 AM to 10:00 PM (with the swimming pool opening at 6:00 AM).
Cost + Tickets: There are lots of packages available but a full day weekday ticket (+ a locker) is about $17. It's slightly more on the weekends. You can get cost options here.


Gellert Spa
You'll find a swimming pool housed inside and outside of a palace, several thermal pools, and a spa at this location. It's rather famous, boasting one spa that's framed by blue mosiacs ... the whole experience feels pretty luxurious. Here's a map of the place to help you get a feel of what you're expecting. Since Gellert Spa is pretty well known, it does get crowded, but is visited by a fraction of the visitors that hang out in Szechenyi Thermal Baths (it's probably the second most famous in Budapest).
They have lockers to rent (along with swimwear and towels), and showers to use. You must wear sandals or some other type of footwear while not in one of the pools. Another good thing to know? Food and drinks are allowed, or you can purchase something at the cafe. Learn more on their official website.
Address: Szent Gellért Gyógyfürdő és Uszoda
H-1118 Budapest, XI. kerület Kelenhegyi út 4
It's found near the base of Gellert Hill.

Hours: The spa is open from 6:00 AM to 9:00 PM, however fast-track tickets are available for use between 9:00 AM and 9:00 PM. More info here.

Cost + Tickets: Prices fluctuate, but tend to be around $22 USD for a weekday ticket, slightly more for a weekend. You can check out prices here. They have a fast-track option which you purchase in advance which helps you avoid the crowds. You can book in advance if you'd like with that link above.

Some Tips For You
Stay Hydrated
Most of these thermal pools have a little cafe where you can buy food and drinks, but you'll want to bring your own water at the very least. Be sure to drink plenty of fluids afterwards — it doesn't seem like it, but these these pools are exhausting and a real drain on your body.
You're Going To Be Tired
Because of the extremes of certain pool temperatures, you will be very tired and relaxed after spending time swimming here. You may want to plan this excursion later in the day so that you can just grab some dinner and head to bed afterwards. Here are few of my favorite restaurants in Budapest (along with a few other tips for visiting this city).
How Long To Spend Soaking
Personally, I spent about 6 hours at the spa and felt that was an ideal amount of time to swim around in the bigger pools, test out all of the thermal pools, get in some sauna time, and people watch from my favorite pool. Oh, and dry off in the sunshine (a must, if you're visiting in the warmer months).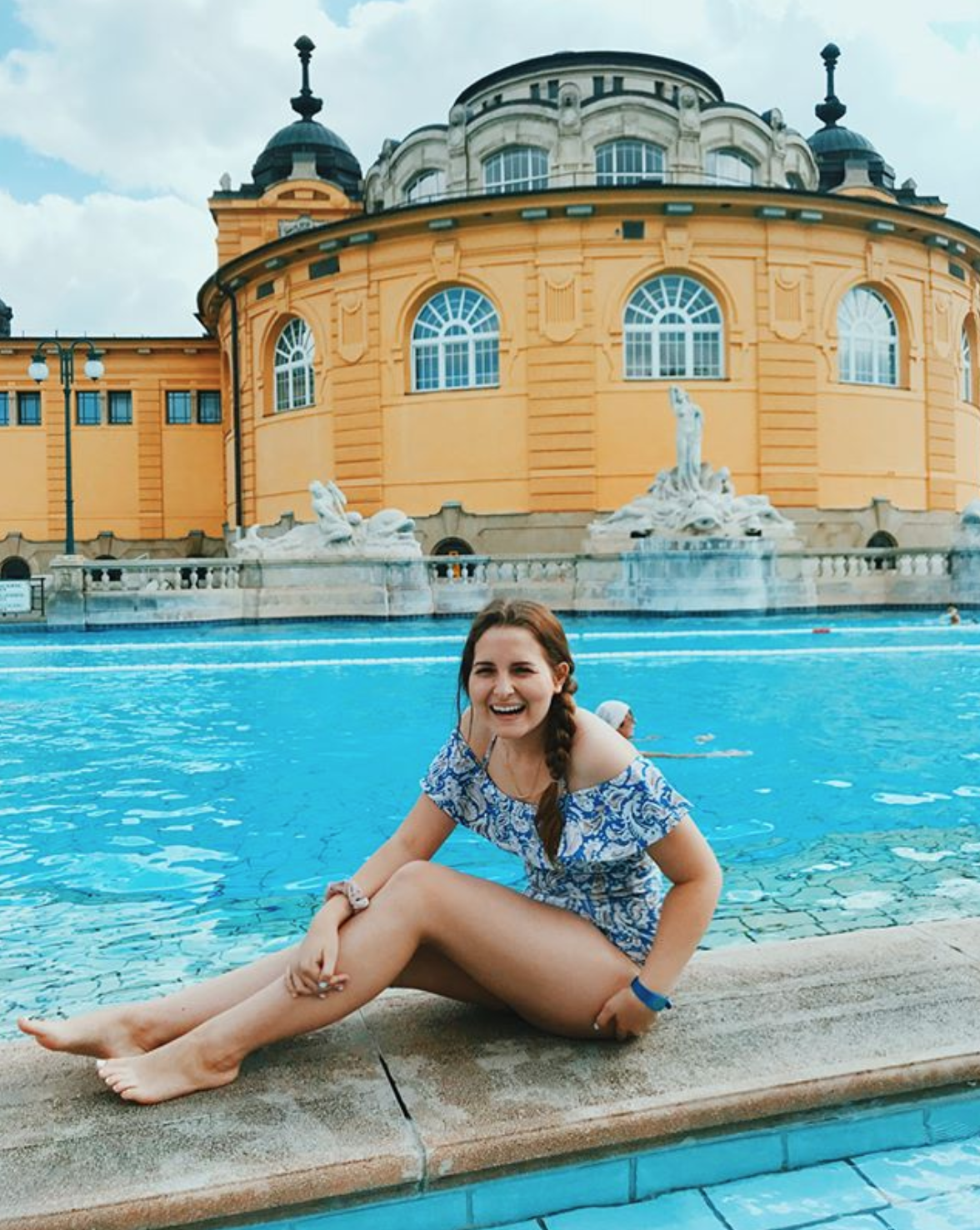 Ready to see Budapest (and other favorite cities in Europe) for yourself?
We want to make that happen! Come get your questions answered by chatting with an ILP representative who has volunteered before and can talk to you about their experiences: