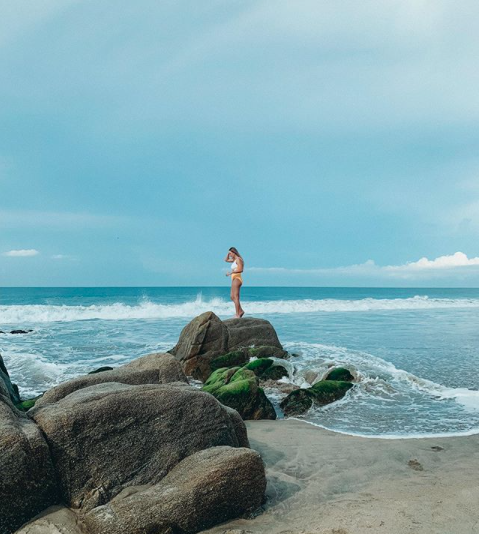 It's just a day trip away from Puerto Vallarta (and away from most of the crowds).
Pack your bags, ILP Mexico volunteers. We have another vacation spot you can check out. If you've done just a little research on this country, you'll quickly figure out that Mexico pretty much has it all. Zip lining through the jungle? Check. Dreamy beaches? Check. European cathedrals and painted mural streets? Yes! And that's not even talking about the food … or this rad yoga town.


---
See what else Mexico is hiding
This Mexico Destination Guide has our favorites all in one place
---

Sayulita is our newest favorite spot to spend a couple of days. More popular now than it was 5 or so years ago, this beach town is still miles away from the popularity you'll find in Puerto Vallarta. It has a colorful vibe, complete with bright murals, painted buildings, plus beaches, yoga, and smoothie shops. Here's what you need to know about your newest vacation spot:
Things To Do In Sayulita
Places + Things To Eat
Where To Stay
Here's How To Get Here
What To Do In Sayulita
Hang Out On The Beaches
Cleverly named Sayulita Beach, this stretch of sand backs the main town, so it's easy to get to. You'll find a smattering of restaurants and cafes on one end, with rows and rows of umbrellas and lounge chairs to rent for the day on one end, then people hanging out on towels and watching the surfers between the two. The beach is about a mile long, so though popular, you can typically find a place to hang out. This is the most popular surfing beach around — good to know if you want to test out the waves yourself or just want to sit back and watch.
Rather have more space to yourself? Visit Los Muertos Beach, named from the cemetery that's behind the sand where graves are decorated with colorful surfboards. This beach is more like a rocky cove that curves in a half-moon shape, with little "rock islands" that the waves crash against. You won't find any restaurants here, so it's just you and the ocean (aka, bring your own snacks and and drinks for the day).
Playa Carricitos is another beach, found about an hour walk away from Los Muertos Beach. It's typically the most deserted beach of the three. You'll find golden sand, no facilities, and typically no people. It's tucked away with a pretty dense and remote jungle behind the sand which just adds to the secluded feel.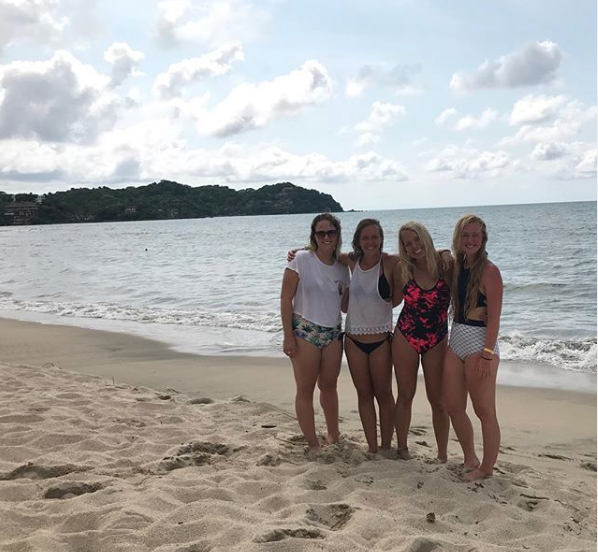 Visit This Secret Island Beach
Come see Las Islas Marietas, a set of tiny islands found just off the coast of Sayulita, and home to some of Mexico's most famous birds. Ever heard of the blue-footed-bobby? It has bright turquoise feet! The rocky coasts are also home to an impressive coral reef and some unique sea life (sometimes the Marietas Islands are nicknamed Mexico's Galapagos). But we think you're going to want to visit these islands to swim on the secret, totally Instagram worthy beach, Playa Del Amor.
To reach the beach, you have to go out by boat tour where you'll anchor off the coast and either swim or kayak through the narrow, 50-foot sea-filled tunnel that will lead you to the beach. Once you arrive, you'll see an almost perfect circular hole of blue sunshine above you, and a sandy beach complete with gentle turquoise waves. You can see why this place is so popular!
There are a limited number of guests allowed on Playa Del Amor, and only during certain days of the week. Your time on the beach is limited to help protect the wildlife around the island (typically you'll get 30 minutes or an hour on the beach). You have to go with a tour which makes it a kind of expensive option, since it's very restricted and very popular, but it's possible!
Sayulita Tours is one of the popular options for exploring the islands from Sayulita, and they do offer trips to Playa Del Amor. You'll want to look into tour options very early because tours sell out very quickly.
Just snorkeling around the islands is also a popular thing to do. This 5-hour snorkel trip with Alley-Cat Sailing takes you around the island to explore the wildlife, go snorkeling, and includes lunch. You can check with them to see if they can help you arrange a trip to Playa Del Amor (they've done tours there in the past) but you'll want to check really early because of all the restrictions.


Shop For Boho Souvenirs
The main drag of Sayulita is splattered with upscale boutiques and souvenir stands bursting with the colorful souvenirs you're tempted to buy. Walk down the boulevards and peek into racks lined with souvenir-sized surfboards, painted skulls, decorated rams heads painted a rainbow of colors, or see if some dream catchers catch your eye.
Take A Yoga Class
It's not uncommon to see people walking around with yoga mats curled up under their arm — this little city is a mecca for those wanting to step away from the world on a long yoga retreat. Feel free to sign up for a longer course, but they have plenty of studios that take drop ins. There are a smattering of yoga studios around the but Paraiso is one of the most popular. They have a mix of classes (different styles of yoga and pilates) with a $10 drop in fee. Check their schedule here.
If you're staying for longer, you can purchase a few different punch passes, or sign up for an unlimited week pass. You can get prices for this studio here.
Address for Paraiso Yoga Studio
Playa Azul #23, Col. Deportiva
Sayulita, Bahía de Banderas, Nayarit
C.P. 63734

Day Trip To San Pancho
San Pancho (officially known as San Francisco) is chill, with pretty painted city streets and a sleepy town feel. It's just 5 kilometers from Sayulita and easily reached by taxi. It's a much slower pace than what you'd find in Sayulita and makes for a very relaxing day trip.

While in San Pancho, plan on basking in the sun on huge sandy San Pancho beach (it's a popular swimming and surfing beach), and walking around to shop at the little surf shops in town. Turtles are also a big pull to the city, thanks to Project Tortuga who has helped the release of over a million baby turtles on the beaches in San Pancho. Turtle nesting typically happens between May and November, so typically runs from May through November. You can check out info about upcoming turtle hatchings and releasing on the San Pancho Turtles Facebook page.

There are also a handful of yoga studios (check out Yoga San Pancho, Uitsikoatl Yoga Studio and El Estar Yoga) for a drop-in yoga class.
All of San Pancho is very small, and very walkable; you will only need to be dropped off in the city center and can easily navigate your way around.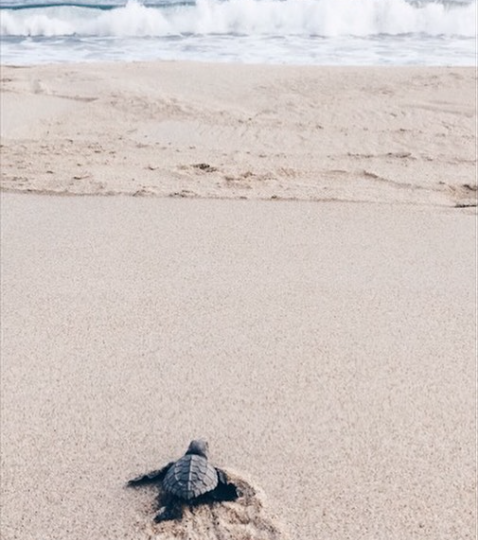 Places + Things To Eat
Street Churros

When in Mexico, you have to enjoy allllll of the street food. In Sayulita, there's a cute couple who pull up a churro cart by the bridge in town (usually in the late afternoon) and fry up these sugar-coated treats. Look for a rainbow umbrella covered cart pulled by a red truck and grab a couple of churros (they're only about 10 pesos each, so you can definitely afford to get a couple!).
Wakika Heladeria
Want to cool off after a day at the beach? Popsicles are exactly what you're looking for. They're amazingly delicious and make for some great pictures (they're that pretty). They have dairy free options (fruit flavors like fresh strawberry, pineapple, mango-chili, watermelon and more) then creamy milk infused options like blackberry cheesecake. The dairy-free ones are 15 pesos, while you'll pay 20 for the milk-based options. Don't leave without trying this place!
Address: Av Revolución 40, Centro, 63734 Sayulita, Nay., Mexico
Hours: 10:30 AM to 11:30 PM
Emilianos
A sit-down place plating up your favorite Mexican dishes like stone bowls of guacamole, tacos, sizzling fajitas, smothered enchiladas, and chicken toped in a spicy mole. You'll also have quite a few seafood options, like freshly caught and grilled fish, plates of crab and shrimp salads.
Address: Av Revolución 34, Centro, 63732 Sayulita, Nay., Mexico
Hours: 11:00 AM to 11:00 PM
Mary's Traditional Mexican Cuisine
For another sit-down option serving up good Mexico food, head to Mary's. You'll start off the meal with classic tortilla chips and bowls of four different kinds of salsa. Don't fill up on that though, because their menu is yummy. Warm chicken enchiladas, grilled fish, huevos rancheros and other dishes are waiting for you (get the horchata too, it's delicious). Their fish tacos are a knock-out ... so good luck deciding what to order!
Address: Av Revolución 36, Sayulita, Nay., Mexico
Hours: 9:00 AM to 11:30 PM on weekdays, 9:00 AM to 12:00 PM on Saturday and 9:00 AM to 4:00 PM on Sunday.
Tacos El Ivan
You'll find taco places all over Sayulita, but some say Tacos El Ivan is easily the best place around. Prices are slightly lower than other stands which kinda just seals the deal if you're trying to decide where to eat. You'll find a few different kinds of tacos (get the tacos el pastor, complete with the "flying pineapple") then can pile on the toppings like diced onion, radishes, cilantro and a couple of different kinds of salsa.
Address: Av Revolución, 63734 Sayulita, Nay., Mexico
Hours: 5:00 PM to 2:15 AM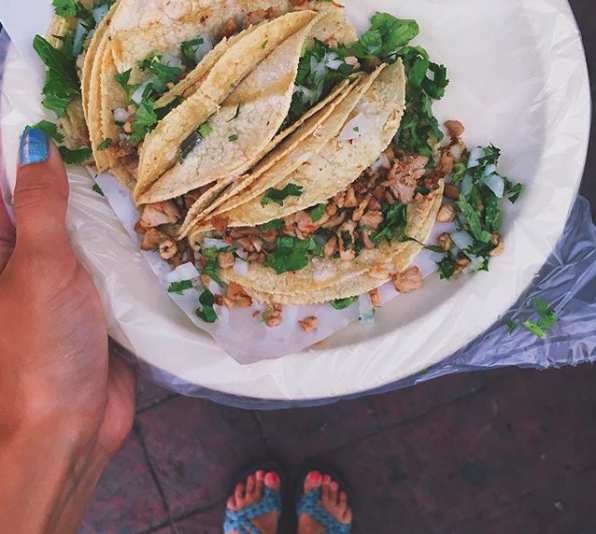 Where To Stay
La Redonda Hostel
A recommended hostel by our ILP volunteers, La Redonda has a free breakfast, is located just a few minutes away from the main beach, plus has a few other perks to make your trip even better. The hostel offers surfboard rentals, free bicycles for you to use, and has some tours available if you want to go check out the Marietas islands or go snorkeling. Dorm rooms are anywhere from about $10 - $16 a night, book here.
As far as hostel go, that's the best one around. There are a handful of others, but groups mention that they aren't super clean or feel overpriced for what you get. In the past, groups have stayed at this hostel, or booked an Airbnb for their stay if you're not just visiting for the day.
AirBnB
Another really popular option, and something that can be really affordable. A quick search on homes available in Sayulita pulled up some real gems — entire casa complete with heated pools and just walking distance to the beach, complete with hammocks strung out on the balconies. They have several options that can sleep anywhere from 3 to 10+, so perfect for your whole ILP group. Check out options on airbnb.com
Here's How To Get Here
From Puerto Vallarta
Most visitors are starting in Puerto Vallarta, then taking a day or two to come explore the beaches north, like Sayulita. From Puerto Vallarta, you have a couple of options depending on your timing and your budget.
By Uber
From the main Marina in Puerto Vallarta, you're looking at about a 50 minute drive that's in the 600 pesos range, which isn't too bad if you're splitting that fare with a few people from your ILP group. Just know that Uber isn't in Sayulita, so you'll need to take a taxi back down to Puerto Vallarta and those tend to be a bit more expensive (in the 750 pesos range).
By Bus
Buses from Puerto Vallarta to Sayulita are very cheap (46 pesos) — look for buses that say "Compostela" on the side (they may also say Sayulita on the front window — not all Compostela buses got to Sayulita so you'll want to double check by asking the driver if you don't see "Sayulita" written on the side). Buses are usually white and green, while the newer buses have a "Riviera Nayarit logo" and are green, red and white if that helps. Get ready for an hour-long ride through a lush jungle. Buses run every 20 minutes on the hour beginning at 6:00 in the morning until the last one leaves Sayulita at 9:20 PM.
From the airport in Puerto Vallarta you can go outside (where the taxis hang out) and turn left. You'll find a pedestrian bridge to cross over to the other side of the street where the bus stop is. You'll want to wait right there until you see a bus arrive with "Sayulita" written on the bus. The buses should come every 20 minutes or so, and cost 42 pesos. Pay the driver directly. It should take about an hour or 1.5 hours to arrive.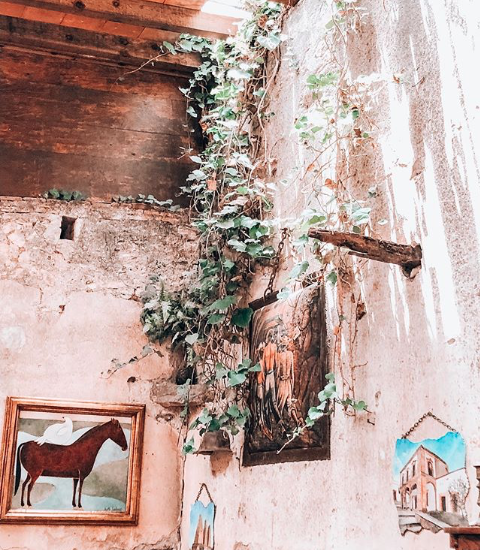 Planning on volunteering with ILP in Mexico?
Come teach English here! There's not experience necessary, you're only teaching part time which means lots of free time in your home-city, and weekends off (Plus vacation days) to finish your Mexico bucket list.

More info and cutie pictures ahead: