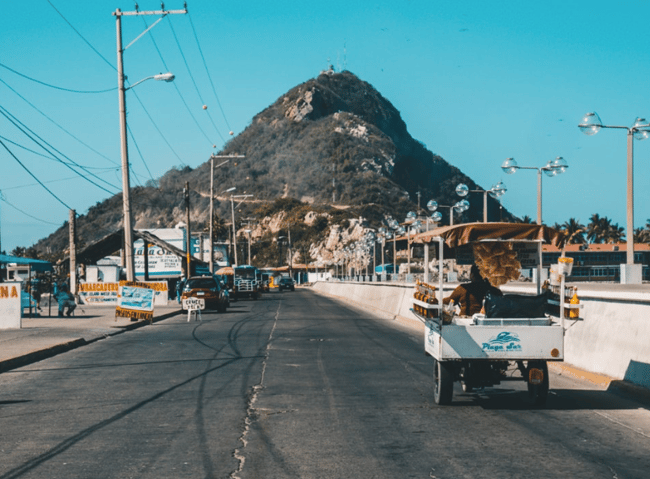 Get ready to add another sun-drenched spot on your vacation list.
Mexico has no shortage of vacation spots — from jungle adventures, to rainbow-painted magic towns, and the miles and miles of beaches. In Mazatlan, you've got stretches of soft sand, swaying palm trees lining a boardwalk, hikes to impressive lighthouses and more. It's a hotspot for water adventures, but has quite stretches where you can relax. In a nutshell, Mazatlan might just be the perfect getaway you're looking for.


---
See our other favorite spots
Mexico Destination Guide
---

Mazatlan's been a favorite vacation spot for our volunteers, tucked away on the western coast of the country. It's a popular tourist destination, but doesn't get as crowded as places like Puerto Vallarta. We're big fans, and have all the tips to make your vacay here easy (so you can focus on relaxing):
The Best Beaches
Things To Do
Our Favorite Restaurants
Places To Stay
Getting To Mazatlan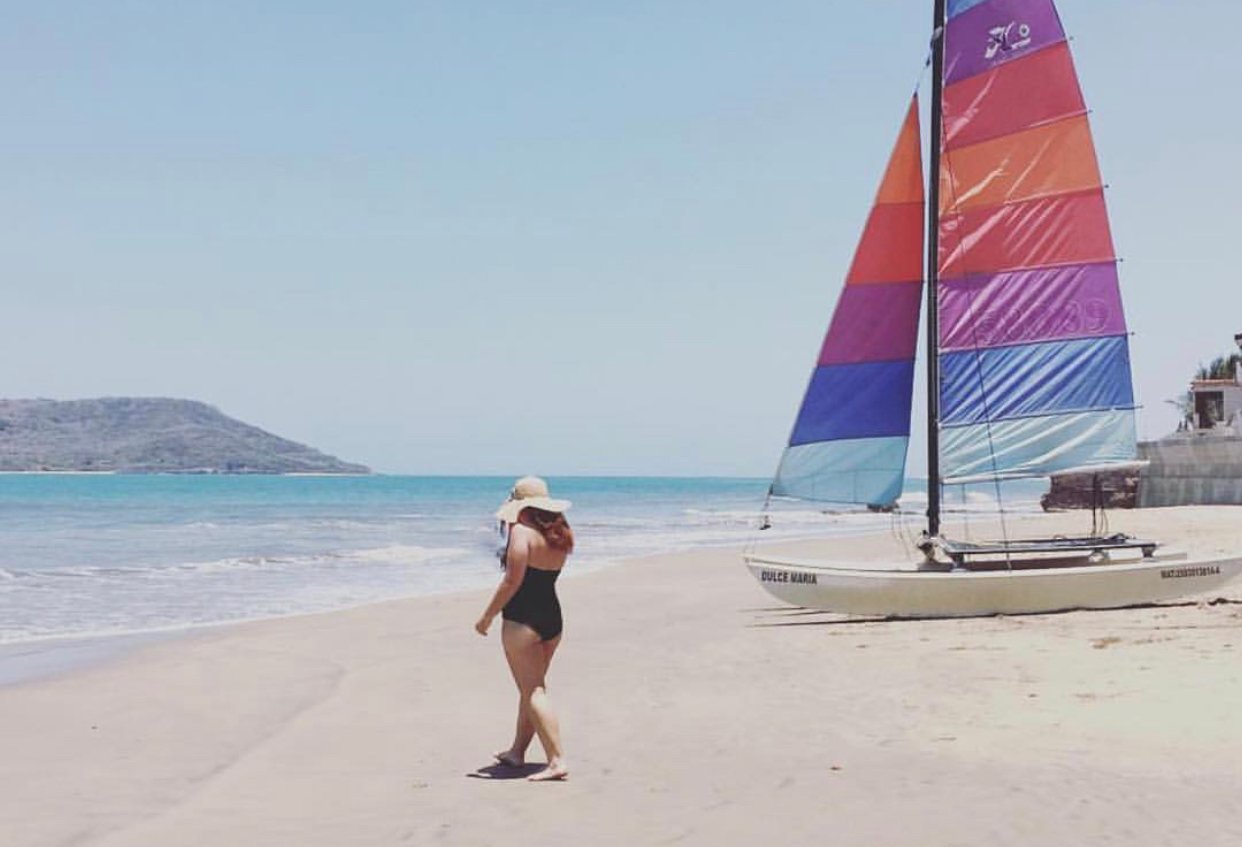 The Best Beaches
Playa Olas Altas
One of the most popular beaches in Mazatlan, and for good reason. The huge boardwalk (the Malecon) is right behind the wide sandy shores of Playa Olas Altas, plus the beach has really easy access, being close to the downtown.

Since Playa Olas Altas is one of the most popular beaches around, you'll want to head here early to get a space, especially if you want to rent out a chair or umbrella for the day. It's not the best swimming beach (with higher waves that are better suited for surfing), but the views are gorgeous. The sand stretches out in a huge "half moon" shape, bookended with stacked resorts and palm trees. It gets crowded, especially at night — walking along the Malecon behind Playa Olas Altas is one of the best spots to catch the sunset.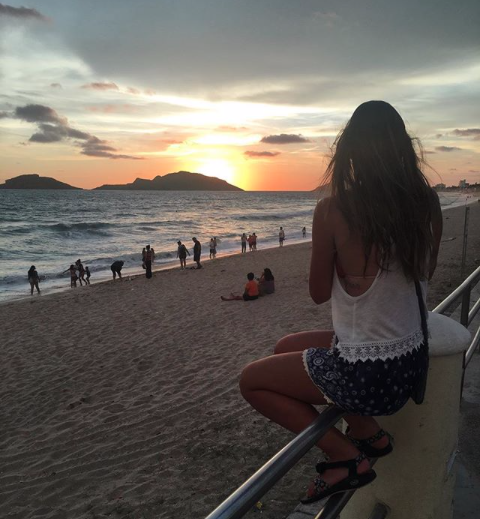 Playa Las Gaviotas
Found in the "golden zone" of Mazatlan, this is another popular beach that's full of tourists laying out in the sun, and vendors selling snacks, jewelry and beach excursions. You'll find umbrellas and chairs to rent for the day if you want some shade. It's a gorgeous beach right in front of a string of resorts and restaurants, with gentle waves perfect for swimming. Some resorts are also cool if you use their pool and showers (right on the edge of the sand) as long as you're paying for drinks and food in their beachside cafes, even if you're not a guest of the hotel.
Playa Camaron
Another beach found in the Golden Zone, you'll find shallow waters and calm waves which are ideal for swimming and boogie boarding. Later in the afternoon when the wind picks up, the waves get a big rougher — head to one end of the beach to watch the surfers that hit the higher waves by the rockier edge.
Playa Sabalo
Playa Sabalo is similar to a few of the beaches on this list: a beach backed by resorts and restaurants, with vendors walking up and down, and a huge stretch of sand that's perfect for evening strolls or just hanging out. It has calmer waters which are better for swimming than the rougher waves found on Playa Olas Altas.
A Note On Excursions
These beaches are full of vendors wanting to take you out on fishing boats, horseback rides, plus boogie boards and surfboards to rent out. You'll find lots to do on all of these beaches, just know that the price is very negotiable. If you're volunteering in Mexico with ILP, make sure you ask for a local's discount, and offer to purchase things as a group to get a lower price. You'll find boogie boards for 100 - 150 pesos to help you get an idea of what to shoot for. If you're not interested, "no gracias" lets them know to keep walking.


Things To Do
Walk The Malecon
The number one thing to do in the evening, right at sunset. This beachside boardwalk wraps around all the best sunset spots: grab your camera for pictures of the sky painted with streaks of pink and orange above the waves. The Malecon is lined with tons of restaurants, food vendors, street performers, historic statues, and waving palm trees, framing the views of the ocean. You'll also find cliff divers who jump from the rocky points at El Clavadista, working from tips from tourists. There is also free WiFI along the boardwalk, which is a nice perk. There's a city bus that will take you along the Malecon and to the Historic Center of the city — just hop on the "Centro" bus (and pay 10 pesos to the driver).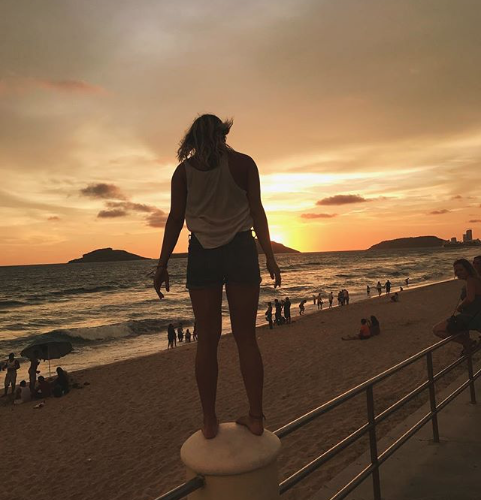 Day Trip To Stone Beach
Take a water taxi over to Stone Island (which actually isn't an island at all, just a peninsula that juts out from the mainland), but a visit here gives you the chance to visit another beach and spend some time on an adventure or two. You'll find snorkeling, a horseback ride on the beach, plus lunch in most packages (one ILP group got a group discount for all this for 300 pesos). The beaches here are also lovely, long and wide stretches of golden sands that aren't as busy with resorts and vendors than mainland beaches.

To get here, you can book a tour that will arrange your transportation via catamaran, or you can DIY and just take a water taxi to Stone Beach yourself, then find a tour company to take you out horseback riding or another excursion (or just hang out on the beach). When you're walking on the beaches in Mazatlan, ask for water taxis to Stone Beach (tickets should be about 40-50 pesos for a roundtrip ticket). Your hostel/AirBnB host might also be able to help you know where to go for a water taxi.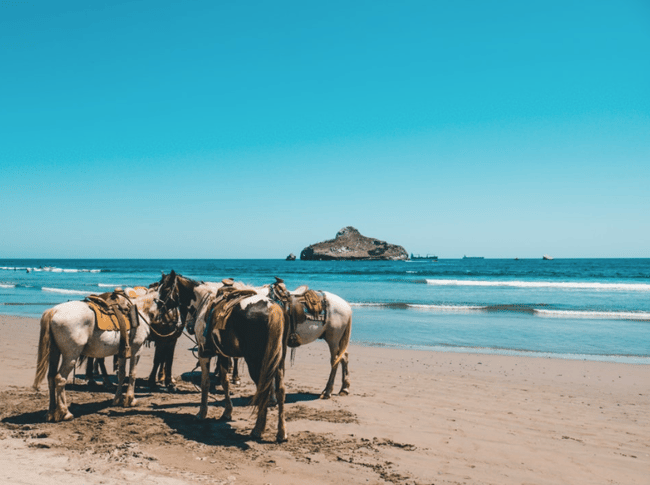 Hike To The Lighthouse
Get a stellar panoramic view of the coastline and the city of Mazatlan by hiking up to El Faro (the lighthouse). It's the tallest lighthouse in the world, and even has a little glass walkway that juts out over the city. Pay 20 pesos to walk to the edge, if you're brave enough! The views from the top are exceptional, and worth the trek up. You'll want to wear comfortable shoes and bring plenty of water: it gets very hot on the hike up. It's not a difficult hike, but the hot weather and steep incline does make it more intense. From the street, it typically takes visitors 30-45 minutes to hike to the top.
The lighthouse is free to visit (though there is a small fee to test out the glass walkway). Click here for directions to the lighthouse.
Splash At The Mazagua Water Park
Beaches are rad, but can they really beat a rainbow network of waterslides? Catered towards families and kids, the Mazagua Water Park is full of a wave pool, several waterslides, splash zones and an artificial beach. Not bad for a 180 pesos ticket (which is about $9 USD).
Hours: 10:00 AM to 6:00 PM
Address: Entronque, Av. Sábalo Cerritos, Sábalo Country, 82110 Mazatlán, Sin., Mexico
Tour Old Town
Peppered with historic buildings and touched with Germany, British, French, and Spanish influences, the historic downtown of Mazatlan is worth a couple of hours of exploring. Head here just to walk around and admire the buildings and markets. We're big fans of talking a self-guided tour to get the highlights (check out this option) or at least skimming through that walking tour so you know what to look out for as you meander around without a route in mind. Peek melon-colored hotels, canary yellow terraces of huge estates and mansions, the towering Immaculate Conception Cathedral, and the maze-like El Mercardo.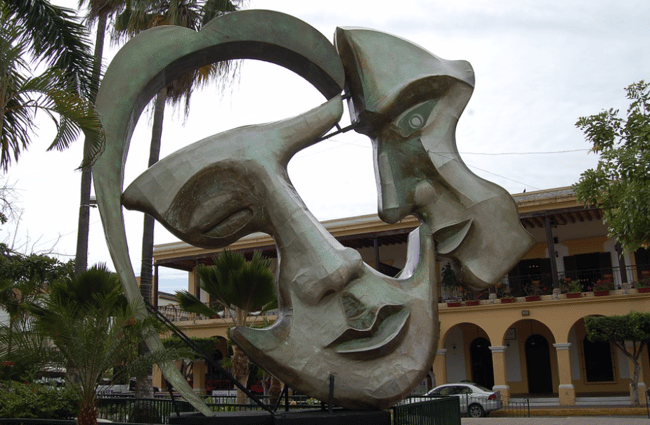 Our Favorite Restaurants
Rico's Cafe
Our pick for paninis, sandwiches, crepes, waffles, great coffee, french toast, and fresh juices. Rico's Cafe is a popular place for breakfast, but also has a rocking lunch menu. There are a handful of locations all around Mazatlan.
Hours: 7:00 AM to 11:00 PM
Address: Multiple Locations
FISH
A fantastic seafood restaurant, serving up poke bowls, fish tacos, bowls of clam chowder, zesty ceviche, sashimi and oysters, FISH is a recommended favorite. Yum.
Hours: 12:00 PM to 11:00 PM
Address: Av. Gabriel Ruiz Local 3, El Dorado, 82110 Mazatlán, Sin., Mexico
Chile Pepper
There are more than a few choices that are worth getting at Chile Pepper, but if you want a recommendation from an ILP volunteer: "get the coconut shrimp …. it will change your life". This spot is right on the beach, and serves up yummy options for breakfast, lunch, and dinner.
Hours: 7:30 AM to 12:45 AM ( 12:00 AM on Sunday)
Address: Del Atún, Sin Nombre, 82110 Mazatlán, Sin., Mexico

Places To Stay
Funky Monkey Hostel
We love that it takes about 10 minutes to get to the beach from the Funky Monkey hostel. It's a popular options for ILP volunteers who also loved the helpful staff, and a rooftop hang out space that gives you a killer view. Something to know: you can only use the A/C at night but you'll be out exploring Mazatlan during the day, right? Shared rooms are about $15 a night, book on Hostelworld.
If You AirBnB ….
You'll have plenty of options, but volunteers suggest staying near the Golden Zone — you'll be surrounded by some of the best beaches, lots of hotels, and places to eat. You can see which AirBnB options there are for Mazatlan here.

Getting To Mazatlan
Take An Overnight Bus
For our ILP volunteers, the easiest route is booking an overnight bus from the city you're living in. It's about a 10-11 hour drive, and tickets tend to sell out, so book them early. Volunteers in the past have had good luck booking with Primera Plus, getting tickets from Irapuato to Mazatlan for about $50-$60.
Fly In
Flying will be much quicker (it's just under a 2 hour flight from Mexico City), but sometimes prices fluctuate — anywhere from $100 roundtrip to about three times that amount. Just keep in mind that you'll need to add on travel costs and time to get yourself to the airport in Mexico City, plus plan for your flight. Even when you have a killer good fare, flying can be more expensive since you'll also need to get yourself to Mexico City. We love pricing out flights and booking on Skyscanner.
Getting Around Mazatlan
There are taxis aplenty (make sure you agree on a price before getting inside, and make sure that the cab is metered) or there is a very affordable city bus system that can take you to the main points of the city. These buses are green and white — look for the "Sabalo-Centro" sign in the dash. They run along the Malecon between the downtown and the tourist districts. Tickets are inexpensive, 11 pesos per ride.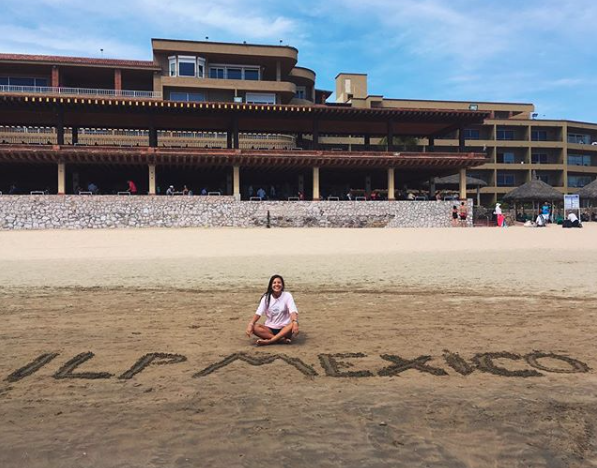 Mexico's the adventure you're waiting for
Come volunteer in Mexico with ILP! We're now accepting applications for college-aged volunteers who want to come teach English part time, have free time, weekends off, plus vacation days to explore all the beaches, jungles, and adventures you can have in Mexico.