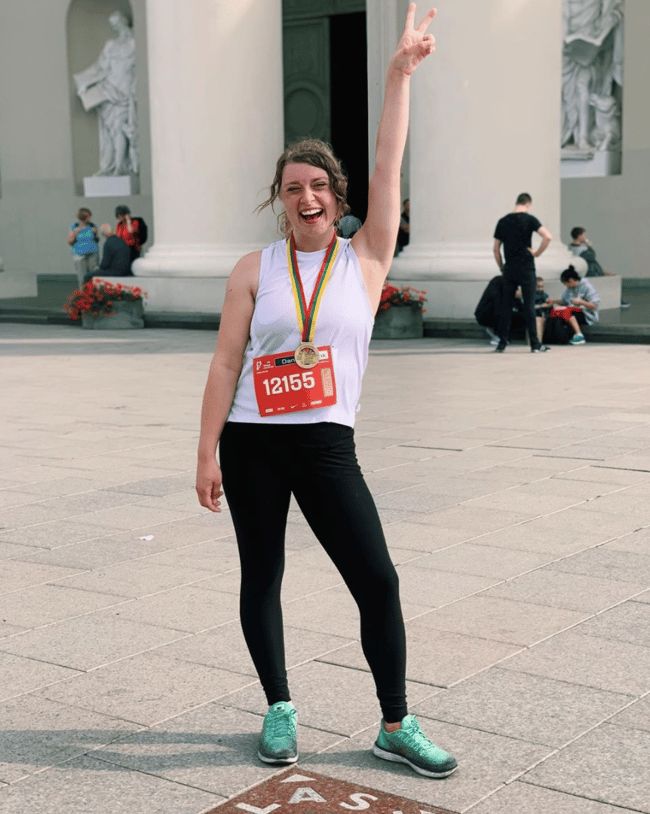 Running down the cobbled streets of Lithuania. . . dressed like Santa? Sign up for one or all of the unique races available in Vilnius.
You may have never thought of racing as something to do when you're traveling. But lot's of volunteers have loved being able explore the streets of Lithuania on foot and truly enjoy its beauty. Whether you are a marathoner or a walker there is something for you.


---
You can see the sights of Lithuania by volunteering with ILP
Apply here
---
Participating in a race in Lithuania could be a really neat thing to add to your bucket list!
First, know that most of the races are held in the last half of the year. For volunteers with ILP that means you'll most likely need to be in Lithuania during our summer and fall semesters
If you are not here when a race is happening don't worry, there are plenty of things to do during your time with ILP no matter the time of year. Check out this blog post that has a whole list of our favorite vacation spots all around Lithuania.
Races in Vilnius
Being the capital of the country, you'll find the most options here as far as races go. If you aren't living in Vilnius though, the good news is that no matter where you are in the country, Vilnius isn't that far away! You might plan a weekend trip here if you sign up for a race, and plan to stay for awhile and explore because this city is definitely worth it. (We have a whole guide to Vilnius if you're looking for tips on seeing the city.)
Extreme Weather Race
— 3.5km course, held in the fall (typically September)
Challenge yourself by facing 7 different natural weather forces all in one course. Be prepared for tropical storms, freezing cold, hurricane wind, snow zone, heat of the Sahara, mountain storm, and a space zone. Most of these, like the space section, will be impossible to train for. But I think that's what makes it such a cool and challenging experience.
This race is a 3.5 km course (that's a little over 2 miles if you're converting) full of both natural and artificial obstacles. Fun!
Click here for their website information and tickets.
Danske Bank Vilnius Run
— Multiple options for distances (good for all fitness levels), held in the fall (typically September)
One of our previous volunteers, Kierya, loved participating in this race. She told us that one of her favorite parts was how they have people holding flags of every country to represent where each race participant is from. She says, "It is one of the most patriotic feelings to run by your country's flag while running in a different country." Some other things to expect during this race is a course that goes through wooded areas with rivers and rural areas as well. Kierya tells us that while she ran through the rural areas there were people sitting on their driveways cheering her on with cowbells and signs while she ran by. You will also find snack and bathroom stops along the way. When she got to the end of the race she says the live music they had playing helped her keep going and made it really fun.
This race is awesome because it really fits all fitness levels. If you're not really a runner, sign up for the 1km distance (it's just a little over 1/2 of a mile). There's plenty of more distance options from the 1km up to a full marathon.
Click here for their website information and tickets.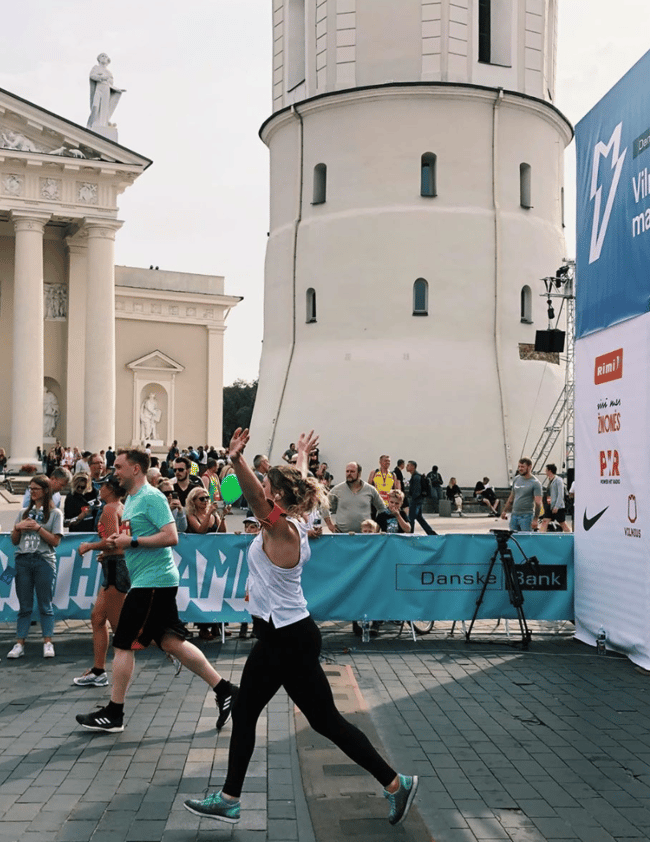 Vilnius Christmas Run
—distance options from 3-12km, held in late December just before Christmas
What's a better way to celebrate the season than with a quick little run? And you'll forever have that story about how you ran a race with hundreds of Santas in Lithuania. Pretty cool if you ask me.
So the deal is that everyone dresses up in some sort of Christmas themed attire, and yep that means you'll likely see a lot of the runners in full on Santa suits. That means on this day in Vilnius there are Santas running all over the city and we're major fans of whoever came up with this idea. One of our volunteers Kierya says this was the funnest race she has ever participated in.
You can sign up for a variety of distances, so it works great if you're a beginner and just want to run a couple of miles. If you want more of a challenge, sign up for the 12 km (which is about 7.5 miles).
Click here for their website information and tickets.
Races in Kaunas
Kaunas is another large city in Lithuania and if you're in the area the answer is, yes! They love races here too.
Kaunas Marathon
— variety of distances, often held in the summer (typically in June but check their site because they have races pop up throughout the year)
This course will take you around the downtown area and is pretty flat, which means it's great for newbie runners! There's also lots of options as far as distances go, from very short runs up to a full marathon.
Check out more info and register here.
Races Along The Baltic Sea
Trail Kursiu Nerija in the Curonian Spit
— distances starting at 12km+, held in the fall (typically in October)
I love running through cities that I adore because it's such a fun, new way to experience the city (and not to mention such a cool way to get involved with your community). But ... guys ... with this race you actually get to run through UNESCO protected areas. It's gorgeous!
With this race you'll be running through the Curonian Spit — a beautiful stretch of land along the Baltic Sea in the northeast side of Lithuania. It's so pretty here that even if you're not coming for the race, we still say you should come for the weekend and enjoy it.
This run is going to be for a bit more advanced runners because the shortest distance is a 12km (about 7.5 miles). And if you're not familiar with running, trail runs tend to be more difficult in general because you're running over a variety of terrains — that means you might be running over a gravel road, climbing up short hills, running through forest roads, and lots more. It just takes a bit more endurance than your typical street run would take.
But if you're not an avid runner, don't let that stop you! I highly recommend training beforehand and using the app C25k. It's totally free and was built to help someone who is just starting out to be able to slowly transition into running a full 5k. The app will guide you through both walking and jogging while you build up your stamina. Once you feel comfortable with a 5k, it helps you move into a 10k, and by then you're practically a pro! I use the app myself and recommend it to anyone who is thinking about getting into running but aren't sure how to start.
Click here for their website information and tickets.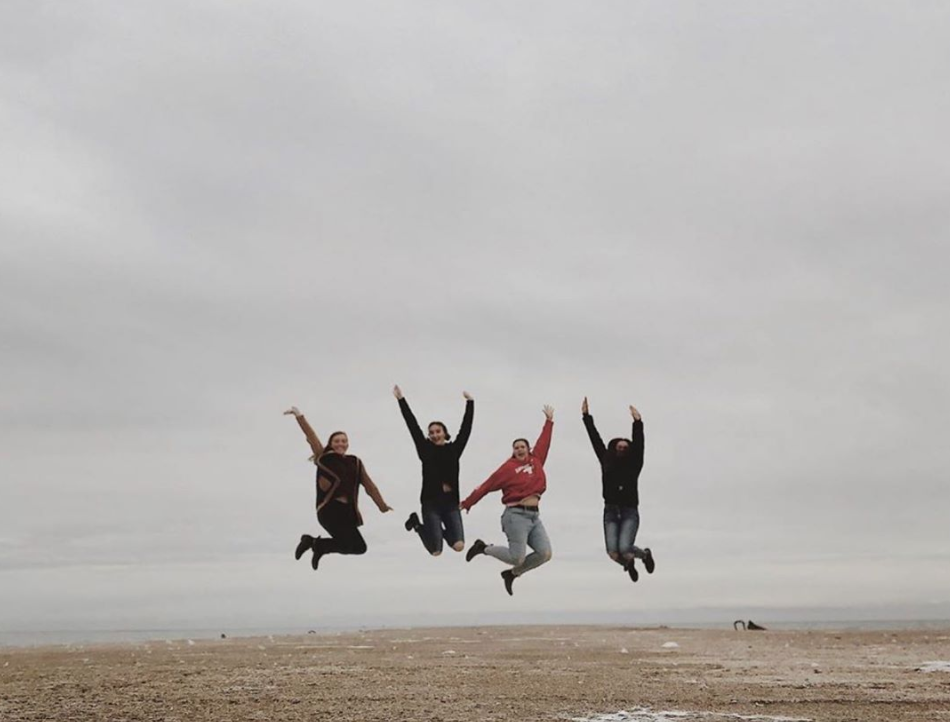 There's so much to do!
ILP is a non profit organization that sends volunteers to countries all around the world for a semester abroad experience, including Lithuania. During your time on ILP you will have lot's of opportunities to explore and participate in cool things like the Santa race if you want to! Click the link below to see more about what life is like traveling and teaching in Lithuania for your semester abroad with International Language Programs.