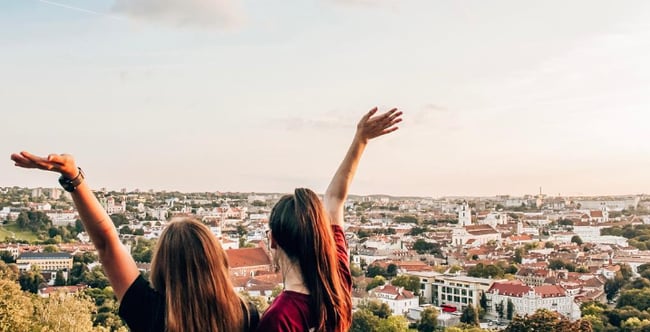 If you're heading over to Vilnius anytime soon, consider yourself lucky! Lithuania is a total hidden gem with tons to see and explore. Here's our guide for everything you need to know about visiting this city.
Europe is enchanting. Period. But Lithuania? It's just far enough away from the most popular tourist destinations that you can visit and get a real taste of what it's like for the locals. So even more charming! And because it was mostly left in tact during WW II (which is rare in Eastern Europe), Vilnius is one of the best parts of the whole country.


---
Want to live in Lithuania for an entire semester? Learn more here:
Volunteer in Lithuania
---

As an English-teaching volunteer with International Language Programs, you can actually live in Vilnius (or another city in Lithuania, like Kaunas) for an entire semester! But even if all you have time for is a little weekend trip, Vilnius is perfect. We've put together this city guide just for you, so you can be sure to experience all the best parts of Vilnius no matter how much time you have.
Everything To Know About Vilnius:
Fun Facts
How To Get There
Where To Stay
What To Do There
Where To Eat
Don't Miss These Day Trips
Fun Facts
As one of the Baltic states located right above Poland, Lithuania has mild temperatures (although it can get pretty chilly in the winter) and is beautiful in both the sunshine and snow. It has been part of other countries for most of its existence and didn't successfully gain its independence again until the 1990s. Vilnius is its capital and largest city and before WW II, it was known as "The Jerusalem of the North". Now there are parts of Vilnius that still reflect its medieval history and other parts that have become very modernized, including a few skyscrapers.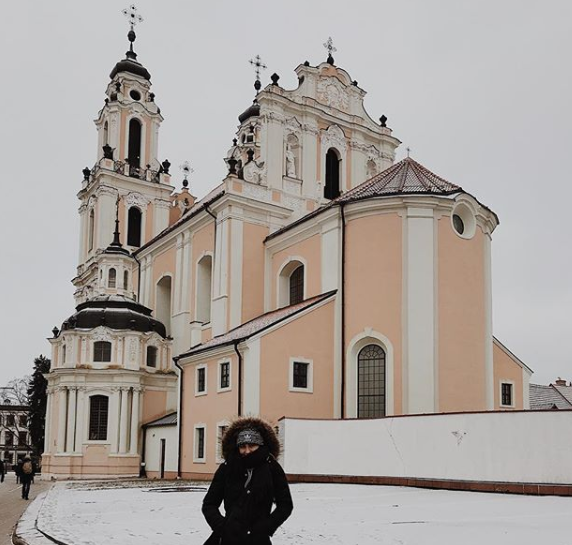 How To Get There
Lucky for you, there is an international airport just outside of Vilnius. Once you arrive at the airport, there are many buses that take only 15 minutes to get to the center of the city. Vilnius is also a hub for many budget airlines which means you might be able to snag a great deal on a flight.
But if you're coming from a country close by, a bus or train will most likely be the better and cheaper option. Here is a website with a lot of information about all of your different options. This is a really great bus company, so make sure you check it out to see if they have buses going to Vilnius from your city!
Getting Around Vilnius
For getting around the city, we recommend downloading the Taxify app, which works like Uber but is way cheaper in Lithuania. If you're planning to use public transportation, download the Trafi app that will give you all the bus schedules.
When using buses, make sure you always have your ISIC card if you want the student discount. There are several ways to buy tickets, but one of the easiest is to just buy them from the driver for about $0.50. These are only good for that one trip on the bus though. We recommend the month pass for volunteers who will be living in Vilnius and taking the bus every day. There will often be security in yellow vests on the buses making sure you have your ticket, so just keep it in your hand for the whole ride.
If you're feeling extra adventurous, try exploring Vilnius by bike!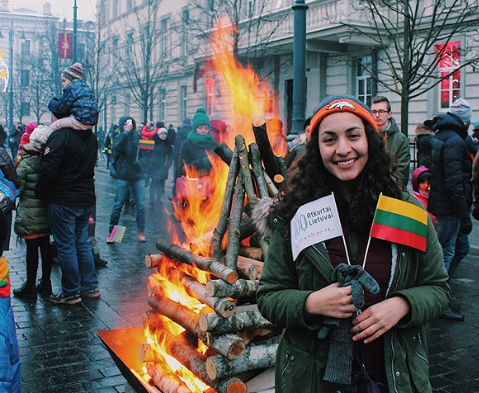 Where To Stay
LITINTERP Guest House
This is a real winner and recommended by other travelers. Located in the middle of Old Town, it is a cozy, clean, well-lit house that will make you feel right at home. Even at the height of tourist season you won't be paying more than $23 per person for each night, which is a great deal for somewhere so well located. Free wifi in all rooms, plus a small kitchenette! And you can pay an additional small fee for airport pickup and breakfast. Literally doesn't get better.
Address: Bernardinų st. 7, LT-01124 Vilnius
Hostelgate
Also located in Old Town Vilnius, this hostel is another great deal. On your departure day, you can still leave your luggage at the hostel while you finish up exploring the city. It's got wifi, a laundry machine, a hot tub, and hair dryers! An you'll be paying under $20 per person for each night.
Address: Aušros Vartų g. 17, Vilnius 01304, Lithuania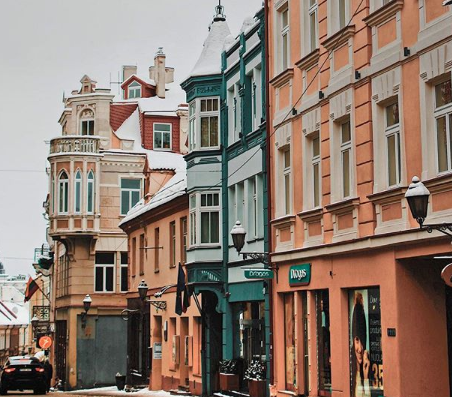 What To Do There
Oh baby, this list is long! We can't even write about everything because this city is just so packed with fun stuff to do.
Stroll Old Town
The heart of the city is where you'll find that classic European charm. There's cobblestone streets lined with vendors selling handmade goods and souvenirs, plus cafe after cafe where you can sit and enjoy a treat. You're bound to run into a gorgeous cathedral and if you spot the tower on the hill, head up for a view of the city. Just give yourself a full day to wander.
Free and Cheap Activities
Here's our list of ten free or super cheap things to get you started! Some of our favorites are the Gates of Dawn, the Uzupis Swing, and the Hill of Three Crosses (not to be confused with the Hill of Crosses, which is also amazing).
Museums
Since Vilnius is so full of WW II history, this is a prime place to visit museums. Here's the list of our five favorite museums in the city!
Visit the Uzupis District
A country within a country? Calling all free spirits - Here's all the details.
Adventure
Up for an adventure? Bet you didn't think you could do some of the same things our volunteers in Costa Rica are doing. Head to the UNO Adventure Park for a day you won't forget!
And just for kicks, we've got to add a snippet about kayaking down the Neris River! It costs about $12 each to rent a kayak and you'll have 2-4 hours to float with your friends. Our past volunteers have used this website through which you can email the renting company and they will tell you where to meet them. Your kayaking adventure will start off in the forest and end in the Old Town area.
Where To Eat
Anyone who says food isn't a big part of their traveling experiences clearly doesn't know how to travel. It might surprise you, but Vilnius is a city for the foodies! Here's a list of our favorite places, including the famous Holy Donut with their donut-topped milkshakes (which is such a winner it has its own blog post), and the Cat Cafe with (you guessed it) cats as your lunch dates. And here's a few more budget friendly options!
And, we'll let you in on a little secret...Lithuania has some pretty good pizza! Here's how to make sure you try this delicious pizza sauce! It might change your life.
Down for some of those mouthwatering European pastries you've been hearing about? This is our favorite bakery in all of Lithuania! Caution: this place has a tendency to cause serious addictions.
Ready for dinner and a view? This place probably isn't on your bucketlist yet, but it should be! Here's how to eat dinner in the tallest tower in Lithuania.
Or how about you make it easier for yourselves and just try everything?! Go on one of these Lithuanian food tours to really get a taste of the city.

Don't Miss These Day Trips
Kaunas
Located about 1 1/2 hours west of Vilnius, this is the second biggest city in Lithuania and the location of another ILP school. It makes for a great day (or weekend) trip. Plus it's always fun to meet up with other volunteer teachers and have them show you around their city! Here is our complete guide for Kaunas.
Getting there: Buses leave Vilnius for Kaunas every 20-45 minutes starting from 5:45 AM to 11:00 PM. This site gives you a timetable from buses from Vilnius to Kaunas. Prices are just above 6 euro. Busbud has an excellent English website, with one-way ticket around $8 USD. If you want to go by train, this site allows you to look at prices and timetables. Prices for first class tickets are under 6 euro for a one-way, and less for second-class tickets. Buses and trains leave so frequently (especially buses), you could arrive at the bus station in Vilnius (Sodų g. 22, Vilnius 03211, Lithuania) and buy a bus ticket over to Kaunas right then.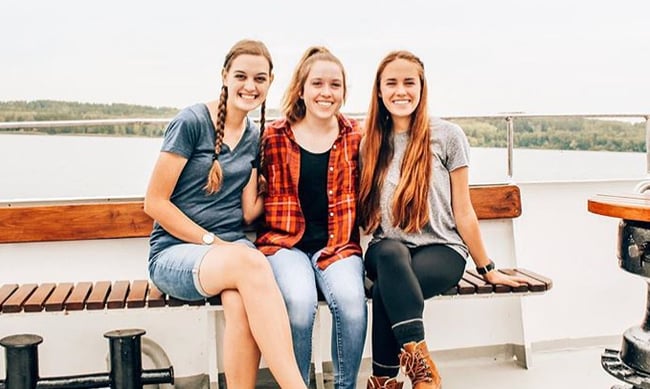 Trakai Island Castle
The first construction of this vibrant orange castle took place in the 1300s, but fell into disrepair after the 1700s. The Germans, Poles, and even Soviets played a part in its restoration, which wasn't completed until after WW II. The castle rests right in the center of a tiny island with only a skinny bridge connecting it to the mainland. Quite the picturesque dreamland. For more info about how to plan the perfect day trip, read our post all about Trakai Castle!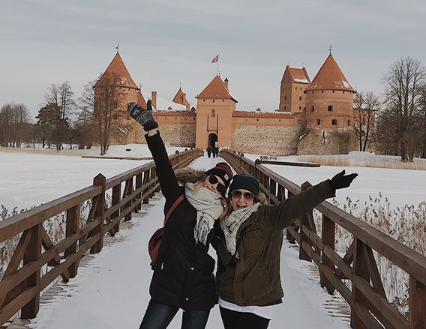 Klaipėda
These beaches may not be as warm as the ones you're used to, but sometimes any beach is a beach, right?! As the location of an ILP school, this would be another opportunity to meet up with more volunteers. There are quite a few neat things here like lighthouses, the Maritime Museum, and the "Black Ghost" sculpture. Plus the city is charming, with colorful houses that line the harbor. Here's some more info about visiting the Lithuanian beaches!
Getting there: Past volunteers have talked to their Local Coordinator about hiring a van to drive them which is very convenient if it works out (and not too expensive, since you'll spit the cost with your ILP group). You can also easily reach Klaipeda from Vilnius on public transportation which takes about four hours. You can book tickets here. For a second class ticket it will cost you about $15-$18, but you can pay more for a first class ticket if you'd like.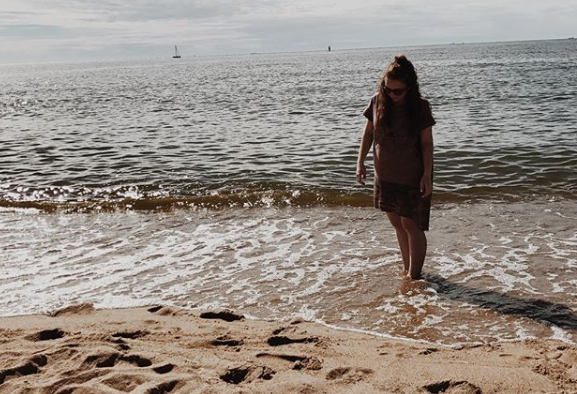 Fort Ninth
This site was once used by Lithuanian soldiers as a fort, but during WWII it was turned into a concentration camp by the Nazis. Today it is an indoor and outdoor museum that honors the 50,000 victims from all over Europe that died here. Visiting this memorial will be sobering and memorable. Entrance price is about $3.50, but students can get in for half that, so make sure you have your ISIC card! Guided tours are available if you're interested.
Getting there: Since this is right outside of Kaunas, one of the easiest ways to get to the fort is by traveling to Kaunas and then catching a bus from there to the fort. Board bus #23 (runs from Kaunas Town Center starting at 6:00 AM and ending at 11:00 PM). It's a one-way bus and usually runs three times every hour. To get home, catch the same bus; it will come from the opposite direction by the supermarket.
If you want to get there straight from Vilnius, visit this website and make sure you type in "devintas fortas" as the destination.
Hours: Open April to October, Tuesday through Sunday (10:00 AM to 6:00 PM).
Open November to March, Wednesday to Sunday (10:00 AM to 4:00 PM).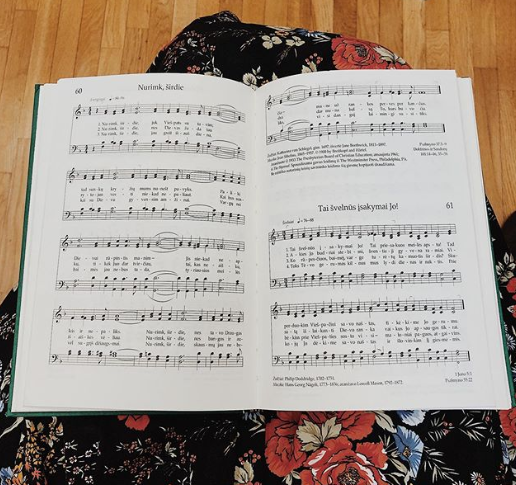 Want to volunteer in Europe but not sure if it's a good fit?
Click that button below for a real quick overview of what volunteering with International Language Programs is all about and if it's right for you!