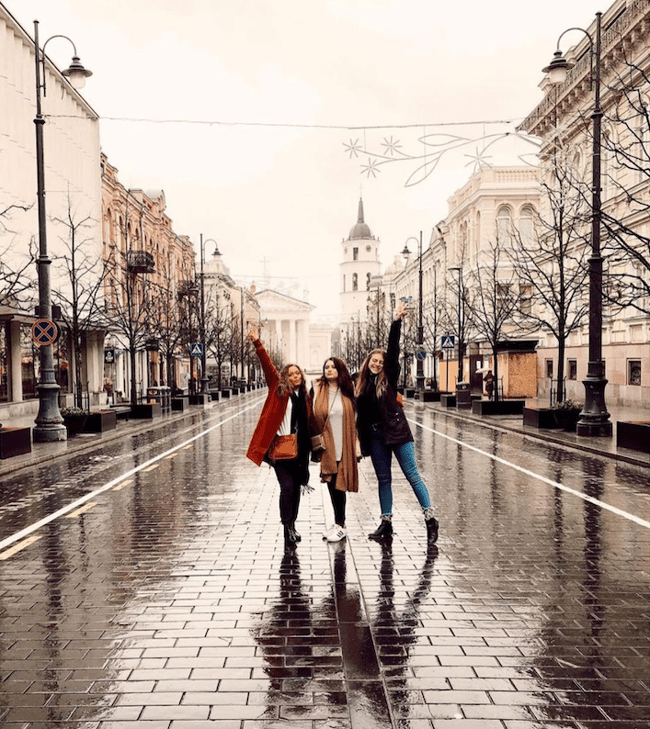 Hey Vilnius — we love you for a lot of reasons, but we're here to shout you out for providing some of the yummiest bites around. Our ILP volunteers who live here for a semester are dishing on their favorite spots.
If your semester abroad is in Europe, I'm feeling a little jealous. You're set for a million choices when it comes to treats. For ILP volunteers, the price to participate in the program already includes day to day meals for the semester, but going out to eat is half the fun when you're traveling right?


---
Is it your dream to live abroad in Europe too?
Learn about teaching English in the Baltics with ILP!
---
So many of our volunteers who are based in Lithuania have been raving about their favorite restaurants, cafes, and food trucks that they've discovered in the country's capital: Vilnius. And we're here to share their picks.
Fresh Bites For Lunch
Rosehip Vegan Bistro
After you explore Gediminas Tower in downtown Vilnius, take a 3 minute walk over to this cute little bistro for lunch. One of our volunteers raved about it and looks like lots of others are doing the same in their TripAdvisor reviews.
You can probably guess by the name, but you'll find lots of fresh vegan dishes, as well as vegetarian options, and don't forget about the smoothies and their bowls. After life in Europe (which tends to include a lot of bread, potatoes and chocolate!) you'll want to sip on something so fruity and fresh. Their bowls are also a winner, with bright purples, oranges, and greens that it'll be hard not to snap a picture before you dive right in.
Address: B. Radvilaitės g. 7, Vilnius 01124, Lithuania
Find them: on Facebook and on Instagram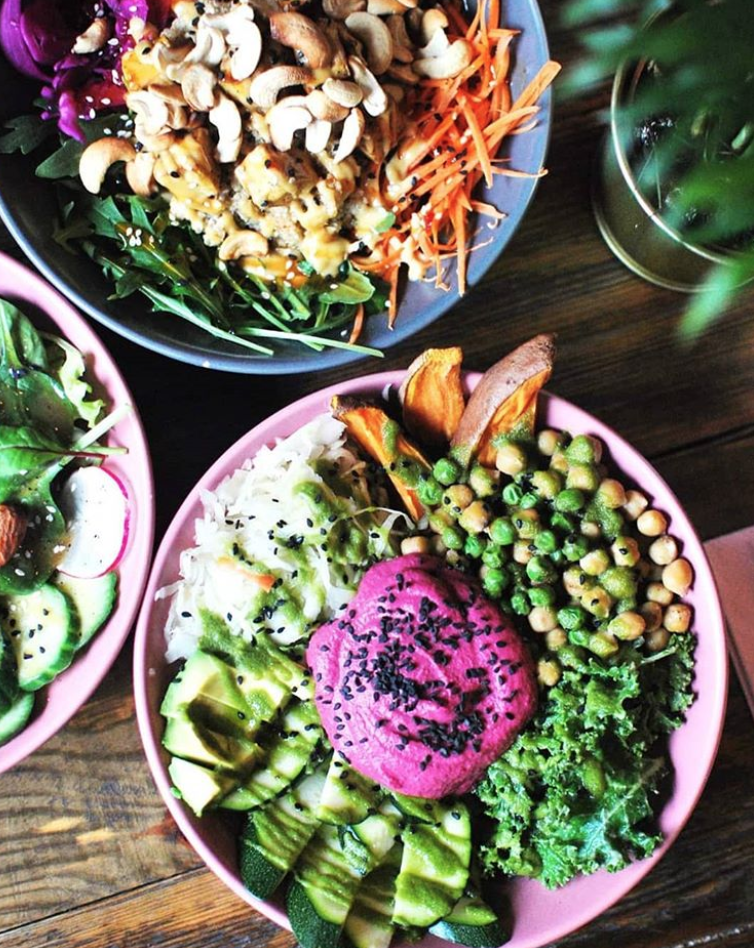 HALE'S Market
Eat here and feel confident that you're not only eating fresh, but also supporting local farmers! According to their website, every day (except Mondays when they're closed) organic meats are delivered from various farms around Lithuania. We're big fans of that. And reviewers have been raving on TripAdvisor.
Address: Pylimo 58-8A, Vilnius
No Forks
If you loved Cafe Rio back home in the States, I'd give this spot a try. It's basically a build your own burrito spots and volunteers have said that, "it's delicious and fresh too!"
Address: A couple location options in Vilnius
Find them: On Facebook
Cozy
This is a go to spot for a soup-and-sandwhich lunch, though the restaurant does have a heavier breakfast and dinner menu if you want to give that a try. It's a very popular place to eat in Vilnius, and a favorite for our volunteers.

Address: Dominikonų g. 10, Vilnius 01131, Lithuania
Out To Dinner
Boom! Burgers
Getting a craving? Boom! Burgers has the reputation of being one of the best burgers around town. They use real Angus meat and know how to cook it to perfection! Some of our volunteers have said, "The yummiest, BEST burgers ever. They are seriously so good, and fresh fries too. Also, it is a very decently priced place."
Boom! Burgers is really easy to get to from Vilnius Cathedral, so it makes for a great spot to grab a bite after exploring Old Town. All you need to do is head down Gedimino pr. and you will find it.
Address: Gedimino pr. 1, Vilnius 01103, Lithuania
Find them: On Instagram and their website for more info
Oh and don't forget to tag them if you post a photo on Instagram — if they repost it, their IG bio says you'll get a free burger!
Hesburger
While we're talking about burgers, we should mention this spot. If you're looking for fast food where you can get a cheap meal, this is it. For us Americans you may not be as familiar, but essentially it rivals places like McDonalds and Burger King (to give you an idea of what it's like). It's a fast food chain that started in Finland and has been growing throughout Europe.
Our volunteers who are doing their semester abroad in Europe are typically on a budget (they're often college students taking a semester break) so we love finding affordable spots for them. If you're looking for a quick bite, give it a try.
Pizza Express
Our volunteers love a pizza night once in awhile! If that's you, there's a couple chains you might want to give this spot a try.
Quoting one of our past volunteers here, "ALWAYS GO WITH THE ORANGE". All pizzas come with two types of sauce to go on the side; one is a chunky white garlic sauce and the other is the delicious and slightly orange garlic sauce.
Be like Shelbi and always order the orange. She recommends getting the Neopolio and the Chicken Havaju…with the orange garlic sauce, of course.
Address: There's lots of options around Vilnius, so see which one's most convenient for you!
Find them: On their website
Vapiano Europa
Want to try another pizza spot? Vapiano is quite popular in Vilnius for pizza, pasta, risotto, and salads (along with a couple of other dishes). It's a go to spot for our volunteers who are in the mood for some Italian.

Address: Konstitucijos pr. 7, Vilnius 09308, Lithuania
For A Sweet Treat + Savory Snacks
It was hard narrowing down our favorites, but we've given it our best try! Oh and we can't pass by a rolled ice cream stand without getting some, so while you're wandering around Old Town make sure you stop in one of those (they're all over during the warmer months especially).
The Rolling Waffles
You're going to want to hunt down this food truck to snag one of our favorite snacks! This business was started by four friends who had a love for traditional Dutch waffles ... and we're in love with devouring them. Keep your eyes peeled for their orange truck (which looks more like a van — fun fact: it's actually been imported from The Netherlands!) and shout for joy when you come across it.
They post their events and locations on Facebook, so you'll want to follow them there for updates on where to find them. Just as heads up, all of their social media is in Lithuanian as you might expect, so if you're like me and don't speak much Lithuanian don't hesitate to message them on Facebook. In my experience they've been really quick to respond, so kind, and speak English fluently.
Find them: On Instagram and on Facebook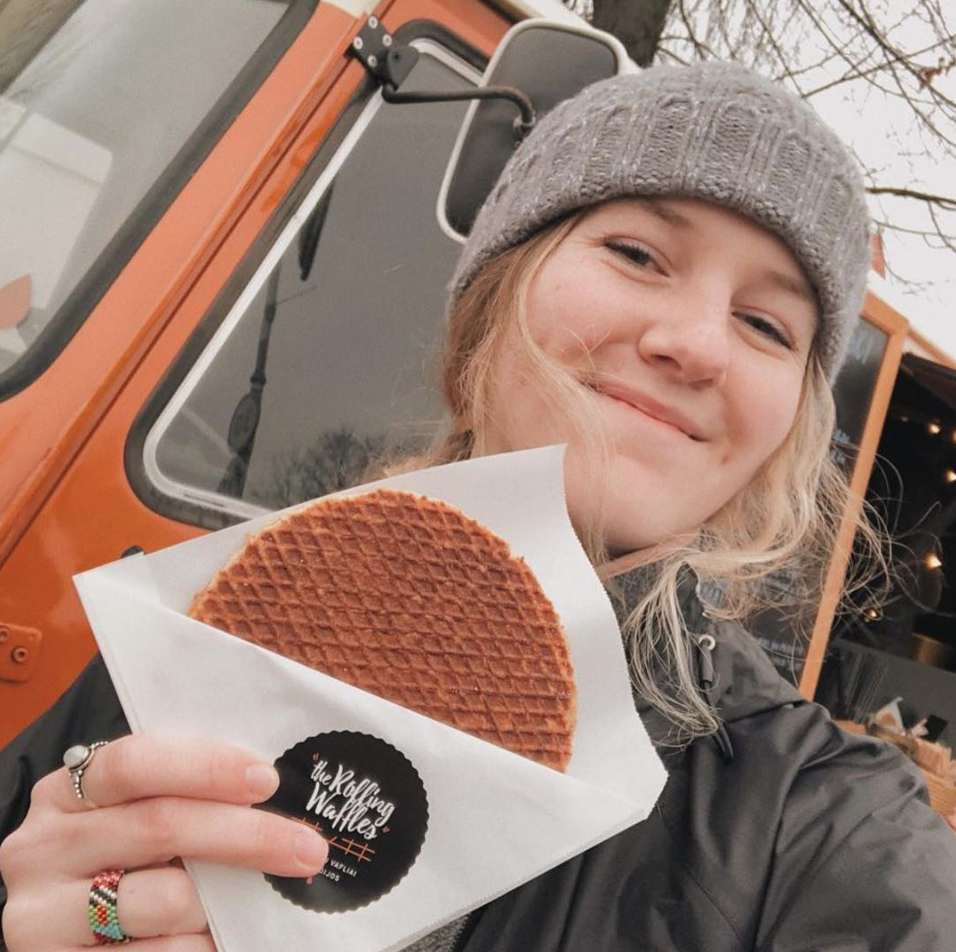 Holy Donut
One of our volunteer groups discovered this little shop, posted pics of their "freak shakes" on Instagram ... and it has since become a "must do" for all of our volunteers who are creating their bucket lists for their semester in Lithuania. Just take a peek at their shakes and you'll see why.
But to be frank, a lot of our volunteers also say that the shake looks much better than it actually is (in their humble opinion). We're hearing that the donuts are so good though and there's lots more items to try on the menu! Shelbi P. let us know that "they really are the best donuts I've ever had anywhere." So it's definitely worth a try if you ask me.
So if you're set on trying one of these trending shakes, maybe order one with your group of friends and split it so you can get your pics, but don't forget to order some plain old (and seriously yummy) donuts to actually cure your sugar craving. The shakes are so big and also on the pricier side compared to other items on the menu, so it's a great item to split anyways.
Oh and by the way, they also have locations in Kaunas!
Vilnius Address: Vokiečių g. 9, Vilnius 01130, Lithuania
Kaunas Address: Vytauto pr. 24, Kaunas 44355, Lithuania
Vilniaus g. 37, Kaunas 44289, Lithuania

Hours: vary according to shop, but generally 8:00 AM to 8:00 PM


Find them: On Facebook and on Instagram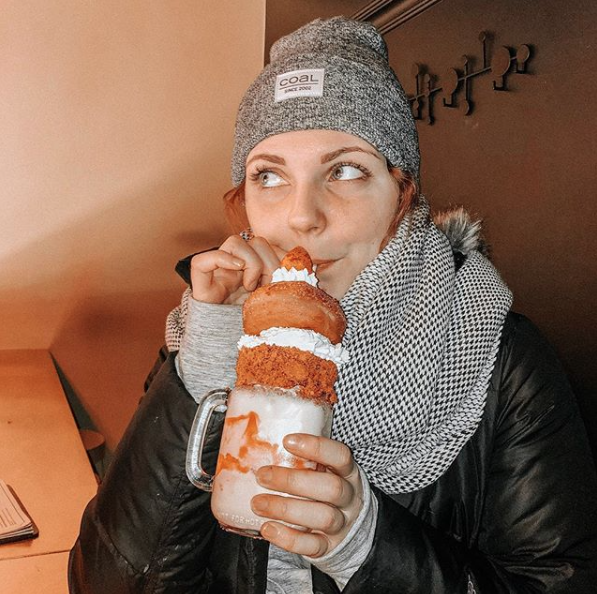 Donut LAB
Speaking of donuts ... we've got another spot that ILP volunteers recommend. Donut LAB is a perfect place for that pick-me-up treat. One of the locations is right in the center of Vilnius only a few steps away from the famous Gediminas Street (so maybe head here after your lunch at Rosehip!). Check out their menu on their website and see what they have to offer.
One of our volunteers said she loved getting the strawberry icing and strawberry rice krispies and the hazelnut chocolate icing with chopped hazelnuts. Yum.
You're in luck if you're in the Kaunas area because they also have a location there.
Vilnius address: There are multiple spots around the city and Google Maps has your back
Kaunas address: S. Daukanto g. 26, Kaunas 44246, Lithuania
Hours: Check individually, but generally 9:00 AM to 9:00 PM with some fluctuation on the weekends.
Find them: On Instagram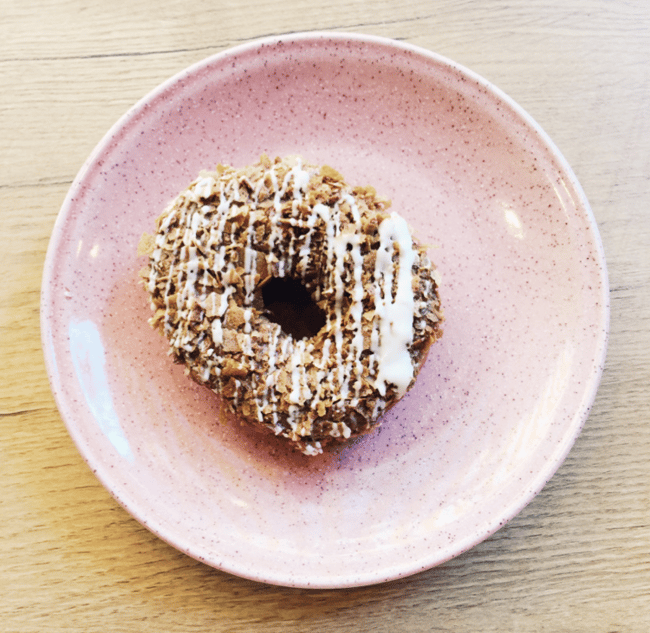 Pinavija Cafe
In the mood for pancakes? Look no further!
Our volunteers have said, "This cafe has the BEST PANCAKES. We LOVED this place. It's so cute inside too. They have great tea, coffee, waffles, eggs, and other pastries and cakes." Peep their website to check out more of the menu.
Find them: On Instagram
Directions: Vilniaus g. 21st
+ So many other cafes
You're in Europe, so it should come as no surprise that Vilnius knows how to do a good cafe. You've got lots of options and volunteers are always adding their favorites to the list. We'll quickly highlight a few they've been loving though:
Chaika —
Hip and vegan friendly, Chaika is a cute little wooden house-turned-cafe which is darling. Even if you aren't vegan, the vegan chocolate peanut butter cake is scrumptious. Their dessert menu is pretty impressive, with fruit tarts and slices of rich cakes, topped with pistachios and pomegranate seeds. Add in cool teas (surprises like matcha brewed lemonades) and coffees with vintage Russian memorabilia and you are set for a cozy afternoon in.
Address: Totorių g. 7, Vilnius 01121, Lithuania
Find them: On their website
Mint Vinetu —
Calling all book-loving-cafe goers! Nearly every wall in this cafe is lined with bookshelves (and there's internet!) so feel free to get your lessons plans done between sipping on cool drinks or browsing unique souvenirs. You can find some neat takeaways too, like loose leaf tea in little tins, a rack of beautifully photographed postcards, and Vilnius themed tote bags. There's also a piano you can play after you flip through some local music albums.

Address:

Šv. Ignoto g. 16, Vilnius 01144, Lithuania


Find them: On Facebook

Cat Cafe —
Ok, as soon as you arrive in Lithuania you will see that they love cats. I mean, you can buy paintings of cats by artists on the street! It's a whole thing here. Of course they would carry the tradition into the cafes as well. The Cat Cafe is exactly what it sounds like. Head to downtown Vilnius and chill out, grab a drink, and hang out with some cats. Laura S. lets us know that "the Cat Cafe is cute but the food is pretty bland — you mostly go for the experience." But I mean, come on! Fluffly cats just wandering around in a cafe? I'm so there.
Address:
Gedimino pr. 5, Vilnius 01103, Lithuania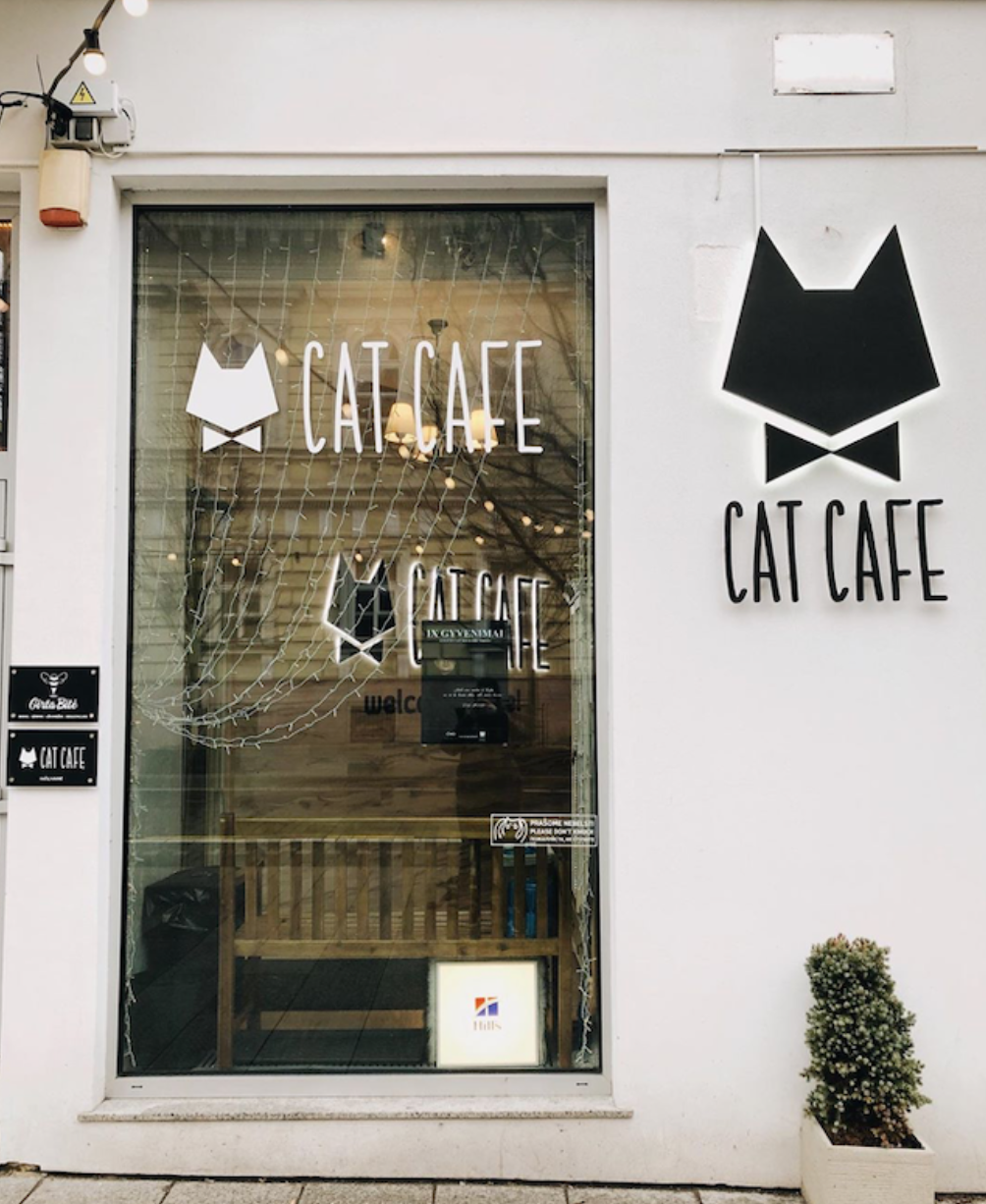 Arba Arba - Pienbaris —
Looking for a fabulously thick milkshake in Eastern Europe? They are tough to come by but not at Arba Arba. Most times, when you order a milkshake in Europe you're looking at a flavored milk. They aren't thick and don't nearly put in as much ice cream than the shakes in America. But at Arba Arba, you'll find fun flavors and toppings and a dessert shop that's open year round.
Here's what Ashlie A. had to say "Cutest cafe in the word in Vilnius Old Town. And fabulous milkshakes". Enough said.

Address: Gedimino pr. 47, Vilnius, Lithuania
Bubblery —
This cute and modern cafe is known for bubble tea drinks, but you can also order up a sandwich on a croissant or a little slice of cake if you're wanting something to go along with your tea.

Address: Aušros Vartų g. 4, Vilnius 01305, Lithuania


Sopranos —
Shelbi P. has got another recommendation and although this cafe is a bit touristy, "the sundaes are to die for!". They also have a spread of gelato flavors you are bound to love like rich caramel, bright mandarin, coconut and mango, and other favs. They are right on the main tourist street in Vilnius, so it's easy to find.
Address: Pilies g. 3, Vilnius 01123, Lithuania
Find them: On Facebook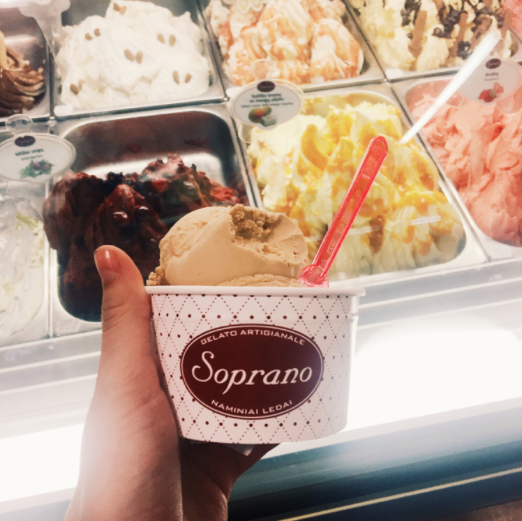 Pink Milkshake —
When is back to back milkshakes ever a bad thing? Pink Milkshake and Arba Arba are pretty similar, but this little shop is only open during the warm season, from April to October. You can find some pretty unique flavors like a watermelon milkshake, or ones piled high with whipped cream and gummy bears. Strawberry-lime-mint is another innovative flavor, but you'll also find classics like Oreo, mint chocolate, and mango + strawberry. Yum.
Find them: On Facebook
Address: Vilniaus g. 45, Vilnius 01132, Lithuania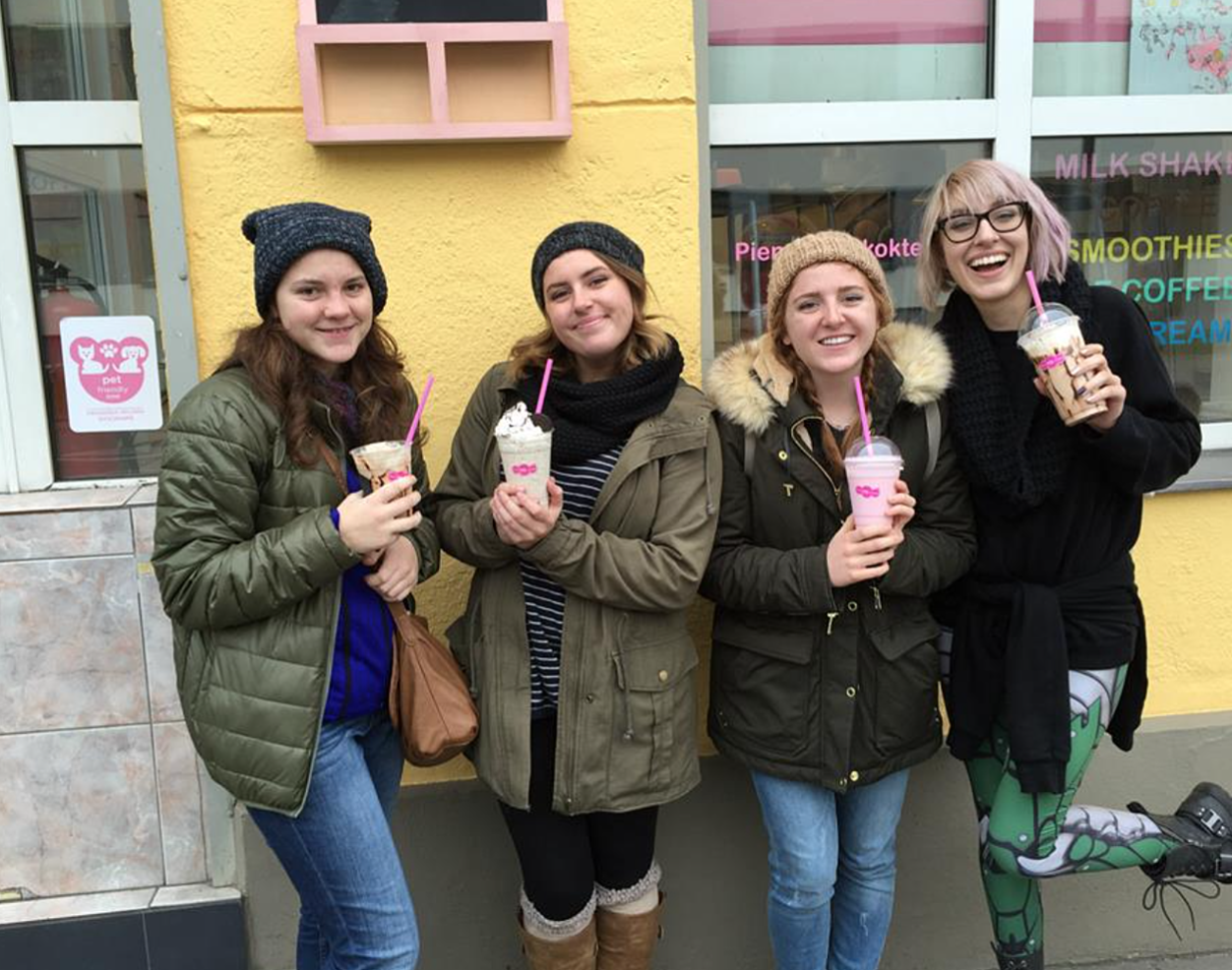 Traditional Lithuanian Dishes
We haven't really touched on more traditional dishes, but that doesn't mean you should overlook them. We're in love!
Keep your eye out for crepe and kebab stands, especially around Old Town. You can't go wrong there, they are delicious! They make for a perfect lunch to have on a nearby park bench and are at a great price point to boot.
At local restaurants, volunteers recommend ordering up Cepelinai (stuffed potato dumplings), Saltibarsciai (a cold beet soup), Kepta Duona (fried bread with garlic), and Tinginys (no-bake cookies).
We also highly recommend Kibinai. It's is a traditional dish (you might find it similar to something like pot pie), essentially any kind of meat, potato, and/or vegetable wrapped up in a delicious, warm, golden, crust. One of our volunteers said that the lamb was her favorite!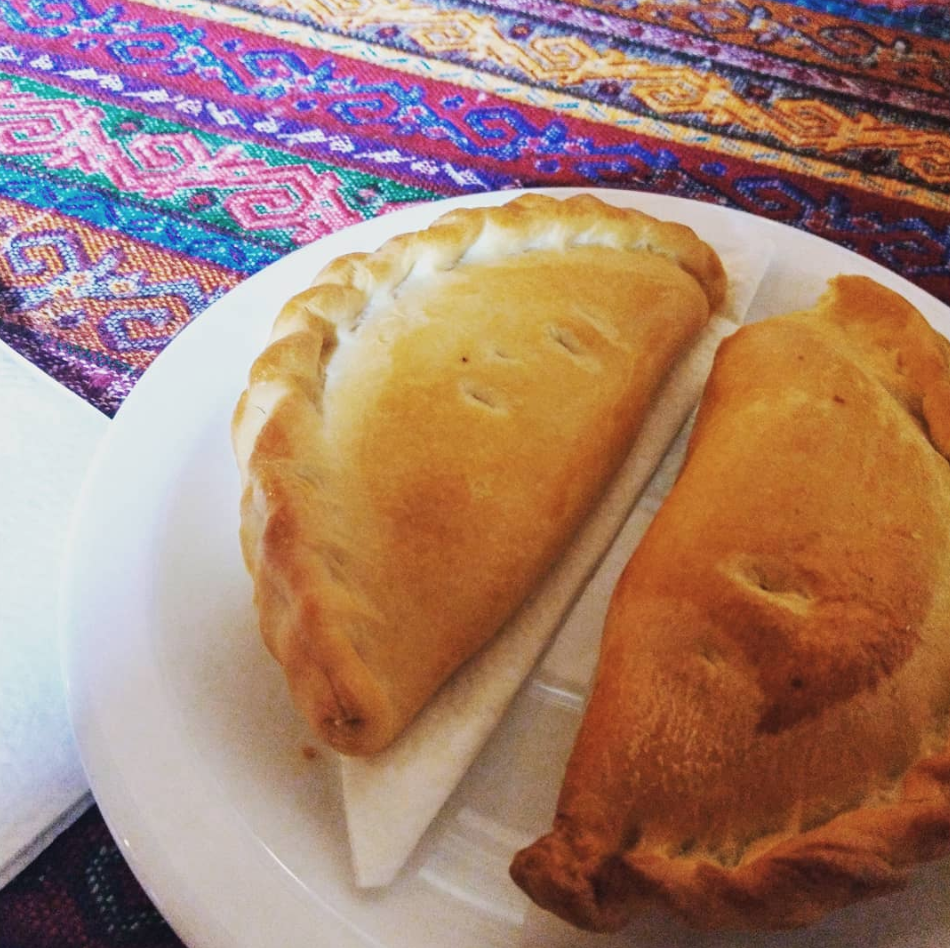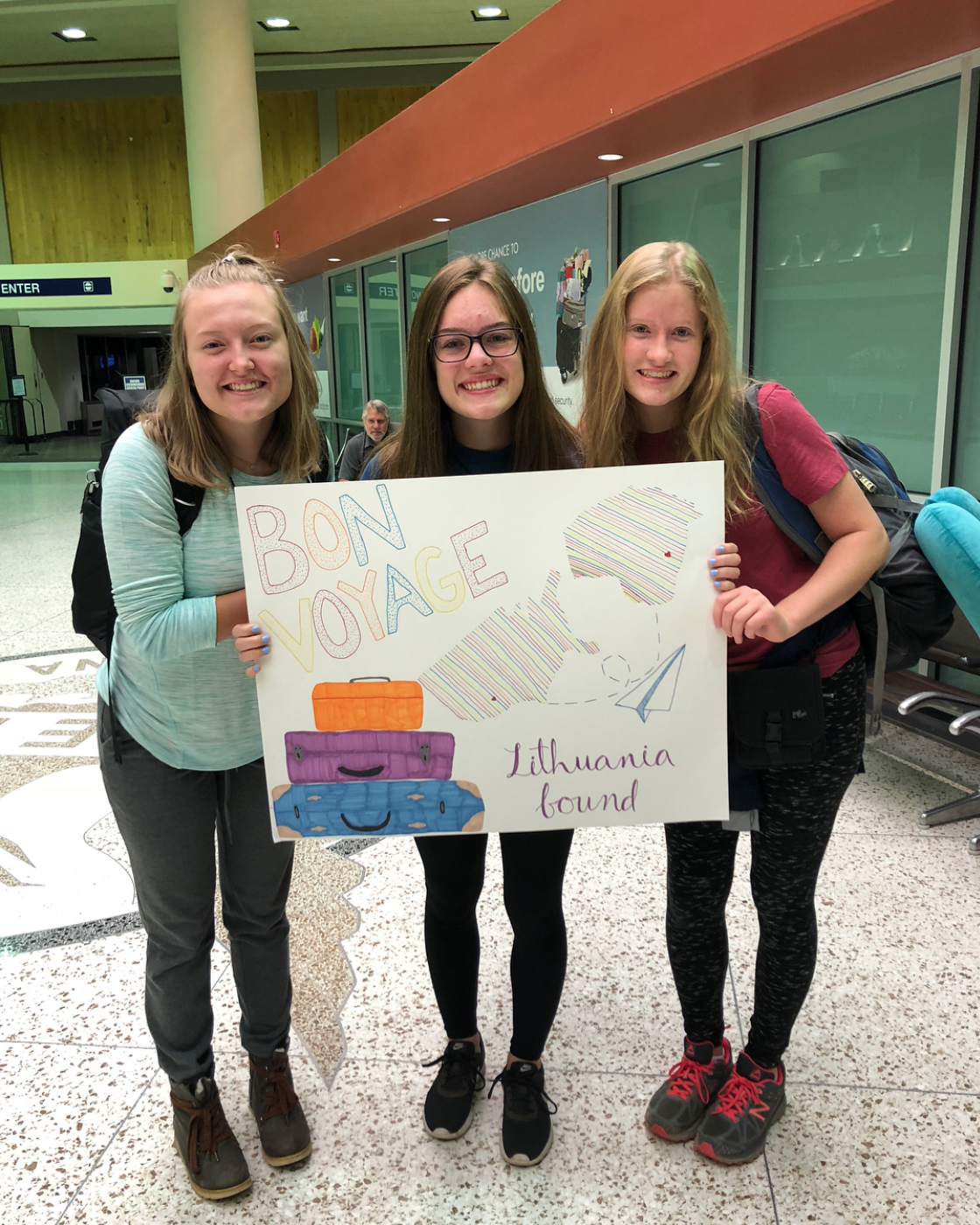 Now's your chance to be Lithuania bound
with a group of American volunteers!

International Language Programs (ILP for short) sends volunteers to teach English each semester in countries Europe (and others all across the world). You don't need any teaching or travel experience, you don't need to be a student, and you'll get lots of free time to explore and backpack Europe with your group.

Get a bit more info about volunteering in Lithuania here. And if you want to see more about what a semester abroad looks like, let's be friends on Instagram! We're always sharing posts from our volunteers to help you get a glimpse. You might also want to check out #ilpLithuania to see more.