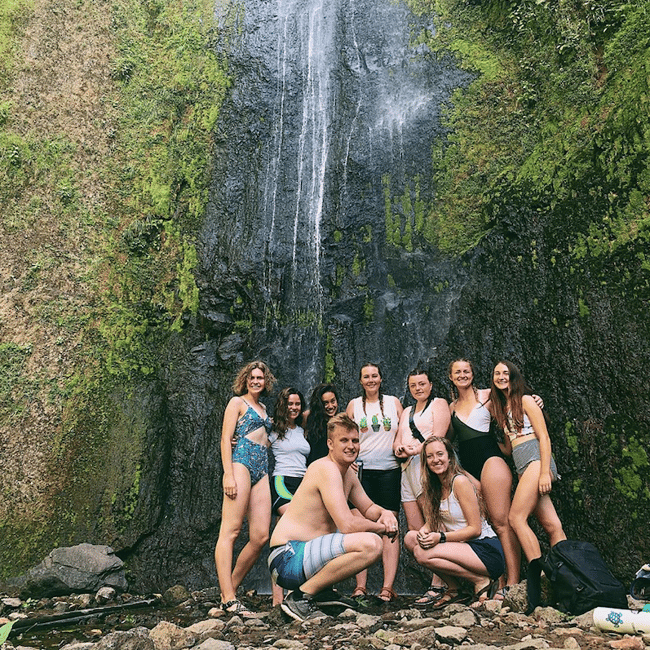 Trekking to waterfalls is just kinda of what your life looks like if you're hanging out in Nicaragua.
We love getting to know a country by exploring cities, trying new restaurants, and meeting people, but don't forget to get to know a country by spending time outside, hiking, and swimming too — especially in a place like Nicaragua. With thick jungles, and islets you can kayak around (with waterfalls hiding in the dense interior) you can plan on more than a few fun adventures in this country.


---
Ready for some serious adventures?
All about volunteering in Nicaragua!
---

Hanging out on the island of Ometepe is one of our favorite things to do in this country, which is saying a lot, considering everything there is to do here. Check out our Ometepe island guide here, but this blog post is all about how to hike to the towering San Ramon Waterfall and soak in the amazing scenery. Here are the deets:
About The Waterfall + Ometepe Island
The San Ramon waterfall is on the beautiful Ometepe Island. This lush tropical island is formed completely by two massive volcanoes. Ometepe sits on an enormous lake, giving you the chance to soak up the scenery on your ferry ride over. Be sure to peek out the windows and see the looming twin silhouettes of Maderas and Concepcion — the two volcanoes that build this island. So. Cool.
It is a favorite place for visitors and you'll quickly see why once you get there! With rainforests, freshwater swimming, waterfalls, and more, we have a feeling you'll love it. If you don't have a ton of time to spend on the island we'd recommend you make this waterfall your first stop.
About The Hike
The waterfall is one of the biggest attractions of the island, an almost-200 foot cascade that drips down a mossy cliff face, forming a little pool that you'll be dying to swim in. From the little town of San Ramon, it's a 3-kilometer trek through the jungle to reach the falls. It's an easy path to follow but you may find some local guides hanging around if you'd like to be guided to the falls for a small fee. If you have the time to go early, that would be best: this place is pretty popular and it's best enjoyed without the crowds.

Tips For Your Hike
When To Go
This trip is best to do during the rainy season so there is enough water for the falls. During the dry season, the waterfall dries up a bit and won't be as full. However, the waterfall is really lovely to visit no matter when you visit. The pictures on this post were taken in February, which is in the country's dry season. You can see that there's still a small pool to kind of swim in, and enough water to form a waterfall.
What To Bring With You
Water
Good hiking shoes
Swimsuit
Sunscreen
Cash for transportation
Snacks
There isn't a place for you to change into a swimming suit, so make sure you're dressed to hike then swim, then hike back. You'll want a towel and lots of sun protection — the sun is pretty intense here.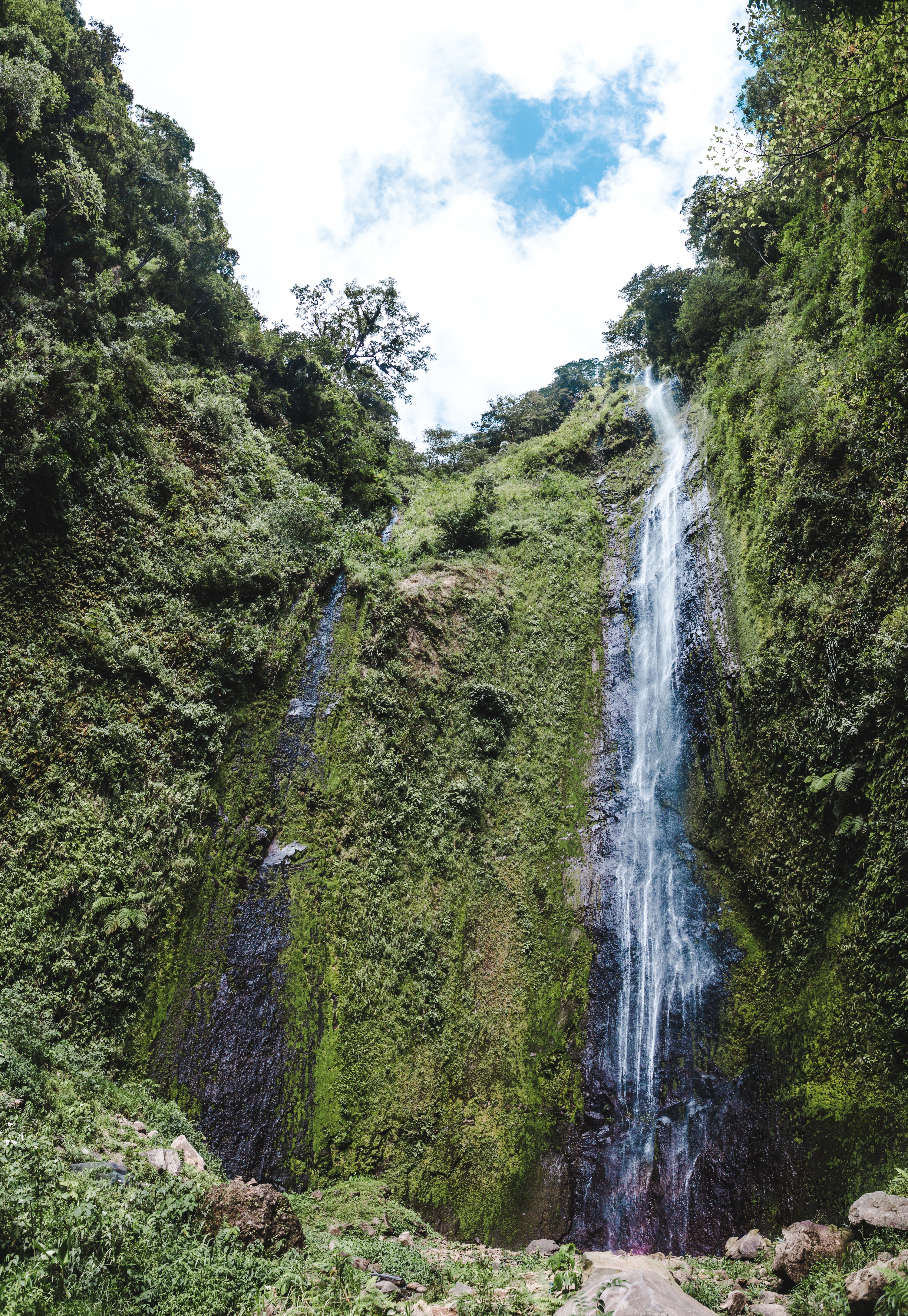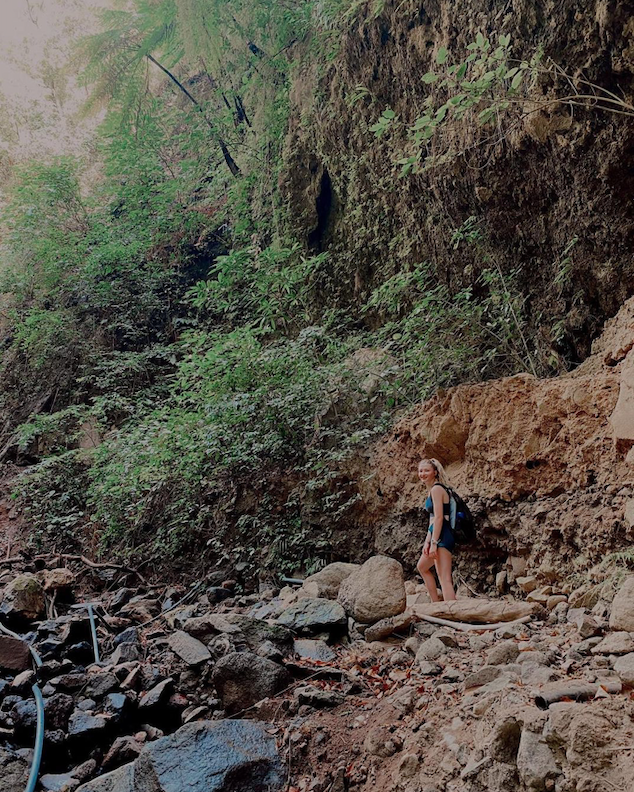 Getting To The San Ramon Waterfall
We have a way more comprehensive breakdown of how to get to Ometepe here, but below are the directions on how to get to the actual waterfall once you're already on Ometepe.
The island is actually pretty big ... not really a place where you can get to everything on foot. From the San Jorge port you are dropped off at, it could take a couple hours to get to the waterfall hike depending on what transportation you use.
Public Bus
The public bus is a good way to get around the island, but it can be tricky to use when getting to the waterfall. Plan on it taking 2+ hours and having a pretty sporadic bus schedule. No matter where you go on the island the bus is pretty cheap (only a couple of USDs), but it does take some planning to make sure there is a route to get you to and from your destination.
Taxi
You can also take a taxi to the start of the hike, again with taxis just remember to negotiate the price! You can get a taxi for about $30 USD which isn't too bad if you split it between you and a couple of friends. Just make sure you have a plan for how to get back to the city after the hike.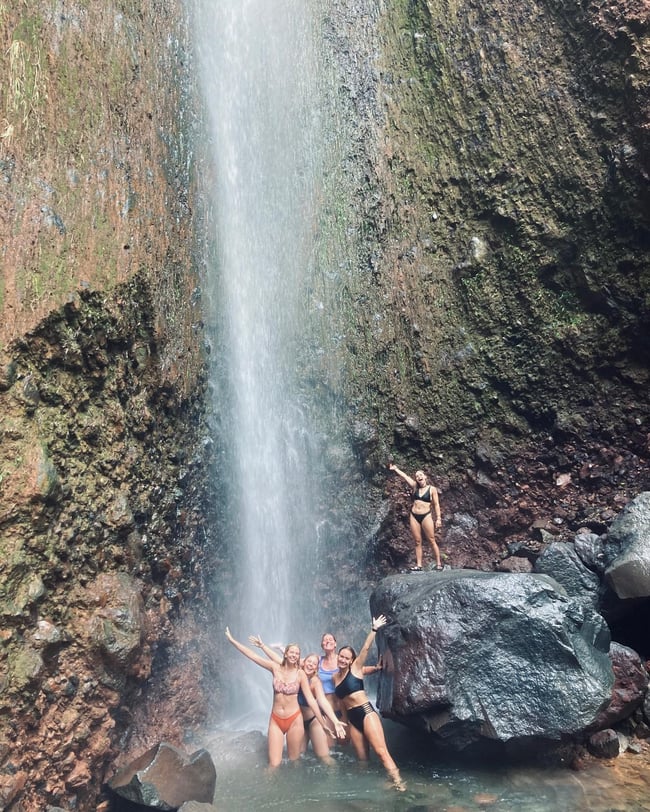 Ready for a semester in Nicaragua?
The kids you teach will steal your heart, your ILP group will become some of your new best friends, and of course, Nicaragua is amazing and something you won't want to miss out on. Spots in Central America are going fast, come send in your application to snag a spot.