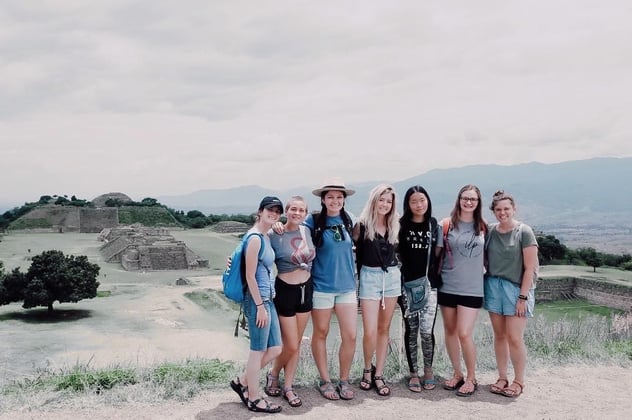 If you want to see hilltop ruins and have some of the best food around while you're in Mexico, you should plan on visiting Oaxaca — this part of the country boasts dozens of day trips we love, like the imposing ancient ruins of Monte Alban.
Before you head to Mexico, you should probably narrow down your priorities of what you'd like to see and do in this country, especially if you're here just visiting for a short time! Even for our volunteers who spend a whole semester volunteering in Mexico, 3-4 months isn't long enough to see all the thundering waterfalls, jungly cenotes, charming magic cities, colorful markets, sprawling beaches, and ornate cathedrals hiding in Mexico.


---
We're not kidding about living in Mexico for a whole semester!
Check out what volunteering in Mexico is like
---

It's practically impossible to pick favorites in this country, but we love a vacation to Oaxaca, for a few reasons. One is all the day trips and weekend trips nearby, which is a major perk to this popular city (you can pack in a lot if you visit Oaxaca). One of these nearby adventures is what we're featuring here, Monte Alban — an imposing set of ruins that displays a snapshot of Mexico's impressive history. It's a can't miss kind of experience.

To make your visit to Monte Alban easier, we're spilling all the history and details for your visit:
All About Monte Alban
Seeing ancient ruins is a highlight of any trip to Mexico, and Monte Alban is the obvious must-see while in Oaxaca. Found on the hilltop just a few miles from the city, Monte Alban is the ruins of what was one of the largest cities in Mesoamerica at that time. The massive metropolis first began with the Olmecs, then later belonged to the Zapotec people who declared the city their capital, growing it from what used to be a small, rural town.
It's believed that the city of Monte Alban had its peak between 200 AD and 600 AD, before losing power in 800 AD. You can see a big influence of the culture of Teotihuacan if you're familiar with that site as well. While originally the capital of the Zapotec culture, the city was abandoned, then later found and used by the Mixtec people as a sacred burial site. These people actually used the same tombs as the Zapotecs and added some of their architectural flair to the city.
Though many of the tombs were looted throughout history, you can learn more about the stunning relics discovered in Tomb 7 (don't miss exploring the now-empty tomb while visiting Monte Alban and learning more about the treasures found inside at the museum).
What To Expect
This place is a huge, a 4-mile spread of pre-Columbian ruins that act as a snapshot straight through a section of Mexico's expansive history. The Monte Alban ruins are made up of several plazas, over 2,000 terraces, an observatory, a ball court, as well as a palace-like structure known as El Palacio which was used exclusively for rulers and the elite of the city. We're going to highlight a handful of the more popular and prominent sites of Monte Alban to guide your visit, but know there's lots more to see here!
The Main Plaza
It's hard to miss, and probably the first site you'll want to explore once you enter the site. It's a towering structure planted in the middle of the green field, believed to once serve as a civic and ceremony site.
The Ball Court
Have you heard of these before? Found in thousands of Mesoamerican sites, ball courts are a narrow field book-ended with sloping sides, typically with a carved stone ring (that acted as the "hoop" for the ball to pass through). The ball games were quite the spectacle, with some records of the losing team serving as sacrifices.
The Pyramids
Another highlight of the area is the towering pyramids found across the site. You can climb atop these pyramids which boast quite the view. (Another handy tip? Try zip-zagging on your way up to help you manage those tiny little stone steps.)
Tomb 7
Other areas were used as burial sites in the complex of Monte Alban, but Tomb 7 is the most famous. The artifacts found inside are considered the richest ever found in the Americas. We're talking gold masks, necklaces, bracelets, rings, and other artifacts adorned with jade, metalwork, shells, pearl, and amber. The treasures are now featured in museums across the country (but don't miss the one in Oaxaca).
The Museo Nacional de Antropologia
There is an onsite museum where you can learn more about the people who used to live here. Inside, you'll find pottery fragments, small statues, and other relics, along with a balcony that gives you quite a view of the site. There is also a small cafe and bookstore (which is a nice break from the heat of the exposed ruins — it gets hot out exploring!).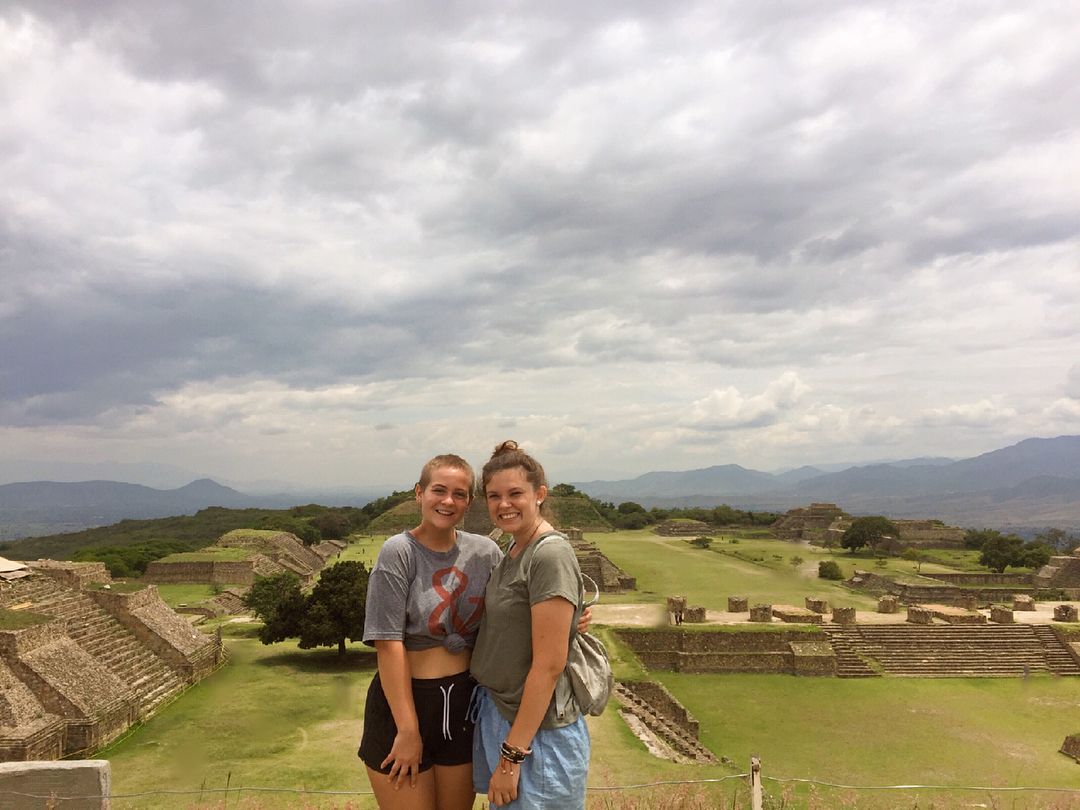 Info To Know
Hours: Monte Alban is open 8:00 AM to 5:00 PM

Costs: There is a 75 peso entry fee.
You'll find some placards in Spanish around the more prominent sites, but if you'd like to learn a bit more, you can hire a guide for your visit. Tour guides are available for around 250 to 600ish pesos per hour. You may want to chat with a few tour guides to make sure they have the info you want (and speak your level of Spanish, or English). There's also an onsite museum as was mentioned earlier.
Most visitors tend to spend 2-3 hours here, more if you're particularly interested in the museum or would like to do lots of wandering about the huge site. Make sure to plan accordingly with water and snacks (and what you wear — there isn't any shade to speak of).
Things tend to get busy, especially on the weekends. The sites also can get congested in the afternoon, once tour buses drop off tourists to admire the site. If you're wanting more of a personal experience without the crowds, head here during the morning hours (and on the weekdays, if you can swing it). However, the crowds around Monte Alban are pretty tame compared to other, more popular ruins like Chichen Itza.
Easy Ways To Get There
For any situation, you're going to want to start in the city of Oaxaca:
You can get here via guided tour, but DIY options are a cinch, too. (Honestly, it's easy to get here yourself and do some exploring, I'd save your money and DIY instead of going with a guided tour). But if you are interested, several hotels and tourist agencies in the area will also arrange shuttle buses for tourist groups. Lescas Co Travel Agency is one that pops up with some research, as well as Hotel Rivera del Ange. Buses are about 55 pesos.
A taxi is the easiest way to travel there and should set you back about 150 pesos (or less, depending on your bargaining skills). Just make sure to leave Monte Alban early enough to get a taxi back to Oaxaca. There are typically several waiting in the parking lot waiting to take tourists back. It's about a 20 to 25-minute drive.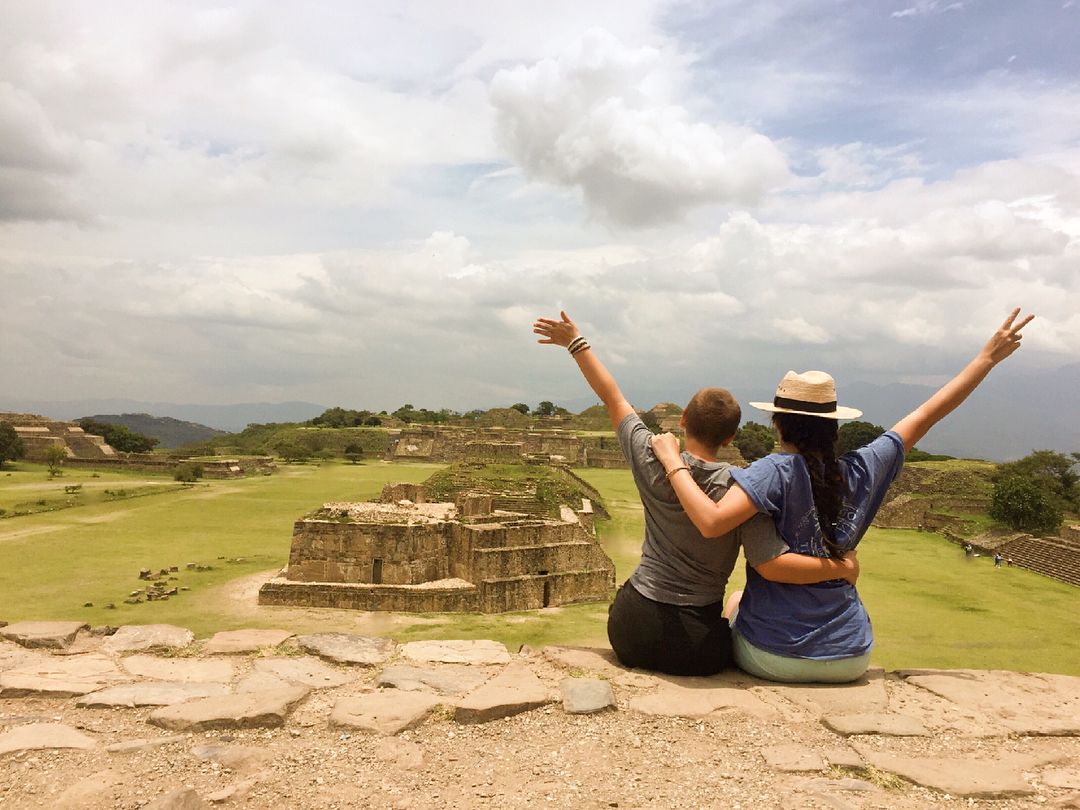 What's this about volunteering in Mexico for a semester?
Yep, that's right! Hi, we're ILP (International Language Programs). For decades, we've been sending groups of college-aged volunteers to countries all over the world for humanitarian service, like teaching English.

We have volunteer locations all over, but Mexico is one of our very favorite locations ... can't you tell? We're accepting applications now — come see if this adventure-packed and vibrant country is right for you!