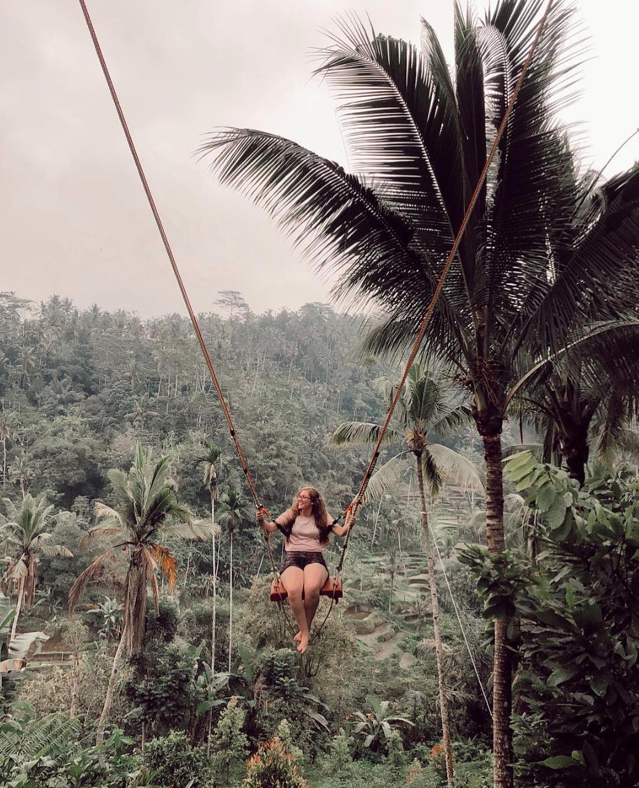 Going to Bali and looking for a little more adventure than just going to the beaches? This treetop swing lets you float over the thick fringe of palm trees and we think you'll absolutely love it.
There's something pretty magical about Bali — from the pristine island beaches to the dense jungle and overall Instagram feel of the smoothie bowls you can buy there ... it's a no-brainer that this place is popular. One of the more trendy adventures is the Bali Swing, found in Ubud. Ubud is already one of our favorite places to spend a day or two, making it an easy addition to your vacay, especially if you're already living and volunteering in nearby Thailand.


---
Want a peek at what volunteering and traveling with ILP is all about?
Check us out on Instagram!
---
Luckily for you, lots and lots of our ILP volunteers love this adventure, and have top-notch tips and tidbits to make sure your trip here is a dream.
What Is The Bali Swing?
Getting To The Bali Swing
What To Expect
Planning The Rest Of Your Trip
What Is The Bali Swing?
If you're new to the Instagram world of Bali, you need to know that there's a dreamy swing hidden in the jungle that gives you an amazing view (plus, it's pretty fun). The jungle swing is marketed around Ubud as an "extreme sport", but it's really not if you ask me so don't let that scare you. There are different heights you can ride the swing to, so if you're feeling nervous just go with the lowest setting.
Officially known as the Bongkasa Swing, you'll find lots more than just this one Insta-famous swing. There are around several other single swings in this park, including a big swing that's more on the adrenaline/extreme sport scale. You can also hop on one of the three tandem swings, or hang out in one of the cutie bird nests. There's a lot to see, but most people just come for the main Bali Swing.
Insider tip: If you're looking for an Instagram worthy shot where you look like you're effortlessly floating over the treetops, you want the lowest setting. You won't have to wear the helmet and harness so you can snap a picture in your outfit without all that gear.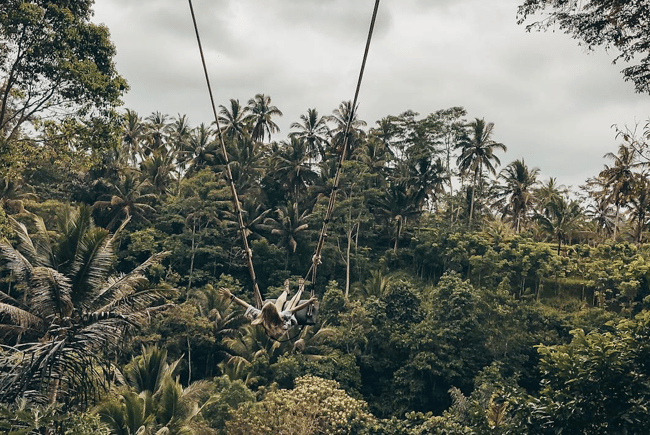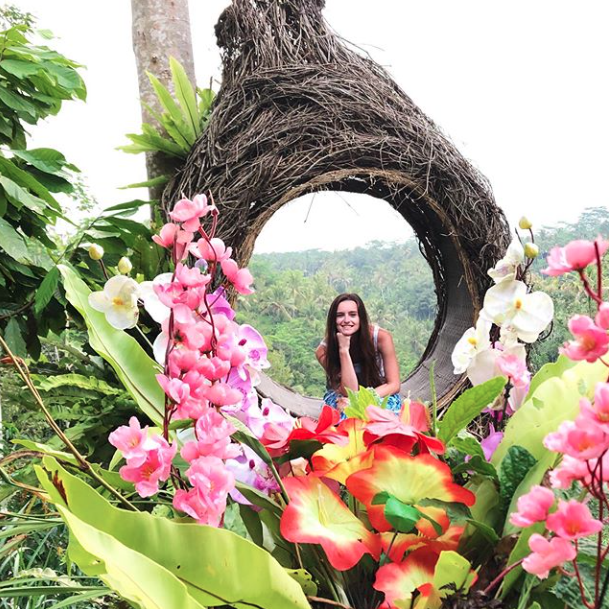 Getting To The Bali Swing
The swing is a 20-30 minute drive, located outside of Ubud. There are a few different options on how to get there, which are outlined below.
Here's the address: Jl. Dewi Saraswati, 80352 Bongkasa Pertiwi, Kapubaten Bandung, Bali.
As a heads up, there's a nearby swing called the Zen Hideaway Swing which you don't want to visit (to hop on this swing, you must stay at their hotel, which is not cheap), so make sure you're using the right address.
Use The Swing's Transfer Service
Use the transfer service the swing offers. You can find more info here. It will cost you about $5 USD (for two people or more...only having one person has a fee of $12) as long as you are within 15 km of the swing. If you're further, you can still use the service, it'll just cost a little more.
With this service, they will pick you up from your hotel, take you to the swing and return you back to your hotel. There are no other stops you can make with this service.
Hire A Driver
My personal favorite option. Because the Bali Swing is only going to be a part of your itinerary in Ubud, you'll probably want to visit other things around like the rice terraces and a couple of nearby temples. Hiring a driver means you can be dropped off, picked up, and driven to all of these other spots. I was able to hire a driver for the day just by walking around the main streets of Ubud and asking around. You can negotiate the price to be around $25 or $40 depending on where you'd like to be driven that day.
Take A Taxi
You can request your hostel to get a taxi that will pick you up right at your front door and take you to the swing or you can go out to a main street and flag one down. There are taxis all over the place hanging around the city of Ubud (in the touristy spots, like down at the market and temples) so you should have no issues finding one. Prices should be about $10 USD depending on where you are in Ubud.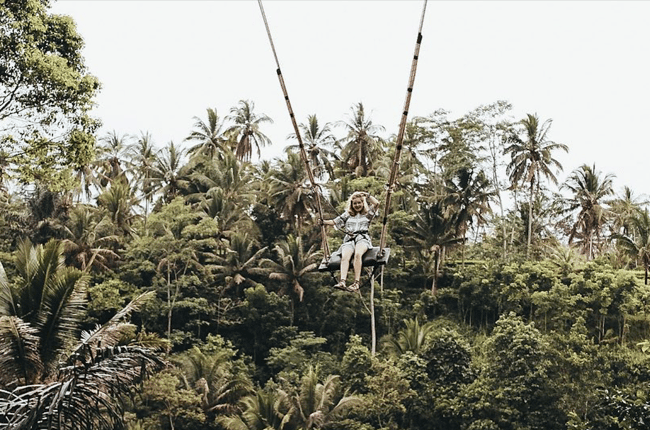 What To Expect
How Much Swing Time Do I Get?
Officially, they don't limit your time on the swing, but some visitors say they got around 30 minutes on a less-busy day.
If you get tired of being on the swing, you can get off earlier. You are allowed to get off and adjust position (try going with your back to the camera and your forward facing to get the ultimate shot).
How Much Does It Cost?
Completely depends on what you're wanting to do. There are two packages you can chose between upon arrival:
Bali Swing Entrance Fee: this package is $10 and will pay for your entrance, a soft drink, lunch buffet and four activities.


Bali Swing Active Package: This one is $35, but will get you the entrance fee, soft drink lunch buffet and 13 activities (which includes four different swings).
Hours + When To Visit
This place is open from 8:00 AM to 5:00 PM, Monday through Sunday.
This place is popular — plan on waiting in line, maybe up to an hour depending on the day. I'd suggest getting up as early to get there right when it opens (or maybe a bit before) so you can avoid the potential lines. Some visitors report waiting an hour around 9:30 AM just to hit the main swing.
Other Details
You can actually rent a dress if you'd like that ideal Instagram picture. Depending on the dress you rent, plan on paying between 150,000 to 400,000 Rupiah (around $9-$25).
There is a photography service you can add onto your ticket, for about $12 USD. That includes digital images of the swing and the nest area.

You can find some drinks, snacks, and ice cream for sale at the park.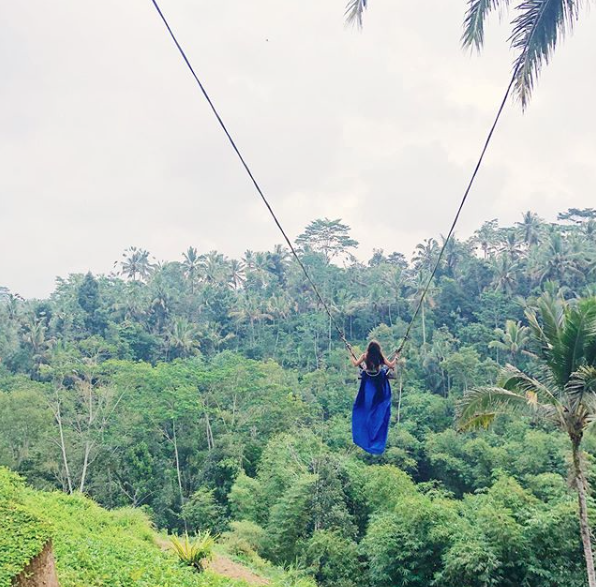 Planning The Rest Of Your Trip
There's a lot to see in Ubud. If you want to know how to spend a couple of days in Ubud, this blog post is crammed full of our top-notch advice ... but if you're wanting more Instagram-worthy photo opportunities, we have a post all about a Bali Instagram tour that you'll probably love.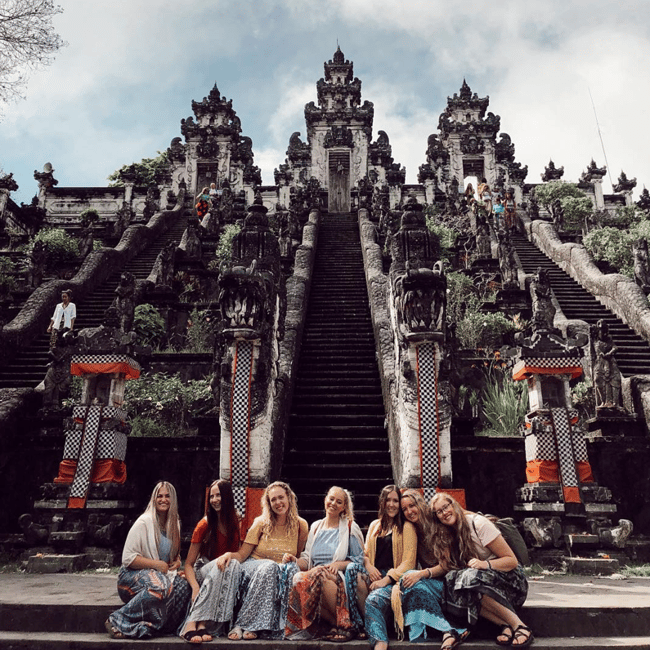 If you love Bali, you'll really love Thailand
Come spend a whole semester living in the land of smiles as a volunteer with International Language Programs. You're set up with a group of fellow volunteers, are only teaching English part time (no experience necessary), and have vacations time to explore places like Bali. Get a bit more about what volunteering in Thailand is like below: