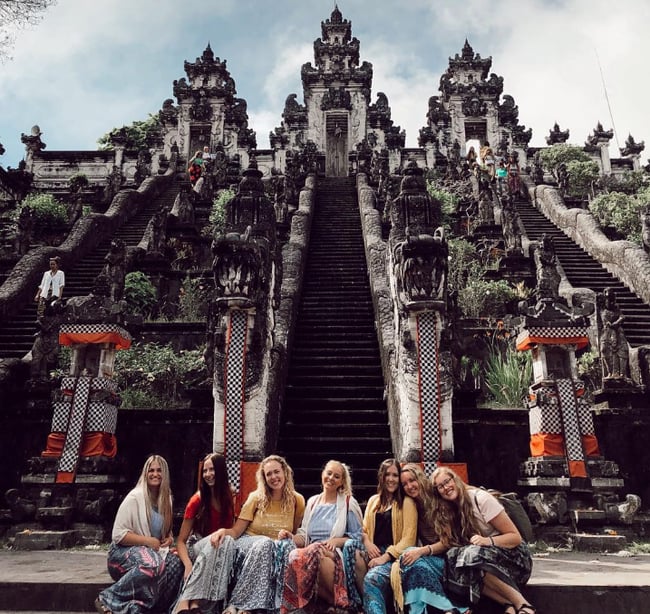 So you finally get to go to Bali? Of course you've seen stunning pictures of this magical island on Instagram. Ready to see all of the breathtaking spots for yourself? Here's everything you need to know about one of the best tours on the market!
Bali, baby! There are literally not enough happy words in the English language to describe how this island makes us feel. The culture? Perfect. The food? Perfect. The scenery and adventure waiting for you? Both perfect. You get the idea. Bali should be on every single person's bucketlist because there is really nowhere else like it. And if you get the chance to go? TAKE IT!
As an English-teaching volunteer with International Language Programs, you'll get several vacations that you and your group get to plan. If you're volunteering in Thailand, well Bali is just a six-hour flight away and literally our favorite place to spend one of those vacations. It's tropical, delicious, and full of the best and kindest people you'll ever meet.


---
Ready to have your own adventure volunteering abroad? Let's get started:
How To Apply
---

There is a surprising amount of stuff to do on this island, but insider's tip, we honestly don't recommend just going for the beaches. Sure, if it's been a long time no see for you and the beach, then stop by for a day or two. Here's a list of some of the best and worst beaches in Bali! But there are way better beaches in Thailand in our opinion, so we recommend enjoying more of the culture and adventure activities unique to Bali instead. One of the best places to do this is in Ubud! Here's some ideas for how to make the most of a couple of days in and around this cultural hub.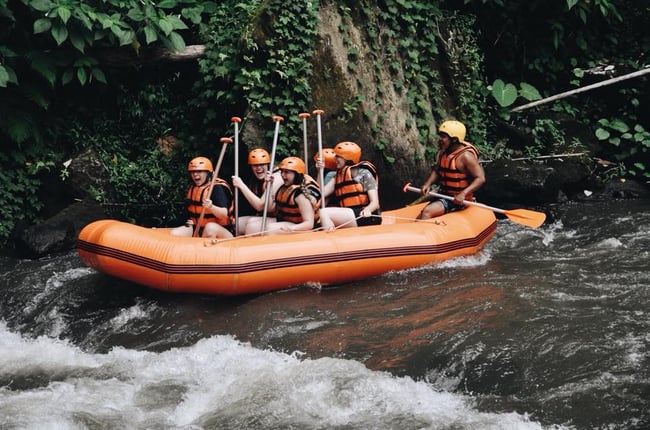 Of course you could plan an itinerary and hire a taxi driver to take you around to each spot. But there is nothing like having your own Balinese guide who picks you up from your AirBnb, tells you the history of the island, explains the culture (which is super unique), fills you in on the religion and sacred ceremonies of the island, shows you all of the most beautiful spots, and is basically a pro photographer too. Trust us, there is really nothing better.
Want to know how to get all of this in one day? Do the Bali Instagram Tour! Yes, that is its official name. Heads up, it isn't cheap, at least when compared to the cost of everything else on the island. But the $70 you'll spend per person is worth it! So here's the best place to book the tour with all of their information. And this is why it's a tour you cannot miss.
Everything You Need To Know About The Bali Instagram Tour:
Basic Info
Gates of Heaven
Tirta Ganga Water Palace
Tukad Cepung Waterfall
Tegallalang Rice Terraces and Swing
Basic Info
This tour is an all day thing! We're talking 8-10 hours. Ours actually ended up being about 12, so just leave the rest of your evening open. The best thing about an organized tour is that you don't have to plan a thing! The price for this one includes:
A friendly, local tour guide.
Entrance fees for everywhere you go.
Transportation to and from your hotel or AirBnb from just about anywhere on the island.
Bottled water.
A 10-minute ride on the famous Bali swing.
Make sure you bring your camera (duh!) and some snacks since lunch is not included. If you're lucky, you may get a tour guide who buys you fried bananas and local fruit. You'll also probably stop by a cutie place to get lunch, but you will have to pay for your own.
Also don't forget your sarong since you cannot go to the temples without one and that is half of the tour! You can still wear shorts, just make sure you have a sarong to wear over them and cover your legs. And wear a swimming suit under your clothes and shoes that can get wet since you'll be headed to a waterfall!
Gates of Heaven
We're pretty sure the name says it all? This gate represents the separation between the outside world and the safety of the temple. With an active volcano, Mount Agung, in the background (usually covered by clouds), this is one of the coolest, most memorable places you'll ever visit. Located at Pura Lempuyang, it's about a 2-hour drive from Ubud. The temple itself has incredible architecture, making this one of our favorite places in Bali.
If you're lucky, there will be a man there who uses a small mirror to get the perfect picture. He literally puts the mirror under the lens to make it look like a reflection pool — yep, there's not actually a reflection pool right there; it's all an illusion.
You won't need to worry about tipping him because your guide will do it for you.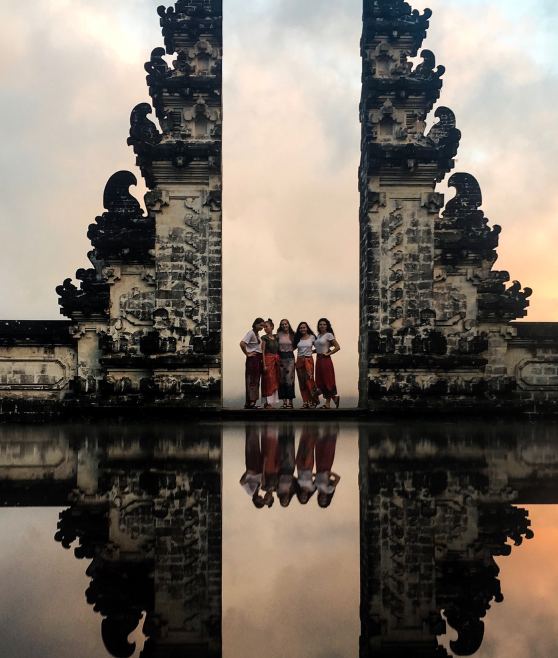 Tirta Ganga Water Palace
This sacred area is a maze of lush gardens, trickling fountains, and fish ponds. It was completely destroyed by the eruption of Mount Agung in 1963, but has since been rebuilt and is more beautiful than ever.
Your guide will buy fish food so that you can feed the HUGE koi fish as you step across the stones in the large ponds. It's a pretty surreal experience and outside of the gates there are sometimes local Balinese people with snakes, bats, owls, and other pets for you to hold and take pictures with for a small fee.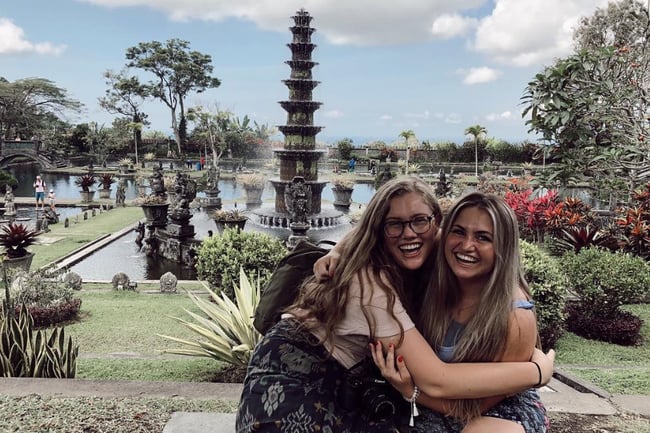 Tukad Cepung Waterfall
This short hike is different than anything else you'll experience on the tour. With your guide, you will walk down hundreds of stone steps (PSA: Bali is so so full of steep stone steps, so be ready for your thighs to burn). They lead to a hidden pool below this beautiful waterfall that flows over the top of high rock walls.
The hike back up is quite the trek, but there's a cute little snack shack along the path so you can try some of the local favorites. The area is very lush and tropical, with a little river running along the trail. The pictures from the waterfall don't turn out as well as some of the photos from the rest of your day will, so this is a place to just soak in the breathtaking (literally) beauty of natural Bali.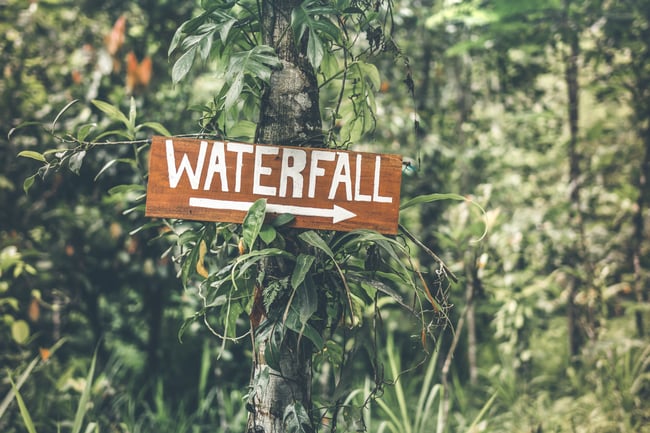 Tegallalang Rice Terraces and Jungle Swing
Definitely the most photographed and iconic place in Bali! The time of year will affect whether or not the rice terraces are covered in green rice plants, but it's stunning no matter what. The location our guide took us to also included some delicious herbal tea tasting. Is it magical to sip on steaming pink and yellow drinks as the sun sets over huge coconut palm trees? Rhetorical question.
On this swing you can get as high as 250 feet above the ground which is thrilling to say the least (we'll just say we're grateful for the harness)! You'll get to try facing both forwards and backwards so you can see the 360 degree views the swing offers. We think it's worth trying even if you're a little afraid of heights. It's a once-in-a-lifetime experience for sure!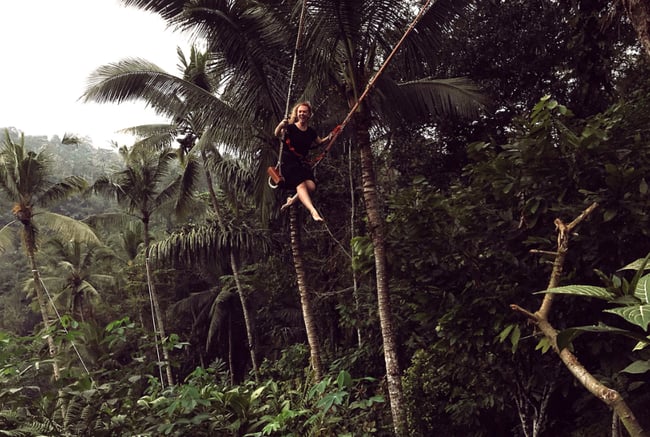 Ready to start marking things off of your bucketlist while volunteering abroad?

We're right there with ya! All of our representatives that work in the office
have volunteered for at least one semester and are able to answer
any questions you have about this awesome opportunity!
Click the button below and let us help you make this happen!