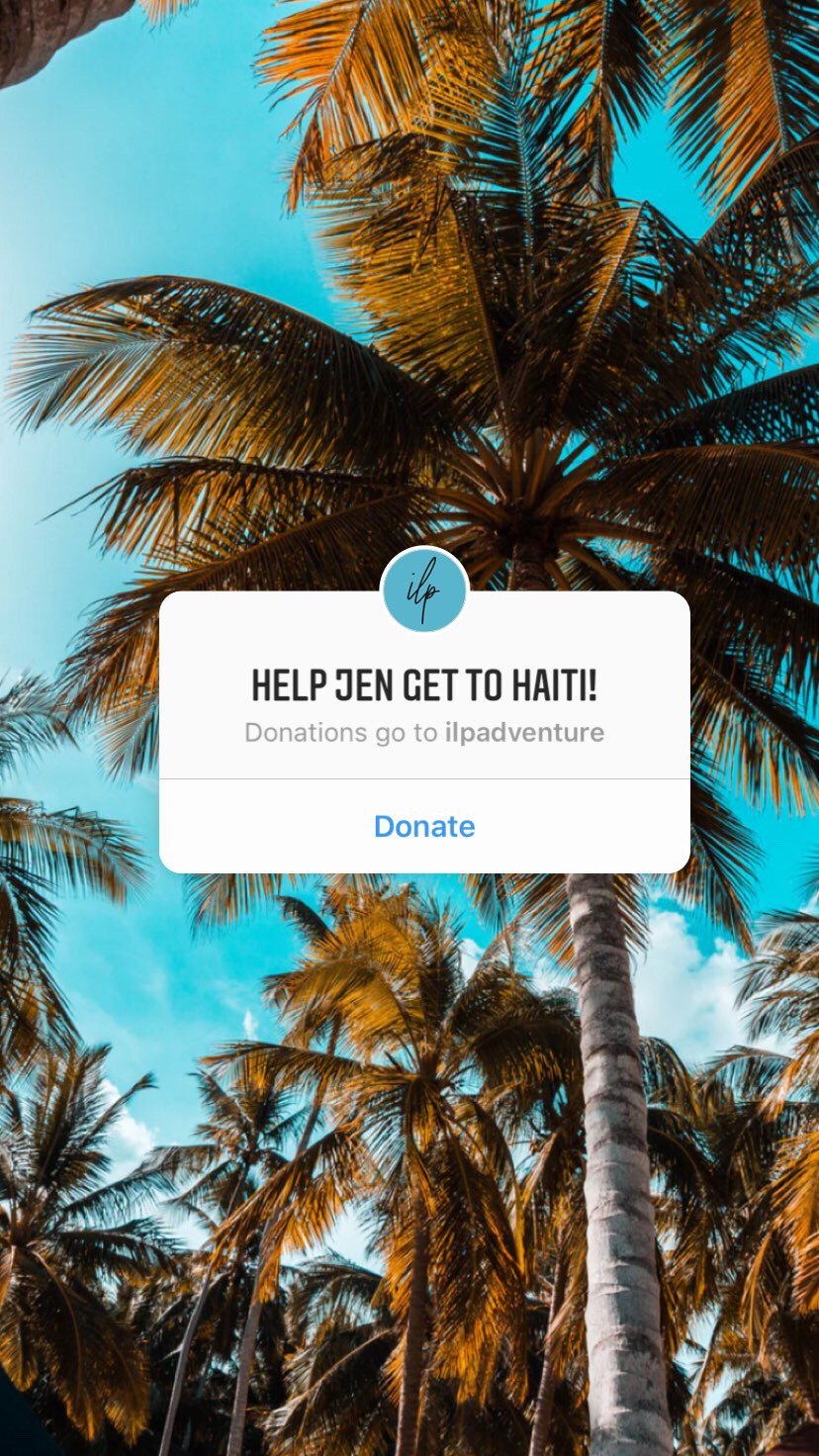 Have you seen Instagram's new feature for your stories?
So many of our volunteers have had a ton of luck with fundraising for their semester abroad volunteering with us (ILP). They've paid for even most (or sometimes all!) or their program fee via fundraising ... and you can now do it in your Instagram stories!


---
New to fundraising?
Get all of our fundraising tips to help you here
Why Use Instagram?
Well first off, because people are on Instagram every day ... probably multiple times a day, so it's a great way to let as many people as possible know about what you're doing.
Second, and maybe the best reason, is because it's free! You've probably seen GoFundMe donations floating around right? Those can work ... but we don't love the fees that are withdrawn. Lately our ILP volunteers have been using Facebook for their online fundraisers because 100% of the donations go towards their trip (Facebook graciously doesn't charge any fees, not even credit card fees). Facebook and Instagram are run under the same umbrella and they've released a feature where you can now receive donations on Instagram, without fees, just like on Facebook.
We like free and I bet you do too.
How To Get Your Instagram Fundraiser Started
Do Some Prep Work
Rather than just jumping right in with a "Gimme money here" type of story, let your followers know what you're doing. You might do a post in your feed explaining that you've been accepted for a volunteer trip to Nicaragua next summer and explain a little about how you'll working with the local kids there for 3-4 months and making such a huge impact on their futures by helping them learn another language.
Or maybe you're volunteering with ILP in Thailand ... or the Dominican Republic, but you get the point right?
A little insider tip for ya: We've often seen that volunteers get more donations when they do it in conjunction with something that they're "selling" or an event they are hosting. For example, Grace decided to sell cookie dough as her fundraiser, but she included a way for people to simply donate in case they wanted to support her, but didn't necessarily want cookie dough. Her fundraiser was really successful and she ended up earning about $3,000 through her cookie dough sales plus about $2,000 from just straight donations. You can read more about how she did that here.
The point is that you may get more attention if you're doing something more than just asking for donations. So, you might consider other fundraising ideas that you could do along with asking for donations in your IG stories.
Post Your Story
Same as you would post any other story: Select an image, or maybe just have a colorful background. Then tap that happy face in the top right to add a feature and select the Donation feature.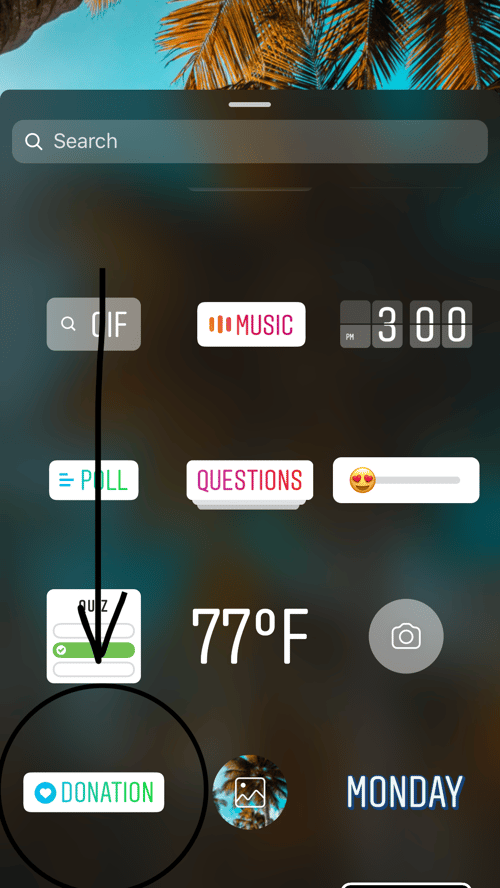 After you select Donation, you'll be asked to choose the non-profit organization you want the funds to be sent to. If you're already following us, then @ilpadventure will pop right up (otherwise you can just search ILPadventure).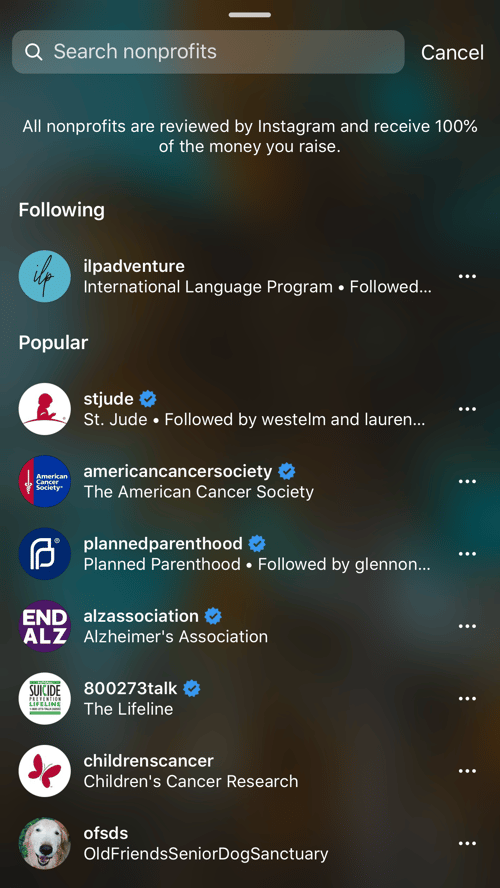 After selecting the non-profit, you'll be able to choose a title for your fundraiser.
Title + Post Your Story
Edit the name of your fundraiser and add any other information you want to the story.
**IMPORTANT** Make sure to include your full name in the actual title of the Donation box — this is how ILP knows who the donation is for. The donations will be deposited right into ILP's account and we won't know it's meant to be for your program fee unless your name is in the Title (because whatever you title your fundraiser here is attached to your donation). We've got an example for you in the video below.
Receiving Your Donations
How do my friends make a donation?
When they're viewing your live story, they can make a donation right in Instagram. They'll be able to choose how much they want to donate, enter their name and email, and then pay with a debit or credit card. Once completed, they'll be emailed a receipt.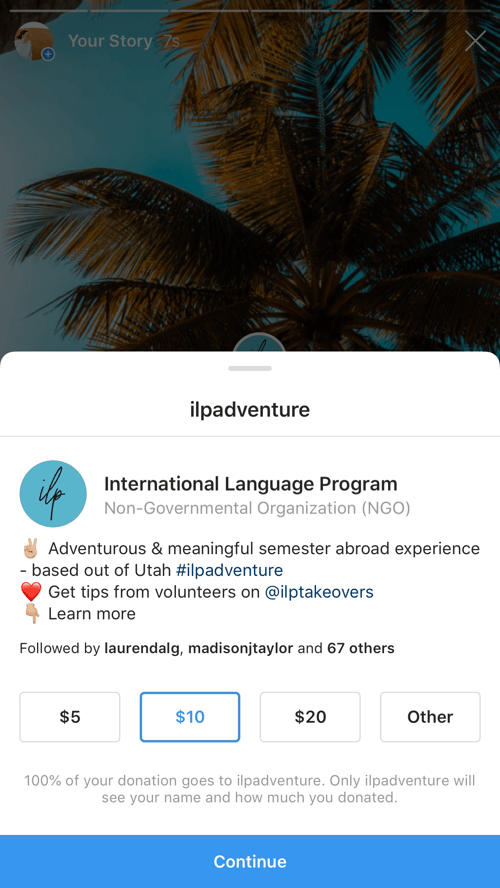 How can I tell how many donations I get?
While your story is live, you can click into it and view your stats. Tap to view your story, click on the bottom left where it says "seen by 70" (or however many people saw your story), and it will open up your stats. Here you can who made a donation and how much it was for.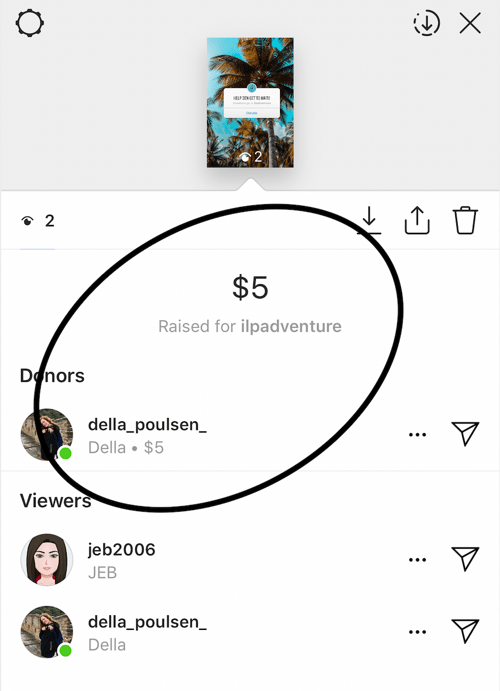 Insider tip: You know how stories only last 24 hours? Make sure to add it to a highlight while it's live ... then you can continue to share it and view who made donations past 24 hours.
How Do I Get Paid?
All donations are made directly to the non-profit, so International Language Programs (that's us!) will receive your donations. We will then apply 100% of those donations directly to your ILP program fee, as if it was a payment. Here's a few things you need to know though ....
1) ILP only receives payments to our bank account when we've accrued at least $100 in donations.

So, for example if you only receive $50 of donations, ILP won't receive any payments (and can't give you your payment) until someone else have raised at least $50 to ILP's total "donation pot". That typically isn't an issue, but it could push back how quickly you receive your donation, just as a heads up.
2) Instagram gives ILP the donations every 2 weeks, so it could be a month before your donations are applied to your ILP program fee.

Funds donated the 1–15th of a month are generally paid out to ILP during the first 5 days of the following month. Funds donated on or after the 16th are generally paid out during the 16-20th of the following month. For example: A $100 donation made on January 1 would be paid to ILP between February 1-5.
3) You must have your full name in the title of your story
We already said this, but it's worth mentioning again. We will only know the donation is for you when you put your name in the Title of the Donation feature when you add it to your story. We will receive the name of the donor and how much the donation was, but we look at the title of your donation to know it was meant for you (Instagram treats it as a donation made to ILP in general but we're happy to allocate it to your program fee if we know it's part of your fundraiser). Feel free to email us if you're not sure if you received your donations: accounts@ilp.org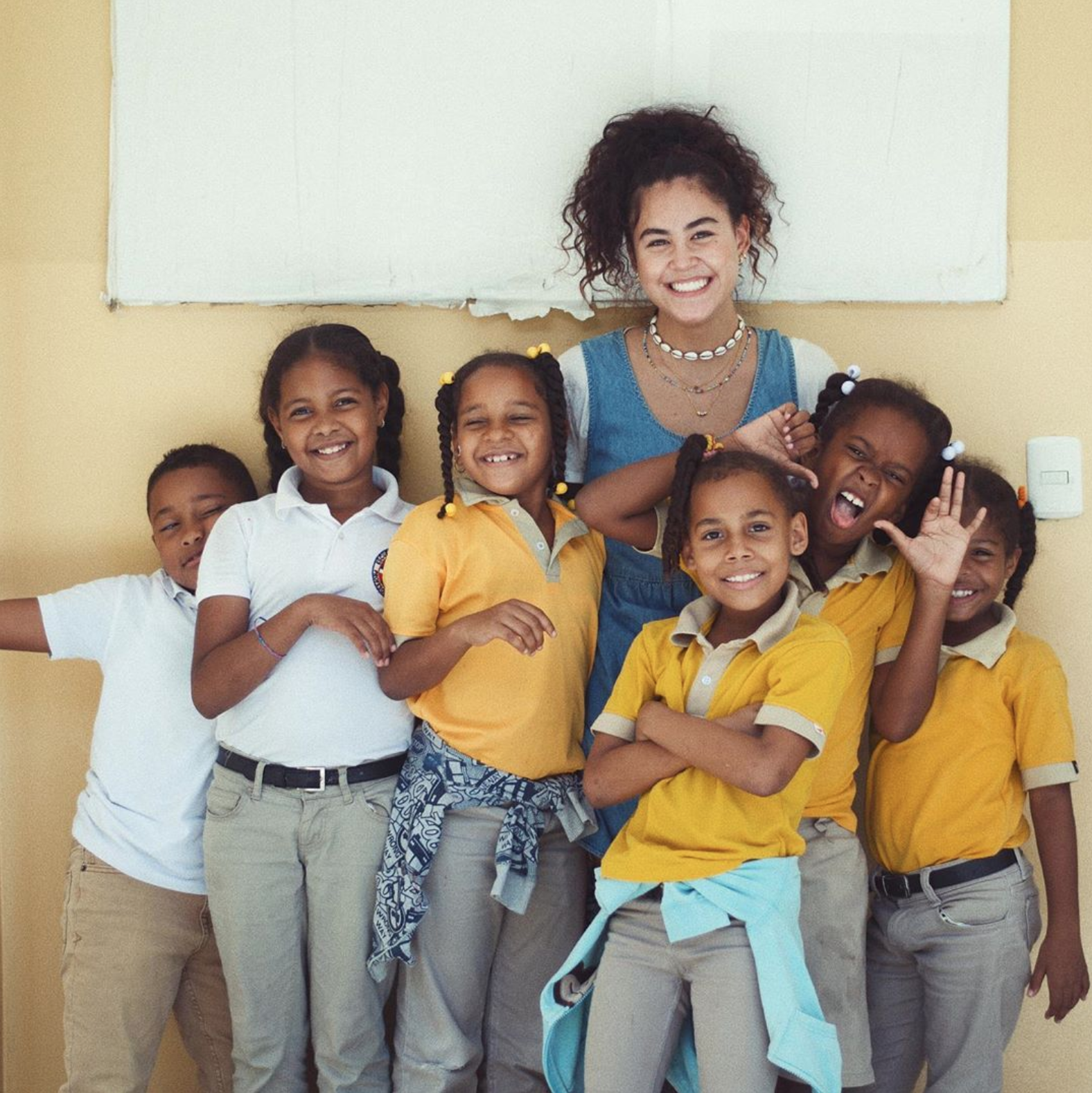 Interested in spending a semester abroad but not sure if it's right for you?
We can text you! Our representatives have all recently volunteered with International Language Programs and would love to answer your questions and help you find out if one of our Humanitarian Programs is right for you. Or maybe a semester abroad in Europe is a better fit? Click that button below and we'll be in touch.