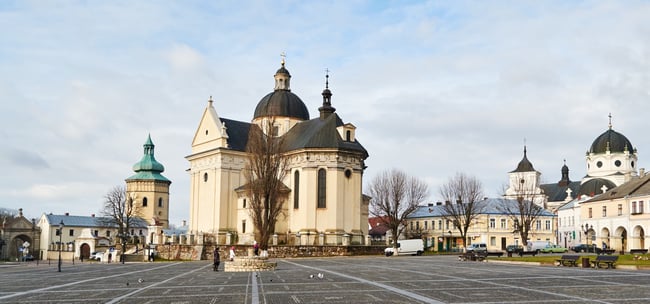 You probably already know that we're huge fans of finding little towns and cities in Europe that aren't overrun by tourists yet, right?! Well, here's another one that we can't get enough of!
Have you thought about spending a semester as a volunteer in Europe? Well, we might be a bit biased, but totally have to recommend Ukraine because it is absolutely amazing! And with International Language Programs, you'll get to teach English to the cutest kids but will also have plenty of time to explore Ukraine and other countries in Europe too! Sound too good to be true? It isn't!


---
Want to spend a semester volunteering in Europe as an English Teacher?
All About Volunteering In Ukraine
---

Ukraine is just bursting with stunning hidden gems, and the town of Zhovkva is definitely one of them. A visit here will feel like stepping into old, medieval Ukraine—castle included. And the best part? It's such an easy day trip from one of our very favorite western Ukrainian destinations, Lviv. While Lviv is definitely a place you cannot miss during a semester in Urkaine, Zhovkva is a good spot for people who want to dive in and see as much of this country (plus history and culture) as they can.
Psst: Have you heard of the book Clara's War? It's a true story about a young Jewish girl who spent the majority of WWII hiding in a tiny bunker under a home in Zhovkva with 17 other people. Read it before you go!
Things To Do
Zhovkva Castle
This is the biggest and most important building in Zhovkva, but still has some damage from the World Wars that will require more restoration. The square layout has a large courtyard in the middle and you can get a pretty good idea of what everything was used for clear back in the early 1600s. Tickets are purchased onsite, and you'll be shown around by one of the staff. It's likely that they won't speak English, but will still be very friendly. Plan on at least 30 minutes for your visit.
Hours: Open Tuesday-Saturday from 10 am to 5 pm, and on Sunday from 12 am to 5 pm. Closed Mondays.
Address: пл. Вічева, 2, Zhovkva, Ukraine, 80300
Tickets: 60 UAH per person ($2.30)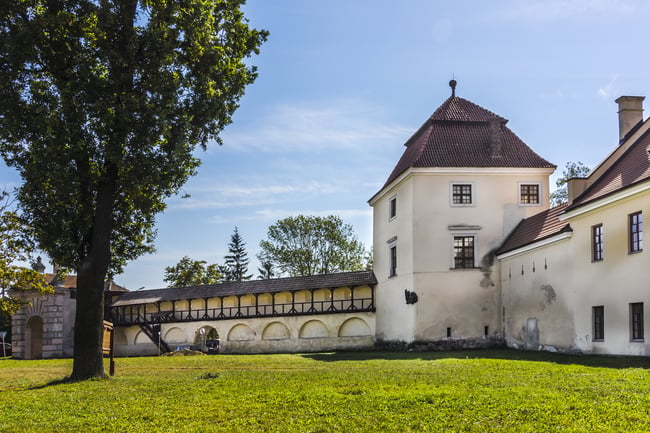 Old Town Museum
This unique museum is located inside the town hall, which you can't miss because of its clock tower. To get to the museum, go to the second floor and go to the brown door on your right. The small displays are lined up along the wall of the staircase that leads to the clock tower, so you'll only need about 30 minutes for your visit. Make sure you also spend some time on the balcony outside at the end. It is the most beautiful view of the city you'll find!
Hours: Open Monday-Friday from 9 am to 5 pm, and Saturday-Sunday from 10 am to 5 pm.
Address: вулиця Вічева, 1, Zhovkva, Lviv Oblast, Ukraine, 80300
Tickets: 30 UAH ($1.20) per person
St. Lawrence's Church
This stunning Roman Catholic church was completed in the early 1600s, and served as a place of worship for a Polish commander and his family before it was used as a warehouse by the Soviets. Especially notable is the hexagonal bell tower and dome. Entry is free.
Address: Т1425, Zhovkva, Lviv Oblast, Ukraine, 80300
Basilian Monastery And Church Of The Holy Heart Of Jesus
The interior of this church is definitely worth seeing, as it's lined with brightly colored frescoes, gold paint, and stained glass. And rumor has it that a mass grave of more than 80 corpses from WWII was recently discovered right under the monastery. But, they haven't figured out yet what nationality these individuals were. Jews? Nazis? Or local Ukrainians?
Address: Т1425, Zhovkva, Lviv Oblast, Ukraine, 80300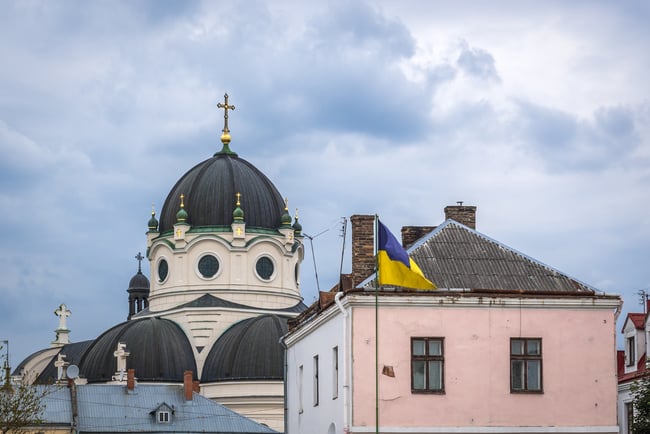 Holy Trinity Church
This wooden structure was completed in 1720 and is composed of three domes to represent the Holy Trinity. It is one of seven wooden churches in Ukraine that are included on the UNESCO World Heritage Sites, but this is the closest one to Lviv. As the church is on a hill, the views of the small lake and surrounding countryside are also gorgeous. Inside the church you'll see over 50 beautiful religious paintings and depictions, brightly colored, and lined in gold.
Address: Т1425, Zhovkva, Lviv Oblast, Ukraine, 80300
Synagogue
Zhovkva had a large Jewish community by the time this structure was built in the late 1600s. During WWII, the Nazis set off a bomb inside which destroyed everything except for the outer walls. It was then used as a warehouse and although attempts have been made to restore it, there hasn't been enough funding. Today the ruins are still gated, but you can admire the impressive facade from the outside.
Address: Vulytsya Zaporizʹka, Zhovkva, Lviv Oblast, Ukraine, 80300
Local Food Spots
Here are a couple of local restaurants that will be the perfect place for a late lunch or early dinner.
Rozmaryn
This place is best known for their pizza, burgers, and desserts, but has a large variety of local dishes too. And even sushi, if you've been craving some seafood. Check out their instagram.
Hours: Open every day from 11 am to 11 pm.
Address: Vulytsya Vasyliyansʹka, 2, Zhovkva, Lviv Oblast, Ukraine, 80300
Kazemat
This restaurant is known for their more traditional meat dishes, but it's also a wonderful place to get pizza, salad, burgers, pita bread sandwiches, soups, and so much more! Check out their menu and website.
Hours: Open every day from 12 pm to 11 pm.
Address: вулиця Вічева, 1, Zhovkva, Lviv Oblast, Ukraine, 79000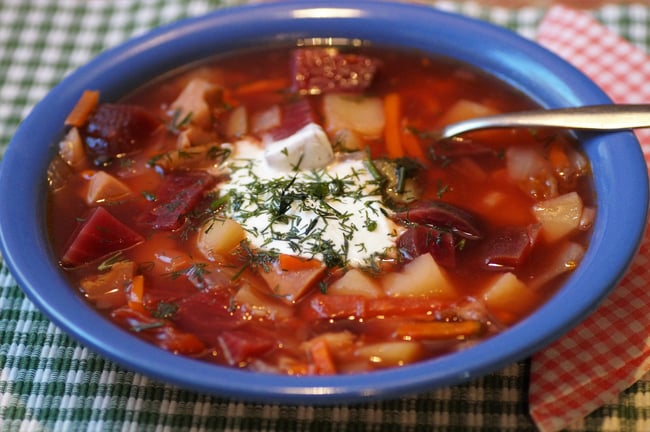 How To Get Here From Lviv
The Easiest And Fastest Way
Ukraine is actually one of the ILP volunteer countries where Uber is available! And since Zhovkva is only about 30 minutes from Lviv, this is the easiest way to travel between the two (and really not that expensive either). Plan on paying 350 UAH total (about $13) one-way.
The Cheapest Way
There are multiple buses every day that go to Zhovkva from Lviv, but probably the best ones to catch are #295 or #S19 from the "Hotel Lviv". Tickets are just 20 UAH ($0.80) per person, and you can pay the driver directly.
For the return trip, catch a bus to Lviv from the same spot in Zhovkva's city center where you got off the bus earlier. Plan on leaving before 7 pm, and ask the driver if the bus is going to Lviv. If he says "da" or "tak" then get on the bus and hand him the 20 UAH (about $0.75) per person. Keep in mind that these are local buses and not luxury tour buses. It might be a bit of an adventure!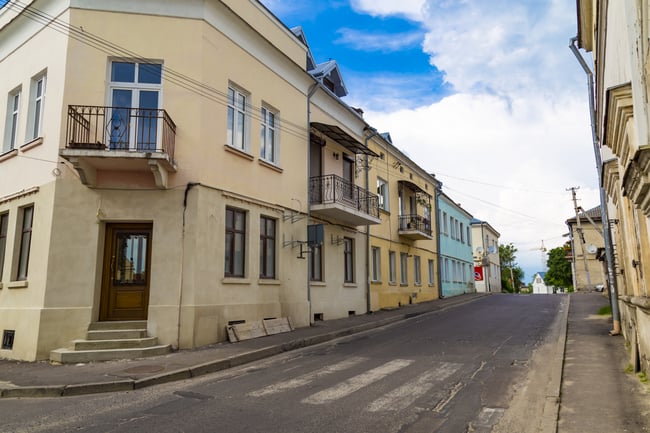 Want to experience a semester in Ukraine but have more questions about it?
We know there are a lot of great travel opportunities available and although we've loved volunteering and exploring through ILP, this program isn't the best fit for everyone. Click the button below to get more info about what makes ILP unique and to see if it's what you've been looking for!