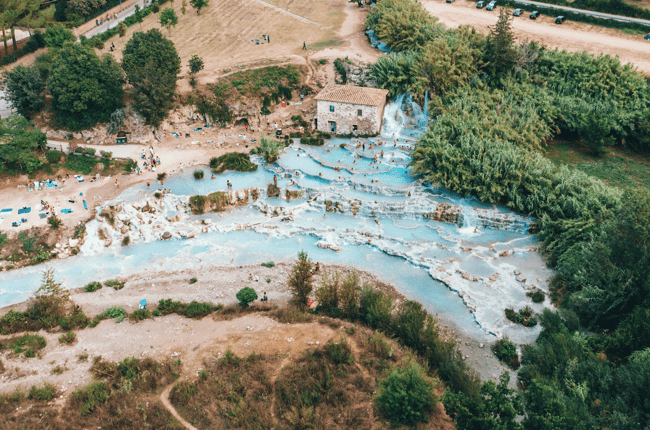 As if you could say "no" to a spa town found in Tuscany.
There are more than a few reasons Italy is a top destination spot on pretty much everyone's lists. From famous cities like Rome and Florence, you could easily spend months exploring the entire country, especially when you hear about places like Saturnia.
Found in the Tuscany region of Italy is a gorgeous and ancient village that's home to a set of natural hot springs that could not be prettier. Once you see a few pictures of this place, you'll want to book your ticket, ASAP.


---
I traveled all over Europe for an entire semester (and loved it)
You can learn about volunteering in Europe with ILP here.
---

The town of Saturnia is a little bit out of the way, but worth it for pools this picturesque. The village is easily accessible from a few different places in Italy, so we'll have details on how to get here depending on where you are already vacationing. Oh, and all the other tidbits to help you plan your trip here, found below:
About The Pools
These pools have been popular for centuries, nestled in the Maremma region of Italy's Tuscany. In Roman times, thermal baths in Saturnia were most visited by those who soaked here for their health, counting on the warm waters to heal rare diseases in people and animals. Supposedly, people traveled from all over to visit these hot springs to treat rare diseases or purchase rounds of the dried mud from the pools that had healing properties.
Even after the town of Saturnia fell into decline, people still visited to bathe in the blue waters. Today, some still visit to help soothe eczema, allergies, lower their blood pressure, and some digestive concerns, but there is also an influx of tourists who just want a relaxing soak in the pretty blue waters.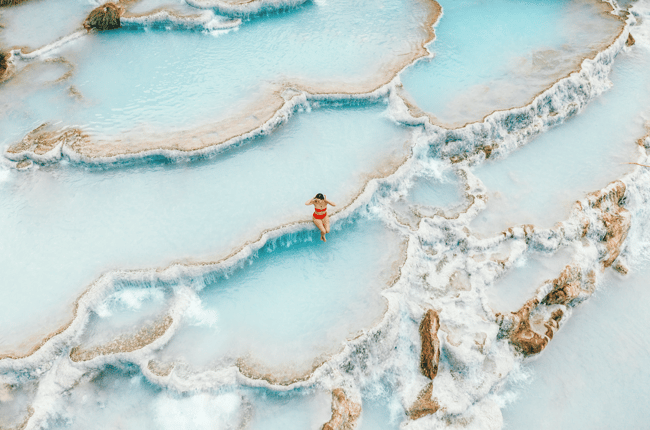 What To Expect
Hours + Cost
The pools are free to enter and aren't regulated by set open/closing times so you're welcome to visit whenever.
A Little Hot Spring Etiquette
On weekends and holidays, this place does get particularly busy (especially during the high tourist season in the late spring through the summer). These hot springs are also popular in the colder months like January and February. It's not a deal-breaker, just know you'll probably be sharing your pools with other families and visitors.
If you can, it's polite to find your own pool to soak in, instead of joining one that's already full. You'll see most parties just swimming quietly through another's pool to reach an empty one, so feel free to do the same if there are open pools.
About The Sulfur
The pools are full of natural minerals, one of which is sulfur, which explains the "eggy" smell you'll experience around the pools. It's not harmful, and supposedly the sulfur-rich mud used to be sold as a face cream to heal a handful of ailments.
Some visitors also mention the small red worms you'll find in the pools. They're tiny (just a couple of millimeters long) and completely harmless. Remember, these hot springs are all-natural (and these worms were here before the tourists).
Tips For Your Visit
Bring These Things With You
Pack water shoes to wear while you relax in the water — the bottom of the pools are kind of rocky.
Towels, sunscreen, and plenty of water are also things you should have in your pack for the day.
We have info about food things below, but I'd make sure you have a snack or two or cash for snacks.
Handy to know — There are changing rooms and restrooms by the springs for you to use, but no lockers for your valuables. Plan on putting your belongings close to where you are soaking so you can keep an eye on them.
What's Around?
You're welcomed to bring your own water and food for the day, but pack up some cash if you want to eat at the restaurant by the pools. It can be nice to have a hot meal instead of just snacks after a long day of soaking.
There is a small coffee shop just 50 meters from the pools (and a few other smaller shops) that sometimes sell sunscreen, towels, water, etc. for you as well.
There also are restaurants to use (co-ed), with a small changing space if you need it.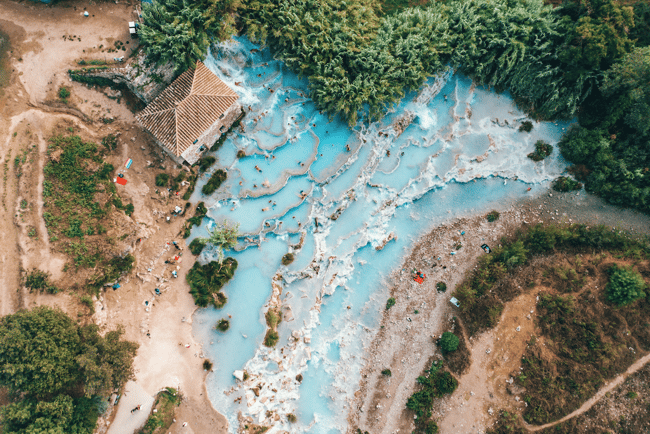 Ways To Get Here + Nearby Adventures
Getting To Saturnia / The Pools
Traveling by train is possible, but there aren't any direct connections, so the itinerary ends up being rather long. It's best to travel by car if you can (and are short on time). Search "Cascate del Mulino" in Google Maps to get the location to help your driver if you've hired a driver for the day.
If you'd like to travel via train, know that the nearest train station to the pools is Montalto di Castro, so you'll need to travel via car 45 kilometers to get to the pools (or Saturnia, or another nearby town).
You'll want to double-check that this formula works, but one traveler reports you can get there fully by public transport if you get a train into Grossetto and catch a bus (here's the Tiemme bus' website — you're looking for the 41/P bus that goes to Manciano. Here is the timetable, but the ride takes 70 minutes and should cost around 6.5 euros. Note: the bus does not travel on Sundays). Once you arrive in Manciano, stay at that bus stop and catch the 17/P bus. Take this to the Saturnia Terme stop (here's the timetable — it's a 30-minute ride for 1 euro, and doesn't run on Sundays).
You can also follow these bus instructions from the train station in Orbetello.
Staying In Saturnia
Since you won't want to rush your stay (and will probably be arriving from another city in Italy), we suggest staying overnight in Saturnia after a day of soaking or waking up early to see the pools after sleeping in Saturnia before heading off to somewhere else in Italy. There are also places to stay that are a few minutes from the pools if you walk, which makes it simple.
If you'll be staying in a hotel in Saturnia (or another small, nearby town like Manciano) they can likely help you arrange a car to take you to and from the thermal pools (some even have a shuttle bus service).
Nearby Adventures
From Rome and Florence, Saturnia is less than a 3-hour drive so those are great jumping-off points. From Siena, it's a less than 2-hour drive.
The Saturnia Thermal Center is also very close — the same free hot springs serve this indoor and outdoor space that's a more secluded experience (with more amenities). It's a less rustic experience with cement borders around the pools, more like what you'd see in a resort spa. (I mean, there is a dress code for your linens, which must be white ... this place is kinda fancy). There's also a nice restaurant serving breakfast, snacks, and lunch. The basic entry fee is around 25 euros — you can find pricing and more info on their website.
Here's their address: Loc. Follonata, 58014 Saturnia. Manciano – Grosseto (GR)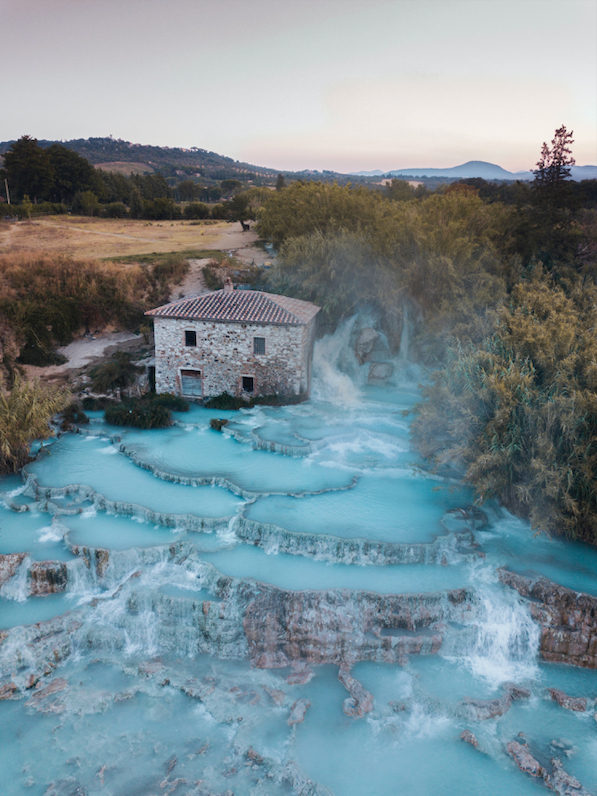 Looking into a semester abroad in Europe?
ILP (International Language Programs) arranges trips for American college-age volunteers abroad to come teach English in cities all of Europe for a few months. Volunteers get to spend their time exploring not only their home city and country, but all across Europe together. Come spend a semester living with a host family, traveling around Europe, and of course, teaching.
See where you can volunteer right here: