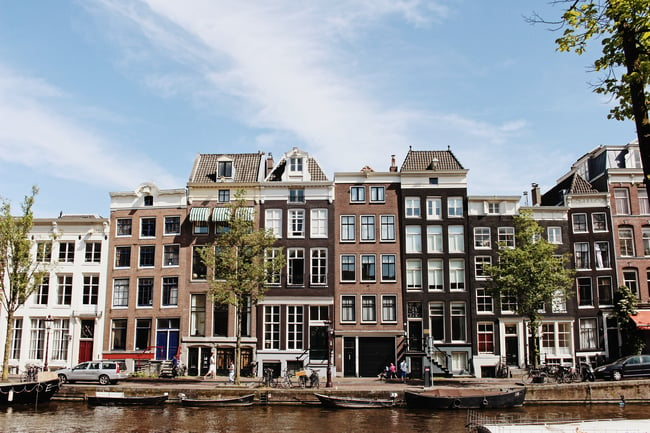 Amsterdam is becoming quite the tourist hub. And for good reason! But what about the cities and towns nearby that are just as lovely but often forgotten? Here are several we recommend!
The Netherlands. Every picture speaks for itself, but the flowers, canals, rows of houses, bikes....hard to believe it's all real. Amsterdam is a city that should be on every traveler's list. In fact, we have a weekend guide for Amsterdam with all the details you'll need for a perfect trip! And if you're spending a semester in Europe as a volunteer with International Language Programs, visiting these dream destinations can actually be a reality for you!


---
Interested in spending a semester in Europe as a volunteer?
Learn more about the ILP Program!
---

Now, you know we love Amsterdam, but of course with the flood of photos and must-do lists for this beloved city, it's easy to forget about lesser-known places that are as beautiful and not as overrun by tourists. Just because they aren't as popular, doesn't mean you should keep away. In fact, the hidden gems always end up being our favorite spots!
5 Gems Near Amsterdam
Haarlem
Keukenhof
The Hague
Utrecht
Giethoorn

Haarlem
You know how they usually say to save the best for last?? Well, we might be breaking standard protocol here by talking about one of our very favorites first! It is actually one of the most populated cities in Europe (residents, not tourists), but in many ways still has a small-town feel. It's been around since the 10th century and is a hub for growing tulip bulbs.
What To Do
Although this city is just all-around amazing, there are three main highlights that we recommend!
Ten Boom Museum: Ever heard of The Hiding Place? The book tells the story of Corrie Ten Boom and her family who hid Jews in their house during WW II. Spoiler—she and her family were arrested in 1944 and sent to the Auschwitz Concentration Camp in Poland. Their family home in Haarlem is still standing in its original condition and has been turned into a museum. Guided tours are given Tuesday-Saturday every week and take about one hour. Admission is free but reservations need to be made 3 days in advance. If you don't have a reservation, it is first-come-first-serve with only 20 spots per tour.
Address: Barteljorisstraat 19, 2011 RA Haarlem, Netherlands
Hours: Open Tuesday-Saturday from 10 am to 3:30 pm.
Cathedral of St. Bavo: This huge church was built in the 1200s and stands in the Grote Markt (another landmark). It has beautiful stained-glass windows, and the 100-foot tall organ is composed of 5,000 pipes and has been played by Mendelssohn, Handel, and Mozart.
Address: Grote Markt 22, 2011 RD Haarlem, Netherlands
Hours: Open Monday-Saturday from 10 am to 4 pm.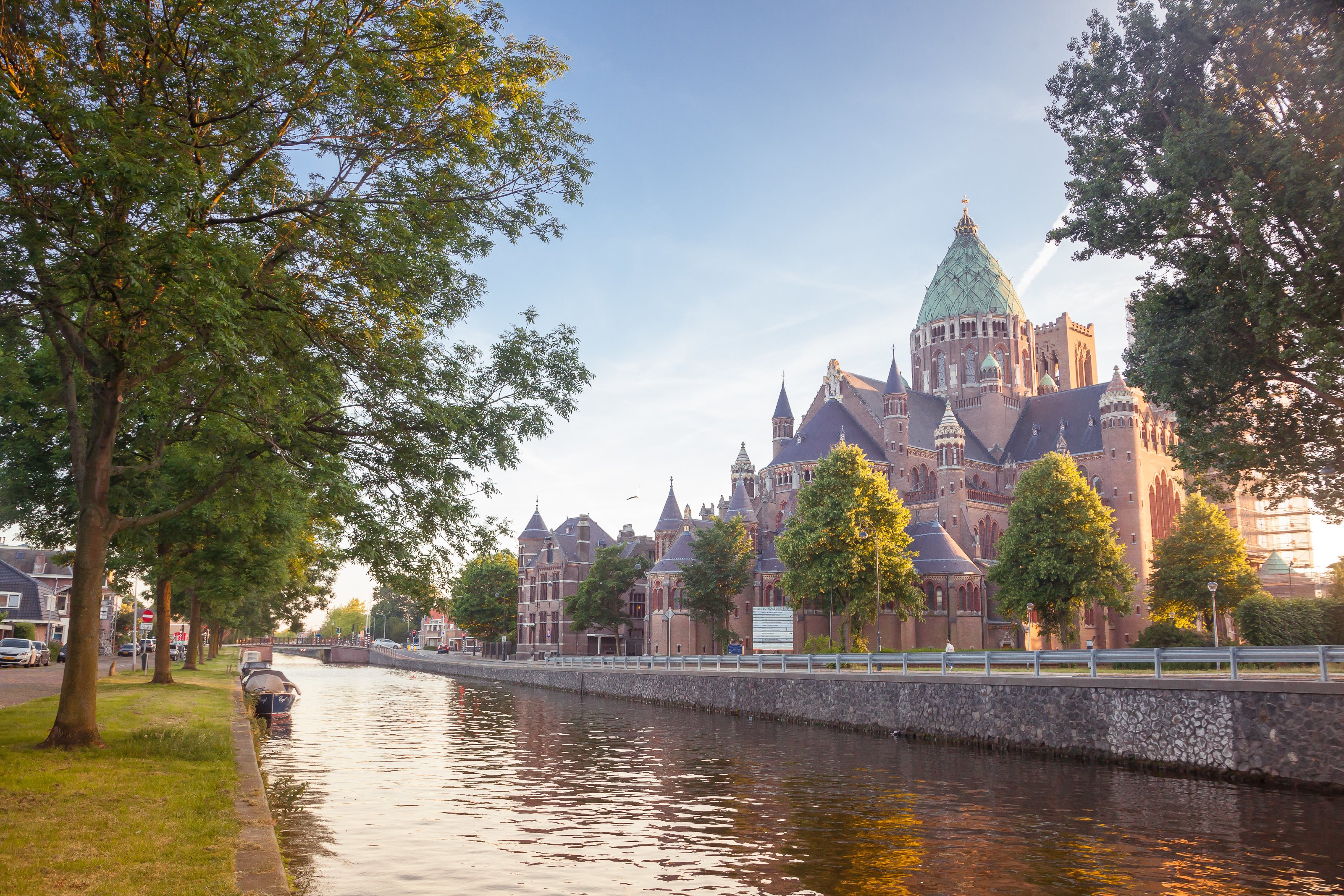 Molen de Adriaan: This charming, wooden windmill is a replica of the one built in the 1700s that completely burned down in a fire. On your guided tour, you can see the views of the Haarlem skyline from a platform 40 feet above the river. Buy your tickets online for 5.50 euros to avoid the lines.
Address: Papentorenvest 1A, 2011 AV Haarlem, Netherlands
Hours: The hours change depending on the season, but always open Monday and Friday 1 pm to 4:30 pm and on Saturday and Sunday from 10:30 am to 4:30 pm.
How To Get Here
Trains leave from Amsterdam's Central Station and head to Haarlem about every 15 minutes from Platforms 1 and 2. The ride only takes 20 minutes, and a ticket will cost you about 4.50 euros each way. Look up timetables here.
Also consider buying the Amsterdam and Region Travel Ticket which lets you travel all over Amsterdam, but will also get you to outlying areas like Haarlem. You can choose a 1,2, or 3 day pass, but just one day costs 19.5 euros. Make sure you do check in and out with your card every time you enter or exit a bus, tram, train, or metro.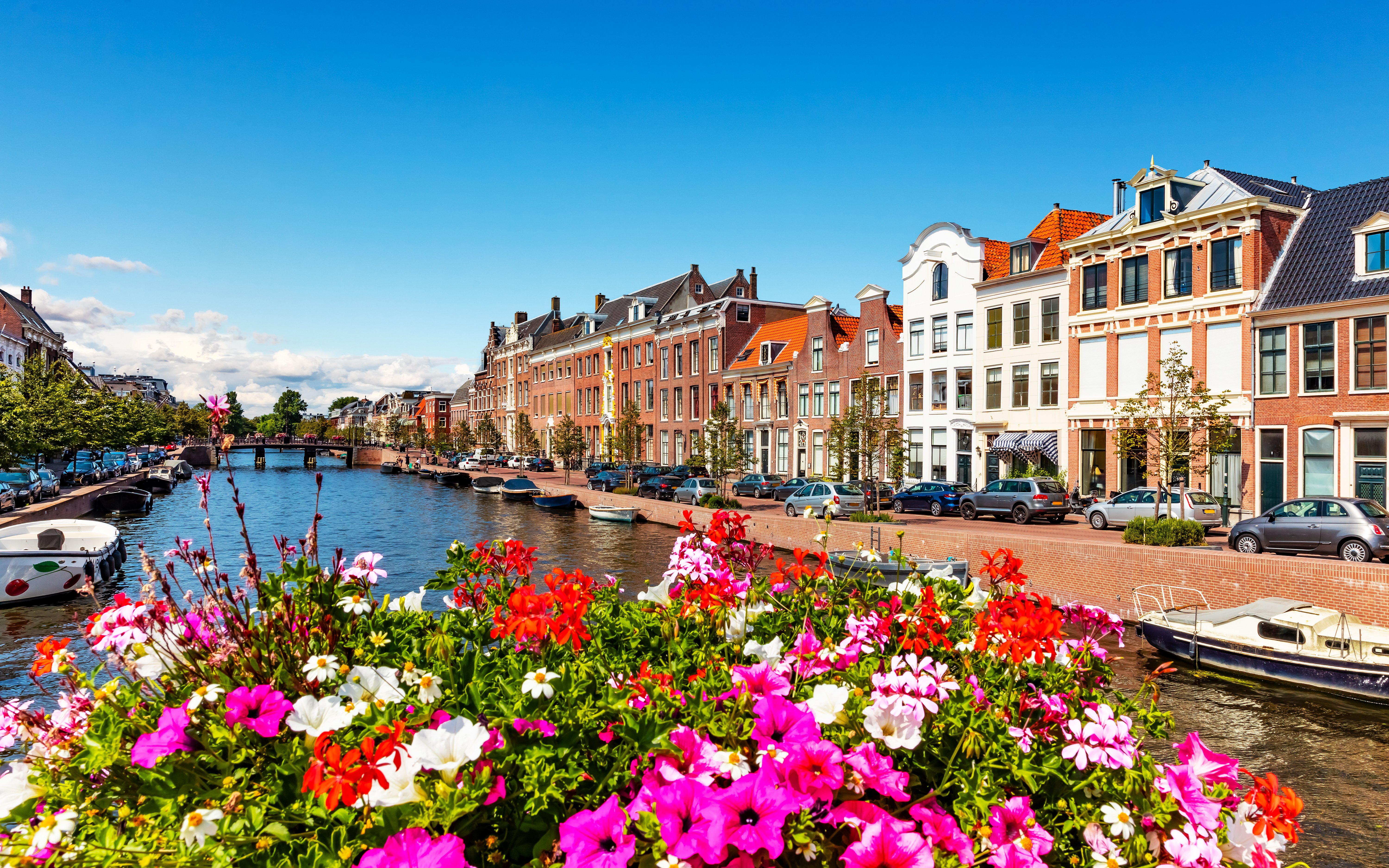 Keukenhof
Are you a lover of blooming tulips, daffodils, and hyacinths? These gardens are only open March-May (exact dates differ each year), but the 80 acres of 7 million flowers is absolutely a sight to see if you can swing the trip! It is arguably the world's most beautiful spring garden and 2020 marks its 71st year.
What To Do
There are 10 miles of trails through these gardens that will keep you exploring for hours. Each year has a different theme (2020 is World of Colors). Throughout the gardens there are statues, ponds, flower shows, pavilions, terraces, and so much more.
Address: Stationsweg 166A, 2161 AM Lisse, Netherlands
Hours: Open daily from 8 am to 7:30 pm, but only March-May.
How To Get Here
There isn't any public transportation that goes directly from Amsterdam to Keukenhof Gardens, but it's still pretty easy to figure out. First you'll have to get to Schiphol by either bus or train, and then switch to the Keukenhof Express which only runs during the times that the Keukenhof is open. Walk outside the Schiphol Plaza and find Bus 858. It leaves every 15 minutes, and the ride takes about 35 minutes from Schipol and 55 total minutes from Amsterdam. You will need to purchase a ticket ahead of time, and you can get a combined ticket for the bus and entry to the Keukenhof here for 25 euros!
Heads up, the Amsterdam and Region Travel Ticket that we mentioned earlier can get you here as well during March-May. You'll still follow the same travel instructions above and catch Bus 858 in Schipol just outside the airport.
The Hague
Although Amsterdam is technically the capital of the Netherlands, this coastal city has actually been the government's seat since 1588! This is easily one of our favorite cities in the area because it has everything we as true European tourists love: unique museums, delicious food, fascinating history, picturesque architecture, canals and flowers, a sandy beach, and even an amusement park!
What To Do
Mauritshuis: Have you ever seen a copy of The Girl With A Pearl Earring? This art museum is where you'll find the original, and that alone is worth visiting. But the building itself is a masterpiece too! A ticket will cost about 15.50 euros, unless you have a student card which will allow you to get a discounted ticket for 12.50 euros. Check out their official website to see what other gems you'll find at this museum.
Address: Plein 29, 2511 CS Den Haag, Netherlands
Hours: Open daily at 10 am (except for Mondays at 1 pm) and closes daily at 6 pm (except Thursdays at 8 pm).
Madurodam: Everyone loves a good miniatures museum, and this is the perfect place to learn a bit about the history of the Netherlands, while also seeing exactly what makes it such a unique country. Plus, it actually has several interactive attractions, making this one of the funnest museums in Europe! There's so much to love, so you'll easily be here for 2+ hours. If you book tickets online ahead of time, you'll get a 3 euro discount. And if you're booking for a group, you'll save even more!
Address: George Maduroplein 1, 2584 RZ Den Haag, Netherlands
Hours: Open daily from 11 am to 5 pm.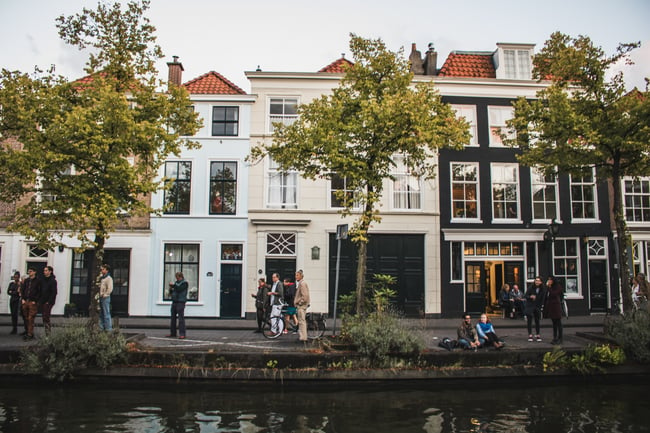 Drievlet: If you're looking for a break from typical tourist attractions, this amusement park needs to be a top priority! It's just outside of the main city center and is bursting with tons of thrilling rides and entertainment! Definitely a day trip on its own because you could spend HOURS here. Just look at these attractions. And if a shot of adrenaline is what you want, these are the rides for you! A day pass purchased online is 23 euros (including 2 euro online discount).
Address: Laan van 's-Gravenmade 81, 2495 BD Den Haag, Netherlands
Hours: Open hours vary a lot, but it usually opens at 10 am and closes sometime between 5-7 pm. There are also many random days throughout the year that it is closed, so just make sure you check the calendar before you go.
The Beach: The Netherlands' most popular beach resort, Scheveningen, is just a 15-minute tram ride away from The Hague's city center. This trip will cost you less than 2 euros, and is an absolute must. Plan your trip here!
Once you get there, make sure you have time to experience the pier, including the ferris wheel, which will cost you about 9 euros for a 20-minute ride. At Scheveningen, we also recommend spending some time on the golden sands of the shoreline, visiting the local aquarium (for about 15 euros), and then enjoying a sunset dinner with amazing panoramic views. Describe a more perfect day—we'll wait.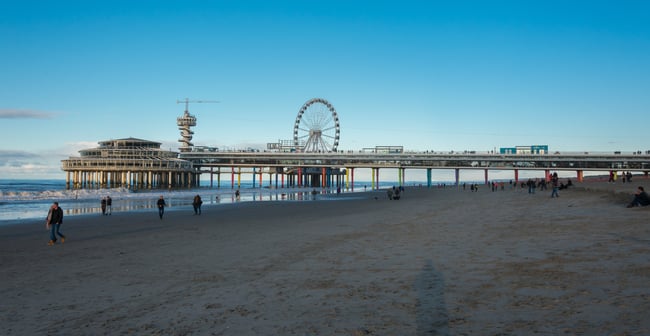 The Binnenhof: This complex of buildings is one of the oldest houses of Parliament in the world that is still in use. We're talking over 400 years. And it was a castle for the Counts of Holland even before that. It's set in the heart of The Hague, right on the waterline, so the entire effect is just stunning. You can take a guided tour, but if you're short on time, even just a quick walk-through is worth it! Plus, that's free. Read up on some of the buildings you'll see to get more out of the experience.
Address: 2513 AA The Hague, Netherlands
How To Get Here
It couldn't be more simple! If you're coming from Amsterdam, then catch one of the direct trains that leaves every 30 minutes from Amsterdam Central Station for The Hague HS. The trip will take about one hour and tickets are about $15.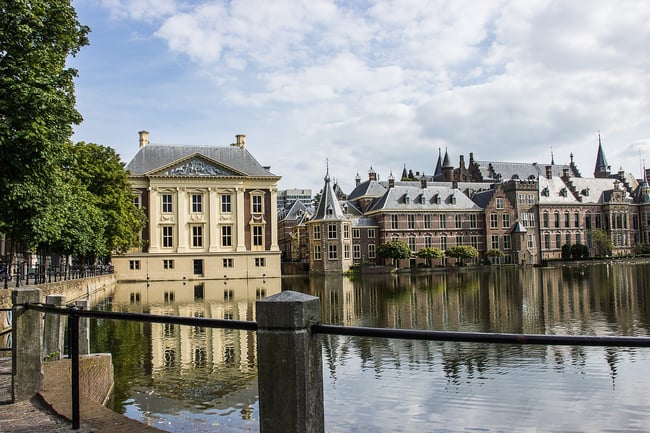 Utrecht
This is basically a mini Amsterdam, complete with charming cafes, canals, and cobbled streets. It is starting to attract more tourists, but will still be a breath of fresh air when compared to the thriving heart of Holland.
What To Do
Our favorite place in Utrecht is the picturesque city center. Like many of the other best cities in Europe, you can spend hours just walking around admiring the Dutch architecture.
Dom Tower: To see a panoramic view of Utrecht, climb this tower! It has 465 winding steps, but there are stops on each floor so you can admire the bells and galleries along the way. The experience itself is worth the 10 euros it will cost you.
Address: Domplein 21, 3512 JC Utrecht, Netherlands
Hours: Open Tuesday-Saturday from 10 am to 5 pm and Sunday-Monday from 12 pm to 5 pm.
How To Get Here
The train connecting the Amsterdam Central Station and Utrecht Central Station leaves every 10 minutes. The ride only takes 26 minutes and the ticket will cost you about 8.50 euros each way. Check out all of your options on the Omio website!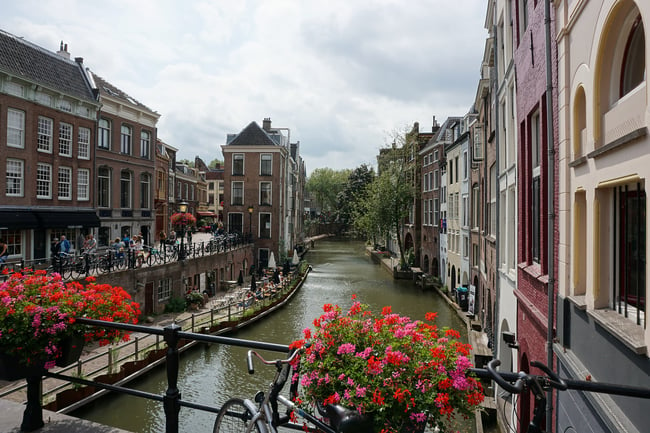 Giethoorn
Of all the gems we're going to tell you about, this one is the farthest north and a bit of a trip from Amsterdam. But it's such a charming place that we can't help but include it. Called "The Venice of the Netherlands", it's pretty much car-free and only about 2,600 people live here.
What To Do
The very best things to do here are to walk around admiring the canals and take ALL the pictures. There are plenty of footpaths that will lead you past Giethoorn's signature thatched-roof homes, but you can also rent a bicycle to see more of the town and outlying areas. Many of the homes were built over 100 years ago, and still look like they're straight out of a fairytale.
Museum Giethoorn 't Olde Maat Uus: If you do have time to make one stop, this living museum should be it. With costumed actors and exhibits (including the inside of an authentic farmhouse), you'll be able to get a realistic idea of what life in this quiet area has been like for centuries. Tickets are only 6.50 euros and you can find all of the info you need here.
Address: Binnenpad 52, 8355 BT Giethoorn, Netherlands
Hours: During the winter season (end of October through end of March) the museum is only open Saturday-Monday 11 am to 5 pm. During the summer season (April through most of October) it is open Monday-Sunday from 11 am to 5 pm.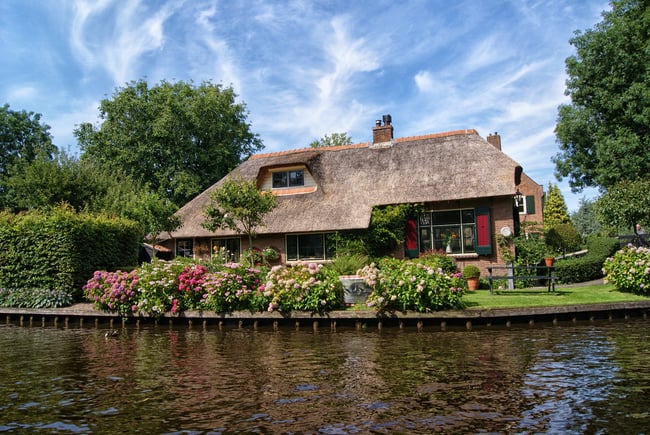 How To Get Here
You can get to Giethoorn by public transportation, but it is a bit complicated and time consuming since you'll probably have to transfer trains. You first have to get from the Amsterdam Central Station to the Steenwijk Station by train. From there you'll need to take a bus to Giethoorn. The journey could take about 3 1/2 hours and cost you 26.50 euros. Plan your trip here and follow their specific instructions!
If figuring out how to get there yourself doesn't sound fun and you're willing to splurge a bit, consider one of these day-tip tours from Amsterdam. Yes they cost about $100 per person, but that includes round trip transport from Amsterdam on a van (sometimes with a couple of fun stops along the way depending on the tour), plus a 1-hour boat tour when you get there, and plenty of time to explore Giethoorn on foot. That has our vote!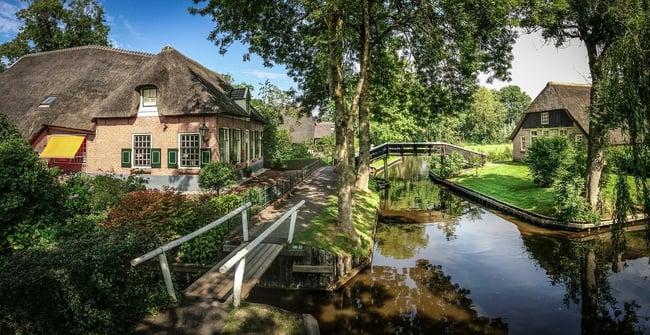 Ready to spend a few months exploring the prettiest cities in Europe?

The first step towards having this incredible experience with International Language Programs is to just start your application! Click the button below to check that off your list: