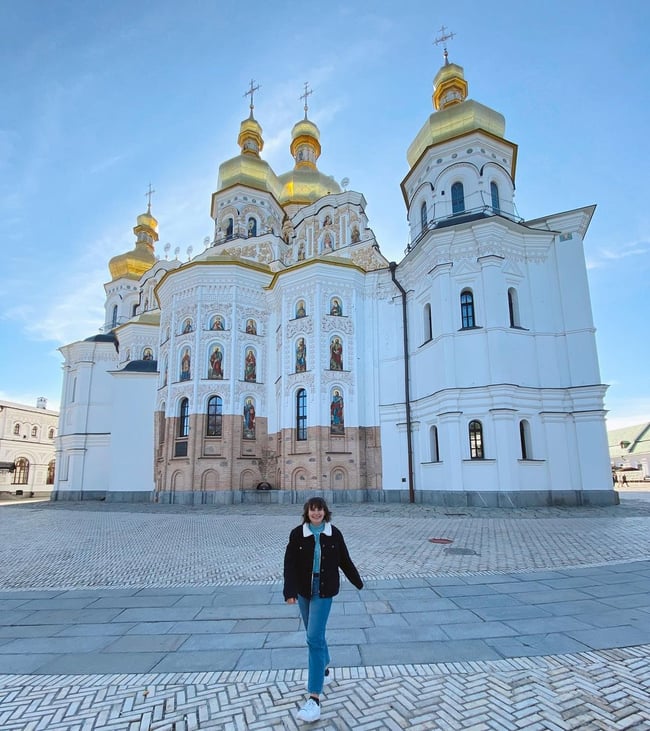 Metros, buses, taxis, matryoshkas, and more, oh my! After reading all about the ways to get around Kiev (and our tips), you'll feel like a local in no time.
Life in Ukraine means hopping around to some of Europe's most impressive cathedrals by riding underground on this metro system or zipping from cafe to cafe on electric scooters. You'll also do your fair share of walking and figuring out the local bus system. It can seem a bit confusing especially if you don't speak the language (and don't have any public transportation experience) but don't worry! With a few tips, you'll be a pro after just a few tries.

---
Wondering what else you need to know before visiting?
Check out our total guide for Kiev, Ukraine.
---

Because public transportation is going to be a huge part of your semester in Kiev, we've broken everything down and have some insider tips to help you know all the in's and out's of getting around the city.

Oh, and to make things even easier we have all the app links below in the "tip" section so you can easily download them on your phone, so don't miss that last point or two.
Let's Start With The Metro
It's amazing, which is important to know. The metro in Kiev was the third built in the Soviet Union, just after Moscow and St. Petersburg. Three lines get you to 52 stations and help just over a million people get around every day. This metro is also home to the deepest station in the entire world: Aresenalna.
The lines are all color-coded which makes getting around easier: there's the red line, the blue line, and the green line. Easy enough to remember, right? Get a map of the Kiev metro here, which also has the tram line added in.
The metro is easy to find once you are above ground, just look out for the green Metro "m" that will let you know there's a metro station near you. These stations are sometimes above ground in metro buildings (look for the green "M" on top), or sometimes you'll see the "M" sign and you'll just head downstairs from street level to reach the metro entrance.
Hours
+ Getting Tickets
The metro opens daily at 6:00 AM and typically runs until midnight. Trains usually arrive every 30 seconds to 3 minutes, especially during busier rush hour times (7:00 AM to 10:00 AM and 5:00 PM to 8:00 PM). When it's not rush hour (or it's a weekend or holiday) trains arrive every 5-10 minutes. Either way, you don't have to wait long for the metro to arrive.

Tickets are priced per ride, you can ride as long as you'd like making multiple transfers, just on one ticket. The ticket "ends" once you exit the metro and are very inexpensive (8 UAH per ride).

To buy a ticket, you can just head to the lobby of any metro station. There will be kiosks where you can buy a ticket (it's a little green token) from someone at a desk (just hand over some small bills and hold up fingers for how many tickets you need to buy, and pay). You can also head to little automated kiosks at some of the stations where you'll just select your route, insert your money, and get your ticket. You can use Apple Pay for the metro which is handy.

If you'll be living in Ukraine for a semester (hey hey, ILP Ukraine volunteers!) you'll most likely get a multi-use card that you can just use without needing to get a new ticket every time you ride the metro. That comes in handy when you'll be riding the metro multiple times a day, for a few months. For the typical tourist who is just visiting Kiev for a few days, buying tickets per ride is going to be your best bet.
Once you have your ticket, you can drop your token in the turnstile or scan your card and head to the boarding platform. You'll probably need to take a long escalator ride to get down to the depths of the underground (pst: it's very good manners to stand to the right and let people who are walking down go to your left).
Then just hop on your train and wait for it to stop at the station you're looking for. Some of the station signs and announcements will be made in English, but not always. To help you out, you can use this app for iOS and this app for Android to help you plot your route and identify which station you need to get off at. You can view the map and your route in English which is handy.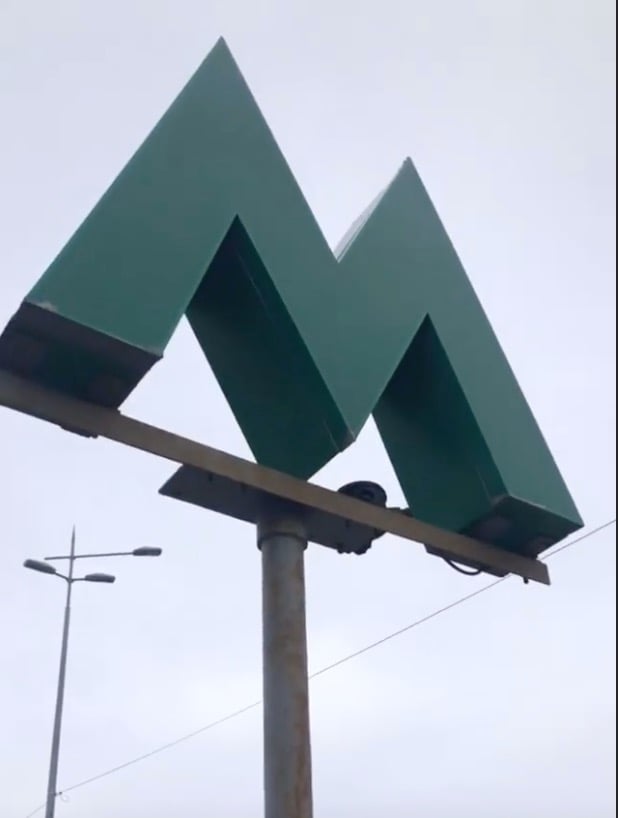 Kiev's Prettiest Stations
Before you exit the metro, don't forget to admire what's hiding below! Some of the metro stations in Kiev are literal works of art, with marble floors, mosaic ceilings strung with chandeliers, and some museum-worthy artwork. Here are some of the prettiest stations to see:
Olimpiiska (blue line) is decked out in detailed mosaics commemorating the Olympics. Find the united 5 rings at one end of the station


Arsenalna (red line) isn't exactly a stunner, but as the deepest metro station in the world, it's worth a visit.


Kreshchatyk (red line) is covered with colorful tiles referencing Ukraine's folk culture.



Zoloti Vorota (green line) makes everyone's list of favorites, complete with soaring archways and rows of chandeliers.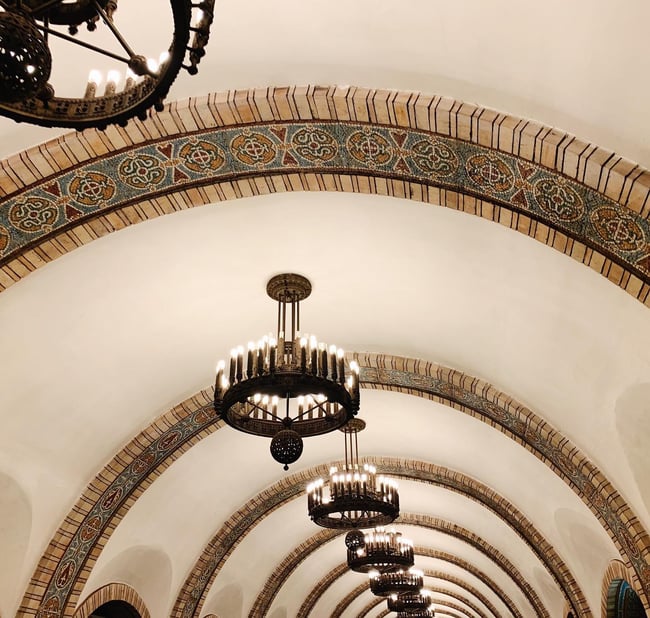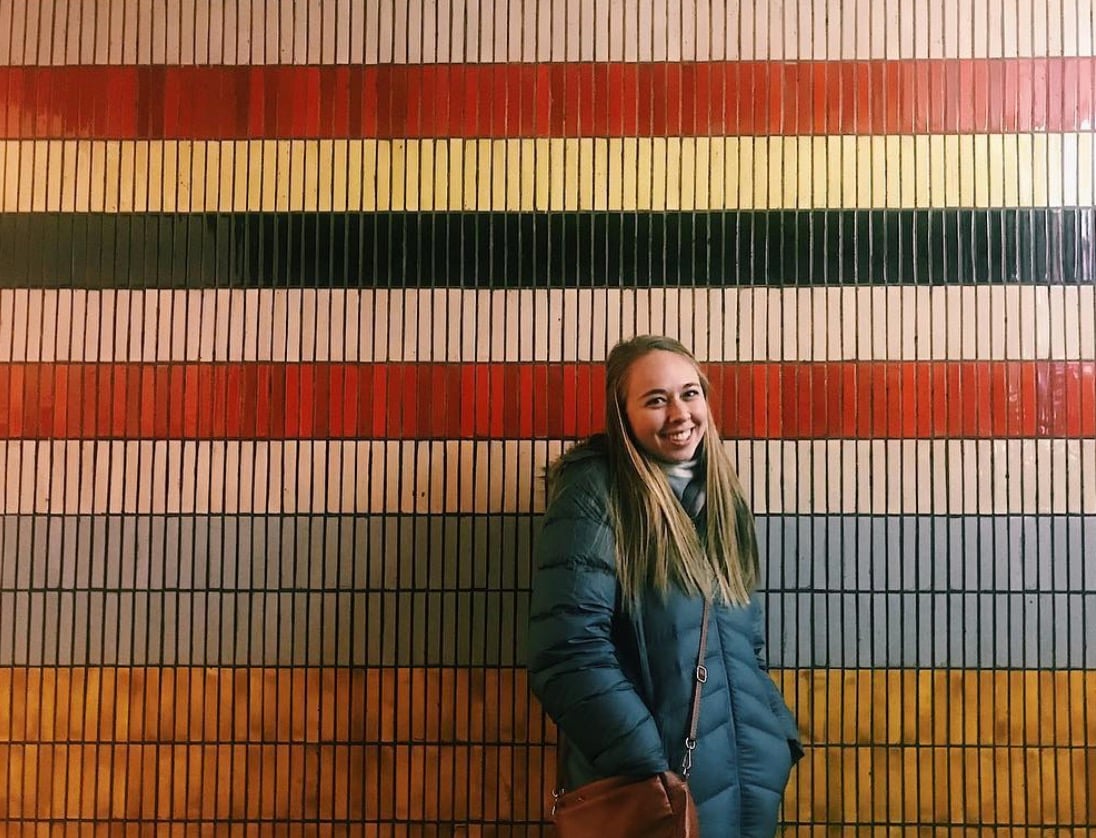 About Buses (+ Marshrutkas)
Buses, trolleybuses, shuttles, trams, and taxi buses/mini-vans called marshrutkas are also rather common. Depending on what you're riding, you'll either purchase a ticket that is validated (via hole punch, punched in a little machine at the front of the bus, or ripped by your driver) or you'll pay the driver in cash, and get change if necessary (avoid big bills). Tickets are typically between 7-10 UAH.
These are a fun way to get around, typically pretty crowded and a bit of a cultural experience. It's not uncommon for someone standing near the back to pass their fare or ticket up to the front to the driver, then have the ticket/change passed back to them. When you're riding marshrutkas, you'll shout "na ostanovke" (which translates to "on the stop") to let the driver know you'd like to get off — they don't stop at every stop unless they know someone needs that stop.
The routes can sometimes be a bit puzzling to figure out — some stop at designated bus stops, while other objects (like a telephone pole) act just the same as an established stop. Apps can help with that — volunteers have liked 2GIS for help navigating the bus system. The app shows your location and the best way to get somewhere the fastest (whether by metro, bus, or marshrutkas). EasyWay (EWay) is another favorite app to help you navigate the bus system.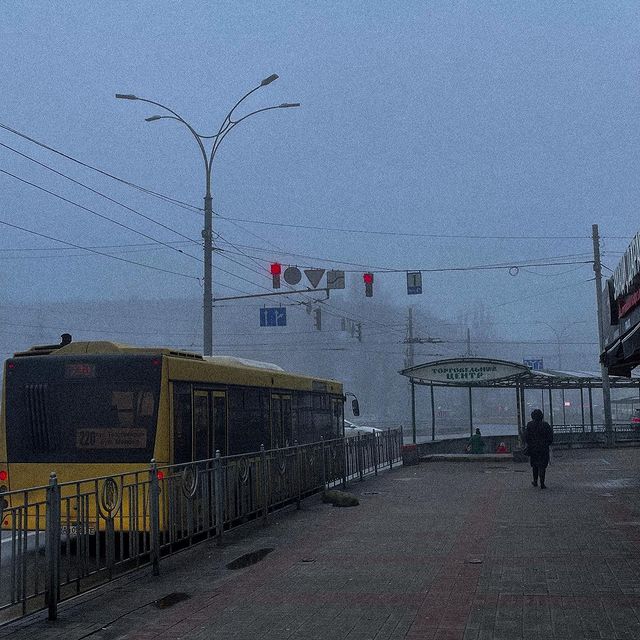 Taking Taxis And Rideshares
In general, most volunteers opt for ridesharing apps rather than taxis (if you do go with a taxi, make sure they are official and well-marked and have a fixed meter rather than a "meter app" on a phone which may be a way to con tourists rather than charging the local price).
One thing to know is Bolt, which is very similar to Uber. Some volunteers had trouble with the Uber app, but the Bolt app worked just fine. It's the same kind of deal where you type in your destination and call a car to pick you up ... it's nice because the fare is predetermined and your driver knows where you are going so no need to convey that with the language barrier. Uklon is another one to know (and sometimes a bit cheaper than Uber).
Pink Taxis, which are driven by female drivers, have been a preference for some volunteers, but others have felt just fine in standard taxis or Uber/Bolt/Uklon. Just another option for you if you're interested!
Walking And Bolt Scooters
You will do your fair share of walking around this huge city, even with a well-established public transportation system. Even if you're taking the metro somewhere, that means walking to the metro stop, escalators down to your train, and sometimes a bit of a walk and more escalators if you're transferring lines, then the walk from the metro stop to your destination. See what I mean? Packing comfortable shoes (suitable for the weather) comes highly recommended.
There are also electronic scooters around the city which can be oh-so-fun. Past volunteers recommend the Bolt scooters — if you're reading carefully, you'll notice we mentioned Bolt above as a kind of Uber taxi service — they also have electronic scooters. You can find stations and scooters all over the city, with one volunteer saying that "some of the best days are spent on a bolt scooter hopping from one cafe to the next." If you are planning on walking, scooters can be a faster way to get around if you have the spending money.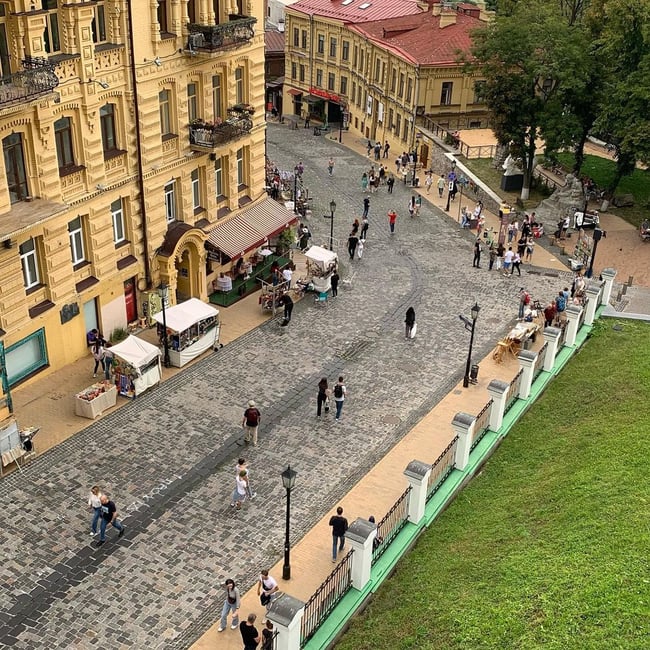 A Few More Tips
The App Recap
We've inserted links to helpful apps throughout this post, but have them all in one place here, to make it extra easy for you to find what you need:
Use Google Maps, Not Apple Maps
Volunteers have stressed using Google Maps over Apple Maps while traveling in Kiev. It's been a point made so frequently we thought it needed its own heading, so it wasn't something you missed.
We particularly love using Google Maps because you can download the city and get around without using any data. That blog posts walks you through the whole process (handy if you're traveling in Kiev or other cities without a phone plane).
About Bus Breaks
Some volunteer groups mention that the buses here take their breaks in groups, meaning there will be a gap in the schedule. If you miss your bus and they're on break, it could be 45 minutes or an hour until the buses return. Depending on where you're headed, some like to dip into cafes for a croissant and a tea while they wait, or take a Bolt scooter to their next destination instead of walking if you're in a hurry.
You Will Spend Lots Of Time Commuting
If you're volunteering in Ukraine with ILP, plan on getting very familiar with the public transportation system in this country! Volunteers will be using buses and the metro to commute to and from teaching, and to get around the city to see what Kiev has to offer. Sometimes, your daily commute can be more than 90 minutes, so past volunteers recommend bringing books to read, podcasts to listen to, or spending time planning your lessons to make that commuting time worthwhile.
A Note About Traffic
Things can get busy in this big city, so sometimes deciding how to get somewhere requires a little consideration about the traffic. Sometimes, taking the metro is going to be quicker because cars and buses are going to be stuck in traffic — something to think about if you're trying to get somewhere on time (like the opera or the airport) during rush hour.
Think you're ready to get the most out of Ukraine?
If you can handle cathedrals of every color, grocery stores with an entire chocolate aisle, and vacation time to explore other cities in Europe you sound about ready. Come volunteer in Ukraine with ILP!
Volunteers spend part of their day teaching English and part of their day exploring the city of Kiev for a whole semester … plenty of time to explore all of the city's metro stations and master marshrutkas.