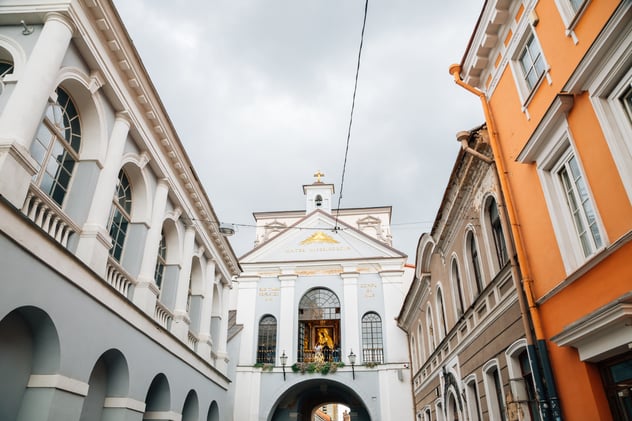 Visiting Vilnius? Or maybe you're set to come volunteer in Lithuania. Either way, here's how to see this iconic site.
We're big fans of Lithuania — it might be a small country not many people have heard about, but it's an absolute hidden gem. It's filled with castles, a stretch of coastline, with little adventures dotting the countryside. But if you'll be spending time in the capital city of Vilnius, you have quite a few things to keep you busy in the city itself.


---
The best way to see Europe is to live there.
See what volunteering in Lithuania is all about.
---
In such a little country, it sure seems like there is a ton to do, especially if you're interested in delving a bit into the history of this sprawling capital. One of the best places to start is by exploring a structure known as the Gate of Dawn. No visit to Vilnius would be quite complete without seeing this spot in person. I mean, it's only the number one cultural, historical, and religious site in the entire city.

Can I Get A Little History?
The Gate of Dawn is the only remaining part of the city gate of Vilnius. The gates were built in the 1500s as a defensive structure ... though 10 were initially built, this is the only remaining gate. The name has a pretty meandering history, first named Medininkai Gate (because it was found on the road to Medininkai) but was also known as Sharp Gate. It's found in the southern corner of Vilnius, which was once known as the "Sharp". Now, historians believe that the current name, the "Gate of Dawn" refers to the sunrise and the connection of light found in the icon of the Virgin Mary found inside the gate. Besides standing as a monument of protection for the city of Vilnius, inside these gates were also home to some of the most precious and respected artifacts.
Inside the Gate of Dawn is the famous icon "Our Lady of the Gate". This icon is believed to have incredible powers and has guarded the city from attacks and has bless travelers. The picture is of the "Blessed Virgin Mary Mother of Mercy" and thousands from surrounding countries have traveled to pray and worship before it. It's easily the most visited shrine in Vilnius, with travelers coming from all over to see it in person. You can get more info about the history here.
Directions + Other Details
Because it's a living landmark of so much of Vilnius' culture and history, the Gate of Dawn is a must-see. Luckily, it's easy to get to. This icon is located in Southern Old Town and is easily reached from Old Town, so if you're not there already, start there. It's about a 20 minute walk from the Vilnius Cathedral (which is an important landmark). It pops right up if you type "Gate of Dawn" into Google Maps.
Cost: Free to visit
Hours: Open from 7:00 AM to 7:00 PM
Address: Aušros Vartų g. 14, Vilnius 01303, Lithuania
Think you'll need a bit more help? We've got you covered. There are many "Tourist Information" places in Vilnius, one is found at this address, right by Gediminas Castle Tower: Pilies g. 2, Vilnius 01124, Lithuania. You can see the tower in the picture below, at the top of the hill.
You'll be able to get a map (a fun little souvenir) and ask for directions if you can't find the Gate of Dawn. The tourist booth is open from 9:00 AM to 12:00 PM, then from 1:00 PM to 6:00 PM, daily.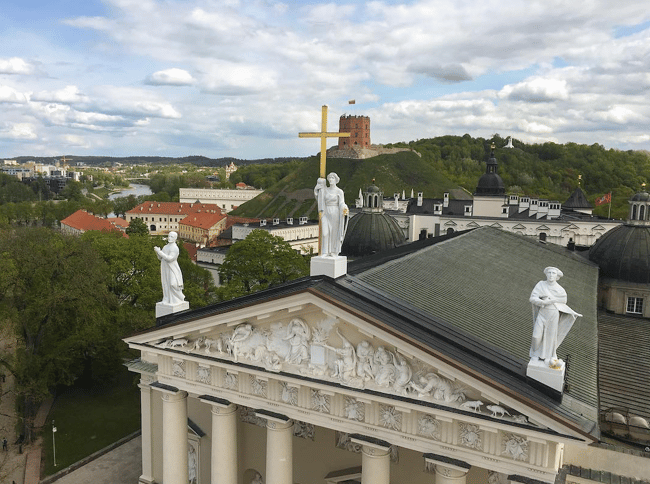 Nearby Adventures + A Lunch Spot
This historical spot is found in the Old Town which is full of things to keep you busy for an afternoon, but below are a couple places to check out in particular.
The Art Studio of Jonas Bugailskis
This cutie little wood shop is a favorite place to window shop and do some souvenir shopping. It's a Lithuanian folk artist workshop where you can find unique items like stools and side tables, gorgeous carved bowls and chalices, walking sticks and figurines. There are also paintings hung on the wall that are also for sale.

It's a family-owned shop, and if you stop in at the right time, you can spot the owner's daughter selling her own artwork at the shop, or the owner himself. Get more info on their Facebook page.
Hours: 9:00 AM to 6:00 PM
Address:

Aušros Vartų g. 17-10, Vilnius 01304, Lithuania
The Chacapuri Restaurant
If you don't know about the Georgian food you can find in Eastern Europe, I'm about to give you some fabulous news — it's delicious and something you are going to absolutely love. Sometimes I think I miss Georgian food more than country hopping on the weekends when I was living in Europe. It's. So. Good. Chacapuri is a Georgian bakery that has a few locations, but the one on Sodų g is just a 6 minute walk.

You'll find more than a few tasty things to try, like richly spiced soups, flakey pastry pies filled with cheese and veggies, and my favorite dish, a "boat" of bread filled with melted cheese and topped with an egg and a hefty pat of butter. It's amazingly delicious, especially on a cold afternoon. Get more pictures and info on their Facebook page.
Hours: 11:00 AM to 8:00 PM
Address: Sodų g. 9, Vilnius 03211, Lithuania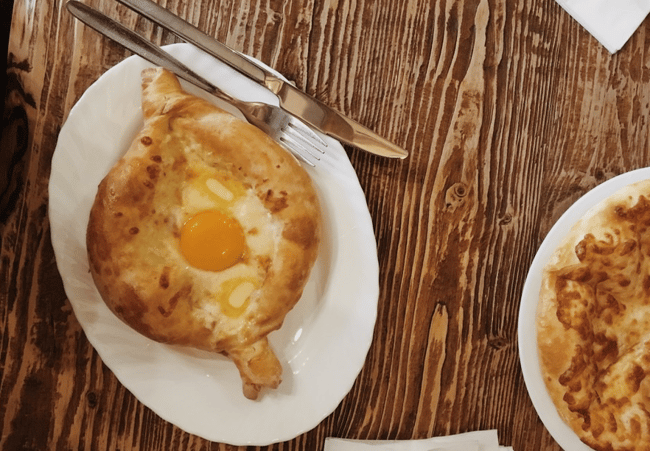 It's official, Europe's ready for you
If you've been dreaming of volunteering abroad, we think you should come spend a semester volunteering in Europe with ILP! Get more info on Lithuania, here: