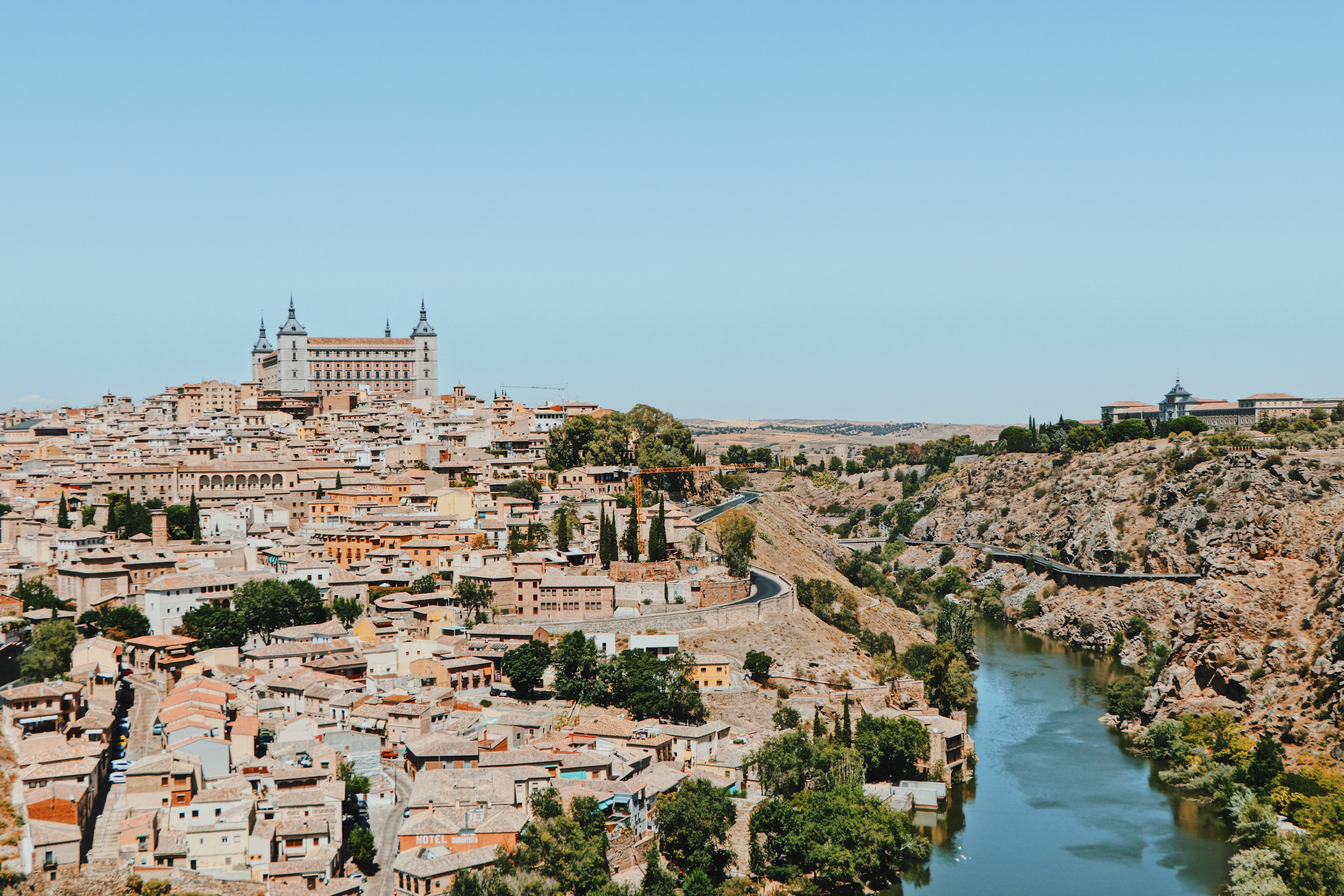 Known as "The City of Three Cultures" — there's a rich religious history of Muslim, Christian, and Jewish heritage here. Don't miss one of Spain's best-preserved towns!
While most people go on a day trip to Toledo, this historic town deserves so much more attention. You could easily spend 4-5 days wandering down the charming cobblestone streets and getting lost in the intricate details of the breathtaking architecture. But don't worry, we've got lots of tips to help you pack in as much as you can even if you only have one day in Toledo.


---
Want to spend a semester exploring cute European towns like this one?
Start your application to volunteer with ILP today
---

Toledo is considered to be the most representative of Spanish culture, because of its beautiful and diverse religious buildings. Its fairytale-like historic center was designated a UNESCO World Heritage Site in 1986! Because Toledo has such stunning sites around every corner it can be tough to narrow down where you want to spend your time during your trip, so we're going to give you all the insider info on Toledo's most magical places to visit!
A Few Tips
#1 — Choose your most comfortable walking shoes! Like so many European cities, the best way to see it all is by just wandering Toledo on foot and you're definitely going to want shoes that will allow you to do just that. The locals brag about how there is no need for gyms in Toledo because of all the walking required to get around!
#2 — To make sure you get the very most out of your time in Toledo, consider purchasing a Tourist Bracelet. The tourist bracelet only costs 10 euros and gives you access to 7 of Toledo's most emblematic monuments. You can pick one up at any one of the five tourist offices around the city, or at some of the monuments themselves in person, or you can also purchase them online here!
Top Sites To See In Toldeo
Plaza Zocodover
Plaza Zocodover is the very heart of Toledo, and a great jumping off point for your trip! It was once an ancient Arabian market where bullfights used to take place, and now is a large open plaza that connects many of the main sites in Toledo. It's a beautiful and bustling city square and the main tourist hub with lots of shops and restaurants. If you are lucky enough to be visiting on a Tuesday you can experience the famous traditional markets such as "Martes." And at night the surrounding buildings light up, making it a magical sight!
Address: 45001 Toledo, Spain
Puente de San Martin
Puente de San Martin is a beautiful and historic bridge that has a super fascinating story. Legend has it that while the bridge was being constructed, the architect realized he had made a terrible mistake in his calculations and so one night in the middle of a storm, the architect's wife snuck onto the bridge and lit it on fire to make it look like it had been struck by lightning. Because of this, the architect was able to correct his initial error and finally finished the impressive bridge that stands today. Today the favorite way to experience the bridge is by riding the zip-line that goes from one side of the river to the other. For only 10 euros Fly Toledo will make your visit to this historic town truly unforgettable!
Click here to learn more about booking tickets for Fly Toledo.
Address: Puente de San Martín, 2, TOLEDO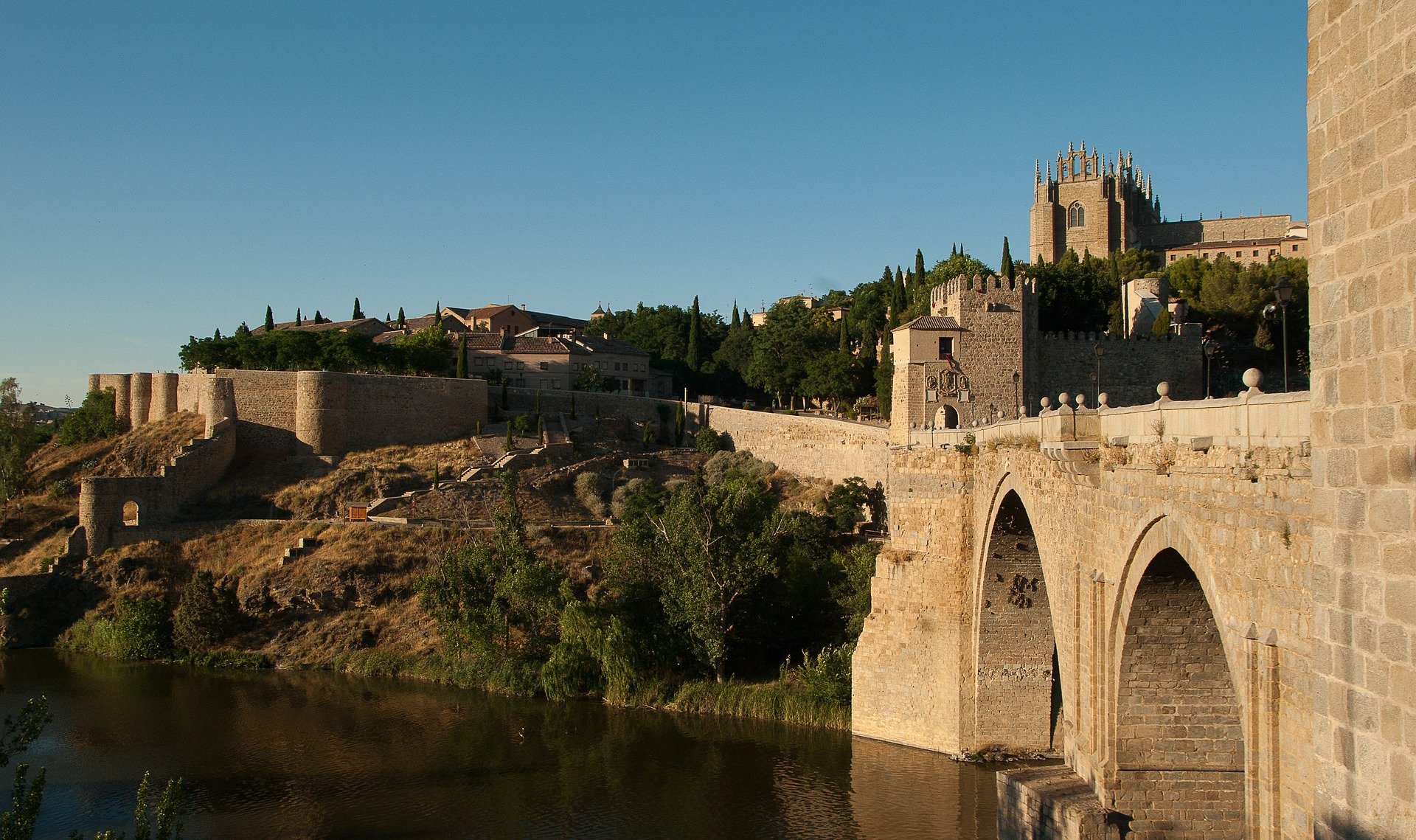 Mezquita Cristo De La Luz
This square-shaped mosque was built in 999 and remains almost completely intact to this very day, which means when you visit it almost feels like you've been transported back in time! Its interior is divided into nine spaces, which are covered with rib vaults. The Mezquita Cristo De La Luz is located inside an ancient medina where wealthy Muslim families used to live! Later it was converted into a Christian place of worship that you can visit today.
This beautiful mosque is definitely a picture-perfect stop for your itinerary and only costs about 3 euros to enter. Be sure to dress modestly to show respect while visiting. Click here for additional information!
Address: C. Cristo de la Luz, 22, 45002 Toledo, Spain
Hours: Open from Monday to Sunday.
From March 1st to October 15th, from 10:00AM-6:45PM
From October 16th to February 28th, from 10:00AM-5:45PM
Closed on January 1st and December 25th.
Santa Maria la Blanca Synagogue
This unique synagogue is a symbol of the cooperation of the three cultures in Toledo because it was constructed on Christian territory, by Islamic constructors, for Jewish use. The interior is rather simple and features stunning white columns and pillars. Oh, and it only cost about 3 euros to enter. Click here for additional information.
Hours: Monday-Saturday 10:00AM-5:45PM
Address: C. de los Reyes Católicos, 4, 45002 Toledo, Spain
Catedral Primada
Catedral Primada is the main cathedral of Toledo and one of the most majestic structures in the medieval town center. The Gothic style architecture is very unique and ranks among the top 10 cathedrals in Spain. There are very impressive and ornate details within the cathedral, and inside the building holds a gallery exhibiting works by El Greco, Goya, Velazquez, and many more iconic artists.
Be sure to climb to the very top tower of Catedral Primada to take in some breathtaking views of the city
Address: Calle Cardenal Cisneros, 1, 45002 Toledo, Spain
Hours: Monday - Saturday 10AM - 6PM, Sunday 2PM - 6PM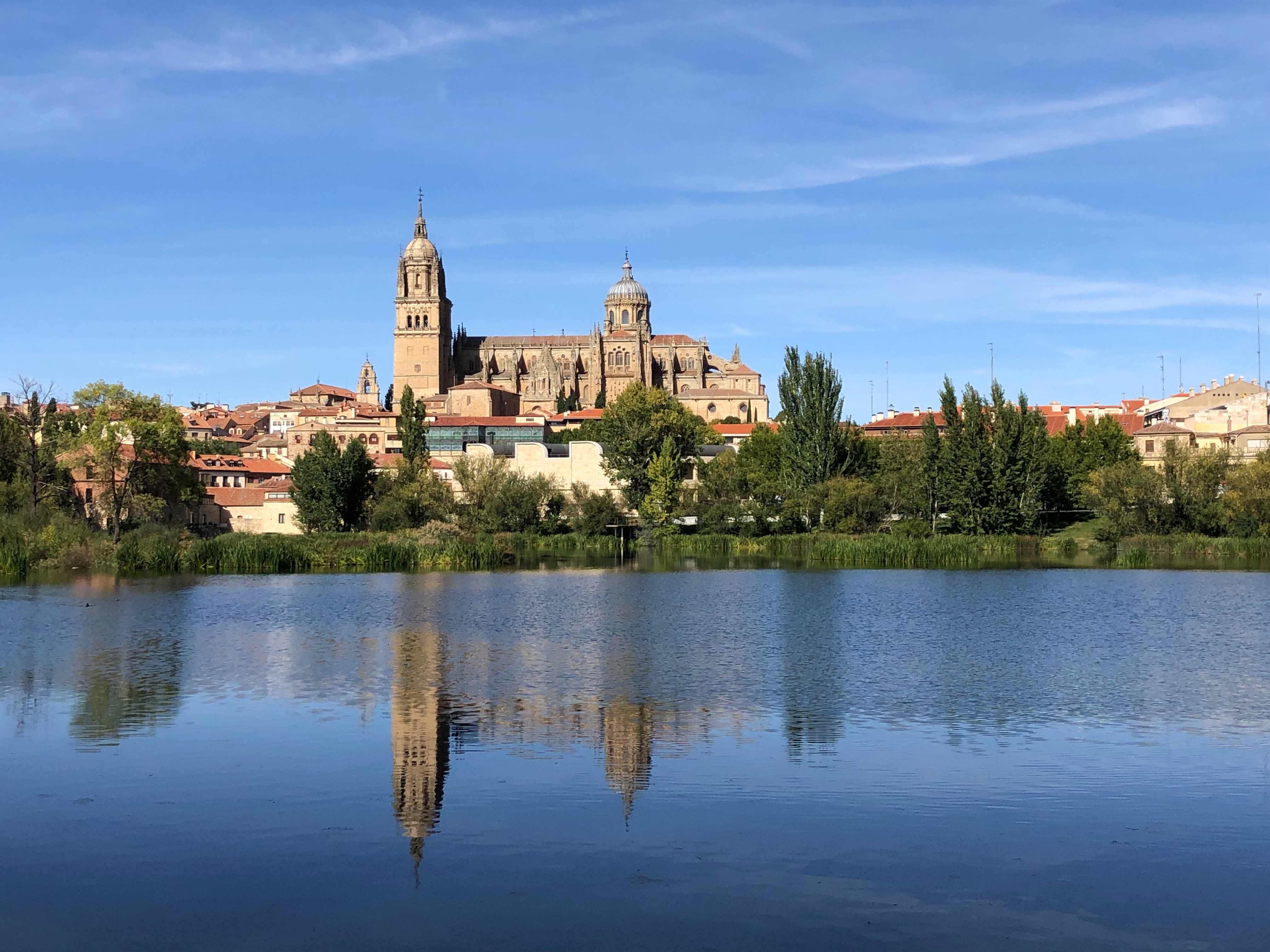 El Alcazar
Resting on top of the highest hill in Toledo you'll find El Alcazar. It was once used as a Roman palace, but today it has been converted into an expansive Military Museum. The building itself is absolutely gorgeous, especially the main patio and the stairs! You could spend hours looking through the exhibits and reading the plaques to learn a thorough Spanish history. And if you want an even more detailed history lesson, you can also purchase a 2-hour audio guide for 8 euros. You can also climb to the top of the balcony for some absolutely stunning city views!
Address: C. de la Union, s/n, 45001 Toledo, Spain
Hours: Monday - Sunday 11AM - 5PM, closed Wednesdays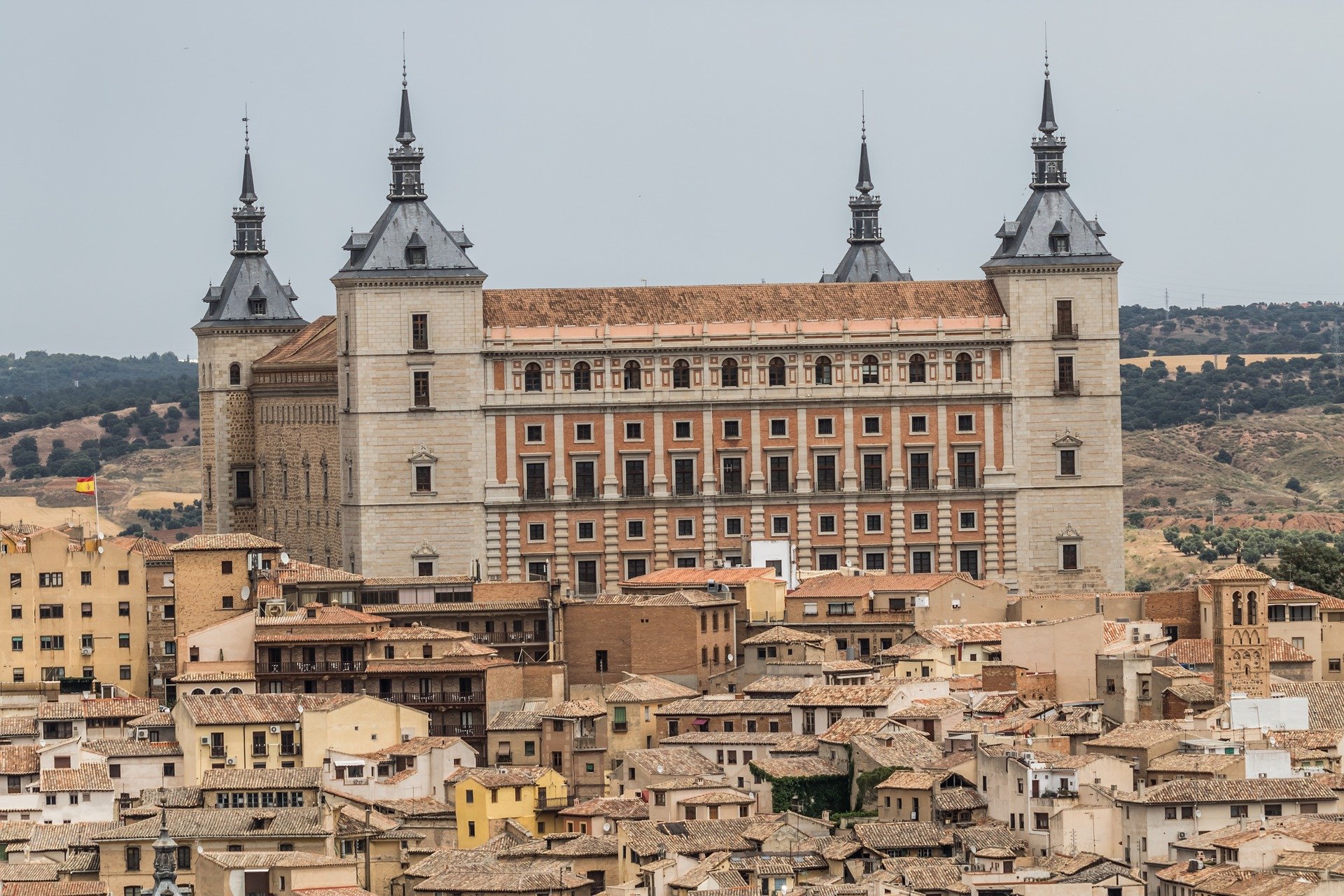 Monasterio de San Juan de Los Reyes
Monasterio de San Juan de Los Reyes is in the heart of Toledo's Jewish Quarter. This late-Gothic-style monastery was built in the 15th century to commemorate the political victory of the Catholic Monarchs. The structure is beautifully decorated both inside and out. Walk up to the Plaza Virgen de la Gracia viewpoint for a great view of the monastery and surrounding area.
Address: C. de los Reyes Católicos, 17, 45002 Toledo, Spain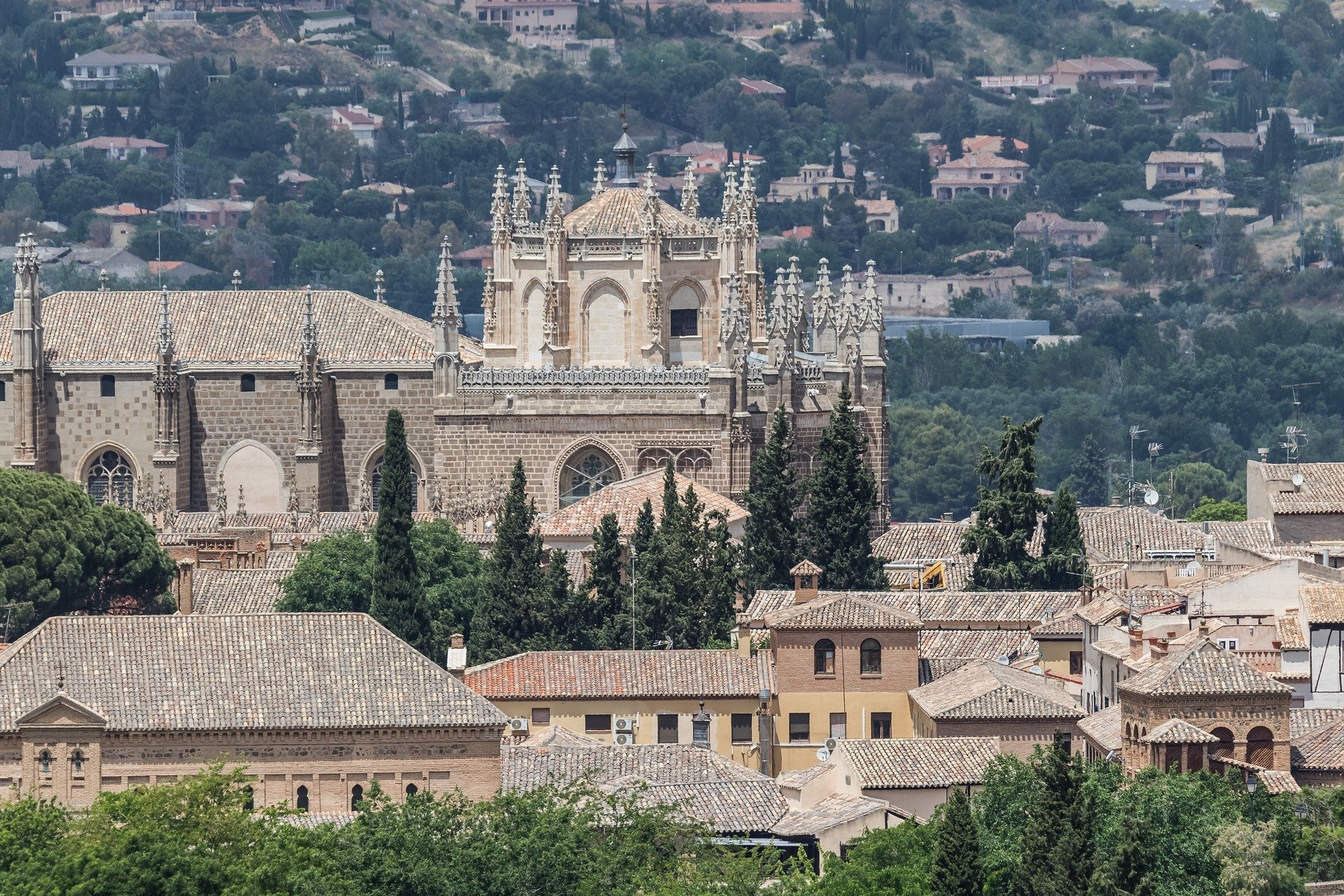 El Greco Museum
Calling all art lovers ... this one is for you! The El Greco Museum is dedicated to the late renaissance art painted by the famous El Greco. While originally from Greece, he lived most of his life in Toledo. The museum opened in the Jewish Quarter in 1911 and consists of two buildings, a beautiful courtyard, and a garden.
Other than El Greco paintings, the museum contains works by other Spanish artists from the 17th century, as well as furniture and ceramics.
Address: P.º del Tránsito, s/n, 45002 Toledo, Spain
Hours: Tuesday - Saturday 9:30AM - 6PM, Sunday 10AM - 3PM, Closed Mondays
Puente de Alcantara
Puente de Alcantara is one of the most beautiful and historic bridges in Toledo. Crossing the Tajo river, the old Roman bridge used to be the only entrance to the city. The bridge is situated below the medieval Castle of San Servando. (The castle is beautiful however the public is not allowed inside and it can only be viewed from the outside.) Rumor has it this bridge is a great place for night photography, as you can see the Castle of San Servando behind it on one side, and the Alcazar lights up on the other side of the old stone bridge.
Address: Calle Gerardo Lobo s/n, 45001 Toledo (Castile-La Mancha), Spain
Convento De Santo Domingo El Antiguo
Another fascinating medieval building that dates back to the 9th century, the Convento de Santo Domingo el Antiguo was the first monastery in Toledo's old town. While its breathtaking exterior truly grabs your attention as you walk past it, the interior is what makes this such a special site. Here you will find the grave of El Greco and a museum that displays his first paintings from when he arrived in Toledo, long before he became famous. There are also other pieces of artwork on display like ceramics and sculptures!
Address: Pl. Sto Domingo Antiguo, 2, 45002 Toledo, Spain
Hours: Monday - Saturday 11AM-1:30 PM and 4 PM-7 PM, Sunday 4 PM - 7PM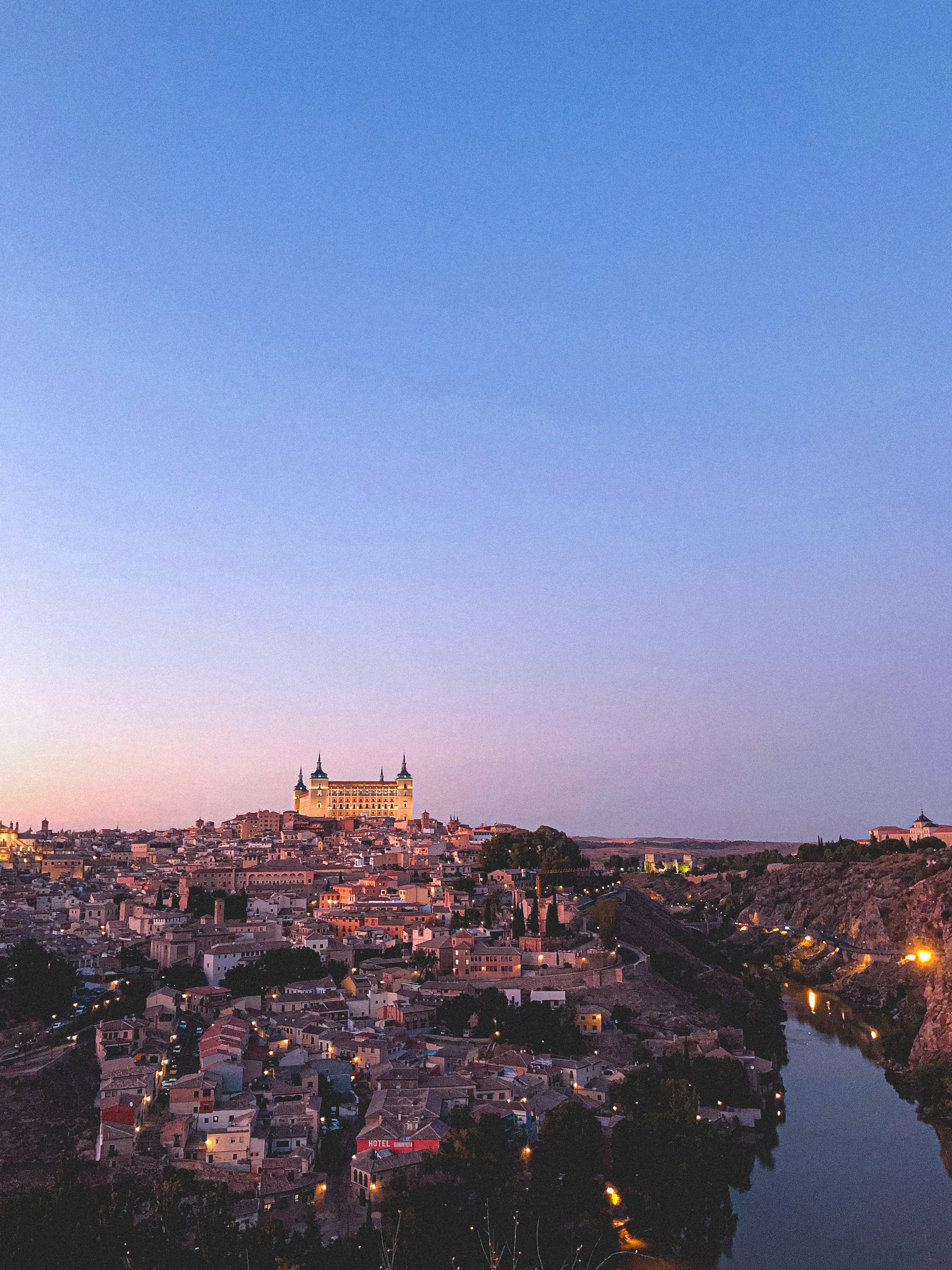 How to Get to Toledo
The best way to get here is from Madrid, which is great news because that's another city we absolutely love and another Spanish destination you might want to spend a day in (psst….check out our blog post on Madrid here!).
By Bus
You can take a bus from Madrid to Toledo and this is a great option if you're looking for ways to save some cash. The ride only takes about an hour and a half and typically only costs anywhere from 7-11 USD! There are buses that run between the two cities multiple times a day, which makes Toledo a perfect day trip from Madrid (but we totally recommend you spend more time there if you can!) Check out tickets here.
By Train
This is the faster option if you're in a rush or just want to spend every second you can exploring the city. By train Toledo is about a thirty-minute ride from Madrid, saving you an hour compared to the bus routes. This option is a bit more, but still a steal of a deal in my opinion — it costs about $17 USD one way. Check out tickets and times here.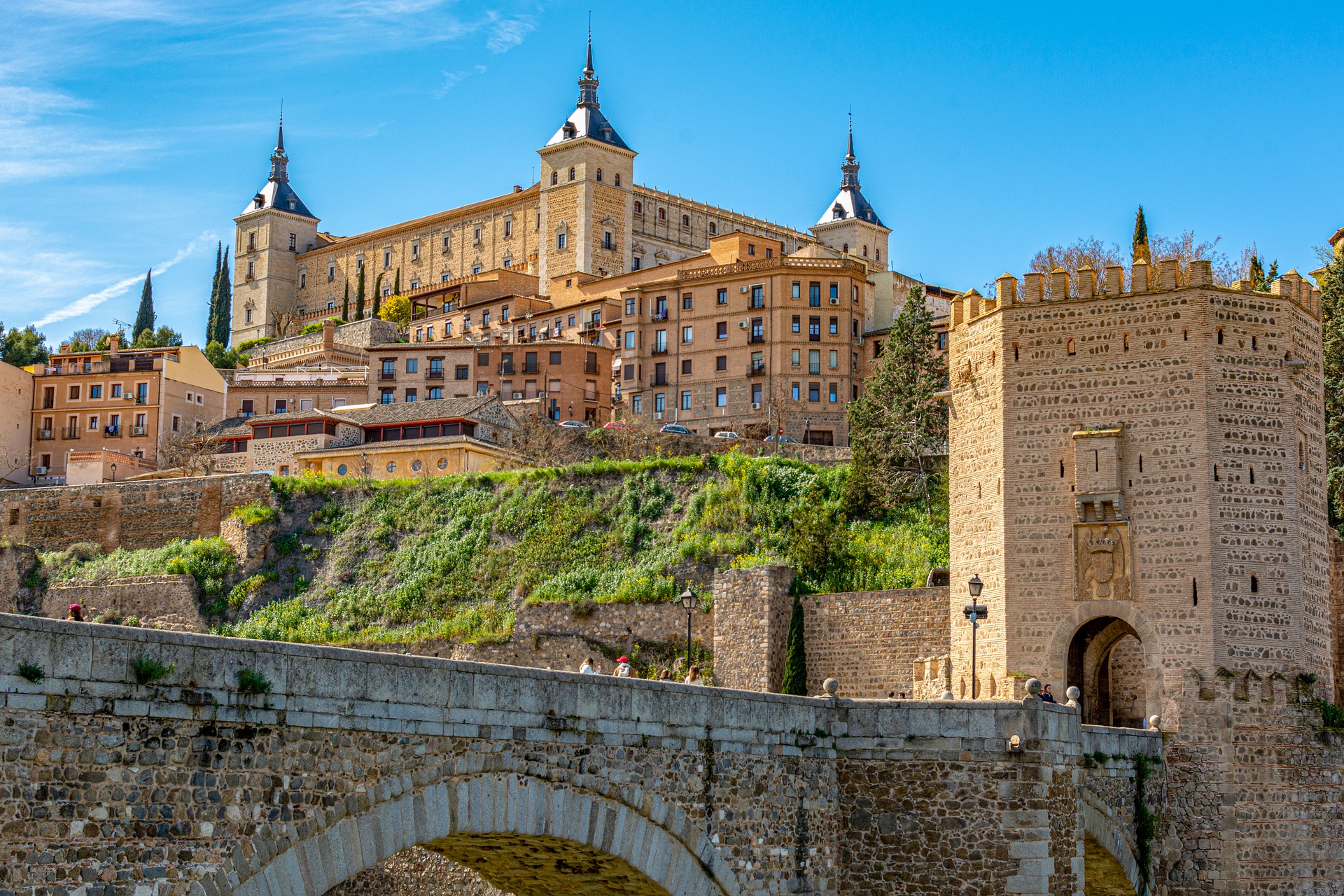 Ready to Explore the World?
Come volunteer in Romania with ILP! Our volunteers spend the weekdays making a huge difference in the lives of the cutest kids at an orphanage, and then they spend weekends hopping around to different countries all across Europe!