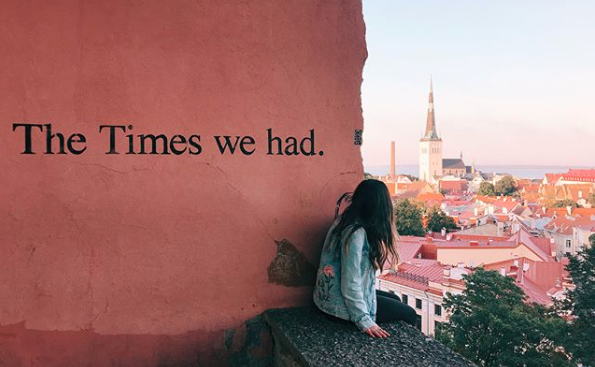 If you have a Mac, then you probably have an application called iMovie. This application is incredibly user friendly, even for beginners and is the perfect way to make a video about your semester abroad.
Need a trip to go on before making an iMovie? Not a problem. Come apply to spend your time living in China for a semester or spend a semester volunteering in Europe with ILP!
Every volunteer living abroad should have a video to show their friends and family back home! You can try to explain the crazy things you saw and the fun things you did while living internationally, but words just can't show it quite like a video can.
Check out these videos that ILP volunteers have made of their semester abroad.
THAILAND
UKRAINE
CHINA
So, here's how you make a video like the ones above!
1. Collect tons of video clips
Video everything around you. All the time. Don't forget to video the little details of your day that truly show your life living abroad. Don't feel like you have to have an amazing camera — your phone probably takes great videos (use these tips to take better pictures and videos).
Just remember to VIDEO HORIZONTALLY. If you take a video portrait style, it will have black edges on the side to help it fit the screen it is being viewed on.
2. Open iMovie
Navigate to your "applications folder" and open up iMovie and click on file and new movie.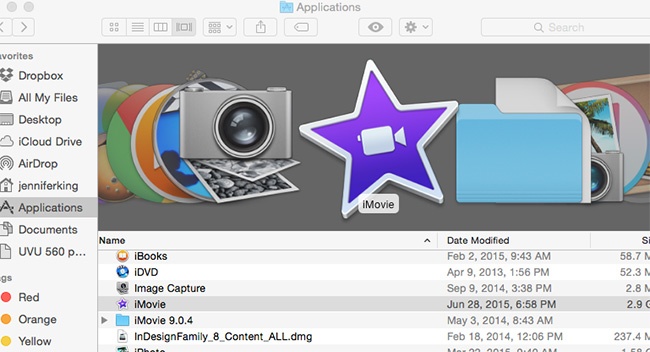 Preview the theme options to see if there are any you like. Basically they help add a little something extra to your video. I personally prefer to choose no theme, but it's up to you. If you choose a theme it will automatically add text and transitions randomly throughout your video for you. Choose your theme and then select create at the bottom.
After you've selected your theme (or no theme), you will see a screen like this open up.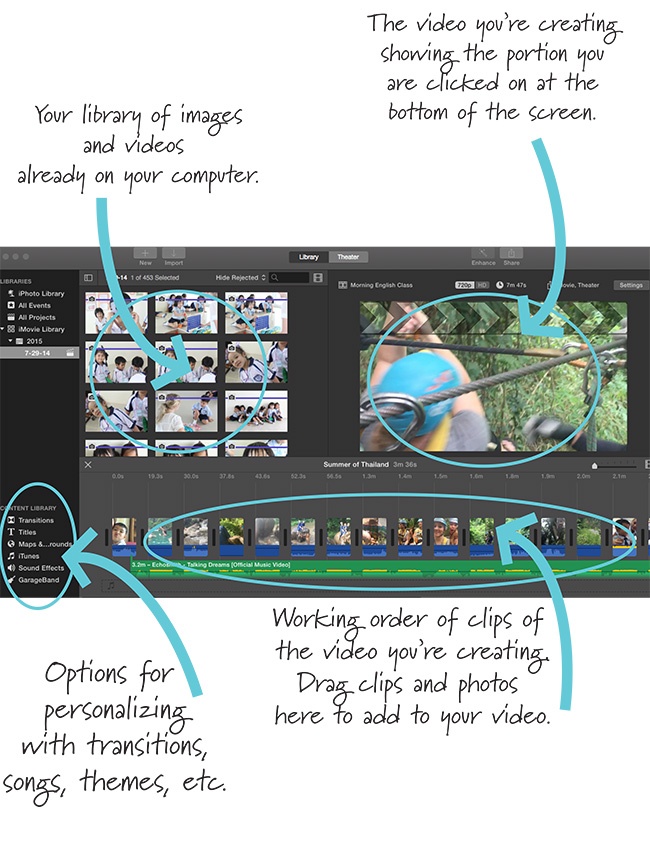 3. Upload and edit media
Drag the videos and photos that you want to include in your movie to the bottom strip on your screen. You can insert media by clicking "import" at the top of the screen and selecting the files you want. You can also easily drag files from the library in the top left hand corner of your screen or from another open window on your desktop of the strip at the bottom of your screen.
I recommend adding all of the files that you want to have in your video now. That way you can get an idea of how much you're working with.
Click on each individual clip and edit it in the right top hand corner. You'll see options like muting the sound, editing the color, cropping, etc.
4. Order the files
Click once on a file on the bottom strip of your screen and a yellow border will appear around it. You can now drag that file to another location in the strip if you want to change the order. A blue line will appear as you drag it, showing where you can drop the file.
As you move your curser around the working area, you'll see a white vertical line. Anywhere that you click, that white line will select a starting point for viewing and you can play your video from that line. If you'd like to see your entire video, click off to the left of the first media file. Hit the space bar to easily start and stop your video.
5. Add a song
It's optional, but a song helps tie it all together. Add a song by looking the left hand bottom corner of your screen. Click on "iTunes" and choose a song to add from your library. Your library will open up in the top left hand corner of your screen where your iPhoto library previously was. Click on the song and drag it to the bottom strip of your screen, just as you might have done with photos in step 3.
Your song will be a green file. Place it below your photos and videos.

You can click on your song file and a yellow border will show up, just as it did when selecting a photo or video clip. You can click and drag your song flie this way as well. If you want your music to start exactly when the first media clip does, then line the song up with the first clip. If you would like to have another song, click and drag another song file and place it at the end of the first song file, again beneath the photos and videos.
You can also have parts of your video where song is not playing. For example, in the Thailand video shown at the start of this post, I wanted to have a clip showing me talking with a student at the start of the video and did not want music to drown out his voice. I dragged my song clip so that it lined up after that video clip had finished so that it would begin with the second video clip. I also preferred to have most my video clips have no sound so that it was entirely song, while other clips had some sound along with the song. You can adjust the volume of an individual clip by clicking on the video clip so that it has the yellow border and then selecting the volume button in the top right hand corner of your screen. For many clips I simply muted the video noise so that only song would be heard, but you can also adjust the volume down as well so that you can hear both.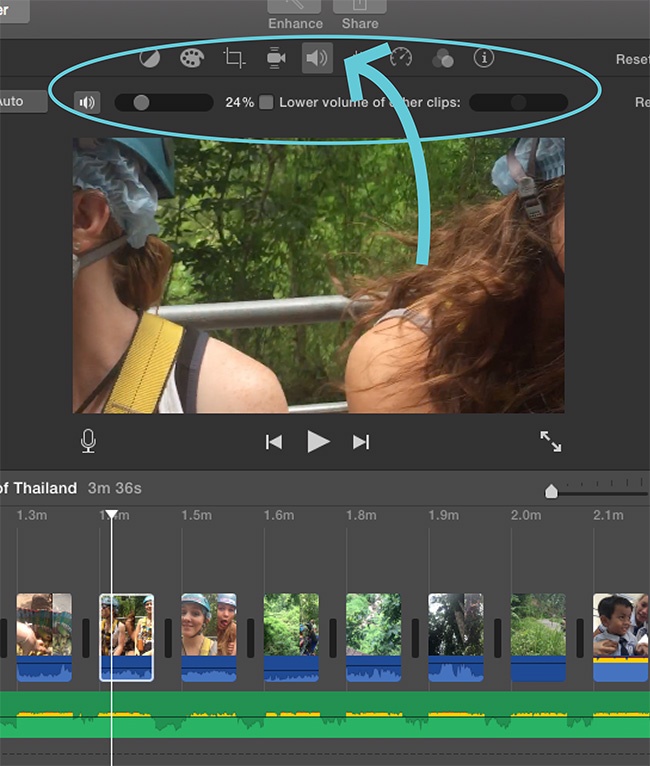 You might want to reorder some clips to correspond with certain high parts of the song. Play around with it!
6. Shorten video clips
If you have short video clips in your video, you may want to trim them down to only the exact parts of the video you want shown. This can save precious seconds when you're trying to edit down your video. Click on the video clip that you want to edit and note the yellow border that should be around it now. When you hover over the yellow border to the right, you'll see an arrow pop up pointing to the right. Click and slowly drag that to the right and it will take off the beginning of your video clip. If you feel like you took off too much, don't worry! It simply hid your video rather than deleting it, so you can drag it back to the left and your video will reappear. You can also do this on the right side of your video clip to trim off the end of your video clip.
Wanna split the middle? Right click on the video clip and choose "split clip". This will split your clip in two so that you can again trim off the start and end. You can continue splitting clips as much as you need if you have multiple sections in a long video clip.
7. Personalize it
Find transitions and titles at the bottom left hand corner of your screen. Click on either one of those and find the options in the top right hand corner of the screen, your library. Again, click and drag what you want to the bottom strip of your screen.
Transitions are typically put between photo or video clips, so you can drag and drop them between clips. Titles can be placed either directly on the clip (if you want it to show for the entire time that clip is displayed) or above the clip (if you want it to only display for a portion of the time that the clip is playing).
8. Export your movie
Watch your video all the way through to make sure it's what you want it to be. Then, go to the top of your screen and click "share" or from the menu bar click "file and then share". You'll see multiple options of ways to share, but the easiest way is export a file to your desktop and then upload it later.
Choose "file" for sharing options and then choose the resolution or quality. For online viewing I typically choose the lowest quality because movies tend to be very large files. Click next. Name your file and choose where you'd like to save it (I prefer desktop).
After you click save, your iMovie screen will reappear. You'll notice in the top right hand corner of your screen a white circle has appeared. As the movie exports, the white circle will slowly fill up to show its progress. Be patient, it can take quite awhile for a video to export. You'll receive a notification when it is on your desktop and ready to play or upload!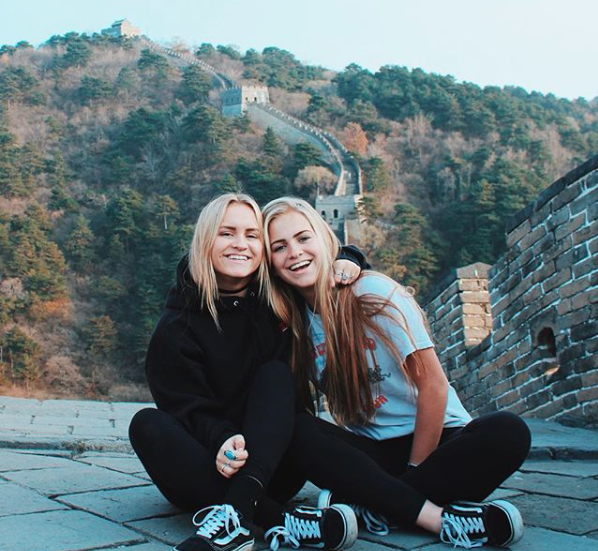 Have fun playing around with iMovie! These are just very basic tips and the more you explore it, the more options you'll find. Making a movie is a great way to share your experiences living abroad.
Interested in living in another country? Click below to find out more about how you can serve and travel as an ILP volunteer!