Montenegro is more than just a coastline full of beaches. Head deeper inland and you'll find a plunging canyon within a national park bursting with high adventure that cannot be missed ... it actually might be the highlight of your trip to Montenegro!
The Tara River is part of Durmitor National Park in northern Montenegro. Many tourists make the trip out here from the coast because seriously, no trip to Montenegro is complete without it.


---
Come snag a spot
Apply for a semester abroad in Europe with ILP
---
We've got everything you need to plan your trip to the Tara River including can't miss activities + helpful tips:
Can't Miss Activities
Rafting The Tara River
With the many excursions that are to be had in this area, rafting is by far the main event … call it the main attraction. The Tara River winds through both Montenegro and Bosnia, forming the deepest canyon in Montenegro (and Europe for that matter) …. it's the second longest canyon in the entire world, only second to the Grand Canyon! And you can totally hop on a raft and see miles of this natural wonder on a rafting trip. Add in the fact that you'll be cutting through this deep canyon covered in emerald trees and you get a pretty good visual. Um, amazing, right?
You can sign up with any of several tour companies (keep reading for more info on that) who can organize your trip for you and set you up with a professional river guide. One day trips tend to be in the 30-45 euro range, but you can also book longer trips if you want more days on the river!
What Are The Rapids Like?
Rapids are rated on a numerical scale, 1-6. Five is the highest grade of rapids that you can raft commercially, so you won't run into any 6 rapids on your tour, but even then, the 5's are something to be reckoned with. 1 rapids are calm, flat water while 2-3's are full of splashes and bounces. Moving up to 4's and 5's, and you're looking at barreling over waterfalls and more than likely tip-overs. It's an adrenaline rush, to be sure.
When you're rafting the Tara, you'll typically run into class 3-4, but the intensity is partly measured and determined by when you're rafting. You'll find bigger swells in March, April and May which leads to higher water levels that sometimes increase the ratings to be closer to a 5.
Tour Companies to Check Out
There are several options for guides so you've got options. Make sure you do your research to snag the best choice for your trip! Many come with advantages like accommodation, meals, tour packages, transportation help, etc. You'll want to make sure you're booking with a reputable tour who includes all the safety gear (helmets and life jackets as well as rafting briefing), and a professional, English speaking guide.
Keep in mind that rafting can have its risks, so it's best to go with a professional guides, and don't be afraid to read reviews. These are just a few we found that popped up in initial searches and seem to be well organized with plenty of excursions. We'd love to hear your experiences after you go.
Zip lining
You can actually zip line across this gorgeous river set in the deepest canyon in Europe! Not for the faint of heart ... you'll be soaring from pretty high up. Just try to focus on the incredible view!
The zip line is situated right next to the Djurdjevica Tara bridge which in itself is quite a stunner. Tour buses come make a stop to admire the massive structure (which sits 560 feet above the Tara river) so it has become a total tourist attraction. If zip lining doesn't sound like your cup of tea, you can still admire the views from one of the restaurants instead. Don't forget to grab a t-shirt from one of the souvenir shops.
If you make your way here on your own via public transport, you can purchase a zip line ticket on arrival through companies like Red Rock for 10 euro for a single ride (or less with group prices).
Alternately, you'll find that many tour companies have zip lining as an excursion, so if you're already planning a tour package doing any of the other many adventures in the area, look at adding on a zip line trip. Companies like Tara Sport Rafting have a zip line package for 45 euro that includes extras like a jeep ride and GoPro footage, plus you can ride the zip line multiple times for no added cost! Just make you sure you book ahead of time. Many companies like Rafting Montenegro also offer a small discount if you're adding zip lining onto another tour, so don't forget to ask about that.
Other Excursions
There's plenty more to fill your time here! Remember that this river sits right in a mountainous national park and so you'll want enough time to really see the park views as well. Head out mountain biking, boating at lakes, hiking, canyoneering, jeep rides through the national park, horseback riding ... and more!
While you're researching tour companies, check out other options or maybe book a package.
The photos from this jeep safari through the park are enough to get me planning my trip right now! Driving around the park is going to be a highlight of your trip. You'll find more info about all the things to do in the Durmitor National Park on this guide.
Helpful Info To Plan Your Trip
Best Times To Go
Tours run from April-October. High season is July and August so you'll want to book in advance if you can to make sure to snag your spot for the weekend you want.
How Much Time Do I Need?
You can make it a day trip from the coast if you really pack it in, but we recommend much more than that. Some tourists who don't have much time do it all in one day — it takes about 3.5 hours to get out to the Durmitor area, spend 1/2 a day on the river, and drive back.
Since ILP volunteers are living in Montenegro for 4 months, we definitely recommend making it a full weekend, coming back more than once, or spending one of your 4 day vacations out here. You can definitely fill your time and we don't think one day is enough!
Don't Forget To Bring...
Passport (most companies ask for this)
Sunscreen
Swimsuit
Cash (there are park fees and taxes to keep in mind, plus anything else you need)
Good hiking shoes
Sweatshirt (if you head up in the mountains it can get cold!)
Getting Out To Durmitor
If you're not being picked up in another city by your tour company, travelers typically head to Zabljak, a small, charming town in the center of Durmitor National Park to start their adventure. Tour companies will often designate this spot as a meet up place as well. Side note: unless you've arranged accommodation with your tour company, Zabljak is also a great spot to book your own accommodation ... especially when it's as cutie as this!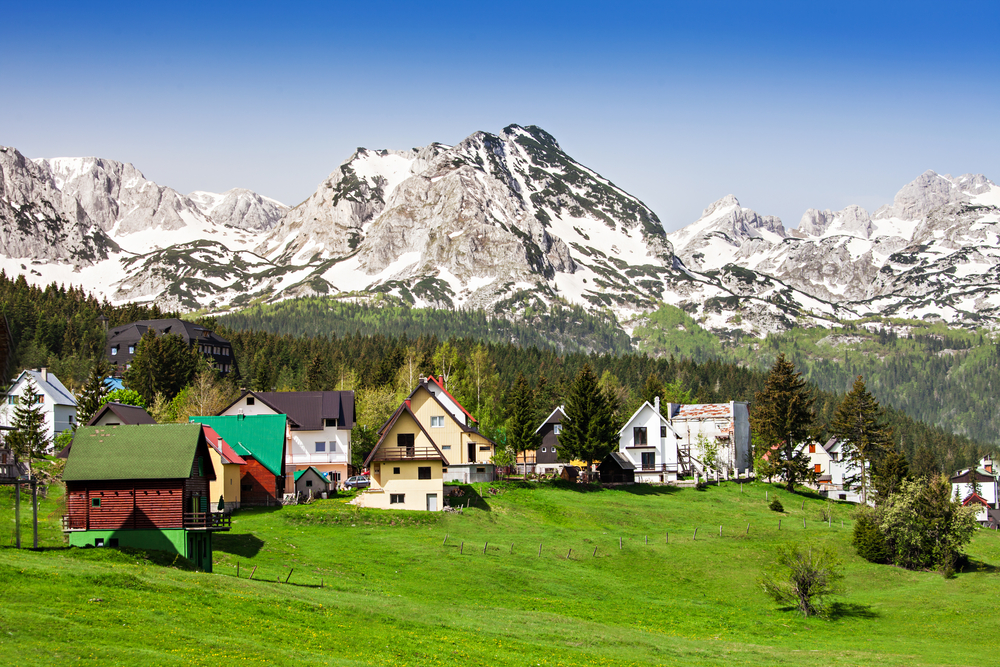 Bus is your best and most affordable option for public transportation, or you can hire a driver as well. Some Tara River tour companies will also offer a pickup service for you at an additional cost. Depending on the company, a roundtrip transportation for four people can run around 140 euro (so about 35 euro each) or up to eight people around 200 euro. Not too bad for the convenience, especially when you're splitting it with your group.
Coming from Budva —
There currently isn't a direct bus route from Budva to Zabljak. Most routes will have you change buses in the capital, Podgorica. This is still your cheapest option and will cost around 13 euros for both bus tickets (from Budva to Podgorica and Podgorica to Zabljak), however it's going to take you longer as you usually have to wait 2 or 3 hours at the Podgorica bus stop before changing buses. That means a 3.5 hour journey doubles into a full day's journey, so arranging a pickup is more popular.
Check out bus routes and book tickets here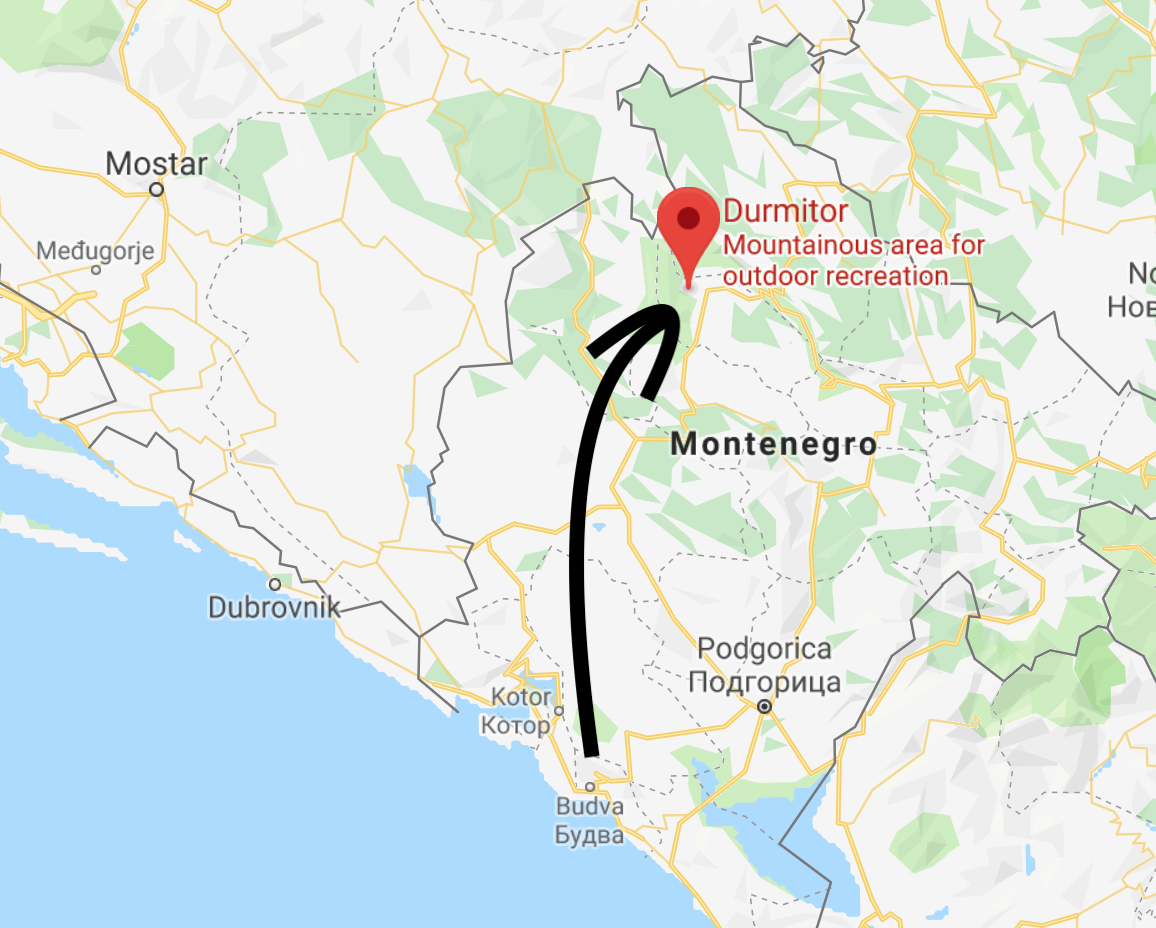 Ready to book your Europe trip?
There's so much adventure packed in this little country, we wouldn't want you to miss out on the chance to see it all! ILP provides opportunities for college-age volunteers to spend a semester abroad in Europe — we think it might be the perfect adventure for you.