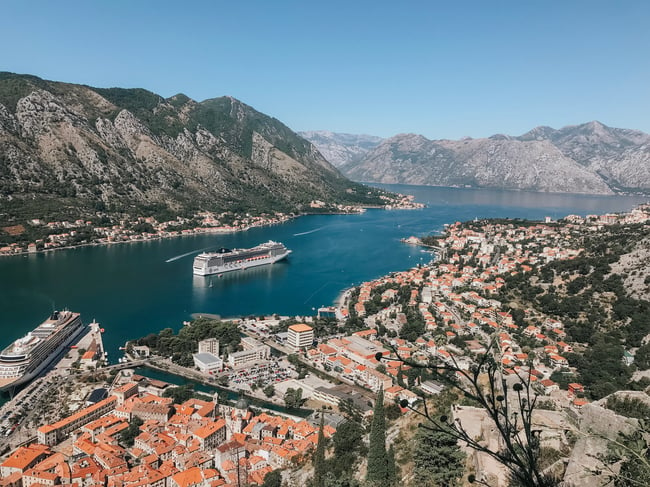 Spending a semester in Montenegro? Or even just vacationing in this stunning country for a few days? Here are the reasons this sparkling bay is a place you can't miss!
It's no secret we're all pretty excited about our volunteer program in Montenegro! What could be better than spending a semester abroad in southern Europe—beaches and prettiest old towns included—while teaching English to the cutest little kids? Probably nothing.


---
Want to live like a local in one of Europe's hidden gems?
See what volunteering in Montenegro is all about.
---

Whether or not you get to spend a semester in Montenegro, we totally recommend visiting it! And guess what?! Since it's a popular vacation destination for Russians, there are actually direct flights from Moscow to Montenegro. Shouldn't even have to think twice about adding this country into your semester plans.
Even though Montenegro is really quite small, there is so much to do! Ziplining, river rafting, and jeep rides just to name a few. No matter how long you have to spend here, we totally recommend visiting this beautiful bay. Since it's a 1.25 hour bus ride from Budva, this makes for a perfect day or even weekend trip for our volunteers living there! See the timetable and book your tickets here! Chances are you'll understand as soon as you arrive why it's such a popular destination for European travelers.
Can't Miss Spots In The Bay Of Kotor
Old Town Kotor
Perast
Hercag Novi
Tivat

Luštica Peninsula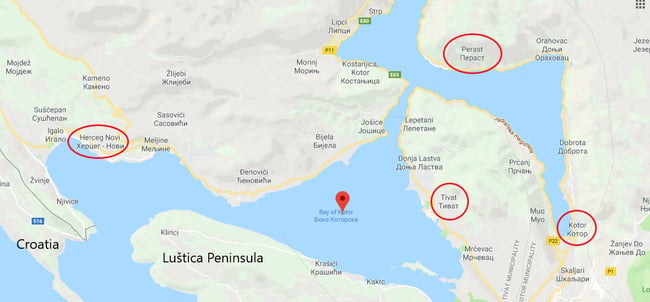 Old Town Kotor
This is one of the most well-preserved towns in southeastern Europe, and absolutely where we recommend spending most of your time while in Kotor. Depending on when you visit this tiny town (that takes about 15 minutes to walk across), it may be pretty crowded, especially May-September.
What To Do
Souvenir Shopping: Due to the summer stream of cruise ships that visit Kotor every year, many of the shops in Old Town are solely for tourists. You'll see a lot of Turkish lamps, painted ceramic bowls, jewelry, rugs, sandals, and cat art. You can spend hours visiting each souvenir shop, and will enjoy every minute of it. This is definitely the best place to get souvenirs in all of Montenegro.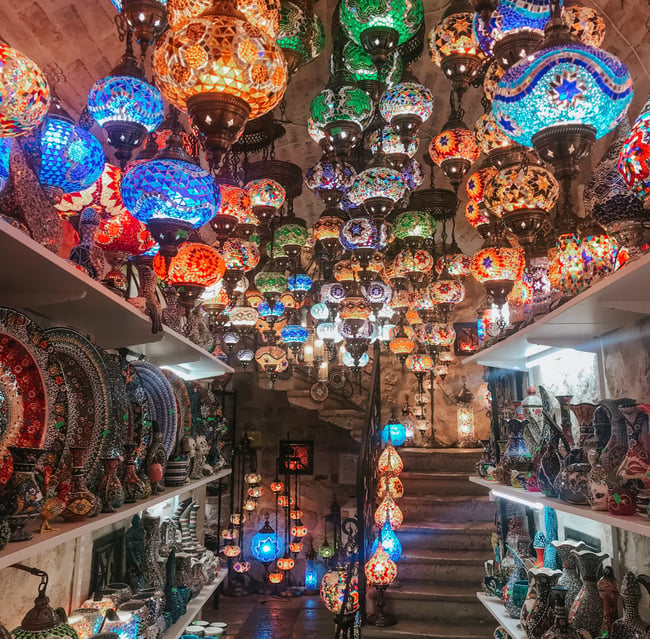 Churches: One of the best things about Kotor is all of the little palaces and churches placed together in such a small area. These buildings date back to the 15th-18th centuries when many noble families lived in Kotor. They are definitely not as grand or fancy as palaces in other parts of Europe, but still show hints of Kotor's golden age. One such structure is Pima Palace, which you should at least stroll past if you get the chance.
Hiking: If you want to get a stunning view of the whole area—bay and mountains included—then take the hike (up 1500 steps) to the top of the fortifications. You'll find the access point right by the Northern Gate of Kotor, and entry costs about $4.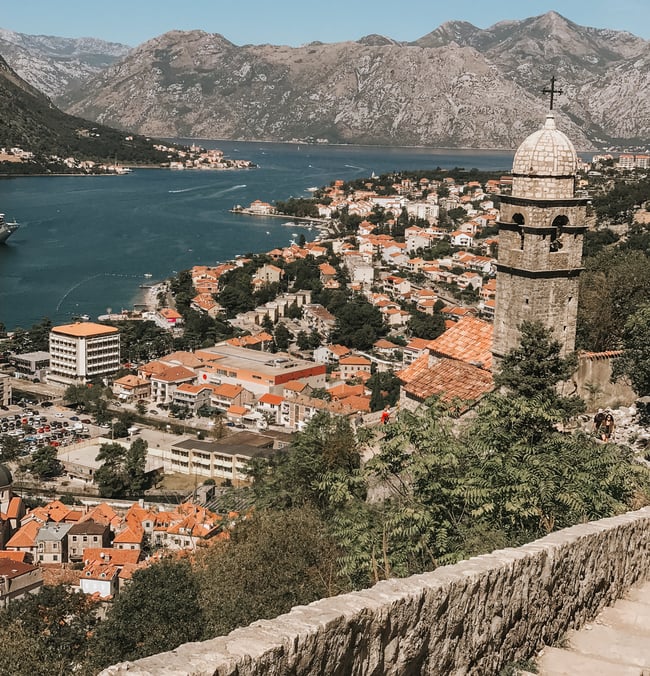 What To Eat
Pasta: Europe and pasta is just a flawless combo. Although Italy is definitely the most well-known for their homemade noodles and sauce, don't let that keep you from trying it in other countries as well. Our favorite dining experience in Kotor was at La Catedral, a tiny cafe in an alleyway just off the main square. Although everything here was yummy, we cannot recommend the pesto pasta enough. Still dreaming about it.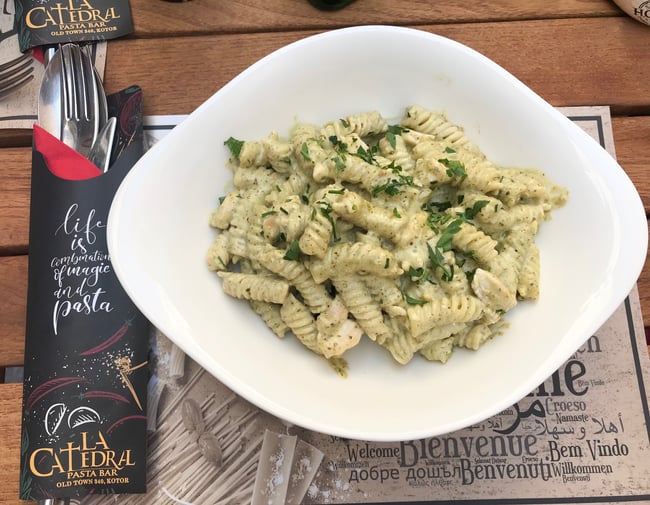 Pizza: Montenegro has some dang good pizza, and one of our favorite places is found right in the heart of Kotor's Old Town, Pizzeria Pronto. You'll pay 2 euros for a huge slice, but we found that splitting a whole pizza between 2 people was a better deal. They also have a large selection of toppings, including vegetarian options. It's very popular, so expect a bit of a wait. Worth it!
Lavender Ice cream: This is a specialty of the area, and although it may sound a bit eccentric, it is absolutely worth a try! The flavor isn't as strong as you'd think, just fresh. You can find it at most gelato stands around town, and will pay about 1 euro per scoop.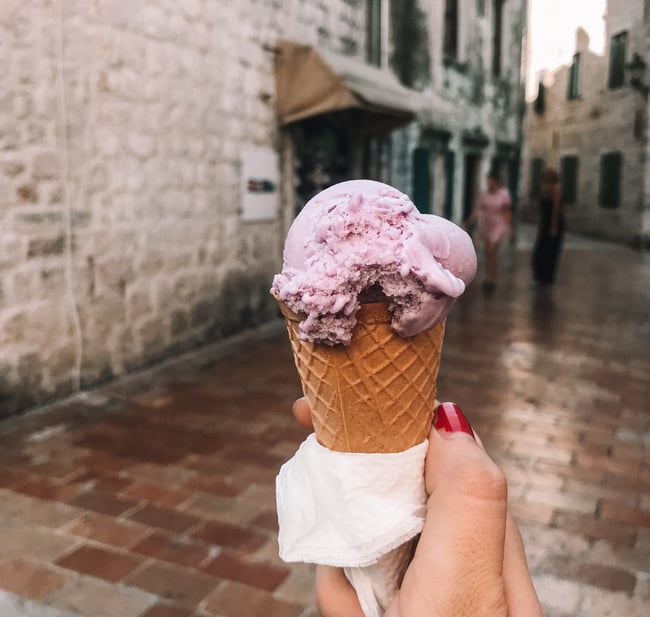 Where To Stay
Palace: Check out Palazzo Drusko! And here's the perfect attic room in the palace where a group of three can stay.
Hostel: If you want to stay right in the center of Old Town, then sleeping in one of Hostel Centrum's bunkbeds is for you. The location is unbeatable! And super cheap for the charm they offer. They have 8, 6, 5, and 4 bed dorms for you to choose from.
Airbnb: When looking for an authentic, local experience, staying in an Airbnb is the way to go. Especially if you like more privacy than a hostel can usually offer. We can't recommend just one since there are so many good options and it all depends on availability. But we do recommend finding one that is in Old Town and is owned by a Superhost.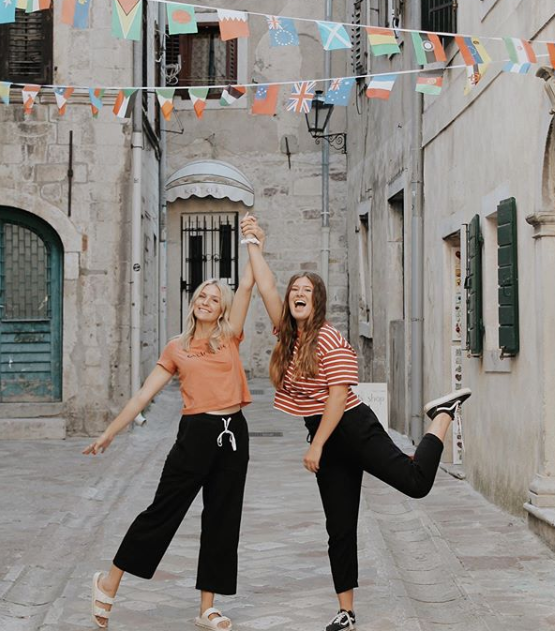 Perast
Been to Venice? Kotor's sister town might bring some flashbacks. Even though there is only one main road down its center, Perast is still home to sixteen churches. It's not really a place to spend a lot of time, or even eat, since all of the cafes and restaurants are pretty pricey for most volunteers' budgets. But it is still worth a visit! For just 1 euro you can climb the main bell tower, which gives incredible views of the bay from every side!
How To Get Here From Old Town Kotor
You can jump in a taxi and head here, or it takes about 30 minutes to get here from Kotor on one of the Blue Line mini buses. Head's up, we learned from trying to get here ourselves that the public transport can be a bit tricky to figure out. Here's some helpful info that we found on Trip Advisor:
"You can pick [the bus] up outside the Kotor walls (just past the market stalls, a little 'park' with trees/seats). There is no bus stop as such. You'll notice people waiting. There is also another stop (with a little bus shelter but no stop as such) outside the Kamelia Shopping Centre (which is about 100 meters beyond the left end of the Kotor walls - with your back to the water). The bus leaves Kotor every hour at 15 minutes past the hour. The fare is €1 each way and the driver will give change. This is the only bus that actually goes through Perast. The main stop is in the centre of Perast but they are flexible in picking up/dropping off. The return bus departs Perast at (approx) 30 minutes past the hour. On Sundays the buses only go every two hours. These local buses are generally very reliable."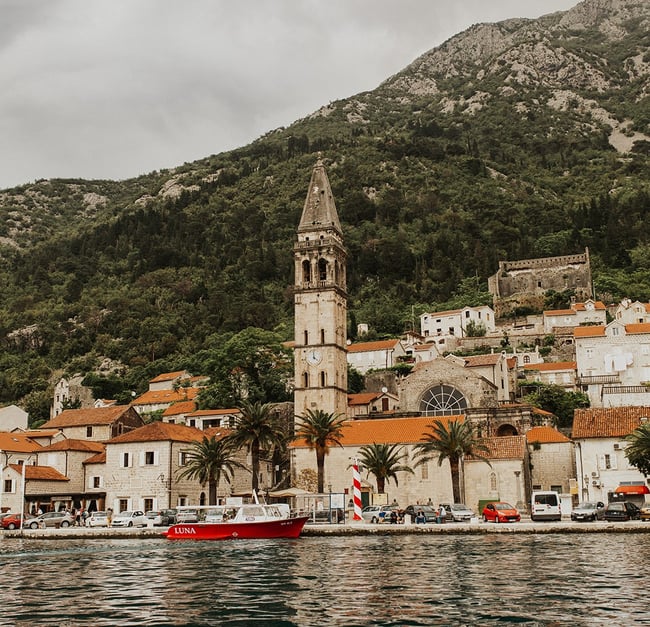 Our Lady of the Rocks
On a tiny man-made island off the coast of Perast is this stunning Roman Catholic church with a small museum attached to it. The church contains many works of art, including more than 70 paintings. Admission is only $2, and it's absolutely worth the visit! Read this post for more info about how to get to this island and here church, plus what you'll find there!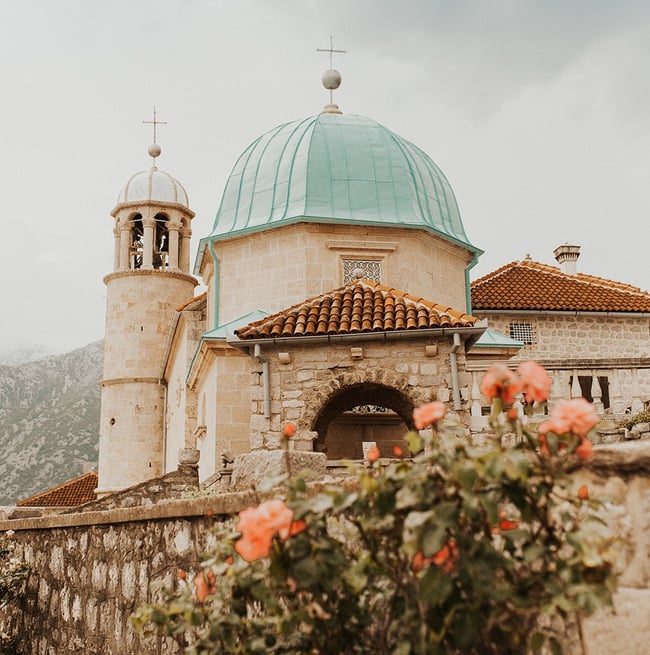 Herceg Novi
Mamula Fortress
Once a military fort, it was later used by Mussolini as an isolated concentration camp during WW II. No one has lived on the tiny island since, and the ruins are a bit haunting although very well preserved. It will soon be turned into a large luxury resort for tourists, so visit while you still can.
Savina Monastery
This medieval, orange-roofed monastery, complete with a belfry tower, actually consists of three different churches. Inside you can see many relics and historical artifacts, like a silver-plated hand, a crystal cross decorated with silver and four rubies, and even the remains of the wife of Tzar Dusan of Serbia. With a unique cemetery built in terraces up the hillside, and perfect views of the bay, it really is worth visiting. The easiest way to get here it to catch a taxi in Herceg Novi for about $3.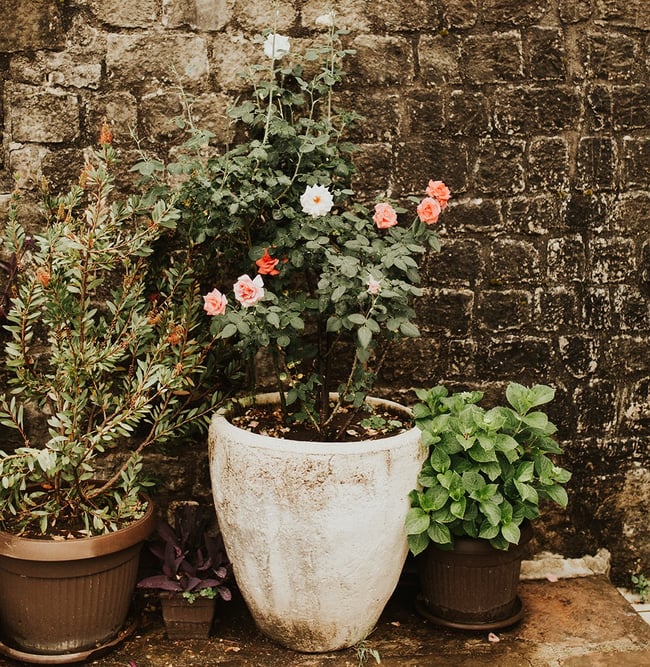 Kayaking
If you're going to do it anywhere in Kotor, do it here! The views of the mountains and fishing villages are amazing. There's even an old submarine shelter, and the decaying remains of a wrecked fishing vessel. If you decide to book with this company which offers guided tours, then expect to pay about $40 per person for a half-day excursion.
Tivat
More modern and glamorous than anywhere else in Kotor, this marina is full of all the glitzy yachts you'll see cruising down the bay. It's the perfect place to enjoy some ice cream and watch the sunset!
Tivat is also the location of one of Montenegro's airports! It probably won't be the one that our volunteers frequent the most because it has less discount airlines than the one in Podgorica, but it's still an option! You can sometimes get really affordable flights here (there's one on Easy Jet from London that's $75 or less!) If you're coming from Russia though, there's a surprisingly affordable direct flight right into Tivat.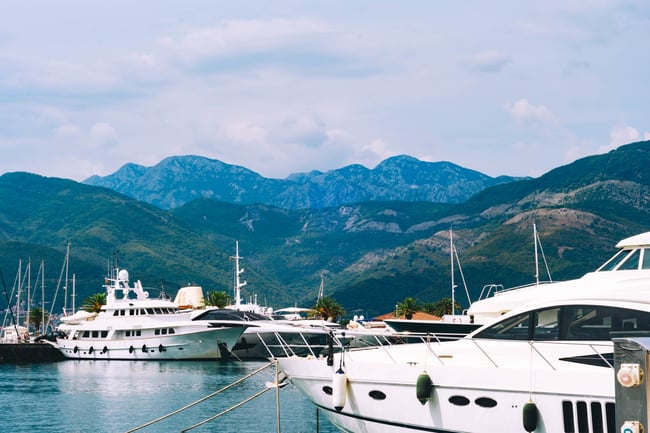 Luštica Peninsula
Jutting into the southern end of the bay where it meets the Adriatic Sea, this peninsula has several secluded beaches and charming villages. It is a lot less touristy than some of the destinations around Kotor, but still has some beach resorts.
Žanjice Beach
Probably one of the best beaches on the peninsula, this pebbled shore is lined with deck chairs and brightly colored umbrellas. If you wander to the far side of the beach, the crowds will be much smaller and the water just as peaceful and clear.
Blue Cave
This is definitely the area's most visited spot, and for good reason! It's only reachable by boat, but once inside the cave you can swim in the water. Its name comes from the iridescent blue light that reflects from the bottom of the cave's pool, to its rough rock walls.
You can actually catch one of the boat tours from Herceg Novi's marina that departs at 9 am and 10 am every day April-October (weather dependent). These tours usually include a stop at Fort Mamula. They only cost about $10, which is definitely your cheapest option. Just keep in mind that during the tourist season, these tours will be packed and you might have to stand for the entire boat ride.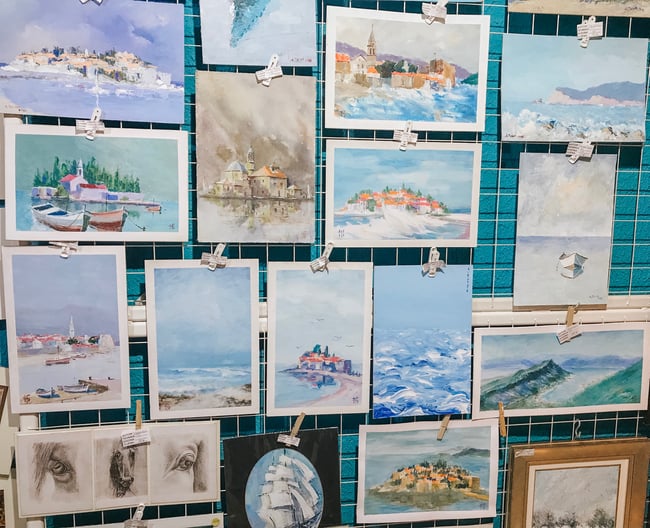 Curious to know more about what a semester
spent with ILP would look like?
It all kind of sounds too good to be true, right? But you really can live abroad for an entire semester, while teaching English to cutie kids, and still spend your vacation days in places like this. Click the button below for more info!