We already know Ireland is on your bucket list, but how do you plan your trip there? This guide to Dublin has all the info you need.
Anyone who gets a peek at what's waiting for them in Ireland is pretty ready to hop on a plane ASAP and see this place in person. I was the same way. The minute I saw the castles and green fields, I was hooked. Flying into Dublin is one of the strongest "plane window" memories I have — there is just something about gazing down to see rolling hills that are impossibly green. And once I landed? Ireland did not disappoint. I can't wait to go back to the castles, coastline, fields of sheep, and charming pubs.


---
I lived and traveled in Europe for a whole semester as a volunteer.
Get an idea of what volunteering with ILP is all about.
---

We're currently crushing on Ireland for a whole list of reasons, which makes the fact that you can snag a pretty cheap flight to Dublin a fun bonus. This post pulls all of our "quick trip to Dublin" tips in one spot so you can just follow this post and plan your dream vacation to the Emerald Isle.
A Bit About Dublin
As with any country, there is a lot to see in Ireland. You could easily spend months here roaming the grassy hills and peeking into castles aplenty, but most of our ILP volunteers are here for a couple of days ... which makes Dublin a great option. The capital city is found on the eastern coastline, with connections to a few places you can see in just a quick little visit.
The city itself is centered on a river, and full of cozy cafes and pubs, towering cathedrals, historic buildings, and a twist of modernity in the right spots. You're also very close to the Dublin mountain ranges for a bit of nature or a bus/train station to get you where you need to go. It's the perfect spot to spend a day or two before you see something else on the Emerald Isle, and hop over to somewhere new. In general, most ILP volunteers mention that a full day or day and a half in Dublin gives you plenty of time to see the city. Then, spend a day (or more) visiting somewhere else in Ireland (like the Cliffs of Moher) before flying back out of Dublin.
Still need a little convincing? This ILP volunteer had this to say about Dublin: "It was SUCH a fun place to see! Definitely one of the top favorites of everyone I've talked to that has been there. It is so green and fresh and alive! There is a ton of shopping you can do, also recommend visiting Trinity College, the Dublin Castle, and taking a bus outside of Dublin to the seaside is absolutely amazing — green cliffs, lots of colorful seashells, and a nice pathway to walk along!"
All of this is up for grabs!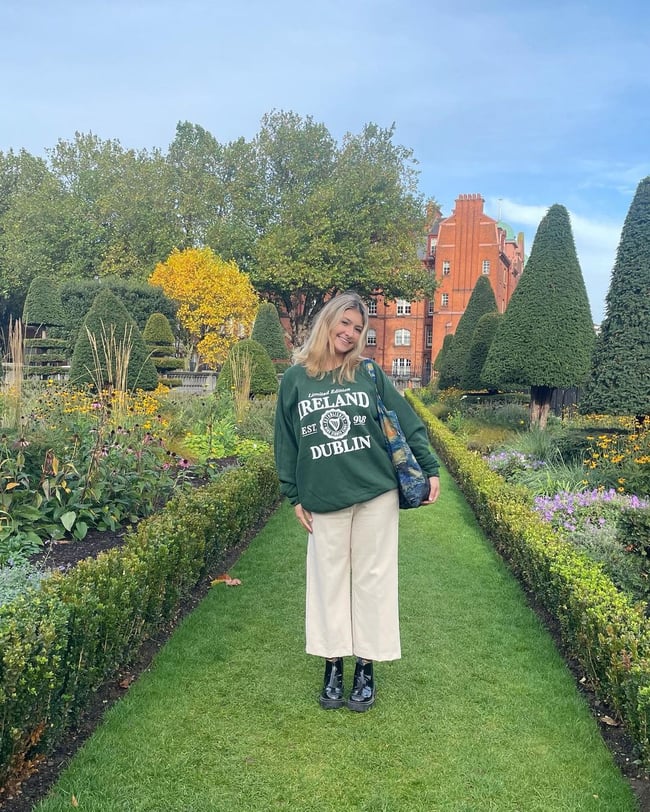 The Highlights Of The City
Dublin Castle
This castle has been an important part of Ireland's history for hundreds of years — and is still one of the most noteworthy landmarks in Ireland (and the tourism industry). It has a rather long history, but a few notable facts to know include that the castle was first built as a medieval fortress (built atop an earlier Viking settlement), served as the seat of English rule in the 1200s, and was also an active residence for members of several leaders and players in the British monarchy. The castle also survived a rather devastating fire in the 1600s and was later rebuilt.
Fast forward to more recent times and the castle was used for several notable government events throughout the 1900s — since 1938, each of Ireland's presidents has been inaugurated here. Among the thousands of visitors each year, some notable guests who have visited the castle include Benjamin Franklin, Queen Victoria, Charles Dickens, John F. Kennedy, Nelson Mandela, and Queen Elizabeth II.
Today, you can walk through staterooms, two museums, a library, gardens, various chapels, gardens, and more. Guided tours are available if you'd like to learn more about the history of the castle as you wander.
Trinity College
Founded back in 1592 by Elizabeth I, Trinity College is one of the most famous and elite universities in the world. It was modeled after Cambridge and Oxford and soon became "the place" to get your education. It's the alma matter to people like Bram Stoker (the author of Dracula), Jonathan Swift (author of Gulliver's Travels), Oscar Wilde (famous poet), and others.
The grounds of the college are gorgeous, a collection of gray-stone buildings that won't likely resemble any school you've seen in the US or Canada. While it's still an active university, it's also one of the main tourist attractions in Dublin.
While you're there, see if you can take a peek into the Trinity College Chapel for the stunning stained-glass windows, and take time to visit the library — it's a total highlight. The Long Room of the library isn't only impressive due to its sheer size and volume collection (over 20,000 books!) but is home to quite a famous book or two. The Book of Kells is easily the famous book here, which is a beautifully illuminated manuscript of the Four New Testament Gospels, all in Latin. It's also home to other ancient texts and sees over half a million tourists a year. Get more info about the library here.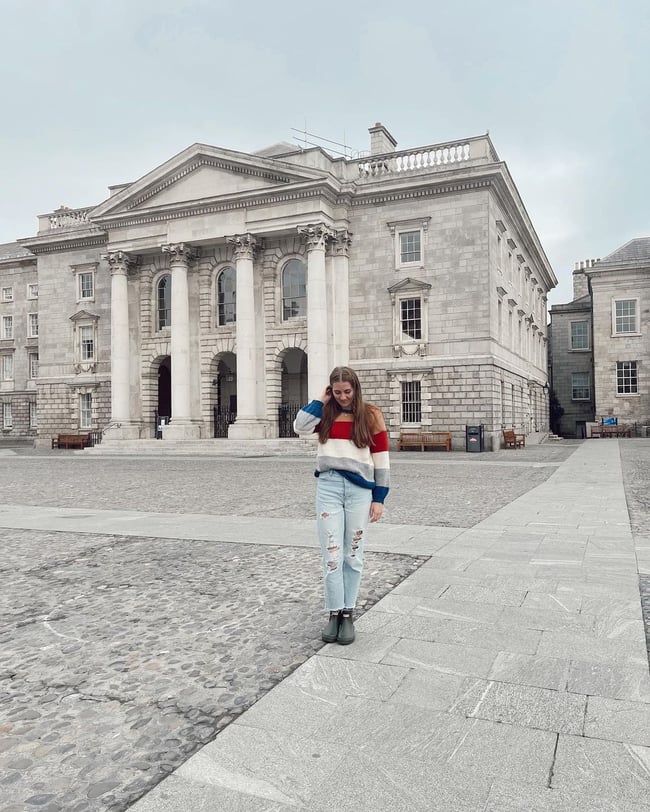 See The River Liffey (And Cross Ha'penny Bridge"
100 years ago, crossing the Liffey bridge would have cost you half a penny, giving the Liffey Bridge its "Ha'penny Bridge" nickname. Now, the bridge is free to cross but still gives you the same great view of the River Liffey, which curls its way through the city of Dublin. Built in 1816, it's become a very popular tourist attraction, particularly at sunset.
There are also a few things to see and do around the bridge if you have the time. If you're into bookstores, you can visit the nearby shop called the Winding Stair, or take a peek at the other shops and eateries around — the very famous Heineken building is nearby as well.
A Couple of Churches
Let's start with the St. Patrick's Cathedral, which was founded way back in 1191. It's the country's largest church and stands on the spot where the famed St. Patrick supposedly baptized Celtic leaders in the 5th century. Today, visitors flock to hear the choir (performing here since 1432! — you can hear them daily, Monday through Friday during the school term), the baptistry, and the tombs of Jonathan Swift and his long-term companion, Esther Johnson. The interior is also a stunner, complete with intricate pews, vaulted ceilings, and beautiful glasswork.
Cost: 8 Euros for adults

Hours: 9:30 AM to 5:00 PM (6:00 PM on Saturdays). Sunday hours are from 8:45 AM to 10:15 PM, and 1:00 PM to 5:00 PM.
Next up is Christ Church Cathedral, which is about 100 years older than St. Patrick's (and was originally a Viking church). It's a working Anglican church that draws in tourists and worshippers alike with tiled floors stemming back from the medieval ages, high ceilings, and the belfry. One of the most noteworthy things to see at this church are the crypts, which are also home to a mummified cat and rat — according to church lore, a cat chased a rat into the organ pipe and became stuck. The poet James Joyce used both as a simile in Finnegan's Wake, and kind of immortalized the story. Now, a mummified cat is forever chasing a rat behind glass in the church's crypt.
Cost: 9 Euros

Hours: 10:00 AM to 5:00 PM (3:00 on Sundays). Closed Tuesday and Wednesday.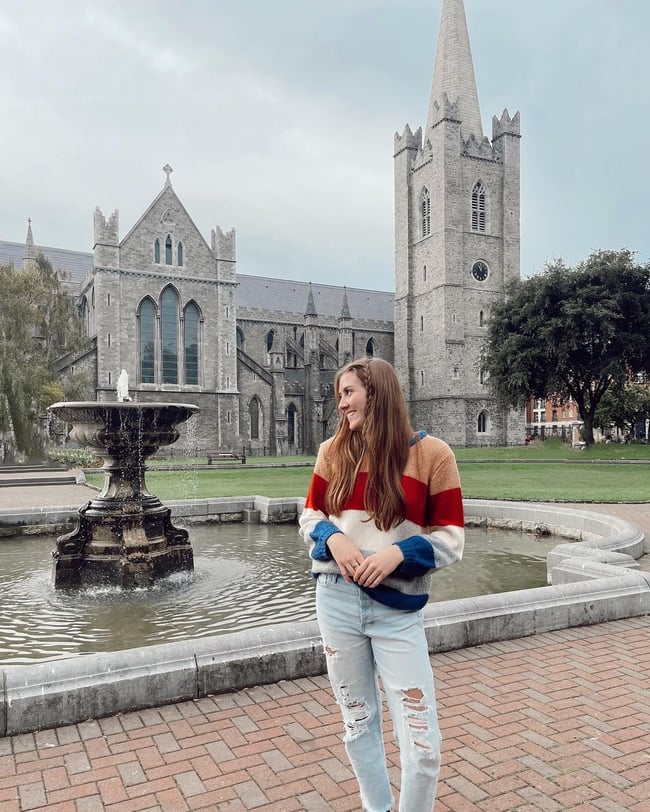 A Few Museums
There are plenty to choose from, but a few notable ones (if you have the time) include these:
EPIC
The Irish Emigration Museum may be of interest if you have Irish heritage. The museum focuses on stories of Irish emigrants who became influential leaders, scientists, artists, poets, and more, all over the world. You'll hear about the emigration process, why people left Ireland, and the difference they've made in countries across the globe.
Cost: Tickets are available here.

Hours: 10:00 AM to 5:00 PM, daily
Kilmainham Gaol Museum
Found just outside of the city center, Kilmainham Gaol Museum was once a prison that imprisoned some of the most notable and notorious rebels in Irish history. Most famous are probably those involved with the 1916 Easter Rising (whose leaders were put to death by firing squad). The prison is also known for housing other prisoners in dismal conditions, along with being a popular film location.
Various public buses can take you from the city center to the museum. It's about 20 minutes away from major landmarks in downtown Dublin.
Cost: 8 euros. Tickets must be purchased in advance,

here.

Hours: 9:30 AM to 6:00 PM
The National Gallery of Ireland
Home to works from masters like Rembrandt and Turner, you can spend hours perusing over 2,500 paintings (plus 10,000 other works of art). The museum stems back over 150 years, first opening in 1864, and can be a nice change of pace to all the architecture in the city.
Cost: Free entrance, but tickets must be

reserved in advance

. Exhibition tickets have varying fees.

Hours: 9:45 AM to 5:30 PM (11:30 AM on Sundays and 11:00 on Mondays).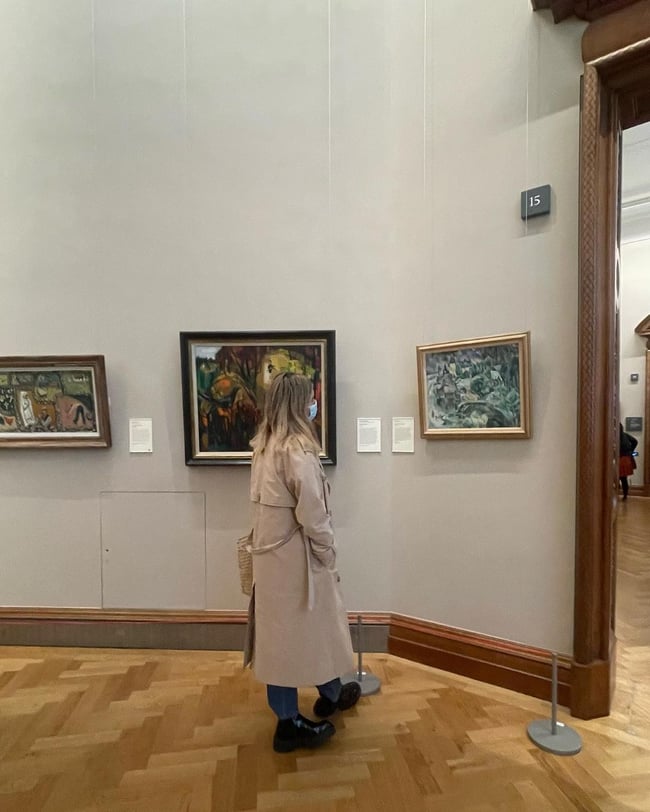 Some Info On Places To Eat + Stay
Places To Eat
Snag lunch or dinner in the Temple Bar District, a quirky and colorful collection of eateries, galleries, cafes, pubs, and more. It may be the most popular tourist attraction in the entire city, and shouldn't be missed. This area is extremely popular and will almost always be very crowded, just as a heads up. The striking red building that houses the Temple Bar is the most famous place, but you'll find a smattering of other restaurants serving everything from pub food to Persian food.
Something that's a lunch stop, shopping stop, and tourist stop all in one is Stephen's Green, a massive shopping center visited for its architecture and design (as well as all of the shops).
The Brazen Head Pub is the oldest pub in Ireland (which has been open since 1198) if you're looking for an authentic experience.
Places To Stay
In general, things are pricier in Ireland than in other locations, so make sure you're budgeting for accommodations (you won't likely find a good place to stay for 15 euros, unlike other locations in Europe). Another recommendation from our ILP volunteers? Go for a hostel that is right in the city, so you're not spending your time walking or busing to the sites each day. You'll likely pay a bit more for the convenience, but it's a recommended move. Here are a few favorites if that's helpful to know:
ILP volunteers have stayed at Rainbow Hostel which has crazy good reviews.
Our volunteers also rave (like 10/10 rave) about Jacob's Inn Hostel. They say they've got free breakfast, friendly staff, and free walking tours.
Or maybe stay the night at the cutest little farmhouse cottage. Check out Aille River Hostel.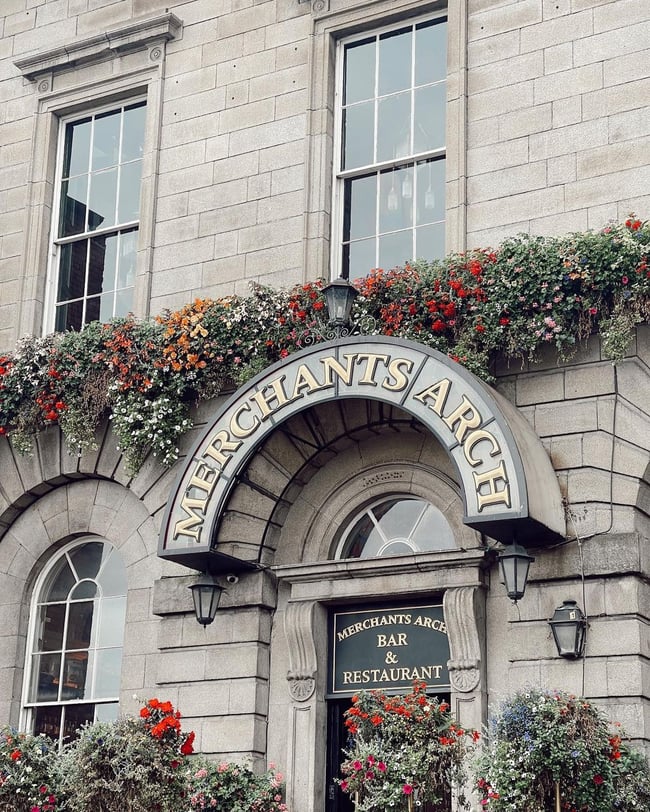 Don't Miss The Cliffs Of Moher
One of the most popular day trips from Dublin is one of Ireland's most iconic sites — The Cliffs of Moher — a winding line of cliffs found on the country's western coastline. The cliffs stretch for nine miles creating a scenic backdrop when you take in the green cliffs, the sheer drop, and inky blue water below. It's all about the scenery here, so make sure to dress appropriately for the weather and pack your camera.
We have a whole guide about the Cliffs of Moher, here.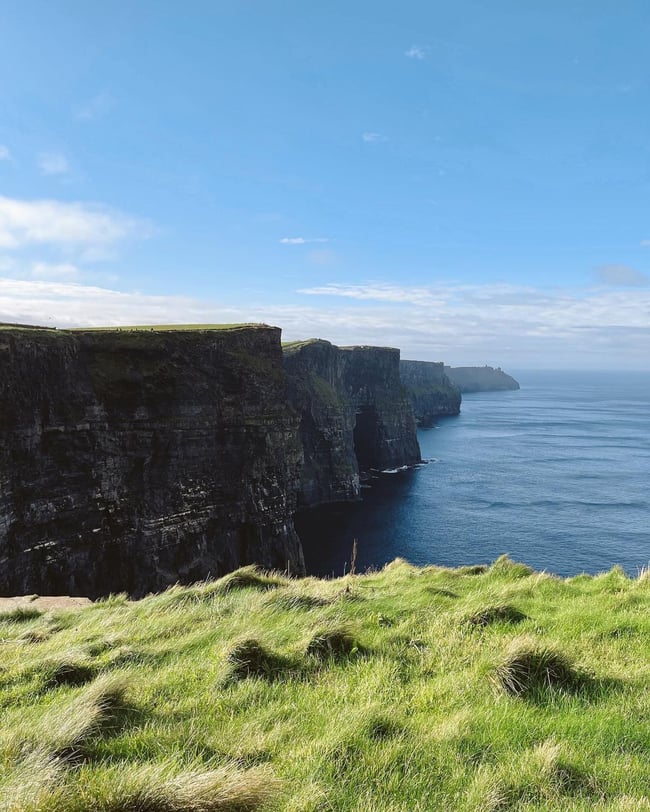 Flying Into Dublin (On A Budget) + Getting Around
Flights To Dublin
Ryanair is a budget airline to look into, with several routes to Dublin spread all across Europe. They're known for some last-minute deals like one-way flights to Dublin for less than 10 euros if you're in the right city and booking for the right month. Most of these screaming deals are out of various cities in England, but you can find some pretty good rates out of Ukraine (right out of Kiev), and other locations you may be also seeing like Italy, Poland, Germany, Austria, Czech Republic, etc.
Getting Around Dublin
The Dublin airport is around 5 miles outside of the city center, so plan on a taxi ride or snagging a bus to take you into the city. Aircoach, Airlink Express (Route 747), and Dublin Bus are two companies to look for at the airport with service to the city center. Prices are around 7-8 euros. The drive should take about 25 - 60 minutes depending on traffic.
As far as getting around, the city is rather walkable, especially if you have the time to map out your itinerary and have the time to stroll between sites. I'd recommend downloading the map of the city and pinning your favorite things to see and do, so you can get around even without data. Walking tours are also a fun option. They're available with a guide, or you can DIY with your own walking tour. This one follows a few of these suggestions plus a couple of additions.
It's also rather popular for tourists to see Dublin via a Hop-On-Hop-Off bus — they're widely available in the city. Book here.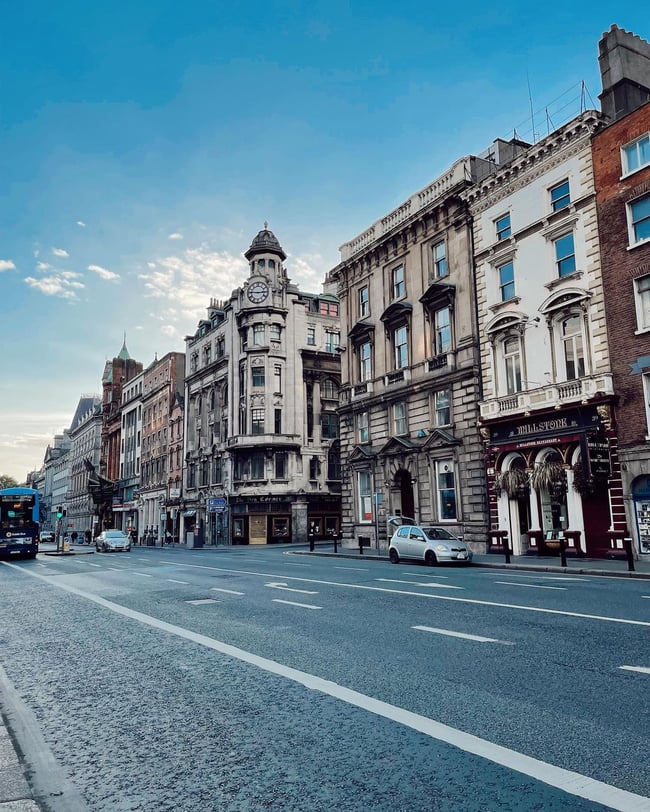 Want to see even more of Europe?
Want to see alllllll the European classics from Ireland to Italy to France plus lots more? Join a group of other college-aged volunteers for a semester abroad! ILP sends groups for three to four months to volunteer with children but also gives you free time to vacation throughout Europe. Click below to see how it all works.