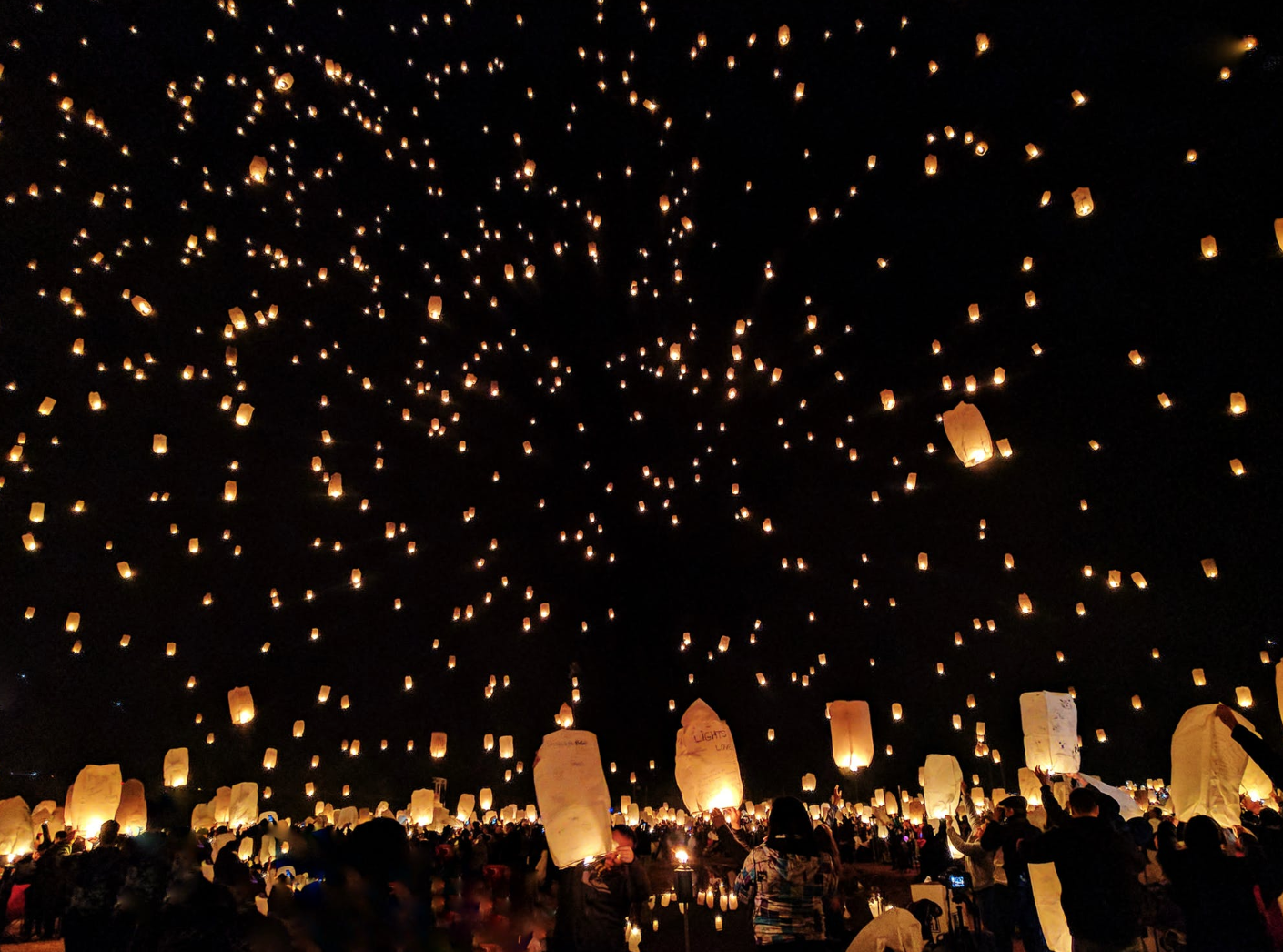 As photos and stories from travelers about the Lantern Festival have surfaced, Thailand has made the bucketlist for so many of us. It sounds so ... dreamy! And trust me, it is.
One of Thailand's biggest festivals happens every November, and if you're joining one of our volunteer groups in Thailand this fall, it's something you can't miss.


---
Want to join us and come see the festival yourself?
See what it's like to volunteer in Thailand
---
There are actually a couple of similar festivals that happen around the same time period, and both should be on your bucketlist.
The Loy Krathong Festival
Locals often celebrate this festival by releasing lotus-shaped baskets that have been decorated with candles, incense, and flowers onto rivers. It's gorgeous to see them drift away in large masses. The symbolism here is letting go ... letting go of hatred and anger. It's a "purification" ceremony, encouraging attendees to let go of mistakes, pain, and regret. How beautiful is that? History says it originated as a Brahmanic festival, but was later adopted by Buddhists. Monks typically have a period of silence and meditation before the candles are released.
When Is It?
It happens annually during the fall, on the full moon. That changes each year, but for the year 2020 it will be October 31. You can always do a quick search on Google to double check which day the festival will occur so that you don't miss it.
The timing makes it a perfect activity for those who are volunteering with us, International Language Programs, during the fall semester. Interested in living in a Thailand for a semester with a group of Americans, experiencing all Thailand has to offer and teaching cute Thai kids English? We are accepting applications now!
Where Is It?
It's celebrated throughout the country, but Chiang Mai, Sukhothai, and Bangkok are famous locations where large festivals happen. That's where the action is at.
ILP volunteers who live in central Thailand are right next to Sukhothai, making that an easy spot to join in on the celebration. It's also easy to jump on a bus or train (or even fly) to Chiang Mai and Bangkok.
Oh and to help you out, we've got guides to help you plan your trip there. These cities are amazing and there's much more to see than just the festival!
But if it was me? I'd head to Chiang Mai because there's another festival (the one where the lanterns are released in to the sky) that also happens around the same time, so you could potentially experience both. More on that festival below.
How Do I Attend The Festival?
My suggestion is to plan your trip to either Chiang Mai, Bangkok, or Sukhothai and then ask your hostel about it. They can point you in the right direction and give you updated details that are specific for the time you're going to be there.
Oh and just as a heads up, there's often a fee to attend and release lanterns at major festival spots. If you look it up online, there are tour companies that charge high prices. Skip that! Just talk to your hostel about directions, times, etc. If you pay anything at all, it's typically very inexpensive that way.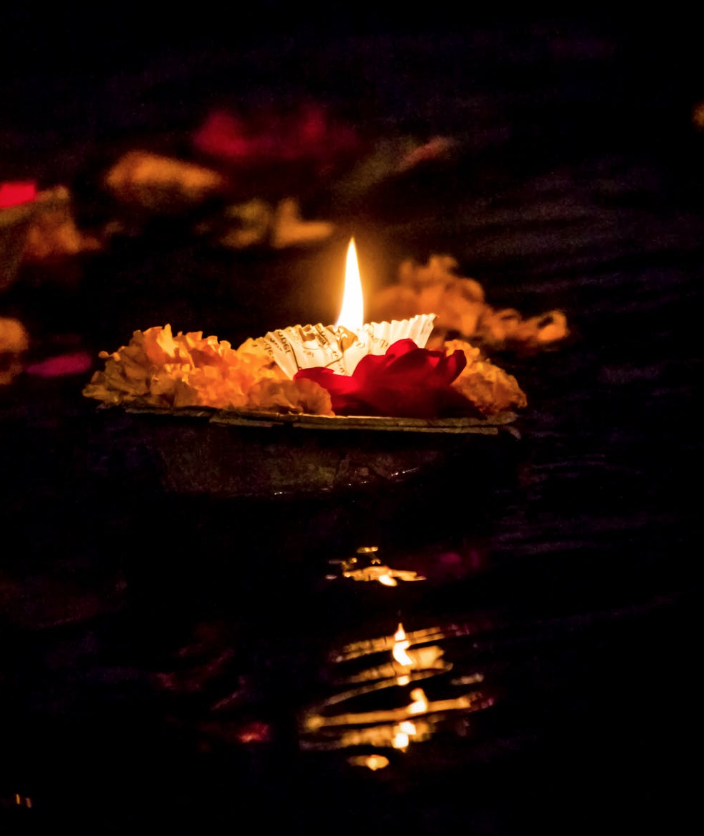 The Yi Peng Festival
This is probably the festival you're dreaming about seeing. On this evening lanterns well wishes and prayers are made as lanterns are released upward, lighting up the night sky. This is the festival that has become world famous, inspiring travelers to bring the celebration back home for friends and family to experience.
When Is It?
It's often held a couple of days before Loy Krathong, so each fall season. Late October or throughout November is the typical time frame, but since it varies each year just do a Google search to make sure you plan your trip for the right days.
Where is it?
It's celebrated throughout northern Thailand, but especially in Chiang Mai. That's where you want to head because not only is it the most famous spot to see the lanterns, but it's also one of my most favorites cities throughout all of Thailand! There's a million things to do here, so try to set aside as many days as you can to enjoy all there is to see and do here.
Here's a guide to help you plan your trip to Chiang Mai.
How Do I Attend The Festival?
Just like with the festival above, the best route is to talk to your hostel about it. There are online tours that charge raised prices for tourists, however your hostel is used to helping backpackers figure out the most affordable way to experience it all. They can give you updated information because festival locations and times change each year.
Did you know you can also see this festival in the United States?
Yep! I mean you won't have the ambiance of Thailand ... you won't get to have some yummy roti from the street vendor before you hail down a tuk tuk driver to take you the festival, but it's still pretty cool right? There have been many travelers who loved the festival so much that they have brought it back for us all to experience.
So my top pick would obviously be to go see this festival in Thailand (it's more affordable than you think when you volunteer with ILP), but if you can't swing that see if there's a festival near you.
Light The Night has events scheduled throughout the U.S. at various times throughout the year (including Salt Lake City). I'm also a big fan of Rise, which is held in Las Vegas. There's lots of options so that you can join in on the celebration.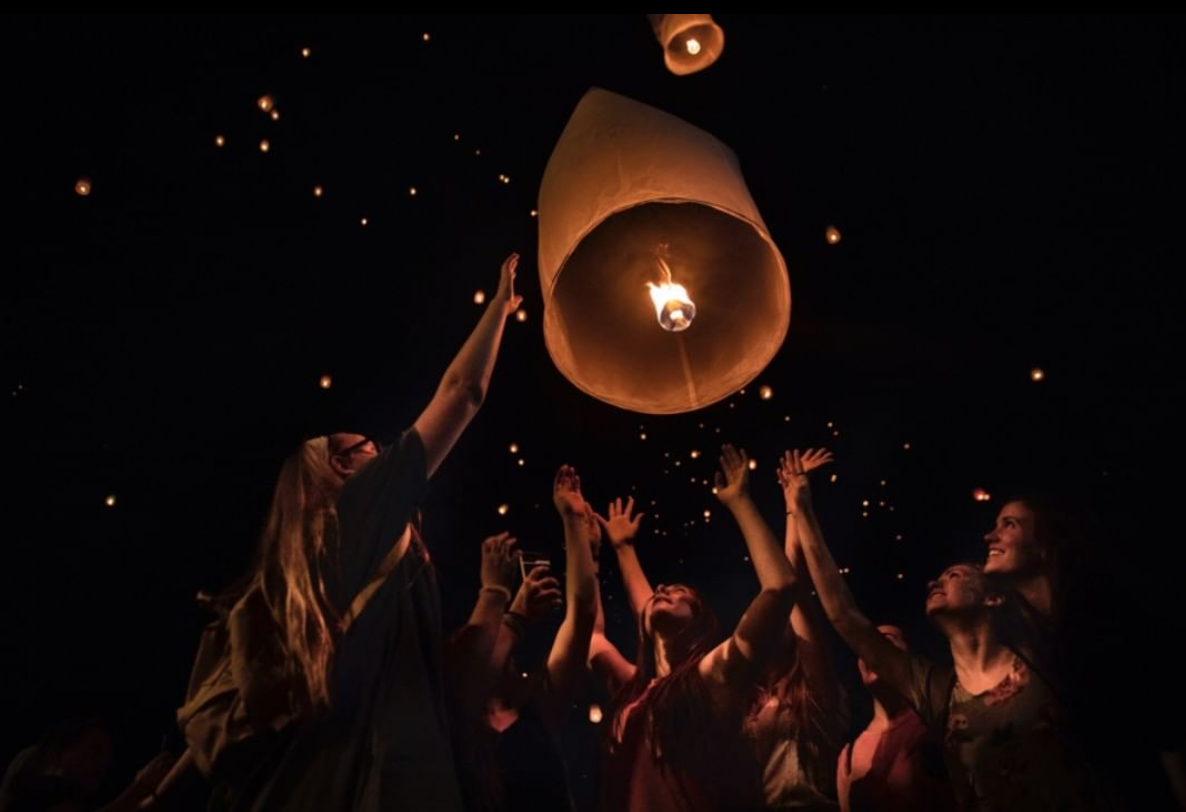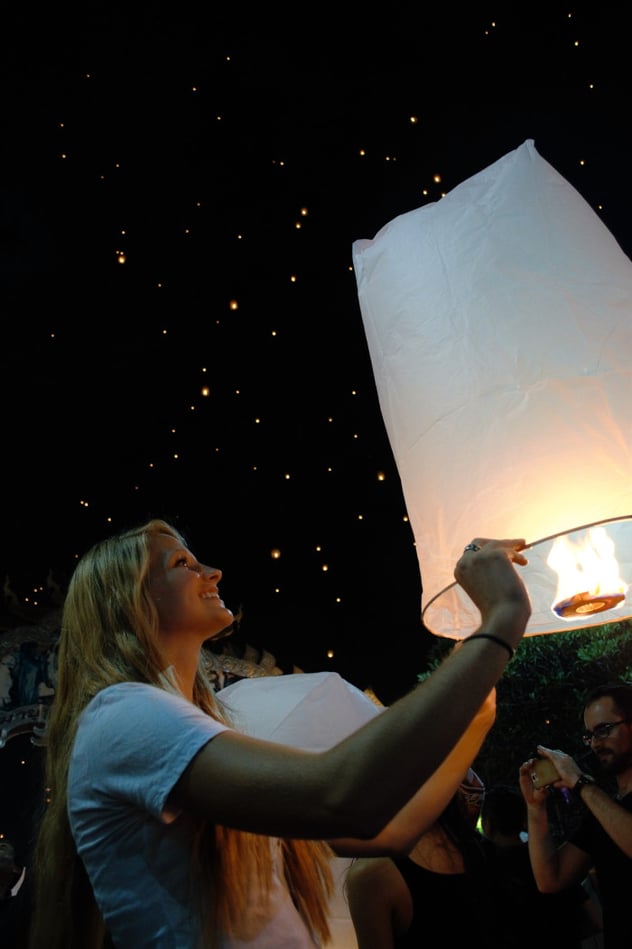 Tips For Travelers In Thailand
Before you go, keep these few important things in mind:
Wear respectable clothing (make sure legs and shoulders are covered). In general, Thailand is a highly conservative culture that accommodates tourists with a wide variety of personal style choices. You can show your respect for the festival by wearing modest clothing, so that means skip the tank top and short shorts. White shirts are encouraged!

Bringing your own lanterns is not allowed (they want all the lanterns the same size and color). Oh and on that same note, you can contribute to making the festival more environmentally friendly by purchasing lanterns that are made of biodegradable material. That means avoiding ones made out of paper, wire, and styrofoam whenever possible.

Get there early! Thousands of people are coming and you will want the best view possible. It's recommended to be there close to 3:00 pm. The lanterns are released between 6:30-7:30 pm so there's definitely a bit of waiting around time.

Arrange for transportation there and back. Pay a tuk-tuk driver a little extra to wait (it should cost close to $20 or 600 Baht ... not a bad price if you split it with your ILP group.

Bring something to sit on.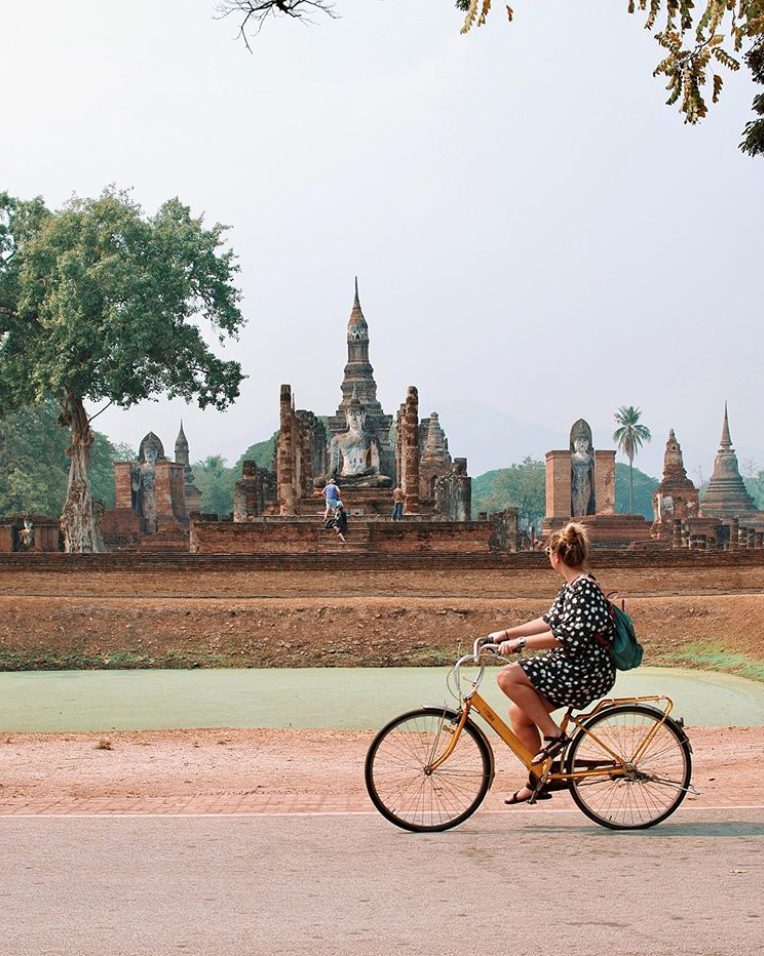 Come experience Thailand for your semester abroad!
Think about being one of the ILP Thailand Volunteers who get to teach English in this rad country for an entire semester. You'll get to see and experience so much more than tourists ever get to. And yep, it's just what you think — come serve abroad with ILP and sip smoothies, teach English to a class of cuties and take vacations to places like Chiang Mai (and those dreamy beaches).

Interested in International Language Programs? Learn more, here!