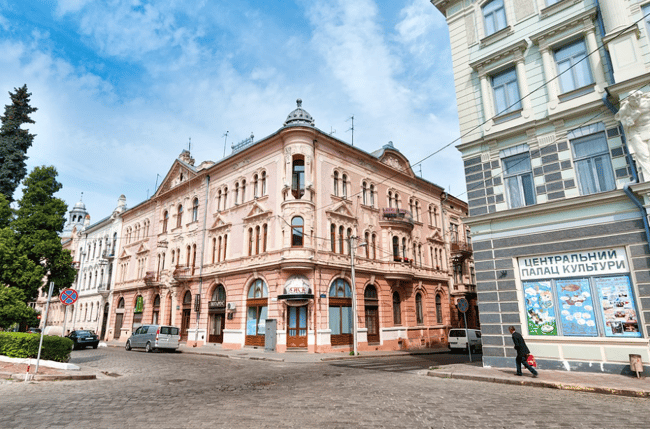 Feel like you took a trip to Austria without ever leaving Ukraine (and come home with stories about a charming city no one really talks about).
I've got quite a soft spot for Ukraine. It's one of the most captivating cities in Europe that seemingly gets forgotten by all the other countries. Which honestly doesn't make sense if you know what Ukraine is all about. Don't get me wrong, I love a trip to Italy or Greece, but my favorite trips have always been to cities and countries that weren't nearly as well-known. The country of Ukraine is that exact definition — a spot that may not make the top of your travel list, but a country that is brimming with castles, stretches of beaches, and tiny jewel-like cities like Chernivtsi.


---
Take a peek at our Instagram account
And get a look at how our volunteers living in Ukraine spend their time.
---
This place has been called a gem by one too many bloggers, but that's the best word for this spot. Chernivtsi is like the best of the best of Ukraine, all wrapped into a city that doesn't have the hype or crowds of similar cities. And since I know you'll want to plan a visit here the minute you see some pictures, I've pulled together the top tips and info you need for a quick, 1-2 day trip to Chernivtsi.
A Few Recommendations
Compare This Spot To Vienna, Austria
The city you see today used to be a hot ticket item in the Austrian Empire back in the 18th century. Think European splendor: a rich influence of wealthy traders and merchants flocked to this place, establishing cobbled streets lined with stacked buildings iced in a pallet of pastel colors. The influence of the Austrian royalty and government produced the foundation of a city that's still compared to Vienna, with museums and churches galore.
Hang around Kobylyanska to really soak in what I'm talking about here. It's the long pedestrian road that runs straight through Chernivtsi and is made for pictures so pretty you could print them off and turn them into a postcard. The street has benches set up in the middle so you can sit and take in the cafe culture, look overhead to see vines of flowering Bougainvillea drawing between the two buildings, and the steeples of Baroque-inspired buildings.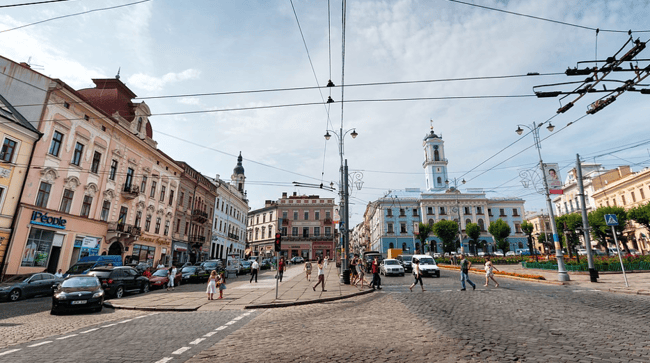 Peek Into These Cafes
You have quite the selection, as Chernivtsi boasts quite the cafe culture. You'll bump into more than few when wandering down Kobylyanska but if you want recommendations, stop by these favorites.
Grand Cafe
Grand Cafe is a deeply stylized place to order up a slice of cake and stay awhile. The walls are hung with old artwork in thick golden frames supported on the exposed brick walls. Tea services are equally picturesque, with antique kettles and ornate spoons for your sugar. You are coming for the atmosphere though the menu is full of sweets like apple strudel, and so many kinds of cake and coffee.
Address: Kafedralnaya St, 12

Hours: 9:00 AM to 10:00 PM, daily

This place is cash only.
Videnska Kavyarnya
Looking for lunch? Put Videnska Kavyarnya on your list for a menu boasting Austrian favorites like schnitzel and strudel, along with fabulous coffee and cake if you need something sweet. I'd recommend the Napolean cake if you're headed here for dessert: it's a multi-layered cake made of cream and flaky pastry and has made an appearance in my dreams more than once.
Address: Kobylyanskoi Olhy vul. 47
Pansʹka Huralʹnya
It's the go-to restaurant in Chernivtsi, with hundreds of reviews gushing about the local soups served in a warm rye bread bowl, steaming ceramic bowls of potato-filled dumplings, and a few other favorites from the Bukovina region of Ukraine.
Address: Kobylyans'koi St, 5

Hours: 11:00 AM to 12:00 AM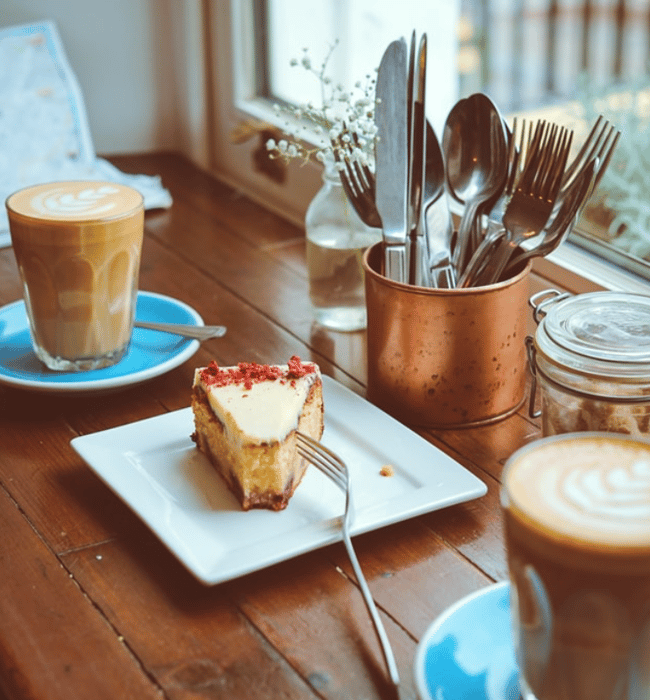 Stop By A Few Buildings
I get that "checking out the architecture" of a city doesn't sound like the most enchanting adventure, but that's a huge part of your visit to this Ukrainian city (and most cities in Europe). I think you'll be just a bit more intrigued when you take a second to adore a college that looks like a set from Harry Potter and a smattering of buildings you won't find anywhere else, like a theater that was formerly a Jewish synagogue.
I'd really recommend fitting a walking tour of the city into your trip. You'll get more out of the history, which is steeped in Jewish and German heritage, to name just a couple of main influences. Here's a low-cost tour that comes highly recommended though there are many others around.
Regardless of a tour or not, you shouldn't leave without checking out these main spots:
This particular Armenian Church has painstakingly detailed stained glass, a towering gold organ, and domed ceilings on the inside, but the striking red brick and overall design of the Gothic + Ukrainian baroque architectural style make it a real stunner. The church stands as a picturesque reminder of the area's unique combination of cultures.
Address: Ukrains'ka St, 28
Harry Potter fans have to visit the Chernivtsi National University. Not only is this university a UNESCO site (can you imagine going to school at a world heritage site?), this place has been a component of European history for 150+ years. It was once an acclaimed center of German language and culture (remember how I said this part of Ukraine was part of the Austrian empire?) and now is the top three ranking centers of learning in all of Ukraine.
Address: Kotsyubyns'koho St, 2
And while you're out wandering around, make sure you spend ample time on Theater Square and the Kobylyanska walking street (which I've already talked about). You can get a pretty comprehensive list of othneer architectural recommendations here.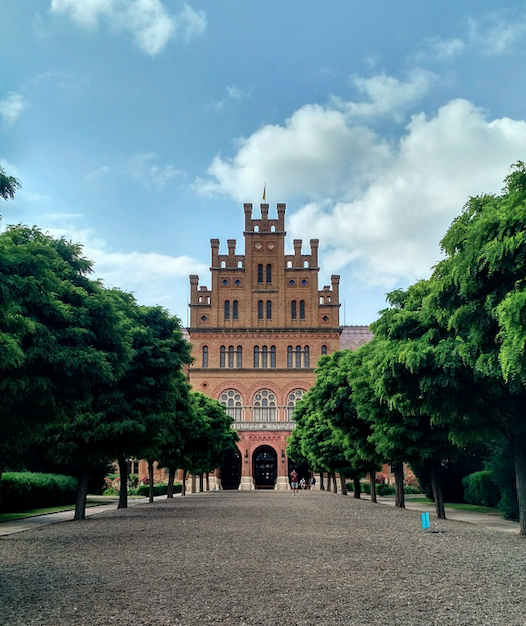 See These Nearby Spots
Kamianets-Podilskyi
If you want to feel like you've stepped back into medieval history, Kamianets-Podilskyi is where you should head. The medieval fortress is probably the most impressive of all the Ukrainian castles, and you'll spend even more time here than you were planning on. It's surrounded by a canyon river, with plenty of beautiful, lush foliage. The entire fortress has been well preserved, so while there, climb the steps of the towers to see the view from high windows.
Get more info about Kamianets-Podilskyi here.
Getting Here: Just under two hours and you'll be there from Chernivtsi. A bus is the way to go, with tickets in the $2 or $5 range. Get more bus route info here.
Ivano-Frankivisk
Haven't heard of this Baroque gem? You're not alone. A city nestled close to the borders of Poland, Slovakia, Romania and Hungary, Ivano-Frankivsk is one of the most dynamically picturesque cities in Ukraine (and quite a hub of culture and architecture). It's also home to so. many. darling little cafes that are beyond affordable.
Sometimes called a "little Lviv", Ivano-Frankivsk is home to a dozen or so museums and picture-perfect architecture with a Gothic influence that's still reminiscent of the Soviet-era. Ivano-Frankivsk is also the gateway city for a trek into the Carpathian Mountains, which pulls in hikers from all over the world.
Getting Here: Spend about 3 hours on a bus and you'll be there. Get more info on that particular bus route here.
Lviv
We cannot get enough of this city and I am glad that Chernivtsi has a glimmer of that Lviv charm ILP volunteers just love. Easily a dozen stunning churches, a well-known Opera house, a smattering of museums, and endless streets to explore is just the tip of what's waiting for you in Lviv … but if you delve a bit deeper, you'll find 10+ day trips and weekend spots that'll make you want to stay even longer. Here's more to your picture-perfect trip to Lviv.
See information on how to get between Lviv and Chernivtsi below.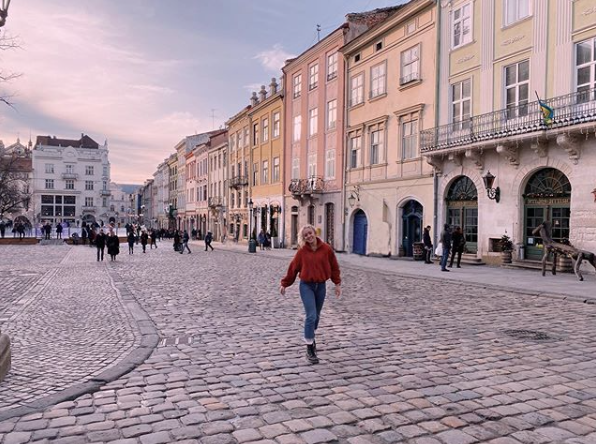 Getting To Chernivisti
From Lviv
If you want a reason to visit Lviv, see the section above that gushes about this city. It's a fan-favorite, that's for sure. But it's also a jumping-off point to places like Chernivtsi which is only a 7ish hour bus drive away. Get bus route info here.
Don't skip out on spending time in the capital city of Ukraine. It's the center of some of our favorite parts of the country, including what I think is the prettiest collection of cathedrals you can find anywhere. Get a peek at what's waiting for you in Kiev, here.
You can get an overnight bus from Kiev to Chernivtsi for under $20 USD. It's a 10-hour ride which gives you time to sleep and wake up ready to explore. Get bus route info here.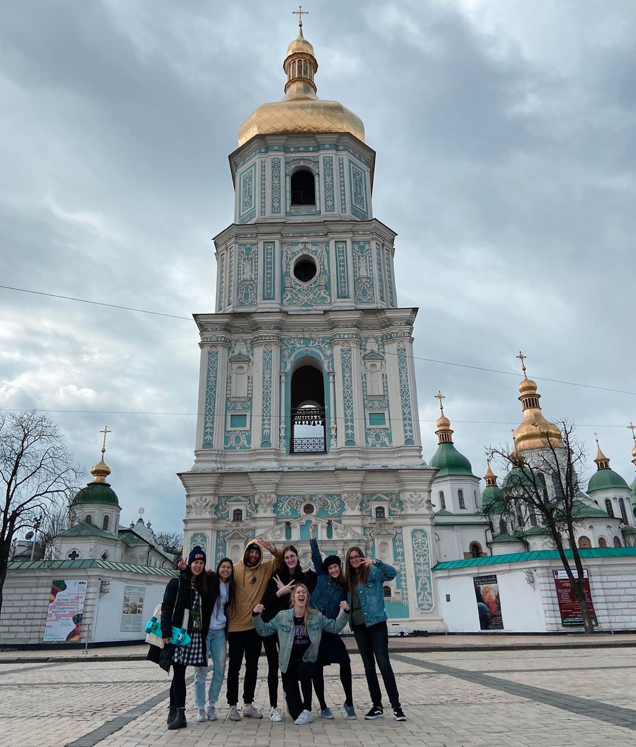 Come say "hi" to Ukraine
When I heard about the chance to live and travel around Europe for a semester, I was sold. Come get the same kind of adventure while you volunteer with ILP. Learn a bit more about what teaching English and traveling all around Ukraine is like right here.