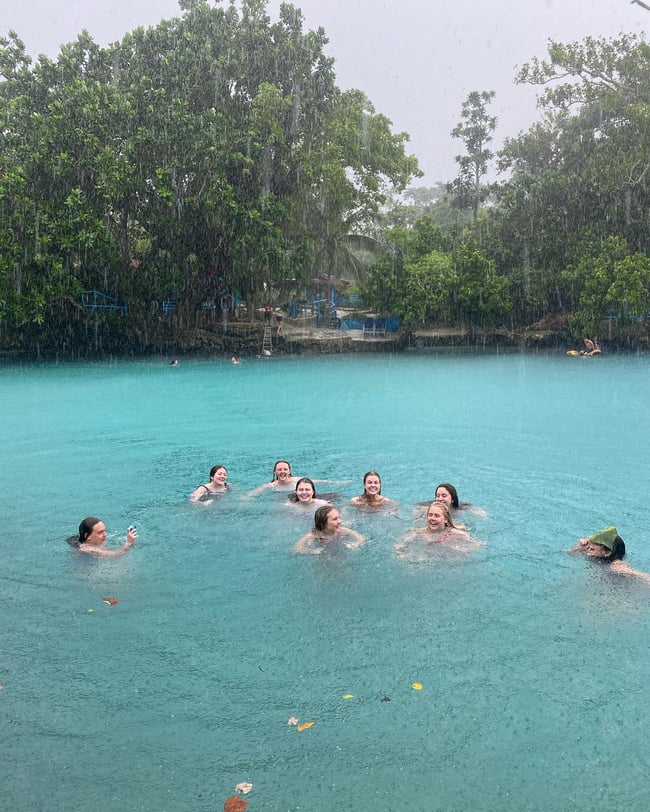 Yep, this place is real life — A turquoise swimming swimming spot, complete with a rope swing, all surrounded by lush mangroves? Paradise found!
So the island of Efate in Vanuatu has more than enough to keep you busy. It's an island rimmed with some of the prettiest beaches, but step out from the coastline and you'll find dozens of these blue holes. They're massive, natural swimming pools sprinkled all over the island chain .. and the Blue Lagoon is one of the best of the best. If there weren't so many other islands adventures to have on Efate, you'd want to spend every single weekend here.


---
Looking for island lovers!
Come live and volunteer in Vanuatu for a semester
---
Just to hint a bit more at what's waiting for you here, think blue-green water perfect swimming. Rope swings strung up in the mangrove trees so you can really perfect your plunge, all creating an oasis you can't believe is real life. While it's the most famous blue hole in Vanuatu, we love that the locals hang out at this, spot too. Here's what you need to know before your visit:
All About The Blue Lagoon
So there are actually quite a few of these "blue holes" all across the island chain but this guy is known as the Blue Lagoon. The "blue" part of the name is no joke — the water here is incredible, almost unbelievable colorful and clear. The nearby island of Santo is home to a few more famous blue holes, but we're all about the Blue Lagoon found on Efate. It's a very popular spot for all the tourists who are visiting even just for the day, but you'll find the place dotted with local families who are here for a swim.

The pool is a gorgeous blue-green color that fluctuates depending on the tide. It's surrounded by a thick tangle of mangrove trees which help regulate the water levels here (the pool is actually connected to the ocean, protected by the mangroves). It's oddly more salty at high tide and more fresh-water based at low tide, but crazy fun no matter when you're visiting. At its deepest, the pool plunges almost 20 feet deep, and is around the size of an Olympic swimming pool, so there's plenty of room for everyone looking to soak up paradise.
The Blue Lagoon is equipped with some rope swings hanging from the mangroves, some wooden ladders to help you get in and out of the water, and a couple of small and short wooden "patios" where you can jump into the water.
I mean, this video kinda of says it all, right? Dream - y.
Hours + Costs + Entrances
The pool has two entrances, owned by different families. Entry costs are the same, but it's a bit more popular to enter through the first entrance (which has slightly nicer facilities). The first entrance is one on the way from Port Vila where you'll probably be coming from anyway. You'll find toilets and changing rooms which is nice to know. There is also a bit of grassy lawn with picnic tables where you can hang out and have a picnic once you're done swimming.

There aren't any lockers for your valuables so keep that in mind when visiting. You also won't find anywhere to get a drink or snacks, so pack plenty of water and food for your day of swimming. We have more on things to bring below.
There really aren't any official hours, but most people tend to visit between 10:00 AM and 4:00 PM. The entrance cost for visiting is 500 VATU, which shakes out to be mourned $4.30 USD.
It doesn't get too crowded, except on cruise ship days where the place is flooded with tourists visiting just for a couple of hours before being whisked off to another portion of the island. If possible, avoid visiting on those days.
Things To Bring
Cash for the entrance fee (+any transportation costs)

Food and water for the day

Insect repellent (if you hang out on the grassy area)

Sunscreen

Towel
Swimming suit (there are changing rooms available. Remember, Vanuatu's a modest and conservative country so please be mindful with your swimwear choices)
Floaties + snorkel mask (totally optional but are fun to bring)
Flowey clothes to cover up (Make sure you're covered up before and after your swim).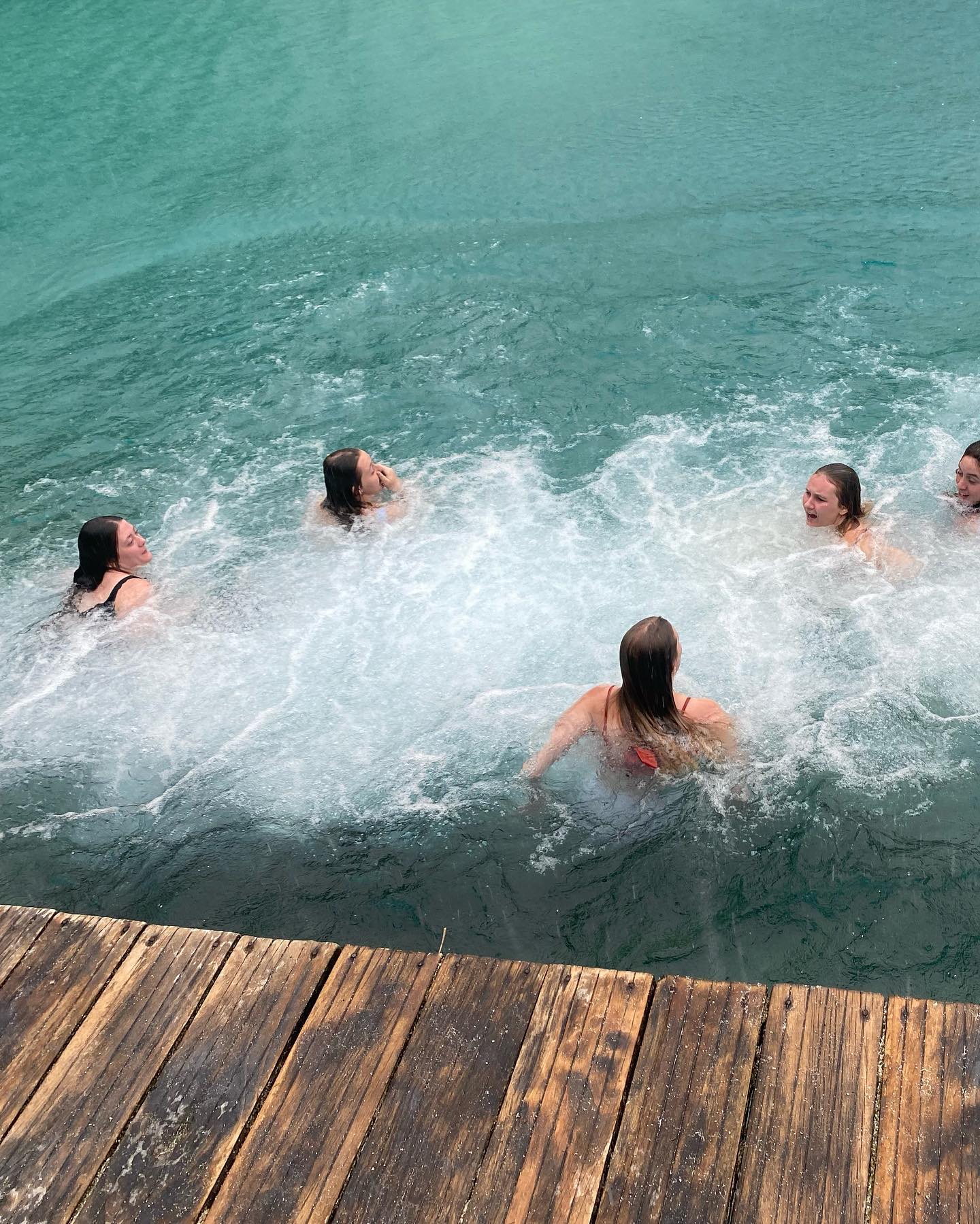 Getting Here
Mini Van
Yay, our fav way to get around this tropical island. All around Efate, you'll find minibuses, which are basically like a public van crossed with a taxi. These mini buses have a certain route, but people just get on and off as they want. You can even ask the driver to take you to a certain part of the island (kinda like a taxi). Wondering how to find a minibus? Just peek at the license plate — you'll see the letter "B" that lets you know you can hop on and off.
Just flag one of these buses down and let them know you're looking to go to the Blue Lagoon. Since it's such a well-known part of the island, you won't have any trouble.
To help you orient everything Port Vila is about a 30+ minute drive to the Blue Lagoon which is found on the southeastern coast of Efate. Plan on paying about $3 to $5 to get here via minibus.
Taxi
Second to a tour option, this is going to be quite expensive. Taxis are notoriously expensive on Vanuatu, and are best suited for travelers who are just visiting for the day and aren't pros at navigating the easy-to-navigate mini bus system. You're going to pay around 2,000+ Vatu (around $18 USD or more) each way to get to the Blue Lagoon.
Tour
Since this is such a popular point on the island, you'll find a few tour operators who will turn this adventure into an all-day or half day thing, taking you to visit nearby spots. It's going to be your most expensive option (tours seem to hang out in the $70-$85+ USD range) and they do limit your time at the Blue Lagoon, giving you an hour or so to swim.
For our ILP volunteers who call the island of Efate home for the semester, you'll want to save your money and skip the tour on this.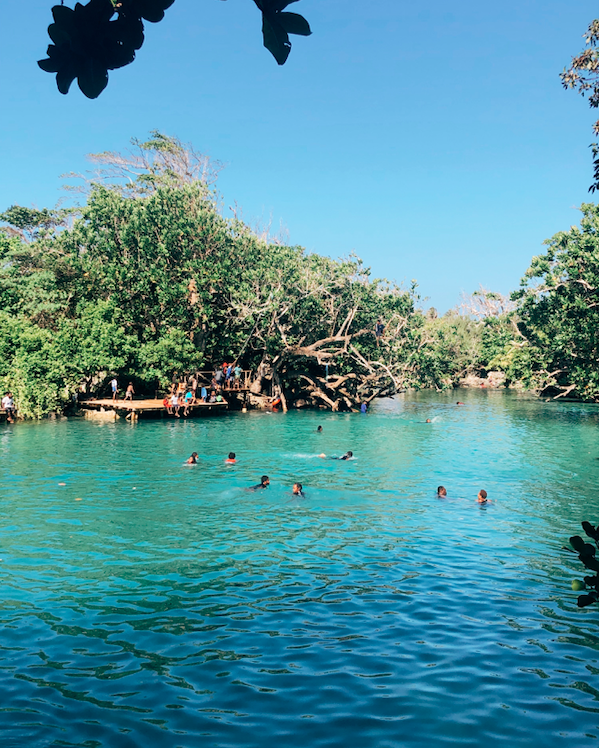 What if you never want to leave?
We thought you'd fall totally in love with this island ... so we think you'd love to come live here for a whole semester! ILP volunteers are college-aged, and all live, travel, and volunteer as English teachers in this humanitarian program. Come learn more about our program in the South Pacific.